How to Sew DIY Muslin Swaddle Blankets
Sew your own soft, light, and amazingly crinkly DIY muslin swaddle blankets for baby with my quick and easy tutorial.
Please note that this post contains affiliate links which allow me to earn a small commission when a purchase is made at no additional cost to you. Read more here.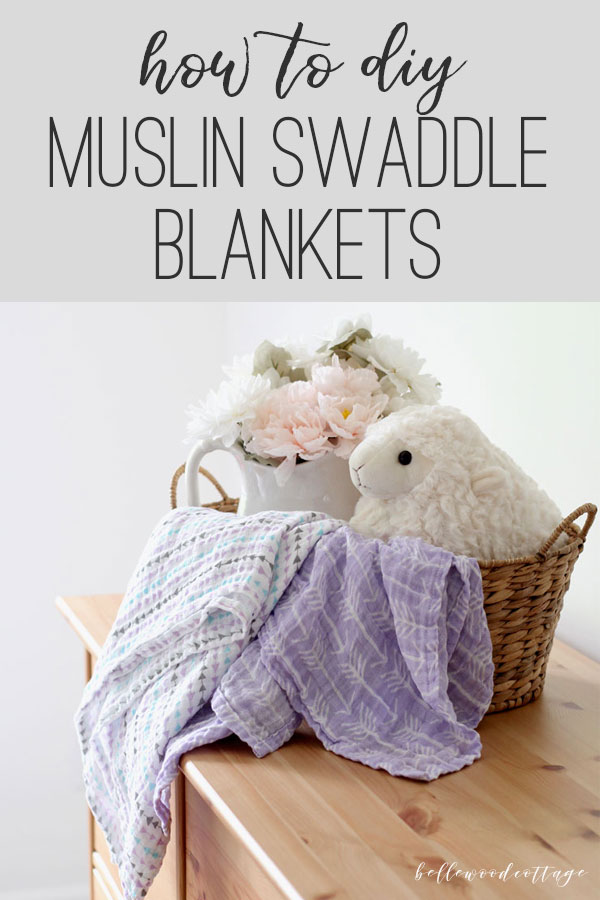 If you have babies in your life, you may be familiar with the popular swaddle blankets (like these) that are soft, light, and amazingly crinkly. They are perfect for gifts and since I love making my own, today I decided to share my DIY muslin swaddle blankets tutorial with you!
Before I dive into this post, let's chat quick. Probably few of you need a tutorial how to make a plain old square baby blanket/swaddle. However, when making these DIY muslin swaddle blankets, there are a couple of keys to make sewing them SO much easier, and I wanted to share them with you.
For those who prefer a step-by-step tutorial, I've included that as well. But, the real meat of this tutorial comes from my tips on how to choose the right fabric and how to straighten it correctly (so important!) before stitching up your blankets.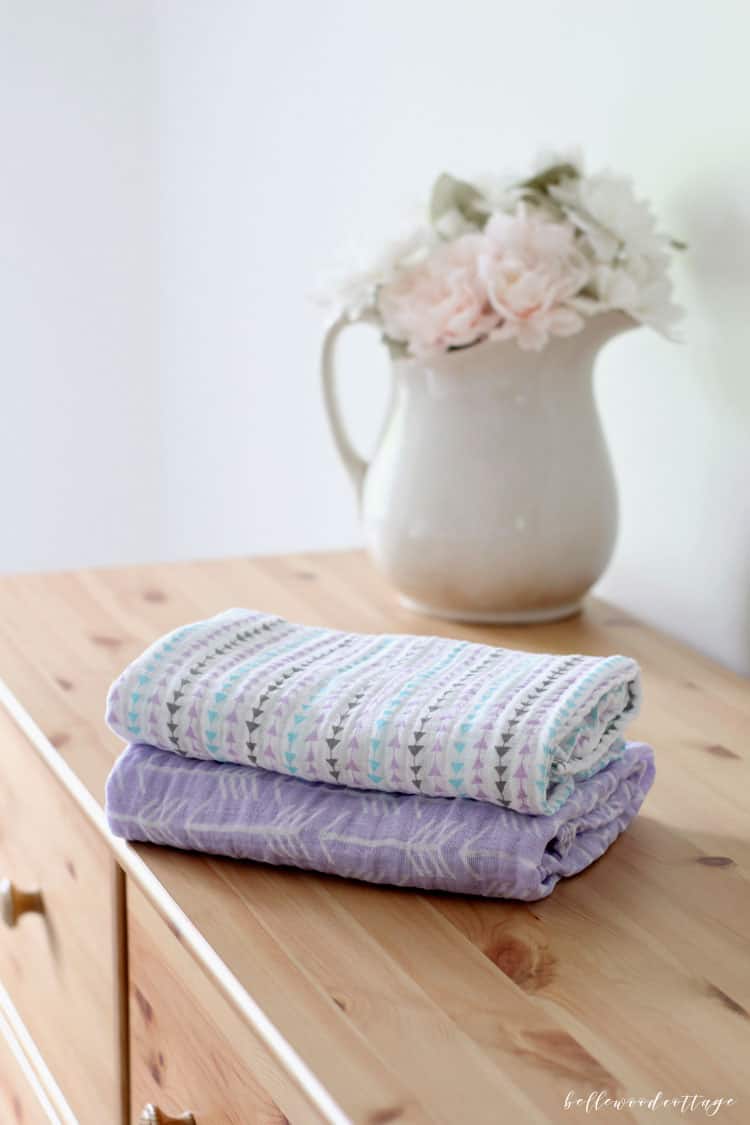 DIY Muslin Swaddle Blankets
What are swaddle blankets made from?
Trick question! Oftentimes these blankets (made so popular by brands like Aden and Anais) are referred to as "muslin swaddle blankets". Because they are so well-known as "muslin", that is how I'm referring to them here. However, when shopping you'll instead want to look for a fabric called "double gauze".
Double gauze has the special trait of being two layers of lightly woven fabric that are interwoven together. The two layers form a fabric that is sturdy, yet light and airy. And don't be fooled by its slightly stiff feel on the bolt. After washing, double gauze becomes soft, fluffy, and full of crinkles. Perfect for wrapping up sweet babes!
Where can I buy double gauze fabric?
The best place to find this fabric is a legit fabric store or online. Sometimes the large chain craft stores will be selling "gauze", but it's usually a single layer. Which is ok, but you won't get the same results as with true double gauze. And if you choose to buy online, always read the description to make sure you are buying what you expect!
I prefer shopping brick-and-mortar for fabric, but you can also find double gauze on Etsy, Fabric.com, and plenty of other online fabric stores. I like the Shannon Fabrics Embrace line as a place to start.
What size should a swaddle blanket be?
Aim for a blanket that is 40" square or larger. Popular swaddles on the market today are generally about 45-47" square, so you may wish to follow those guidelines. I usually just plan to square off whatever width of fabric I buy (the Shannon Embrace line is about 48" wide) and the blankets I make are plenty big! While the swaddling stage in a baby's life is short, these blankets can be used for SO much more. So, really any size you can make will be useful.
Should I wash my fabric first?
Normally I always advocate washing/drying fabric before using it. However, since these blankets can be flexible in sizing, I like to sew before washing. Since washing makes this fabric super fluffy and crinkly, I find it easier to square off the fabric and sew straight hems prior to washing.
There will be a bit of shrinkage afterwards (cotton fabric after all), but since these are just blankets, I always just cut the blanket into as large a square as I can (based off the bolt width), and allow the shrinkage to happen post-sewing and it's not a big deal.
You could alternatively opt to wash, dry, AND iron the fabric first before cutting/sewing.
How to Sew Your Own DIY Muslin Swaddle Blankets – step by step tutorial
Supplies:
*Note: I always buy more than enough fabric to make a square blanket because I want to ensure I have plenty of yardage to straighten the fabric. My go-to is to buy 1.5 yards per blanket (I then save scraps for other projects).
Straighten the fabric
Besides choosing the correct fabric, straightening your fabric is the key to a successful swaddle blanket! Don't skip this step. Fabric isn't cut perfectly at the counter, so you'll want to straighten the cut edges before sewing your blanket.
Double gauze usually has sort of a "grid" pattern within the weave of the fabric. If your fabric has this, you can simply follow one of the grid lines and trim up each cut edge of the fabric to straighten it. OR, you can use the following method: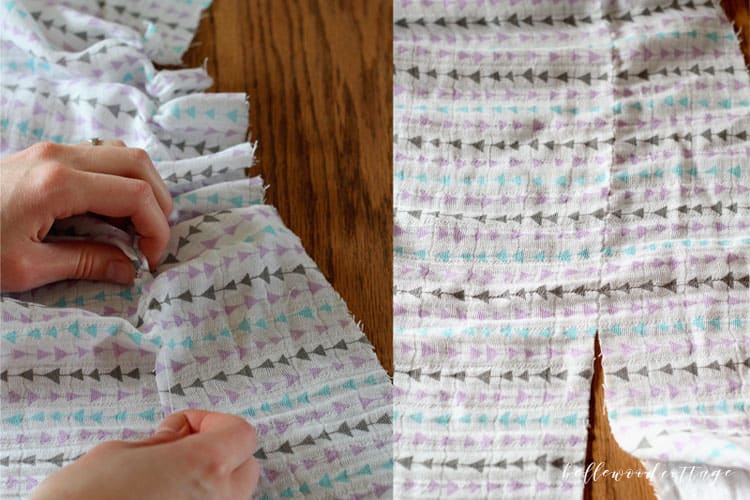 Lay the fabric out on a flat surface and pick a cut side to start from.
Snip the selvage edge a tiny bit and begin to pull down one or two crosswise threads. Alternate gently pushing the fabric and pulling the threads to avoid breaking the threads before you've made it to the end.
Now, cut along where the thread was pulled out. Repeat on the other cut side of the fabric.
Tips: Oftentimes it's hard to know how much trimming to do for straight edges. In this case, choose a grid line (or a point in the pattern if your fabric doesn't have those lines) a few inches in from the edge and follow it up the fabric with your finger. If your line "falls off" the fabric, go in a bit further. Or, if you have lots of fabric left in the "trim zone", try moving your cut point out a bit more so you can save fabric. Another tip: If your thread breaks before you reach the top of the fabric you can use the tip of a pin to pull it out from the fabric again and continue.
Sew the baby blanket
Now that you have straight edges, it's time to cut the fabric into a square. I find the quickest way to do this is to fold the fabric in a triangle up to the top edge and trim off the excess. Keep things straight (use the grid lines of the fabric if you can) and don't cut until you are good and ready!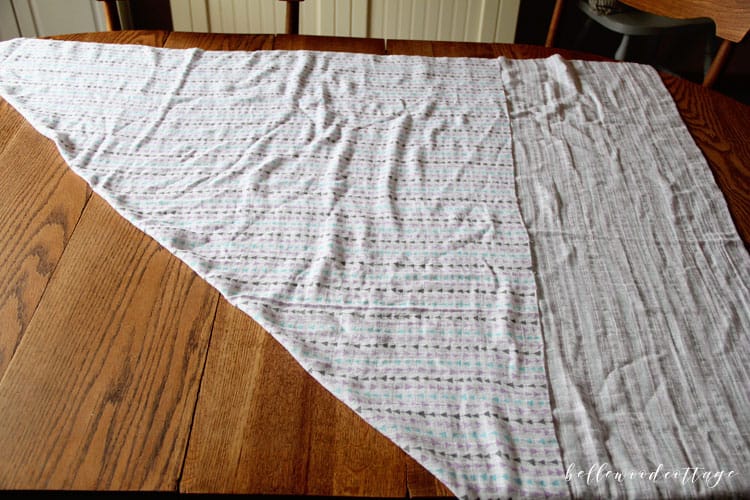 Now it's time to hem up the swaddle blanket.
Use a ruler to guide you in pinning up the hems. I go for a ½" fold over hem. Which means, I find the ½" point, fold up the hem, measure another ½" and then fold it up again and pin. You can see here that the "grid" within the weave of the fabric helps too!
Stitch the hem (close to the inside edge for sturdiness), removing pins as you sew.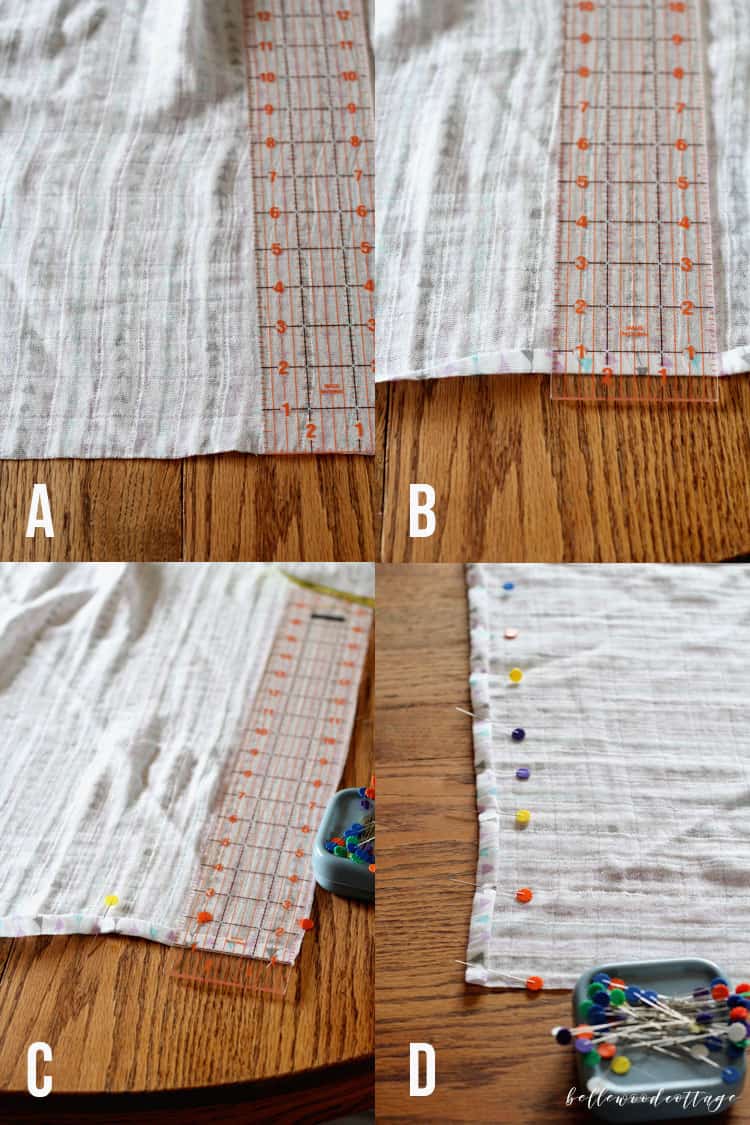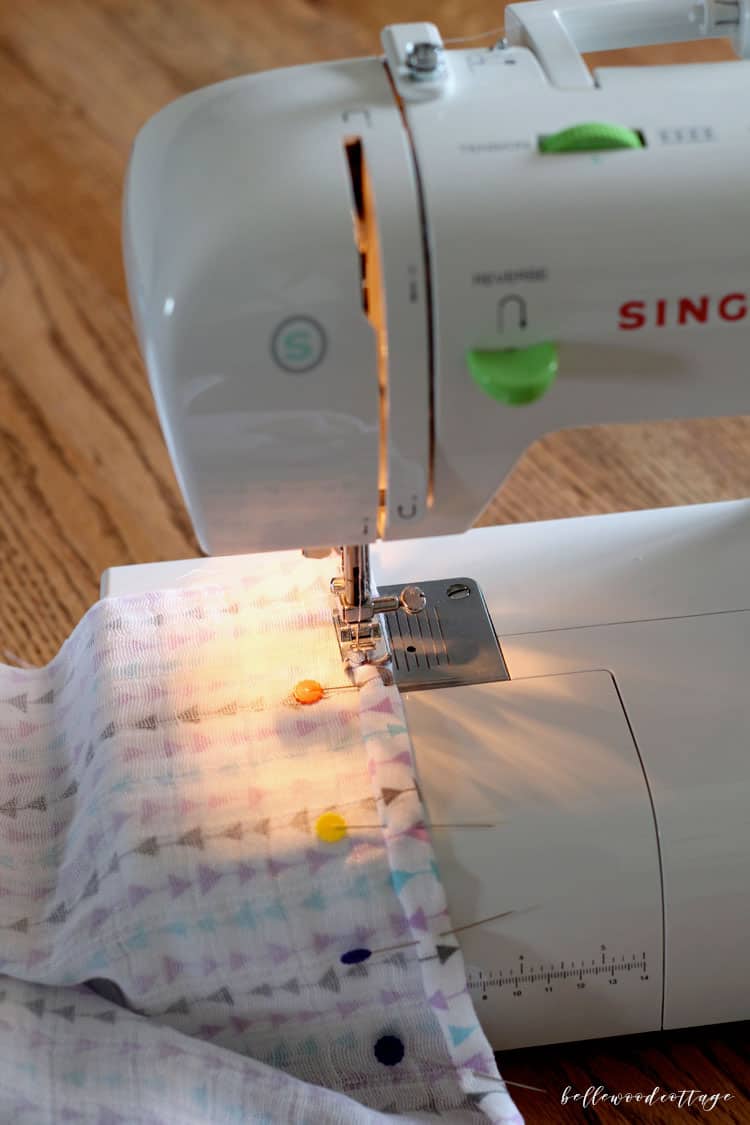 Next side: Repeat the process and fold in the sewn edge along with the rest of the fabric as you pin it up. Stitch hem.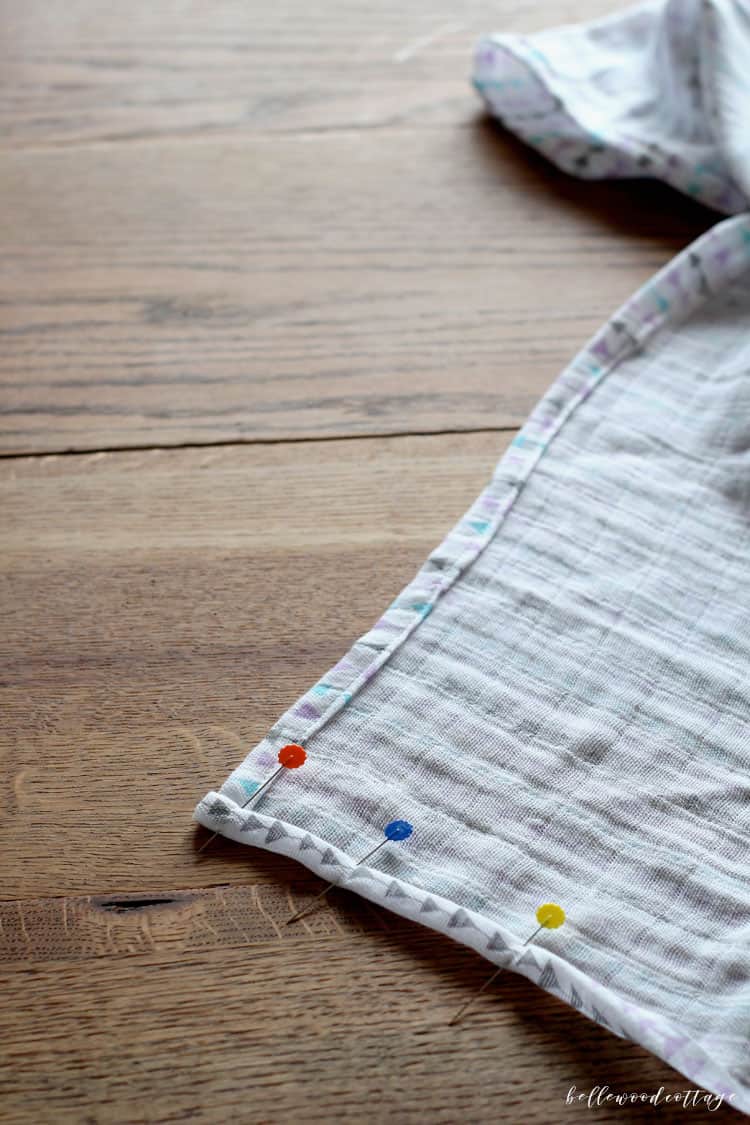 Repeat for the final two sides. Trim excess threads and now go wash your DIY muslin swaddle blankets! Washing up the fabric is my favorite part because the fabric loses its stiffness and gets soft and crinkly.
What double gauze fabric looks like before washing: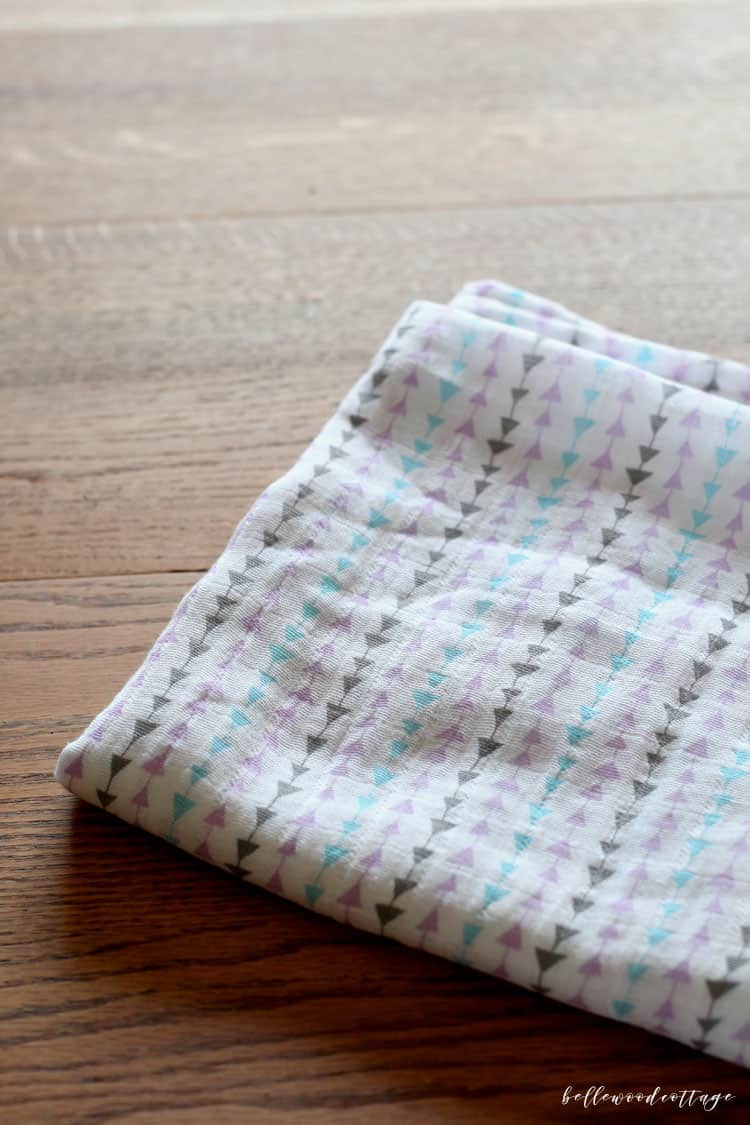 What double gauze fabric looks like after washing: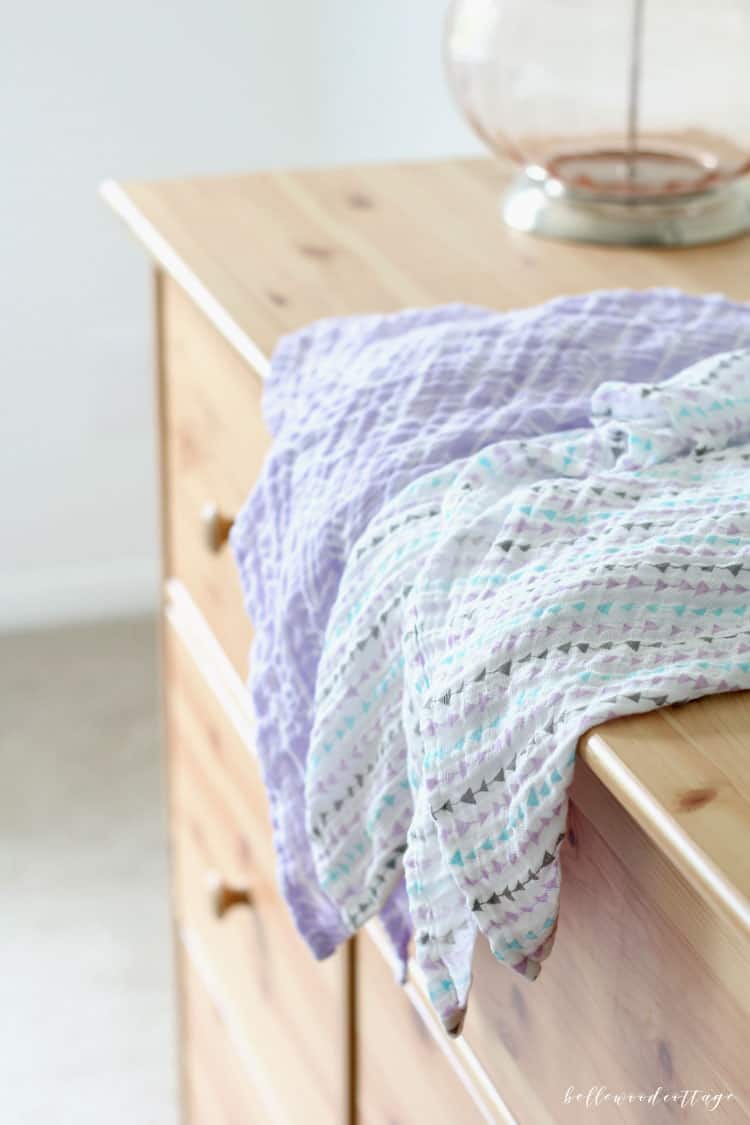 I hope these tips helped you sew your very own DIY muslin swaddle blankets! They really are so fun to make, and they are the perfect gift for little ones. Share with me in the comments if you give it a try!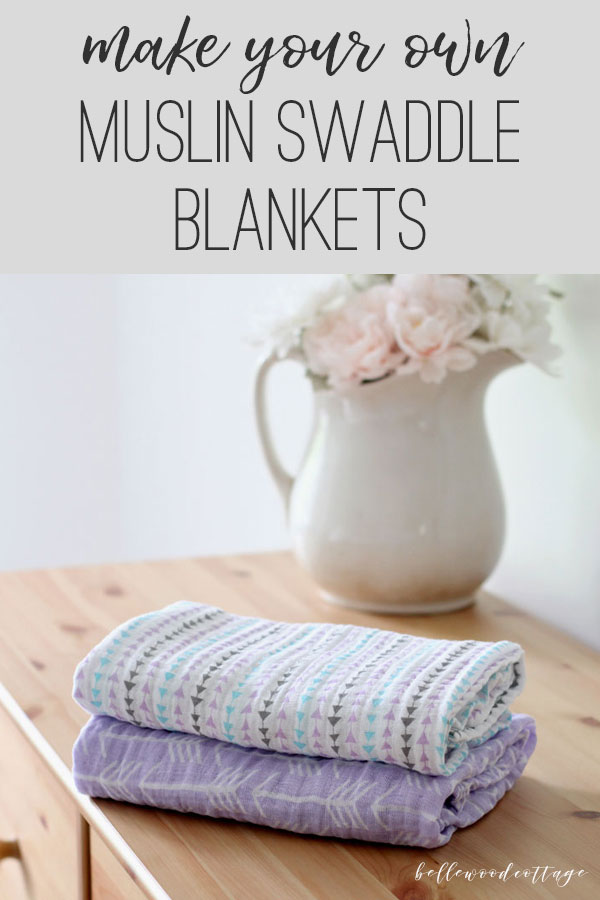 MORE BABY RELATED POSTS
Newborn Baby Essentials Checklist for Months 0-3
Farm Animal Board Books for Babies
How to Sew Burp Cloths for Baby
Gender Neutral Nursery Reveal
The Best Baby Board Books to Buy or Gift