Piano Bench Flip with Chalk Style Paint
I love a good furniture flip, but some are certainly more challenging than others. This piano bench flip definitely kept things interesting. I didn't choose the bench, but offered to paint it for someone else. I quickly discovered it might take a bit more work than I expected!
But really, that's the beauty of furniture flipping. You can take a piece that has been discarded by its owner and totally transform it with some time and a little know-how.
(p.s. don't ya just love our brown couch? yep, I'm still waiting for my white IKEA couches with white slip covers)
Please note: This post contains affiliate links which allow me to earn a small commission when a purchase is made (at no additional cost to you). Read more here.
So funny thing though? This bench had been sold as "refurbished/flipped". Please pardon the terrible cell phone pic.
Flipped? In my best Alan Rickman voice from Sense and Sensibility, "I think not".
It was almost a bit comical how someone had painted one stripe of white around the edge and the feet of the bench. Oddly, peeking out from the white stripe was a whole bunch of red, er, marker? Perhaps a toddler had been here? And the top of the bench looked like it had been employed for use as a table for drilling, because it was flooded with holes. Total bummer. Not to mention the peeling top/bottom of the (warped) lid.
Oh, and the one thing that really set this bench apart? The hard core SANDING that had been done to the edges. This poor little piece. What did they do to you? This particular feature unfortunately was outside of my time frame and budget to repair, but if I ever encounter this again I might try using a few applications of wood putty + sanding to attempt a repair.
Luckily, most of the other problems were solved some wood putty and a good sanding. As for the peeling, a little wood glue took care of that. After a good cleaning, priming, and painting (with my go-to white chalk style paint, see below for a link), this piano bench flip has a whole new look.
Here it is after the primer:
And after the chalk paint:
 Piano Bench Flip – How To
This is a very general overview of how I made this piano bench flip happen (I usually do something similar every time I use chalk paint on a project). If you have any questions on specific details, feel free to ask!
Clean piece with a damp cloth to remove any dust/spider webs/etc.
Make repairs as needed. In this case we glued the peeling areas with wood glue and clamps (worked like a charm!) and then moved on to the holes in the top.
Fill all holes with wood putty. Let dry.
Sand down the patched spots and give the whole piece a once-over with a medium grit sanding block. I like the extra grip this step gives the paint. And in this case I wanted to get rid of whatever paint had been used to "refinish" the piece originally.
Apply two coats of primer to entire piece. I like Zinsser Smart Prime. One coat of primer is usually plenty, but I was worried some of the red staining on this piano bench would bleed through, so I opted for two coats.
Apply two coats of chalk paint. I used Rust-Oleum Chalked in Linen White. Note: I generally like to water down the paint juuust slightly to make it a little easier to work with.
Apply top coat. Usually I will just paint one coat (I used Rust-Oleum Chalked Matte Clear), but in this case I opted for two. Just gives it a little more strength to hold up against the use this bench will receive.
Alright. Now I want to hear from you! What is the most challenging piece of furniture you have updated or flipped? I love how every piece teaches me something new, but some are definitely harder to work on than others. Share your stories with me in the comments!
More Furniture Flips from Bellewood Cottage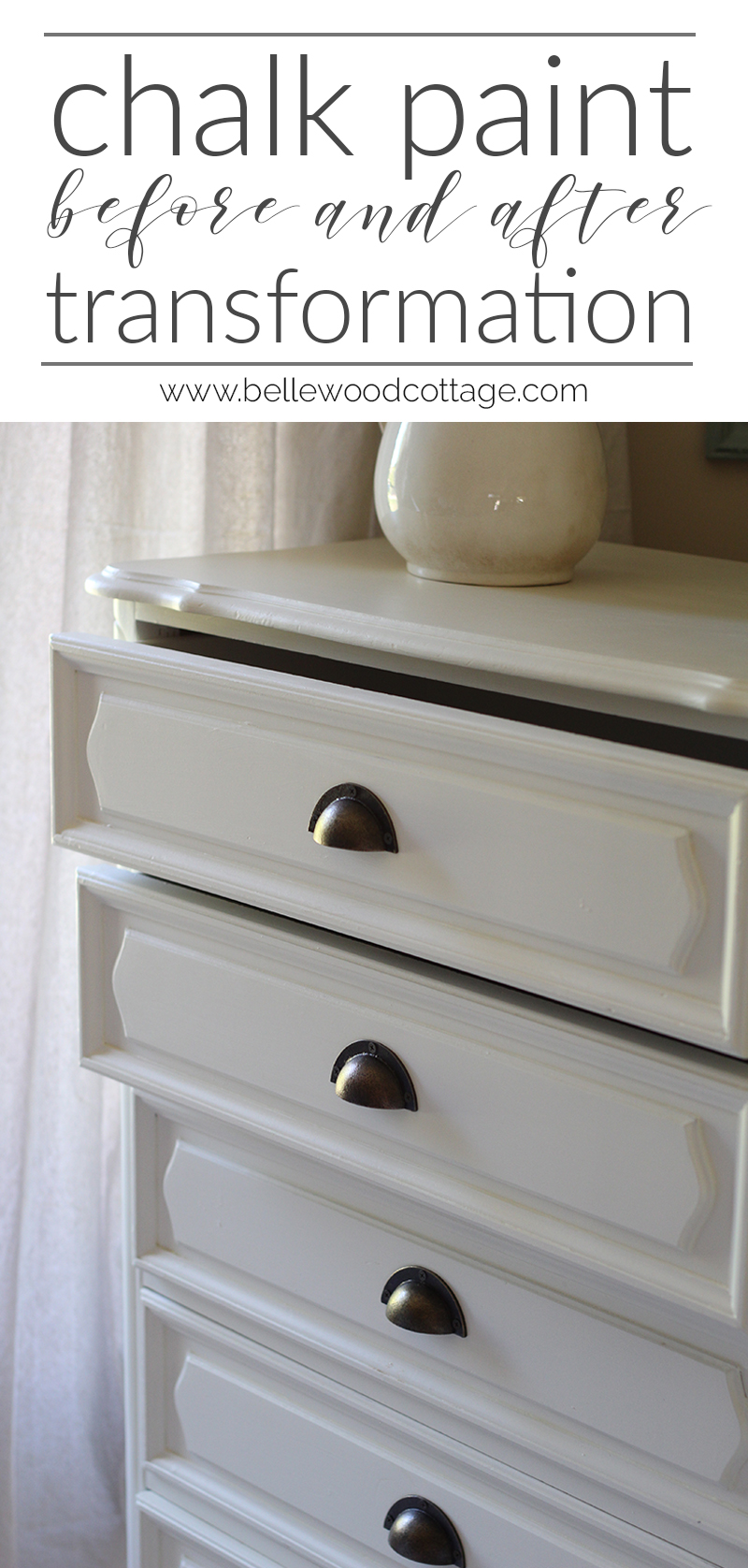 Save