Snowflake Bentley Book Review
Snowflake Bentley, a book review. This 1999 Caldecott Medal Winner begins with "a boy who loved snow more than anything else in the world." Mary Azarian's woodcut illustrations paired with the biographical text from Jacqueline Briggs Martin make for a picture book that will have you amazed both at Bentley's tenacious scientific pursuits and the wonder of snow itself.
Please note that this post contains affiliate links which allow me to earn a small commission when a purchase is made at no additional cost to you. Read more here.
Snowflake Bentley by Jacqueline Briggs Martin, illustrated by Mary Azarian won the 1999 Caldecott Medal. The book begins with "a boy who loved snow more than anything else in the world." From there, we are brought along as Wilson Bentley's life is detailed alongside snow-speckled illustrations.
This book, though a picture book, has a more nonfiction/biographical quality as it teaches about Bentley's life. It includes sidebars with additional information outside of the story, like when/where Bentley was born, and what the "snowbelt" is. The book details Bentley's persistence in learning all he could about moisture, weather, and especially snow.
What he discovered is, of course, fascinating. Such as how each snowflake boasts six identical branches (he found occasional three-branch flakes) and yet no one design was ever repeated. I mean, talk about amazing! This would be an excellent book to start up conversations about Creation and intelligent design with your kids.
Wilson Bentley, in addition to what he was able to learn of snowflakes, was the very first person to manage to photograph a snowflake. With equipment from the late 1800's no less. A feat that took him over a year to accomplish (with a camera/microscope his parents bought with their savings).
I recommend reading this alongside some of his snowflake photographs (Dover has published a great edition of these) to show your kids. Also try to look closely at snowflakes together the next time you have a blizzard—they are truly incredible! 
What I Love About Snowflake Bentley by Jacqueline Briggs Martin
The book goes far beyond the science of snowflakes. The text provides many opportunities for thoughtful questions. For example:
Education: The limits of Bentley's education, how he prevailed in the face of those limits, gratefulness for the opportunities we might have available to learn.
Tenacity: How hard Bentley worked even though he was working with limited resources (education, finances, equipment).
Sacrifice: Such as the sacrifice his parents made to buy his camera/microscope.
Sacrifice: The sacrifices Bentley himself made: lack of income, scoffs of neighbors, early mornings, long walks, even his eventual death from pneumonia he contracted while working through a blizzard.
Snowflakes: They are frankly amazing and it's a worthwhile topic to discuss how such beauty came about.
Notes & Details
My rating: 5/5.
From the Amazon Listing:
Age Range: 4 – 7 years
Grade Level: Preschool – 3
Paperback: 32 pages
ISBN-10: 0547248296
Other notes:
This book pairs well with the Dover Pictoral Archive, Snowflakes in Photographs featuring Bentley's pictures.
Though the suggested age is 4-7, the book could be a little dry/long for the younger ages in this set. You could easily shorten the text as you read and skip the sidebar details.
This book lends itself well to a homeschool curriculum or just to study together as a family during the winter months. Read the book together and then next time there's a snowstorm head outdoors to see what kind of snowflakes you can observe. Fun and memorable!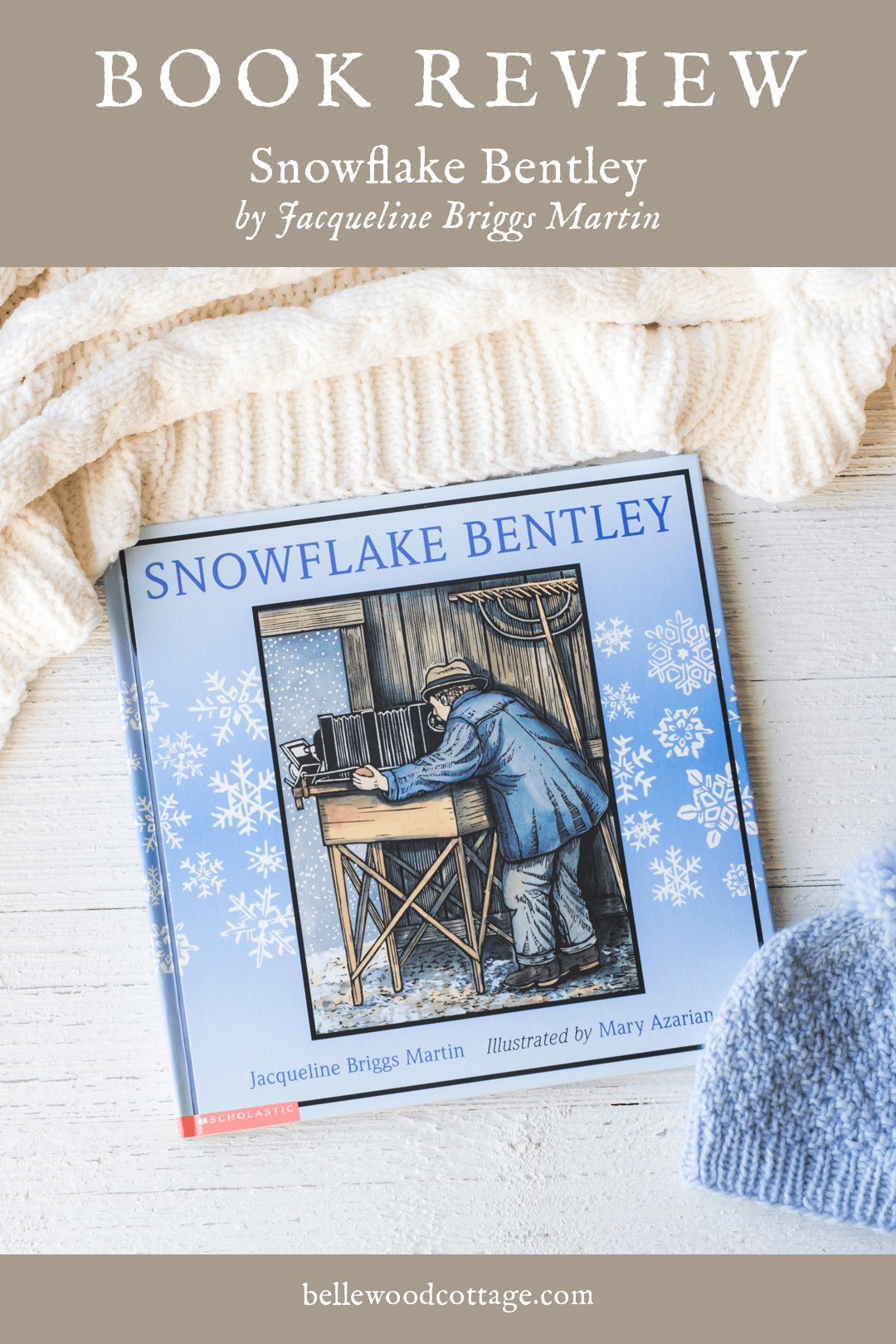 More From Bellewood Cottage