Guys. First day of spring is TODAY. Can I get a hallelujah?!
I am so ready for hiking, cookouts, and NO more winter coats! Plus, being able to sand and paint my growing furniture collection outdoors (I think the hubs is ready for it to move out of our house now) will be great. We also have lots of plans to update our home during the warmer weather, including a master bedroom update which I am super excited for. I'm definitely seeing visions of shiplap in my head, but more on that in another post.
So, in honor of spring, I wanted to share some faux flowers and greenery I am loving for warm-weather decor.
If you are into the cottage/farmhouse style vibe, I think you'll enjoy taking a trek to Michaels or Hobby Lobby to see what the floral offerings are this year. I feel like faux flower options have really improved, and it's so nice to spend a few dollars and know that the flowers will last all season (and be ready for next year too!)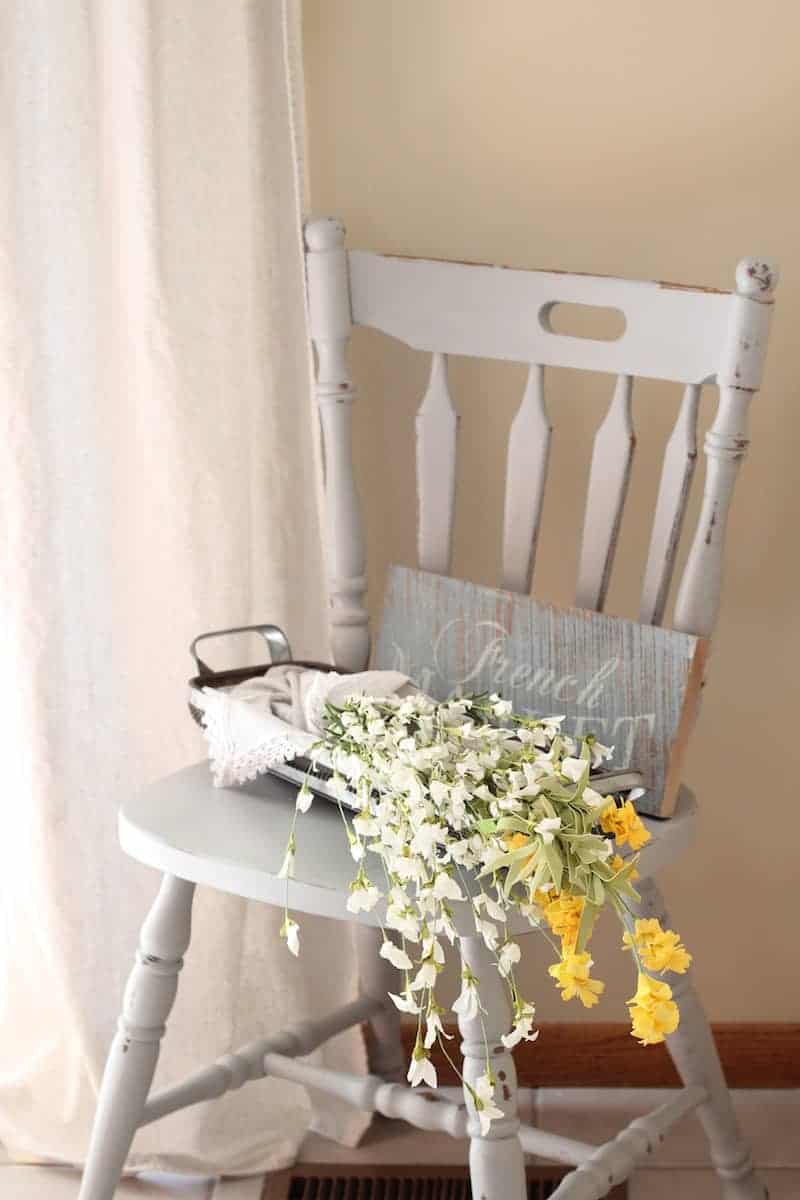 First off, these lovely papery blossoms from Michaels. This swath of flowers is really pretty draping from a basket or gracing a large canister, vase, or watering can. I think these are $14 regular price, but definitely wait for a sale or coupon, and they aren't bad at all.
I also styled them here in my painted watering can. Side note: spiders love this thing. I don't know why, but the spout must just scream "build your home here young spiders! And make it as gross and disgusting as possible so the owner of said watering can is totally paralyzed to evict you". So yeah, decorate with watering cans at your own risk I guess?
The yellow flower here is a stem from Hobby Lobby. This one was two bucks on sale and adds a pretty pop of color. The blossoms (which are kind of a foam-like material) have a fairly realistic look. This one comes in lots of colors.
Also loving these pretty boxwood branches. They are decently full on their own (I have two in this arrangement) and add a fun pop of green which works well in various decor styles. More on how I put together this little flower basket here.
Finally, I'm also loving decorating with the stems of dried lavender I used in the bouquets and centerpieces at our wedding. My super-talented sis put together all the floral arrangements for me at our wedding and saved out all the dried lavender stems for me afterwards. Now I'm able to continue to use the stems around my home. Just be warned, the flowers smell amazing, but they also fall off very easily, so be prepared to make a mess as you prepare your arrangements.
What you using to decorate for spring this season?
Save
Save