Jumbo Chewy Chocolate Chip Cookies Recipe
Fresh outta the oven cookies. Warm, CHEWY, with those still-melting chocolate chips. Yes, yes, and yes.
So basically, my biggest pet peeve is cookies that DON'T STAY CHEWY. How disappointing is that? I mean, nothing beats a fresh outta the oven cookie, but really. I want the cookies I eat on day 2, 3, and even 4 of baking them to STILL be chewy and delicious. So I ask you, can't the chewiness last?
Well, yes my friends. It can. And the key is baking up a recipe that is meant to be chewy. These cookies get it right every time.
How do you make giant chocolate chip cookies?
Alright folks. It basically boils down to being willing to scoop out a 1/4 cup of dough per cookie and not judge yourself. That amount of dough will yield a 4.5″ cookie of moderate thickness and maximum chew. Delicious.
Note: I actually recommend only placing six cookies to a tray. They will definitely spread into each other otherwise. 
So, now the big question: What makes cookies soft and chewy?
Honestly a number of things can contribute. But the first key is starting with the right recipe (I adapted this one from my beloved blog, Smitten Kitchen). You want the correct ratios of flour, butter, sugar, and eggs (even the kind of sugar can make a difference!). After you know you have a legit recipe (hint: this one is), the next step is DON'T OVER-BAKE.
The second those edges start to turn a lil' golden (like the tiniest bit of golden), it's time to pull the cookies from the oven. And I will also add, making your chewy chocolate chip cookies jumbo-sized will help a lot with this. The margin of error for over-baking a 4.5″ cookie is a lot more forgiving than that of a 2″ cookie.
Finally, store the leftovers correctly. I love my Tupperware for storing cookies, but any airtight container will work great. And if you don't think you'll be able to eat them all in a few days, go ahead and freeze any completely cooled cookies. I just let the cookies warm up to room temp before eating. Even from the freezer these are nice and chewy. YAY.
Without further ado, go make yourself some cookies.
Jumbo Chewy Chocolate Chip Cookies Recipe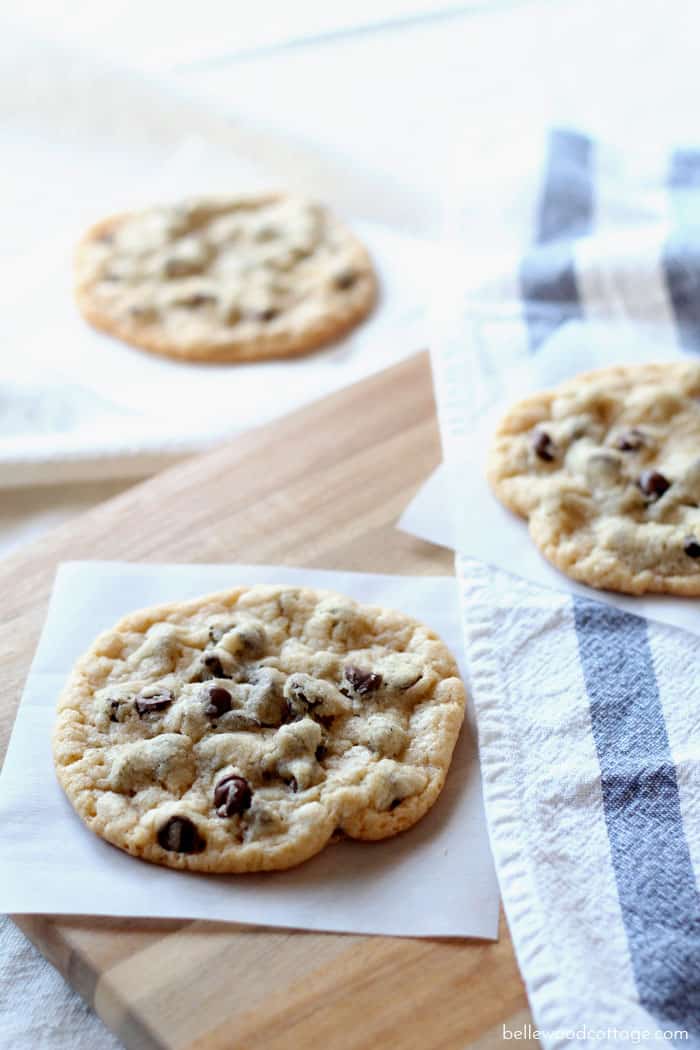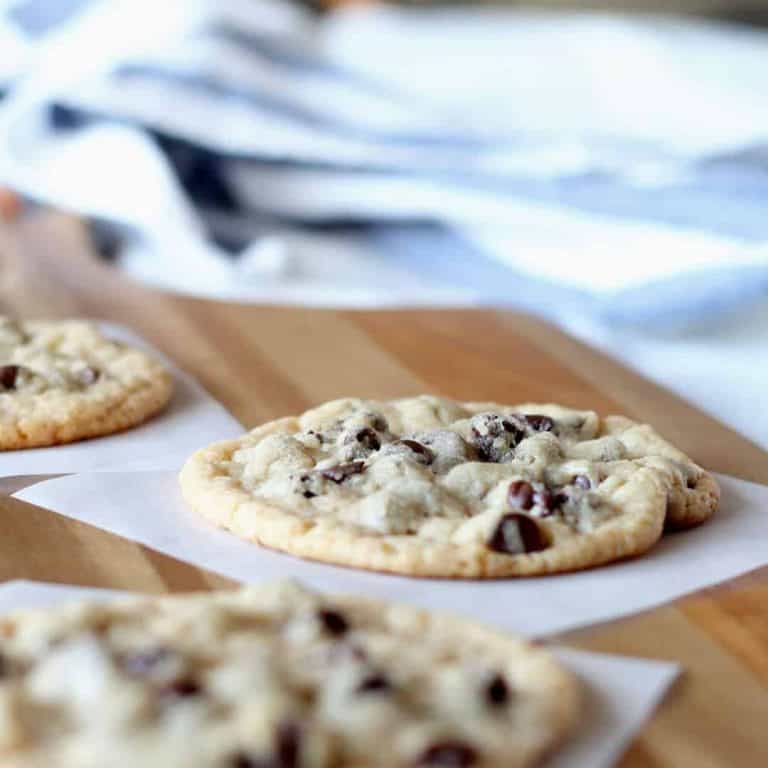 Giant Chewy Chocolate Chip Cookies Recipe
These chocolate chip cookies are decadent, chewy, and extra large (4.5"!)...just the ticket when you need an indulgent, yet easy to bake treat.
Ingredients
2 ½

cups

all-purpose flour

2

tsp

baking powder

1

tsp

salt

16

tbsp

unsalted butter

1

cup

sugar

1

cup

brown sugar

2

eggs

2

tsp

vanilla extract

2

cups

semi-sweet chocolate chips
Instructions
Line a baking tray with parchment paper.

In a medium bowl, whisk together flour, baking powder, and salt. In a large bowl, melt butter. Mix in sugars until combined. Stir in eggs and vanilla extract until combined. Pour the flour mixture into the butter mixture and fold together gently until combined. Don't over mix. Add chocolate chips and fold them in gently.

On your parchment-lined baking tray, scoop out ¼ cup scoops of dough, placing six to a tray, about 3" apart. Don't flatten the scoops of dough, they will spread plenty while baking! Bake one sheet at a time for 14-16 minutes or until cookies are juuuust beginning to brown on the outer edges. The key is to pull them early enough that they stay chewy.

Let cookies cool on the baking tray for 5 minutes and then carefully transfer to a cooling rack to cool completely.
Notes
The key to making these cookies ultra-chewy lies in the generous size and careful baking. The scoops of dough may seem excessive, but they will spread to perfection during baking. Pull the tray from the oven juuuust as the edges of the cookies are beginning to brown slightly. It's crucial for a chewy interior to pull the trays before the cookies have set completely. You'll get a pretty good feel for this after the first tray. And remember to always check that oven temp for best results!
Adapted from Smitten Kitchen.
Nutrition