15 Bucket List Fall Recipes
Load up your autumn bucket list with these delicious fall recipes, including my family's tried-and-true favorites and the new recipes on MY fall bucket list.
Irony is writing a blog post about the best fall recipes while is 90 degrees outside. Irony is also making a massive slow cooker full of piping hot chicken wild rice soup while it is 90 degrees outside. But, the realization of irony alone didn't stop me from doing those things…so I bring you today's post! A bucket list devoted to fall recipes that you (and I!) need to be making this season.
This list includes several of my tried-and-true favorites (the stuff I make on repeat throughout fall/winter). It also includes the new recipes that are on MY fall bucket list.
This list is probably a little heavy on the sweet things, but you'll also find some must-have soup recipes and hot meals that are just the ticket for cool fall evenings. So join me and let's start cooking through our fall bucket list together! (P.S. would LOVE to hear your favorite fall recipes, so shout 'em out in the comments!)
15 Bucket List Fall Recipes
(photo from Culinary Hill)
First up, how majestic is that photo? I mean, the CHEESE! I made this a couple of weekends ago and it was a major hit. Culinary Hill is a newer blog to me and everything I've tried so far has been amazing. Highly recommend!
(photo from Bellewood Cottage)
First of all, yum. Second of all, I might have made this every week last year. It's that good. While I often make it on the stovetop, because I forget about things like putting food in the crockpot at 8 am, do yourself a favor and make the slow cooker version. Nothing like having a hot dinner ready to go after a long day!
(photo from Iowa Girl Eats)
I've been making these for years now and let me just say. You need these scones in your life. From the pumpkin-packed flavor to the TWO glazes, there will be no regrets.
(photo from Smitten Kitchen)
This apple cake popped up on my social media feeds one too many times recently and I cannot get it out of my head. I. Must. Bake. It. (Really, the pregnant lady is screaming, I must EAT it, but you understand). This recipe is actually what inspired this post, because I realized that YES, fall recipes are important enough for their own bucket list.
(photo from Rachel Schultz)
Let's talk about the pure brilliance that is using a mini-muffin pan for doughnut holes. This minimalist kitchen is thanking you Rachel! K, now that we've established the amazingness of this idea, let's all go make these.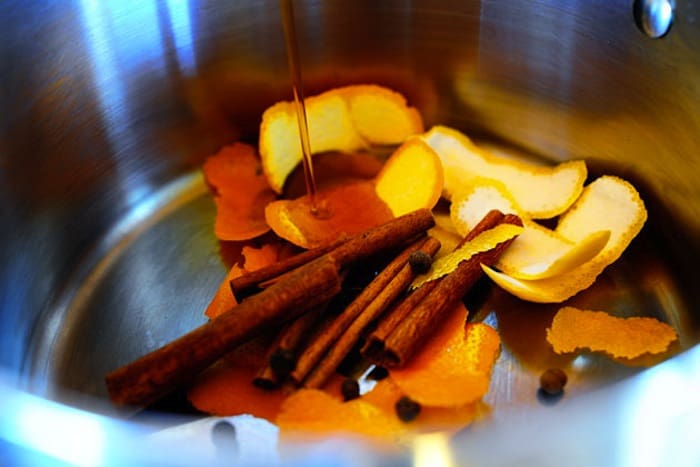 (photo from the Pioneer Woman)
If we're talking about fall recipes and bucket lists and those sorts of things, well, gee, you gotta have some apple cider happening. Ree has never steered me wrong, so I'll be giving her recipe a try this fall!
(photo from Bellewood Cottage)
My poor hubby isn't a big soup fan, but I on the other hand am borderline obsessed with the concept. I love making it. I love eating it. I love that one batch can often see us through three meals. This recipe is one you absolutely want in your arsenal this fall. It's quick to make and delicious to eat. Oh, and hubby? He loves this one too.
(photo from Smitten Kitchen)
I mean, a slab of apple pie? Just hand it on over.
(photo from Sally's Baking Addiction)
I think the title alone pretty much explains why we all need to be making these cookies. In fact, I'm canceling my weekend plans, because I remembered I have something very important to do.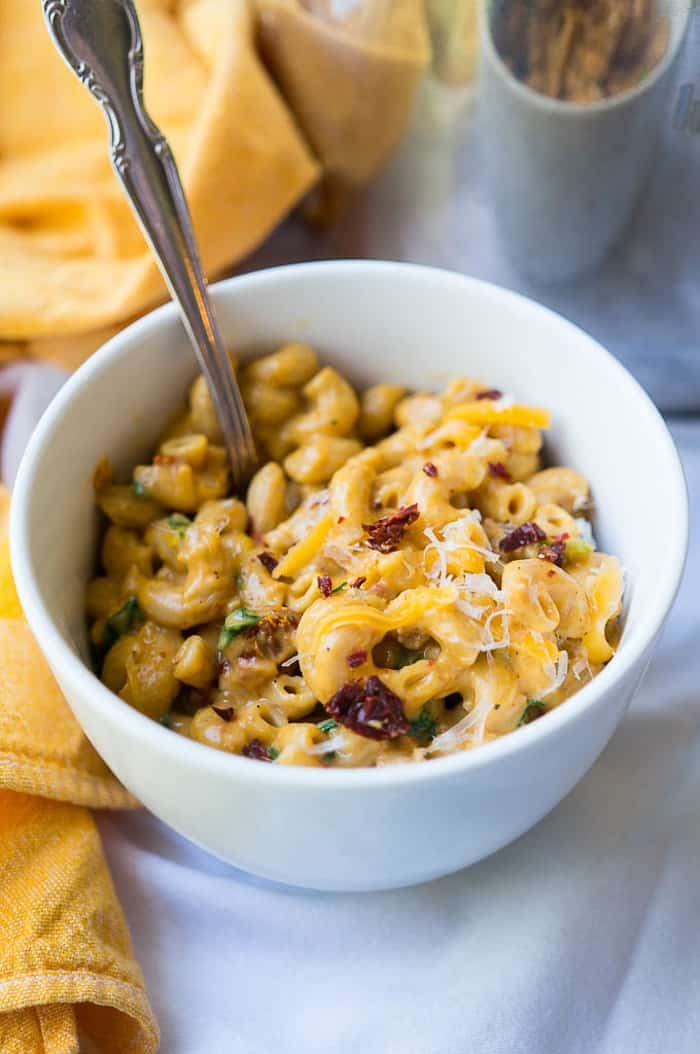 (photo from Kitschen Cat)
This recipe has me totally intrigued. And since pumpkin and mac-and-cheese are two of my favorite things, well how could I resist?
(photo from Half Baked Harvest)
Thanksgiving is coming people. And with it, the chance to test recipes featuring all manner of carb-filled goodness. I will for sure be test-driving this roll recipe. And I honestly don't know if I'll share.
(photo from Ina Garten)
If you've been reading Bellewood Cottage for a while, you know that if Ina Garten made it, well I am just compelled to make it too. So yes, these are happening.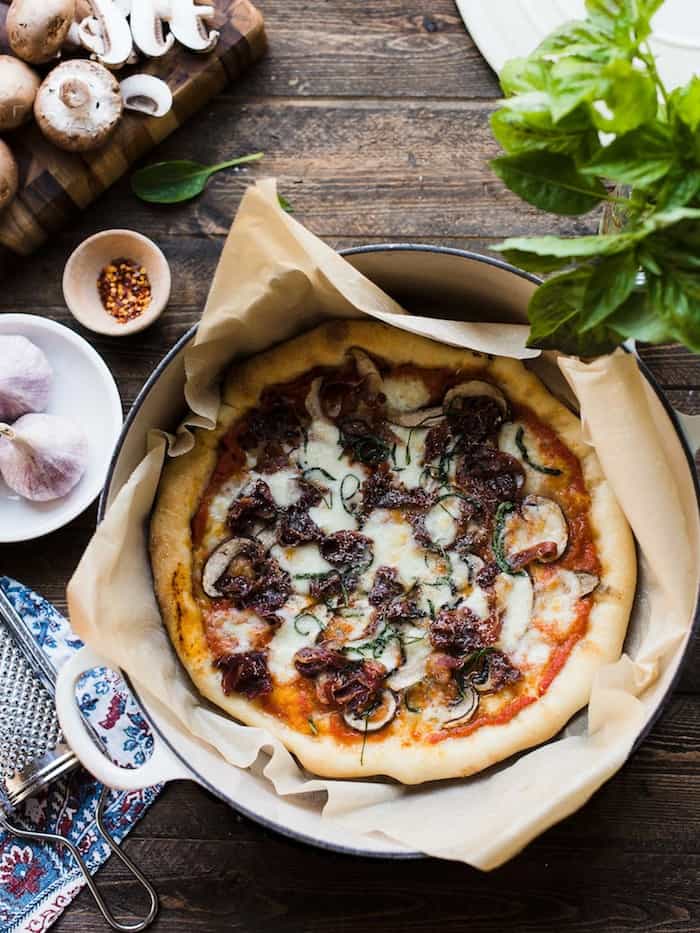 (photo from Kitchen Confidante)
I love this idea! So ingenious to bake a pizza in a dutch oven. Since I've never owned a pizza stone (and thus make subpar homemade pizza, which is 100% unacceptable), I will definitely be giving this a go. Has anyone else ever tried this method? I'm so curious!
(photo from Tasty Seasons)
Granola is one of those things I can't make too often because sticking to the usual 1/3 cup serving size is just not possible for me. Nope, no way. But for this recipe, I will sacrifice my caloric goals and make it anyway.
(photo from Pinch of Yum)
Finally, my FAVORITE new recipe I made last fall. I love how crazy-healthy this soup is and the fact that it's not a salad, it's easy to make, and it freezes perfectly. You might have a harder time convincing the less health-minded members of your family to give this a go…but it's seriously YUM. And the healthiness! Just the ticket after we get done making all the desserts on this list.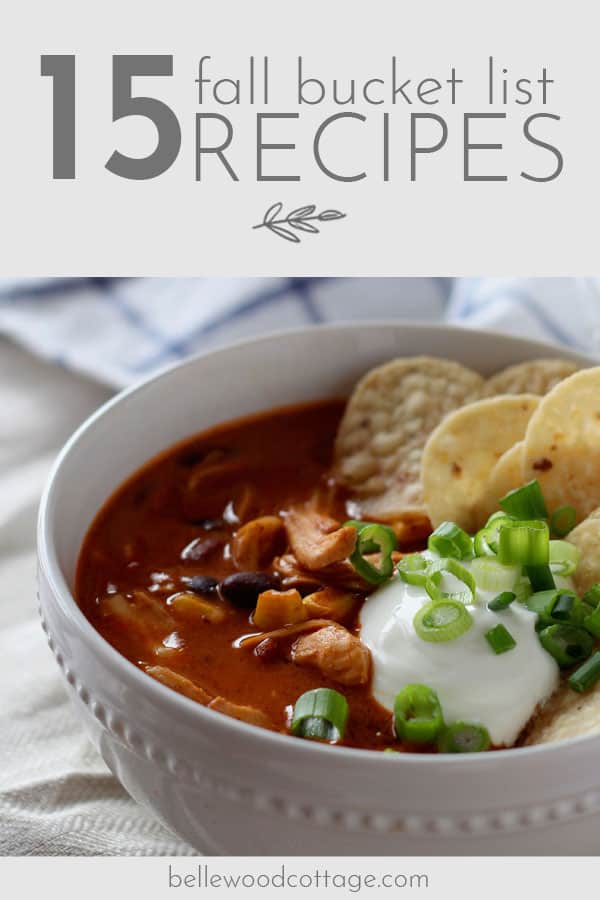 Shout out in the comments and let me know what you're cooking this fall!
<3 Ellen