How to Make Drop Cloth Curtains…Everything You Ever Wanted to Know
Learn how to make easy DIY drop cloth curtains! My drop cloth curtain tutorial covers all your questions including if you can bleach drop cloths, how many clips you need, if they can be used as blackout curtains, and lots more. I've had these curtains hanging in our home for several years now and I love 'em!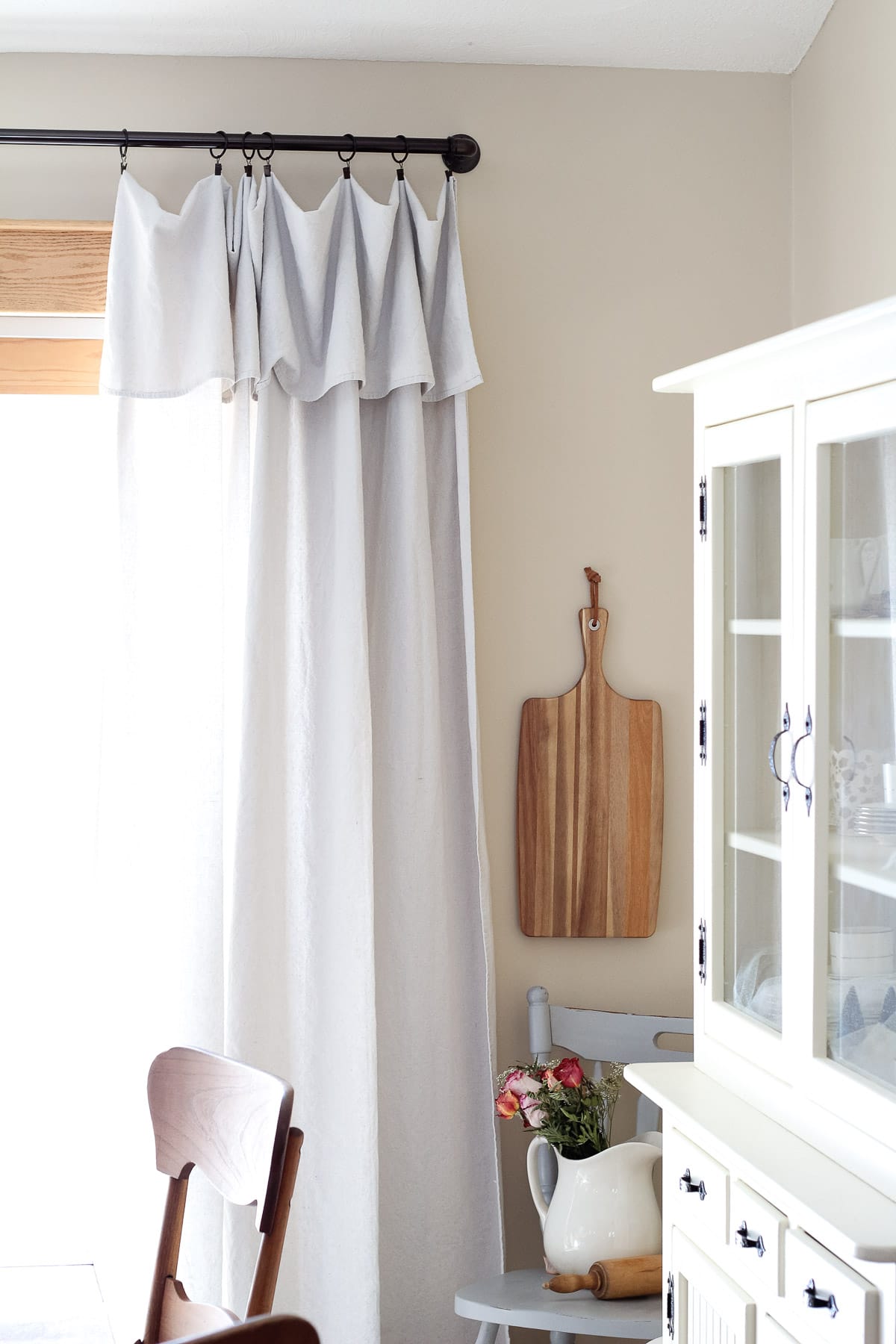 Please note that this post contains affiliate links which allow me to earn a small commission when a purchase is made at no additional cost to you. Read more here.
P.S. If you want to find the original posts I wrote about our drop cloth curtains (back before there were 100s of tutorials out there!) you can find them here and here.
3 Things You Should Know About Drop Cloth Curtains:
Drop cloth curtains are rustic. If you are looking for the perfect color match, pristine fabric, or flawless hems, then drop cloth curtains aren't for you.
Sometimes they have seams. This is a total pain, but occasionally you end up with drop cloths that have a seam right down the middle. Check with your retailer to see if you can return them if they don't work out for curtains.
Drop cloths can be bleached, but you need to get 100% cotton drop cloths. However, note that by the time they are done shrinking, they may be too small for your window. Check out my full-length tutorial on How to Bleach Drop Cloths here for more details.
Reasons to Use DIY Drop Cloth Curtains
no sewing necessary!
great for farmhouse style homes, but super versatile for other décor too
large enough for big windows
easy to hang (I love using curtain clips–I'll never go back!)
relatively inexpensive
easy to remove and wash (again, the curtain clips!)
can be bleached (note: ONLY 100% cotton drop cloths can be bleached, and they will shrink)
Where to Buy the Drop Cloths?
If you are wondering where to buy drop cloths for making farmhouse style curtains, then I have two great options for you.
First, the drop cloths shown above from Home Depot. I love these giant 6'x9′ cloths. The fabric is a grayish color that works great with the farmhouse whites that are so popular these days. You can't bleach these cotton/poly cloths, but the original color is lovely!
Second, you can pick up these 100% cotton canvas drop cloths from Amazon. The fact that these are 100% cotton means you can bleach them to a nice soft white. The downside? The cotton will shrink quite a bit through the process. Also note that the super large 9'x12′ drop cloths I buy from Amazon generally have a seam.
Check out my tutorial on how to bleach drop cloths for more details on how much they shrink and how to bleach the cloths.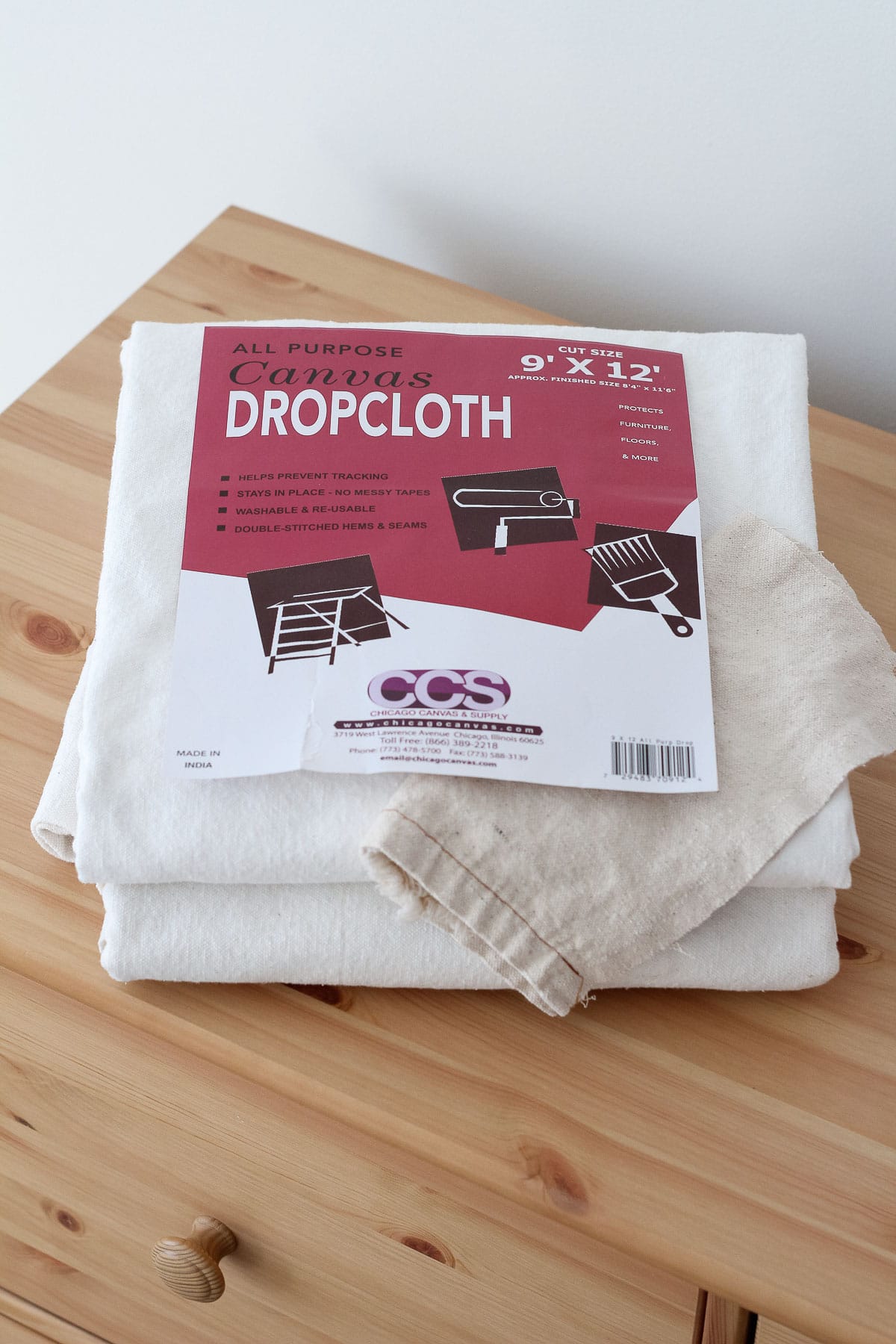 Do Drop Cloth Curtains Block Light?
Drop cloth curtains do block light, but they are by no means blackout curtains. I find them to do a better job at blocking light than the super cheap panels you can find at home décor stores, but if you want them to be blackout curtains you'll need to hang a blackout panel behind them.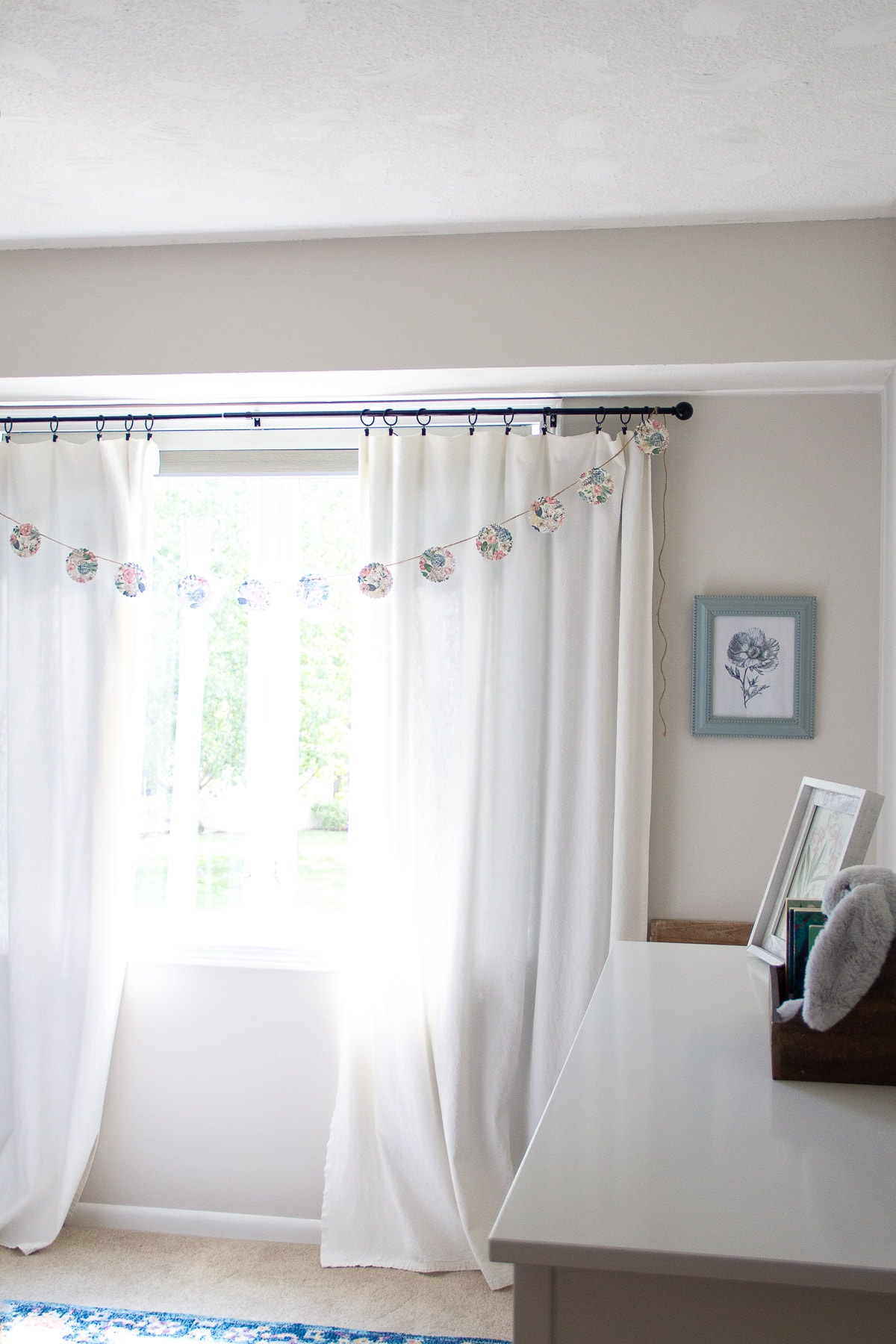 In my toddler's room, I just clipped some black fabric I had to the back of the panels and it worked. The room could be darker, but I just haven't purchased legitimate blackout panels since they always seem to have such mixed reviews online anyway!
Another note: since the curtains hang off the clips, it does create a gap at the top where more light can get through. Depending on how dark you need the room, this style may not work for you.
Supplies You'll Need to Get Started
The great thing about drop cloth curtains is that they are no-sew! This means you don't need a lot of supplies.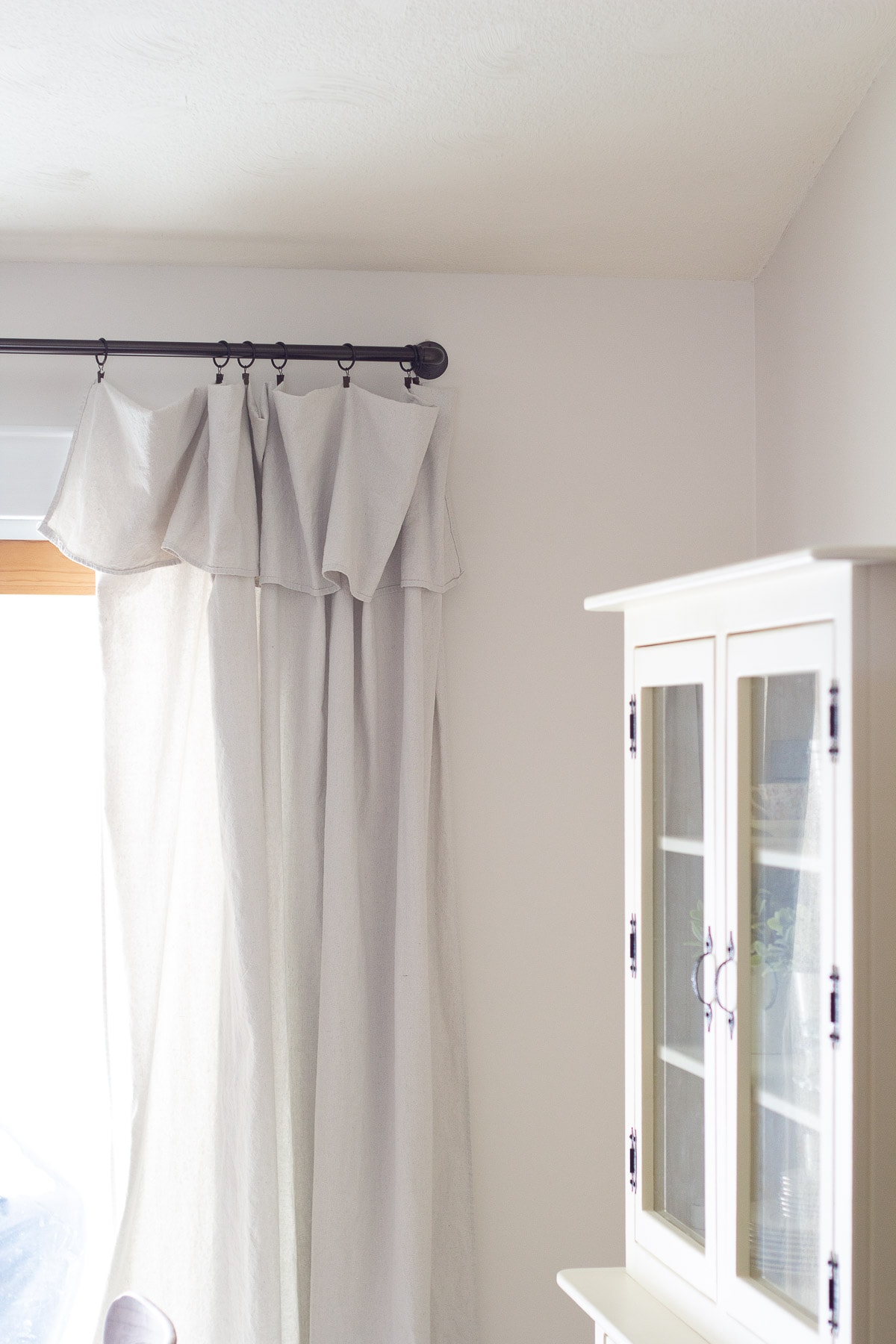 For a window as shown (our sliding glass door) you will need the following:
one curtain rod (it's been awhile since I purchased mine, so you'll want to double check that the rod and rings you are buying will be the right size to fit each other)
curtain clips/rings to fit your curtain rod (I use 7 rings per panel, so 14 total)
iron (optional)
anything you will need to hang a curtain rod if it is not already up
The common method of hanging the cloths is to simply fold over the top of the curtains and adjust the length. That said, you can certainly use a sewing machine to re-hem the cloths if you like or make curtains for smaller windows like I did here: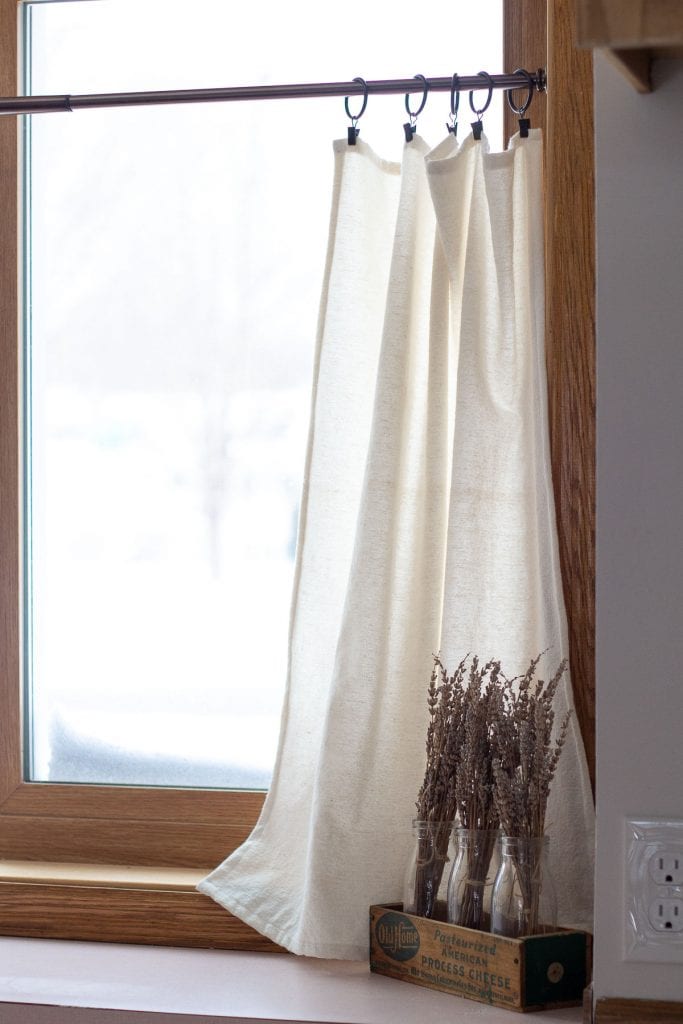 How to Hang Drop Cloth Curtains
To hang your drop cloth curtains, the easiest method is to simply use curtain clips. You have to plan ahead a bit to get them onto your curtain rod (each rod is different, so just make sure you've counted your clips and have assembled them on the rod before it's too hard to get them on there). Using the clips makes it soo easy to take down the curtains and wash and dry them anytime it's needed.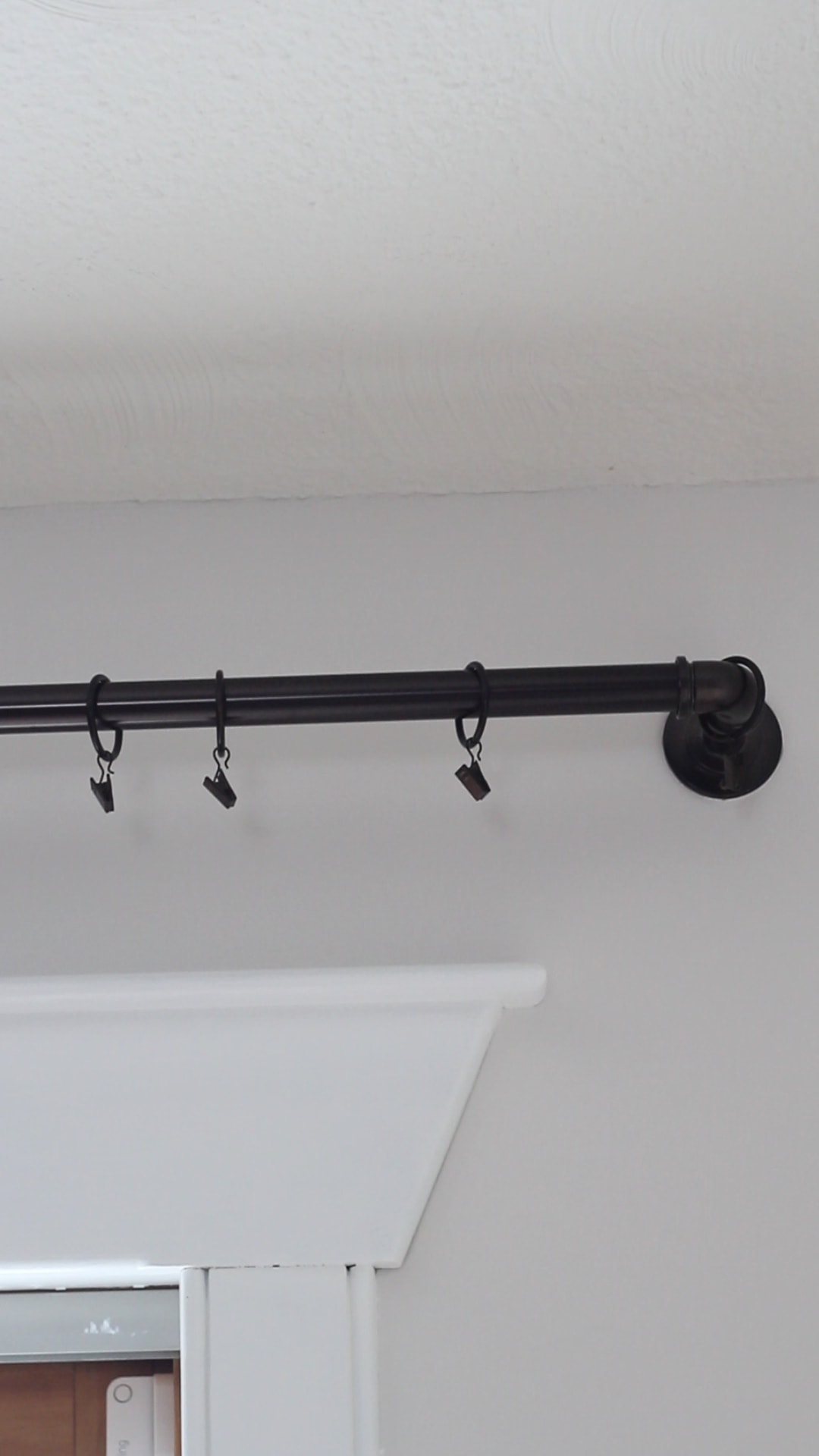 To hang the curtain, I just clip the edges on first and find the center and clip that. Then I fill in the rest. I don't bother measuring or anything. It's quick to adjust if needed.
You can watch the story below (click through the frames to see the step by step) or head to the end of the post to watch my video or print the tutorial.
For those wondering if the curtain clips are secure enough to hold drop cloths, yes! They do an excellent job. If you are worried, you can add more clips so there is more strength keeping the drop cloths up. I have three sets (six panels) of these curtains throughout my home plus a mini set in our kitchen window and have never had a problem with the clips (I've used both the Amazon ones and the Threshold ones from Target).
How Many Clips Per Panel?
For a 6′ curtain panel, starting with 7 clips works really well. You can easily add more if you would like (bulk curtain clips make it easy to do that).
How to Clean Your Drop Cloth Curtains
I make sure that I get all of the shrinking out of the way before I ever hang my drop cloths. That way, when I next wash them there are no surprises. Note that I've found the cotton/poly drop cloths (the ones you buy at Home Depot) hardly shrink at all, whereas the 100% cotton drop cloths (that can be bleached) shrink quite a bit.
I wash my drop cloth curtains on cold and tumble dry low. When they are fresh out of the package, I usually wash them on warm the first time.
Check out the tutorial and video below to learn how to make your own drop cloth curtains!
Yield: 1 set of drop cloth curtains
How to Hang Drop Cloth Curtains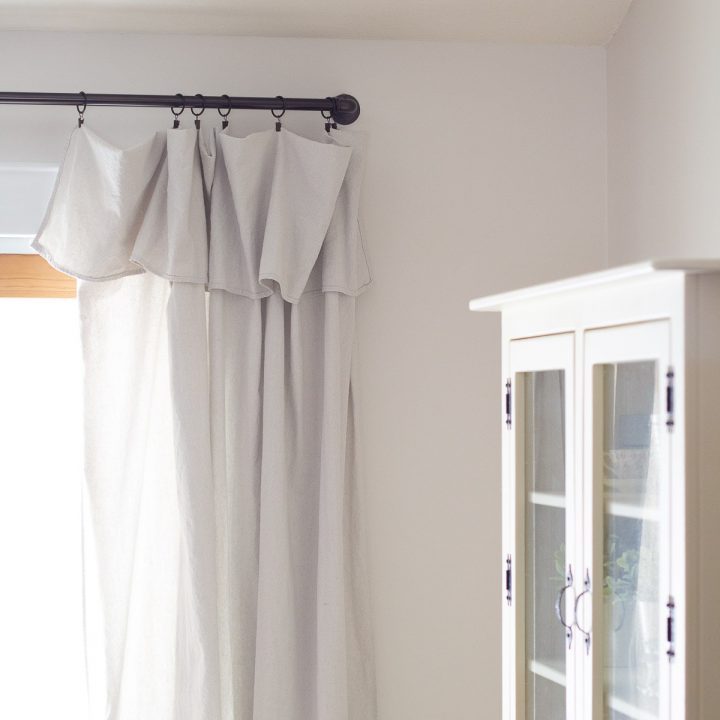 Learn how to make drop cloth curtains with this easy tutorial. I've had these curtains in our home for the last several years now and I just love the simplicity of the cozy and rustic drop cloth fabric.
Materials
- two drop cloths (6'x9'), you will use one drop cloth per panel
- curtain rod of choice
- 7 curtain clips per panel (I used 14 total for the curtains shown; be sure to buy the correct size to fit your curtain rod)
- iron (optional)
Instructions
Open up the drop cloth packages and wash and dry the panels. I run them on a warm cycle with detergent and then tumble dry low.
Iron if desired. It's a more tailored look, but I usually just leave mine.
Hang a curtain rod being sure to include 7 rings per panel. If you like, you can add more rings. I like using an odd number so it's easy to find the center.
Measure from the rings to your floor and record the measurement.
Measure length of washed/dried curtains. Add 2-3 inches to your floor measurement if you want to have pooling at the bottom. Subtract this # from the length of the curtain and foldover the remaining amount (for me it was 12"). Optional: Iron or pin the fold.
Optional, quicker less-precise method: Grab a helper who can hold the curtain while you clip it to the rings and just eyeball a foldover and wing it. Adjust as needed.
Clip curtains to outside clips first. Then find the middle of the curtain and clip the middle ring. Space the other clips evenly and secure them. It's easy to adjust the clips, so I just eyeball this. And you are done!
Notes
You can buy curtain clips in bulk from Amazon, which is a great option if you have multiple windows to cover.
Recommended Products
As an Amazon Associate and member of other affiliate programs, I earn from qualifying purchases.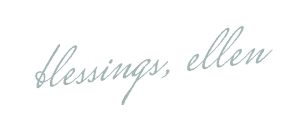 Love DIYs? Check out these posts too: