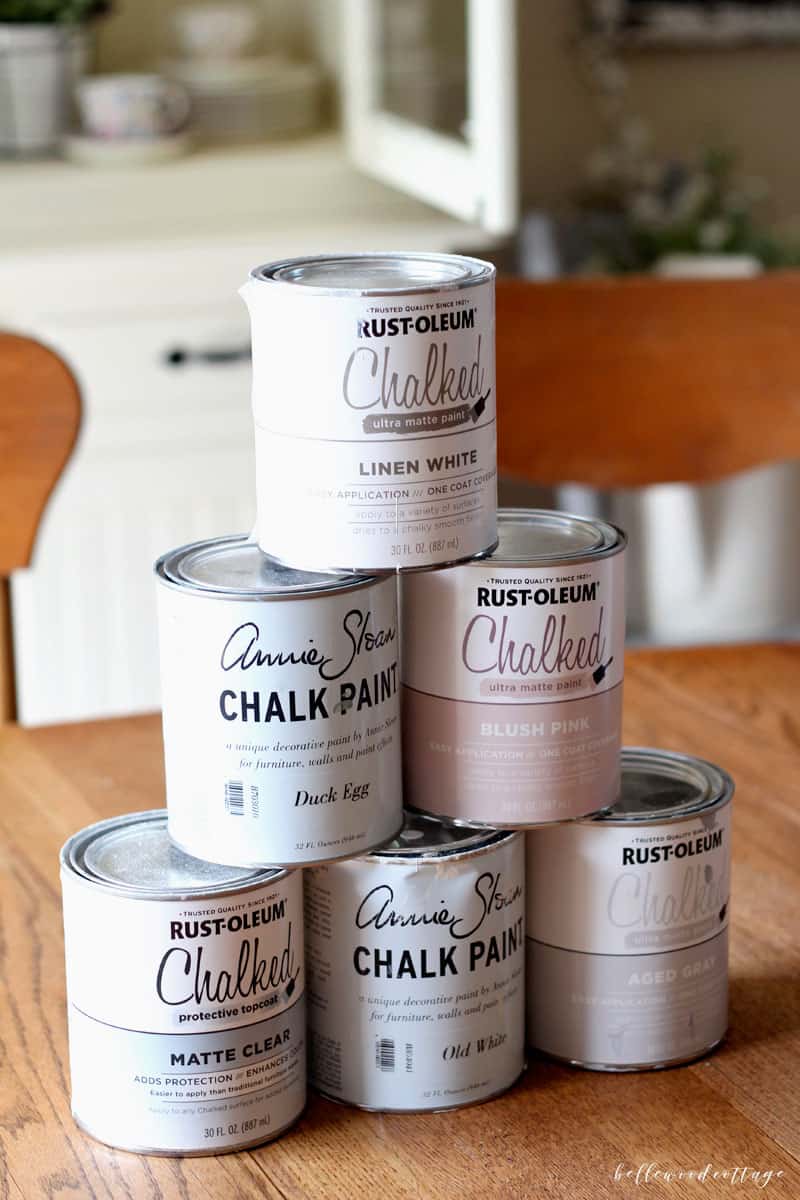 By now, many of us have probably heard the hype surrounding "chalk paint". But in a world with hundreds of paint options (and even more opinions on how to use them), maybe you've been wondering "what is so great about chalk paint?"
My personal conviction is that like anything else, chalk paint has its strengths and weaknesses. So, when used in the right context it absolutely shines as a wonderful option to bring new life to furniture. It's a paint that is versatile, fun to use, and capable of totally transforming grungy old pieces.
Still curious? Let's start with a quick review of what chalk paint is.
Please note that this post contains affiliate links which allow me to earn a small commission when a purchase is made at no additional cost to you. Read more here.
What is chalk paint?
Chalk Paint is the creation of Annie Sloan. It's a furniture paint designed to adhere to surfaces without sanding first. The paint dries to a matte finish, requires a finish coat to protect against staining/damage, and is extremely versatile. When dry, the paint can be distressed, which is an asset (or not) depending on your desired look.
Since Annie created her Chalk Paint, a number of similar products have hit the market, but Chalk Paint itself remains a registered trademark of Annie Sloan. Chalk paint is generally sold in quarts, and costs anywhere from about $17 per can (Rust-Oleum Chalked) to $36 per can (Annie Sloan).
What is so great about chalk paint?
It  adheres to most surfaces, no sanding required
It's a "no-prep" paint (I personally think prep is still VERY important, more on that below)
It "flips" furniture beautifully and quickly
Annie Sloan's original formula is very low VOC (note: not necessarily the case for copy-cat brands)
It gives a rustic "farmhouse" appearance
It distresses well for a time-worn finish
It's just plain fun to use!
I've used it to flip lots of pieces in my home including this dresser (a mix, mostly of Rust-Oleum in Linen White + Annie Sloan in Old White):
My china hutch (Annie Sloan Chalk Paint in Old White):
And even these Christmas ornaments using Rust-Oleum Chalked spray paint:
I love chalk paint for the ease of use, the finish, the ability to transform just about anything, and how it brings a lovely time-worn feel into my home. However, chalk paint isn't the answer for every project.
What do I need to know before I buy chalk paint?
Prep is a step
"Don't prep" they said. "You won't even need to sand", they said.
Those are the first things you'll hear when you buy your chalk paint. I've even seen recommendations not to bother dusting off your piece first! Um, ew much? Here's the thing. Prep matters.
Cleaning and lightly sanding your furniture isn't really so much for the paint to stick (because chalk paint will likely adhere regardless), but for the "canvas" (your furniture) to be as well-prepared as possible. As you sand, you might even notice repairs that should be made before you commence painting. Good to know before the project is well underway!
I also prefer to start with a coat of primer before I start painting. You certainly don't have to, but it can help avoid bleed-through and other nuisances.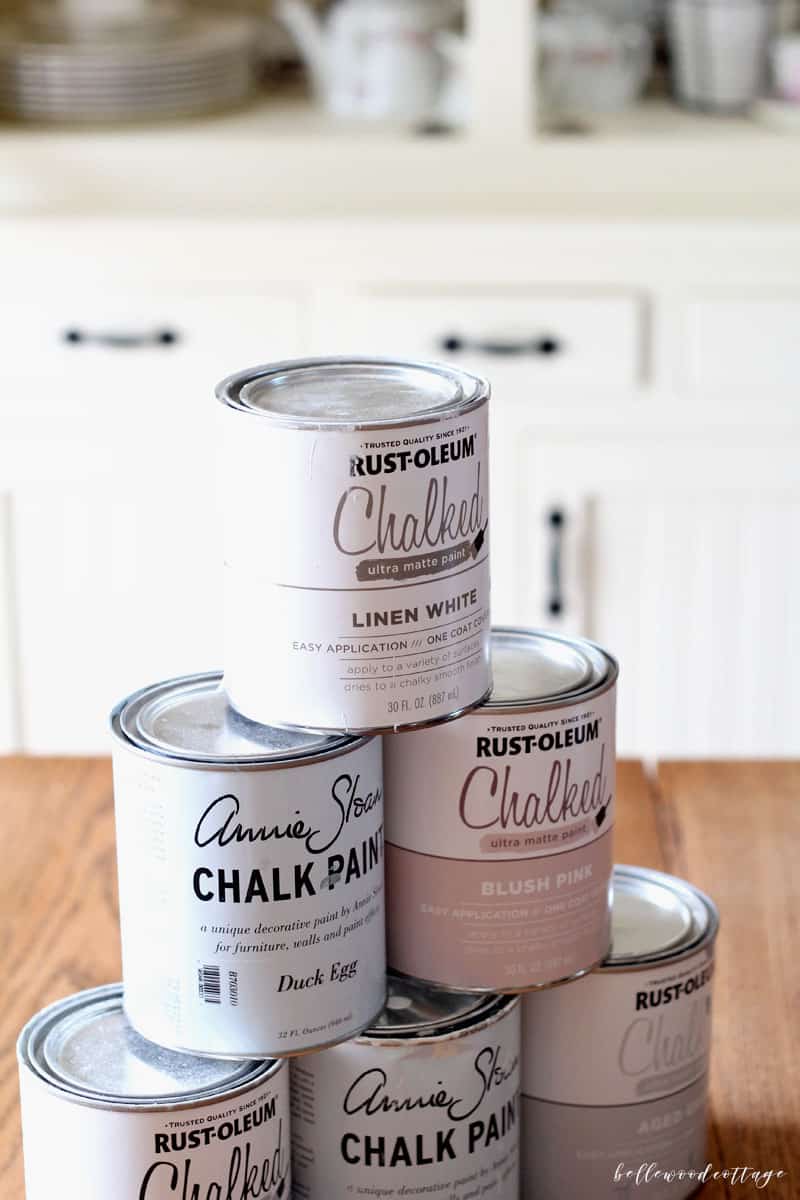 Don't spend your nest egg on paint brushes
You don't necessarily need special brushes or fancy tools. I love using my favorite brush for painting furniture. It only costs about $5 (find it here). No need to break the bank over a fancy new brush. Now, if you plan to wax your piece, you will most likely want a special brush designed for waxing…but please keep reading for my tip about that.
You don't need to wax your finished furniture pieces
WHAT.
Now hold on to your hat, because I have more to add. Yes, that freshly chalk painted furniture flip still needs a top coat! But, you certainly don't need to develop a case of carpal tunnel trying to spread thick wax on your piece.
Instead, go with a brush-on polycrylic. Polycrylics are a water-based top coat and your paint store sells variations from matte to glossy. Bonus: they are a lot less expensive that the brand-name furniture wax often sold with chalk paint. I often use Rust-Oleum's Matte Clear, but it's a little more pricey and you'll get similar results from a polycrylic like this. I recommend experimenting to find what you like, whether that is a wax or poly!
When should I use chalk paint?
Use chalk paint on:
old, tired furniture
new, tired furniture
garage sale finds
old picture frames, lamps, or outdated home decor
inexpensive metal or wood decor from the craft store
mason jars

fabric (not for me, but it can be done!)

any item you want to have a rustic/distressed appearance
When should I avoid using chalk paint?
Avoid using chalk paint when painting:
kitchen cabinets
bathroom cabinets
unfinished furniture (needs to be primed first!)
furniture that is breaking down or ultra-low quality
furniture made from wood prone to the dreaded "bleed-through" (like knotty pine or mahogany)
furniture prone to staining (I'm looking at you, kitchen tables!)
furniture you want to have a satin smooth look (with no distressing)
If you have ever painted one of these items, you may have found yourself REALLY wondering "what IS so great about chalk paint?". The fact is, chalk paint simply isn't right for every project.
For instance, I still see recommendations online suggesting that chalk paint is great for bathrooms and kitchens (cabinets specifically). Friends, it's not. High-traffic and high moisture areas are better served with a combination of sanding, priming, and high-quality cabinet paint (like Benjamin Moore Advance).
Any time you're dealing with a painted surface, there is a potential for chipping, staining, and wear and tear. A chalk paint finish will exacerbate this natural wear and tear like crazy and you'll be constantly fighting it. Instead, use chalk paint where it will shine.
Chalk paint is lovely for refreshing old furniture and lending a rustic cottage feel to any space. Use it for pieces that you plan to distress or that you desire a time-worn finish on. Plan to avoid furniture/cabinets that may receive more wear and tear than chalk paint can handle!
Share with me your thoughts on chalk paint!
I would love to hear what you think about chalk paint. Regardless if you are in the, "what is so great about chalk paint?" camp or if you're a fan for life, let's chat in the comments below!
Pin "What is so great about chalk paint?" here: