What Is So Great About Chalk Paint?
What's so great about chalk paint? If you have questions about chalk style paints and how to use them on furniture flips (and more!) this is the post for you. Learn the best projects to use chalk paint for, the supplies you need to get started, plus when you shouldn't use chalk paint!
Please note that this post contains affiliate links which allow me to earn a small commission when a purchase is made at no additional cost to you. Read more here.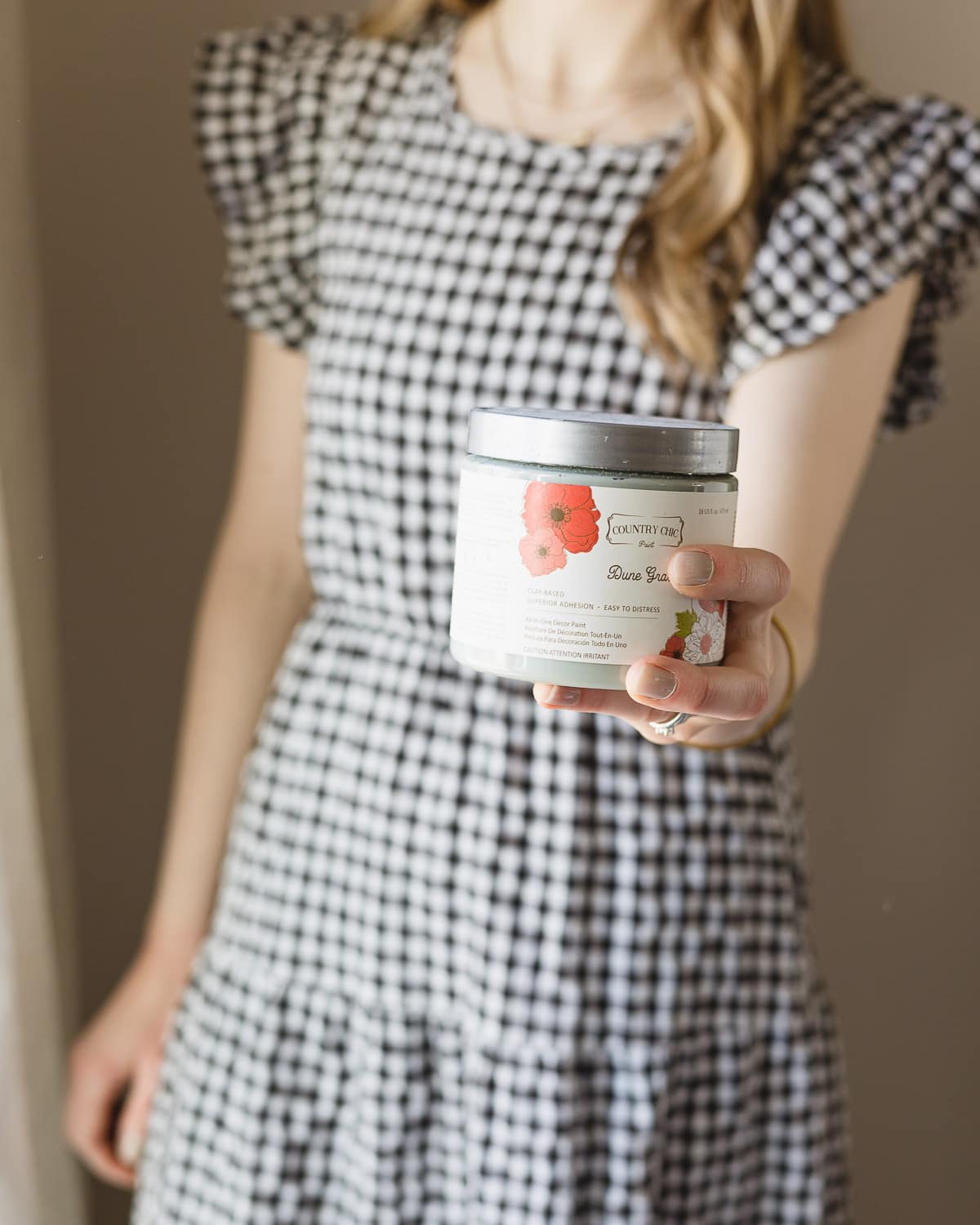 By now, many of us are aware of the hype surrounding "chalk paint" and the way it has transformed furniture flipping. However, you might be wondering "what is so great about chalk paint?" After all, there's many paint options out there. What makes chalk paint special?
My personal conviction is that like anything else, chalk paint has its strengths and weaknesses. So, when used in the right context it shines at bringing new life to furniture. It's versatile, fun to use, and capable of transforming grungy old pieces.
Still curious? Let's start with a review of what chalk paint is and isn't.
What Is Chalk Paint?
Chalk Paint is the original creation of Annie Sloan. It's a furniture paint designed to adhere to surfaces (often old wooden furniture) without sanding first. Annie's Chalk Paint (and many imitator chalk style paints) adheres well without sanding or prep, dries to a matte finish, requires a top coat to seal, and distresses easily for a rustic or farmhouse-style look.
Annie Sloan's years of expertise in the art world led her to create a paint that transformed furniture painting (and more). It was sold for many years in the UK and caught on to major popularity in the USA in the last decade or so.
What Are "Chalk Style Paints"?
Since Annie created her Chalk Paint, a number of similar products have hit the market, but Chalk Paint itself remains a registered trademark of Annie Sloan. Because of the popularity of the original Chalk Paint, there are many imitation products available now as well, usually labeled "chalk style paint". A lot of them work great!
These paints are generally sold in quarts, and cost anywhere from about $17-$20 per can (Rust-Oleum Chalked for example) to $36+ per can (Annie Sloan).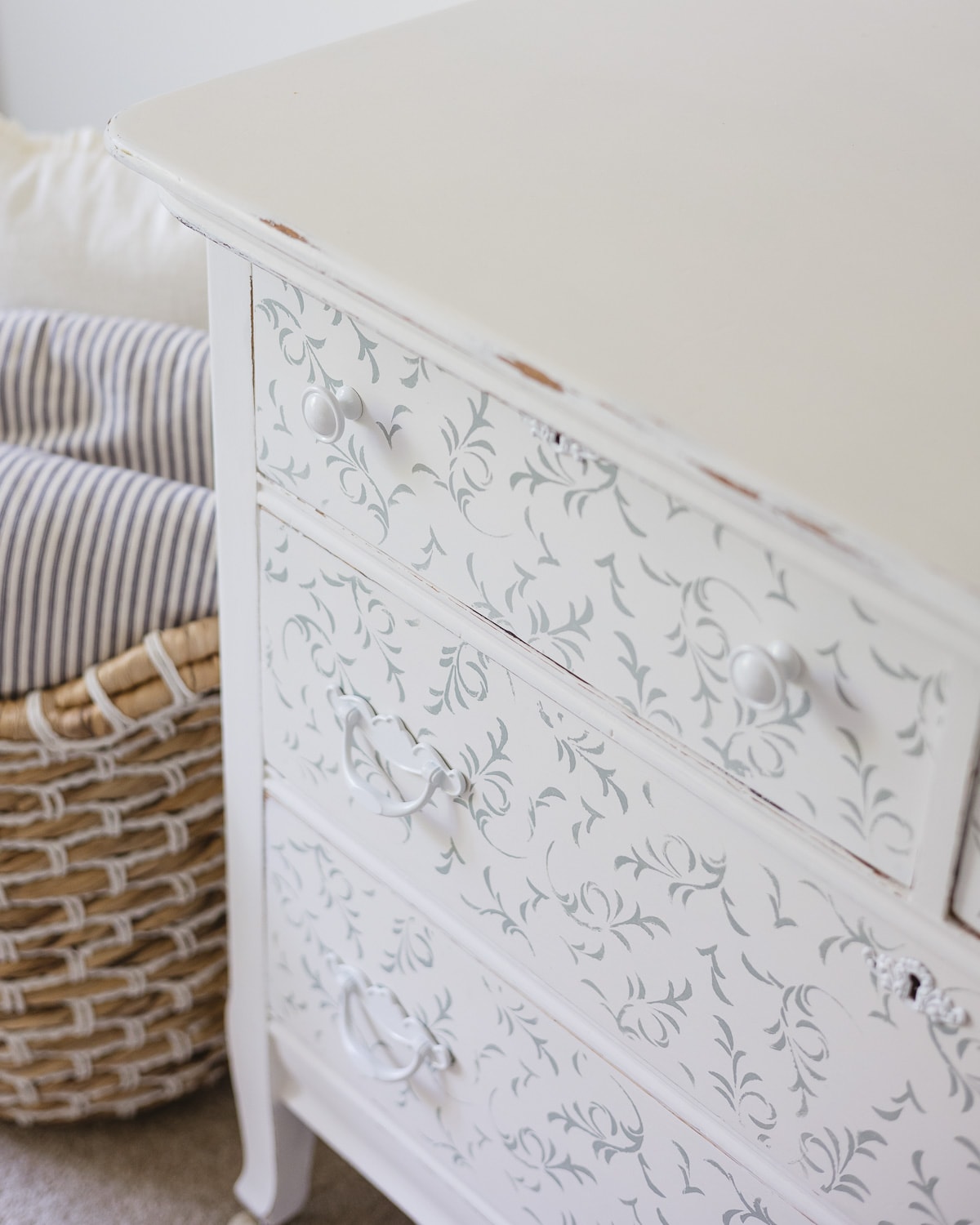 What Is Chalk Paint Used For?
Chalk Paint revolutionized the furniture flipping world. In fact, interest in flipping furniture has skyrocketed with the popularity of the paint. Because you can (often) skip sanding and priming, it is easy to use chalk paints to transform furniture (and thus, your home) even if you are limited in time and space.
With chalk paint, there is no need for the gear, space, and hassle of traditional refinishing, which requires paint stripping, sanding, and hours of prep work.
Chalk style paint also lends itself extremely well to a handcrafted or vintage/distressed feel. This style was (and still is) quite popular as farmhouse style décor continues to be a top home decorating choice.
Though the paint is often used for refinishing old (and new) furniture, it can also be used for DIY projects like painting curtains, handcrafted Christmas ornaments, and more. It's a great choice for small craft projects too. I use my leftovers for small projects (check my list of Small (Non-Furniture) Ideas to Paint).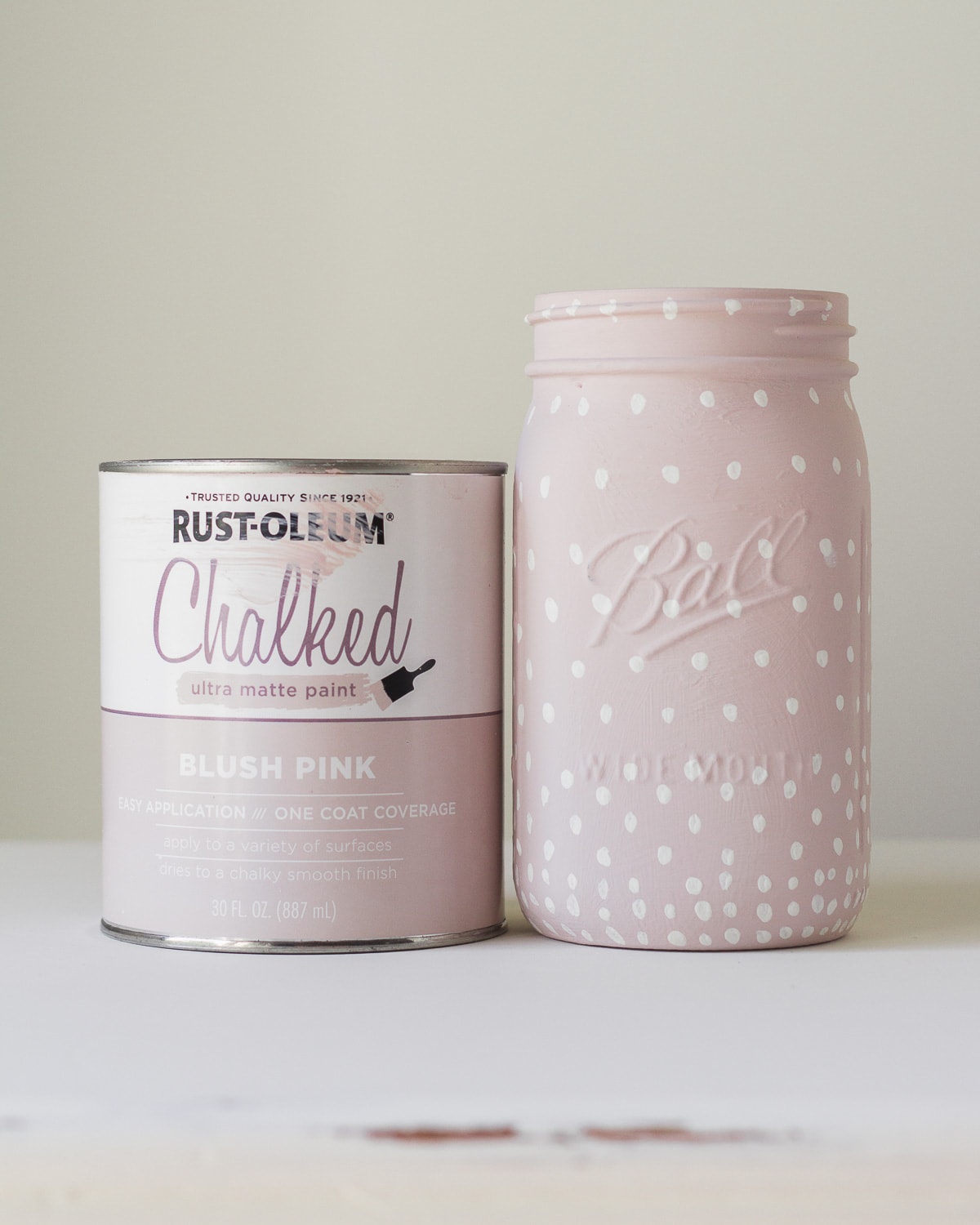 What Is So Great About Chalk Paint?
Alright, so we know chalk paint is popular and furniture flippers love it, but let's sum up what makes it so great!
It adheres to most surfaces, no sanding required
It's a "no-prep" paint (I personally think prep is still important, more on that below)
It "flips" furniture quickly without lots of extra gear or time
Annie Sloan's original formula is very low VOC (note: not necessarily the case for copy-cat brands)
It gives a rustic "farmhouse" appearance
It distresses well for a time-worn finish
It's just plain fun to use!
Chalk paint is most often used for furniture flipping and it's wonderfully fun to hunt down old furniture pieces (here's a few furniture selection tips) and give them new life with a coat of paint. I love chalk style paint for the ease of use, the finish, the ability to transform just about anything, and how it brings a lovely time-worn feel into my home.
This dresser I recently finished using Behr Decorative Chalk Paint was a fun flip with added stenciling and fresh hardware. Check out the before and after.
I've used it to flip lots of pieces in my home including the following pieces: a dresser (a mix of colors, mostly of Rust-Oleum in Linen White + Annie Sloan in Old White), a large hutch, and even Christmas ornaments:
Are There Downsides To Using Chalk Style Paints?
Occasionally, chalk paints receive criticism because of the less-durable finish (compared to traditional refinishing/painting), potential for bleed-through of old stains (use stain-blocking primers!), and the "rustic" look (brushstrokes and distressing) which doesn't fit every aesthetic. I'll chat more at the end of this post about projects where I suggest avoiding chalk paint altogether.
Are All Chalk Paints the Same?
So we've got Annie Sloan Chalk Paint, and then we've got plenty of brands that followed suit with paints like Behr's Chalk Decorative Paint, Rust-Oleum's Chalked, Magnolia Chalk Style Paint, and Country Chic Paint.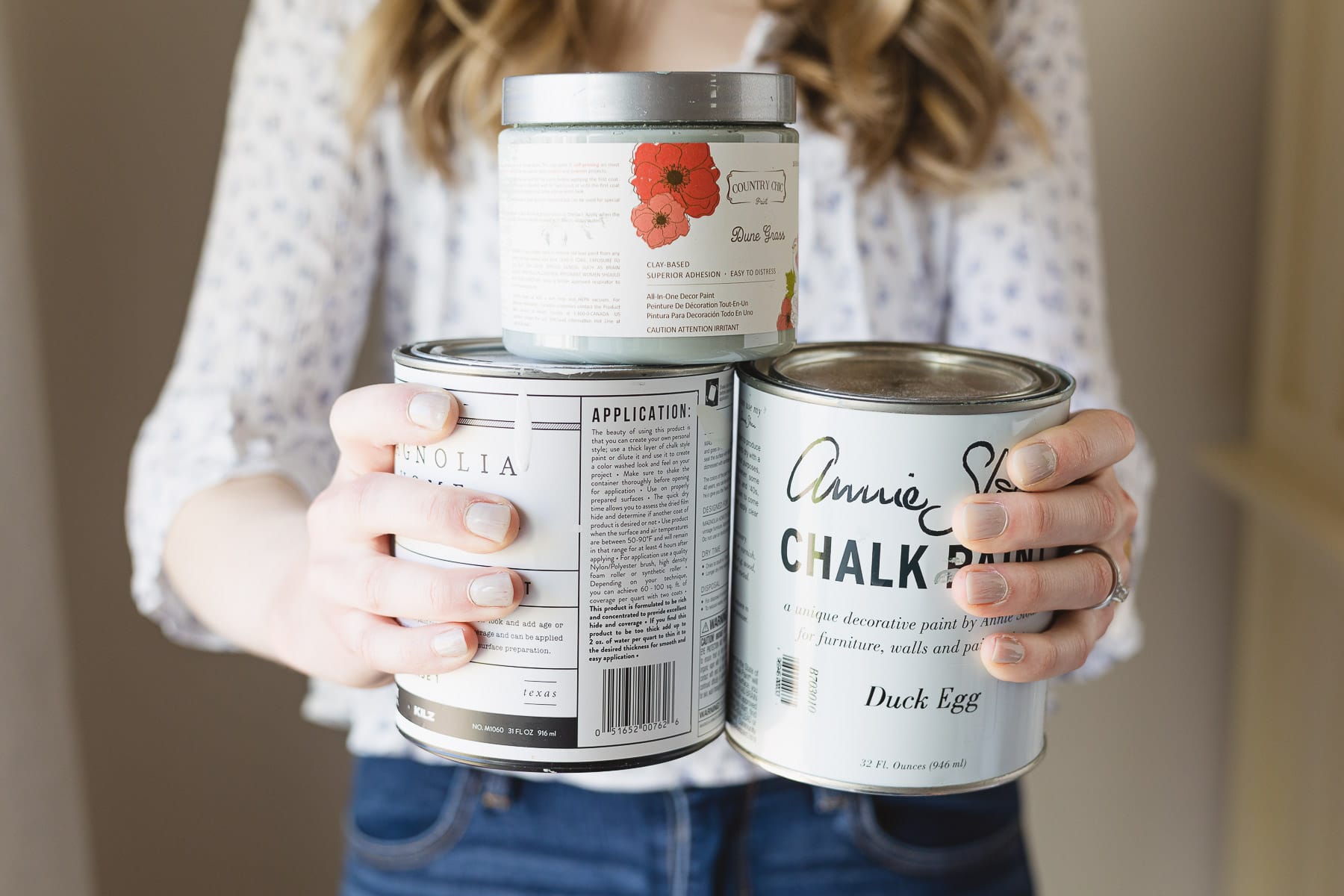 I've found that chalk style paints, while many are made from similar ingredients, are all a tiny bit different. While a lot of the "copycat" paints are quite similar, I find that Annie Sloan's paint still stands out from the crowd (though truly you can get a similar look with one of the other paints too).
Annie Sloan Chalk Paint is Ultra Low VOC
For instance, Annie Sloan paints are environmentally conscious and very low VOC. Annie talks about how her paint is non-toxic with minimal odor. This is a distinction from chalk style paints (only some are labeled "low VOC") which do not make these claims (Country Chic Paint is another great ultra-low VOC option).
Unsurprisingly, there are also some differences in the ingredients of Annie Sloan Chalk Paint versus the chalk style paint brands. The end of this post includes a quick summary of ingredients in the various paints.
Annie Sloan Chalk Paint is Marketed as "No-Prep"
Another distinction is that Annie Sloan is a big proponent of "no prep" painting. No sanding, priming, nothing. Just paint and go. I find that the state of the piece being painted needs to be taken into consideration before diving into a project in this manner.
"Chalk Style" Paints Often Include a Suggestion to Sand First
Now, contrast the "no-prep" idea with chalk style brands like Rust-Oleum Chalked or KILZ Chalk Style Paint . A quick read of the back of the paint can will usually uncover a suggestion like this one from Rust-Oleum: "To enhance adhesion, lightly sand glossy or porous surfaces".
The Characteristics That All Chalk Style Paints Have In Common
What about characteristics that all chalk paint/chalk style paints have in common? Generally, whether you purchase a can of Annie Sloan, Magnolia Paint, Country Chic Paint, Rust-Oleum Chalked or another furniture paint, you'll probably notice some of the same characteristics as follows:
thick consistency
matte finish
requires a top coat
brushstrokes
easy to distress
applies to many (but not all) surfaces without sanding
prone to reveal bleed-through (from particular woods or stains) if a stain-blocking primer is not first used
sold in quarts (or smaller containers)
the cost of chalk style paint is $18-20 for a quart (or close to $40 for Annie Sloan Chalk Paint)
Chalk Style Paint Reviews
Want to learn more about a particular brand of chalk paint? Check out these detailed reviews:
How to Chalk Paint Furniture
If you are going to use chalk paint of any kind on a piece of furniture, you're going to walk through four general steps: prep, prime, paint, seal. This process may vary depending on your piece, but this is a general guide for how to paint furniture with chalk paint.
After selecting a piece of good furniture to paint (I avoid severely damaged pieces or pieces made of woods prone to bleed-through), you need to prep the piece.
Prep Furniture for Chalk Painting
"Don't prep" they said. "You won't even need to sand", they said. Those are the first things you might hear when you buy a can of chalk paint. I've even seen recommendations not to bother dusting off your piece first! Here's the thing. Prep matters.
Here's how I prep my pieces:
Clean the Piece
Before chalk painting anything (unless it is brand new), I always clean it. A little soap and water is fine and if you have a smelly piece, these tips for cleaning stinky furniture from Miss Mustard Seed are excellent.
Make Repairs
If you are working with a used piece of furniture you might need to make some repairs. For instance, if you'll be replacing hardware, you might need to fill and sand the old holes to prepare for the new hardware. Occasionally I have to fill other gaps in the piece too. Complete these steps before painting.
Sand the Piece
Now sanding, this is the hot-button topic! Sanding down furniture (or cabinets, ugh!) to the bare wood is time consuming and exhausting. Sure, it yields great results, but it's not always practical.
Chalk paint allows you to simply grab a piece of furniture you like and start painting it! Now, here's the deal. While you might be able to do this with Annie Sloan, you'll find that most "chalk style" paints on the market (as I noted earlier) leave a neat little note on the back of the can recommending that for the best finish, some sanding is advised.
That doesn't mean you need to sand down to the bare wood. The point is to just lightly break up that surface a bit with a fine sanding block or sandpaper in about a 120-150 grit (work in the direction of the wood grain). You can also use a medium sanding block first and then follow it up with the finer block.
Note: Know what you are sanding! Accidentally sanding lead paint is dangerous and should be avoided.
So, do you have to sand before chalk painting? Not necessarily. But, if you don't sand (and you are painting a glossy piece), you might find that the finished piece chips easily. You might also have problems as you paint subsequent coats of paint where the paint might pull away from the piece (example in this review post).
I lightly sand maybe 50% of the time. For me it depends on the age and condition of my piece. I will generally pass over a super shiny finish with a sanding block to give it a little grit. A light sanding can also help remove minor flaws in a wooden pieces. Also check to see what your can of chalk style paint suggests and go with that.
I do want to say that if you don't have the space or ability to sand (it's hard work and a lot of dust!), don't worry about it. Feel free to jump right in with painting. Likely, your piece will turn out just fine.
Remember, chalk painting is not about following a strict set of rules. It's about enjoying the process, experimenting, and discovering your personal style and favorite techniques. And most of all? It's about bringing new life to furniture so you can enjoy using the finished pieces in your home.
Primer–Is It Optional Or Not?
Priming furniture before painting it has the benefit of sealing in any stains and potential bleed-through. Primer is also necessary if you are starting with raw/unfinished wood (chalk paint will just soak in otherwise and it won't look good).
Generally you don't have to prime before chalk painting, but I got into the habit of using it after I worked on this hutch (do not paint knotty pine–just don't). The bleed-through of all the pine knots in the piece was frustrating to say the least.
It took a few cans of Zinsser B-I-N Shellac primer to assuage the damage. But sadly, the pine knots started showing through again soon after completing the piece. Argh.
If you notice bleed through, finish your coat of chalk paint (so you don't have weird streaks later), and then prime it. I have also heard great things about Zinsser Shellac.
I start many of my furniture flips with a simple coat of an all-purpose primer (I'm currently using a can from Sherwin Williams) is great insurance against bleed-through issues. Primer dries quickly and if you have it on hand it's no trouble to add a coat. You will also detect quickly if the piece is going to have severe issues (that will warrant a stronger product) without wasting expensive chalk paint.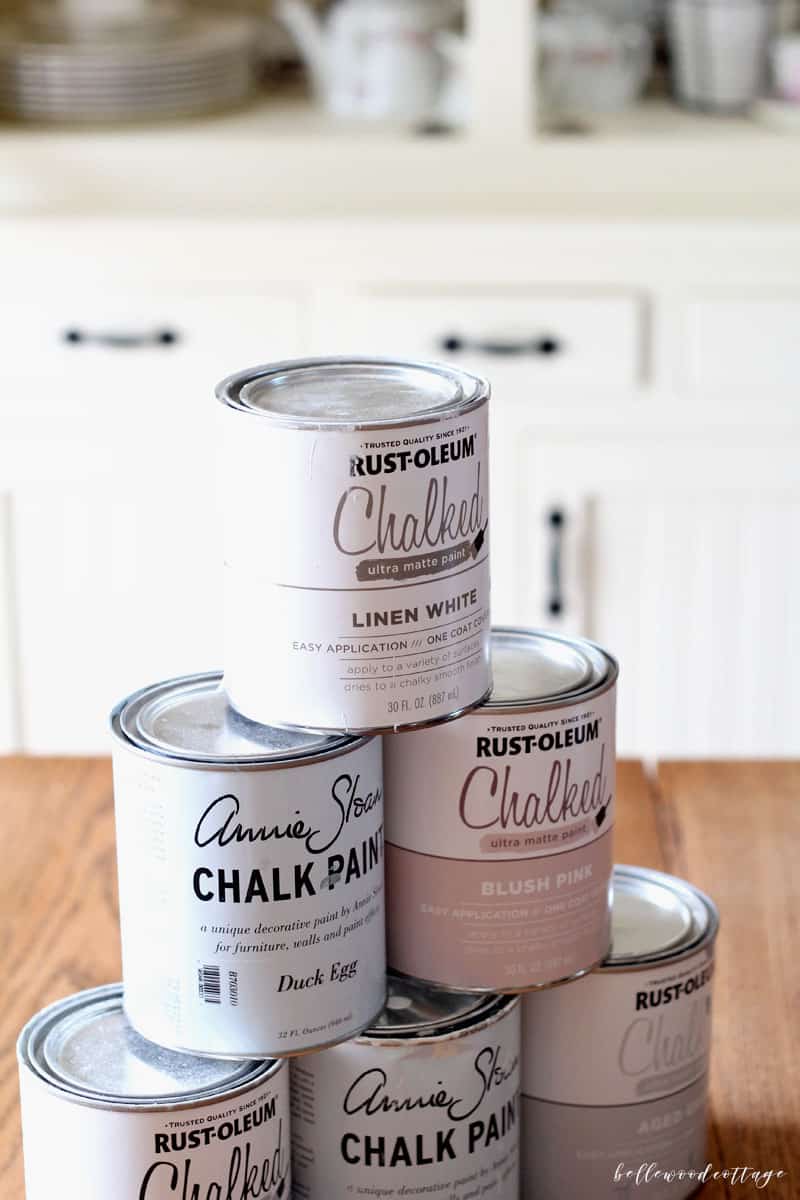 Applying Chalk Paint to Furniture
Once it's time to apply the paint to your furniture, that's when the real fun begins. Here are a few tips for success:
use a good brush (I use an inexpensive brush that is my favorite brush for painting furniture)
allow the paint to dry completely (check your can) between coats (prevents peeling and other frustrating problems)
thin down the paint as needed if it's too hard to spread easily
watch out for drips and catch them before they dry
allow to dry completely (per the can recommendation) before adding a top coat
How to Seal Chalk Paint
Generally, wax is used to seal chalk paint. However, you do not have to wax your finished furniture pieces. In fact, I suggest avoiding it. Now hold on to your hat, because I have more to add. Yes, that freshly chalk painted furniture flip still needs a top coat!
I have written a very detailed post on how to seal chalk paint with more recommendations on what top coats to use and how the different varieties behave on a finished piece. Wax yields a soft matte finish that is pretty, but not very durable. Waxed furniture needs to be re-coated periodically. I've found my own waxed pieces to be very prone to scuffs, chips, and other damage. Wax can also have a steep learning curve to get the right finish.
Instead, go with a brush-on polycrylic. Polycrylics are a water-based top coat and your paint store sells variations from matte to glossy. I often use Rust-Oleum's Matte Clear and Minwax Matte Polycrylic. I recommend experimenting to find what you like, whether that is a wax or poly. In fact, you can even use clear aerosol spray top coats.
Always test top coats in an inconspicuous place before applying to your entire piece–sometimes they misbehave and the last thing you want is a patchy or yellowed piece. And certainly avoid oil-based polyurethane top coats which will turn white paint yellow.
When To Use Chalk Paint
Wondering where to start with chalk paint? I suggest grabbing a piece of furniture that could use a makeover and starting with that! Just dive right in. Find something in your own home or head out to the thrift store. Don't start with a favorite piece–you'll want more experience first. Start with a piece you like but are willing to experiment on.
Debating between using chalk style paint or another type of paint? Here's some things to think about!
Some Great Reasons to Use Chalk Paint
skip sanding and priming
toxicity is a concern and you are looking for a very low VOC paint (try Annie Sloan!)
you want to save money (chalk paint can go farther than a can of regular latex paint; check out these tips on how to save money on chalk paint)
you're looking for a creative outlet (there's lots of colors, brands, and techniques to experiment with)
you love matte-finish furniture
brushstrokes and distressing is your jam
your home is filled with farmhouse style pieces
And here's a list of ideas of what you can paint!
Use Chalk Paint On:
old, tired furniture
new, tired furniture
garage sale finds
old picture frames, lamps, or outdated home décor
inexpensive metal or wood décor from the craft store
any item you want to have a rustic/distressed appearance
When To Avoid Chalk Paint
Reasons Not to Use Chalk Paint
you are painting bathroom or kitchen cupboards (with the correct top coat, this *can* work, but I do suggest you search the internet for cautionary tales before you start chalk painting in a bathroom or kitchen!)
visible brushstrokes aren't your style
color selection is too limited (check out Behr's line–lots of colors and custom tinting available at Home Depot)
you want to make a chalkboard–use chalkboard paint instead!
Avoid Using Chalk Paint For the Following Projects:
kitchen cabinets (see more below)
bathroom cabinets (see more below)
unfinished furniture (however if you prime it first you are good to go!)
furniture that is breaking down or ultra-low quality (head to the thrift store and find something better!)
furniture made from wood prone to the dreaded "bleed-through" (like knotty pine or mahogany–you can make it work with a stain blocking primer, but even these heavy-duty products don't always completely solve the problem sadly)
any pieces prone to heavy use and staining (kitchen tables for instance don't tend to hold up well)
furniture you want to have a satin smooth look–there are other ways to paint furniture that will work better for this style
Chalk Paint Simply Isn't Right For Every Project
For instance, I still see recommendations online suggesting that chalk paint is great for bathrooms and kitchens (cabinets specifically). However, it doesn't always end well. High-traffic and high moisture areas are usually better served with a combination of sanding, priming, and high-quality cabinet paint (like Benjamin Moore Advance).
Any time you're dealing with a painted surface, there is a potential for chipping, staining, and wear and tear. A chalk paint finish will exacerbate this natural wear and tear and you'll be constantly fighting it. Instead, use chalk paint where it will shine.
It's lovely for refreshing old furniture and lending a rustic cottage feel to any space. Use it for pieces that you plan to distress or when you desire a time-worn finish. Avoid furniture/cabinets that may receive more wear and tear than chalk paint can handle!
If you still want to use it in a kitchen or bathroom (and I do understand the appeal behind the low-prep paints), I would absolutely avoid wax (this post on chalk painted kitchen cabinets explains why) and opt for a good poly sealer (test it first of course).
Here's another example of how chalk painted cabinets have held up over a few years (these did well with a poly sealer).
And finally, here's a before/after of chalk painted bathroom vanities with wax and then later re-done with a polycrylic. Another thing to consider is if there would potentially be bleed-through (which would mean you'd need a good stain-blocking primer as well).
Where to Buy Chalk Paint
There are so many places to buy chalk paint that I wrote a whole article about it (plus tips on my favorite paints and how to save money). I usually snag my paint from the Home Depot, Amazon, or local shops.
Frequently Asked Questions About Chalk Paint
It's only natural that such a popular product would be surrounded by plenty of questions! Here are answers to some of the most commonly asked questions about chalk paint.
What Are the Ingredients in Chalk Paint?
I'm just a gal who loves painting furniture. So, while technical knowledge about paint isn't my specialty, I thought it was important to provide some basic info in this article.
I did a little digging into the technical/safety documents of some of my favorite chalk paints (note: if you are an expert in this area, please weigh in via the comments section).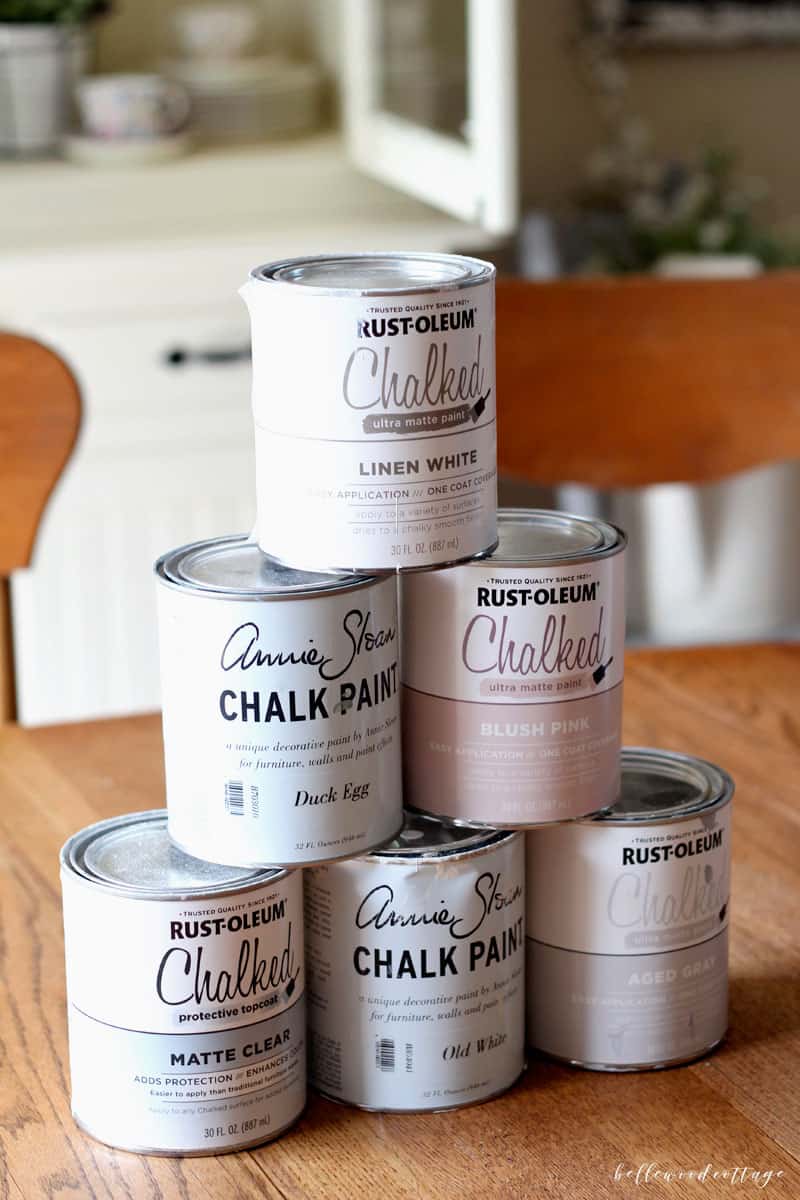 Technical Data Sheets
I looked into the technical data sheets for both KILZ and Rust-Oleum Chalked Paint. KILZ noted the Resin Type in their Chalk Style Paint is "Modified Acrylic". Rust-Oleum's data sheet noted a resin type of "Acrylic".
Ingredients
Annie Sloan ingredients include, Calcium carbonate, Titanium Dioxide, Diiron trioxide, via this Safety Data Sheet. (Note: I reached out to Annie Sloan to confirm that this is an accurate copy of their safety data sheet and the copy they sent me does look to be the same.)
KILZ Chalk Style Paint ingredients include, Calcium carbonate (limestone), Titanium dioxide, Talc, Magnesium silicate hydrate. Via this Safety Data Sheet.
Rust-Oleum Chalked Paint ingredients include: Hydrous Magnesium Silicate, Titanium Dioxide, Hydrotreated Heavy Paraffinic Petroleum Distillates, 2,2,4-Trimethyl-1,3-Pentanediol Isobutyrate, Sodium Nitrite, Crystalline Silica / Quartz. Via this safety data sheet.
If you have any additional questions in relation to particular ingredients, check out the linked safety data sheets. Or, contact the manufacturer to ask more technical questions.
Pin it for later here:
Whew, that was a lot of information about chalk painting! If you enjoyed this post and want to share it or save it for later, pin it on Pinterest!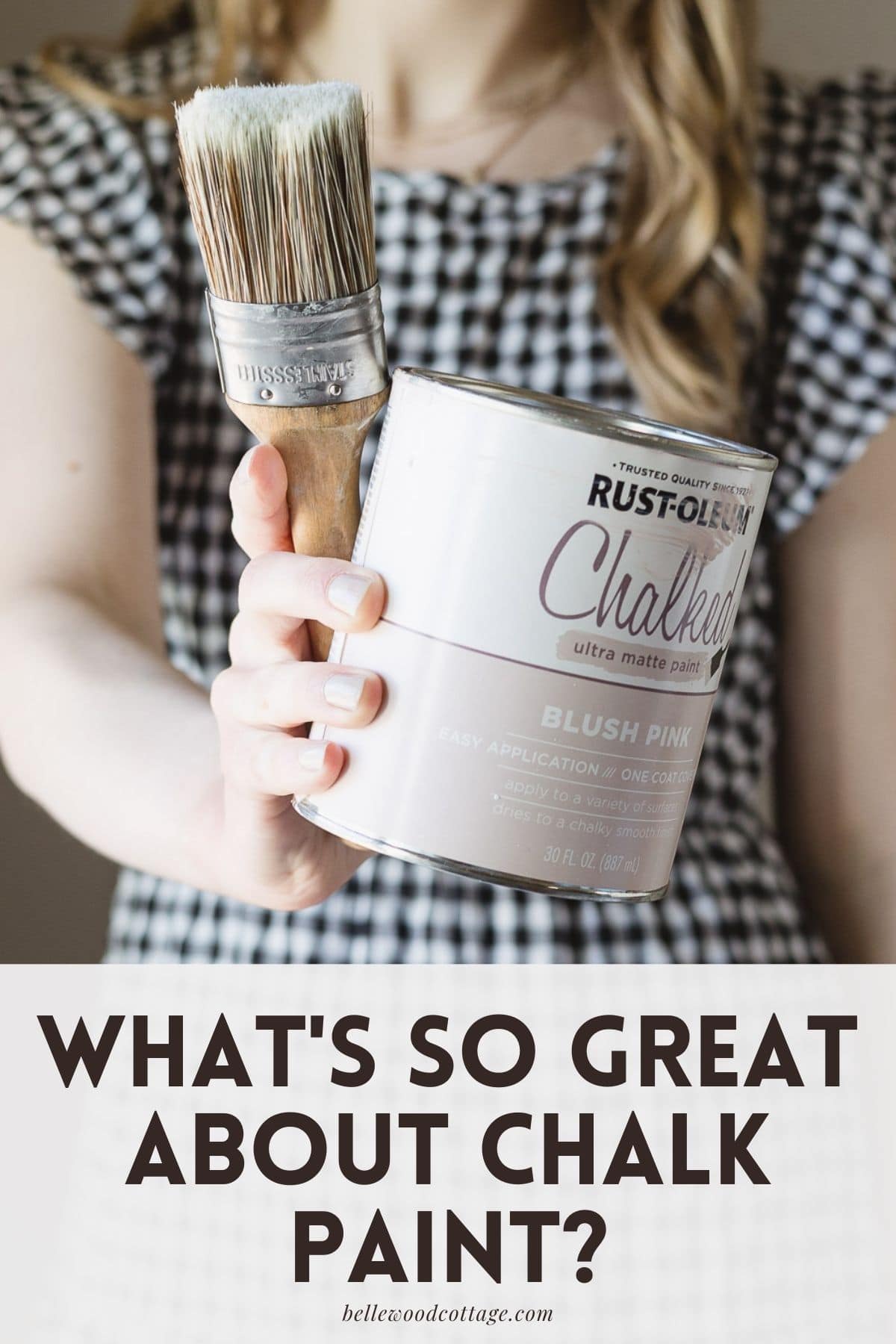 More About Chalk Paint
More DIY Projects