18 Strategies for How to Work from Home with a Baby or Toddler
Wondering how to work from home with a baby, toddler, or both? It can be a challenge, but I would love to share some tips I've learned along the way in my own journey of managing working from home and raising a baby.
Please note that this post contains affiliate links which allow me to earn a small commission when a purchase is made at no additional cost to you. Read more here.
Why Work from Home with a Baby or Toddler?
For one, sometimes it's simply out of our control. Sometimes we are forced to accept challenging circumstances that are less than ideal. For me personally, I knew I wanted to spend as much time with my baby as possible, and part of that dream meant figuring out how to build an income while working from home with my baby.
Because I'm able to creatively use my time through the day, I can freelance and blog for an income. An added bonus is that I don't have to calculate if I'm actually losing money because of high childcare costs. Being at home means that I work and care for my baby at the same time.
My Work from Home Situation
I want to be clear that I do NOT work full-time hours. Sometimes I really wish I could! But, I have other responsibilities to fit in, and it's all kind of a balancing act!
Generally I work anywhere from 15-25 hours per week. I work from home with my baby as a freelancer and as owner and content creator of this site, Bellewood Cottage. I'm currently sharing kids books review and tips for reading aloud here on the blog, so start here if you have little ones and are curious to learn more.
With all that said, regardless of your specific work-from-home scenario, these tips will help you figure out the logistics and strategies behind working from home with a baby or toddler successfully.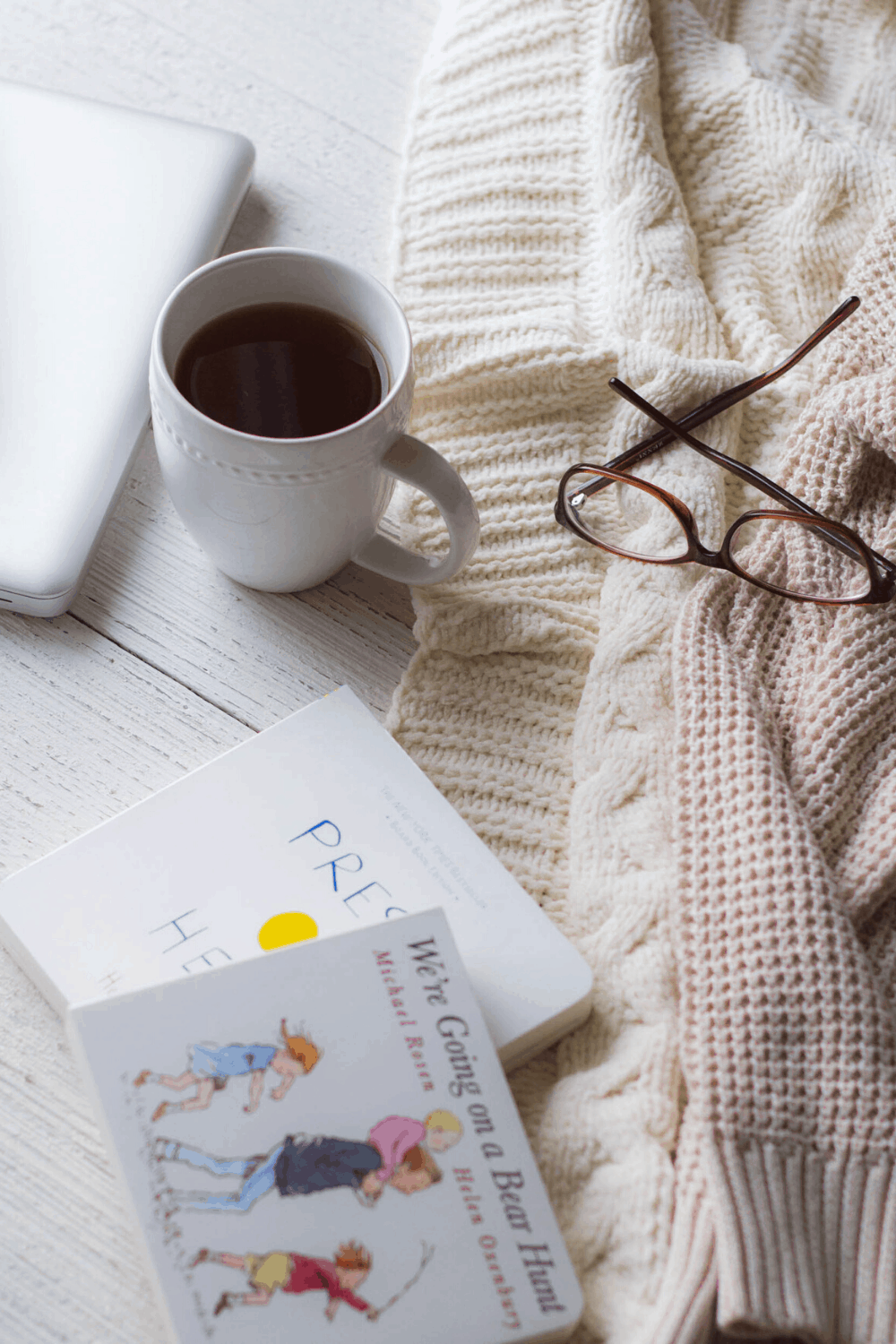 How to Work from Home with a Baby or Toddler?
In a nutshell, strategize. Learn how to utilize every scrap of potential free time in your day and carefully plan your schedule in order to be successful. Practical tips like encouraging good naps from your baby (or toddler), starting (and finishing) the most critical tasks first, and planning simple (not elaborate) meals, and more will all put you on the road to success. It is certainly possible to work from home with babies and toddlers in tow, but you must have a plan and stick with it.
Strategies for How to Work from Home with a Baby or Toddler
1. Wake Up EARLY
Plan to start your day two hours before your baby does. If your baby wakes around 7/7:30 AM, plan to start your day right around 5/5:30 AM. This is how I manage to sneak in up to two hours of work every morning before my little one is even awake. No matter what happens the rest of the day, you will have made a solid head start.
2. Finish the Most Critical Tasks First
Analyze the return on investment of each task you must complete and always start with (and finish) the most critical tasks first. This should not take a lot of time–a few minutes of quick planning and organization is enough.
Whether you work for yourself or an employer, don't allow yourself to become distracted by less-than-critical tasks.
Less-than-critical tasks can also include things like buying groceries and running errands too. I love using Target's free shipping (over $35) or Amazon Prime when I need to restock home goods around our house. An added bonus is that I can view prior orders quickly and buy again things we use up frequently. Much faster than locating goods in the store!
3. Plan Your Day the Night Before
Plan out a sketch of wake up times, errands, naptimes, etc. the night before and you will stay on track as you consult your to-do list and remain unsurprised by tasks that arise throughout the day.
If I'm starting work at 5 AM, generally I actually don't want to be decision-making that early. That's why I like to make my plan-of-attack the night prior. I write it in my planner and then when I wake up I simply start on the first task. No getting distracted by less important tasks just because I felt foggy or overwhelmed in the early morning hours.
4. Establish a Morning Routine
On that note, putting a morning routine in place is also really crucial. You want this routine to be something that is habitual and consistent so you can progress through it a bit mindlessly. Things like having a consistent work out routine, eating the same thing for breakfast every morning, or always starting your day with 15 minutes of prayer or reading can be extremely helpful.
5. Exercise and Complete Chores While Kids Are Awake
Babies love "helping" with laundry, dishes, and the like. Take advantage of the entertainment that chores provide babies and toddlers and power through these tasks while your baby or toddler is awake. Need to exercise? Take a walk in the early morning with baby or do a quick cardio workout while baby plays after breakfast.
Organize your time creatively to maximize both the time you have to enjoy your baby and also the time you have to work. Checking off chores and exercise while babies are awake is a great way to save precious working hours while they sleep.
6. Capitalize on Naptime and Bedtime When Working from Home with a Baby or Toddler
While baby is asleep is a great time to work. Naptime is a gift, so use that if you have it (if not, keep reading for tips for non-nappers).
Once it's bedtime, sneak in another 1-2 hours of work and then choose a restful activity to wind down for a bit. Go to bed early enough that you can tackle your early wake up time.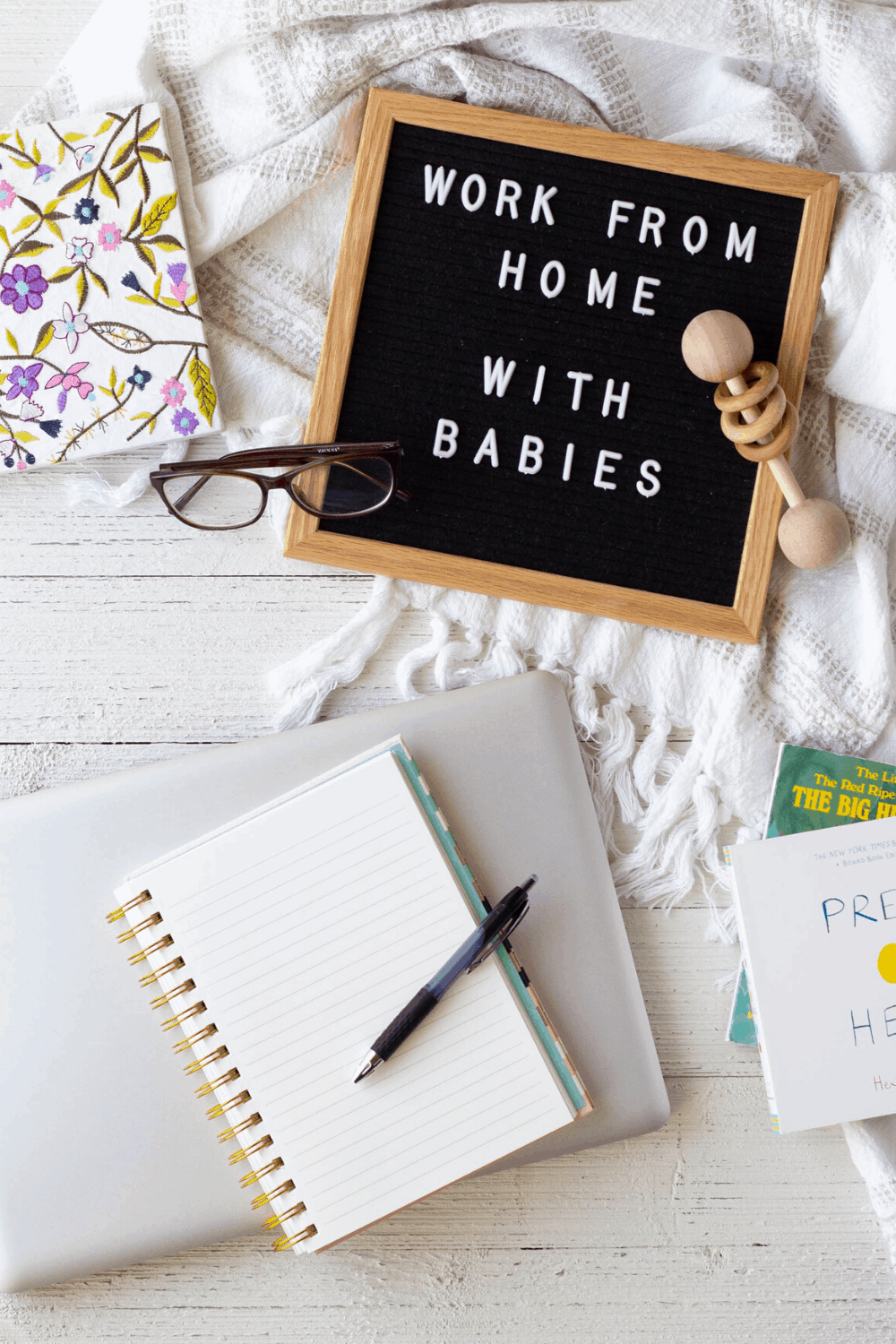 7. Encourage Great Sleepers
I suggest implementing healthy habits and thoughtful sleep strategies so that your babies and toddlers will be well-rested AND you can capitalize on their sleep times to work from home.
Babies and toddlers especially can be a real challenge with sleep. When naps and bedtime solidified for my little one, that was when I finally felt like myself again and was able to jump back into work.
If I work for two hours before baby is up, two after she is down, and two hours during a daytime nap…that is six hours of work right there. But, of course, baby has to actually sleep during these times for this to work.
My favorite resources for baby sleep are Taking Cara Babies, Healthy Sleep Habits, Healthy Child, and The Sleep Sense Blog. I don't endorse every piece of advice from these sources, but I found each one so valuable that I would encourage anyone to give them a look.
Also, another hint? Well-rested babies and toddlers are much more easy-going (and fun to hang out with), so you'll find that even when they are awake you will be able to sneak in some quick work tasks. Bonus!
8. Kids Are Done With Naps? Put Quiet Times in Place
I hear you! What about older toddlers who are done napping? I haven't experienced this personally with my toddler, but I have many friends who implement "quiet times" and let me tell you, it is gold. Basically you just enforce a period of quiet time (usually in the neighborhood of 30-60 minutes) once or twice a day where kiddos are instructed to read quietly (booklist ideas here) or entertain themselves with low-mess activities. Then utilize this time for work time.
If your kiddos resist, start with very short segments (maybe three 10-minute segments over the course of a day) and then work up from there.
9. Plan Dinner Ahead of Time
It doesn't matter if you are a primarily take-out family, a non-meal planner, or you cook something different every night…having a plan is key. Because you are going to be hungry (and your kids will too) at the end of the day. I have a few strategies I frequently employ to make things easier. Figure out what works for you and don't allow dinnertime to catch you by surprise!
Here's what works for me:
Always make enough for leftovers.
I use my Instant-Pot a lot. A lot.
Have an arsenal of quick recipes and save them in an easy-to-reference place.
Plan for "quick & easy" (aka, frozen pizza etc.) or takeout nights and don't feel guilty about it!
Don't waste time preparing fancy dinners. Simple is good enough!
10. Be OK With Getting Less Done When You Work from Home with a Baby or Toddler
If you are a freelancer/business owner used to working from home, you might be distraught by how you are able to clock less hours after a baby arrives. Instead of stressing, embrace the new season. You might consider monetizing work in ways that will create a passive income and work towards growing that side of your business so that you can work part-time hours and enjoy a full-time income.
On the other hand, if you are unexpectedly forced to work from home with a baby or toddler (when you normally have childcare), work with your boss to come up with a game plan.
11. Embrace the Time With Your Baby
Anyone who has become a parent knows parenting is not an easy breezy job! Parenting AND working? Even harder! So, go easy on yourself on the days where it seems like nothing has been accomplished. Being able to watch your baby grow and care for them throughout the day is such a treasure. Work will still be there, but they won't be little forever. So, do what you can to stay organized and keep up with work, but embrace the uniqueness of being able to care for your little one during the day.
12. Tag Team With Your Partner
If you can, tag-team with your partner (or any other adult living in your home) to gain some extra work time. Maybe your spouse works outside the home, so perhaps after supper he/she can take on kid/baby duty and you can start working. Or, if you are both working from home maybe you can trade parenting responsibilities throughout the day.
13. Be Task-Oriented, Not Time-Oriented
Focusing on completing a checklist of to-dos versus clocking a certain amount of hours is one of the benefits of being your own boss…and it's also really helpful for increasing productivity while working from home.
Depending on your particular scenario, this might not possible, but I find that focusing on my checklist for the day/week, versus thinking in terms of hitting a certain amount of work hours means I can be more productive.
And don't forget, it's still necessary to carve out time and plan a work schedule. Opportunities to work won't just magically appear throughout the day!
14. Get Ready for the Day…A Little Bit
If you aren't heading into work, save time by avoiding spending lots of time getting ready for the day. Blow drying hair, putting on a full face of makeup, preparing a three-course breakfast every morning–these are all major time sucks. It's tempting when it feels like the whole day is ahead of you, but when working from home with a baby or toddler around, every minute counts.
I also like to batch my errands and playdates into the same days so I can minimize the days of the week I need to get myself and my child ready for leaving the house.
15. Put Your Phone Away
Baby is down for nap, work is going well, and you might as well check on social media, right? Nope. While it's tempting to use social media, games, or even email as a sort of palate cleanser when we're working hard throughout the day, these little "breaks" can really add up. And they add up to wasted time.
I gotta say it. Screens are the biggest time suck ever. My phone is such a blessing (Google Maps forever), but also such a frustrating little tool. If you need to have your phone nearby, I suggest deleting social media apps during your work week (or anything else that distracts) or turning off as many notifications as possible.
16. Use a Book As a Palate Cleanser
You will need breaks though! I like to plan in my breaks, take them with a good book in hand, and then get back to work afterwards. Choosing a hands-on project like knitting or something similar to give your mind a break is a great option too.
17. Commit to Social Engagements Wisely
Decide your priorities and the amount of social activities your schedule can handle and stick to it. There is a reason why working from home with a baby or toddler is challenging. Time really is limited! I know that I have to limit my social commitments if I want to continue to earn an income working from home. It can be a bummer, but it's necessary to set limits.
18. Work On Weekends
Working on weekends is how I'm able to clock 15-25 (and sometimes more) work hours per week while my baby is home with me. I work six days, not five. I try really hard to have a Sabbath rest at the end of the week (which I highly suggest!), but sometimes things happen and stuff has to get done.
Another plus side of having a blog is that a lot of income starts to be passive (requires a ton of work to get there, but it's do-able!). This means you can let things slide for a bit if you absolutely must. Of course, that is not a long-term solution (or feasible if you have deadlines for projects). In the end, planning to work on weekends is a great help in completing work.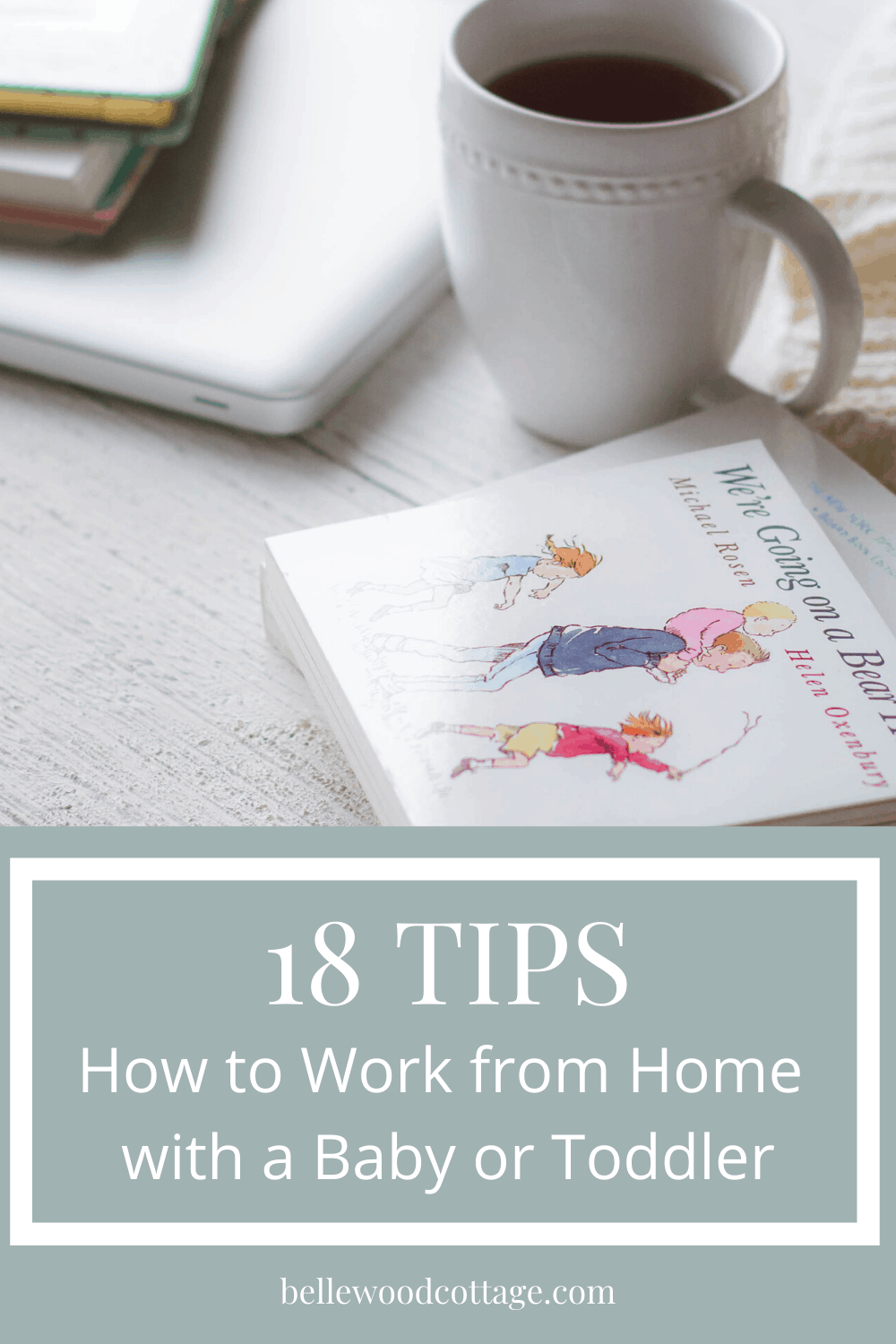 Share Your Best Tips for Working from Home with Babies and Toddlers!
I'm all ears, so leave a note in the comment if you have anything to add to this list. I'm also happy to answer any questions you might have about blogging or working from home with babies or toddlers.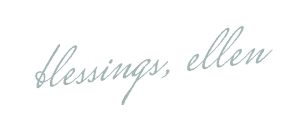 Read More from Bellewood Cottage