How to Sew a Drawstring Bag with French Seams Tutorial
Learn how to sew a drawstring bag with elegant enclosed French seams. Make any size (or one of the three sizes I've provided) and use these bags for homemade gift bags, organizing around the house, or just about anything else you can think of!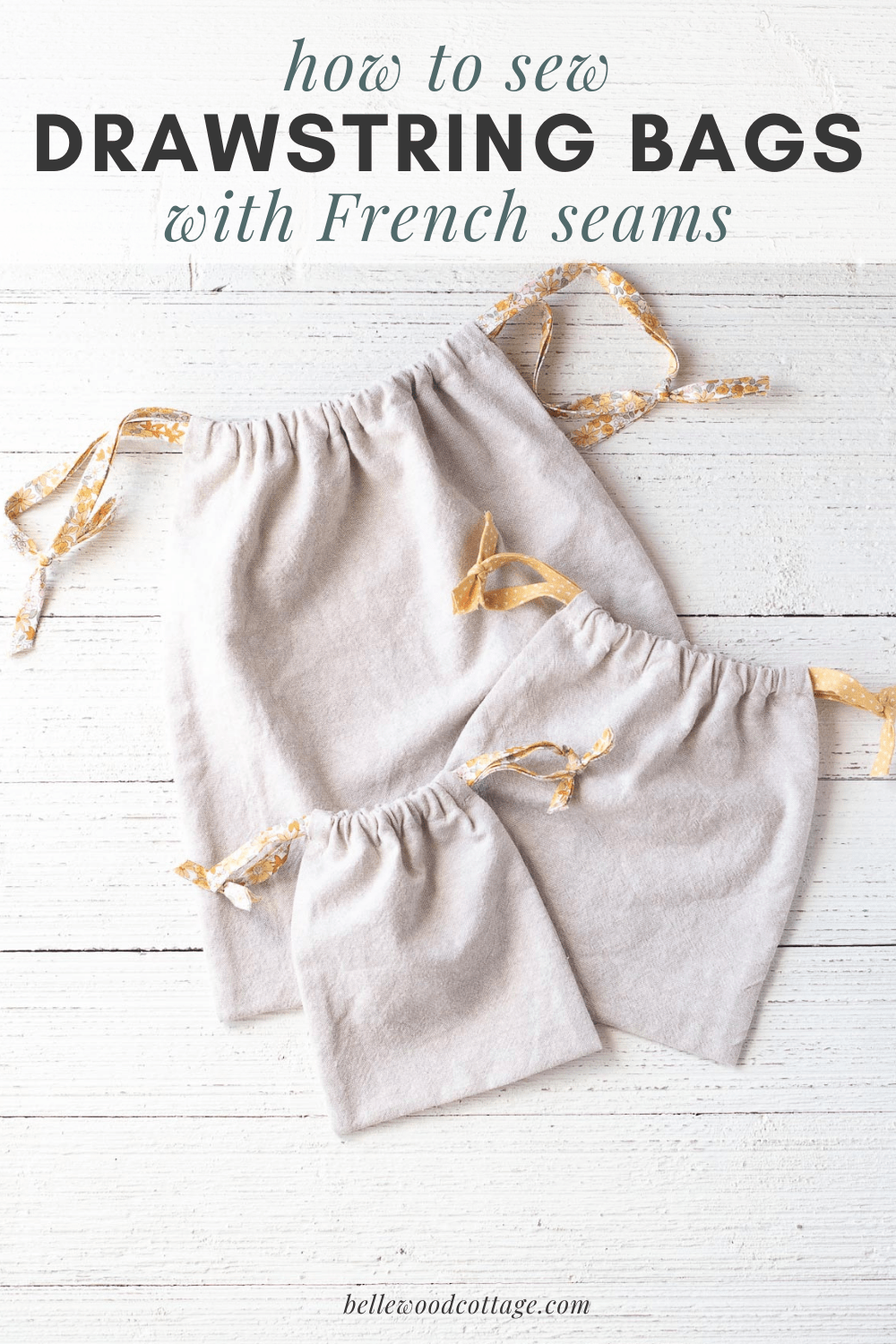 Please note that this post contains affiliate links which allow me to earn a small commission when a purchase is made at no additional cost to you. Read more here.
About These Homemade Linen Drawstring Gift Bags
Check out the printable instructions and tutorial video at the end of the post!
Working with the beautiful handmade bias tapes I found on Etsy inspired me to create these homemade linen gift bags. I loved the idea of reusable linen gift bags for packing small (or large) gifts.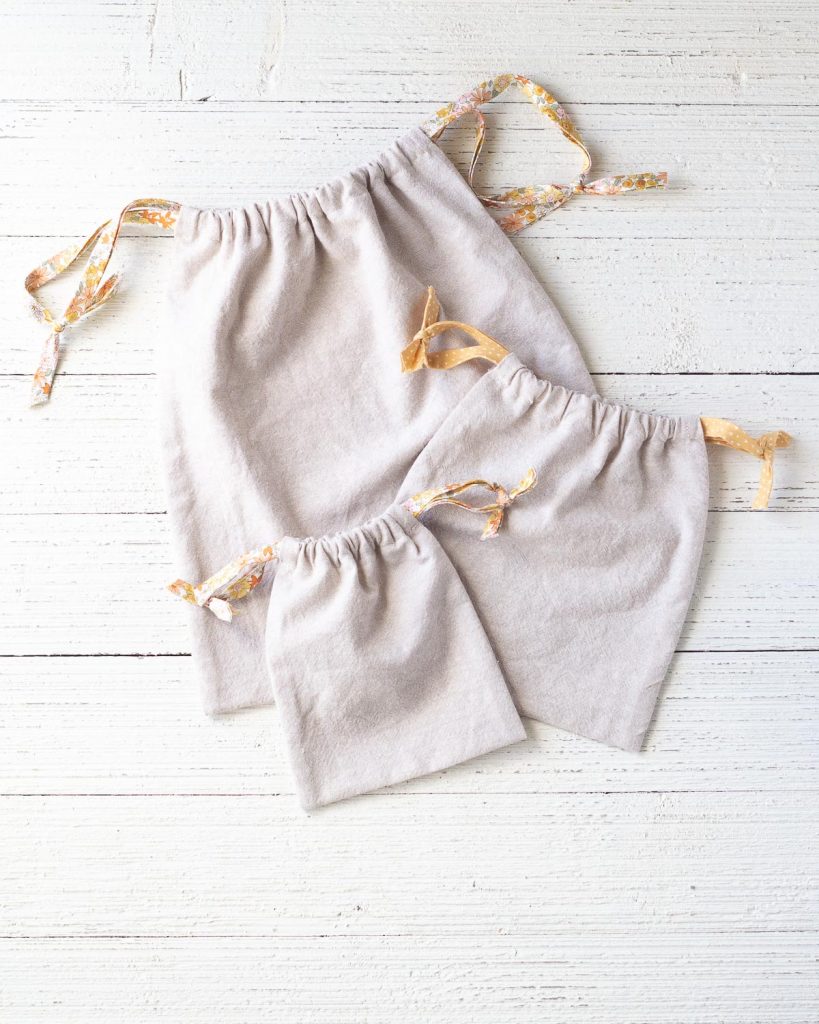 Using a homemade gift bag is a special touch that can then go on to be reused in a variety of ways. Of course, you can really use these bags however you would like!
About the Fabric & Bias Tape I Used
I love this Robert Kaufman cotton/linen blend. I have tried this creamy beige color ("flax") and this chambray color as well. Both are really soft and beautiful. I like that the fabric is less expensive than a 100% linen.
One yard of this fabric should allow you to make each one of the sizes (small, medium, large) that I have detailed here, depending on shrinkage of course. Always wash first!
I also opted to use handmade bias tape for the drawstrings for these drawstring bags/homemade gift bags because I love the varieties in this Etsy shop so much. If you enjoy making your own bias tape or have leftovers from a recent project, this is a great way to use it up!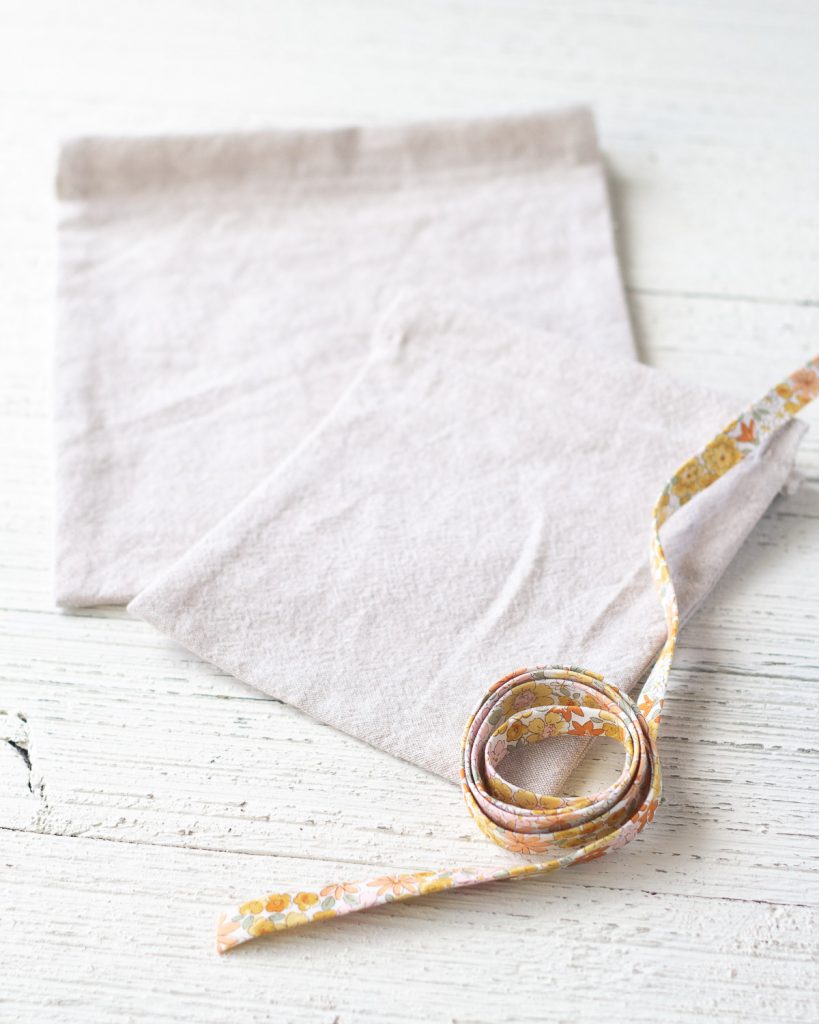 With that said, some less expensive alternatives include drawstring cord, ribbon, or even a thin lace trim.
Also see how I made these into Valentine's Day Gift Bags by using pink linen and lace trim ties!
Supplies You'll Need
How to Sew a Drawstring Bag
Basic drawstring bags are easy to sew and are usually constructed with two rectangles (or one long rectangle folded in half) that are seamed together and have a casing at the top to thread a drawstring through.
You can also make lined drawstring bags, which are nearly as easy, but they do use more fabric.
This tutorial is a bit of a spin on those classic designs. Here, I'll show you how to sew a drawstring bag with beautiful enclosed French seams. No lining needed. It's easy–I promise! You'll save fabric, learn a new skill, and create a bag that looks beautiful–perfect for reusable gift wrapping!
How to Sew a Drawstring Bag with French Seams
I've included a full step-by-step video and printable instructions (end of post) in this tutorial, but here's a quick overview of the process:
You'll cut a long rectangle of fabric, stitch French seams (detailed below–or just follow the tutorial instructions), and leave some unsewn edges at the top of your bag. These unsewn edges later get hemmed and turned down to create a casing for a drawstring.
Thread a drawstring through the casing, trim and knot edges, and you have a beautiful homemade drawstring bag.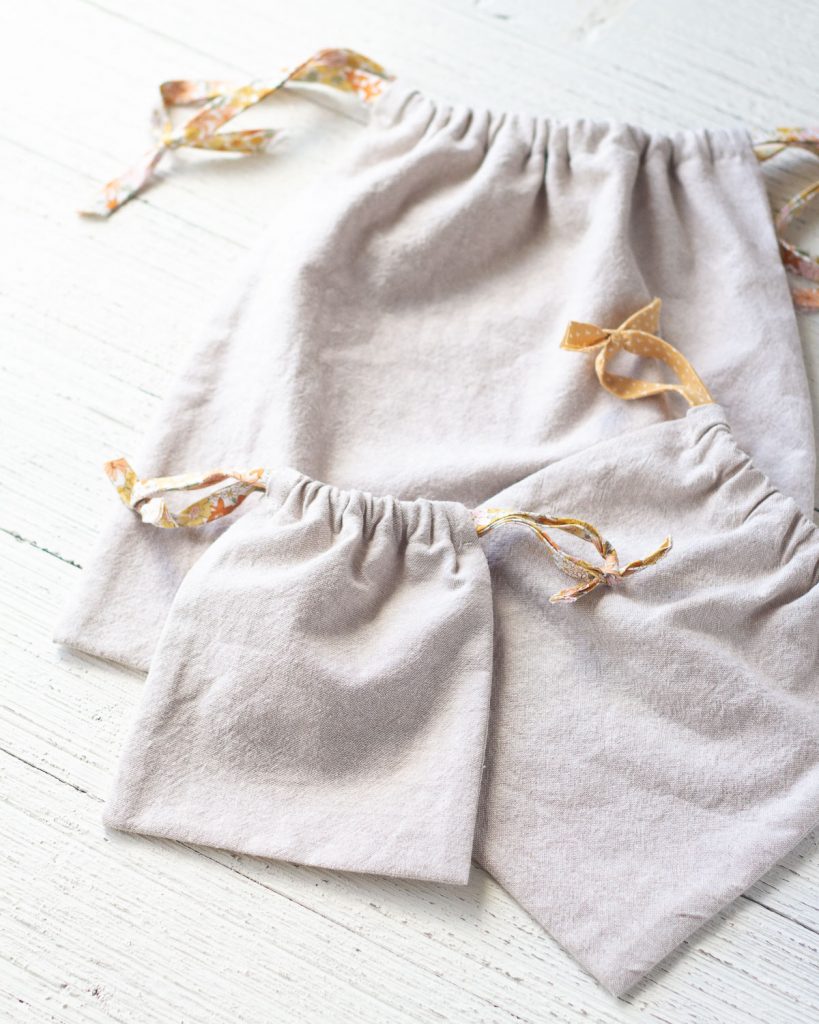 What are French seams?
French seams are a simple method of making enclosed seams. You divide your seam allowance amount and stitch each seam twice. You can check out my French seams tutorial for step-by-step instructions that'll help you learn this technique for future projects too!
This is what the finished bag looks like in the inside: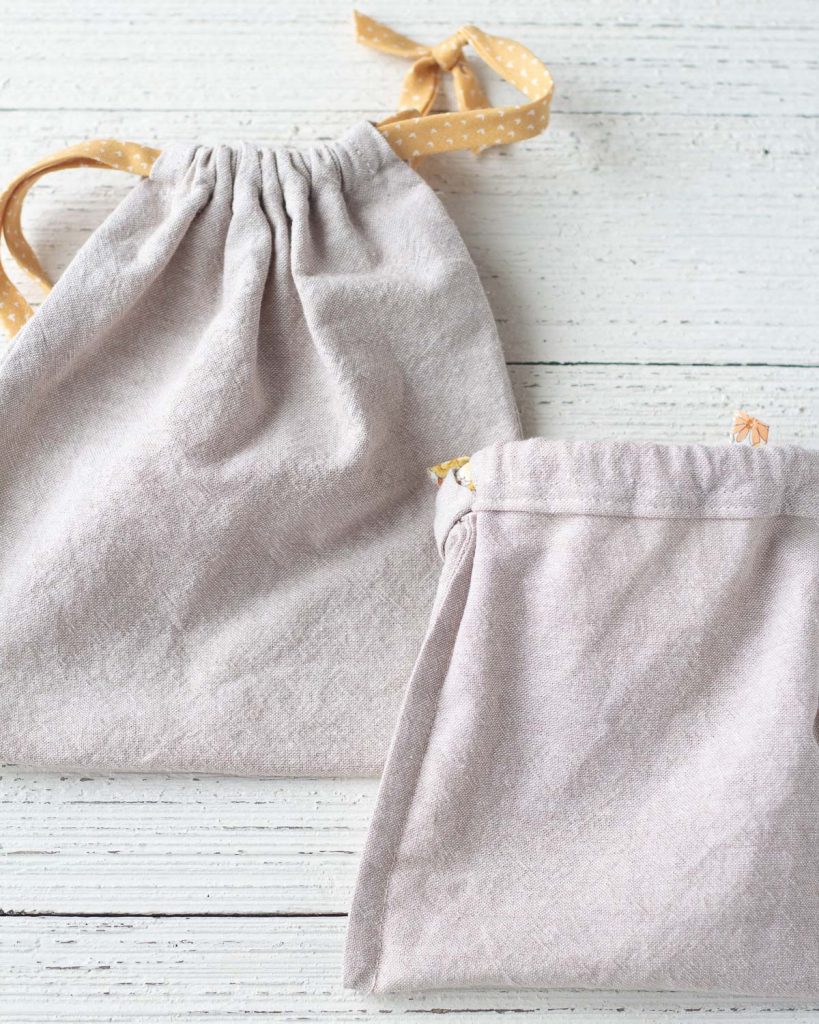 How I Sew French Seams
Divide seam allowance: making sure the seam allowance for the second seam is LARGER than the first. For example, a 5/8″ seam allowance (like in this tutorial) gets divided into a 1/4″ seam and a 3/8″ seam.
Sew twice: Rather than placing right sides together as for a normal seam, you start with WRONG sides together…weird right? Trust me, it works! Sew the 1/4″ seam and then turn out. Now, with RIGHT sides together, stitch the 3/8″ seam. Turn out and voila! Perfectly placed and totally enclosed seams.
It is really important to be aware of the seam allowance you are sewing when making French seams. If the first seam allowance is too large, the unfinished edges will poke out the final seam. Not the end of the world since it will be inside the finished piece, but it's worth taking a few extra moments to get it right!
This technique is really handy for a situation where you don't own a serger to finish seams, would like to use a lining but are limited on time or fabric, or are using a delicate fabric that frays easily.
Note: You can also divide your seam allowance and trim the first seam before moving onto the second seam allowance (so it doesn't poke through). This can be useful if you are working with a pattern than uses a 1/2″ seam allowance for example.
Most tutorials suggest trimming your seams, but I like using the method I explained for this tutorial. If you sew carefully, you shouldn't have any trouble with seams poking through.
How to Sew a Drawstring Bag in Just About Any Size
What size can I make these drawstring bags? Pretty much any size you want! I have provided three sizes here, a 6″, 8″, and 12″ bag. I also give instructions for how to create your own sizes.
You might find that sewing anything smaller than a 5-6″ bag could get a little bulky with the casing area (thinner fabric will help you make even smaller bags), and I have not made anything larger than my 12″ large bag, but the tutorial technically scales to any size! It's more of a method than a pattern, which is great for beginners.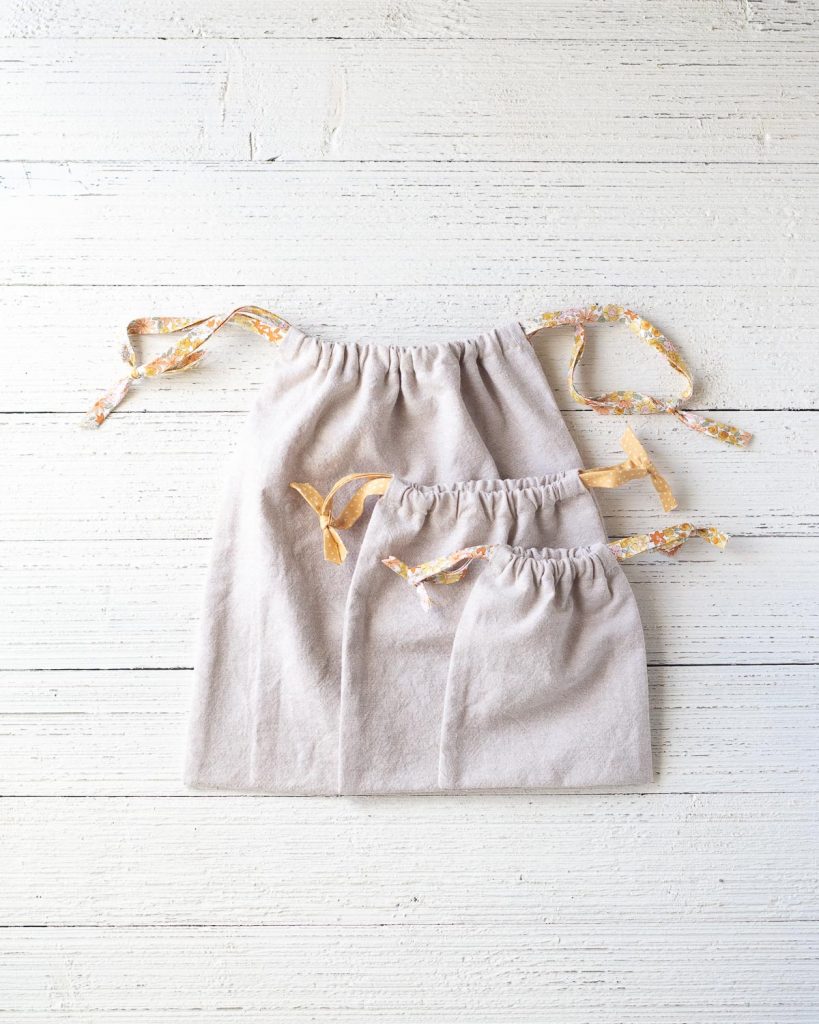 Are These Drawstring Bags Easy Enough for a Beginner?
Yes! You can be very flexible with these bags–if you stitch something a little funky, or accidentally cut your fabric longer/shorter/wider/thinner than you wanted, you will still end up with a drawstring bag at the end. This tutorial is great for those beginners who have used their sewing machine a bit, understand basic sewing terms, and are eager to try a new technique (French seams!).
My best advice if you are new to sewing is to just start. Don't be afraid to mess up. Maybe grab some basic cotton fabric (that you don't love) to get started making the first bag and then continue from there.
The skills you need here are essentially just sewing straight seams. French seams might sound intimidating, but they really are easy and give a beautiful result.
Plus, these bags are quick. You can make several in an afternoon. I love easy sewing projects and I hope you enjoy making these handmade gift bags!
What to Use These Handmade Drawstring Bags For?
So many things!
For homemade gift bags: You can use the finished bags for homemade gift bags (I love reusable gift wrapping). The variety of sizes (and thick linen) make them a great choice for packing many gifts.
For organizing: Use these bags to tidy up a dresser drawer (I have a feeling Marie Kondo would approve) or even use a small bag in a purse or backpack to corral essentials.
In the diaper bag: I love keeping a small bag of "diaper bag" toys packed in one of these bags (remember safety–these bags have long drawstrings and should not be given to young children or babies!) to have ready to stash in my diaper bag.
For projects: I don't knit as frequently as I used to, but when I do have a project on the needles it is always stored in one of these handmade drawstring bags.
For anything else you might use a plastic bag for…get creative and see what you can replace with these reusable linen bags!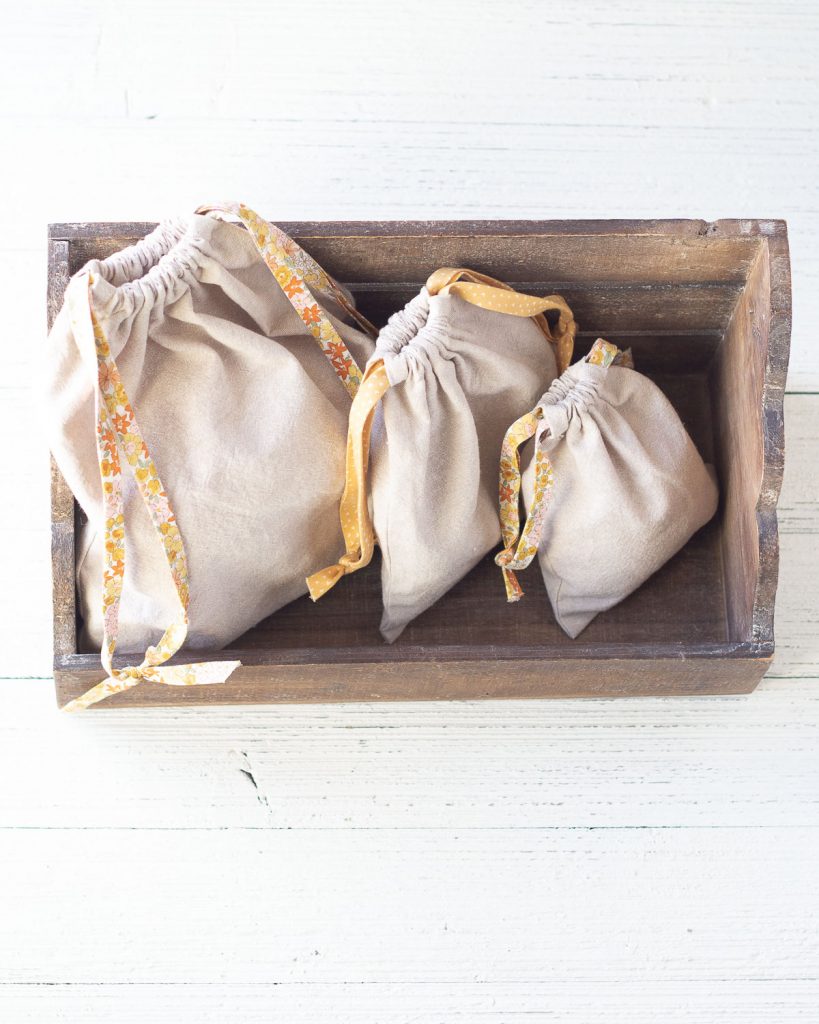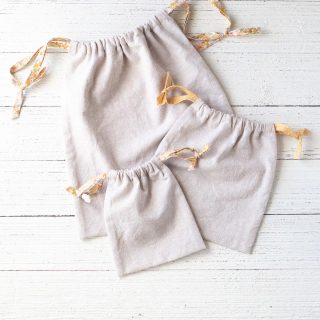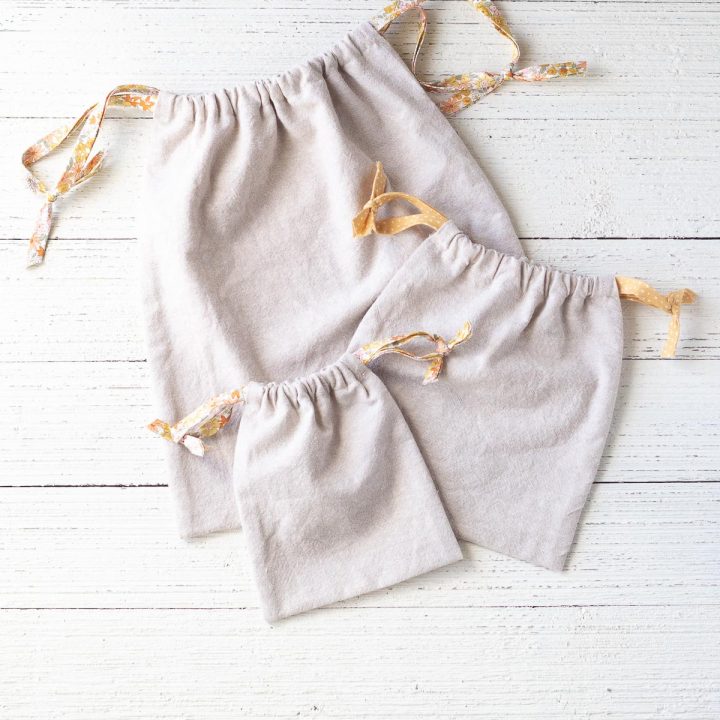 How to Sew a Drawstring Bag with French Seams
Learn how to make a drawstring bag with beautiful enclosed French seams. Save on fabric (no lining!), use pretty handmade bias tape (or whatever you like) for drawstrings, and sew these bags in just about any size you need. I've provided the exact measurements for a small 6", medium 8", and large 12" bag, plus the math to work out other sizes. These drawstring bags are great for using as homemade gift bags, organizing, and more!
Tools
Sewing Machine

Rotary cutter

Cutting mat

scissors

Safety pin
Supplies
1

yard

of cotton/linen blend fabric

see instructions for exact measurements

Matching thread

1/2

" wide double fold bias tape

ribbon, lace, or cord for the drawstrings
Instructions
Before Starting
I've provided sizes for three bags in this tutorial. A small 6", medium 8", and large 12" bag. I will note the dimensions and cutting dimensions for each bag here, but the actual construction of the bag is the exact same no matter the size you choose to make. See notes for figuring out how much fabric to cut for a bag in any size.

Always wash/dry your linen fabric to account for shrinkage before cutting.

You may want to stitch your bias tape closed before adding it to the bag (especially for handmade bias tapes). This way it won't come unfolded and start fraying if you opt to toss the bag in the wash.

Don't forget to watch the video. I always find that sewing instructions make far more sense when I can see them, versus reading what I'm supposed to be doing!
Cutting Instructions
Finished dimensions do not include the drawstring casing. Seam allowance is 5/8" using French seams.

A. Small bag (finished dimensions: 6"x6"): Cut a rectangle of linen fabric measuring 7.25" x 17". Have two 17" lengths of bias tape (or other drawstring) on hand for finishing.

B. Medium bag (finished dimensions: 8"x8"): Cut a rectangle of linen fabric measuring 9.25" x 21". Have two 21" lengths of bias tape (or other drawstring) on hand for finishing.

C. Large bag (finished dimensions: 12"x12"): Cut a rectangle of linen fabric measuring 13.25" x 29". Have two 29" lengths of bias tape (or other drawstring) on hand for finishing.
Time to Sew:
With WRONG sides together, fold the bottom short edge of your linen rectangle up to meet the top short edge. From the opening, mark down 2.5" on the left and right sides. Stitch 1/4" seams on each side of the bag from bottom to top–stop sewing when you reach the line you have marked. The unsewn edges will be the casing later.

Trim the corners of the seam allowance carefully at an angle (this makes nice sharp edges to turn out) and turn bag out. Press. Now the RIGHT sides will be together. Re-mark the 2.5" marking you made earlier.

Stitch a 3/8" seam on each side of the bag from bottom to top–again, stop sewing when you reach that 2.5" mark. This 3/8" seam will completely enclose the earlier seam.

Turn the bag right sides out. Press.

You now have four side edges that are raw and need to be hemmed. Fold each of these edges towards the wrong side of the bag, roughly 1/4" over and then a 1/4" again.

Hem each of the raw SIDE seams this way. Leave the top edges until the next step.

Here's what it'll look like:

On the top open edges of the bag, starting with one side, fold down 1/4". Press. Fold this edge down 1/4" again and press. To be honest, I just eyeball this. If you make it too thick, your bias tape might get a little squished when you add it in, so try to be accurate, but it's really not the end of the world. Repeat on the other edge.

With the top edge folded over as pressed (1/4" and 1/4" again) stitch the seam. Repeat on the other edge. NOTE: I realized that half the time I make these, I don't even bother with this seam, instead I just press my fabric well and go right on to the next seam. Feel free to do it whichever way you like. Fold the first edge down in half (it will now line up right where that original 2.5" mark was from the beginning) and stitch. Repeat on the other side.

Use a large safety pin to thread bias tape through both sides of your bag. When you arrive at the entrance point, measure about 2.5" extra on each side and trim. Use this excess to tie a tight knot.

Now, starting at the opposite side of your bag, thread the bias tape through again and repeat.

Trim any excess threads and you are done!
Video
Notes
Make any size drawstring bag! Want to make your bag a different size? Here's how. Determine the desired finished width of your bag. Now add 1.25" to that measurement. That is the width you will cut. Now, determine the desired finished height of your bag (not including the drawstring casing). Double this number and add 5". That the amount you will cut for the height of the bag. Sew as indicated in the tutorial.
Example: For the medium-sized bag, I wanted a bag that was 8"x8", not including the drawstring casing. So I added 8" + 1.25" to get 9.25" for the width. Then, I added 8"+8"+5" to get 21" for the height.
Because of the thickness of the casing, a 5"-6" bag might the smallest size to make comfortably (though a thinner fabric than linen will allow you to go even smaller). Let me know if you try it! And, while I don't see any reason why it wouldn't work, just be warned I have not yet trying making a gigantic drawstring gift bag with this method!
How much bias tape (or other drawstring) do I need?
Two lengths of bias tape that measure the width of your bag x 2, then add about 5" for tying a knot and leaving some excess. So, the small bag (6") would need two lengths of bias tape about 17" long.
Another way to say it is to prepare two lengths of bias tape that each measure the long edge of your cut fabric before sewing.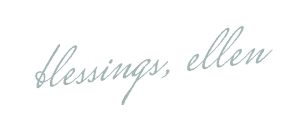 More From Bellewood Cottage