My Honest Review of Restored 316 Themes
Looking for a new WordPress theme? I'm sharing my honest review of Restored 316 WordPress themes so you can choose the best theme for your website or blog!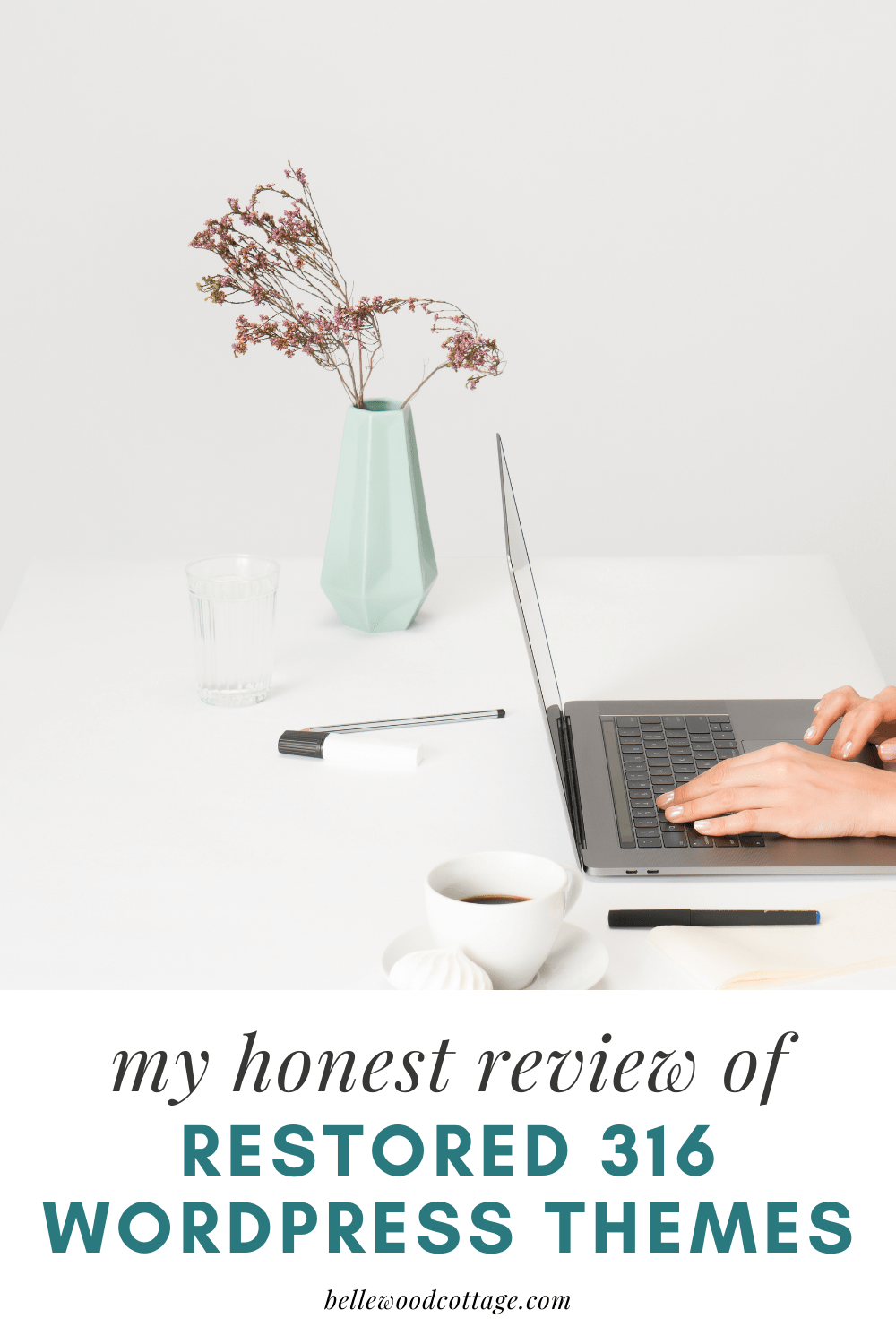 Please note that this post contains affiliate links which allow me to earn a small commission when a purchase is made at no additional cost to you. Read more here.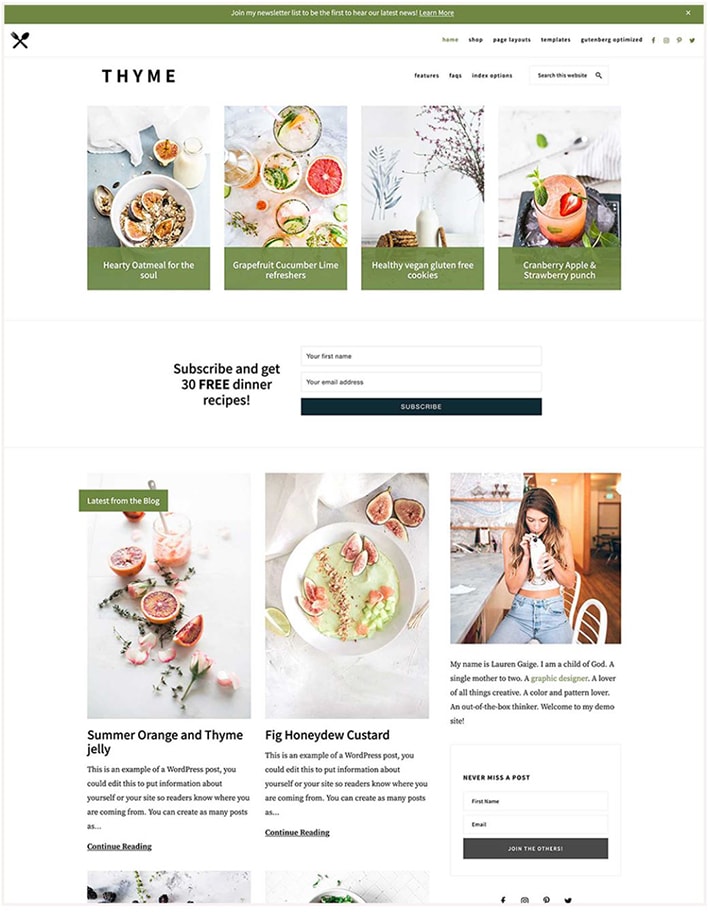 Starting a blog? Updating your website? Bloggers and content creators often know how we want our websites to look, but we don't always know how to get there. Lauren over at Restored 316 saw this problem and solved it with her exceptional feminine WordPress themes that provide an easy way to create a beautiful blog or website.
Whether you are selling products, creating recipes, blogging DIY projects, creating craft tutorials, or more, Restored 316 themes are a great way to create your personalized website.
I'm excited to share this review with you today as well as my personal experience with Restored 316 + the theme I am currently running on my website.
Hint: Use the Table of Contents below if you are looking for fast answers!
What Are Restored 316 Themes?
Restored 316 themes are WordPress themes (built on the Genesis framework, learn more here and here) that are essentially a "template" that you can install on your WordPress website or blog. All you have to do is review the selection of themes (I'll walk you through how to choose which one you need!), choose one, upload it to your site, and then the fun begins. You can customize logos, colors, images, add email signups, an Instagram widget and more.
Each theme is totally mobile responsive, meaning no funky results when switching from desktop to mobile. If you are nervous to work with a theme, Restored 316 provides affordable setup packages so that you can start your blog without hesitation.
My Experience with Restored 316 Themes
If you are familiar with Restored 316 themes, you might have noticed that I'm not running a Restored 316 theme on my website! Why not? Well, for the last few years, I used Market theme from Restored 316. I LOVED it and it was a big step forward from my very inadequate WordPress.com site (hint: sign up for a self-hosted website right away!) that I was thrilled with it for quite a while.
Here's what Market Theme looks like:
Here is a small snippet of what my homepage looked like on desktop for reference:
Kadence Versus Restored 316
Well, soon enough, I needed to make some larger changes and I knew it was time for a fresh theme. I realized that what I wanted to do would be best accomplished with Kadence Theme, another great option for bloggers and website owners.
Of course, a month or so after I switched, Restored 316 released the absolutely gorgeous Farmhouse Theme which I think would have served my purposes quite well too.
Here's why I switched:
Homepage Flexibility
I wanted the ability to structure and change the homepage as needed. If you are new to WordPress, you might think, well of course! But, funnily enough, up until recently, a homepage design was very much at the mercy of the theme you chose (or your ability to redesign a site via code).
With the new block-based editing functionality and the emergence of full-site editing, you can now actually change SO MUCH on your homepage! Just about everything in fact. This is true of Kadence and the new block-based Restored 316 themes.
Head over to Restored 316 and check out the different variations of a potential homepage on Farmhouse Theme, Thyme Theme, or Glamour theme just to get a sense of what you could do. And you can customize even more from there! The possibilities will make you want to start 10 new websites today.
So, if homepage flexibility is one of the things is drawing you to Kadence (like it did me), just know that you can have that block-based website with Restored 316 too, so long as you choose one of the newer block based themes I listed above.
Streamlined on Mobile
I want to show you something in particular I wanted to change that I couldn't do easily with the Restored 316 Market Theme (or Thyme, which I considered switching to).
This the mobile view of each homepage. You can see on the Kadence side how my logo and menu has been condensed. It's all right at the top. The Market theme actually had two menus, a large logo, and the slider image…and it required scrolling before even getting to my call-to-action.
You can see that the Kadence layout gets the call-to-action in there right away and the button is available for clicking without a single scroll. Both sites are mobile-responsive, but I loved the condensed style of Kadence.
I suggest checking out your preferred theme on mobile to see what the layout is like. They are all a bit different, and if you only need a small change, it might be possible to do easily.
A couple other quick reasons I switched to Kadence:
Site speed: Kadence is a super-light theme, but know that it's still possible to bog down with extras. I realized after switching that I could have improved my scores just by setting up SG Optimizer correctly (note: this is a site optimizing plugin for those using Siteground as their host–you can also use WPRocket for this functionality). Here is an SG Optimizer tutorial if you would like to learn more.
Design: I was really excited to jump into a theme that allowed full-site editing and was totally buildable off of Gutenberg (I love Gutenberg!). However, Restored 316 DOES have four themes (and will continue to release more) that allow for a homepage built off of blocks. If you aren't sure if something can be changed, just email support before purchasing to check.
Let's talk more about design. While Kadence is super-customizable, you will need to have coding knowledge if you want to transform the lightweight theme into a gorgeous website similar to the Restored 316 sites. You can see that my site looks very basic right now. My main concern is keeping things clean and easy to read as visitors come to my site. I will probably continue to adjust things as time goes by…OR, I might switch to a Restored 316 Theme again down the road! They both have strengths!
Subscription-based: Note that while you can use a free version of Kadence, you will likely want/need the Pro version and possibly Kadence blocks too (I am running both on my site). This is a yearly fee (about $100), versus paying about $100 one-time for a Restored 316 theme and getting to use it as long you like! There is a plus-side to the subscription model (consistent updates and customer support), but you can weigh those options based on what you need.
How do I Know if a Restored 316 Theme is right for me?
Not sure if a Restored 316 theme is right for you? Here's a quick list to help you decide!
new to WordPress and want some help getting started (you can opt to purchase a setup package with your new theme!)
want a beautiful website with a custom look
need flexibility in your homepage design (stick with the block-based themes!)
need great customer service (Restored 316 is amazing and SO helpful!)
you want extensive tutorials/documentation to help with setup
already use the Genesis Framework and want to continue to do so
need the ability to sell products (choose a theme that says "WooCommerce Ready")
you are a lifestyle blogger, diy blogger, craft blogger, parenting blogger, or just about anything else!
you need to use a theme on multiple sites
love trying new themes (with Shimmer Pass you can purchase a year-long pass to access ALL the Restored 316 themes with this option)
If you aren't sure, let me assure you that you really cannot go wrong with a Restored 316 theme. The world of website building is constantly changing and growing and each of our websites will always have areas we need to work on. But, starting with a quality theme from a quality company goes a LONG way towards getting your website off on the right foot!
How Much Do Restored 316 Themes Cost?
While some of the older Restored 316 Themes cost $75, the newer block-based themes (which I highly recommend) cost $99. This includes six months of support AND you can use the theme as long as you like. The current block-based themes are Farmhouse Theme (released January 2021), Thyme Theme, Glamour Theme, and Splendor Theme.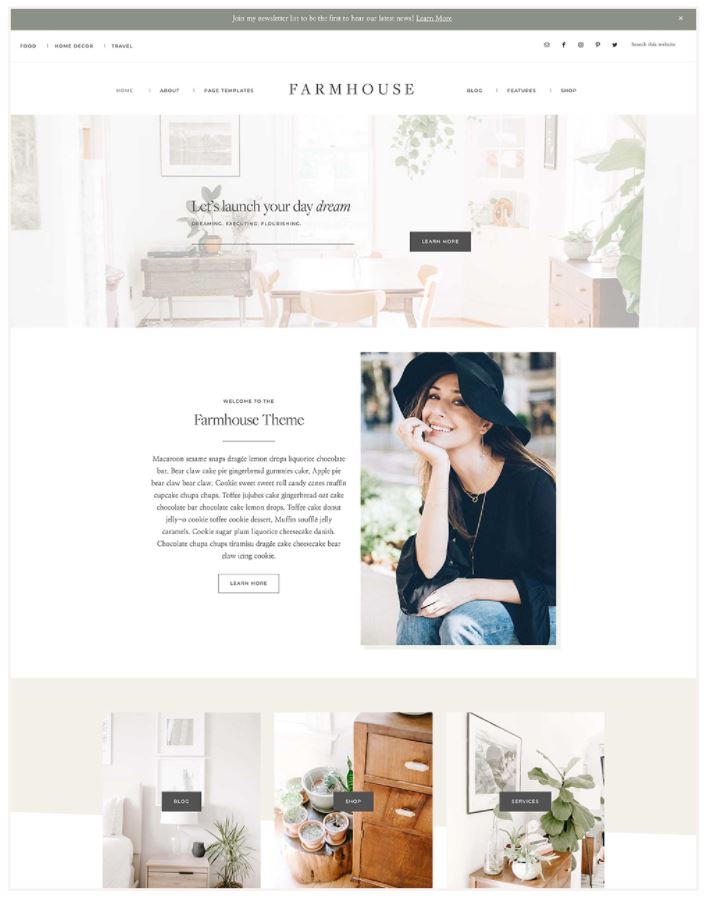 Many theme developers now are opting to do a subscription-based plan, which has a lot of merits (constant support and updates), but it isn't always a great choice for those who aren't necessarily earning income from their site, or who desire to keep expenses super low.
I like that you can purchase a Restored 316 theme for a one-time fee and use it as long as you need it. This takes the pressure off if you are building a new website or blog and don't want to be paying for a subscription while you are still working on building your blog or business. You can also use the theme on multiple sites!
Note! Don't forget, unless you already own the Genesis Framework, you will need to purchase it in addition to your theme (you only ever need to purchase Genesis once!). Purchasing the Genesis Framework costs $59.95. Read the Restored 316 FAQs and Lauren's tutorial on how to start a website for more about Genesis.
Which Theme Should I Choose for My Website or Blog?
Wondering which Restored 316 theme to choose? Well, I suggest choosing between Farmhouse, Thyme, Glamour, and Splendor. This is because these themes have a new homepage design that allows you to customize just about everything through Gutenberg blocks instead of predetermined widget spaces. It's a gamechanger.
Block-based editing is more a like using a page builder type website. It's super intuitive, you can edit it easily, and the blocks provide a modern design on your homepage. I LOVE using blocks on my homepage. When I decide I want to add something (say, another featured category or something), I just add a block!
A Quick Look at Farmhouse Theme From Restored 316 – A Block Based Theme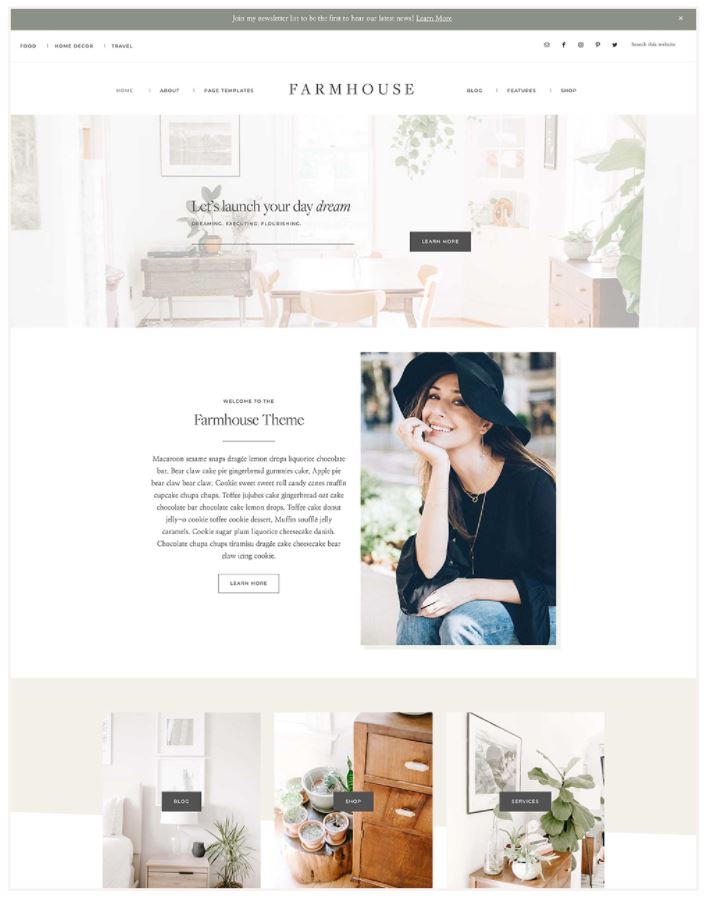 For instance, here's what Lauren says about Farmhouse, the latest theme from Restored 316:
"Farmhouse is another new theme that fully embraces the Gutenberg editor! The entire home page, and all 4 home page design options use the Gutenberg block editor so you can customize it to fit your own specific needs!"

Lauren Gaige, Restored 316
You'll definitely want to check out the list of Farmhouse features and the four homepage designs over here!
Tip #1: Sketch Out What You Want Your Website to Look Like
I know, choosing a theme can be tough! I suggest sketching out a rough idea of what you want your site to look on both desktop and mobile. Where do you want menus, call-to-actions, categories, blog posts, your shop etc.? Create a rough layout you can reference as you shop themes. And remember, with a block-based theme, you can move a lot of things around!
Try this! Something that can help is to look over three of your favorite websites (in a similar niche to yours) and see how they organize things. Note what you like (and what you don't) and pay attention to that list as you shop.
Tip #2: View the Themes on Mobile
Now, grab your phone, head to Restored 316 and look at a few of the themes on MOBILE. All the themes are absolutely gorgeous on desktop, but the majority of web traffic is on mobile these days and you want to see how your site will look there first.
Tip #3 Understand What Can be Changed and What Can't Be
Instead of getting laser-focused on the colors, fonts, and imagery of each site (which can all be changed easily!), really examine the layout. With a block-based theme you have a lot of extra flexibility (check out the variety of homepages on Glamour theme here), but usually the menu placement, logo area, and social icons generally will remain in the same place.
The widget-based themes like Market have narrow options for customizations. Review the four homepage designs offered with each Restored 316 block based theme to get an idea of how things can be changed (and further customized). See Thyme theme below and check out the homepage options here.
Need the links again? Try Farmhouse Theme (released January 2021), Thyme Theme, Glamour Theme, or Splendor Theme to get started with a block based website.
Tip #4 Check the Restored 316 Facebook Group
I also suggest checking out the Restored 316 Facebook group. Search the name of the theme(s) you are interested in and see if you can find some other website owners using the theme. This is so helpful to see "real-life" websites with different imagery, fonts, etc., but all using the same structure.
Tip #5 Take the Quiz!
If you are wondering what theme is best for your website, ReStored 316 also has a cool quiz you can take.
I Already Have a Website? Can I Switch to a Restored 316 Theme?
Absolutely! If you are already using the Genesis Framework, this will be even easier. If you have any qualms about switching, be sure to check out the setup packages.
I'm New–Are the Themes Hard to Use?
No, Restored 316 themes are not hard to use, but they will require some learning! If you are already comfortable working in WordPress, you will be just fine. If you are totally new to blogging or running a website, then just lean heavily on the incredible documentation Restored 316 provides to get your site set up.
The team has done a fantastic job at walking you through every single step of website setup with their documentation (this is NOT something you will get with every theme designer online!). You can also reach out to customer support with questions and they are very quick to respond and resolve issues.
If you are nervous about jumping into a new website or blog, I don't think you can go wrong with Restored 316! You will love the look of your website and setting it up really will be just fine! And another note: The block-based themes I keep referencing (Farmhouse, Thyme, Glamour, and Splendor) have a "one click install" feature which makes things even easier!
Restored 316 Pros
Let's do a quick overview once more of the pros of choosing a Restored 316 theme.
Fantastic customer support and a very helpful FB group too
MANY designs to choose from
Four new block based themes (and they are always releasing new ones!)
Feminine themes that are truly beautiful!
Uses the Genesis Framework
Speed-tested themes (more on that below!)
Email forms that match your site
A huge library of documentation for a step-by-step setup of any theme
Custom set up packages
One-click install on newer themes
Another thing I want to note here is that Google is making some big shifts in 2021. Whether you are interested in keeping up with that type of thing or not, the team at Restored 316 is keeping up with those changes (which will affect how you rank in search) and making sure their themes are ready. They are also constantly producing new products to meet the needs of their customers. Restored 316 listens, understands bloggers/content creators, and truly cares about delivering the BEST product they can. That is worth a lot in my opinion!
Restored 316 Cons
While I wouldn't really consider the following three items "cons" to purchasing a Restored 316 theme, I think they are important areas to be aware of:
Low-Contrast Designs
One con is that while the color schemes of the sites are gorgeous, they often are too low contrast to meet WCAG 2.0 (Web Content Accessibility Guidelines). What does this mean? Firstly, that your site cannot be read easily. Secondly, this can garner more serious problems (or even lawsuits) if it is determined your site is not meeting accessibility guidelines.
All fonts ought to be dark enough that the text is easily read. Light gray fonts or pastels are really pretty, but often they are too light to be read. You can run all your colors through a contrast checker like WebAIM to ensure your site is readable. Changing your colors is very easy in Restored 316 themes!
And don't forget to check buttons and hover settings! Double check that any accent colors and the fonts layered on top have enough contrast to be read easily.
Font Sizes Should be Increased
Font sizes should also be immediately increased as well. This article from Mediavine explains how to manage font sizes and benefits to increasing the size.
For fonts, you will have to edit the CSS, but the Restored 316 team is usually happy to help with such changes within your support window. I suggest examining the demo site closely and making a list of things you will want to change so that you can do so right away. Then, if you run into trouble you can still utilize your support window.
Underlining Links
Another thing you will want to consider is updating your CSS so that links will be underlined. This is another area that makes your site accessible to all users.
This article is a very helpful read if you would like to learn more about accessibility on websites.
Are Restored 316 Themes Fast?
Ah yes, site speed. The great frustration of web developers and certainly of bloggers everywhere. We want to rank well on Google, so site speed is important!
Now, site speed is a challenging conversation because there are SO many variables! Though I've heard some say that their specific Restored 316 Theme runs slowly (especially perhaps in comparison to a previous theme or a different website), it's hard to measure that accurately because each website will be so different. All the Restored 316 Themes score well out of the gate. You see these scores on each theme page on their website.
How Can I Check Site Speed?
You can get an idea of site speed by doing the following. First, grab the link to the demo site of the theme you are looking into. Here is Farmhouse. Next paste that link into Google Pagespeed Insights and/or GTmetrix (I suggest both). See what the scores look like. This is not the score that YOUR site will receive, but it gives you an idea of the theme itself.
You can also read through the results to see what things you can change to get a better score. Things like lazy-loading and serving images in next-gen formats for example.
Optimize with a Plugin
I've personally found that optimizing with SG Optimizer went further in optimizing my site than the difference between switching from the Market Restored 316 Theme to Kadence. You can use SG Optimizer if your host is Siteground, otherwise check out WP Rocket.
This SG Optimizer tutorial is a great place to start if you want to try the SG Optimizer plugin.
Wrapping it Up!
In summary, I know you will love your Restored 316 Theme. Grab one of the new block based themes and have fun setting up your website! Reminder: Try Farmhouse Theme, Thyme Theme, Glamour Theme, or Splendor Theme to get started with a Gutenberg block based website.
Share Your Site with Me!
If you decide to give Restored 316 a try, share with me in the comments which theme you chose and a link to your site! I would absolutely love to see!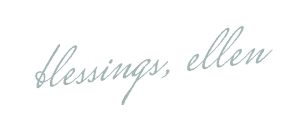 More From Bellewood Cottage