Mint Green Milk Paint Chair Flip
Learn how I used mint green milk paint to give this antique chair new life. A hour or two, some milk paint powder, and a paintbrush is basically all you'll need! 
Happy Monday all! I'm working on my Thanksgiving Day grocery shopping list and wow, when did that happen? November is flying by. Also, let's not discuss how much butter I will be buying.
Please note that this post contains affiliate links which allow me to earn a small commission when a purchase is made at no additional cost to you. Read more here.
Mint Green Milk Paint Chair Flip
With hosting a family meal on the horizon, I decided it was time to clean up my painting supplies and works-in-progress, so I took some time to finish up this chair over the weekend. Annnd promptly realized (while editing photos) that I missed a spot or two with the second coat. Oops. You might be able to spot it, but rest assured I will touch it up!
This chair is the match to the chair I chalked painted pink back in September. This particular chair had actually been stripped and was ready to re-stain or paint as I wished. I figured, why not take the opportunity to play with applying milk paint to raw wood again?
Here's a glimpse at the before and after:
At first I wasn't sure how I felt about the strong wood grain showing through, but it's rather grown on me.
I chose Miss Mustard Seed's Milk Paint in Layla's Mint (actually a lot less minty than I expected, but still a cute green color) and applied two coats to this chair. I actually may still go back and add a little distressing to the chair. I think it needs just a lil' something more?
Want to get the look? All ya need is: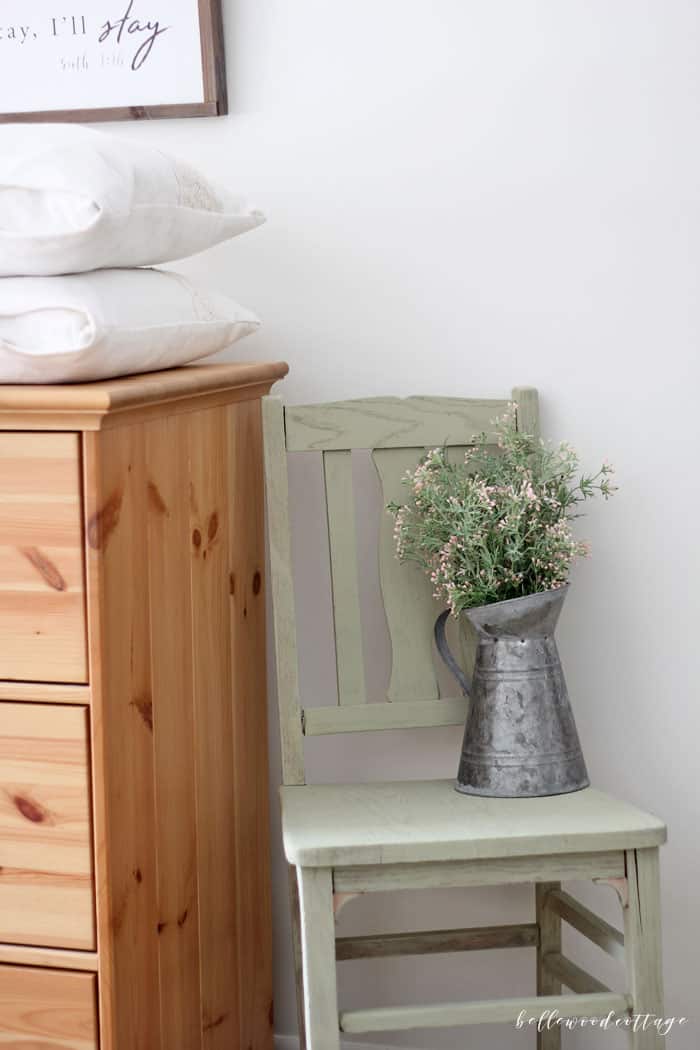 Have you flipped any furniture recently? Let me know in the comments!
More with milk paint from Bellewood Cottage: