101+ Farmhouse Décor Ideas for Your Home
These 101+ farmhouse décor ideas will help you decorate your home in a cozy farmhouse style with ease at any budget. If you are looking for farmhouse décor DIY ideas, shopping suggestions, and inspiration, this is the list for you!
Please note that this post contains affiliate links which allow me to earn a small commission when a purchase is made at no additional cost to you. Read more here.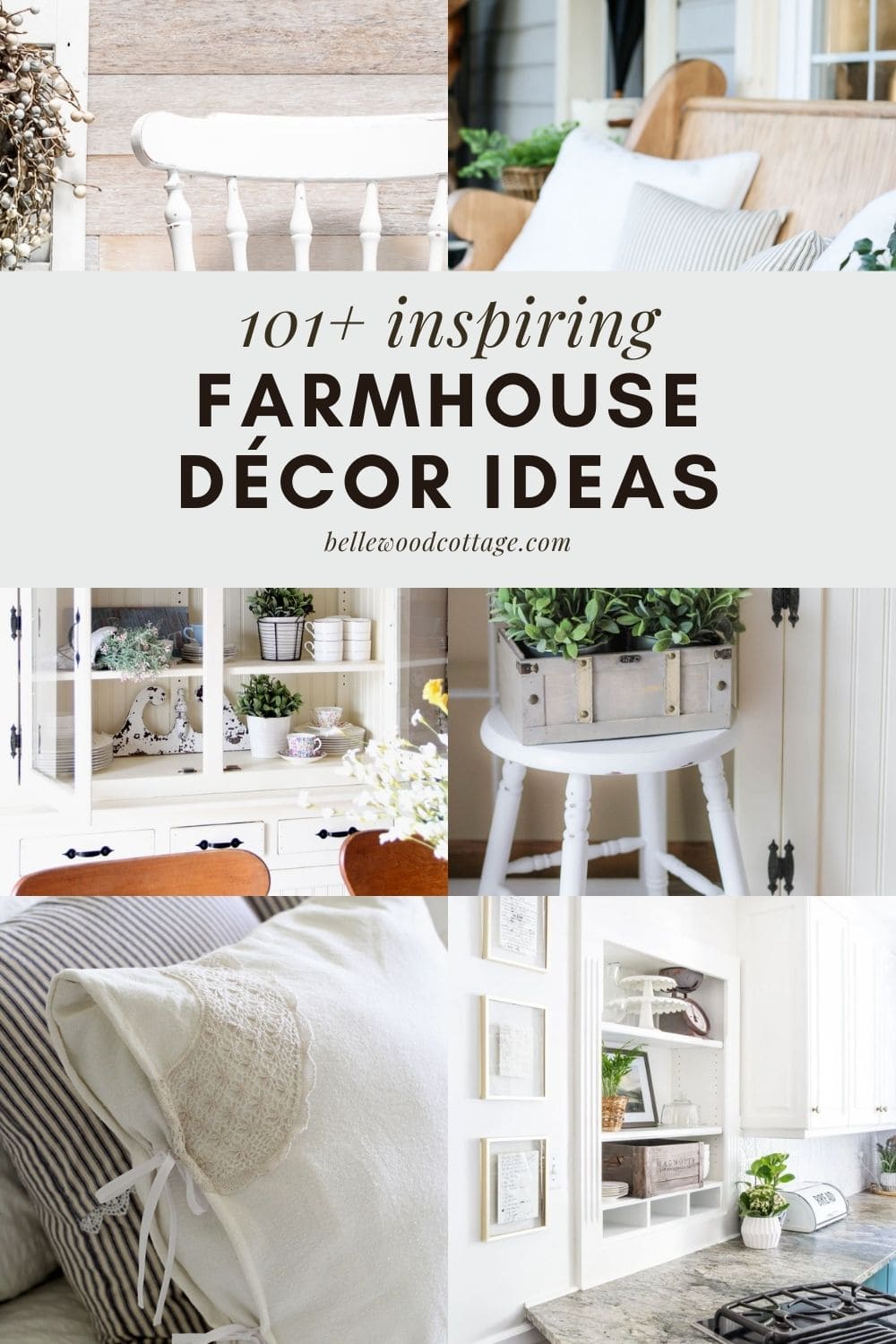 Sometimes it's hard to get the look you want in your home. Short of having your Pinterest boards come to life, designing your home from start to finish is a big job. I compiled this list of farmhouse décor ideas in the hopes of providing some helpful starting points for achieving the "farmhouse style" home.
I've included over 101 individual suggestions organized into various categories. The ideas span a wide range of budgets and DIY skills. There are ideas for everyone, no matter the time you have available or the current style of your home.
Take your time and use this list as a springboard to decide the projects you'd like to tackle to make your home your own. I've included links to fabulous projects and DIYs from fellow bloggers, links to some shopping lists of my favorite farmhouse décor, and simple suggestions from my own home as well.
I hope you find plenty of farmhouse ideas to try in your home!
Tip: IKEA Hacks are a great way to add farmhouse charm on a budget. Check out my roundups of Best IKEA Hacks, Favorite KALLAX Hacks, and IKEA Spice Rack Hacks for more!
Farmhouse Ideas for the Walls
I love a good DIY farmhouse style sign! Hanging artwork in your desired décor style is a quick way to change things around. Making your own art is a great option too. Here's some farmhouse art and signage ideas that you can buy or make:
Front Door Welcome Sign
Why not start with the front door? There's plenty of DIY tutorials for how to make a vertical "welcome" sign for your own farmhouse.
Maybe everyone owns a "Fresh Pies Served Daily" sign by now…but in case you don't, feel free to snag one for your kitchen.
A Painting of a Cow
Miss Mustard Seed's cow painting (by artist Cindy Austin) is one of my favorites. Farmhouse flair for sure!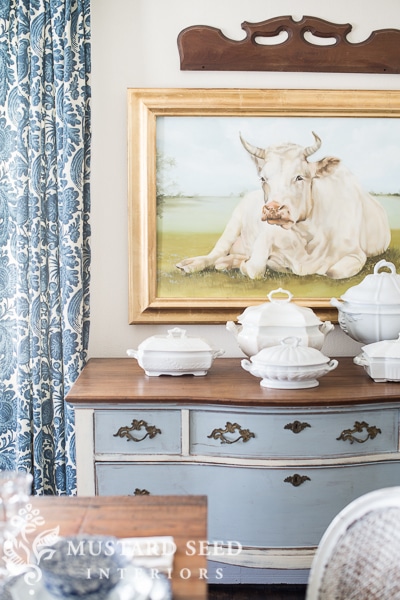 A Barn Painting
Like this barn painting, or perhaps this one.
Cute Farmhouse Sayings Signs
Sell eggs? Fresh pies daily? You live in a farmhouse? Get a farmhouse sign for that!

Handlettered Farmhouse Signs
Or, make a hand-lettered sign yourself!
Gallery Wall with Family Photos
Add history to your home by opting to include family photos and memorabilia from generations long past on your walls. This gallery wall with historical photographs is a favorite.
Gallery Wall with Mirrors
Adding a gallery wall of mirrors instead of photographs can be a fun twist. This gallery wall roundup of mirror gallery walls from Lolly Jane is filled with ideas!
Gallery Wall with Painted Frames
Paint old picture frames the same color and make a gallery wall of just the frames. Interesting shapes and textures are key here.
A Basket Gallery Wall
Ok, one last gallery idea! I love a fun basket gallery wall and this one from My Purposed Place is filled with color and charm.
White Linens
While caring for white linens might seem like a pain, there's really nothing like a bright white duvet and sheets.
Farmhouse Style Décor – Accessories
Oo, accessories! A quick jaunt through any home décor store these days ought to turn up plenty of farmhouse style décor, but in case you need help getting started, here's ideas for what to look for (or search for online).
Amber Bottles
Display beautiful antique amber bottles and group them together in a collection like Liz Marie Galvan does.
White Dishes
Stacks and stacks of white dishes look great displayed on open shelving or in a hutch.
Wire Baskets
Wire baskets lend plenty of fresh farmhouse style around your home.
Tiered Trays
Stack up a tiered tray with seasonal farmhouse décor like small faux plants, knick-knacks, and handmade décor.

Letterboards
Letter boards are the perfect spot for a snarky statement or just about anything else. Get inspired with ideas for your letterboard from LetterFolk's Instagram account.
Small Faux Plants
You can buy these in droves on Amazon or collect them as you see them in home décor stores like Hobby Lobby and TJmaxx. Also, IKEA's faux plants are affordable and super cute.
Cheerful Little Wooden Houses
I love these creative wooden houses from Purely Katie on Etsy:

Terra Cotta Pots
Fill 'em, paint 'em, stack 'em. Here's a tutorial on how to age terra cotta pots.
Galvanized Vessels
Anything galvanized adds a farmhouse touch so add in a galvanized envelope, plant pots, or wall décor.
Magnolia Leaf Wreath
Rustic Wooden Cutting Boards
Group a few boards together against your backsplash for a simple farmhouse décor idea.
Farmhouse Pillow
So many good farmhouse pillows out there!

Floral Pillow
Floral pillows can add some color.

A Pillow with a Truck on It
Ah, the ubiquitous pickup truck artwork. Go grab one!

Baskets
Add a few flat baskets as a décor accent. See how Jackie did just that here in her daughter's nursery.
Fresh Peonies
Plant your own peonies, find some locally, or share with a friend. Wherever you find them, a pitcher full of fresh peonies is the best kind of simple farmhouse décor.
Lemons
Fresh or faux, a bright display of lemons is a welcome pop of color.
Farmhouse Kitchen Décor Ideas
Farmhouse kitchen décor is my favorite. The kitchen really does tend to be the heart of the home, so it's a good place to start if you are transforming your home to farmhouse style.
Frame Handwritten Recipes
Preserve and celebrate handwritten recipes from beloved friends and relatives with this easy tutorial for how to frame handwritten recipes from Bless'er House.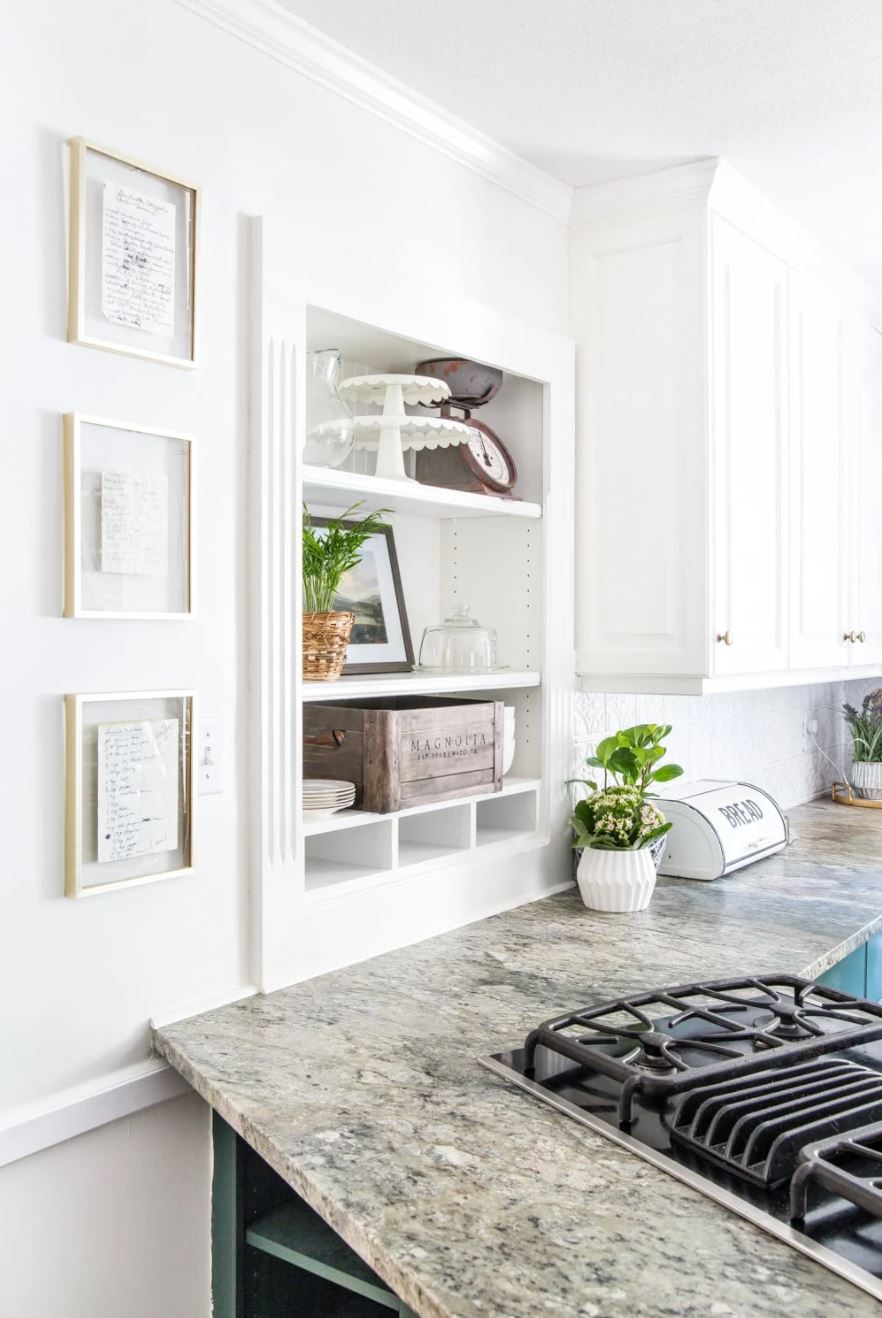 A White Pitcher
Here's a roundup of some of my favorite white pitchers. Or, head to the antique store and find a vintage ironstone one!
Ticking Stripe Potholders
Make your own ticking stripe potholders with Lisa's Tutorial at Farmhouse on Boone.
Linen Apron
A linen apron or two hanging in the kitchen is a simple and sweet touch that is useful too!

A Cute Breadbox
A breadbox that says "bread"…what more could you need? Here's a roundup of favorite cute breadboxes.
Farmhouse Apron Sink
Here's a list of farmhouse apron sinks with great reviews.
Wooden Brushes
Replace unsightly sponges with some cute wooden scrub brushes near your sink. Arrange a few long-handled ones in a sturdy crock.
Peg Rack
An easy farmhouse décor idea is to simply hang a peg rack in your entry or kitchen. Fill it with a wooden broom, a leather bag, a scarf or jacket, and some dried flowers or herbs.
This entry way from Liz at Love Grows Wild features a custom bench and matte black hooks: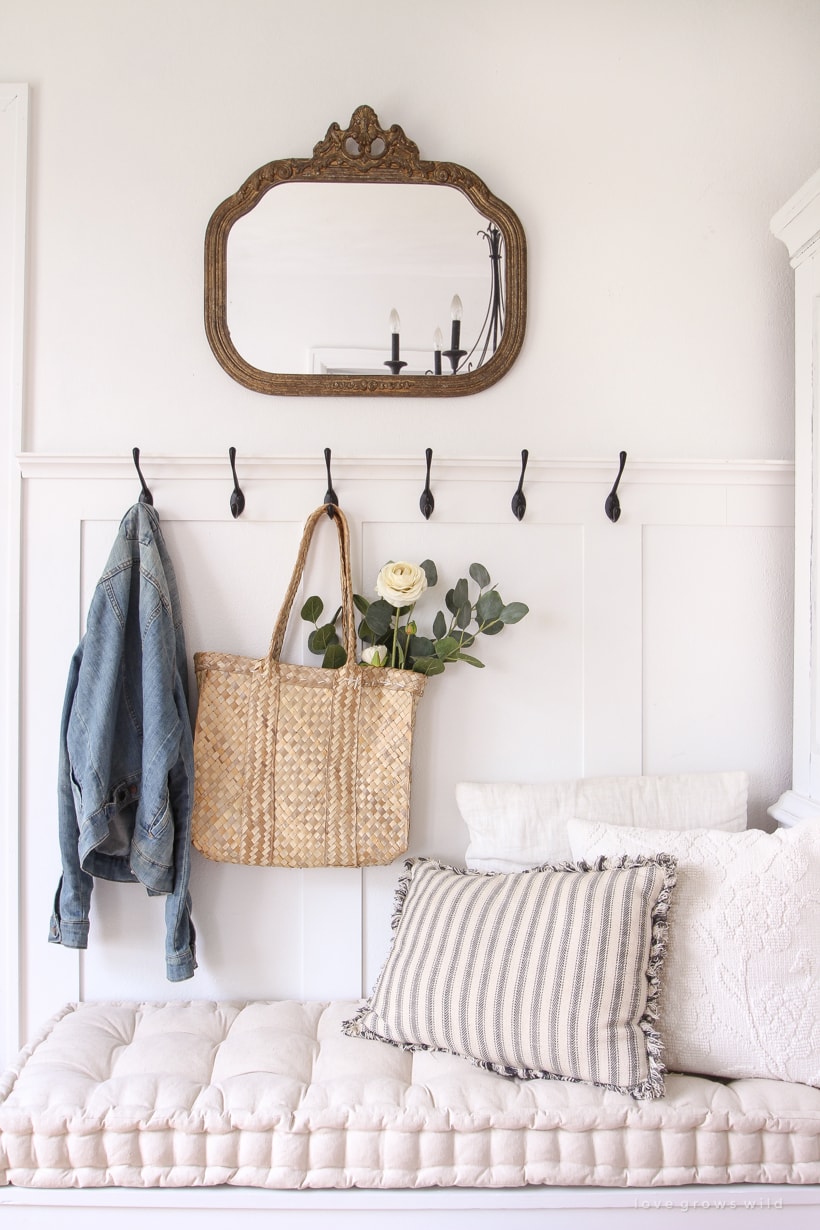 A Real Plant
Real plants make such a big difference in any home! Here's a list of indoor plants to try.
DIY Concrete Countertops
A Beautiful Mess shares how to DIY your own concrete countertops.
Marble Countertops
I mean, this is the dream right?
Butcher Block Countertops
IKEA butcher block countertops are a popular solution and they look great. This post shares some pros and cons.
A Showstopping Range
If you have the ability to invest in it, a showstopping range makes an incredible design impact on your kitchen. See Jackie's ILVE Majestic range and Julie's Lacanche French range.
Paint Walls, Trim, and More!
Paint can be magically transformational. In fact, when thinking through various farmhouse décor ideas, don't forget the power of paint. What could you paint to help your home look a little more farmhouse-y? Well, just about everything! Here's some ideas:
Paint the Walls White
It can be a challenge to find just the right white paint, but it's worth it!
Don't Forget the Trim
Painting our trim made a big difference in our home (I even managed to paint our baseboards around carpet). This tutorial from Julie Blanner has more tips on how to paint trim white.
Paint Your Kitchen (or Bathroom) Cabinets
It's a big job, but freshening up old cabinets with a coat of paint is more cost-effective than trying to replace them. It's still going to cost a few hundred dollars (depending on the method you choose), but very reasonable compared to thousands for a kitchen reno.
Just make sure to choose a good tutorial to follow along with and use high quality paint.
Chalk Paint Your Furniture
What's so great about chalk style paint? One of the best parts is that it's fast! While I usually like to lightly sand my furniture pieces before painting, with many chalk style paints you can really just jump right in. Easy way to update furniture you no longer love, but can't yet afford to replace.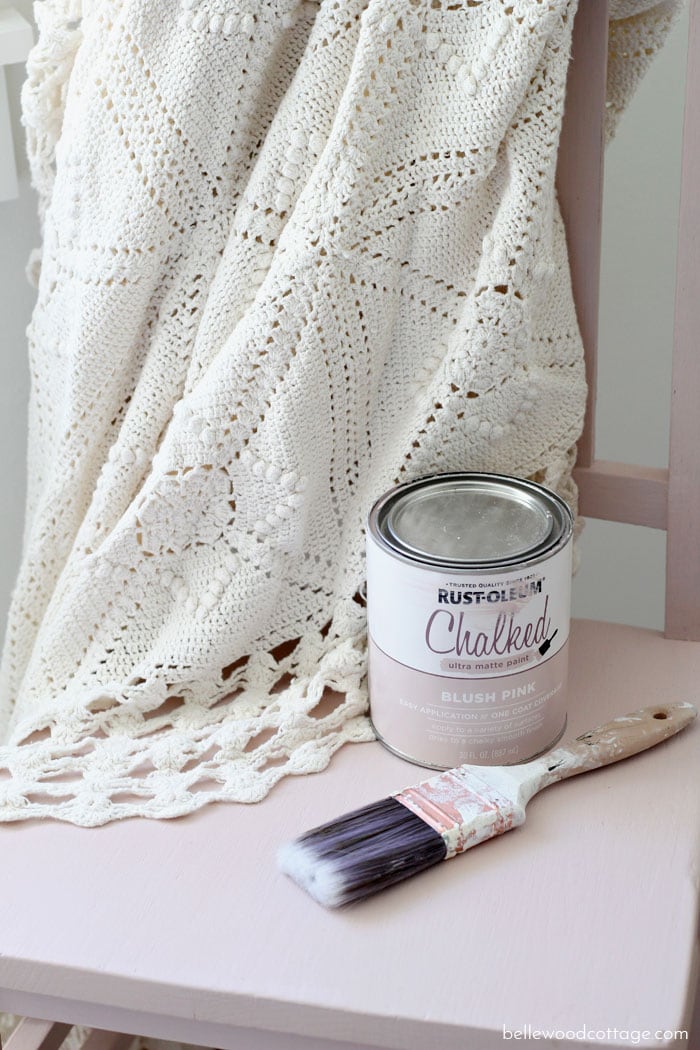 Paint a Hutch
Old hutches can be bulky and hard to move, so if you are up for the challenge it's not too hard to find a bargain to paint. Paint a hutch white or select a bright color for a pop of character in your farmhouse home.
Add Some Details
May you've chalk-painted several things already, but are bored with the appearance. Try adding some stencil work or floral designs to give the piece a little more interest.
This DIY Stenciled Dresser from Habiba at Craftify My Love is beautiful!
Paint Light Fixtures
Replacing a whole house of light fixtures can be expensive. Try painting the metal areas of the light fixtures to save money and freshen up your décor.
Paint Bathroom Countertops
Yes, it really can be done! Check out how Lauren painted her bathroom countertops.
Try Milk Paint
Miss Mustard Seed's milk paint is a favorite of mine and you can use it to create all kinds of custom chippy furniture.
Strip the Paint
Now, this is the exact opposite, but if you went on a chalk painting binge and are feeling like it's time to freshen things up, you could try stripping away furniture paint to go back to basics with wooden tones.
Sarah at She Holds Dearly shares a great tutorial for how to strip furniture.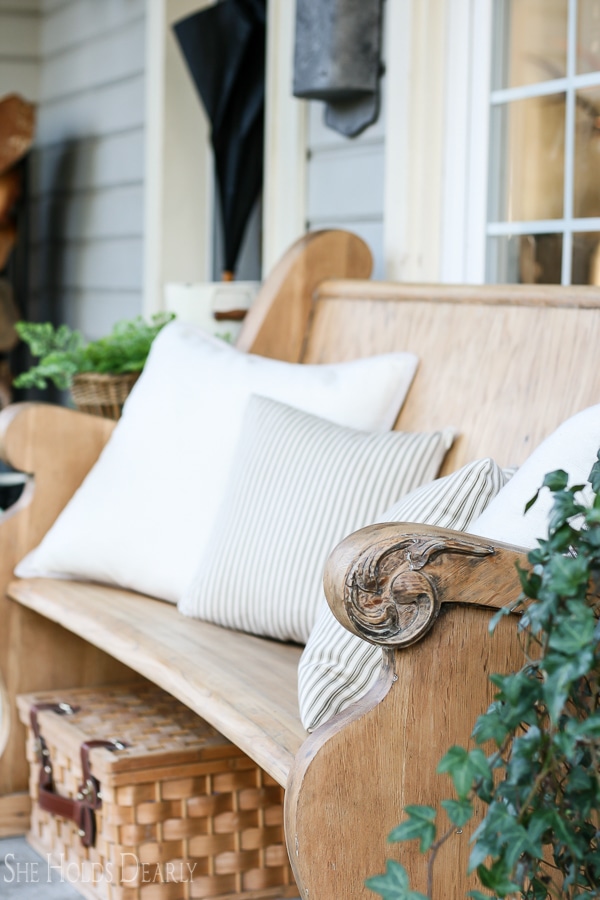 DIY Farmhouse Home Décor
DIYs are fantastic for helping stretch any budget–and they are fun too! Here's a few of my favorite farmhouse style DIY projects:
Drop Cloth Curtains
This trend has taken over! Here's my DIY Drop Cloth Curtain tutorial with plenty of tips and tricks (no sewing required).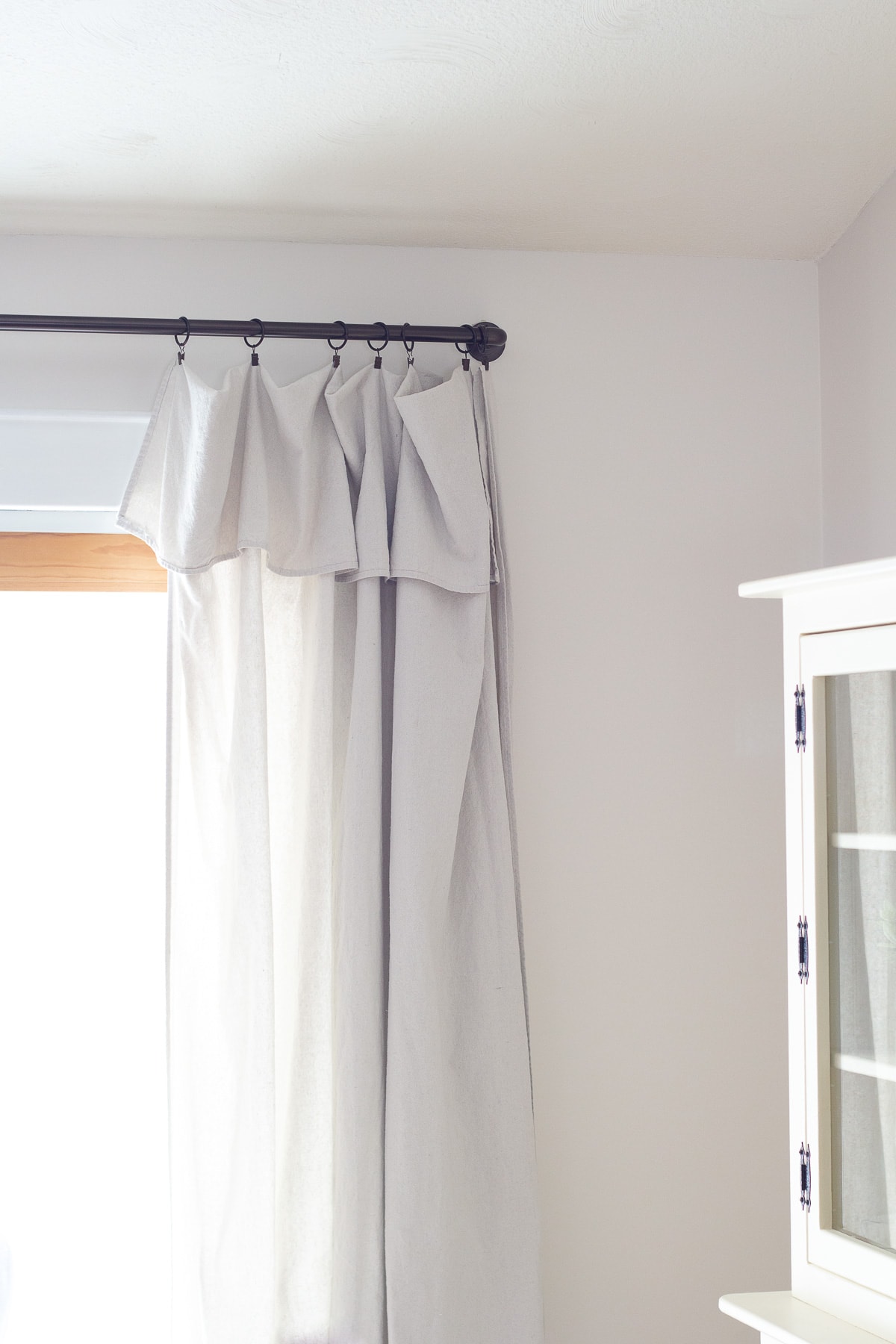 Paint Mason Jars
Painting mason jars is a fun project you can customize however you like! This painted mason jar tutorial from It All Started with Paint is the place to start.
DIY Candlesticks
Candlesticks are great for adding height and interest to tabletop displays. This DIY candlestick tutorial from Sarah Joy Blog is a good one.
Lettered Book Stacks
Hand stamped book stacks are hugely popular and they are so cute. Make your own or check Etsy.

Frame a Bathroom Mirror
Try this tutorial for how to add a frame to a bathroom mirror from April at Love Our Real Life.
Framed Silhouette Art
Try making framed silhouette art of your own kids for a special memento for years to come–and completely unique wall décor.
Farm Fresh Eggs Sign
I love the idea of using an old cabinet door to make a farmhouse sign. This tutorial from Linda at Mixed Kreations is so cute!
Wood Bead Floral Wreath
This easy DIY Wreath from Marie at Elle Marie Home makes a beautiful accent for your front door!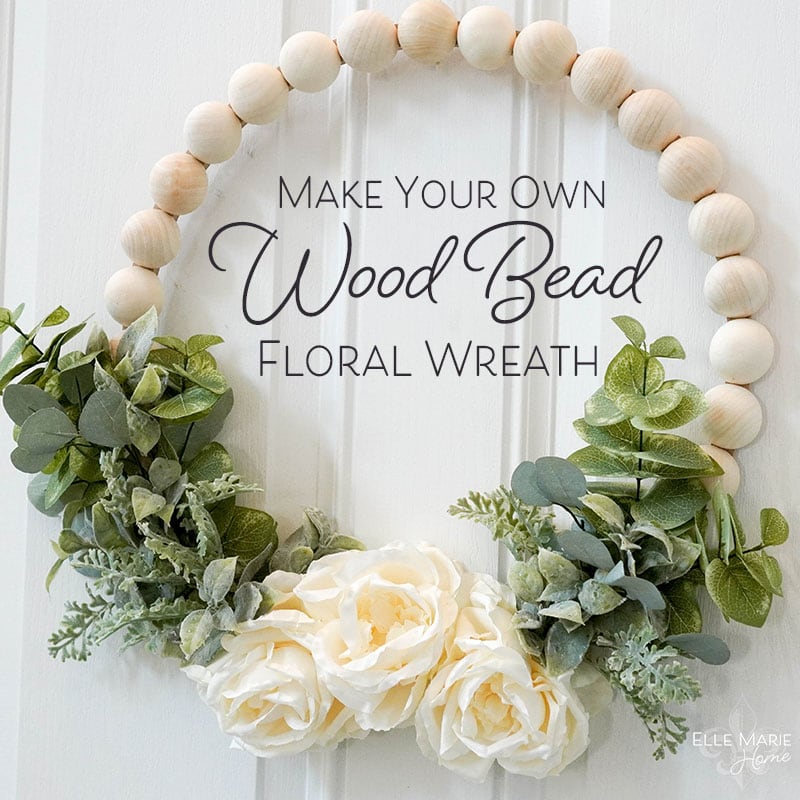 Paint a Chair
Cindy from DIY Beautify shares how to paint a spindle chair in this easy tutorial.
Homemade Pom Pom Garland
A homemade pom pom garland like this one from Amanda at Sincerely Marie Designs is such a fun DIY project–especially for holiday farmhouse décor!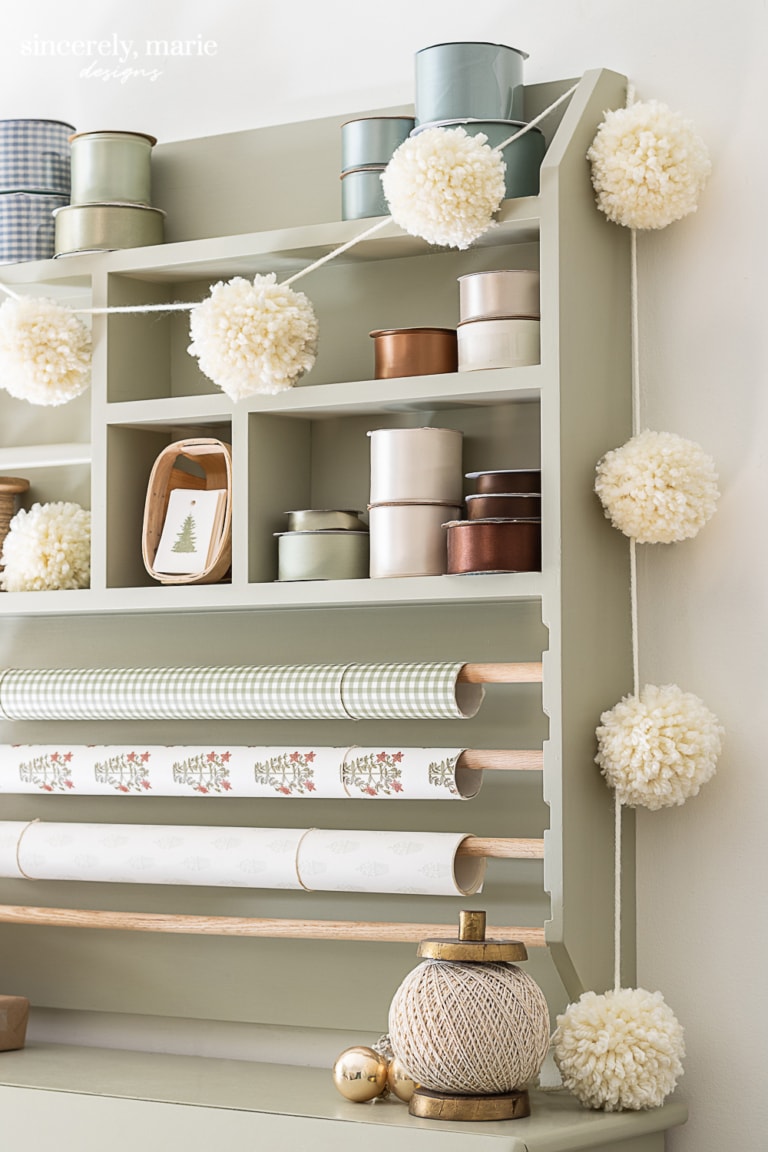 Make a Chalkboard
Here I turned a vintage mirror into a DIY chalkboard with chalkboard paint and a chippy milk paint finish on the wooden frame.
Blanket Ladder DIY
Try making your own blanket ladder with this easy tutorial.
Cover Old Flooring
It's not the right solution for every room, but peel and stick tile can be a great solution to transform spaces that aren't ready for a larger reno yet.
Showstopping Farmhouse Furniture
Sometimes all you need to do is exchange some furniture. Checking Facebook Marketplace and Craiglist for interesting vintage finds is a great way to find some unique pieces. Also check local markets and pop-up sales in your area.
A Vintage Counter
Liz Marie Galvan used a vintage countertop for an antique island in her beautiful farmhouse kitchen and it's simply lovely.
Card Catalogs
If you can snag a vintage card catalog, lucky you! This chalk painted catalog from Celebrated Nest is stunning in a cheery green color.
This DIY Faux Planked Card Catalog Coffee Table from Bless'er House is another fun project!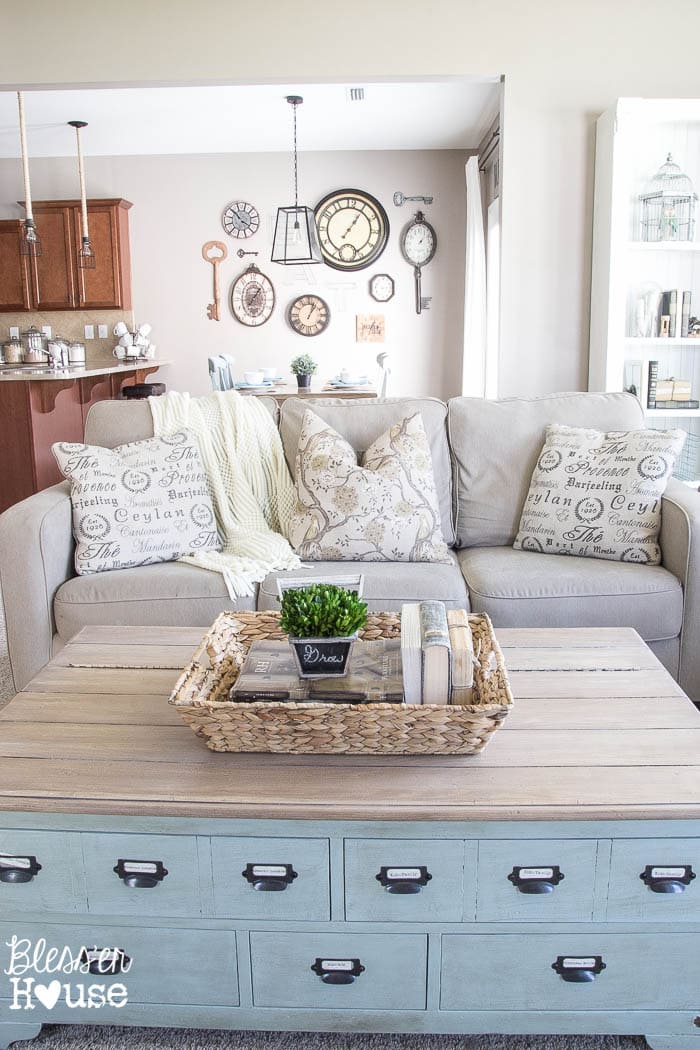 A Vintage Buffet
I love a good buffet and if you can find an ornate buffet to refinish or paint, it can add tons of character to any space. Here's a beautiful painted buffet from The Painted Hinge.
Antique Chairs
Reupholstering can be a big undertaking, but these reupholstered antique chairs from Marian at Miss Mustard Seed are sure inspiring.
A Good Rug
Never underestimate the power of the right rug! Getting the optimal size and color can be tricky, so check out these tips for How to Buy Rugs from Young House Love.
Ticking Stripe Chairs
Ticking stripe fabric is a quintessential farmhouse look and I've got a roundup of some of my favorite ticking stripe chairs for an affordable furniture accent in almost any room.
Authentic Antiques
Adding antiques is one of the best ways to add some authentic farmhouse style to your home. What better way to add character than to feature some of the hard-working tools of years gone by?
Whether it's beautiful ironstone dishes or tools like washboards, rolling pins or even chicken feeders, adding these vintage touches is a sure way to create a farmhouse feel in your home.
I find that I can get the best prices when I shop local. Look for flea markets, antique stores, and pop-up events. Even garage sales can be quite successful. For larger pieces, check Facebook Marketplace or Craigslist.
Copper Pots and Pans
Pick up some vintage copper pots to display in your kitchen. The warm metal provides a beautiful accent. They can be pricey online, so try shopping local and see what you can find.
Ironstone
White ironstone dishes are beautiful displayed in collections. Collect pitchers, plates, soup tureens, and more and arrange to your fancy in a closed hutch or on open shelving. Or, keep things simple with a favorite piece or two displayed in a central location in your favorite room.
A Vintage Scale
Look for antique scales in unique colors like green or blue. The small pop of color is a fast way to give a room character. An antique kitchen scale is small enough to display easily, but large enough that it makes a statement.
Old Books
My mom and I love collecting old books and there's nothing like a shelf filled with worn cloth-covered books (or faded dust jackets) to give a room charm and history.
A Stoneware Crock
Red Wing Stoneware Crocks are a popular antique to shop for when decorating in the farmhouse style. Here's some tips for shopping for antique crocks.
Wooden Spoons
Vintage wooden spoons are affordable and look great clustered together in the aforementioned Red Wing crocks.
Wooden Rolling Pins and Other Utensils
While antiquing, keep an eye out for rolling pins and other antique utensils that can be clustered together and displayed.
Chippy Spindles and Corbels
Remnants of torn-down houses like chippy railing spindles and old corbels are a popular find at antique shops these days. Display a few tied with a scrap of vintage cloth or use corbels as bookends. Seal the paint to avoid lead exposure.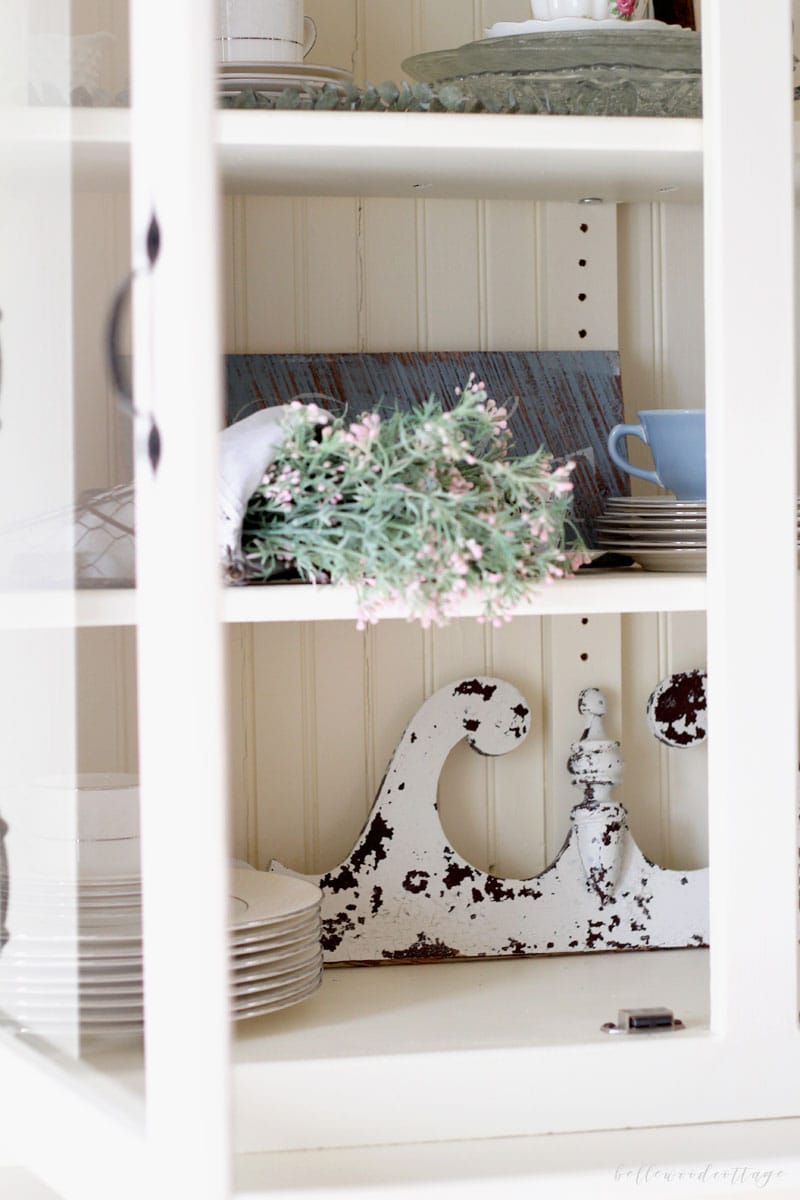 Vintage Washboard
For the laundry room of course! Hang one on your laundry room room door or make a small gallery wall of various styles inside your laundry areas.
Tobacco Baskets

Dough Bowls
A vintage dough bowl makes a great vessel for creative table décor!
Wooden Spools
Browsing through vintage wooden spools on Etsy, there are so many different varieties. You could use them for décor on a tiered tray, fill a basket with them, or get creative and use them to make something entirely new.
Milk Glass
Milk glass is very collectible, often fairly easy to find (though it's sometimes hard to tell the new from the old), and looks great displayed in collections.
Wooden Crates
Vintage wooden crates were absolutely everywhere for a while. They are still a great option to corral coffee table clutter, store linens, or just add a little vintage charm to a spot in your home.
Butter Molds
Butter molds always make me think of the Laura Ingalls books when Ma makes butter. These would be great to display in a farmhouse kitchen.
Chicken Feeders
Chicken feeders are another vintage item to try using around your home. Check Pinterest for ideas.
Cheese Boxes
Cheese boxes are often the right size for holding milk bottles or mason jars and can be a good way to collect odds and ends around your home. Here I used one for a simple spring floral display: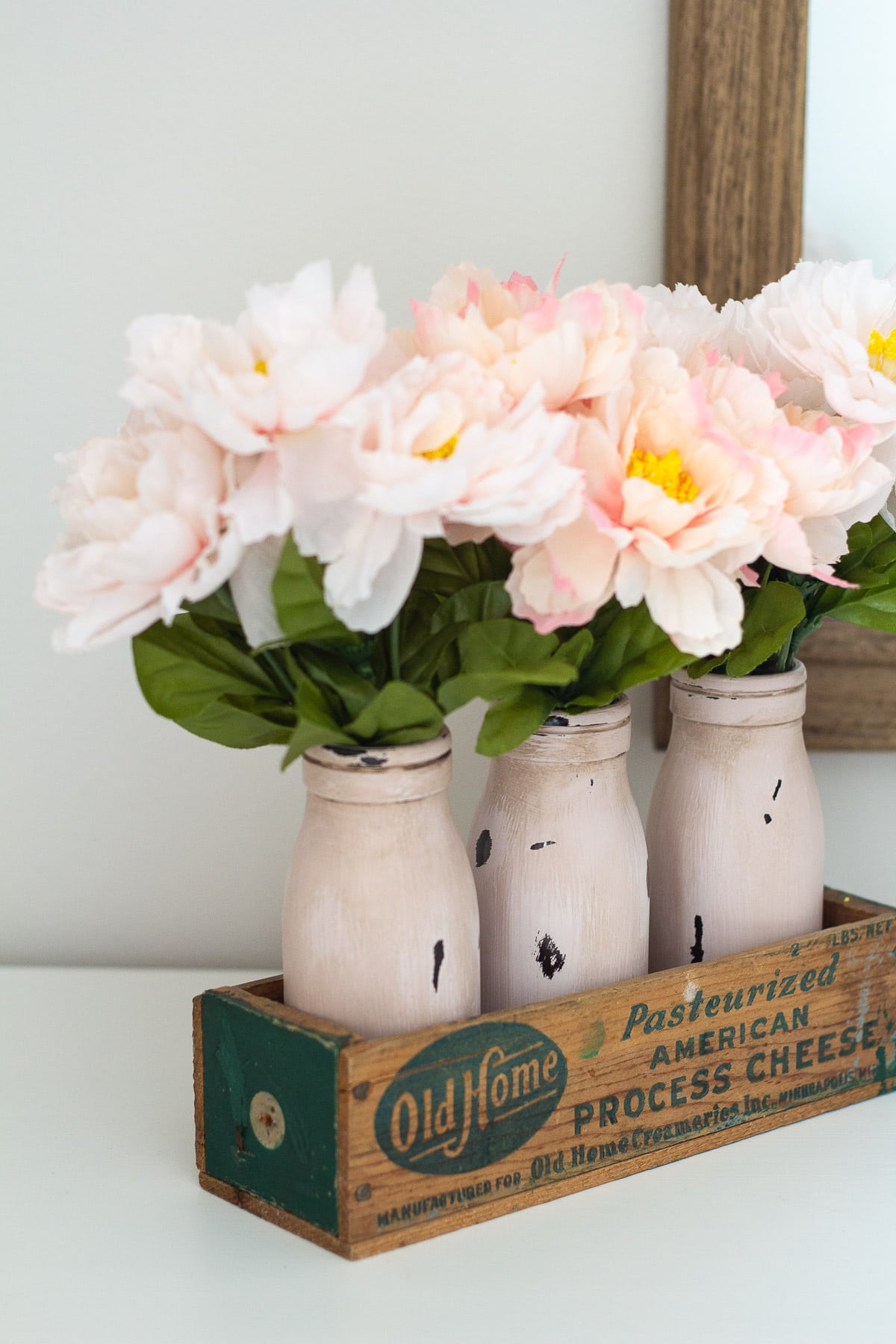 Décor to Sew Yourself
You can absolutely sew your own home décor–from pillows to slipcovers. It's doable. Here's some ideas:
Drop Cloth Slipcovers
Like these wing chair slip covers. If you are new to sewing, save slipcovers for when you have acquired more experience.
Drop Cloth Pillow Covers
Here's a quick tutorial for drop cloth pillow covers with a vintage lace accent. Easy for beginners too!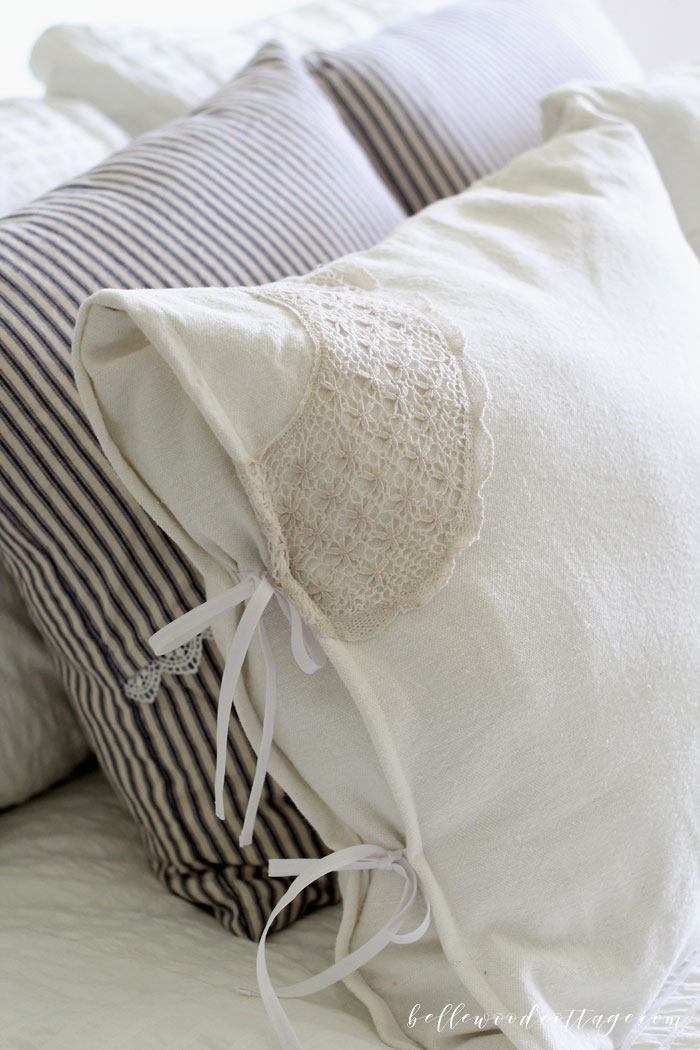 Dining Chair Covers/Slipcovers
These reupholstered dining chairs with slipcovers are dreamy!
Ticking Envelope Pillows
Ticking is a favorite farmhouse fabric of mine and this is an easy tutorial to sew your own ticking pillows.
DIY Pom Pom Pillow
Here's the tutorial!
DIY Ruffle Pillow Covers
I love ruffles and this ruffle pillow tutorial reminds me of something Anne of Green Gables might have loved.
Linen and Flannel Ruffle Blanket
This linen and flannel blanket with a ruffle is one of my favorites.
Bigger Changes
Interested in investing a little more time in some heftier DIY projects? Well, this is the section for you!
Update Outlets and Light Switches/Plates
This project might feel a bit daunting over an entire house, but updating aaaallll your outlets, switches, and plates will immediately refresh your home.
Shiplap
DIY "shiplap" walls aren't true shiplap, but that doesn't mean it's not super cute and full of farmhouse charm. The style might be rumored to be on its way out, but I still love the look myself.
This tutorial for how to plank a wall from Maison de Pax is a great step-by-step to get started.
Beadboard
Add beadboard wainscoting to any room (or a ceiling…sigh, so lovely) for a little farmhouse flair.
Crown molding
Crown molding is one of those things that makes any home look more complete. It can be a tricky project, but the end result is transformational!
Board and Batten
These walls are very popular right now and for good reason. It's an easy DIY you can do that will be a game-changer in your home. Here's a tutorial from Young House Love.
Farmhouse Window Trim
Farmhouse window trim requires some woodworking tools and knowledge, but overall it's a pretty simple and fast project that'll make a big impact.
Hardwood Floors
Oh for hardwoods! These wide plank oak floors in this kitchen remodel from Maison de Pax are just lovely.
Replace a New Door with an Old Door
If you are handy, you might consider working to replace a door in a key area of your home with a vintage door. Vintage doors are constructed so beautifully it's a joy to give an antique door a place of honor once again.
Add a Barn Door
The popular DIY that is now so common you can buy "barn door" kits nearly ready-to-go. If you have a good spot for a door like this in your home, give this DIY try.
Install Larger Baseboards
Old homes are filled with generous trim. Replacing builder-grade baseboards with a nice thick trim can be a game-changer for the overall look in your home. Here's some DIY Baseboard suggestions and here's a quick tutorial on how to fake old trim.
Whew! I hope you found a few farmhouse décor ideas here that you are excited to tackle in your own home. Whether you are starting small with some simple décor changes, diving into the DIY world, or even planning a full renovation, I know you will love your new farmhouse style space.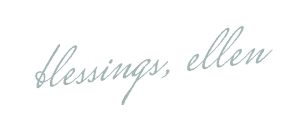 Love free craft ideas? Subscribe to Bellewood Cottage for more fun and relaxing craft ideas straight to your inbox.
More Home Décor Ideas from Bellewood Cottage