How To Bleach Drop Cloths Successfully
Learn how to bleach drop cloths with this step-by-step tutorial, including frequently asked questions and suggestions for using drop cloths in your home.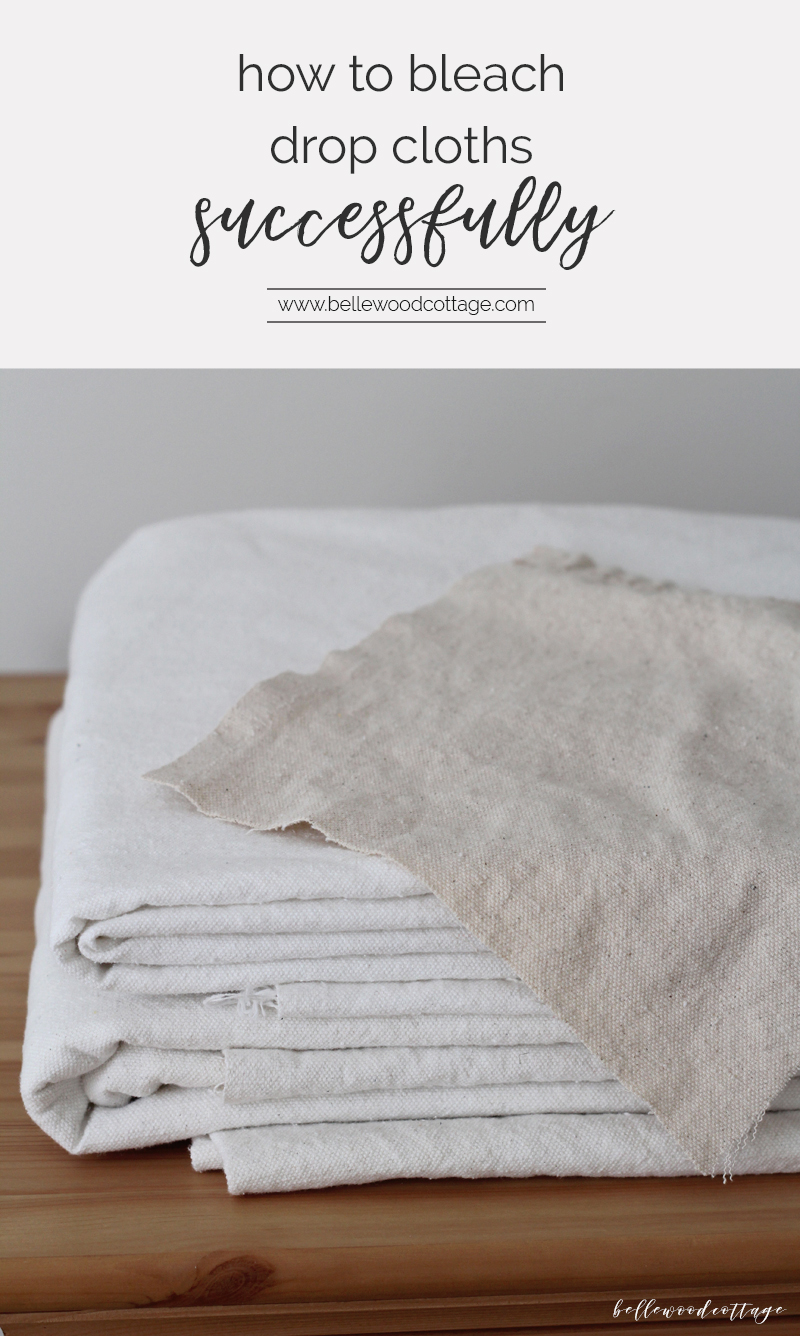 Drop cloths are a pretty hot item in the home decor world. From the first tutorial that used them to make curtains, they are now a go-to source for inexpensive, durable, and beautiful fabric. Of course, since they tend to come in that rather bland beige color, the question is can the fabric be bleached? And how can we bleach drop cloths successfully?
Please note that this post contains affiliate links which allow me to earn a small commission when a purchase is made. Read more here.
UPDATES: I have updated this post on August 3, 2019 to reflect my recent experiences as well as some feedback from readers regarding their experiences bleaching drop cloths. This post is also LONG–lots of details for you! Skim through to get the general idea and then when you're ready to bleach, read through all the details before purchasing drop cloths or getting started.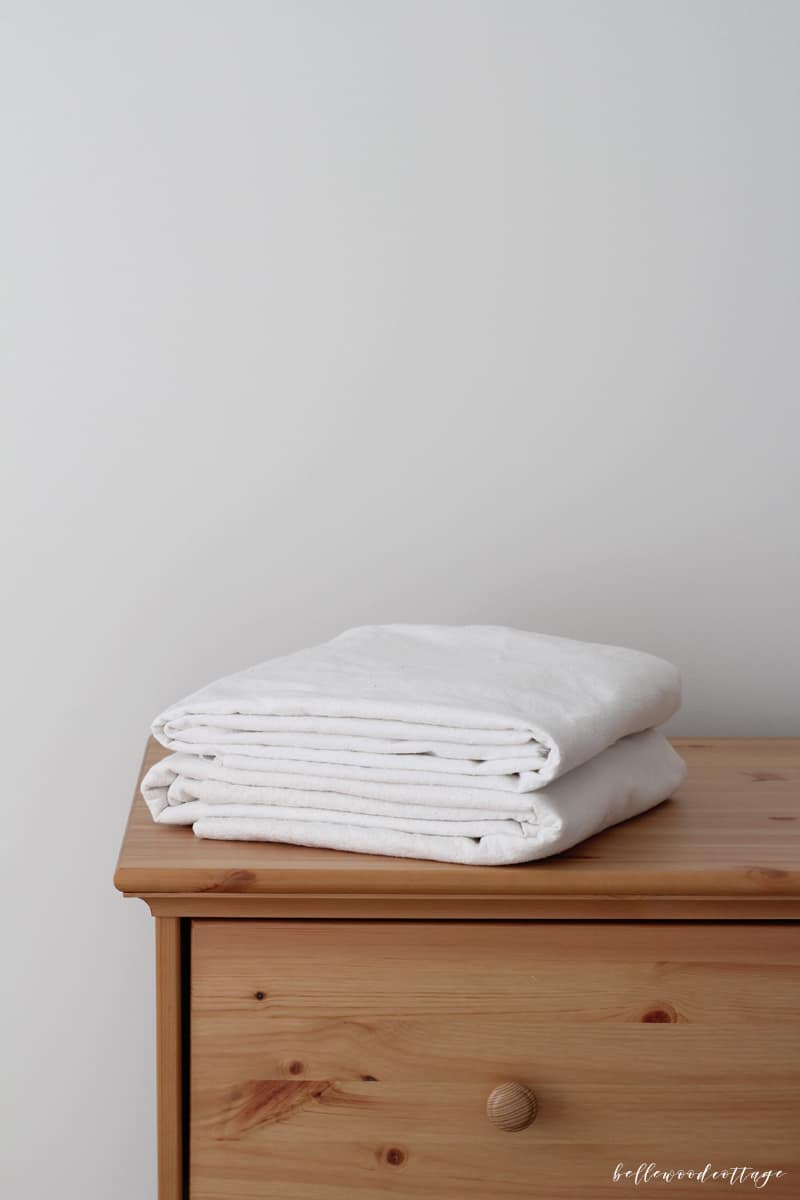 DISCLAIMER: A huge part of bleached drop cloth success is the material of the drop cloth. It MUST be 100% cotton. I've learned from a few readers that the drop cloths I suggest purchasing may no longer be 100% cotton. I have continued to have success with that brand, but it is up to you if you want to risk it. Additionally, the drop cloths generally come with a seam (though not always) and if it runs width-wise, the panels will likely end up too small for curtains after accounting for the shrinkage of cotton. Even if it runs length-wise, that may be too small for appropriately wide curtains. Keep reading for my before & after measurements.
So, How Do I Bleach Drop Cloths?
Bleaching drop cloths is straightforward and the process rewards you with yards of sturdy snowy white fabric. The rustic texture of a drop cloth is also just right for farmhouse style decor.
You Must Start With 100% Cotton Drop Cloths
Yep. This is important. When I first bleached drop cloths I was SO disappointed. I let them soak overnight (twice!) and basically nothing happened. You can see my sad photo below. Is it lighter? Is it not? Who can say?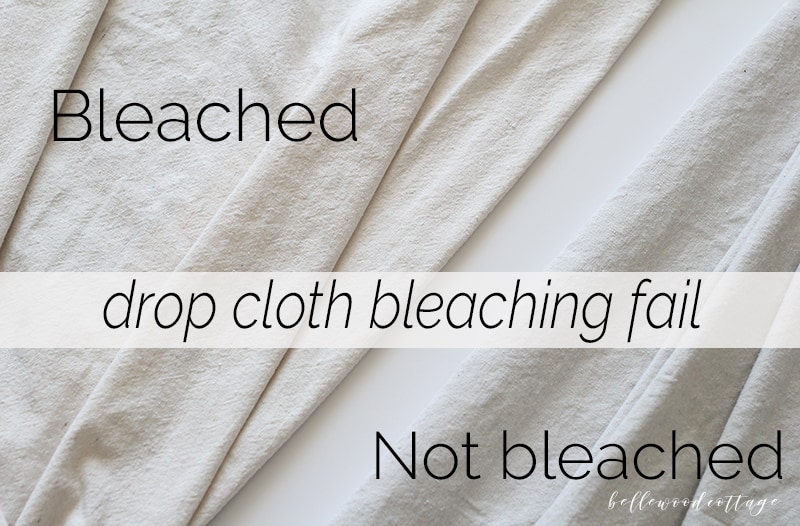 It took me purchasing a few more drop cloths to realize that I was buying drop cloths that were 50/50 cotton/polyester. Well, as anyone who has ever tried to dye polyester fabric knows…it doesn't work. And this of course holds true of attempting to bleach polyester as well. Go figure.
Most readily accessible drop cloths (found at Menard's, Home Depot, etc.) are this cotton/poly blend. So, I recommend buying your drop cloths online or finding a local source that provides a 100% cotton option.
Where to Buy 100% Cotton Drop Cloths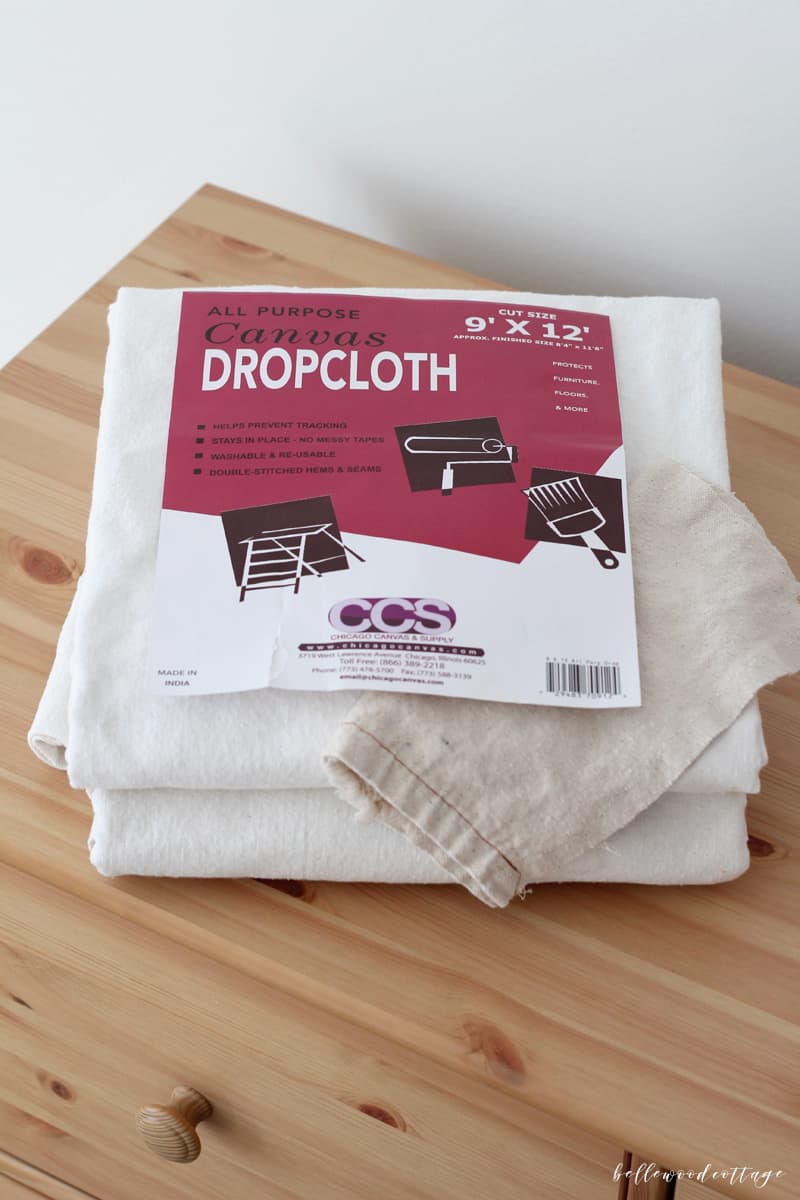 When I am ready to bleach drop cloths, I buy them from Chicago Canvas on Amazon. They are 100% cotton. Now, I recommend checking the description before purchasing just to be sure it still reads 100% cotton. Manufacturers do have a way of changing things, so it's worth double-checking before buying.
UPDATE: I have learned that some readers have not been able to bleach these cloths–I suspect that this is because they may have changed the fiber content on some if not all of the cloths? On the Chicago Canvas website they do have an option for requesting a sample, which could be useful for you?
I really like the texture and weight of the Chicago Canvas drop cloths as well. It's just right for farmhouse style home decor. Also, the drop cloth I've linked to is a 9'x12′, which gets you a lot of fabric. UPDATE: This is CUT SIZE, not "finished size". When I measured my cloth that meant it was actually 8′ 2″ x 10′ 4″. Keep reading for more info on shrinkage.
A note on seams: Oftentimes, drop cloths this large generally come with a seam (though not always) and if it runs width-wise, not length-wise, the panels will likely end up too small for curtains after accounting for the shrinkage of cotton. Know that there is no guarantee you will get a drop cloth without a seam!
If you need a large cloth for curtains, you may want to try the following option instead. They may still have seams, but the cotton/poly blend will not shrink as much as the 100% cotton variety.  I also haven't yet found a seam in the 6'x9′ version and loved them for my curtains!
What If I Can't Get the Amazon Drop Cloths?
IF for some reason you can't buy the Amazon drop cloths, I do have another suggestion. However, you won't be able to bleach them because they are a cotton/poly blend. The Everbilt drop cloths from Home Depot (UPDATE: Home Depot no longer carries the Everbilt drop cloths I used, but it looks like this is their updated one?) come in a very nice grayish color that blends well with the grays and whites that are so popular in home decor right now. I used them as shown below (I bought the 6'x9′ size, and I think this is their update of that version) for our drop cloth curtains.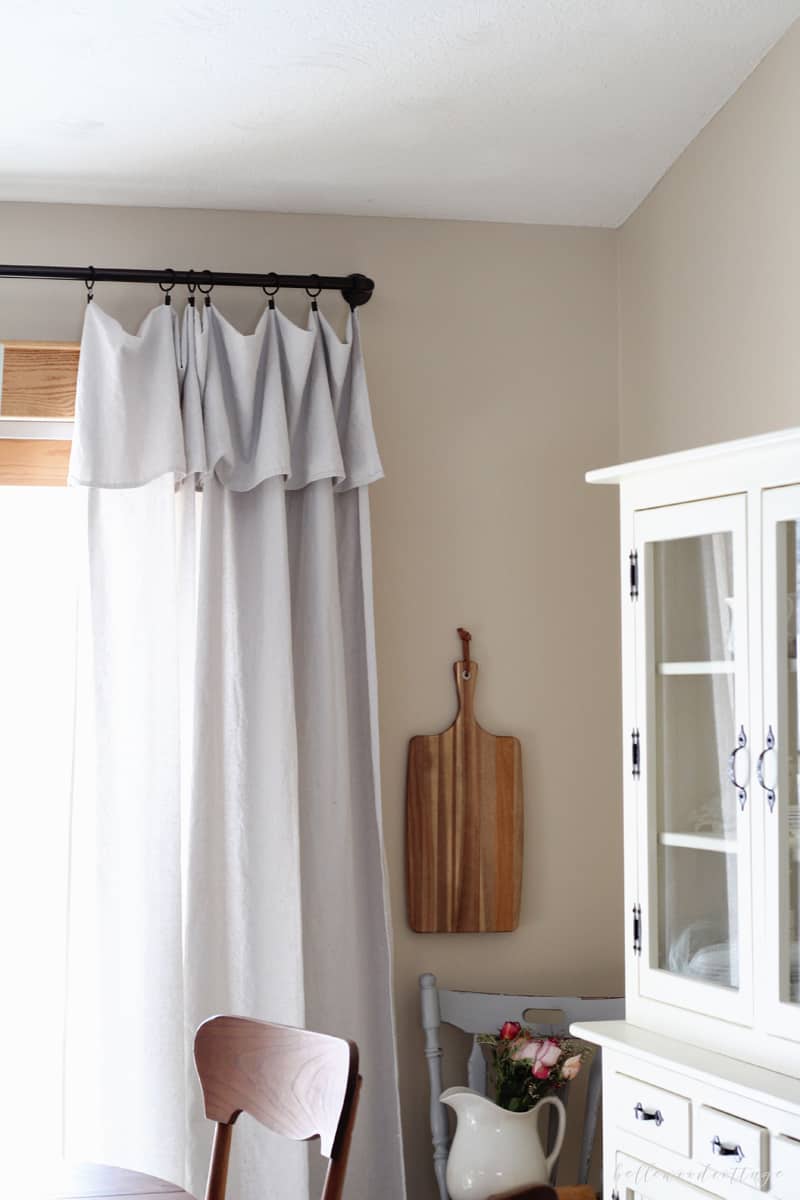 I actually kind of love that they aren't white. It gives some dimension to our space and layers nicely with my white furniture (still gotta get rid of that beige paint, but I'm working on it!). Just remember, the Everbilt cloths can't be bleached!
Other Supplies Needed
Besides the drop cloths, you will need bleach, 3% hydrogen peroxide, and a top-loading washing machine. I suggest finishing your normal laundry before beginning as this process will take up your washing machine for several hours. UPDATE 1/15/20: I received a comment from a reader who owns a newer top-loading machine that wouldn't fill with enough water to get the process started. She discover that the "deep wash" setting allowed her to fill the machine with more water. This tip could work for any of you who may be working with newer machines. Please note I have not tried this myself as my machine is definitely a old model!
Will My Drop Cloths Shrink When I Bleach Them?
The short answer is yes. Always, always bleach, wash, and dry before starting a project. The Chicago Canvas cloths are 9'x12′, which is actually the CUT SIZE, not "finished size". When I measured my cloth that meant it was actually 8′ 2″ x 10′ 4″. After washing, it measured 7′ x 10′. That's very different than the packaged "9'x12′". Unfortunately, the most recent cloth I purchased also had a width-wise seam, so my pieces were even smaller. Keep this in mind as you plan your projects.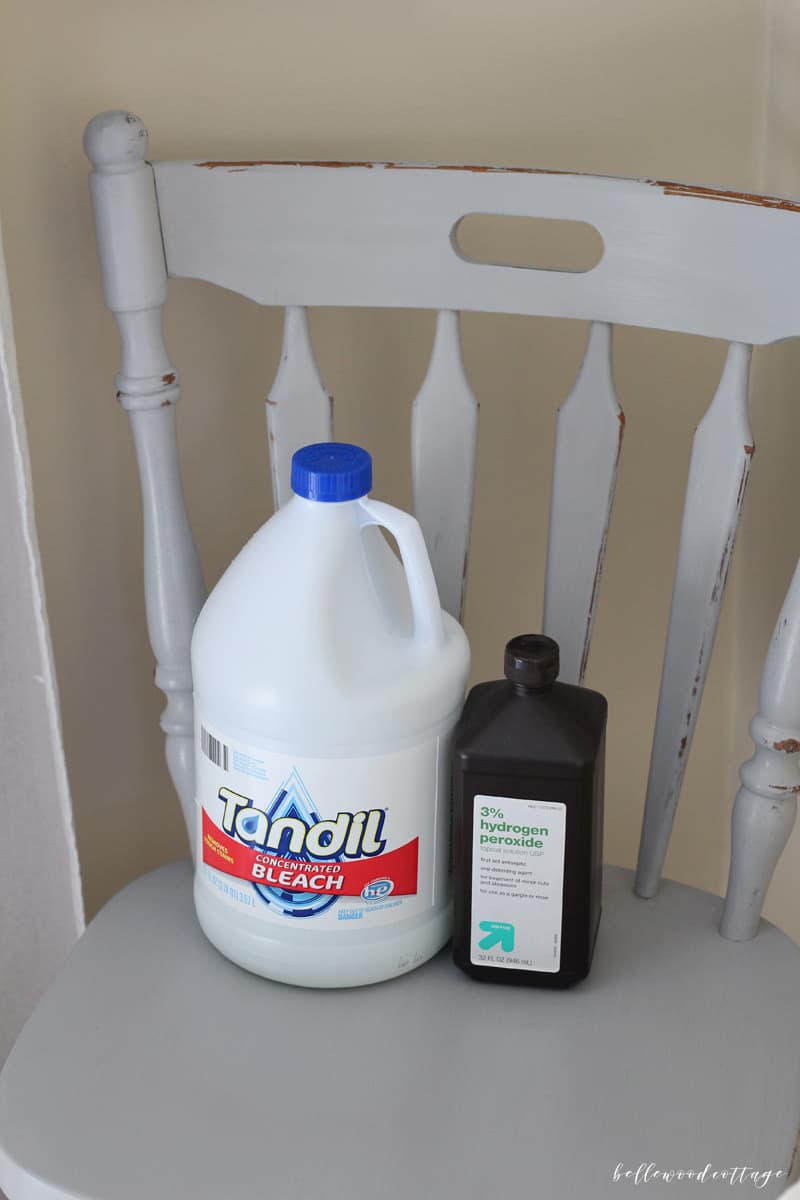 Step-by-Step: How to Bleach Drop Cloths Successfully
Soak the Drop Cloths in Bleach
Fill your top-loading washing machine with hot water on the largest load setting available.
Add about 3-4 cups of bleach while the washer fills. When full, close the lid to allow the machine to agitate the bleach a bit. Then pause the cycle.
Optional step: Cut the 9'x12′ cloth in half. You don't have to do this, but it will help it swish around in the washing machine and bleach evenly. If you plan on using the cloth for curtains or another large project, you obviously won't want to cut it (though note: 9'x12′ cloths generally have a seam down the middle anyway).
Add the drop cloths (don't add more than one full 9'x12′ amount of fabric total) to the washing machine.
Close the lid and allow the machine to agitate until the cloth is fully submerged and then pause the cycle.
Let the drop cloth sit (close the lid!) for about 6 hours or until snowy white. I would suggest not letting it soak more than about 8 hours or so. Important: I suggest agitating the drop cloth as much as you are able while it soaks in the bleach (every hour is great). This helps the drop cloth bleach evenly.
UPDATE: I have heard that some readers needed to do this process 2x to get to a snowy white fabric. I'm not sure why that is, but if that is the case for you, go ahead and give it another soaking in fresh water with 3-4 cups of bleach again for 6 or hours.
Rinse the Drop Cloths Thoroughly
After the cloth has been bleached sufficiently, allow the washing machine cycle to run all the way through and rinse the bleach away.
Now fill your machine for another cycle and add several glugs of 3% hydrogen peroxide (around a cup or so) plus laundry soap to the water and drop cloth. Let this cycle run all the way through and then machine dry the bleached drop cloth. The hydrogen peroxide will neutralize the bleach to prevent it from breaking down the fabric any further.
Optional: If you are extra cautious, before drying, run one more cycle with the drop cloth and laundry soap. Follow up with machine drying the drop cloth. Tip: I am always a little paranoid about residual bleach (I doubt it's an issue, but again, paranoid), so I generally will throw in a load of something that "doesn't matter" after bleaching a drop cloth (like white kitchen towels) just to make sure all that bleach is gone!
Before using the fabric for projects, iron the drop cloth. Or not. I won't judge.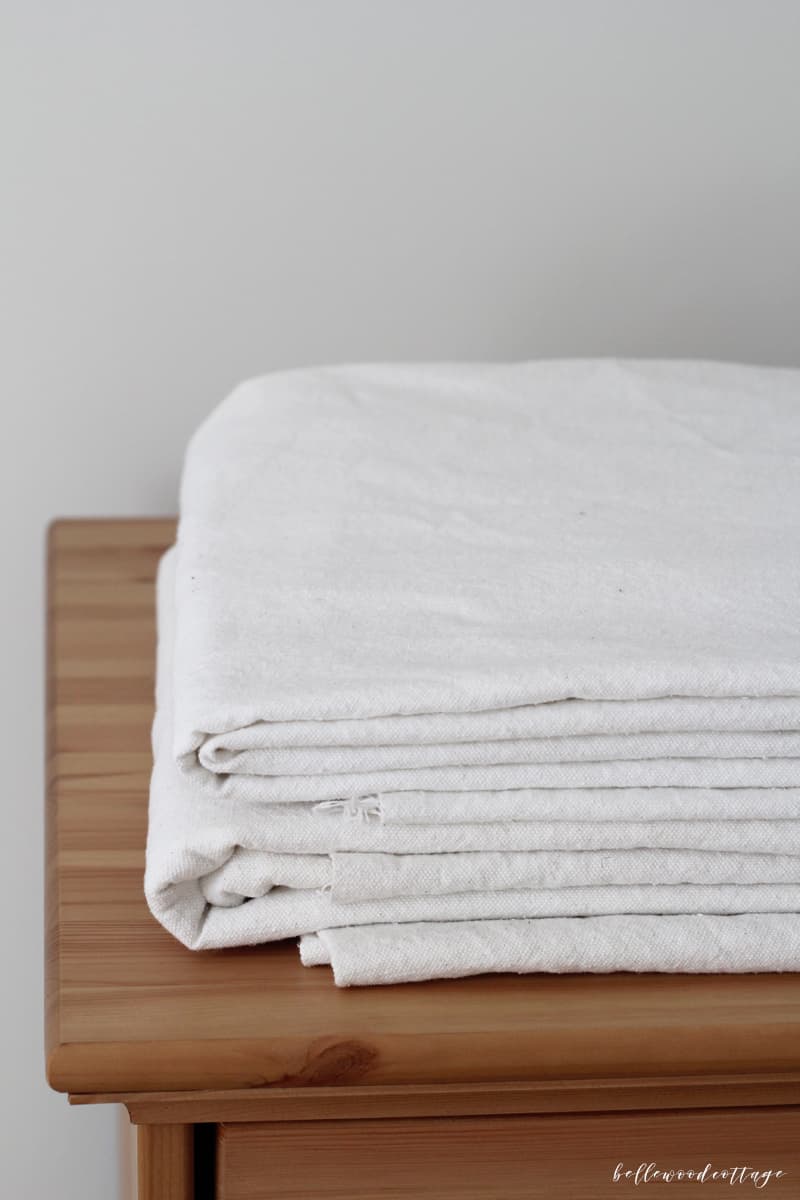 FAQs on How to Bleach Drop Cloths
What if I Don't Have a Top-Loading Washing Machine?
Eesh. I'm sorry on this one! You could use your bathtub or laundry room utility sink, but this amount of bleach can do nasty things to finishes. It's worth double checking before attempting it. You could also phone a friend.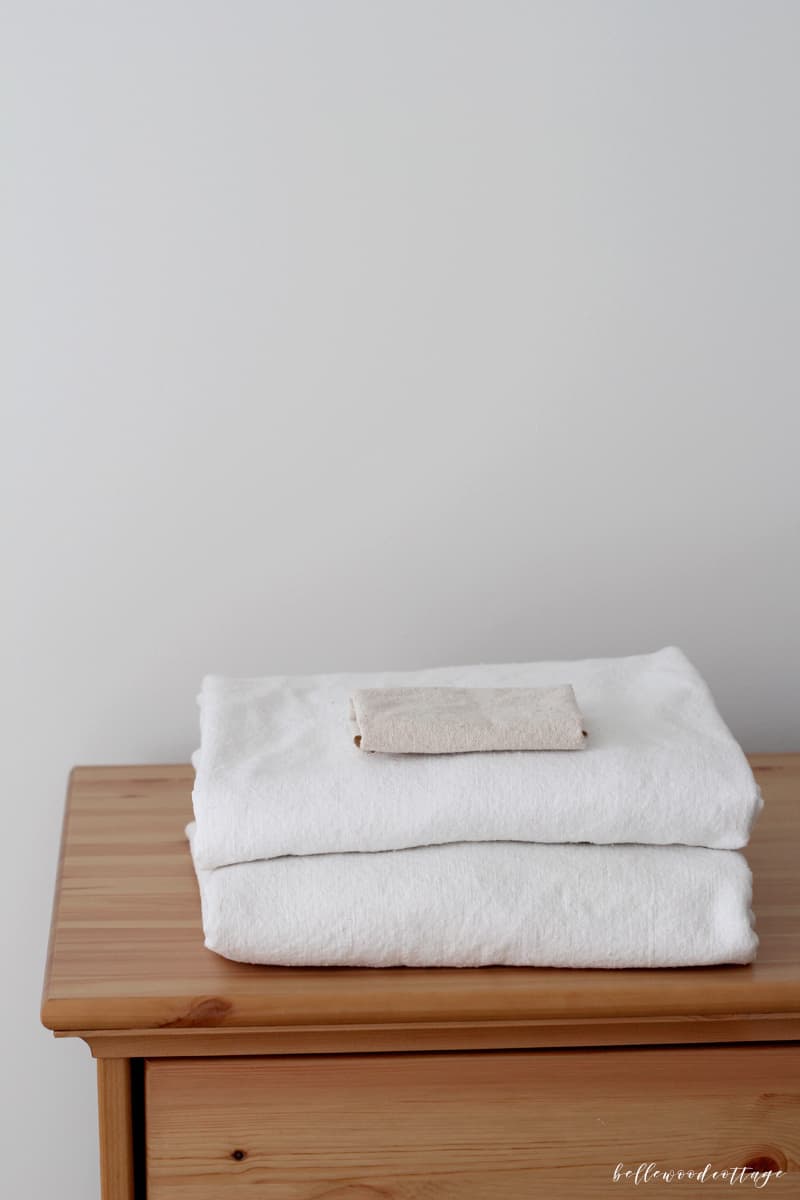 What If the Bleach Doesn't Work?
If you use 100% cotton drop cloths you should be in the clear! If you find that the process didn't work, you likely used a brand that unfortunately contained polyester. If you ended up with splotchy cloths, I would suggest repeating the bleaching process right away and then progressing to the neutralization step with the hydrogen peroxide. It's also worth noting that drop cloth fabric is quite rustic and if you want a really polished perfectly-white look, this method might not be right for you.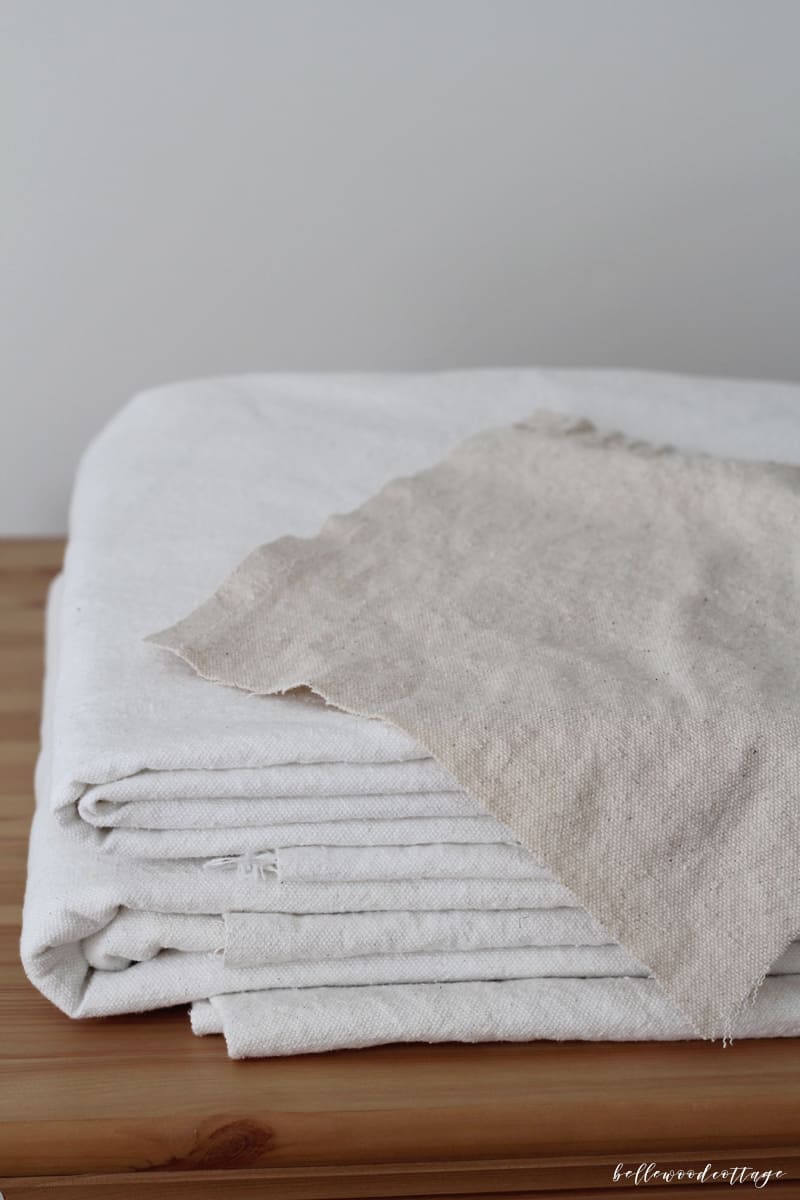 What If I Don't Want Bright White Fabric?
I would say that overall these drop cloths turn out to be a very soft white. If however you are looking for a blend between a dark beige drop cloth and bright white drop cloth (think grain sack tones), you could just bleach the cloth for about 3-4 hours. That is what I did for these pillow covers (see below) and I really loved the result. However, if you don't bleach all the way to snowy white, you will have some unevenness in tone. I liked the rustic feel, but to each his own! If you try it and hate it, just bleach all the way to white.
Will the Bleach Break Down the Fabric?
It certainly softens the fabric, which is why I don't recommend bleaching these too long (8 hours is about the max). You will still have a very sturdy fabric, but just don't go overboard with the bleach or soaking time.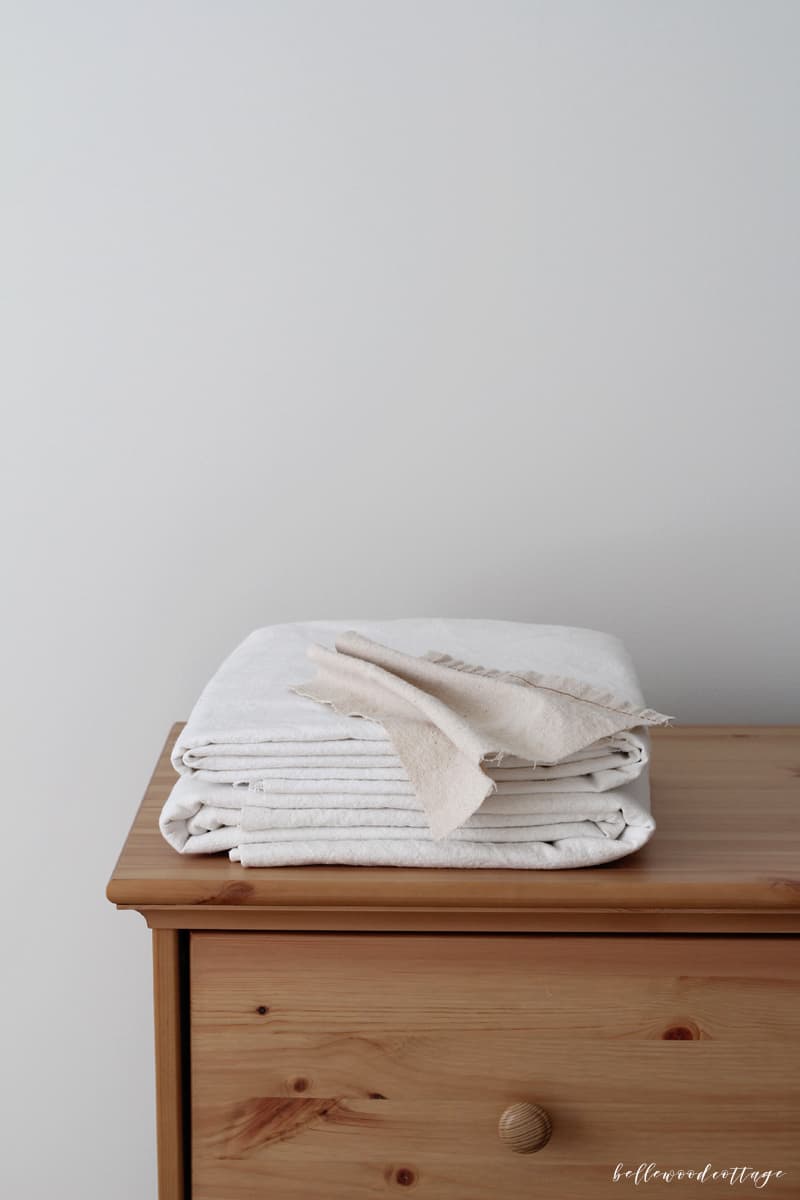 What About the Environmental Impact of Bleach?
Yeah, bleach is yucky. If this is a concern for you or you plan on bleaching more than a few cloths, I would recommend finding a source of white cloth or duck canvas cloth (Chicago Canvas sells this, though it's a heavier weight than most drop cloths) that won't require bleaching. I would also avoid this process if you have a septic system. I grew up with a septic system and we never used bleach for anything. The bleach can cause damage to the workings I guess? K, done thinking about septic systems now.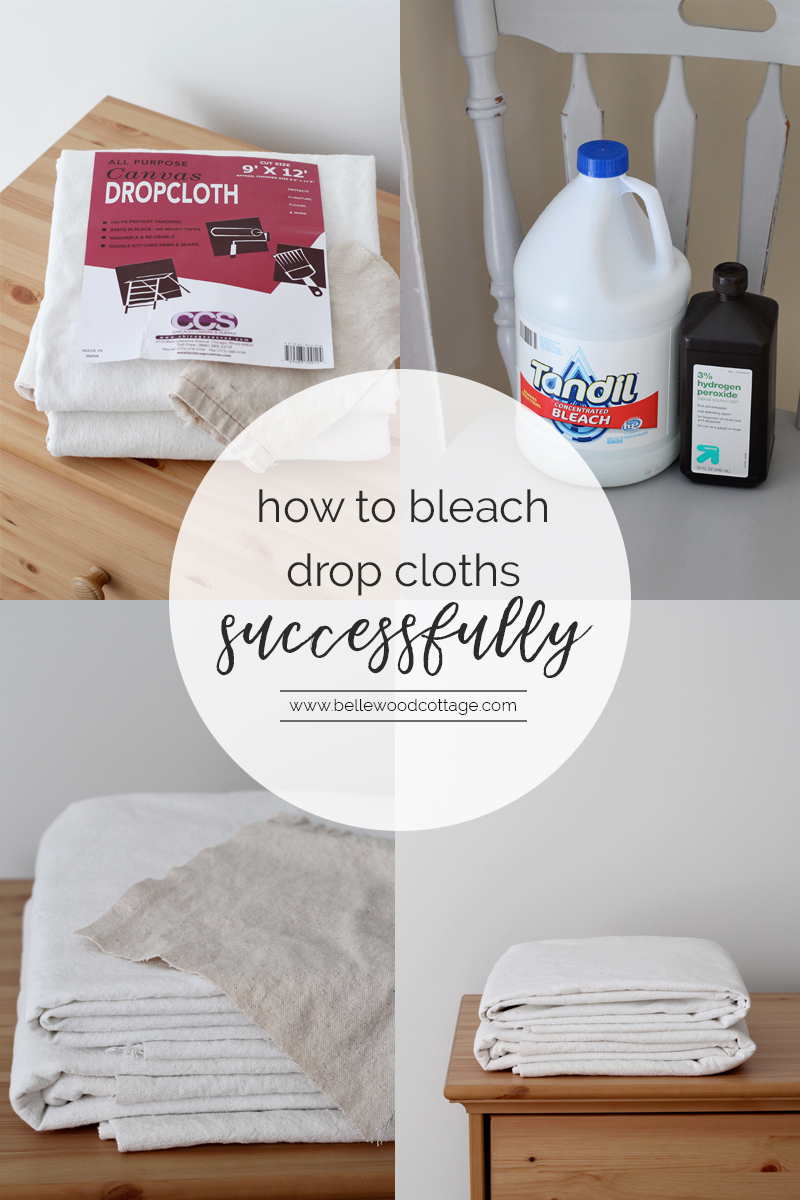 Ideas for Using Bleached Drop Cloths Around Your Home
Oh man, there are soo many ways to use those newly bleached drop cloths!
You could make a bedskirt:
Look at this adorable bedskirt that Cami over at Tidbits made: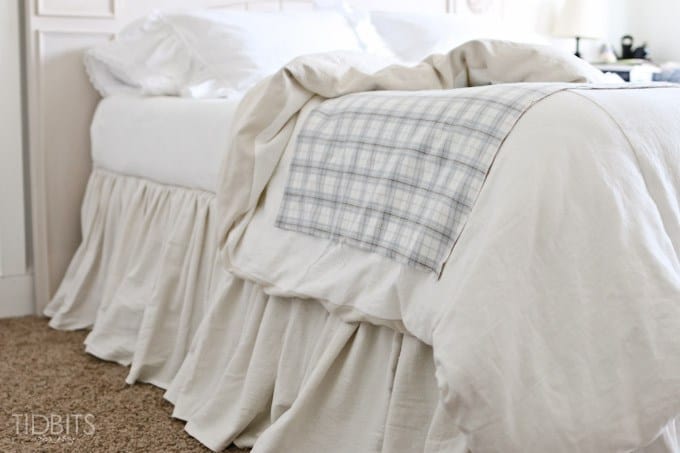 Slipcover chairs or couches:
Marian at Miss Mustard Seed sews the most gorgeous slip covers…those pleats!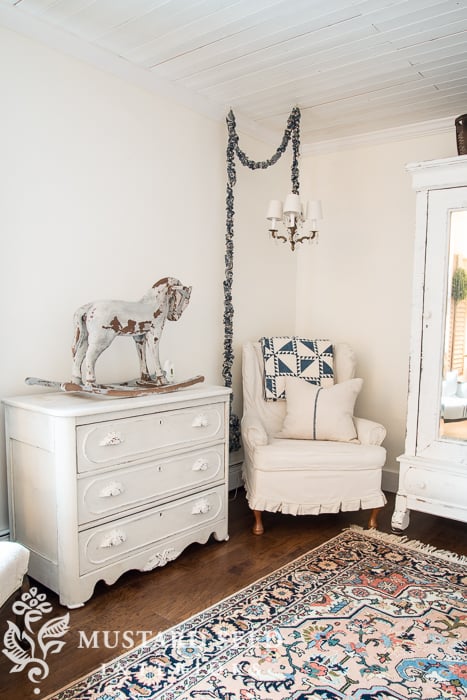 Use the drop cloths for curtains:
Like I mentioned above, I used my un-bleached 6'x9′ cotton/poly drop cloths from Home Depot for these curtains and we love how they turned out: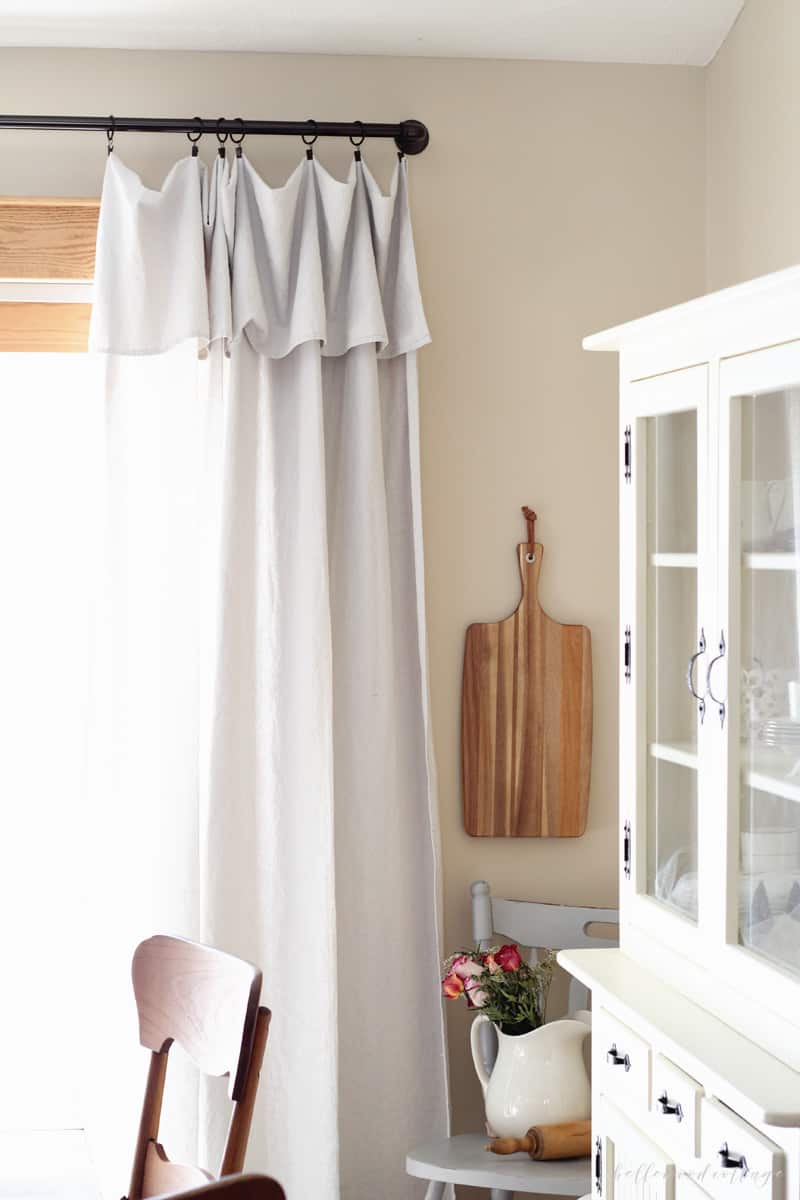 Or cut them up and sew drop cloth pillowcases:
I made these pillow cases from my half-bleached "grain sack" colored drop cloth and I think they turned out so pretty and farmhouse-y:
Feel free to shoot me any questions you may have! In the meantime, what are YOU using your bleached drop cloths for?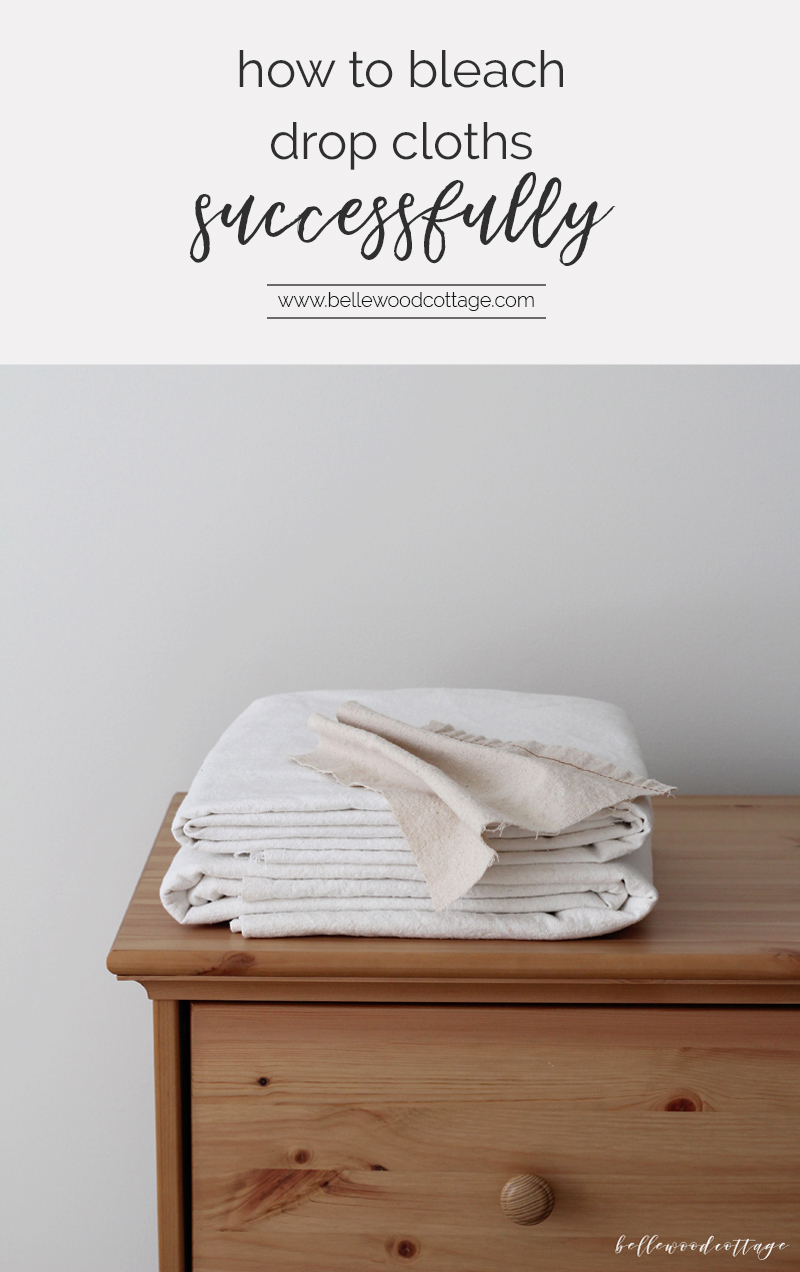 More DIY Projects from Bellewood Cottage