How to Paint a Dresser Step by Step
Learn how to paint a dresser step-by-step with chalk style paint in this simple tutorial with plenty of tips and tricks for helping you paint a dresser with ease!
Please note that this post contains affiliate links which allow me to earn a small commission when a purchase is made at no additional cost to you. Read more here. The paint/wax for this project was gifted by Country Chic Paint. All opinions are absolutely my own!
Want to try painting furniture? It's such a fun hobby and it's a fantastic way to transform your home on a budget. Here I'll show you step-by-step how to transform a dresser with chalk style paint.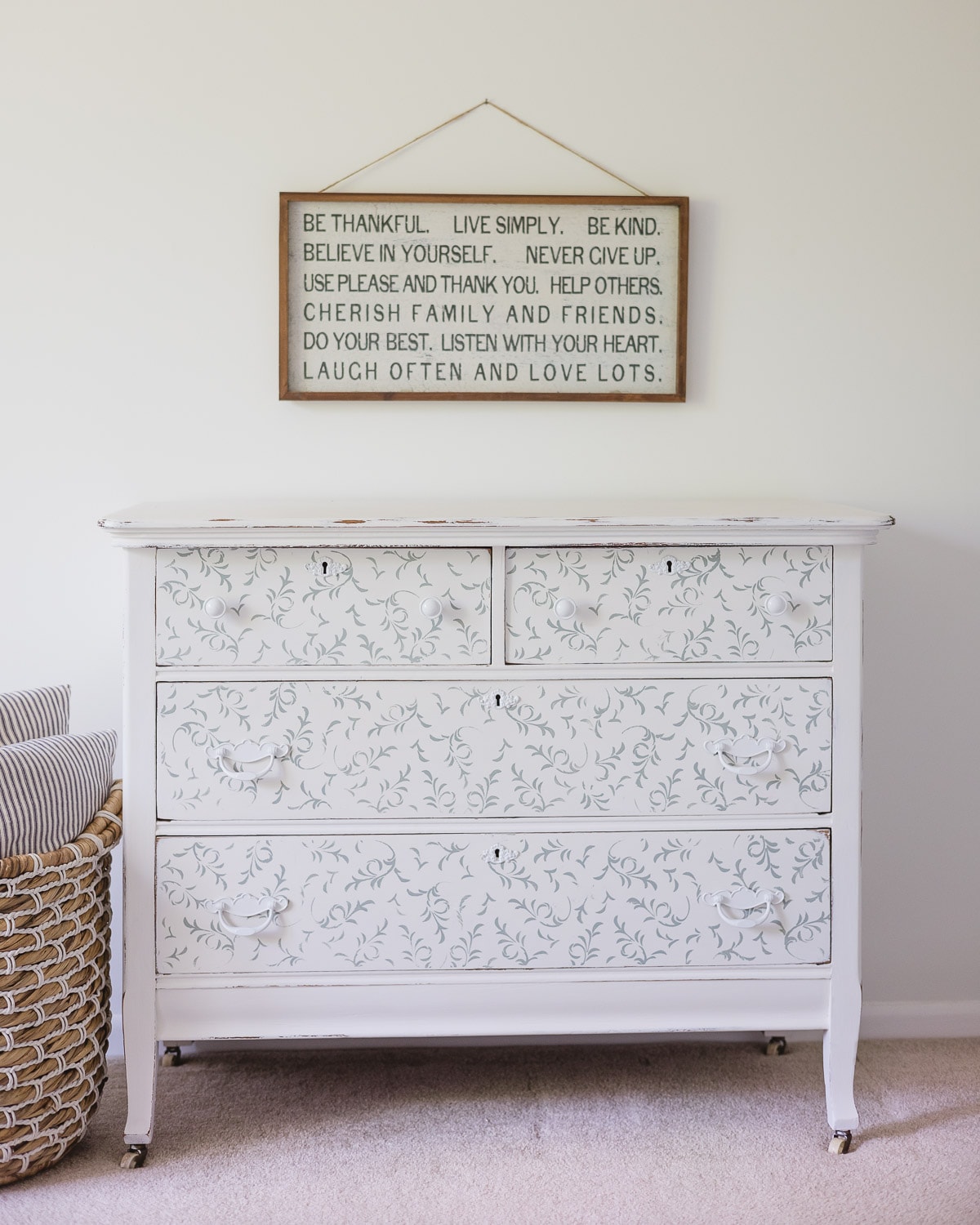 I love using vintage dressers for storage around my house. They are are so handy for storing books, seasonal décor, and all that misc stuff that can make a home look untidy when it's left out.
Maybe you are painting an end table, chair, or other small/medium-sized piece of furniture? This tutorial is for you too! You'll find everything you need to start and finish your furniture painting project.
How I Painted This Dresser with Country Chic Paint
I go into a TON of detail in this post, which is helpful if you are new to chalk painting/painting furniture. However, if you just want a quick synopsis of how I painted this dresser, here it is. Skim the entire post for more tips, tricks, and details.
Super Quick Overview–Read the Post for All the Details!
Dresser was dirty so it got a complete cleaning with this Puracy Spray that I like.
Removed hardware.
Spray painted hardware with Rust-Oleum Spray Paint in Oil-Rubbed Bronze. Two coats.
Lightly sanded the dresser outdoors with a fine sanding block and cleaned it up again.
Applied one coat of Country Chic Paint (in Crinoline). Paint was very sheer and I encountered some bleed-through, soooo:
I primed it with a coat of Sherwin Williams all-purpose stain-blocking primer I had on hand.
Then, two more coats of Crinoline, with dry time in-between.
Picked up this pretty stencil at Hobby Lobby and used Country Chic Paint in Dune Grass (lovely gray-blue-green color!) to stencil leafy flourishes all over the front of the drawers.
Brought the piece back outdoors to distress it with a medium sanding block. I usually use a fine block, but I think I might like the medium grit one better–it went so fast!
Wiped down piece again to remove paint dust.
Decided I wanted white hardware and re-sprayed the hardware with Rust-Oleum Paint/Primer in Glossy White (semi-gloss I think would be better, but this is fine).
Waxed piece with Country Chic Paint wax and a small waxing brush I had on hand.
Buffed wax with an old t-shirt to remove excess and give it some shine.
Replaced hardware and drawers.
Done!
Alright, so that's the quick overview–now let's get into the details!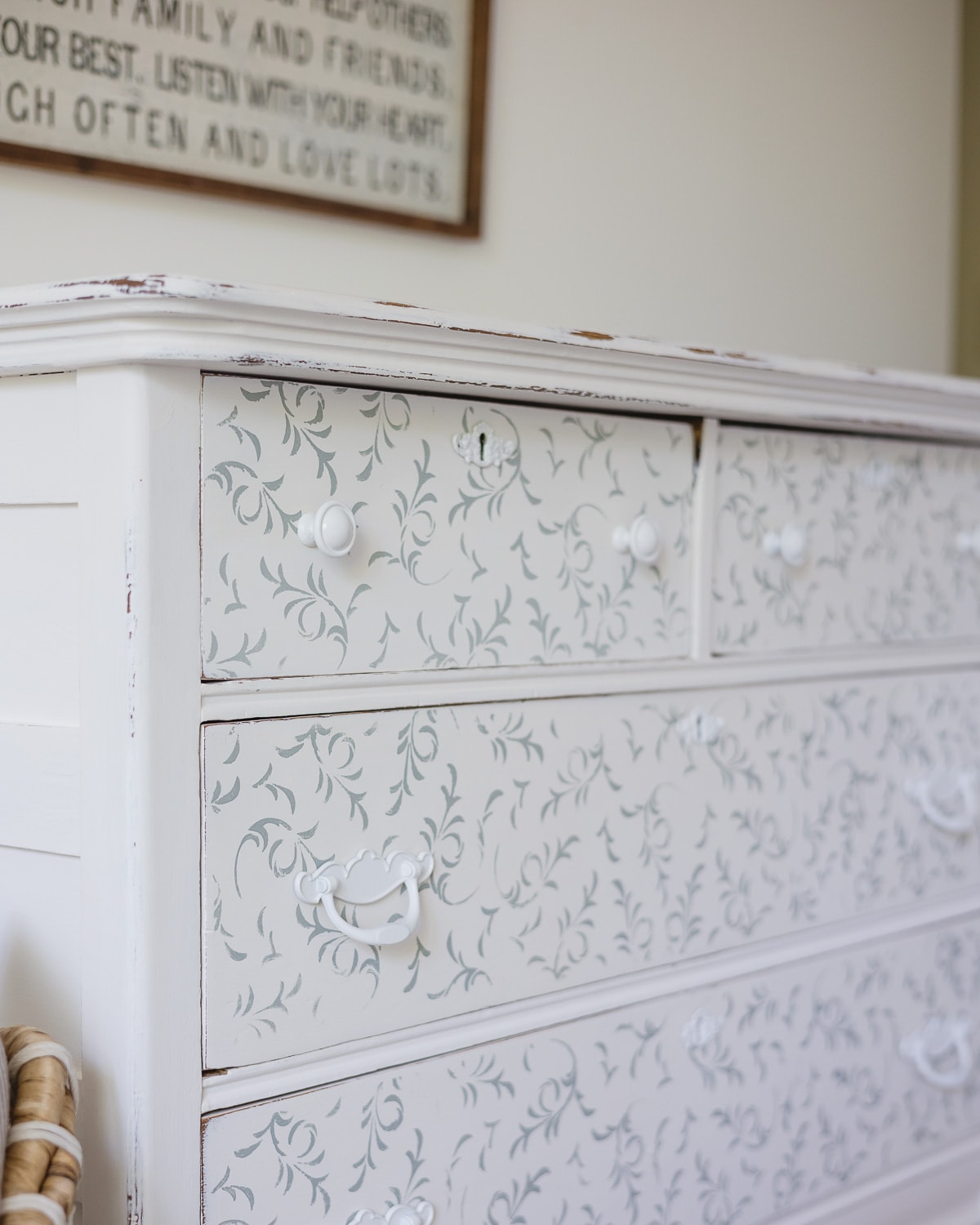 How to Choose a Dresser to Paint
I actually wrote an entire post about how to choose furniture to paint. I've made a few mistakes myself and learned quickly. Of course, rules are meant to broken so feel free to experiment and paint what you'd like, but here's a few keys I think are helpful to remember:
Solid wood. For your first few projects, choose a piece made from solid wood (though generally you can use chalky paint with laminate and similar materials too!).
Bleed-through is the worst! Avoid choosing a piece of furniture made from knotty pine, cherry, or mahogany. It's not a guarantee you'll be able to avoid bleed-through, but it's a big step in the right direction!
Choose a piece with "good bones". This basically means, select a piece that is sturdy, where the drawers are easily opened/closed, and without any funky smells or mold. These issues can certainly be addressed, but they are additional headaches you don't want when you are first starting.
Select a shape, not a color. Of course, this is obvious, because we'll be painting our dresser, right?! But, sometimes it's hard to see past a piece of furniture that is an unattractive color. Choose a piece with lines, detail, and styling that you like and then enjoy transforming it with a color that suits your home and style!
Where to find a dresser to paint? Search your own home, ask family members, or peruse Facebook Marketplace, Craigslist, and of course, garage sales.
Choose Your Paint
For this tutorial we are going to use a chalk style paint. When I chalk paint furniture, I most often turn towards Rust-Oleum Chalked. It's affordable, readily available, and I get great results.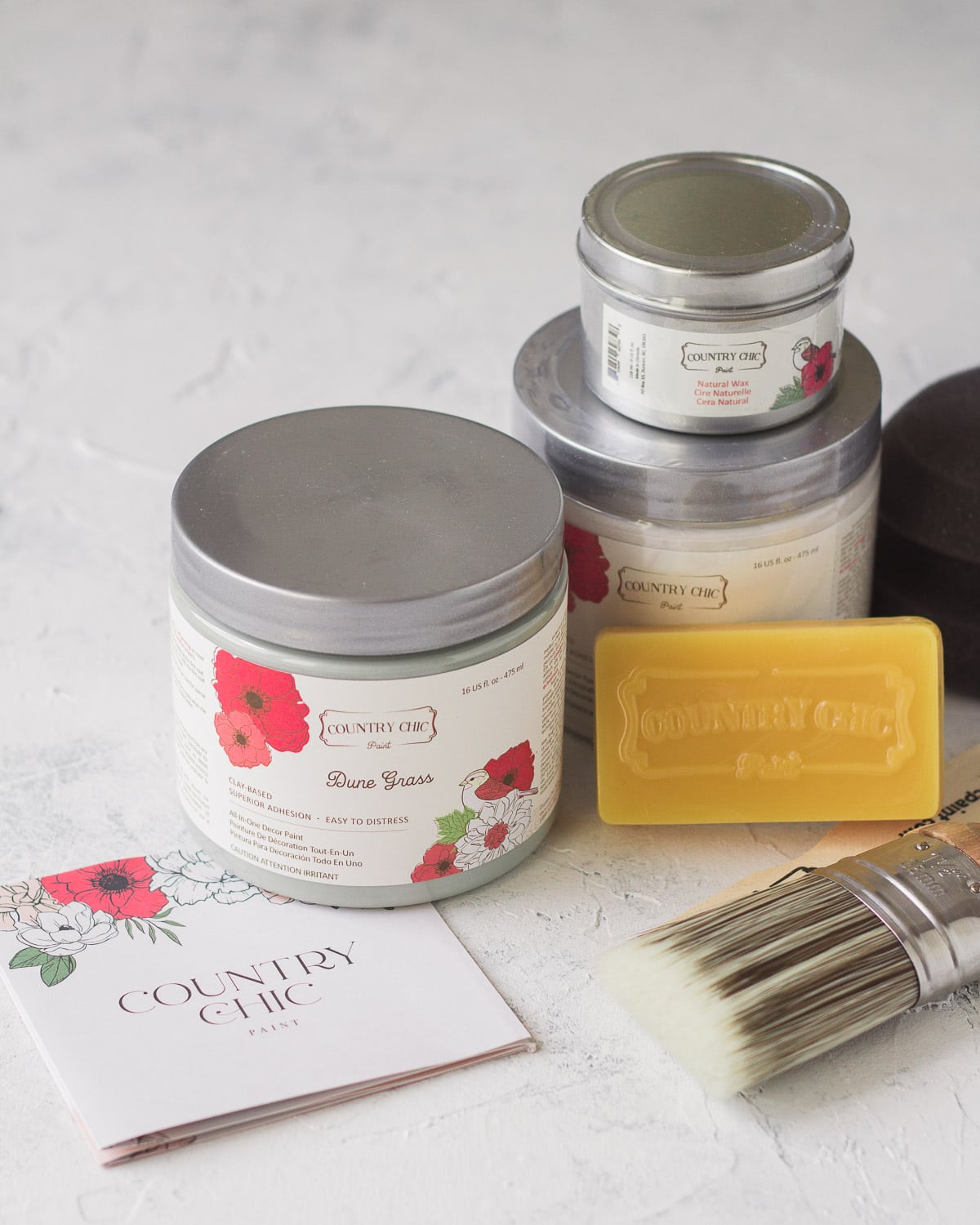 I also love Annie Sloan, KILZ Chalk Style Paint, and several other paints I have used over the years. Because chalk paints come in a limited color selection, sometimes I choose my paint just based on which brand has the color I want!
Tip: If you are looking for a really wide selection of colors, try Behr's Chalk Style Paint. So many colors!
For this tutorial I am actually using Country Chic Paint (paint gifted by the company). While this paint is on the pricier side (along with Annie Sloan and other boutique paints), what I really love about it is the fact that the chalk style paint is ultra-low VOC and the company places a priority on supporting local economy, avoiding unnecessary chemicals, and helping to ensure that paint is properly recycled.
I'll write up a full review soon, but I did think the paint was great to work with and the color and product selection is very extensive.
How to Prep Before Painting
Chalk paint is funny because it's often touted as completely "no prep". I don't really agree with that philosophy, especially when I'm tackling a very old or worn piece. However, prep doesn't have to take long.
Here's what I do to clean my piece:
Remove cobwebs or other icky stuff with some damp paper towels (or even a vacuum if needed).
Spritz sections of the piece with a gentle all-purpose spray (or a solution of water/vinegar) and wipe down. I like this Puracy all-purpose spray. OR, dilute a small amount (maybe a 1/2 tsp or so) of Dawn dish soap in several cups of water (use a dishpan or small bucket) and wipe everything down with that. Wipe the dirtiest parts of the piece last so you don't have to switch your washcloth or water too often.
Dry the piece as you clean it. I'm never worried about damaging the wood with a little water since it's on and off so quickly, but don't soak your piece or neglect to wipe it dry as you clean.
Note: If you have a smelly piece, I always refer to these excellent tips for cleaning stinky furniture from Miss Mustard Seed.
Remove Hardware
You can also opt to remove hardware before cleaning of course, but I do it afterwards so I don't have to clean it separately.
You can choose to re-use the hardware (perhaps using spray paint to refresh it like I did when I painted the dresser shown here), purchase new hardware that fits the old holes exactly (can be tricky depending on the piece), or fill/sand the old holes and then re-drill for new hardware.
If you have limited resources (i.e. no drill), I suggest one of the first two options. I really like re-using hardware when I can since it prevents waste and I don't have to worry about filling and sanding holes.
If you opt to fill the holes of your dresser and add fresh hardware here's a great tutorial on how to replace hardware.
If you opt to re-use hardware, be sure to save all the screws or nails (my keyhole plates were nailed in for this dresser) in a bag so you don't lose any!
Should I Sand My Piece?
This is always the big question! I totally get it because sanding is kind of the worst. Everyone wants to avoid it if possible. What I always suggest is taking a look at the back of your chalk style paint can. If you can't find details there, you can check the manufacturer's website.
Generally what I've found is that most "imitation chalk paints" (everything that is not Annie Sloan) suggest a light sanding if you'll be painting a glossy wood surface. A glossy surface for instance being a wood dresser that has been sealed with a heavy top coat. It will feel slick to the touch and look shiny/somewhat shiny.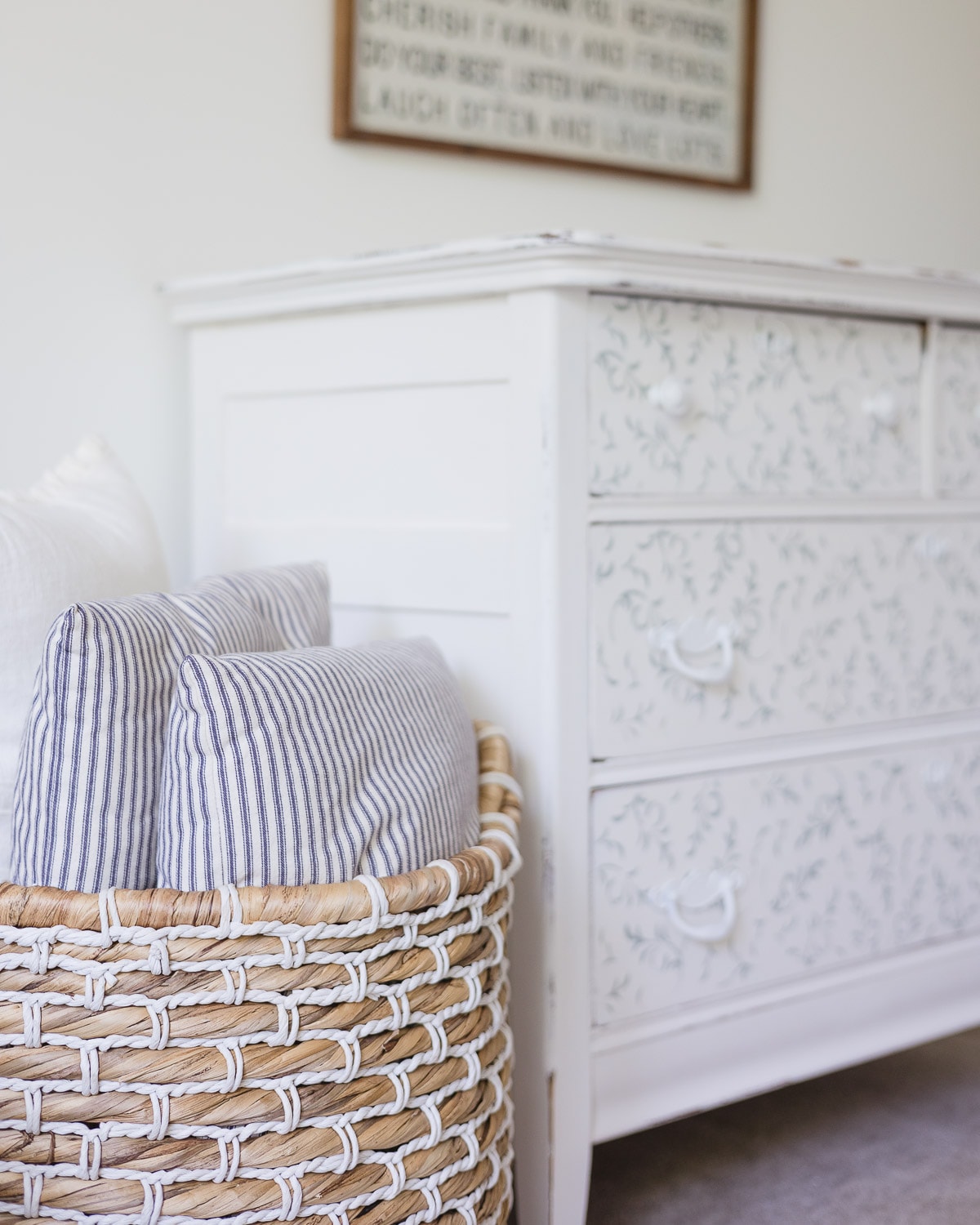 If you don't sand (and you are painting a glossy piece), you might find that in addition to potentially chipping easily, the paint might pull away (there's an example in my KILZ Chalk Style Paint review post) when you apply additional coats.
Note: Want to paint over a previously waxed piece? Don't sand it! You will actually need to use mineral spirits (or rubbing alcohol) to get that wax completely off first.
If you opt to sand, here's how:
You do not need to sand down to bare wood! This can be a really quick process. Be sure to wear a good-quality dust mask and eye protection. I like to head outdoors.
Lightly sand the surface of the dresser (in the direction of the wood grain) with a fine sanding block or sandpaper in about a 120-150 grit. You can also use a medium sanding block first and then follow it up with the finer block. The goal is just to give the surface a little grit so the paint adheres well.
Once you've lightly sanded your entire piece, wipe it down with a damp washcloth.
I lightly sand maybe 50% of the time. For me it depends on the age and condition of my piece, as well as the manufacturer's recommendations.
For this dresser with Country Chic Paint, the paint does recommend a light sanding for glossy finishes. I went ahead and did that and felt like it was the right choice for the paint and dresser combination.
Should I Prime My Piece?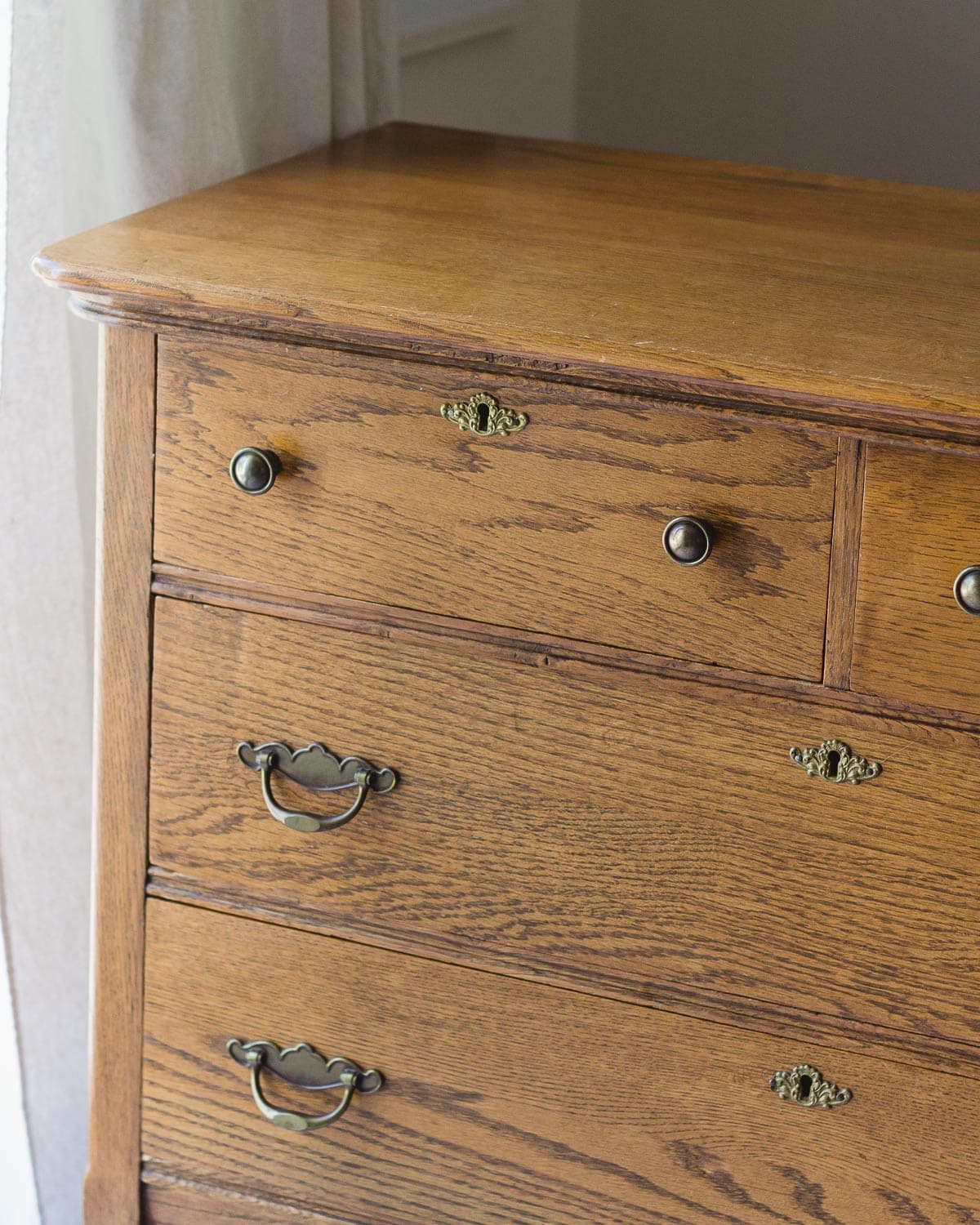 Another big topic in the chalk painting world!
Generally you don't have to prime before chalk painting, but I got into the habit of using primer after I worked on pieces that gave me bleed-through problems. Even small patches of bleed-through (it can happen on any piece) are frustrating. Primer also can help with the adherence of the paint.
For this dresser (using Country Chic Paint in Crinoline), I opted to apply an all-purpose primer after finishing my first coat of paint and seeing a few small areas of bleed-through.
The paint itself was also very very sheer and I would have easily needed three coats to get an opaque finish otherwise. As it turned out, I did three coats anyway, since I had a coat down, primed, and then finished with two coats.
Sometimes you can save yourself time (and paint!) if you simply start with a coat of good stain-blocking primer.
How to Fix Bleed-Through When Chalk Painting a Dresser
If you encounter bleed-through, you can solve it (usually!) with one of these three products.
First, finish your coat of paint to avoid a patchy appearance.
Then, apply one or two coats of a good primer. Apply the primer over your entire piece. One coat is usually enough for me, but on a piece with bad bleed-through, go for two.
Use an all-purpose primer like this stain-blocking primer from Sherwin Williams or Zinsser 1-2-3. Great for small spots of mild bleed-through.
For heavy bleed-through (I've used this with knotty pine) try Zinsser B-I-N Shellac primer. This is great stuff, but I've found with my experience using it with knotty pine (never paint it–ack) that it won't completely remove the bleed-through from the knots (though it did improve it a lot!)
Zinsser Shellac is kind of the gold standard for dealing with bleed-through. I still need to try it on a really bad piece to see how far I can take it, but if you're in love with a piece of furniture that is causing you major bleed-through problems, give this a try.
Apply the First Coat of Paint
Time to grab a good paintbrush and apply your first coat. I like using these Wooster Short-Cut brushes because the short flexible handle is more comfortable for painting and they are so inexpensive!
Before you start painting, be sure to prep your paint correctly. Consult your can with questions, but most paints simply need a thorough stir with a paint stick before beginning.
For Country Chic Paint, the company suggests shaking the can well and then stirring for a couple of minutes.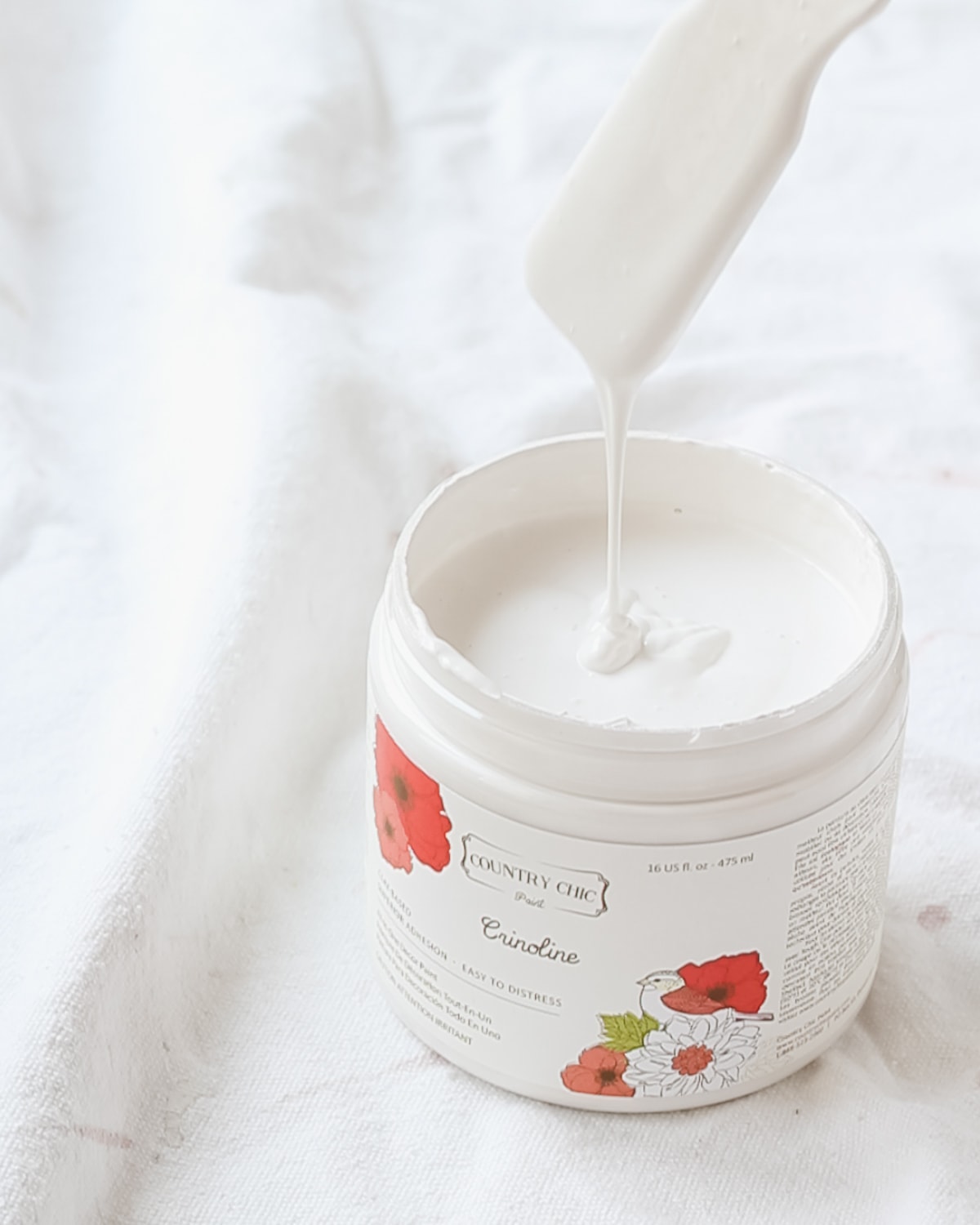 When you prep your brush, don't dip the entire paintbrush in the paint. Keep the paint on the edges of the bristles (about 1″ max) and you'll have a much easier time cleaning your brush later–and keeping your piece neat!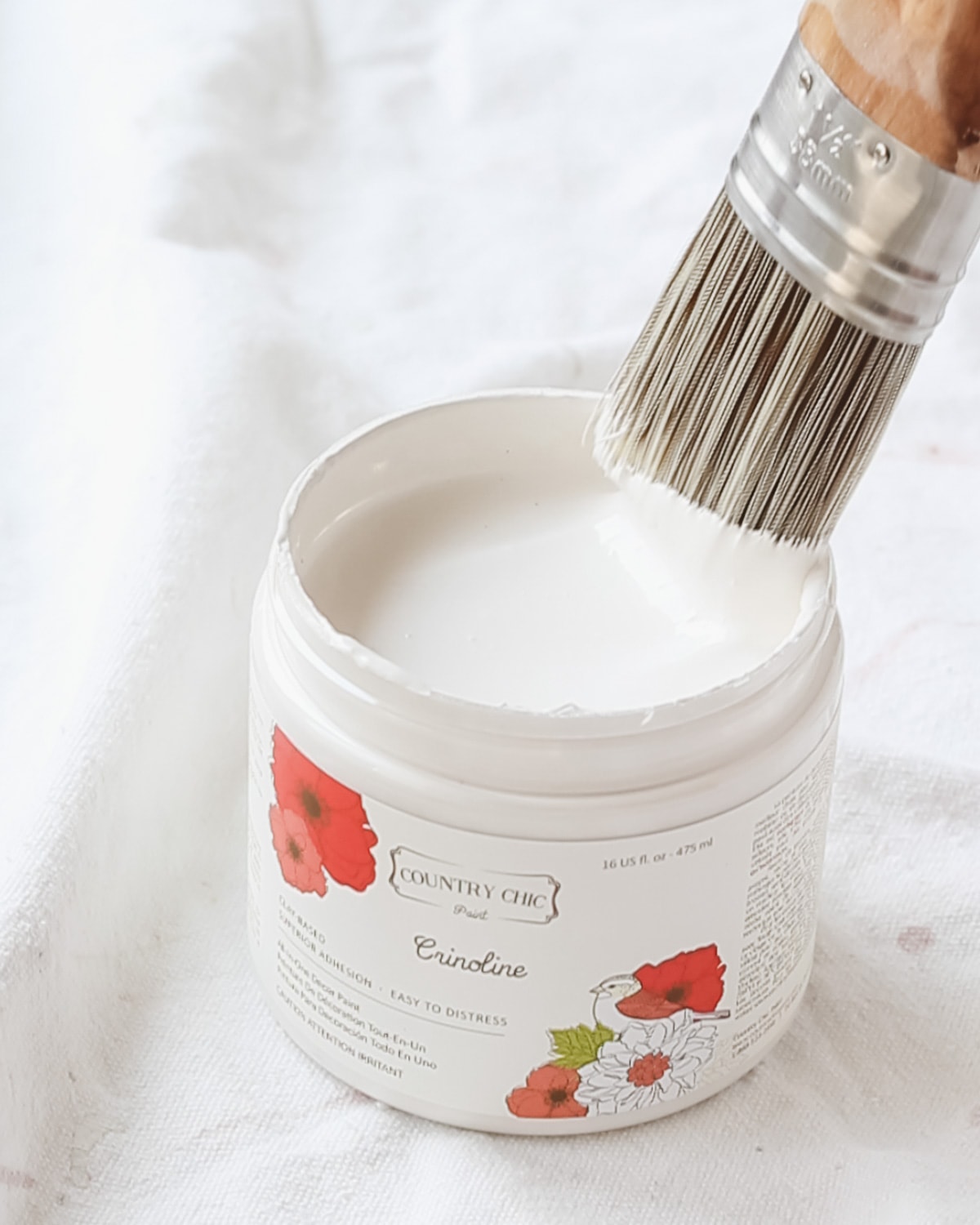 You want to avoid paint drips and a gummy finish, so work in thin coats rather than thick coats.
With larger cans of paint I nearly always paint from a separate container to avoid accidentally contaminating my original container. Here's how to neatly pour paint from a quart-size can into a separate cup for painting.
Should I Paint Inside the Drawers?
When painting a dresser, you might wonder if you should paint inside and around the drawers. For this dresser I did not, because some repairs need to be made and I didn't want to spend the time on it if we needed to replace parts of the dresser.
I actually usually do paint the drawer interiors though! I love the complete look and it gives a fresh finish to a vintage dresser. Much better than sticky contact paper!
Drawers of course are usually not seen and they are also often raw wood. So I tackle them a little differently. I go the cheap route and apply a coat of primer and a few coats of a sample size of white latex paint from Sherwin Williams (you can get these color-matched which is helpful).
Unfortunately, I think they may have changed their paint sample size, but you could use any inexpensive paint if you want the fresh painted finish without investing in chalk paint (where it won't even be seen!).
Apply the Second Coat of Paint
Really no instructions needed here except to be sure you are waiting the complete amount of suggested time between coats.
For Country Chic Paint, this is approximately 2 hours. Your environment can affect the dry time, so if you are in doubt, wait a little longer.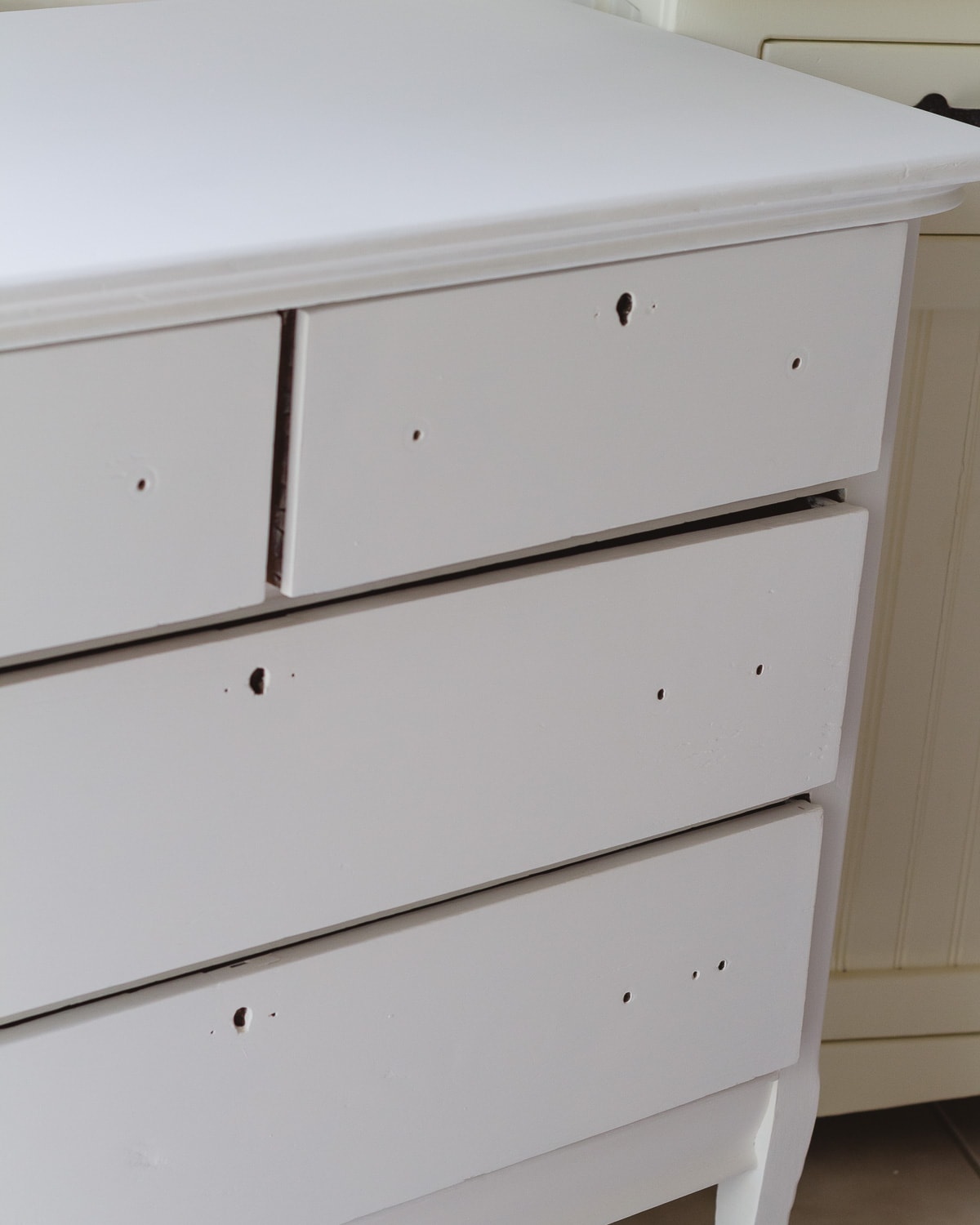 Decorative Elements
On this dresser I opted to add a pretty stencil for a little bit of interest. I found this leafy stencil at Hobby Lobby, figured out a way to make it stretch across the piece and then went for it.
As I stenciled, I used washi tape to mark off the pattern sections I would leave unpainted so I could repeat the stencil. Since I couldn't use the entire stencil, it made for slow going since I had to wait for each section to completely dry before layering the stencil over it.
If you can find a stencil you like that is a larger size (or designed to be a repeating pattern) that would be ideal.
For the stenciling color, I used Country Chic Paint in Dune Grass.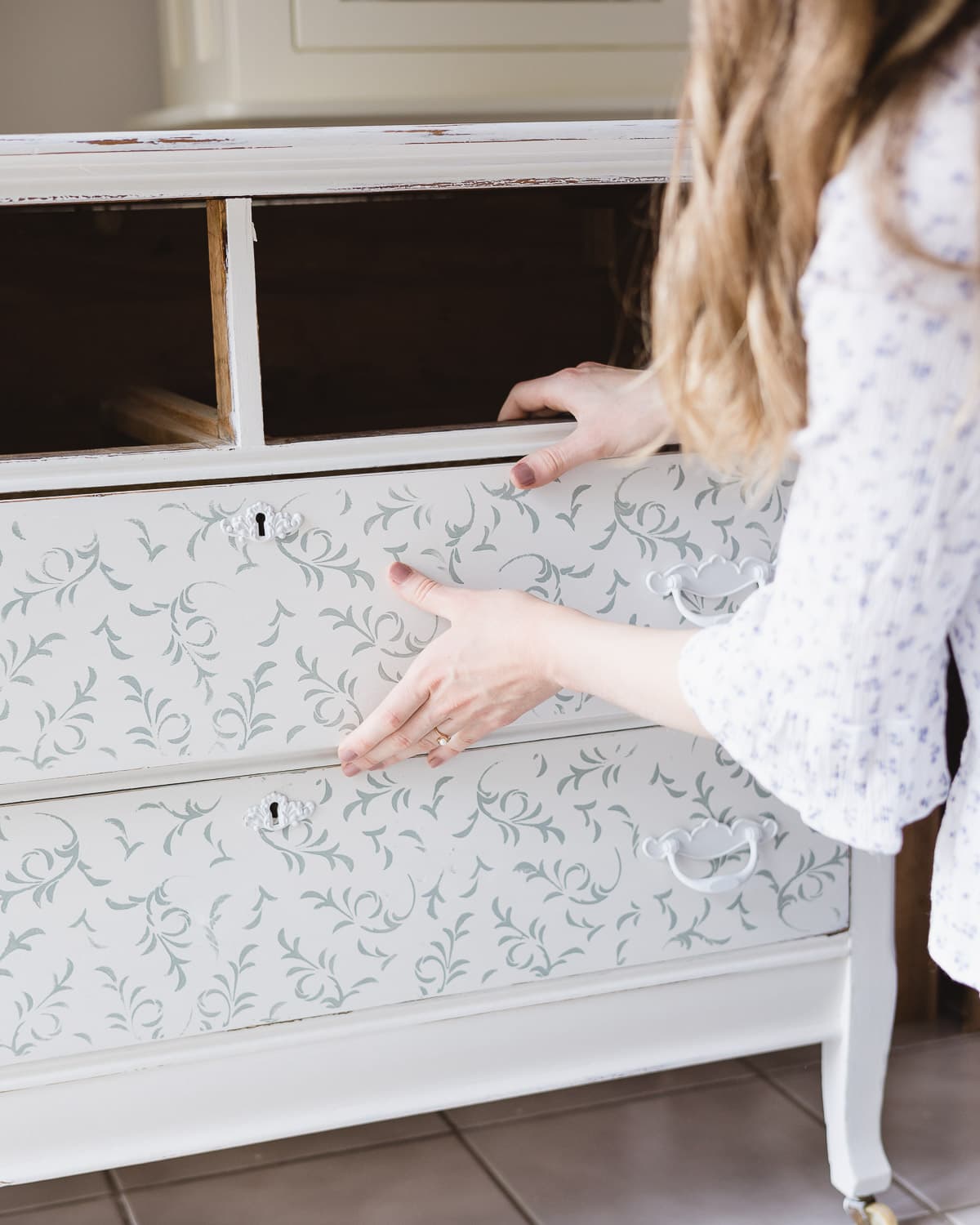 Choose Hardware or Spray Paint the Old Stuff
On this piece, I wanted to re-use the hardware. A big part of my reasoning was wanting to save the keyhole decorations and not being able to find replacements.
I ended up spraying the hardware twice! I first went with a can of oil-rubbed bronze paint that I had on hand already. The hardware looked great, but I changed my mind and really wanted to paint it white.
So I used a can of Rust-Oluem Paint/Primer Spray Paint that I had from painting mason jars and applied a few coats to the hardware.
Some tips to be aware of:
Choose a spray paint rated for applying to metal.
Knobs are easy because you can stand them up and spray paint them completely. For handles, the back will show, so you'll have to paint them front & back to get complete coverage.
Spray the backs first, wait until dry to the touch or a little longer and then flip and spray the fronts. That way if the back gets messed up, it's not too big of a deal.
I usually like to go fast with spraying painting so I don't mind if the backs of the handles get a few imperfections, but you can go slow and wait the complete 48 hours before even flipping the hardware to paint the other side and they will probably turn out perfect!
Remember to consult your can for dry/recoat times.
How to Distress Your Dresser
Once you've completely painted your dresser, it's time to distress it (if you like). Chalk style paints are excellent for distressing. A little bit of carefully placed sanding can add a lot of character to a piece.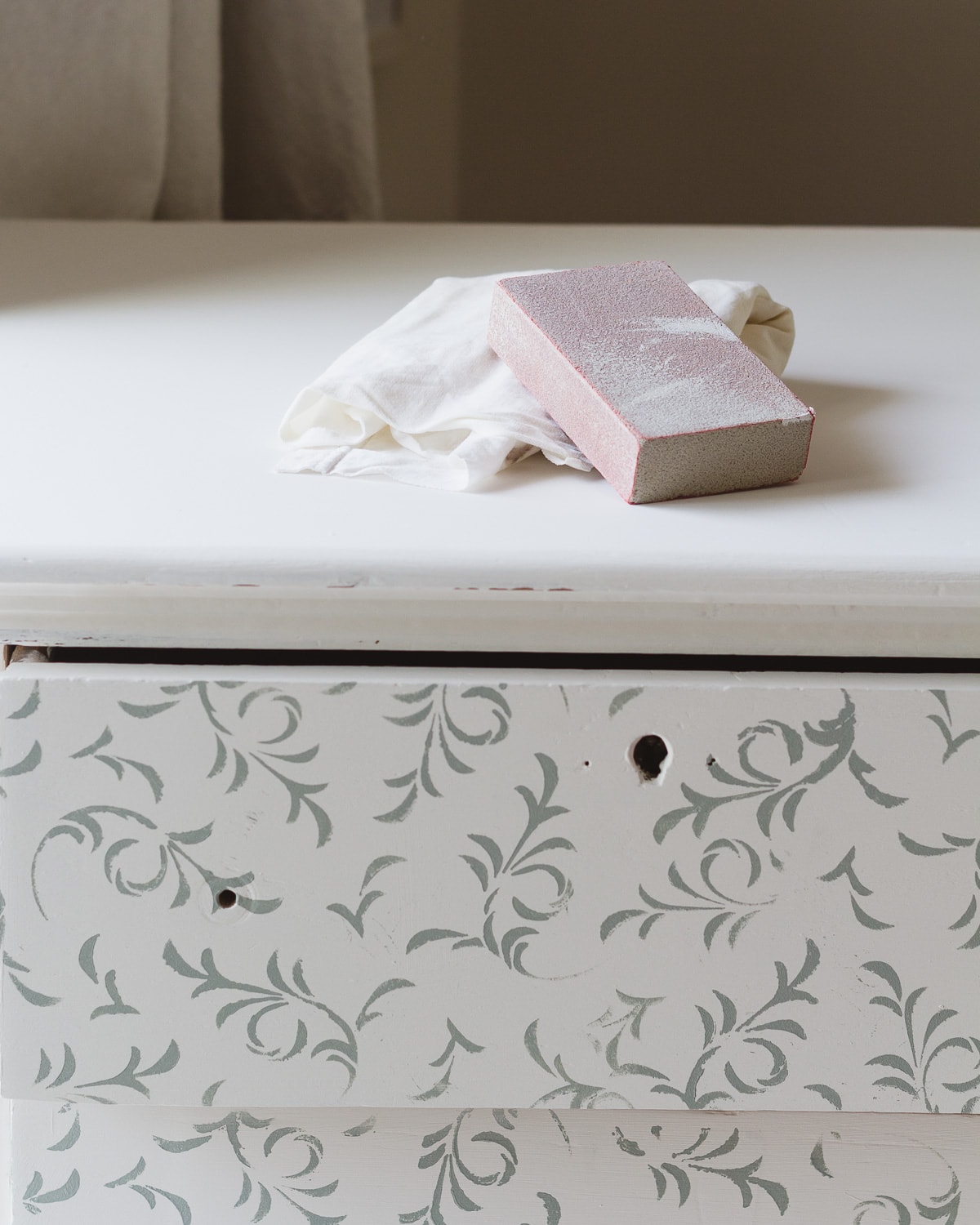 For this step, I bring my piece outdoors. Dry distressing is messy and those tiny paint particles are not good for you!
Note: You can also distress indoors using baby wipes or a damp kitchen towel (reserved for painting only!) and elbow grease. I like this method because it's basically no-mess. The downside is that it's harder to control and takes a long time.
Once I'm outdoors, I sand with a fine sanding block in areas that would naturally receive wear and tear. This time around I ended up grabbing a medium-grit block and I liked that a lot better–it went so fast! Skim across the outer edges of the design, up the legs, on the side-paneling, etc. etc.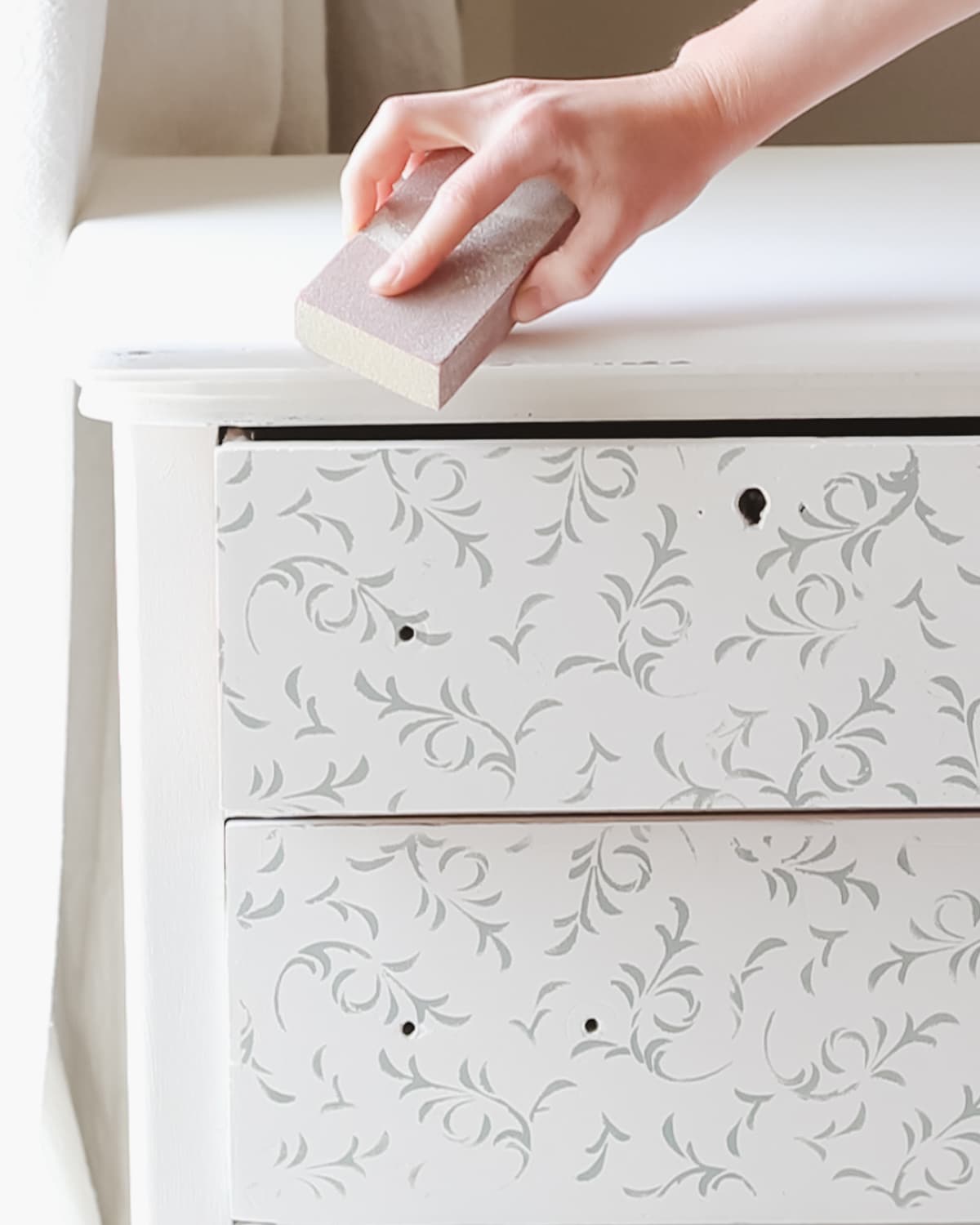 You can always add more, so go slow to start.
Clean off all the dust from distressing and you're ready to seal the piece!
Seal Your Dresser
For this dresser, I was sent Country Chic Paint's Wax option, which I decided to try since I usually steer away from wax, but was curious how it would finish up!
I generally suggest using a water-based poly sealer (I often use Rust-Oleum Matte Clear) because they are easier to apply and give a stronger finish that is much harder to damage or chip. Though I waxed this dresser, I still do love a water-based poly the best!
Note: I have a whole post about how to seal chalk paint, and if you're interested in learning more about each individual sealer option (wax, polys, aerosol sprays) that's the place to go.
One of my biggest tips is to test the sealer you've chosen alongside your paint in an inconspicuous spot (on the back of the dresser, underneath the seat of a chair, behind a cupboard door) before completing your piece.
Even if you are using a paint + sealer combination that is recommended by the manufacturer, this method is still helpful since it give you a chance to practice your technique before moving to the visible portions of the dresser.
How I waxed this dresser:
For waxing this piece, I filled a small wax brush (yes, I need to get a full-size one!) with wax from the tin using a circular motion. Then, I applied the wax to the piece using back-and-forth and circular motions to spread the wax. Spread the wax further than you think it can go to avoid getting an overly tacky finish. Repeat until piece is covered.
At this point, the wax will feel a bit tacky, so keep spreading it.
The buffing step is where we can get rid of that tackiness and give the piece a nice sheen.
Grab an old t-shirt and begin to buff the piece in a back-and-forth or circular motion. You are both removing the excess wax and causing the remaining wax to bond with the chalk style paint.
You can feel the difference with your hand when the wax moves from slightly tacky to smooth with a light sheen. Wax actually takes some time to cure, so be gentle with your piece for the next 3-4 weeks while it cures completely.
I'm not sure how well you can tell in this photo but the raised sections of the dresser have been waxed. A bit of color variation is from the shadow, but the wax actually did turn the color of the paint just the tiniest bit warmer/softer–at least to my eyes!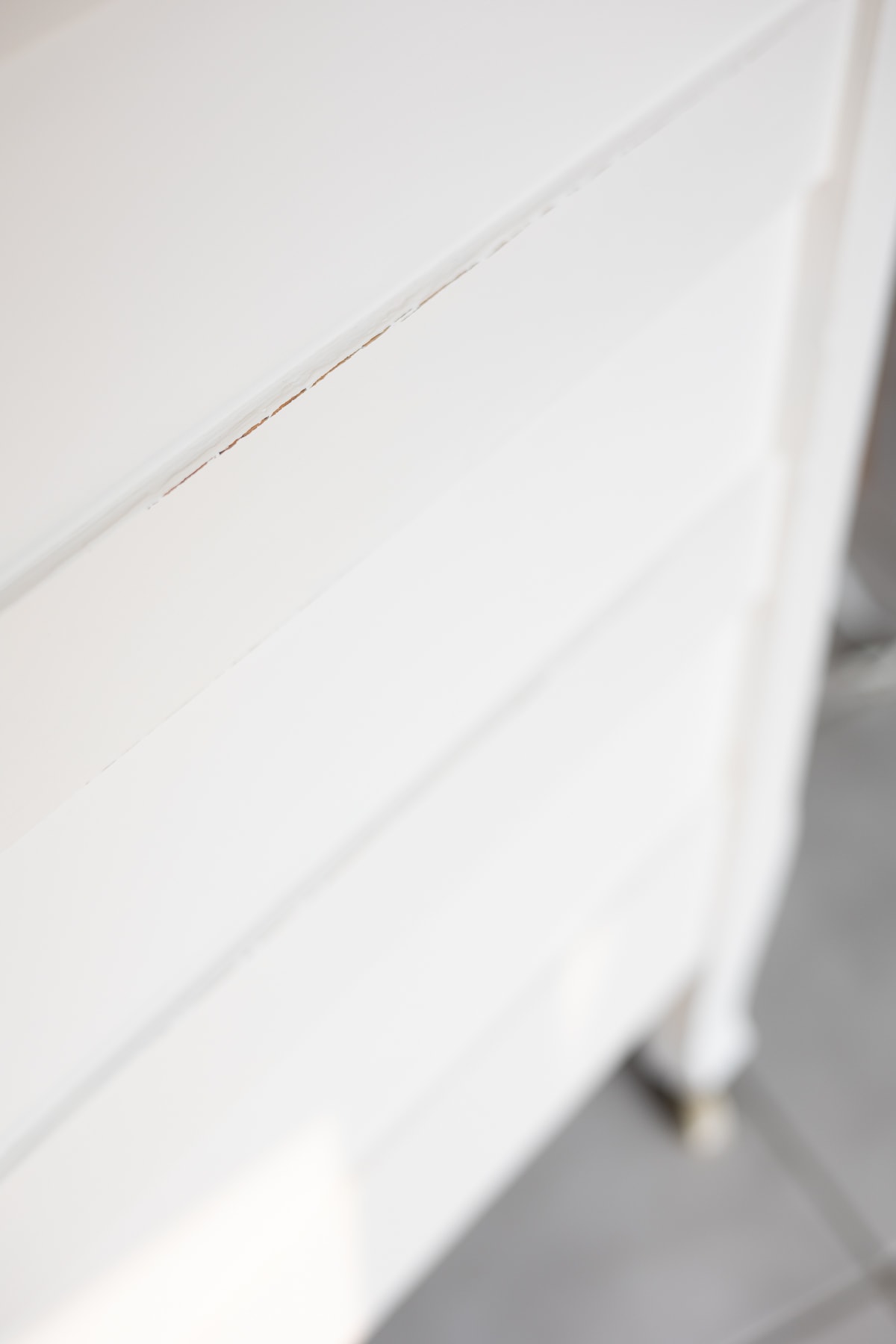 Reattach Hardware
After the wax is completely buffed, it's time to finish the dresser. So, grab a screwdriver and re-attach the hardware.
This is my favorite part! If you spray-painted the old hardware, I like to wait at least a couple of days for it to cure before installing to avoid marring the finish.
All Done!
You did it! You painted a dresser and I bet it looks amazing. Remember to give it some time to cure (3-4 weeks for wax) before using it heavily. And I always suggest using caution when water is around chalk painted surfaces (much like the original wood finish!).
Enjoy your new painted furniture piece!
Frequently Asked Questions About Painting a Dresser
Should I distress before or after sealing the paint?
I prefer to distress before I seal the chalk style paint. This is because if you seal the paint and then distress, you actually have to seal again to protect those areas where you removed the sealer and paint. The sealed paint also has a different sheen (yes, even with matte finishes) so the spots where you've distressed will be a bit two-toned. Distressing before sealing is a little more messy (more dust), but I do still prefer it. Anytime you sand paint, head outdoors and be sure to wear a good mask and adequate eye protection.
Are all chalk paints the same?
Nope! While many of the chalk style paints on the market today are quite similar, each paint has quirks and differences that you'll want to be aware of. I talk more about this in my post about general chalk paint guidance, but I always suggest reading your can and following any additional guidelines the manufacturer provides. Some things to look for: sanding suggestions, time in-between coats and top coat recommendations.
What if I don't like the way the dresser turns out?
Ack! I'm sorry. I've had furniture fails too and they are no fun. First, take a deep breath and work on something else for awhile. Once you've had some time to process what went wrong, ask yourself if you still love the furniture piece itself. If so, then you can consider how you can fix it (perhaps removing the paint and starting fresh etc.). If you just don't love the piece, offer it for free or sell it and enjoy painting a new piece that you do love! Consider it a learning experience and move on!
P.S. This is a question that is SO broad, I hesitate to give specific advice, but I hope to have a post for you with detailed scenarios and how to fix them soon!
Any Other Questions?
Reach out on Instagram or leave a comment! I'd love to help!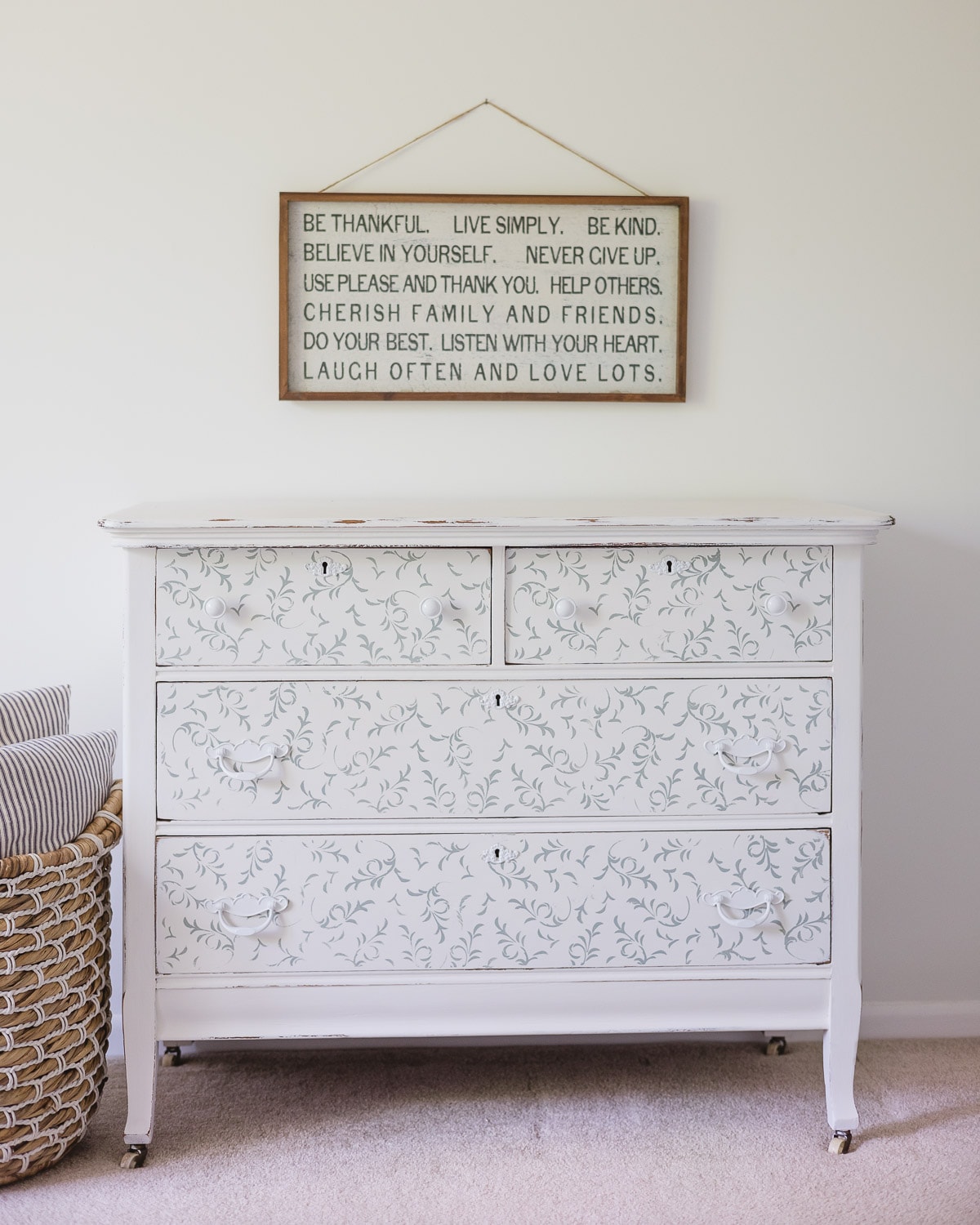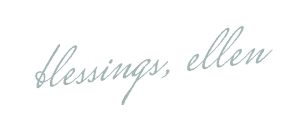 More About Chalk Paint