Mini Snickerdoodle Cookies
Mini Snickerdoodle Cookies are puffy chewy little cookie bites that are a hit on any cookie tray. The small size is great for sampling and snacking–and they are adorable too. Great for a holiday cookie tray. I use a mini scoop to make these quick and easy. They are a favorite recipe around our house!
Please note that this post contains affiliate links which allow me to earn a small commission when a purchase is made at no additional cost to you. Read more here.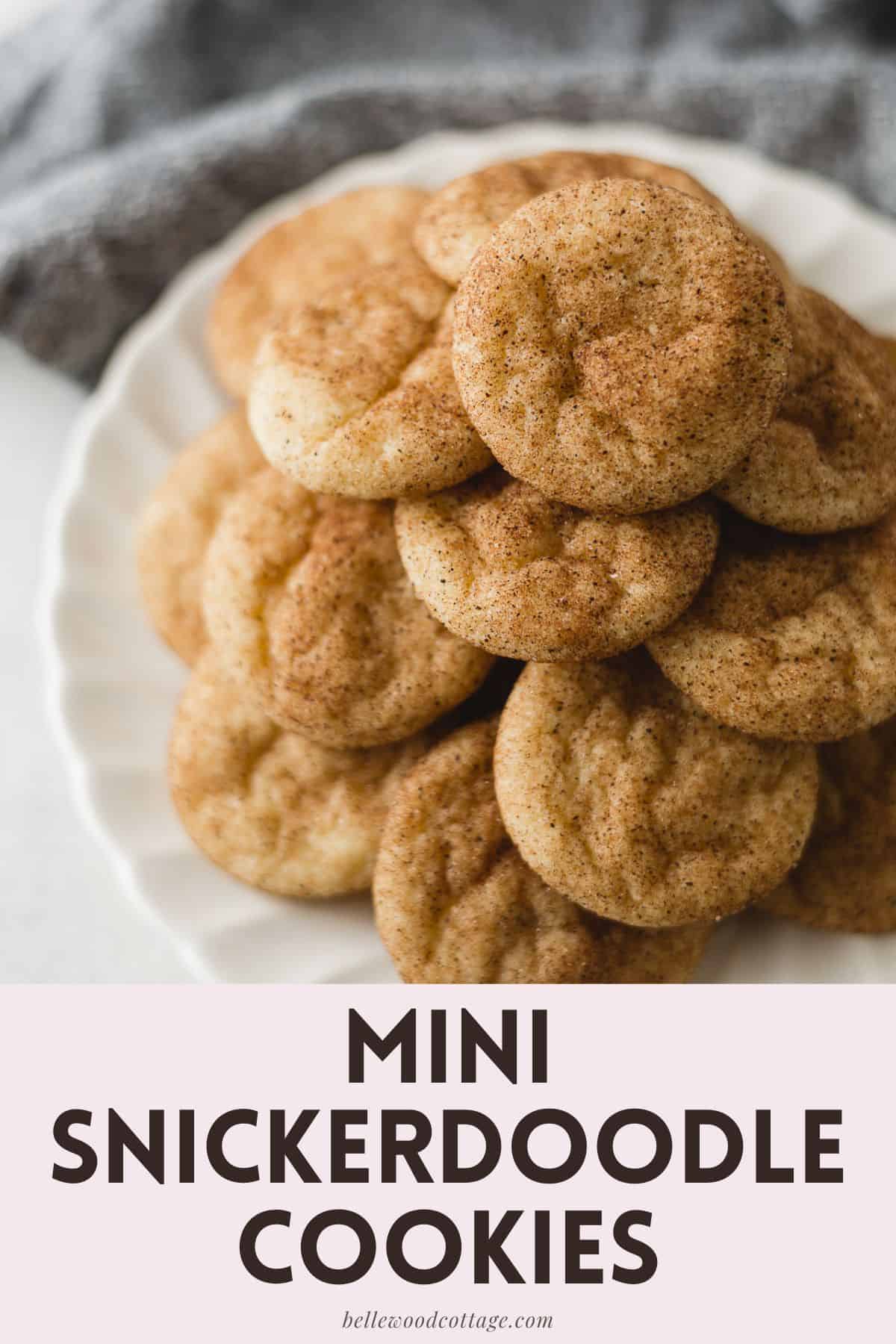 After wrapping up my post on Giant Snickerdoodle Cookies, I decided to go the other direction and make tiny cookies. I think making cookies a bit smaller is always appreciated around the holidays (treats are everywhere!), but mini cookies make great snacks and lunchbox treats too.
These sweet snickerdoodles taste just like the classic recipe, but I've used a mini cookie scoop to make small 1.5″ cookies that are adorable and snack-worthy.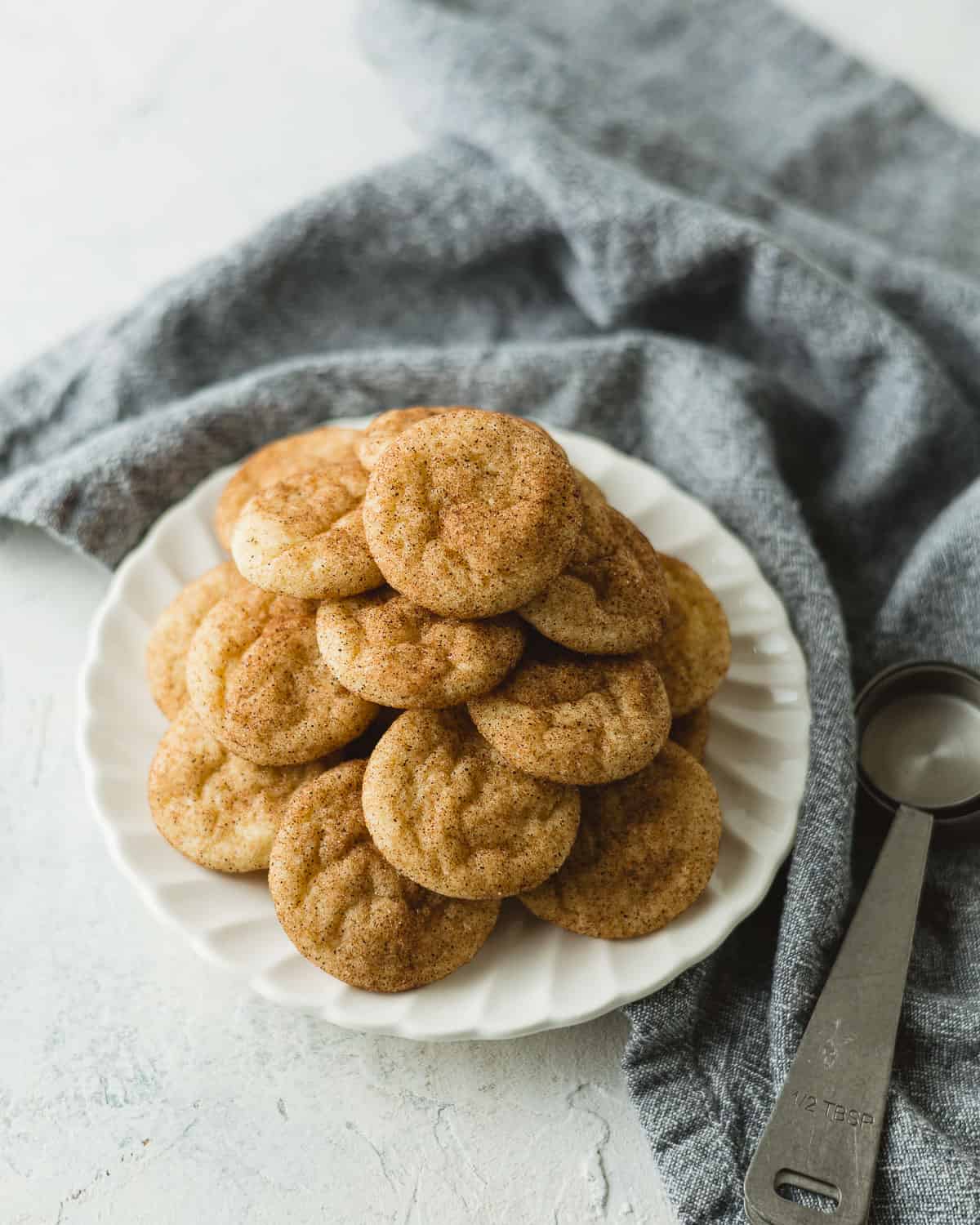 Three Reasons You'll Love This Recipe
Easy to bake! It's hard to mess up a basic snickerdoodle recipe like this one. All you need to do is prepare a simple cookie dough, chill it, and roll the cookies in cinnamon sugar before baking.
Great for holiday parties. These mini cookies will be appreciated where sweets abound.
Perfectly soft and chewy cookies. The combo of shortening and butter here works to create soft and chewy cookies–irresistible!
Ingredients You Will Need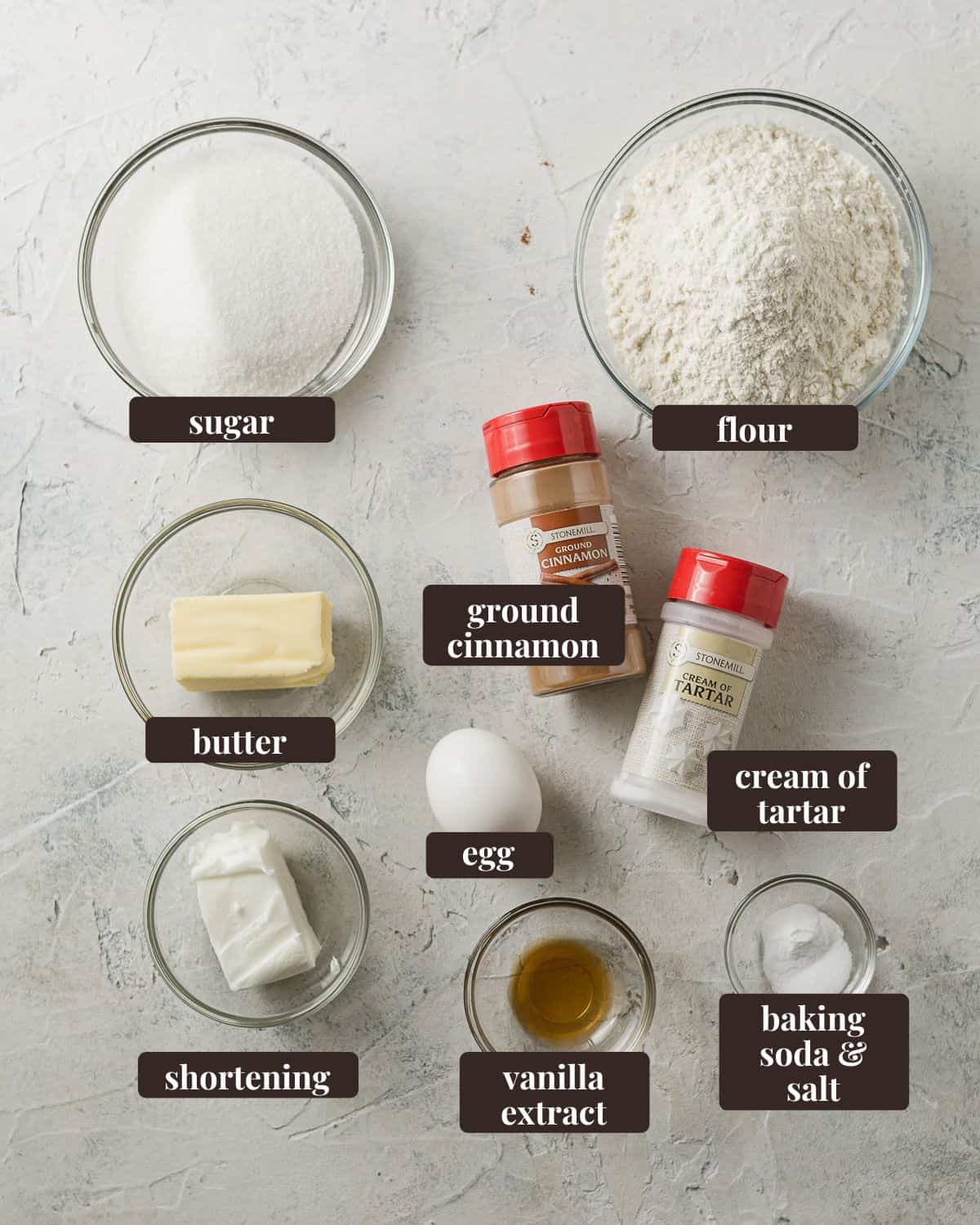 Ground Cinnamon – used in the cinnamon sugar coating.
Sugar – granulated sugar is used in the cookie dough and for the cinnamon sugar coating.
Unsalted Butter – I always use unsalted butter when baking. Soften the butter in advance of baking so it's easy to cream together with the sugar.
Vegetable Shortening – This recipe uses Crisco Shortening Sticks (found in the baking aisle) in place of half the butter. The combination of shortening and butter yields perfectly soft and chewy cookies–without overspreading.
Egg – pull the egg out of the fridge before you start baking so it's close to room temp by the time you add it into the cookie dough for the best results.
Vanilla Extract – I use a bit of vanilla extract in my recipe for extra depth of flavor.
All-Purpose Flour – I use all-purpose unbleached flour for my cookie recipes. Measuring flour accurately is very important for the final taste and texture of the cookies.
Cream of Tartar – find this ingredient in the baking aisle if you don't already have it on hand. Learn more about cream of tartar in my Crumbl Snickerdoodle Cookie post.
Baking Soda – a leavening agent that reacts with the cream of tartar and creates chewy yet soft cookies.
Salt – a bit of regular table salt.
Can I Use All Butter Instead of Vegetable Shortening?
I tested this recipe with both all-butter and a combo of butter-shortening. The butter-and-shortening cookies were soft, chewy, and spread just the right amount.
The all-butter cookies were denser, a bit greasy, and spread more (yielding thinner cookies). However, you can certainly use all-butter if that's what you'd prefer (or have on hand). Just realize that the final result will be different!
How to Make Mini Snickerdoodles
Find the complete printable recipe at the end of the post!
Making Mini Snickerdoodle Cookies is quite similar to making larger cookies, except we are going to use a mini cookie scoop for tiny lil irresistible cookies.
The dough is chilled (usually about 1 hour is enough) to make it easier and faster to scoop and the tiny cookie dough balls are rolled in cinnamon sugar.
First we'll whip up a quick cinnamon sugar coating. Just mix a little granulated sugar and ground cinnamon together in a bowl and set aside.
For the cookie dough, I use a hand mixer and medium bowl to cream together the butter, shortening, and sugar. Cream until light and fluffy.
Add the egg and the vanilla extract. Beat until combined, but don't overmix.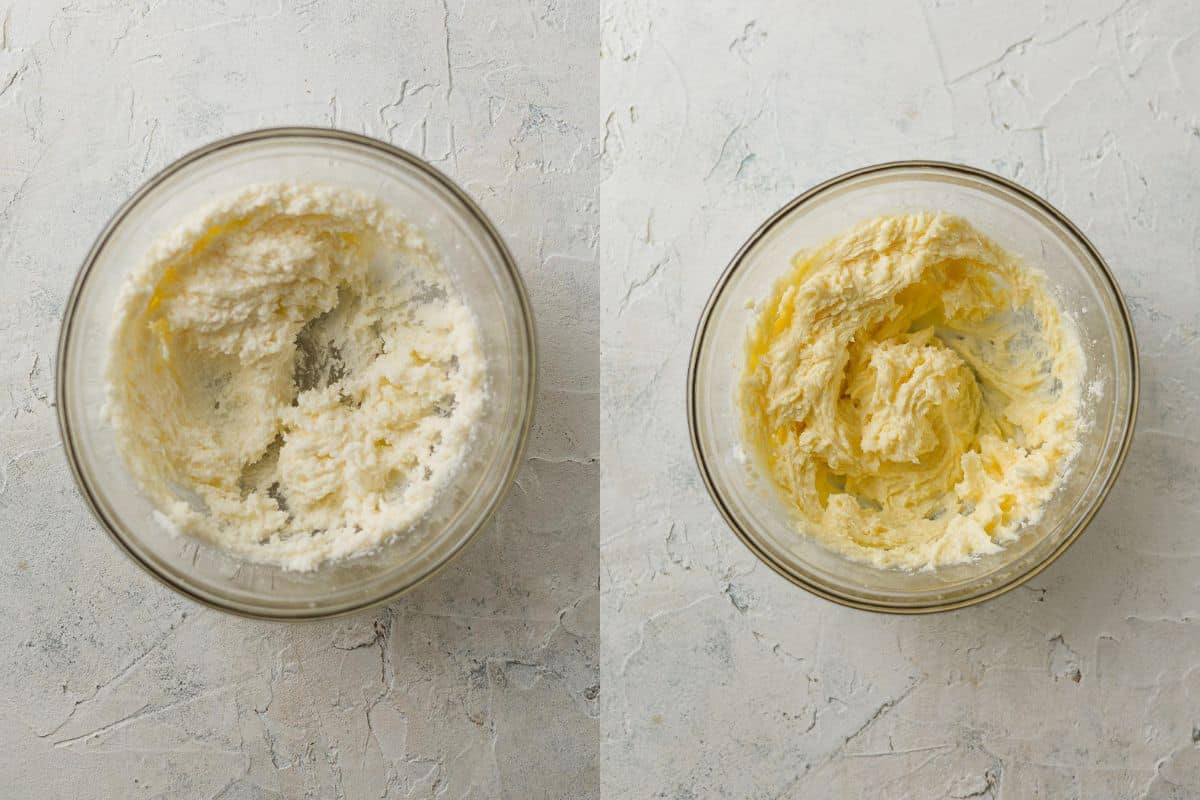 Add the dry ingredients (flour, cream of tartar, baking soda, and salt) and mix together until just combined.
Chill dough for at least 30 minutes or until easy to scoop (usually takes about 1 hour).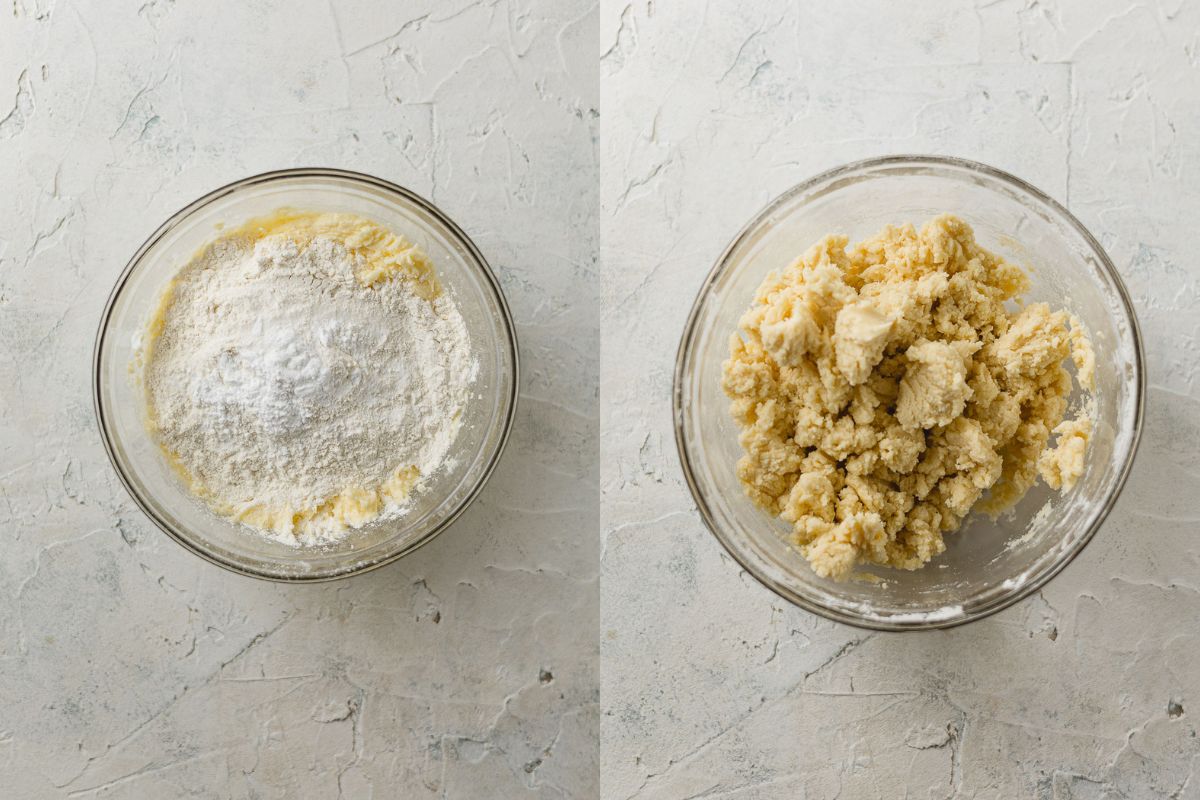 Scoop cookies with a 1.5 teaspoon scoop and roll each cookie in the cinnamon sugar mixture to coat completely.
Bake on lined baking sheets for about 9 minutes until they have puffed and are lightly crackled throughout the tops.
The puffed cookies will flatten as they cool.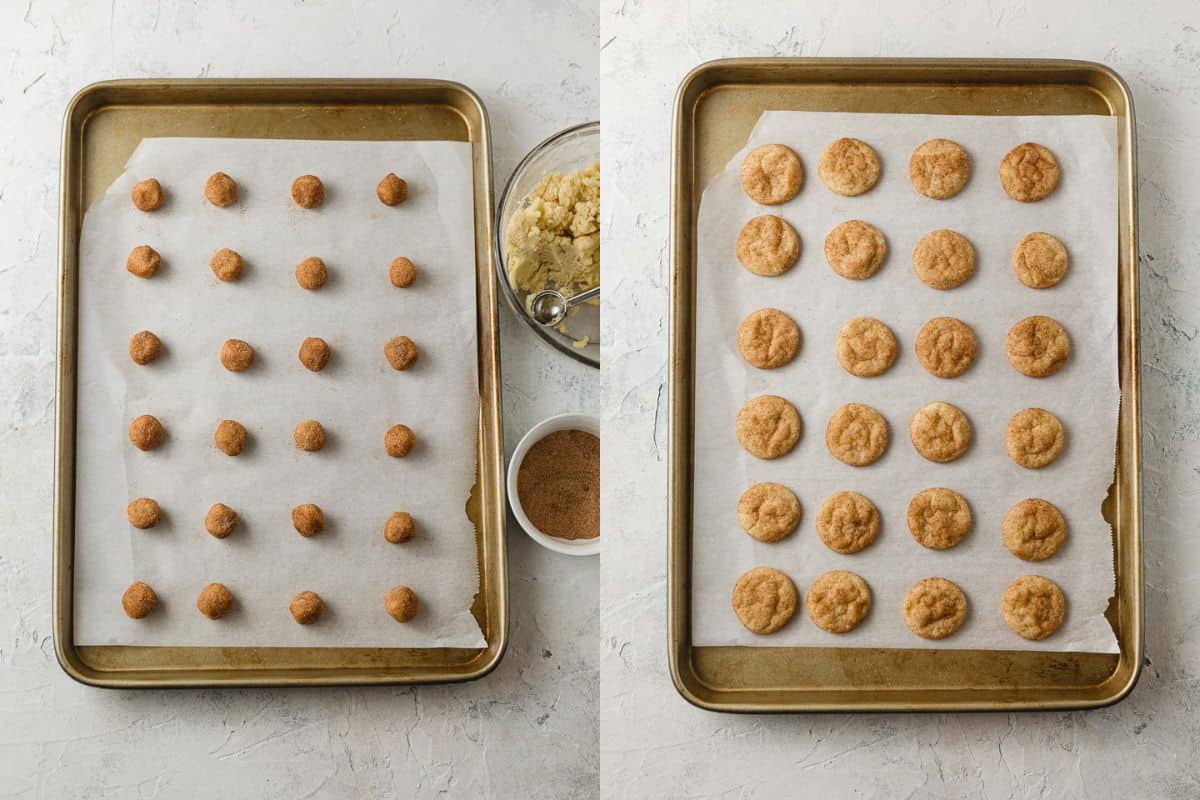 Quick Tip: How to Bake Chewy Cookies
Tiny cookies are easy to overbake, so watch them closely and pull them out from the oven once they are puffed and lightly crackled throughout. It's usually best to pull cookies a little early rather than a little late. Cookies baked for just a bit less time maintain their chewiness even when completely cool. On the other hand, cookies that stay in the oven a little longer will cool to be crunchy (which is good too, but I love a chewy cookie!).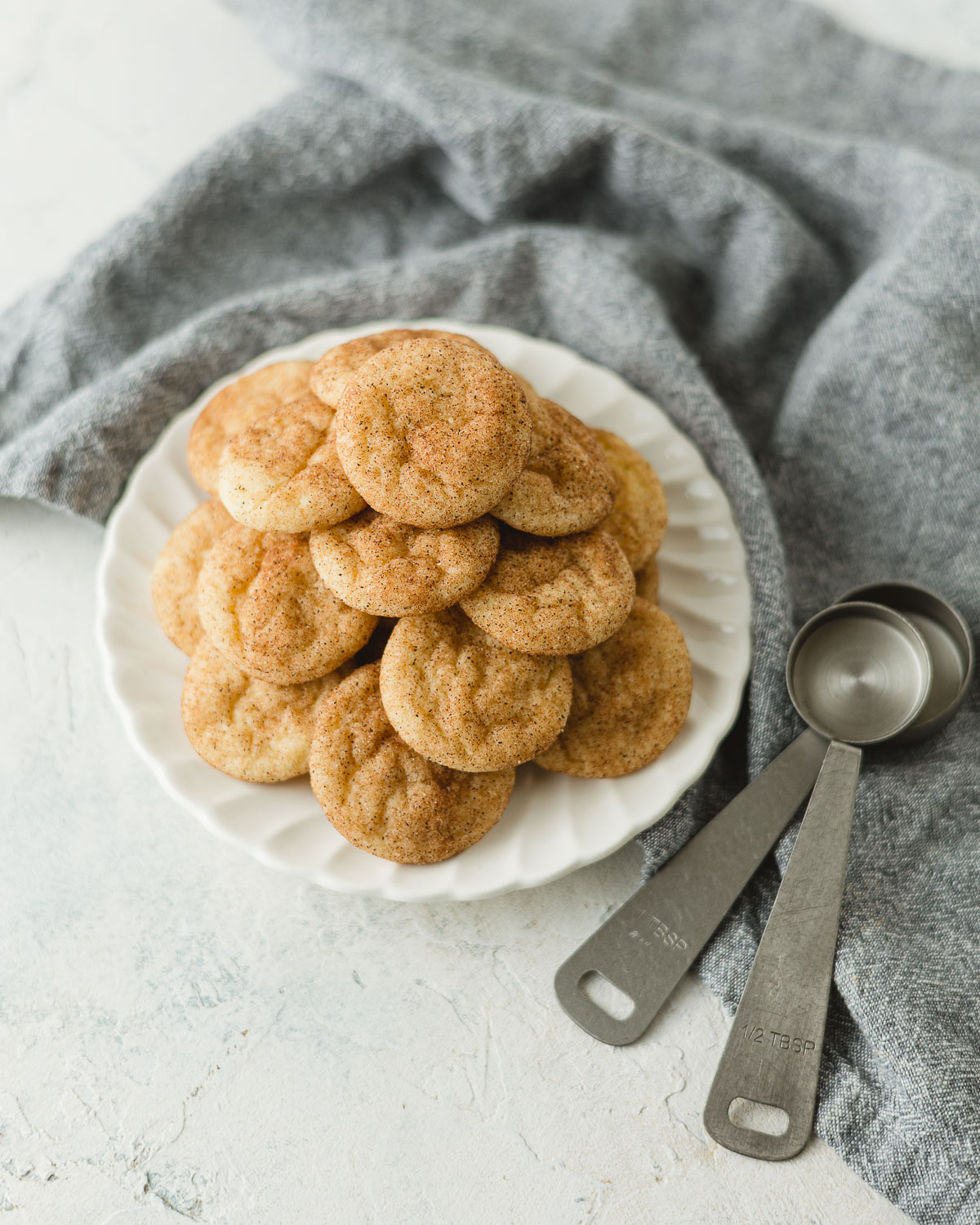 How to Store Mini Cookies
Store cookies in an air-tight container up to 5 days. Adding a small piece of bread can help maintain chewiness as well. Keep cookies for even longer when you freeze them! I usually freeze mine up to 1-2 months.
Other Mini Cookie Recipes
Other Cookie Recipes