Crumbl Copycat Cookie Recipes To Bake at Home!
If you love eating Crumbl Cookies, these Crumbl copycat cookie recipes are for you. I've got 15+ Crumbl Copycat Recipes and the list keeps growing! Favorites include Birthday Cake, Blueberry Muffin, Vanilla Sugar, Fruit Pizza, Peanut Butter Bar, and New York Cheesecake. Some of these recipes will make a whole batch of cookies and others will show you how to make just one large cookie (perfect for indulging a craving!).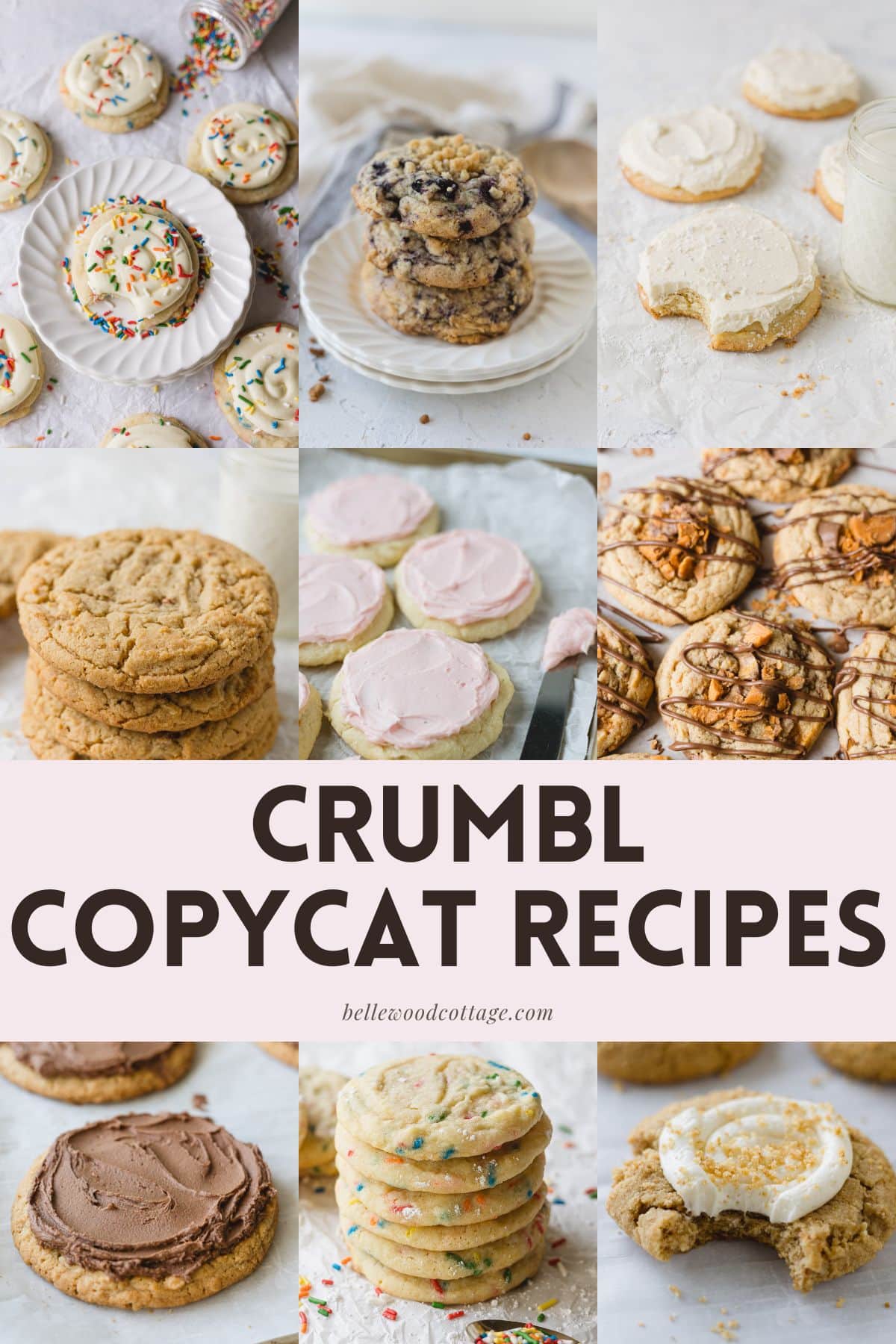 As I've been making more Crumbl Copycat recipes, I wanted to start a list of all the recipes in one place. Though there is just a handful of recipes here at the moment, I'm working on several new copycat/inspired-by recipes that I'm excited to share.
What Do You Prefer? A recipe that makes 1-2 Crumbl Cookies or a recipe that makes 6-12 cookies?
I'd love to hear your thoughts!
What are Crumbl Cookies you ask? This fun bakery is over 300 stores strong (and growing) and is hugely popular for their over-the-top indulgent giant cookies made in fun flavors like Mint Chip Ice Cream, Boston Cream Pie, Lemon Bar, Key Lime Pie, Cookies & Cream Milkshake and so many more!
Because they utilize a rotating flavor menu with five fresh flavors each week (plus Milk Chocolate Chip), you are never quite sure if/when your favorite flavor will return. Enter, copycat recipes!
Of course, sometimes it's just less-expensive and more convenient to whip up a cookie (or a whole batch) yourself and that's another great reason to try baking your favorite cookies.
Since Crumbl Cookies has over 200 cookie flavors to hit their rotating menu (in fact, here's the whole list of Crumbl flavors), there is plenty of inspiration for copycat cookie recipes! In fact, it's almost overwhelming keeping track of all the recipe tests and works-in-progress I have going in my kitchen.
Question time! What are your favorite flavors and what do you want to see a copycat recipe for? Let me know!
Copycat Crumbl Cookies Recipes
This list is constantly growing! Some of my favorites include the Mint Chip Ice Cream Cookies, Peanut Bar Cookies, Funfetti, Vanilla Sugar, Classic Peanut Butter and my Blueberry Muffin Cookies.
Mint Chip Ice Cream Cookies
These fun Mint Chip Ice Cream Cookies are inspired by Crumbl! The base cookie and the frosting are both filled with mini chocolate chips and plenty of mint flavor. Don't forget the yummy whipped cream rosette too. Serve them chilled if you wish, just like Crumbl!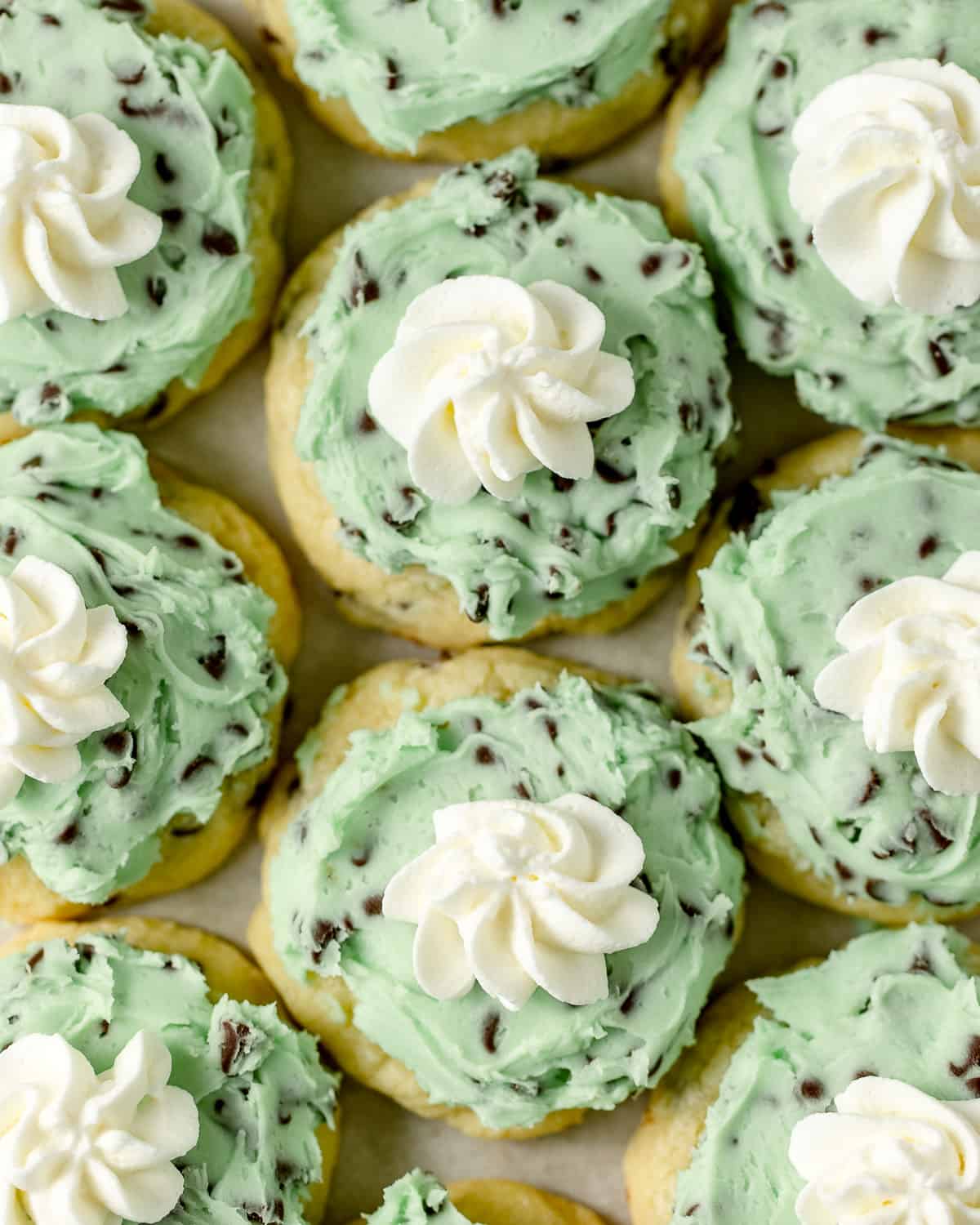 Peanut Butter Bar Cookies
This recipe for Crumbl Peanut Butter Bar Cookies might just be my favorite. I mean, chocolate + peanut butter is always the right choice and this chewy peanut butter oatmeal cookie topped with fudge-y homemade chocolate buttercream is a straight up win.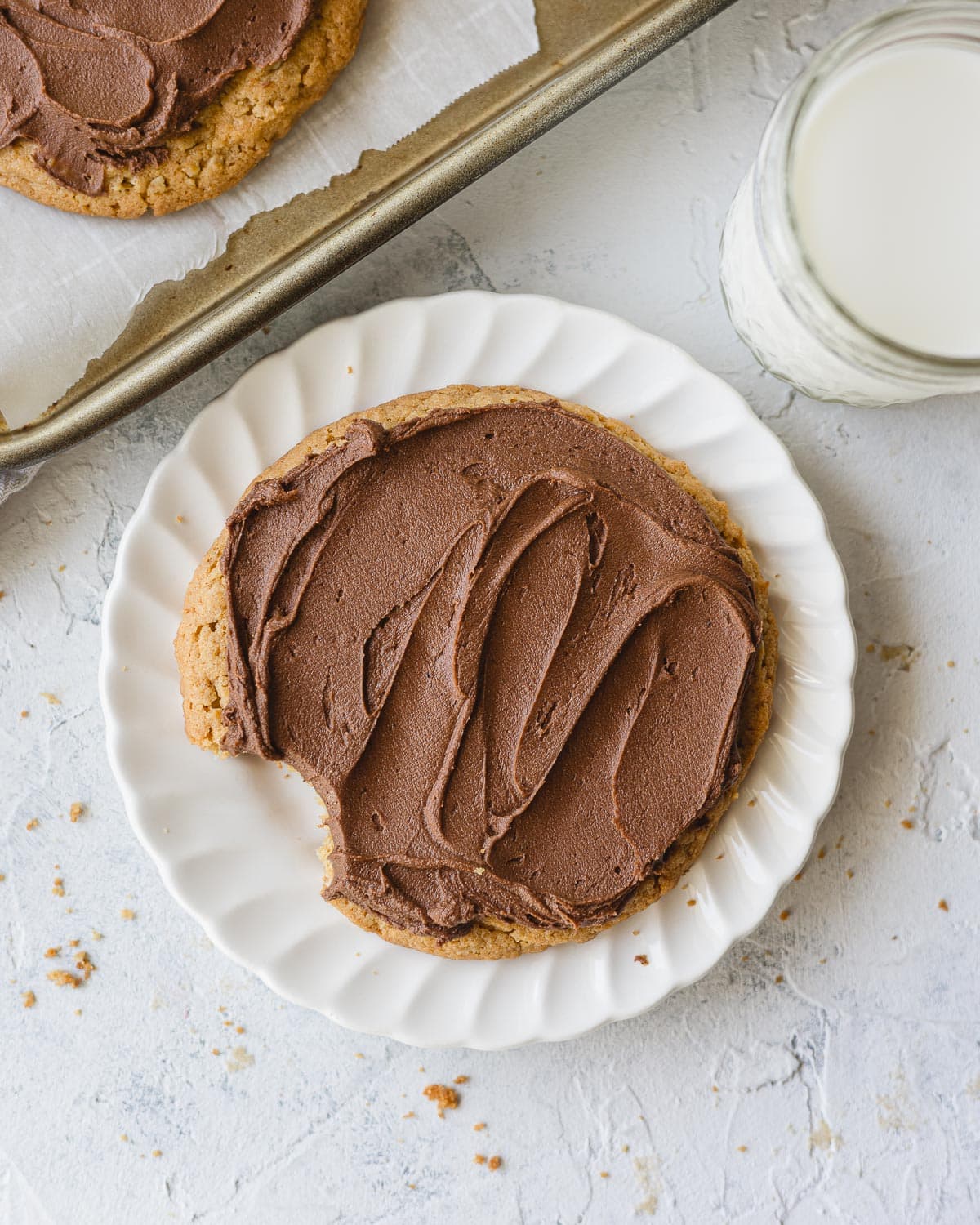 Funfetti Cookies
These Funfetti Cookies came about after I tried a Funfetti cookie shipped from Crumbl and was sorely disappointed. Though I would imagine that the cookie would be tastier when baked fresh in one of the local stores, I would highly suggest giving this copycat recipe a try instead! It's easy to make and creates soft flavorful cookie with plenty of sprinkles.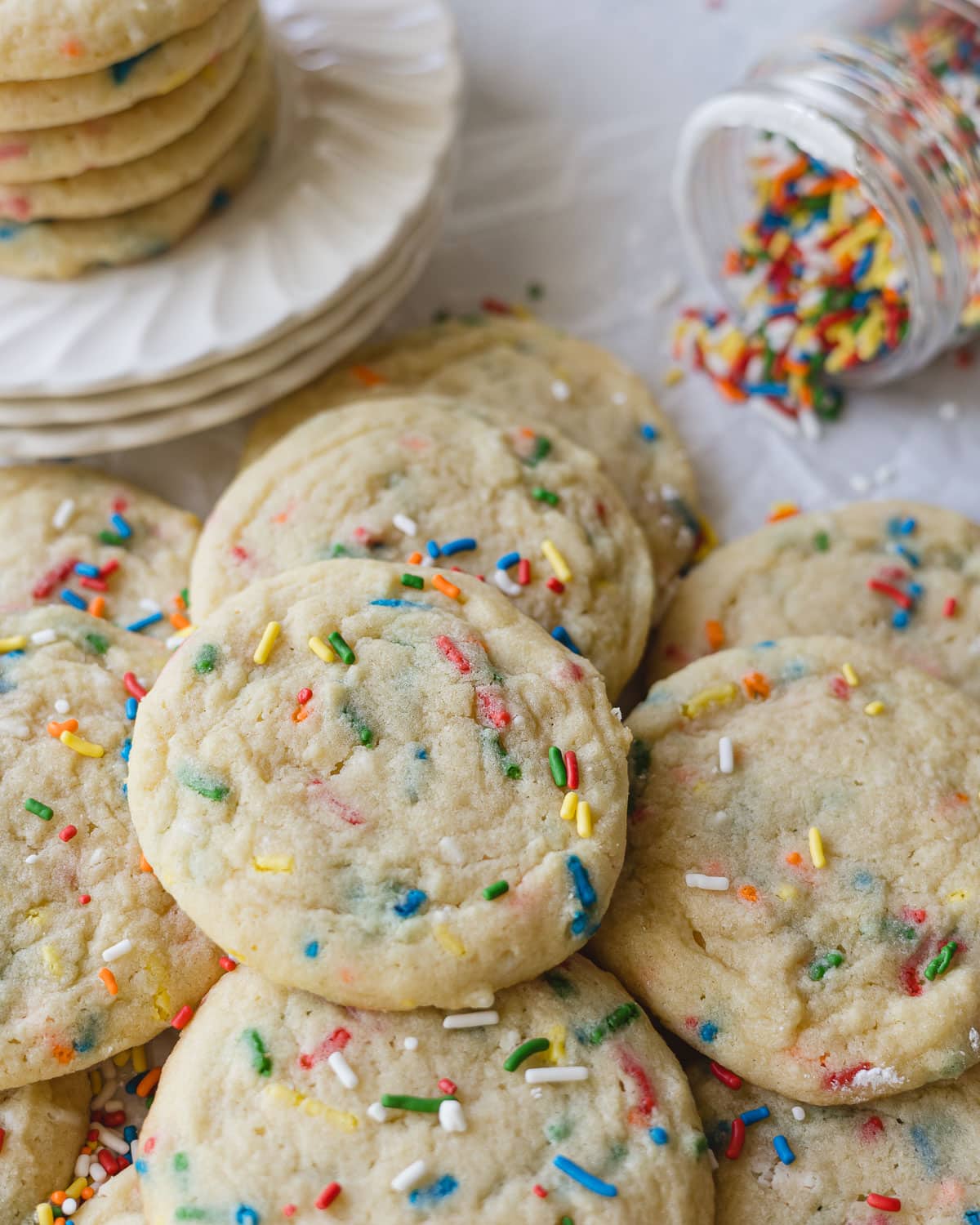 Crumbl S'mores Cookies
The S'mores cookie at Crumbl might be one of my all-time favorites. This S'mores Cookie copycat recipe means you can have these addictive cookies whenever you want.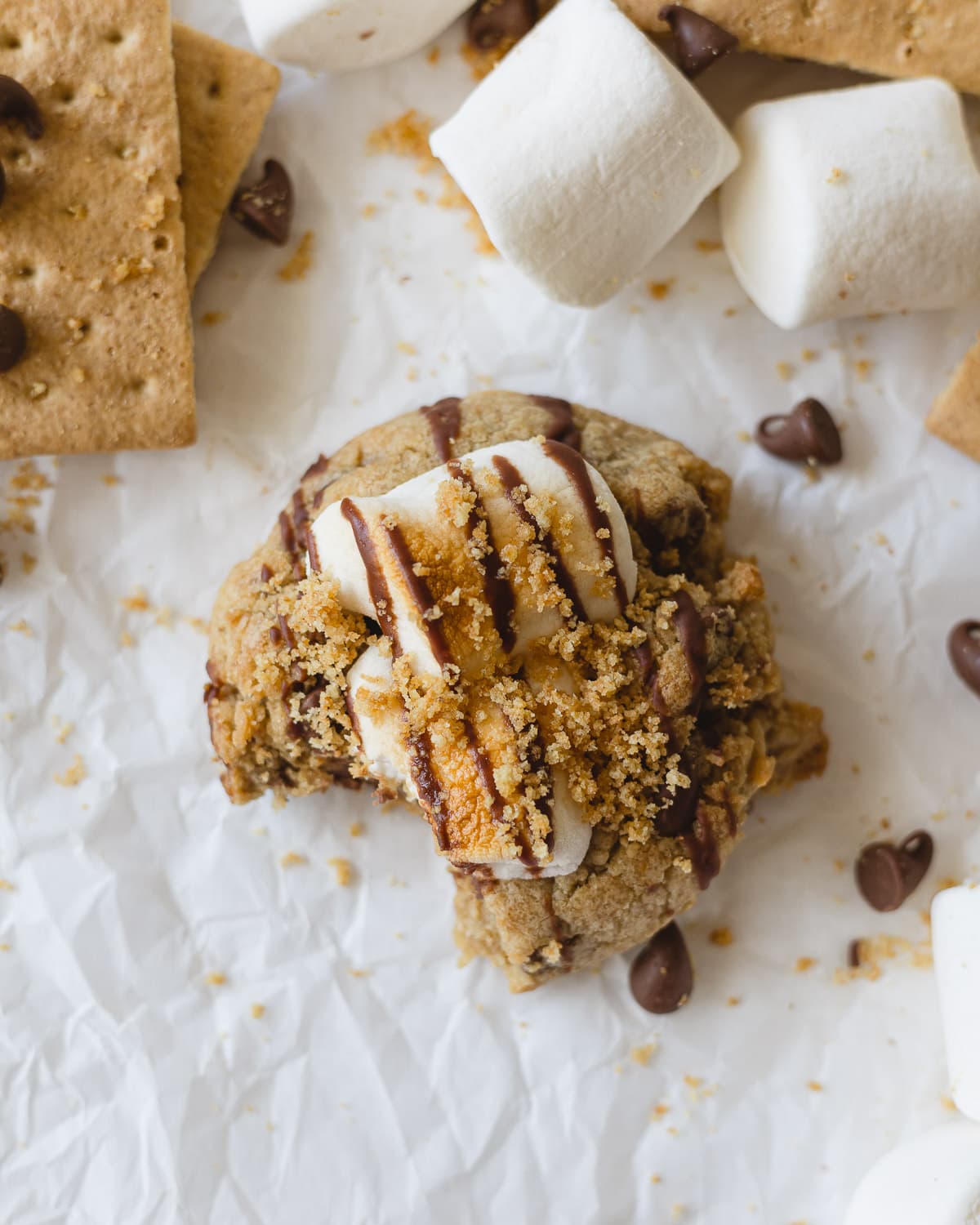 Crumbl Classic Pink Sugar Cookie Recipe!
The classic recipe! Since Crumbl is no longer serving their Pink Sugar Cookie every week (tears!), all the more reason to whip up a batch of Classic Pink Sugar Cookies at home. This easy recipe will make 12 large cookies and is super easy. It requires just one bowl and zero chill time before baking. I include notes for making a thicker layer (if desired) of pink frosting on top of these soft and chewy cookies.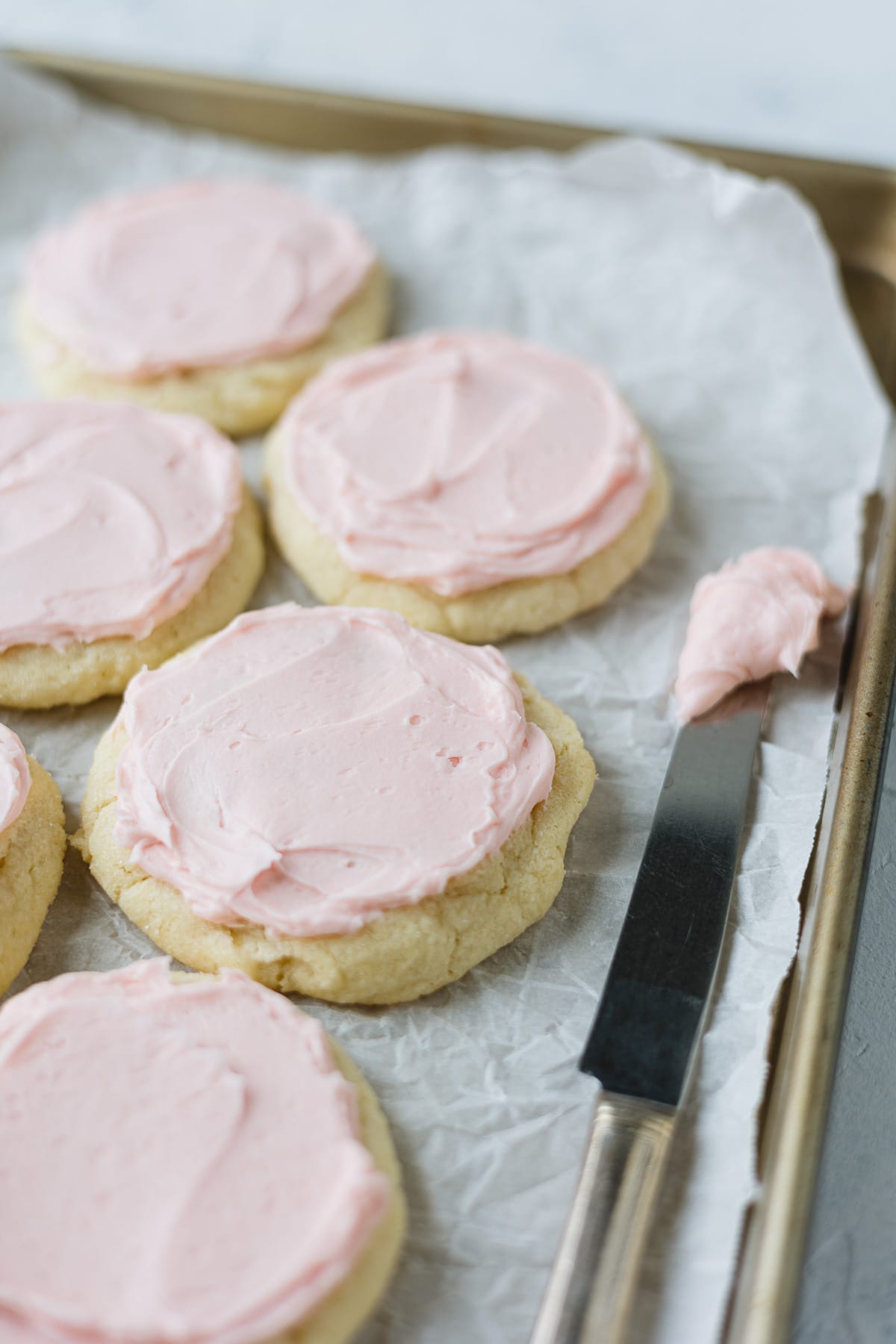 Fruit Pizza Cookies
Top soft sugar cookies with a whipped cream cheese frosting and your favorite fresh fruit to make these Crumbl Style Fruit Pizza Cookies.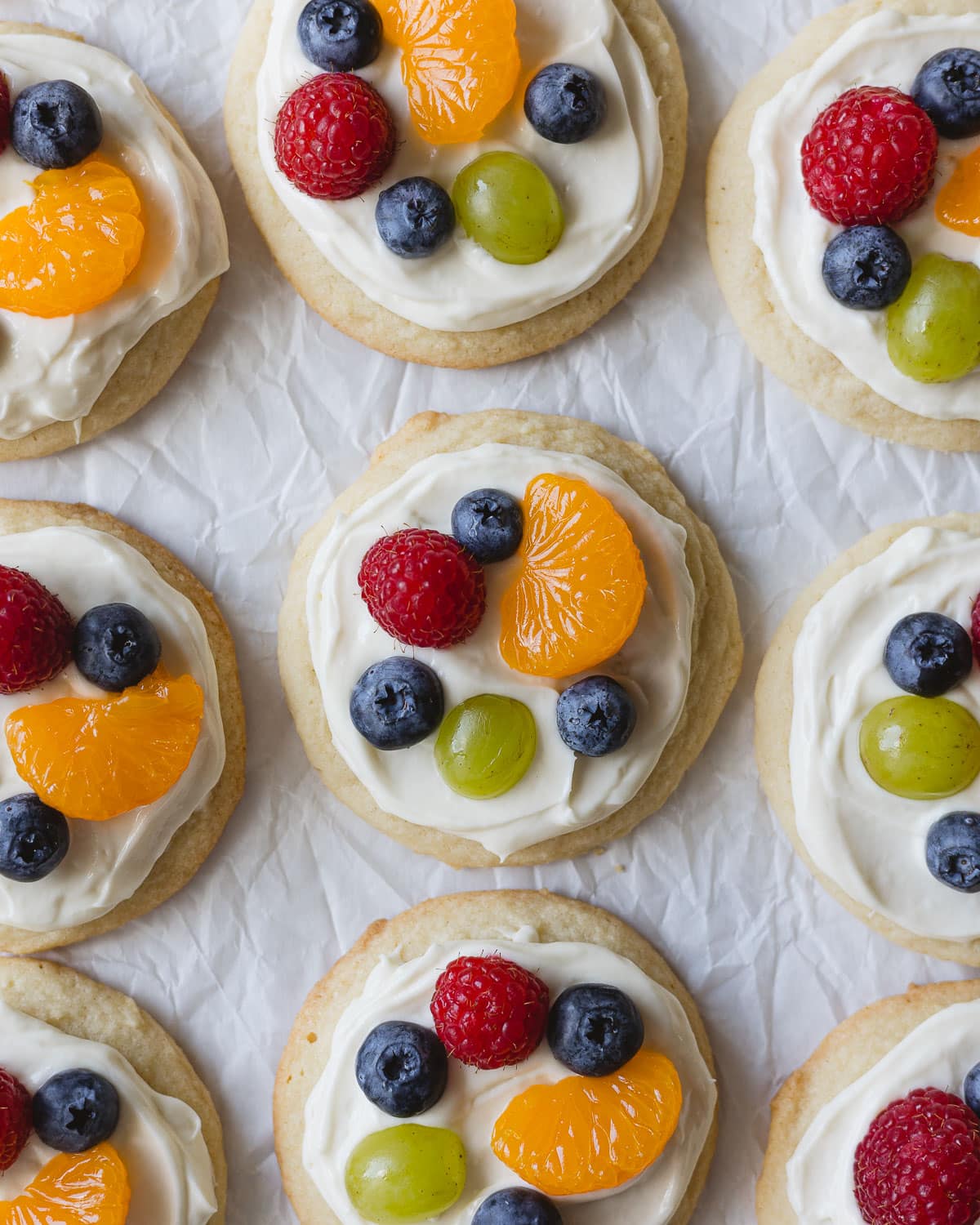 New York Cheesecake Cookies
These New York Cheesecake Cookies are like cheesecake, but in reverse! I amped up the flavor of the cheesecake with a no-bake cheesecake topping (instead of an overly sweet frosting-type topping) and plenty of graham cracker crumbs in the cookie base.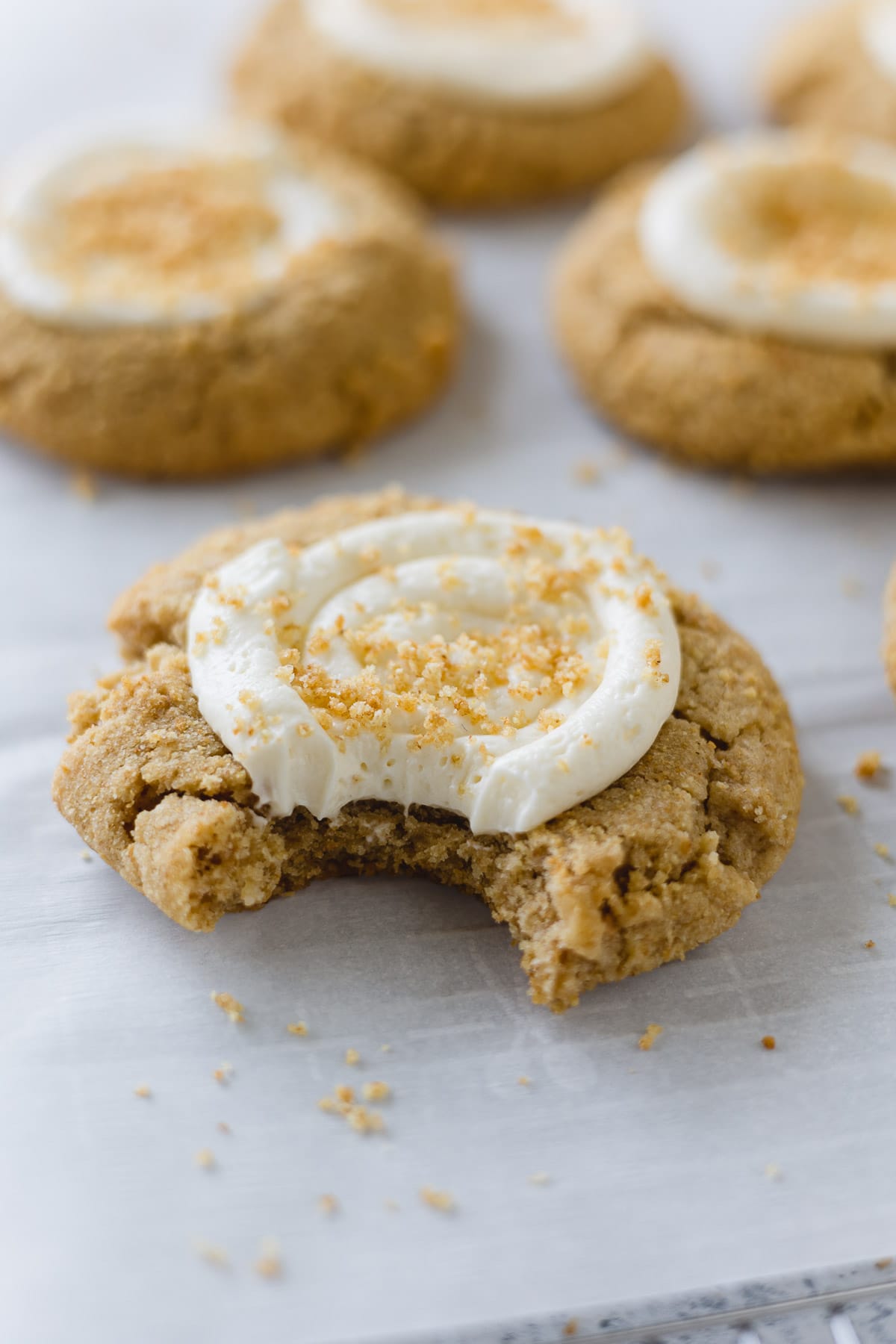 Peanut Butter Blossom Cookies
I love Crumbl's twist on this classic peanut butter cookie. Instead of a candy kiss dotting the center of these cookies, there's a tasty swirl of fudge frosting instead. I think you'll love these Peanut Butter Blossom Cookies!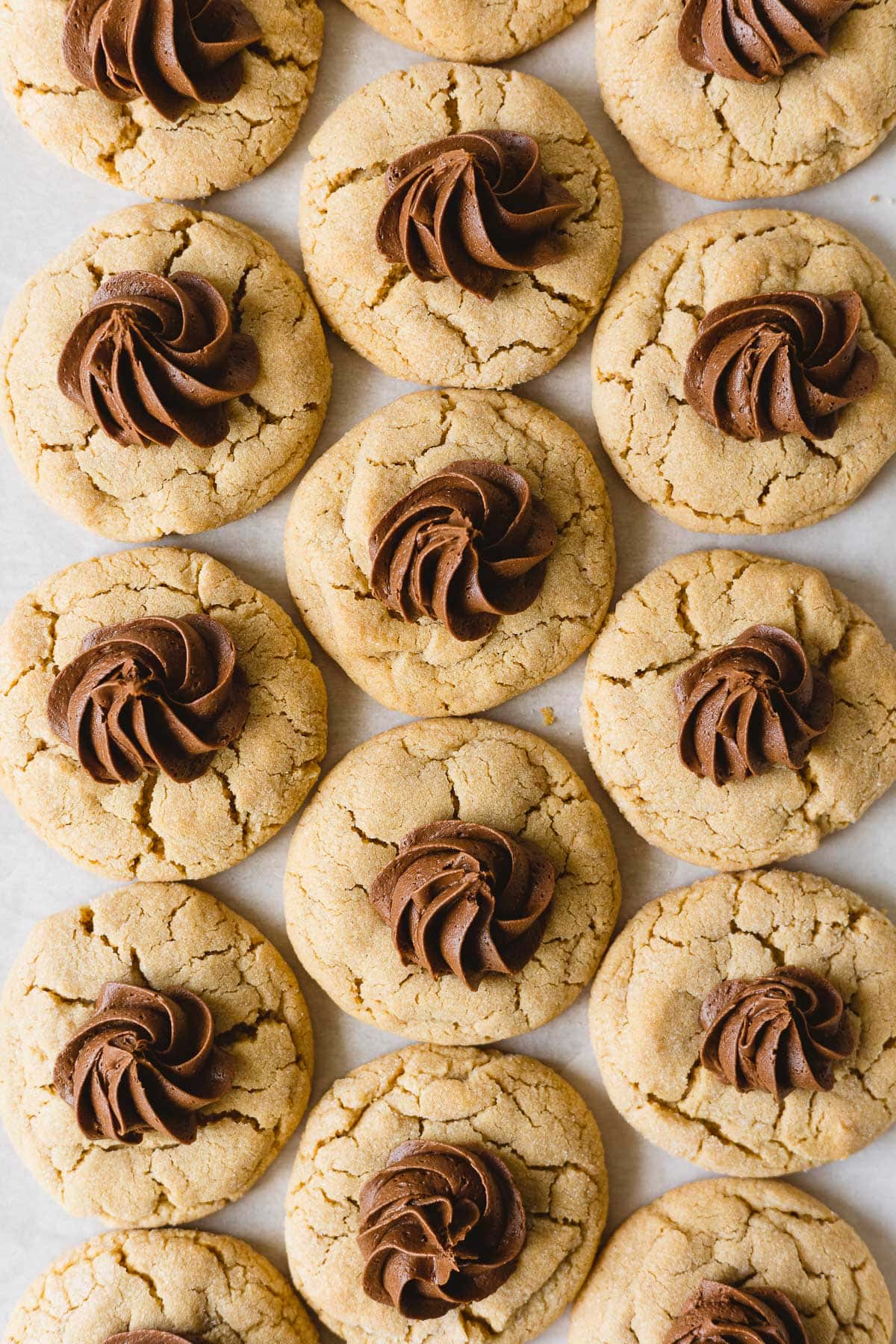 Peanut Butter Snickers Cookies
Chewy peanut butter cookies topped with a fluffy caramel buttercream and chunks of Snickers candy bars. You'll love these Peanut Butter Snickers Copycat Cookies!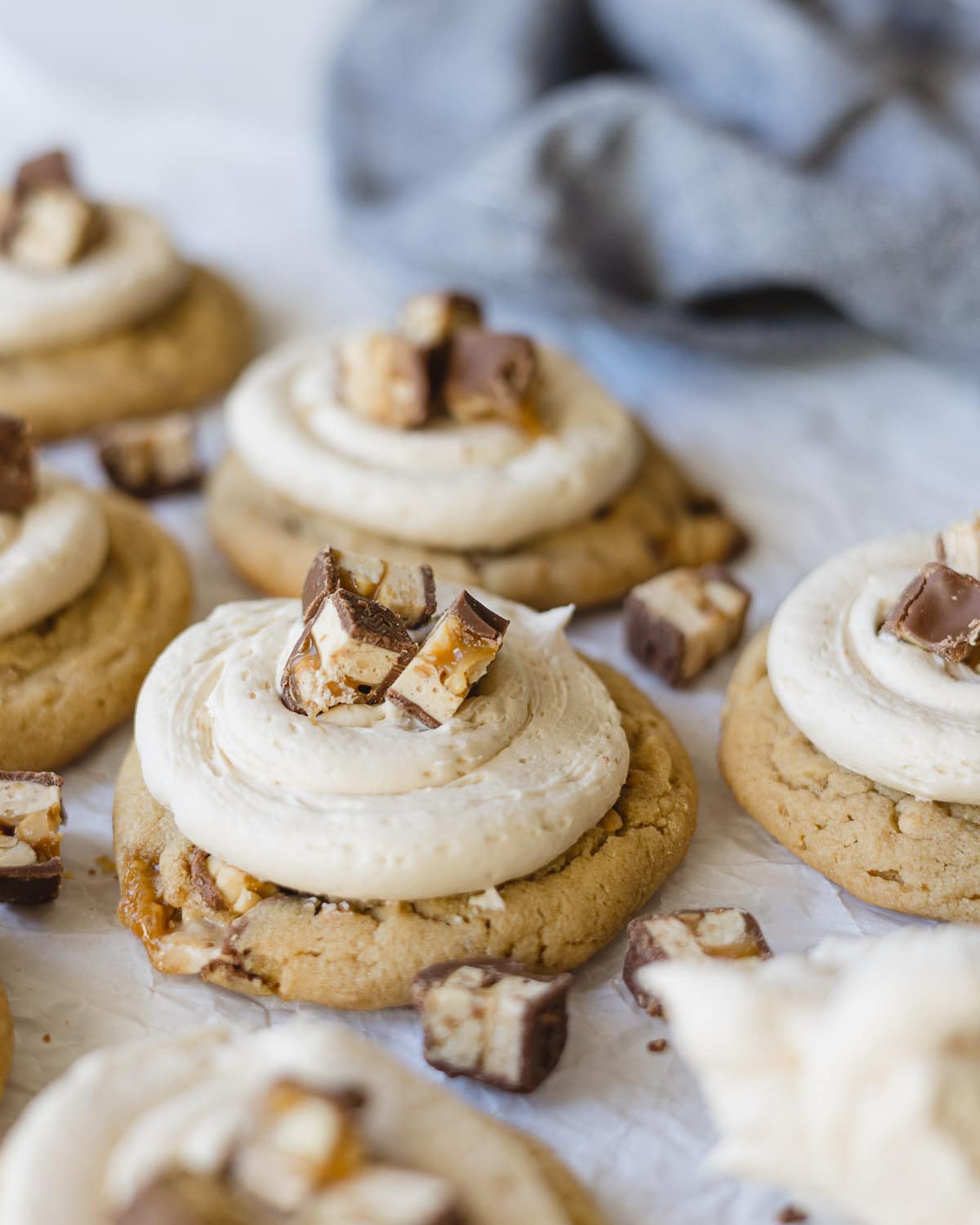 Blueberry Muffin Cookies
This all-new Crumbl Blueberry Muffin Cookies recipe starts off with a muffin mix (yes!) which provides that blueberry flavor throughout the whole cookie. These are soft, sweet, and covered in an irresistible streusel.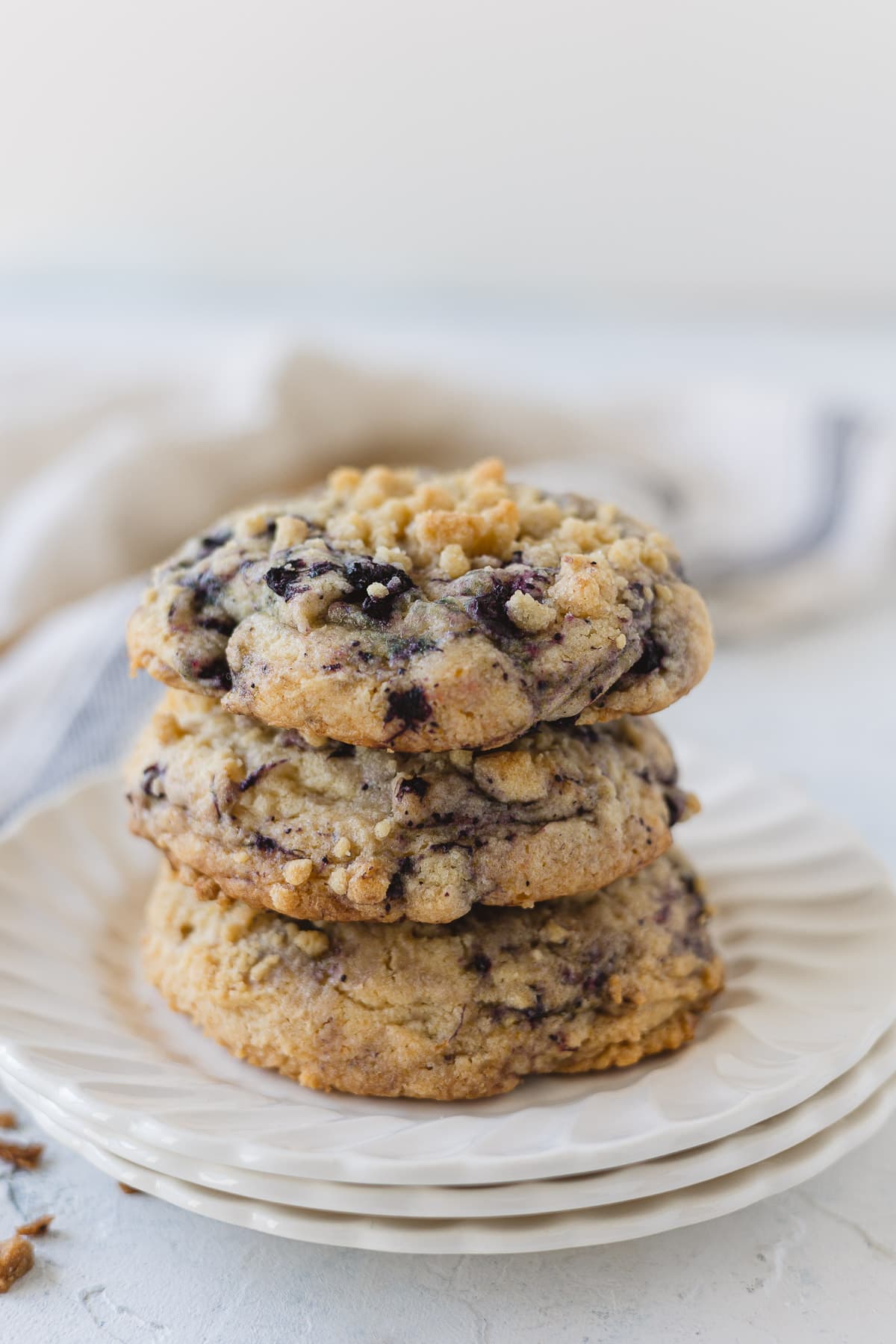 Crumbl Butterfinger Cookies
These warm peanut butter cookies are packed with chopped Butterfinger candy pieces both inside and out. Try Crumbl Copycat Butterfinger Cookies for a sweet candy-filled treat!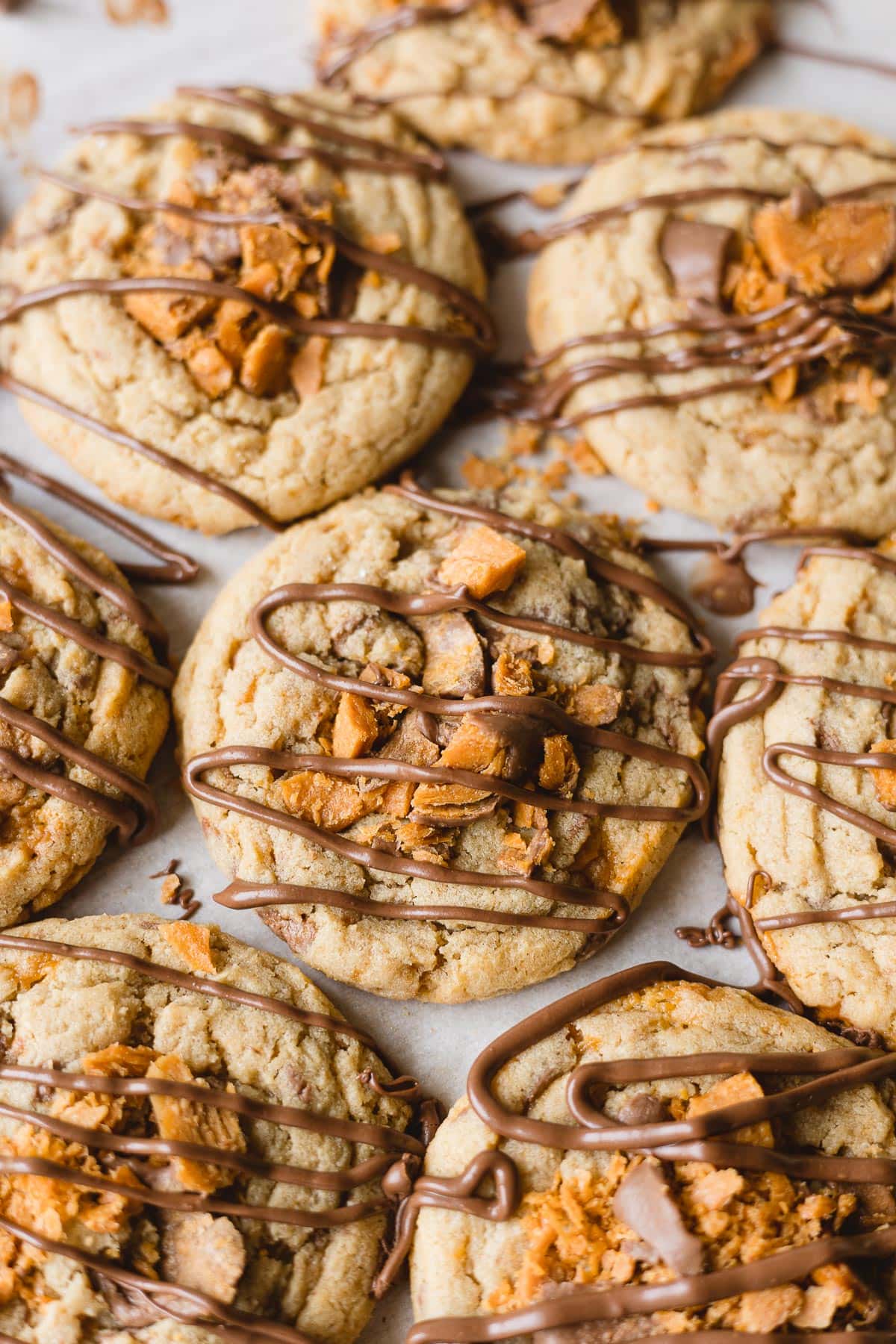 Birthday Cake Cookies
These easy Birthday Cake Cookies start with a simple sugar cookie base that's transformed with the addition of cake batter flavoring and a hefty scoop of colorful sprinkles. An indulgent cream cheese frosting finishes them off!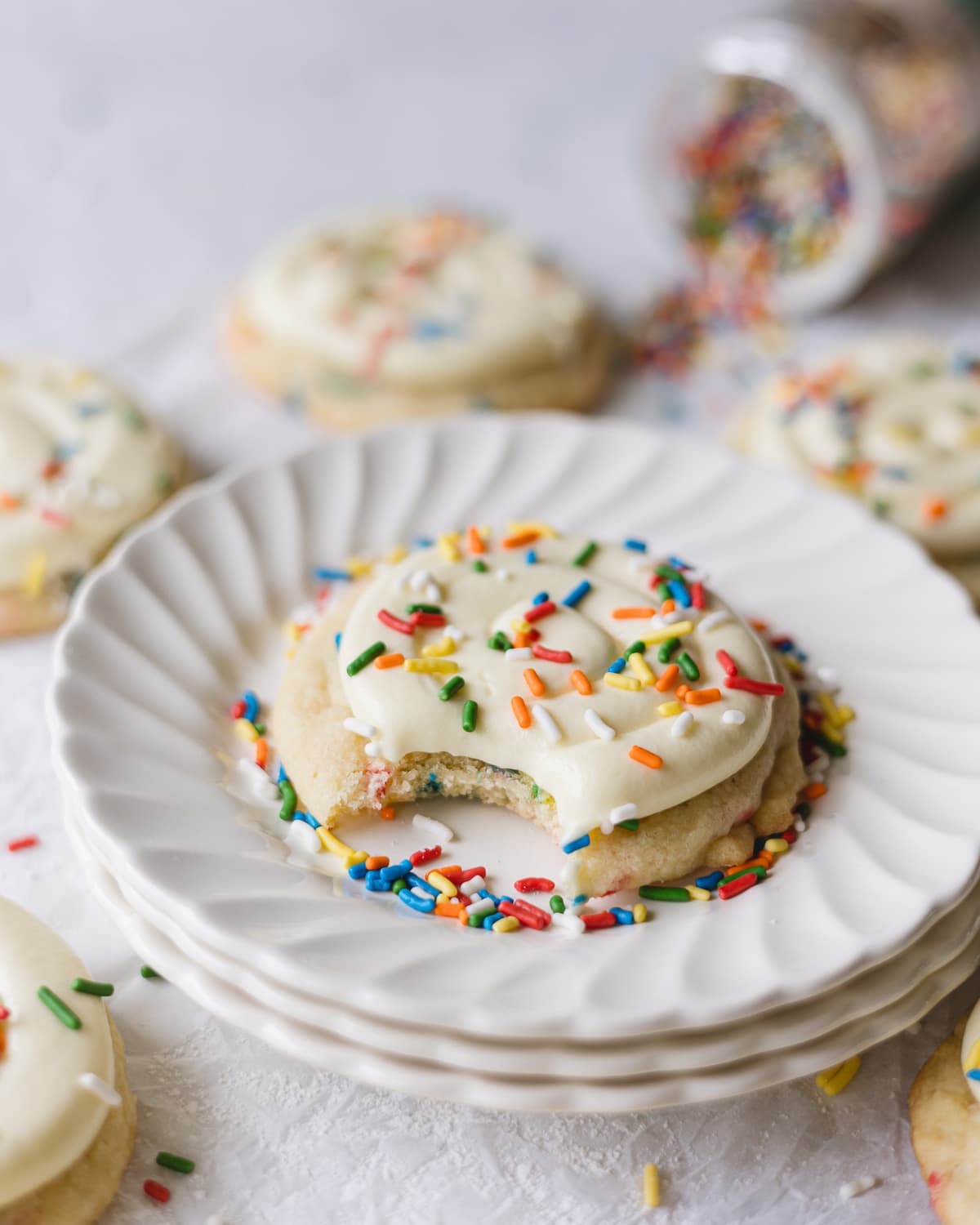 Classic Peanut Butter Cookies
When I tried Crumbl's Classic Peanut Butter Cookie I liked how soft and chewy it was, but the flavor was a bit lacking. I knew it could be improved. My Classic Peanut Butter Cookies are over 4″ in diameter, soft, chewy, and packed with peanut butter flavor.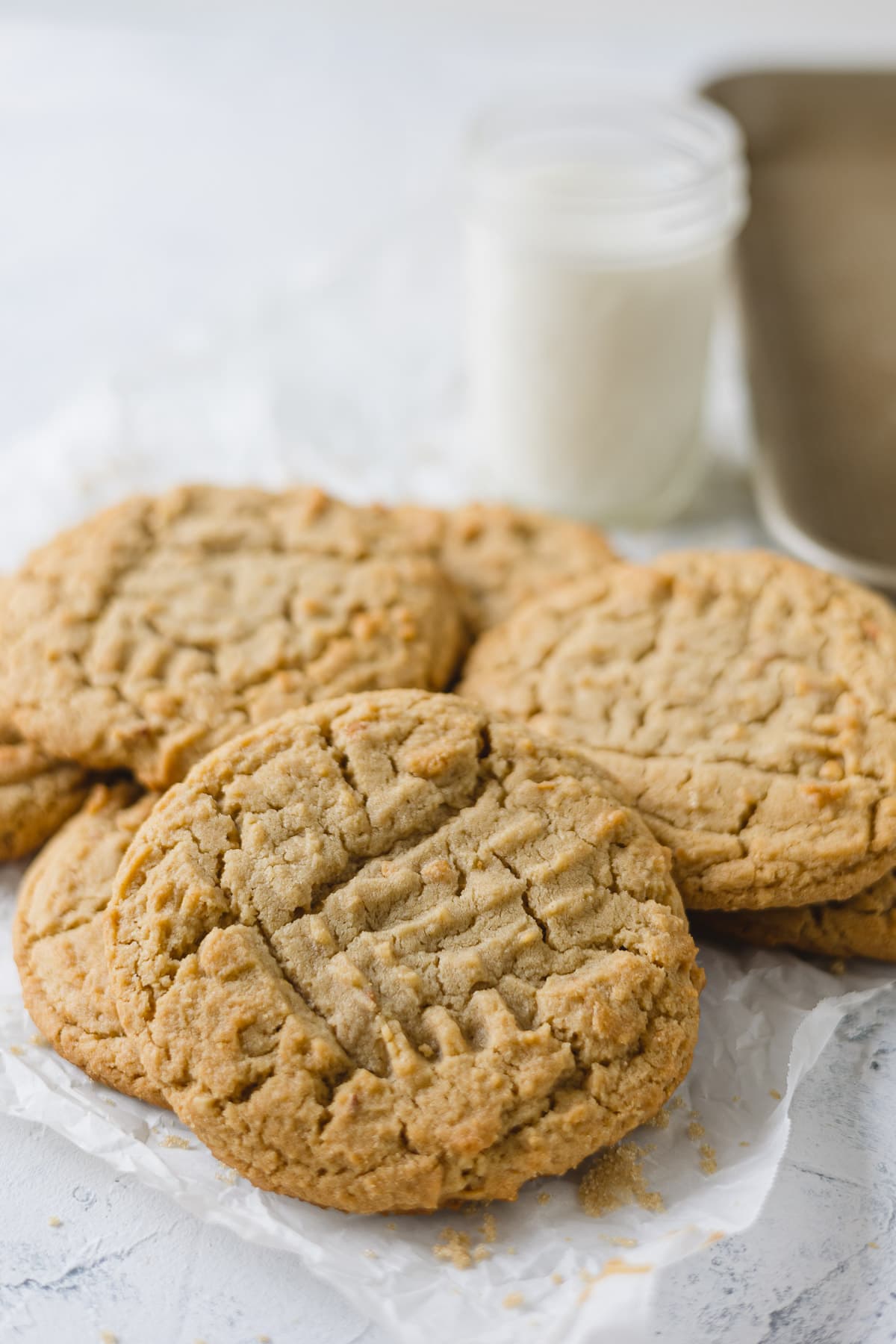 Vanilla Sugar Cookies
If the almond flavor in the Pink Sugar Cookie isn't your thing, you have to try the Vanilla Sugar Cookie. I switched up the recipe a bit and these use only butter (no oil) and have a hefty portion of sweet homemade vanilla buttercream on top. So easy, so good.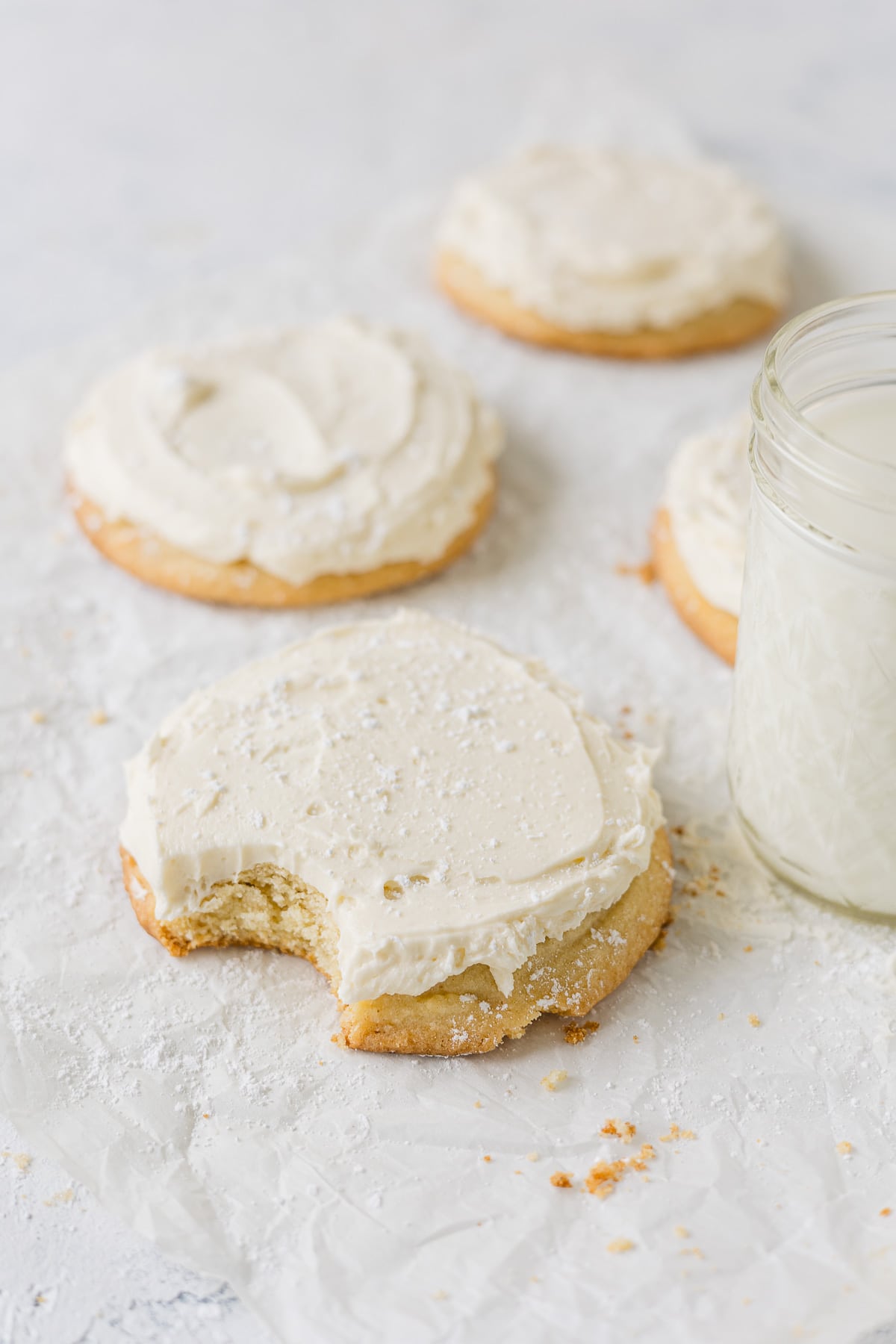 Reese's Pieces Cookies
Easy Reese's Pieces Cookies start with a peanut butter cookie base and are packed with one of my favorites, Reese's Pieces! A quick no-chill recipe.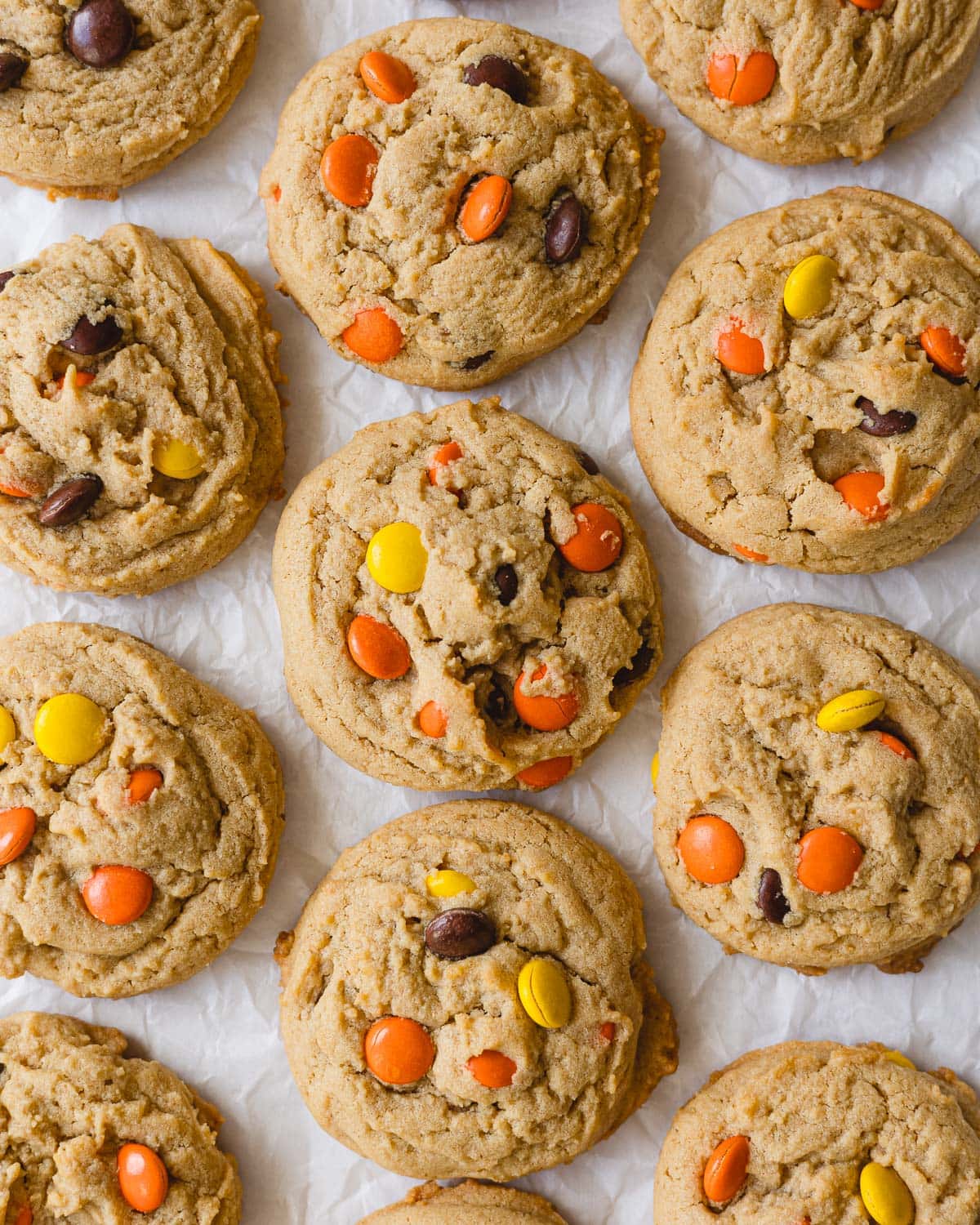 Cornbread Cookies
Crumbl's Cornbread Cookies are one of their popular fall flavors and this version is easy to make and features the soft cornbread cookie, honey-butter drizzle, and a honey buttercream.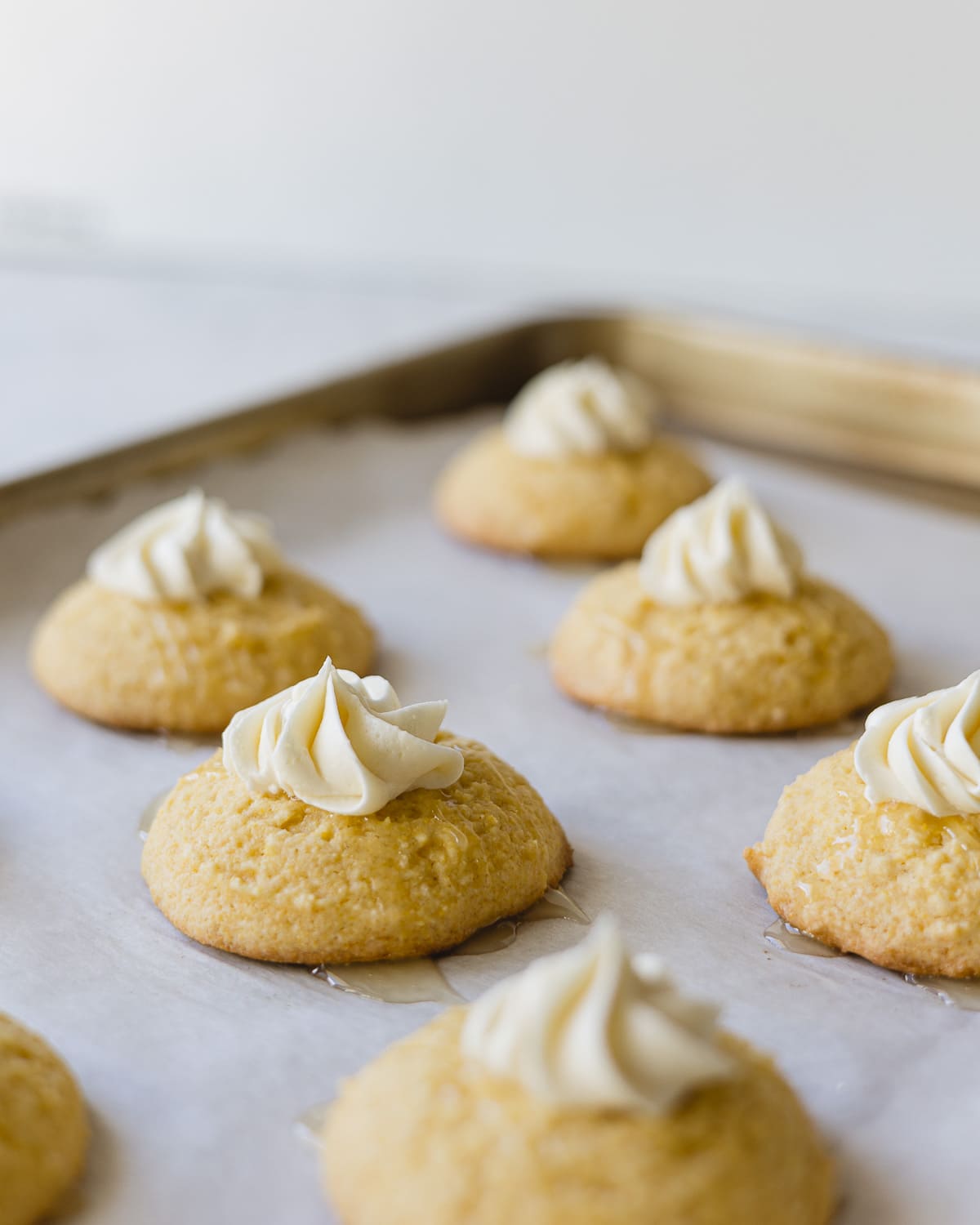 Crumbl Sugar Cookie for One
If you are feeling those Crumbl cravings, but don't want to make a big batch of cookies, this recipe is your ticket. Make just one Crumbl Style Sugar Cookie (frosting included!) and feel free to customize your flavor choice to just vanilla or the classic almond flavor. This recipe is the same as the recipe above, but carefully edited down for a single cookie. You'll love this quick recipe!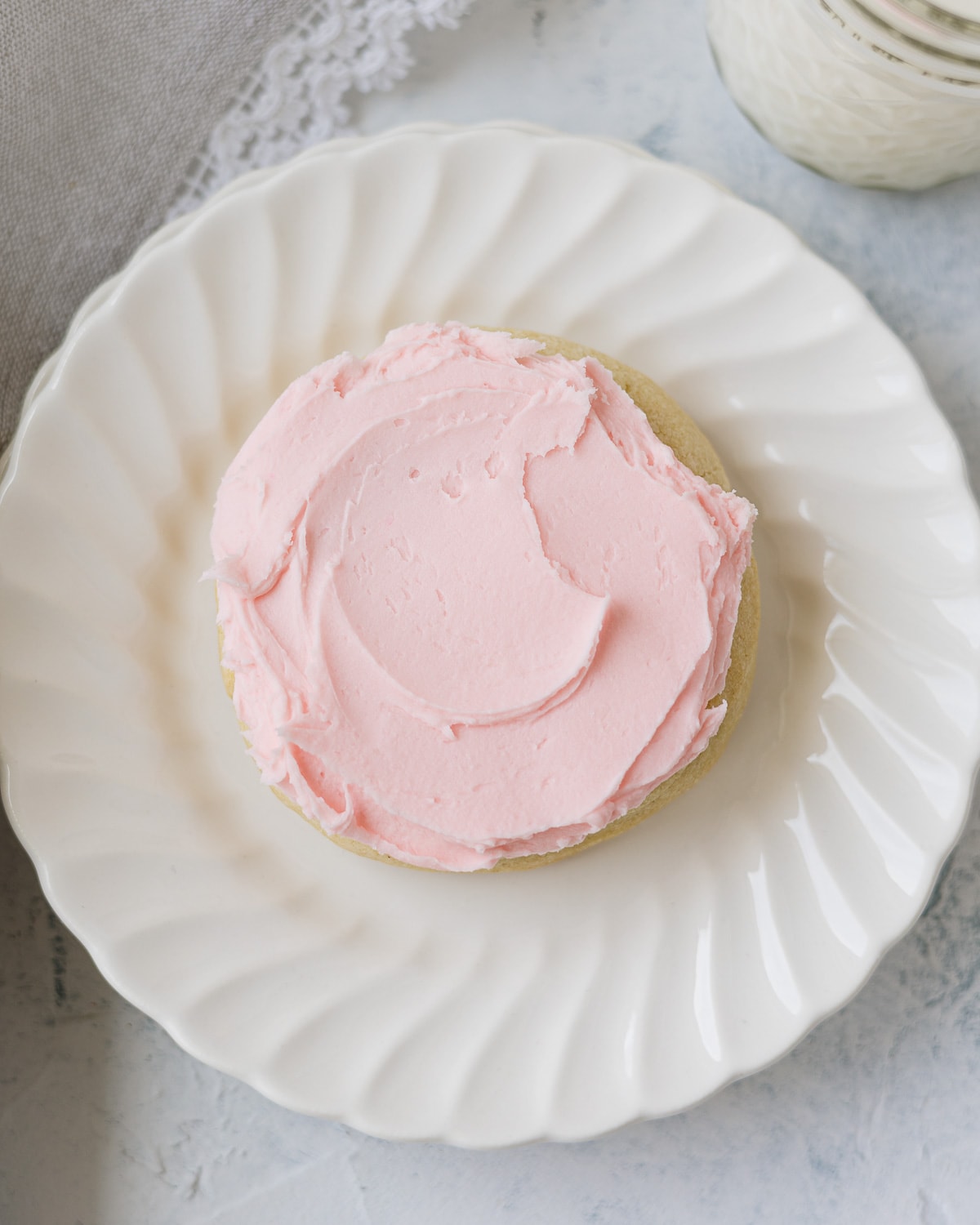 Crumbl Milk Chocolate Chip Cookie for One
I love the whole "cookie for one" concept since it can be hard to eat a whole batch of cookies as a single or couple. What to do with all those extra cookies?! Here, you'll make just one Crumbl Style Milk Chocolate Chip Cookie and it's so chewy and good. I personally feel that this recipe has more flavor and texture than the original version I imitated (which I always felt like was just a little too sweet!).
Crumbl Cinnamon Cookie Recipe
This recipe is so indulgent! If you aren't up for all the extra sugar of the creamy glaze and Cinnamon Toast Sprinkle, just make these cinnamon cookies on their own. This Crumbl Cinnamon Cookie Recipe makes cookies that are soft and chewy like a good sugar cookie, but with a yummy cinnamon flavor.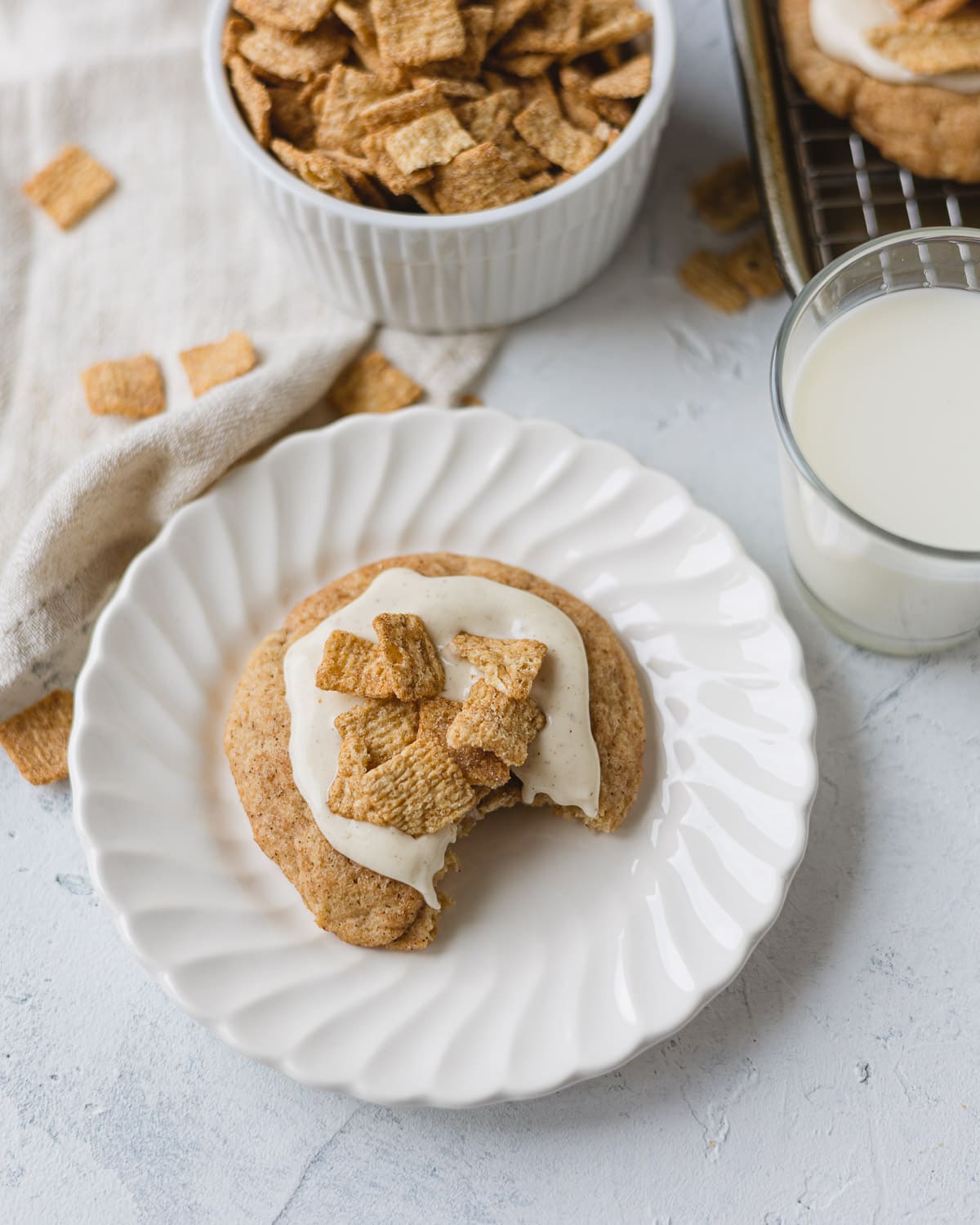 Single Serve Peanut Butter Cookie
Sometimes a good peanut butter cookie can be hard to find! I love the base that Crumbl uses in cookies like the Peanut Butter Cookie ft. Snickers and Peanut Butter Cookie ft. Muddy Buddies so this cookie is a copycat of their yummy base cookie. Try this giant single serve Peanut Butter Cookie whenever you are craving a chewy pb cookie!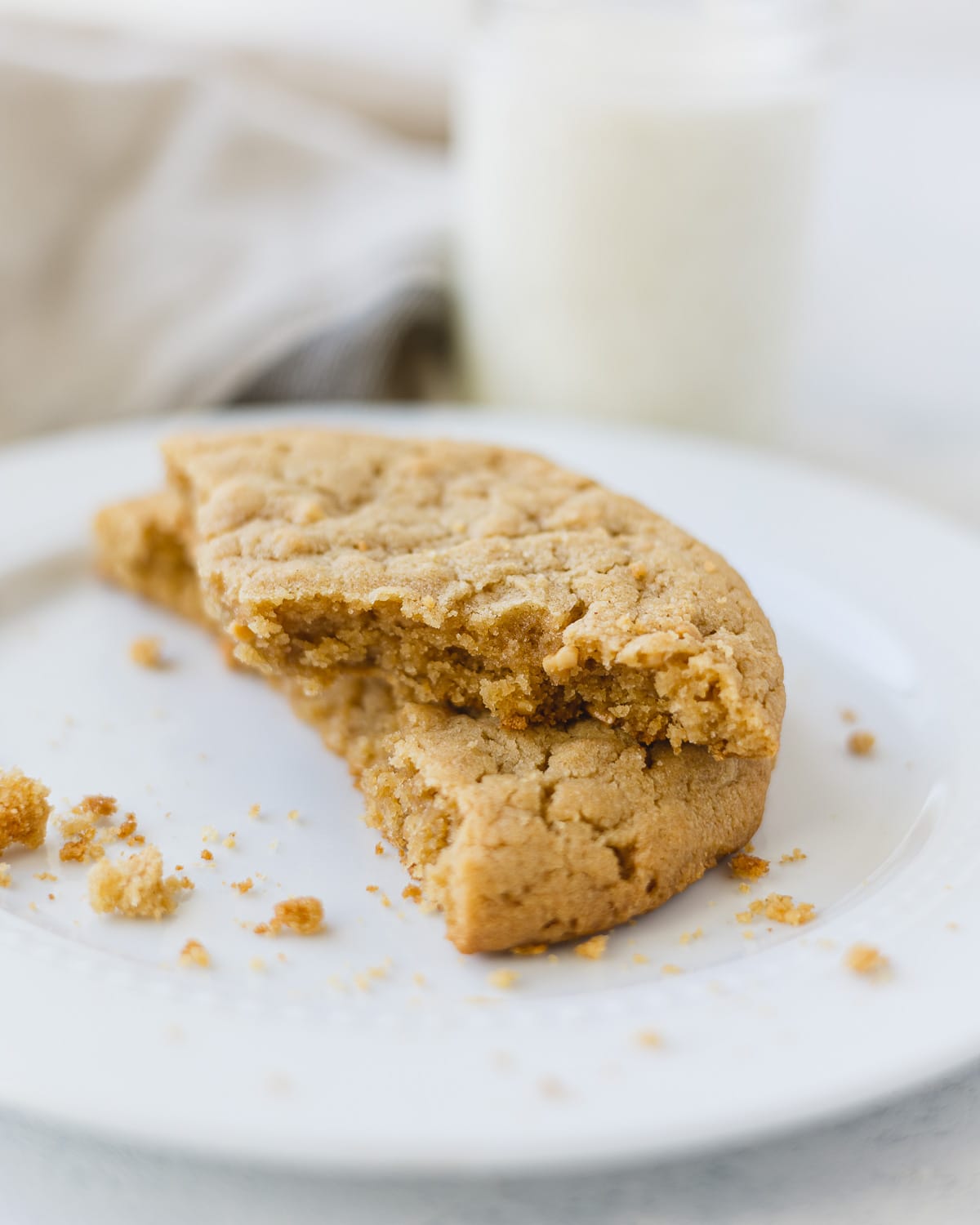 I hope you found a few new Crumbl Cookies recipes you are eager to try! I love making these giant cookies, so I'm looking forward to continuing to grow this list. Yum!
More Recipes to Try
If you love making dessert at home I think you'll love the following recipes too: