35+ Best Mason Jar Desserts – The Ultimate Roundup!
Individual desserts are fun to make, serve, and eat! This ultimate roundup of over 35 mason jar desserts includes ideas like strawberry shortcake jars, no-bake pumpkin cheesecakes, mason jar ice cream, mini pistachio desserts and lots more.
Please note that this post contains affiliate links which allow me to earn a small commission when a purchase is made at no additional cost to you. Read more here.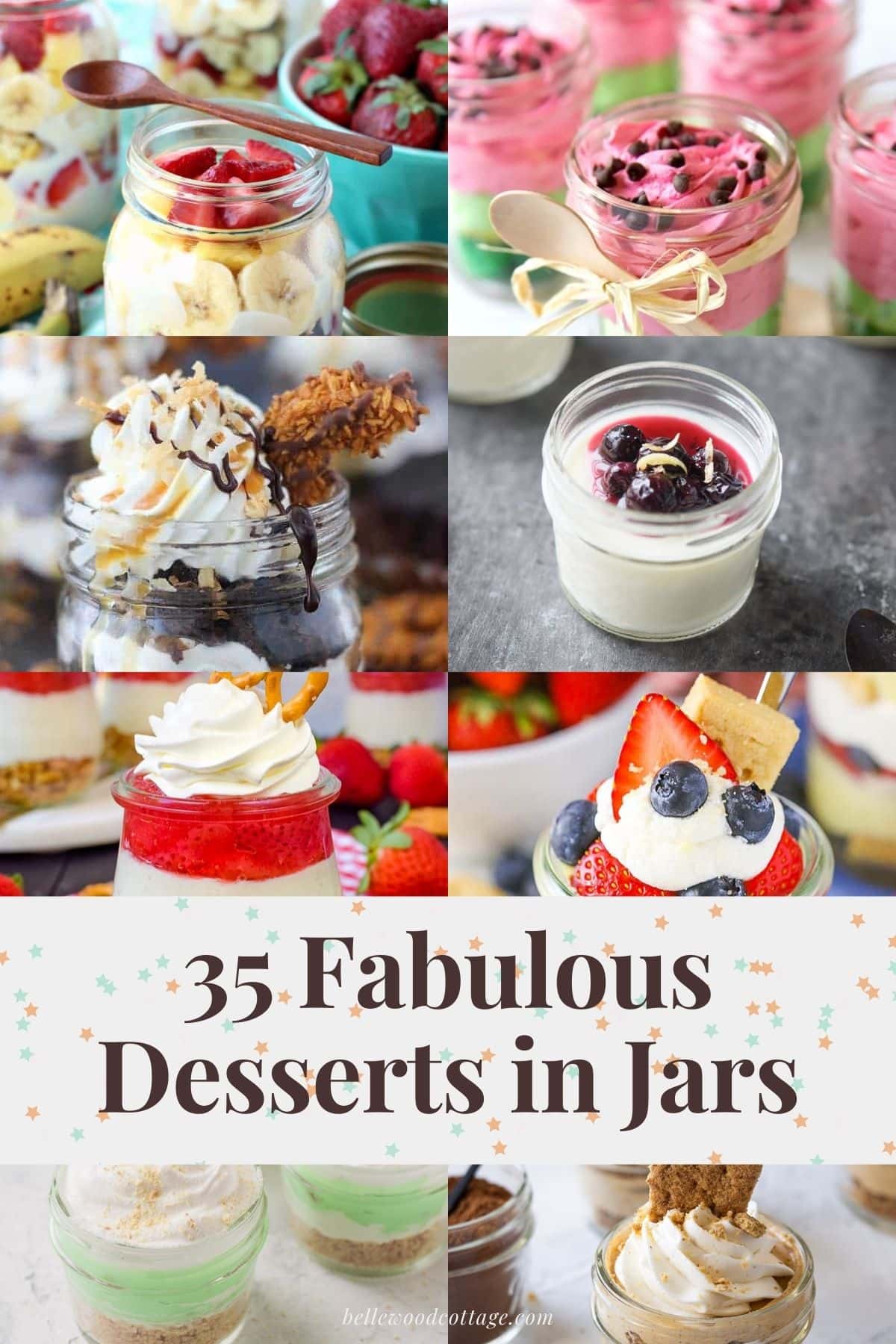 The first time I made mason jar desserts, I was hooked. They are SO cute for one thing, but they are also really convenient!
For instance, traveling? Pop the lids on for bringing along on a picnic (or in a lunchbox). Tired of cutting messy pies or cheesecakes? No problem with these ready-to-go desserts.
Prepping for a party? Lots of these recipes can be assembled ready ahead of time and are easy for guests to grab without everyone touching the same serving utensils etc.
Best Mason Jars to Use for Desserts
When creating mason jar desserts, there's a few jar sizes you'll want to have on hand. First, it's important to have enough jars. This is where buying a whole case of jars (usually 12) is handy.
Since most of these desserts are perfectly portioned to fit a serving into a jar, you'll want as many jars as you plan to make servings. So, 12 jars for 12 servings, etc.
Then, you'll want to buy reasonable sizes. For rich no-bake cheesecakes, I like using the 4 ounce jelly jars . For larger desserts (like layered cupcakes/parfaits) you can use 6-oz or 8-oz jars. I like these yogurt jars (6 ounce) or the 8 ounce wide-mouth jars.
Some of these recipes even use the 16-oz pint jars, which can work for really voluminous things (like a trifle with fresh berries for instance) or desserts meant to share.
But for most desserts, I'd plan to stick in the 4-8 oz jar range. For recipes that call for larger portion sizes, feel free to edit them down to more smaller servings (remembering that you'll use more jars than the recipe might call for) if you wish.
Jars I like to use: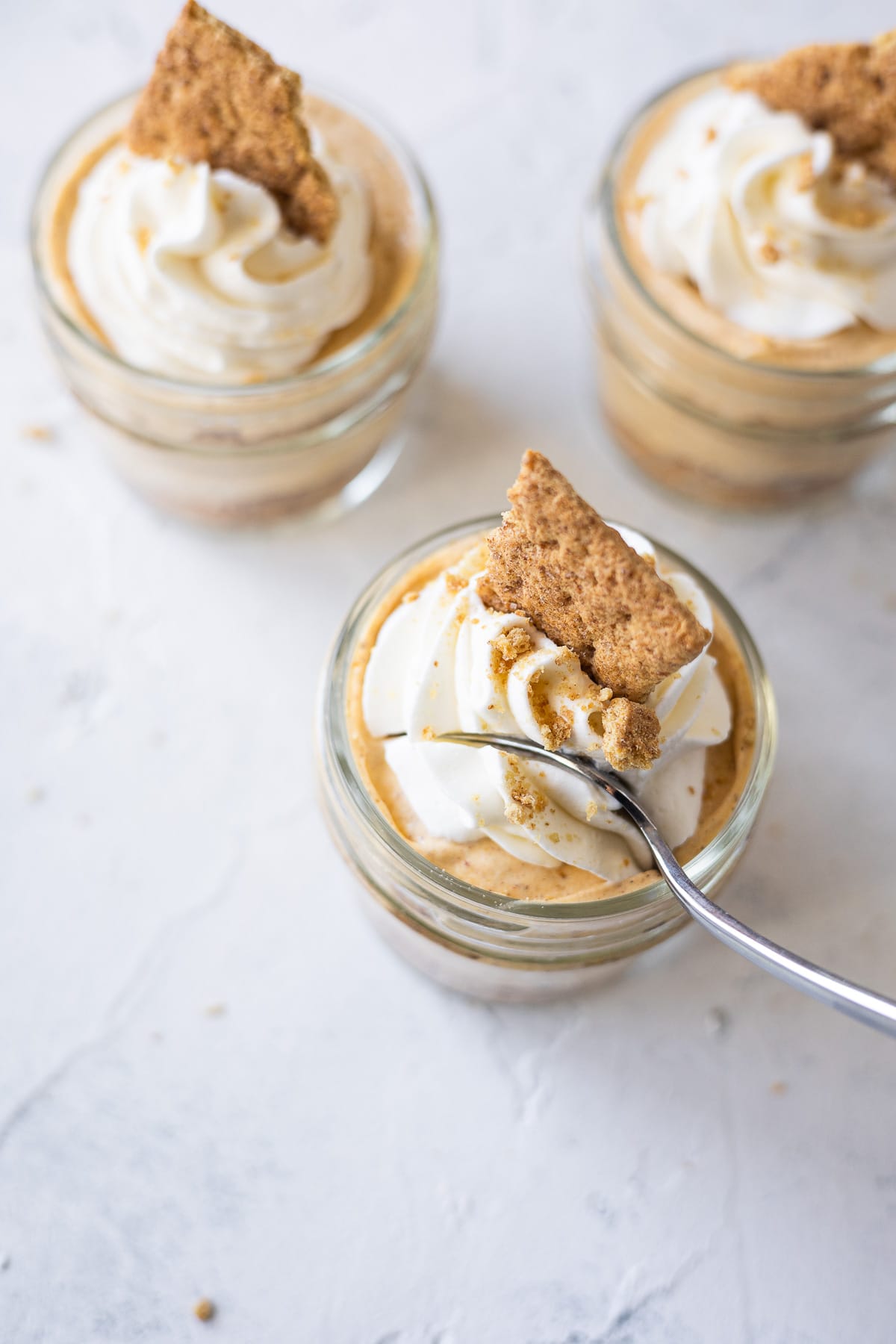 Using Mason Jars Safely
If you've ever looked into dessert-in-jars recipes, you've probably stumbled on plenty of recipes that call for baking the jars. I wrote a post about why you shouldn't bake mason jars, but it bears repeating.
Canning jars (including mason jars) should not be baked in the oven.
This advice comes straight from the manufacturers and it's worth heeding. Since the glass is not tempered for oven use, you can risk cracking and even explosions. If you've ever had a Pyrex dish shatter you know how terrifying that can be–and Pyrex is designed for oven use!
So, I say better-safe-than-sorry and avoid baking your glass jars. At the very least, you want to save yourself messy cleanup and a wasted dessert. I've used care with selecting the recipes on this list and opted for no-bake recipes or "bake-then-assemble-in-jars" ideas.
Now, it probably goes without saying, but also do NOT broil your jars. I ran across a few ideas that suggested broiling for baking or crisping the tops of desserts, and I would definitely not try that! I've made additional notes on the few recipes in this roundup that gave that as an alternative for crisping their desserts.
You can also purchase small ramekins designed for oven use if you love the idea of miniature pies or cakes baked right into the mini containers. Using oven-safe ramekins is far safer than attempting to use canning jars that are not rated for oven use.
What Kind of Desserts Can You Put in a Mason Jar?
I'm so excited for you to check out all these recipes. There's so much you can do with mason jars! You can create no-bake cheesecakes, easy layered shortcakes, individual trifles, panna cotta and possets.
You can create layered chocolate-y treats, mason jar ice cream, and even tiny tarts in mason jar lids. Cakes and cupcakes can be baked and then layered into jars with luscious fillings and frostings for delectable party desserts. So many delicious concoctions to try.
35+ of the Best Mason Jar Desserts
It goes almost without saying that these perfectly-portioned treats are a hit at parties. If you'd like a dessert that is ready to go and easy to serve, pre-portioned mason jar desserts are an excellent choice.
The jars also make it easy to pack and up and bring dessert anywhere. Your lunchbox, a picnic, a party, vacation, you name it!
Oreo Cheesecake in a Jar
Cookies and cream is one of my favorite flavors, so of course I had to create a version of Oreo Cheesecake in a Jar. These little jars are completely no-bake and topped with yummy homemade whipped cream over an Oreo cookie cheesecake filling.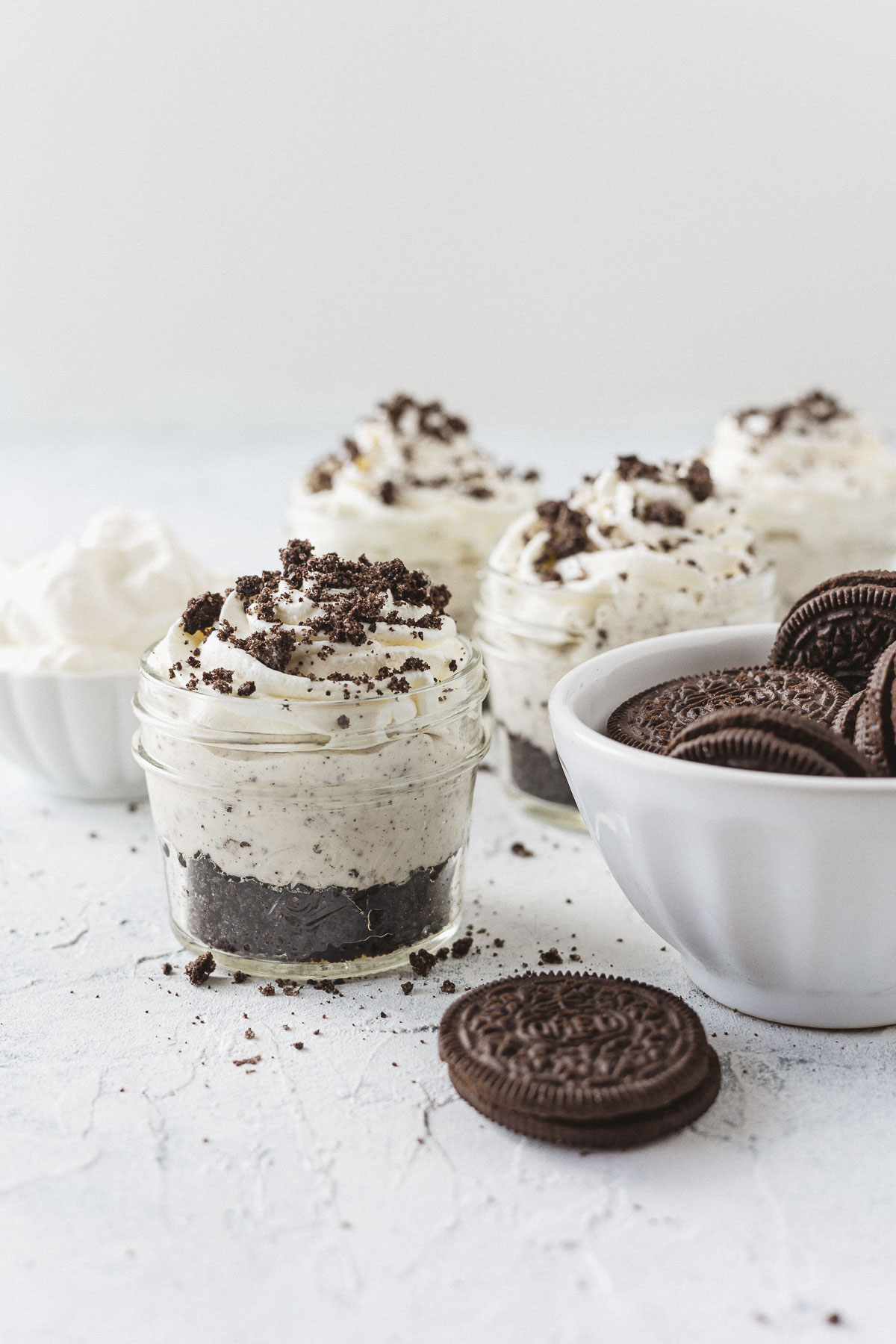 Layered Watermelon Cake Jars
Layers of colorful cake form these snazzy Watermelon Cake in Mason Jars from Pizzazzerie. The recipe calls for a cake mix, so you can get these baked and assembled quickly. Use 8-oz mason jars (or customize to your preferred size) and tie on cute mini spoons for a party-ready dessert.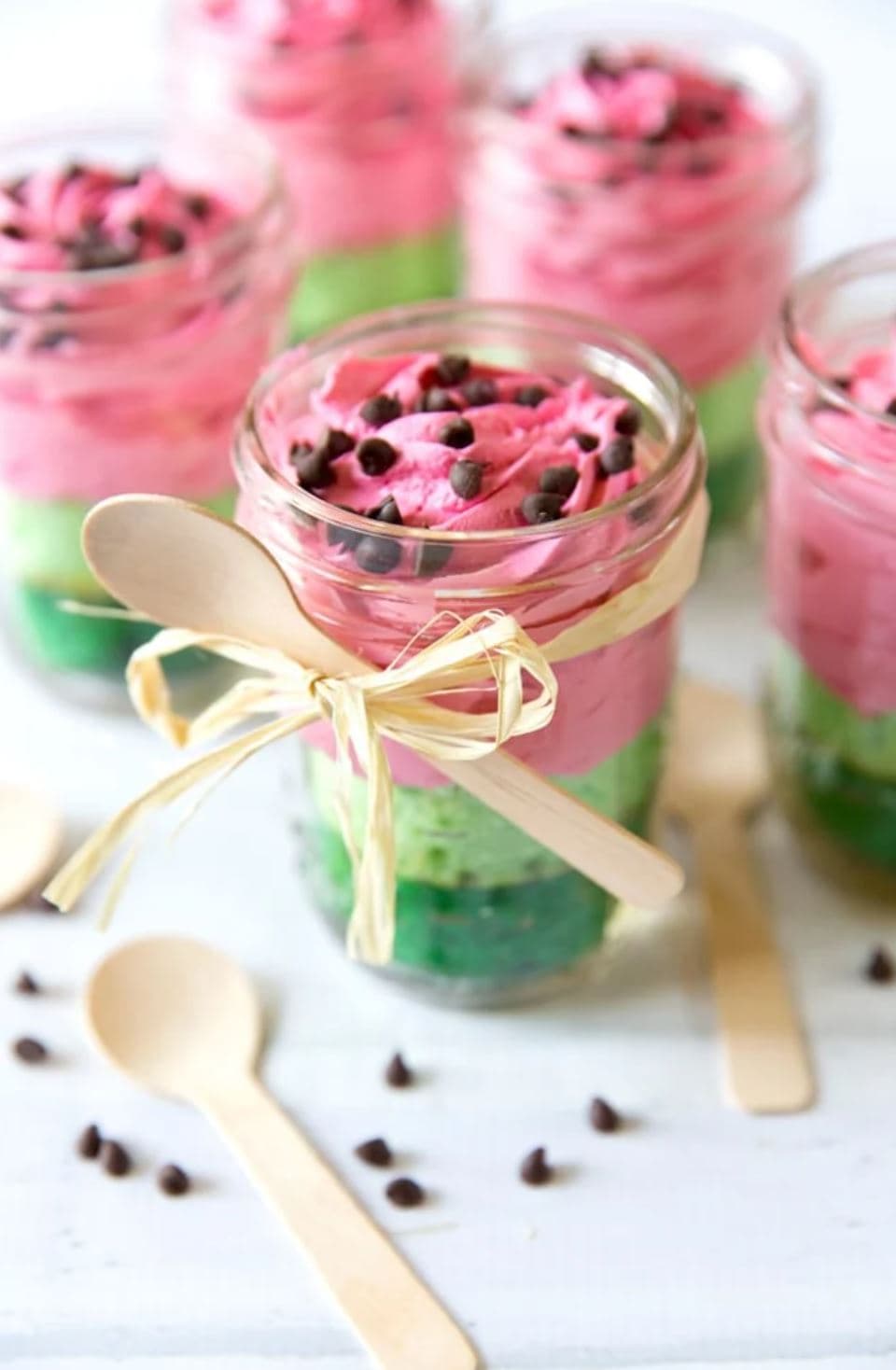 No-Bake Pumpkin Cheesecakes
These easy No-Bake Pumpkin Cheesecakes featured a lightly-spiced no-bake pumpkin cheesecake filling over a simple graham cracker crust. Garnish the desserts with plenty of fresh whipped cream and crushed graham crackers or caramel sauce.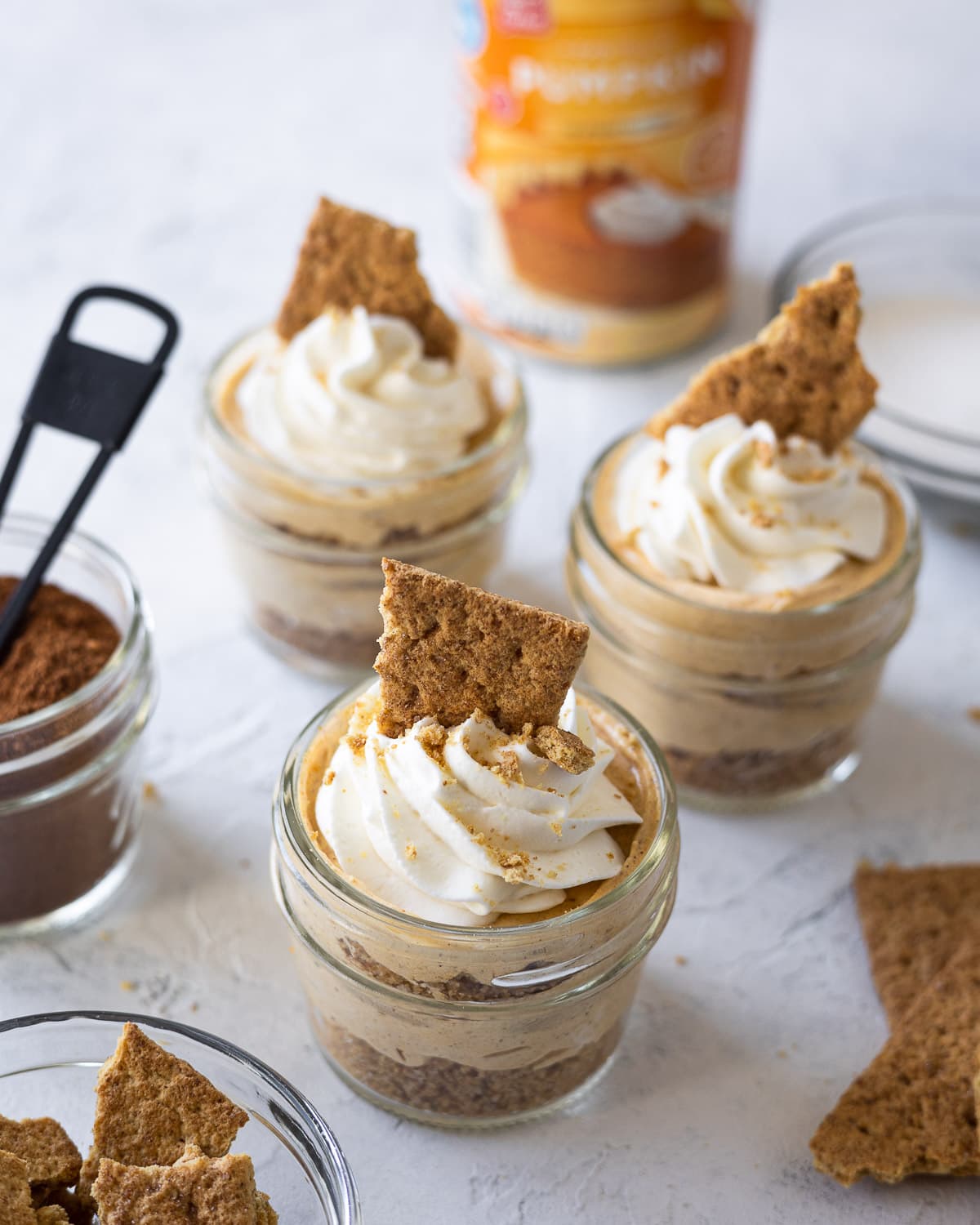 Berry Custard Trifles
What a cute red-white-and-blue dessert for summertime! These Berry Custard Trifles in a Jar from Life, Love and Sugar are made with a homemade vanilla custard and can be served in mason jars or something like these cute Weck jars.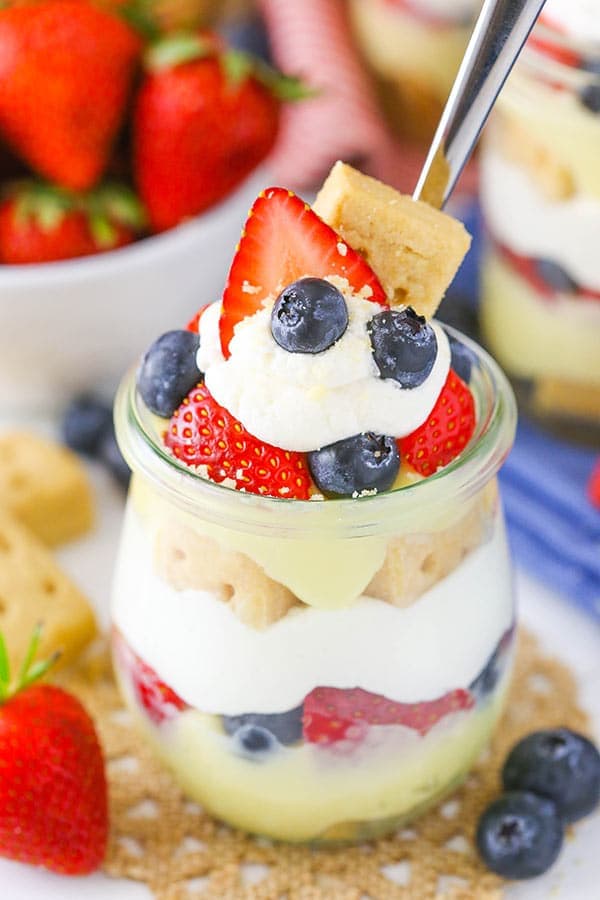 Strawberry Cheesecake Mason Jar Desserts
Even though a classic cheesecake topped with strawberry sauce is delicious, for my version I wanted a pink strawberry-flavored filling. These layered cheesecakes feature the addition of white chocolate to the no bake cheesecake for flavor and stability.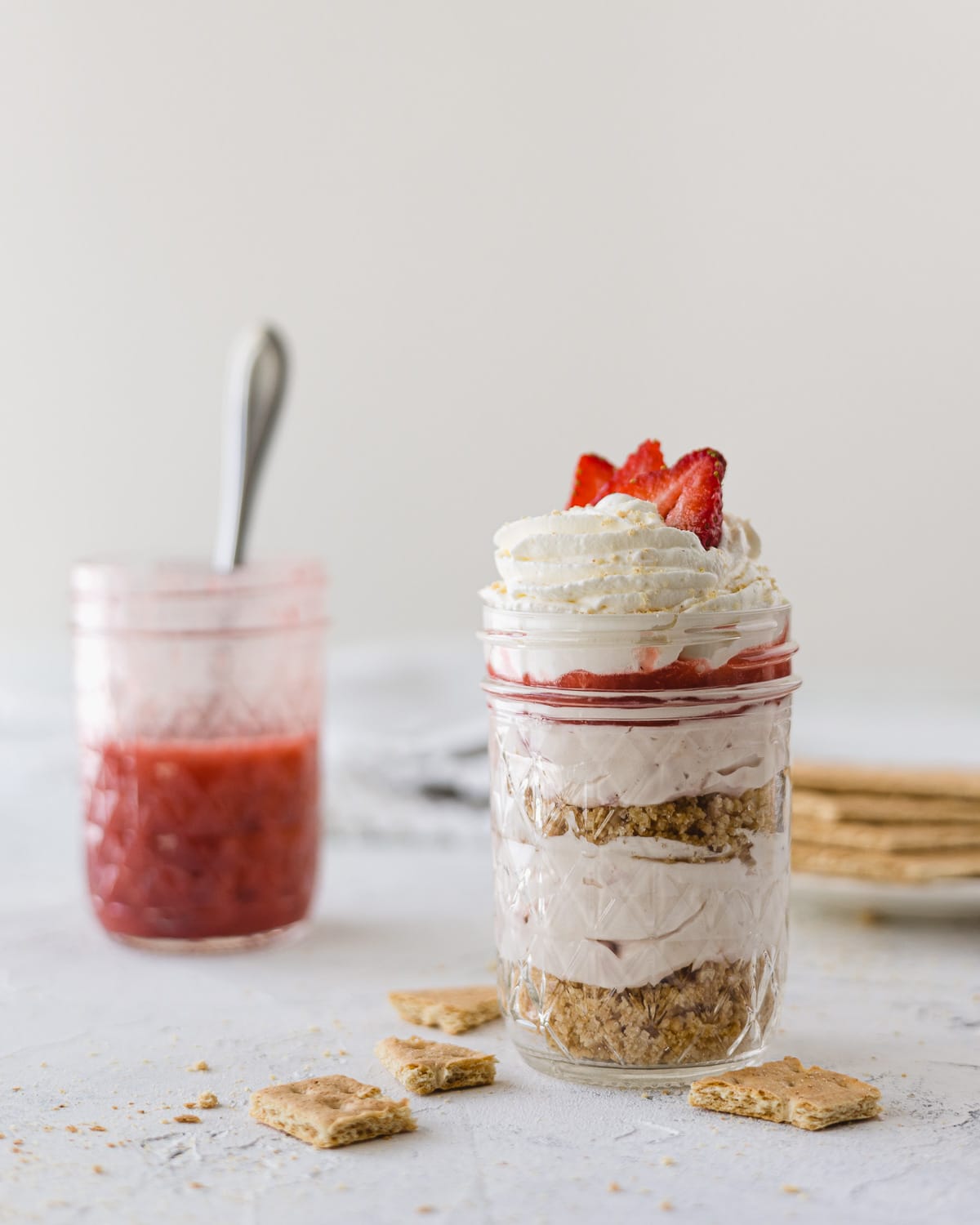 Mason Jar Ice Cream
While this Mason Jar Ice Cream from Creative Ramblings doesn't necessarily have to be served in a mason jar, you do make it in one! And if you eat it straight out of the jar I won't tell anyone.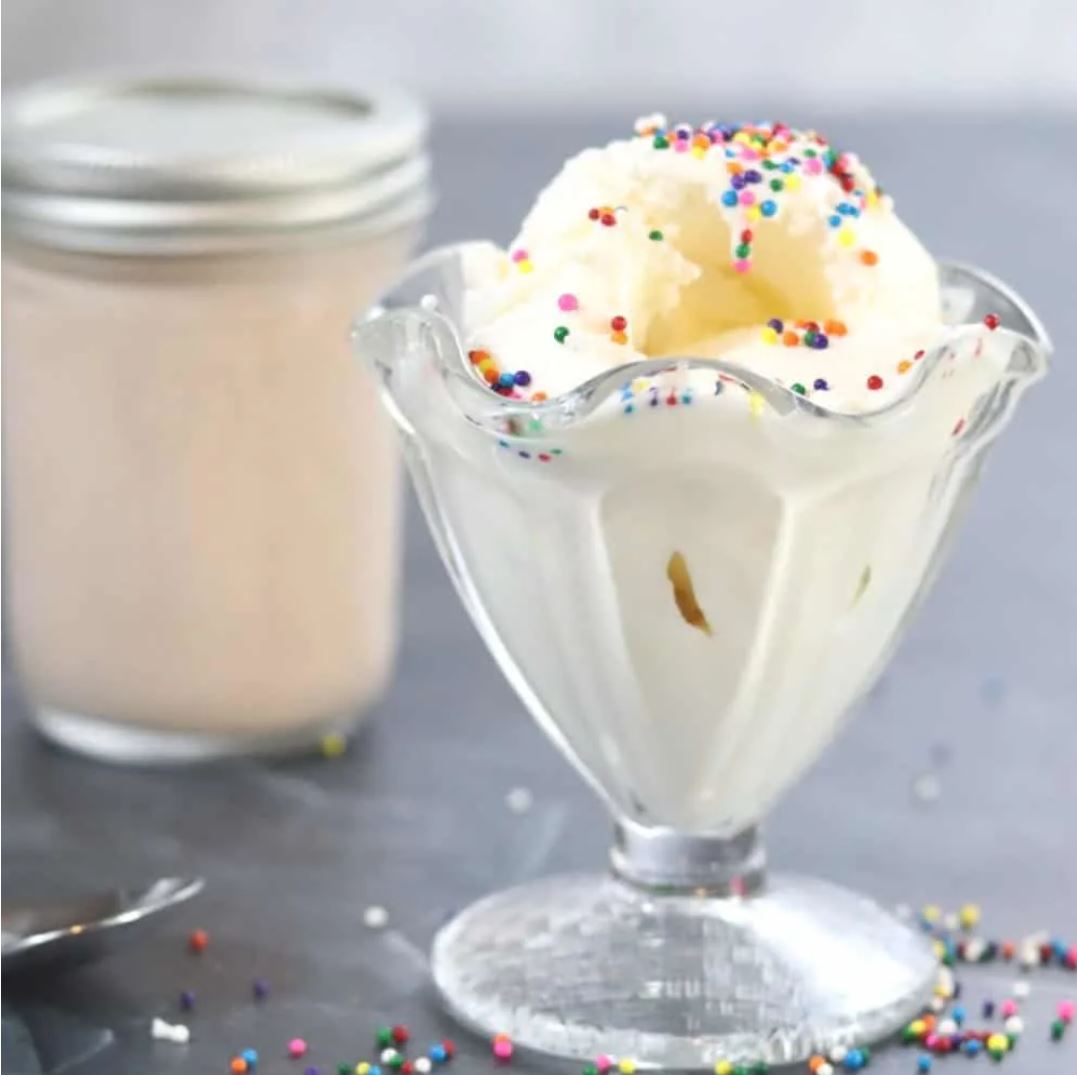 Samoa Cupcake Shooters
Samoa Cupcake Shooters from Beyond Frosting start with chocolate cake or cupcakes (leftovers are great) and a Coconut Swiss Meringue Buttercream that'll really take your dessert-in-a-jar game to the next level.
Strawberry Pretzel Salad Parfaits
Strawberry Pretzel Salad is an irresistible salty+sweet dessert that is perfect for summertime. Try these individual Strawberry Pretzel Salad Parfaits from BruCrew Life for your next picnic or outdoor party.
Orange and Chocolate Posset
This Orange and Chocolate Posset Recipe from The Adventure Bite is the perfect choice for trying something new. Check the recipe for lots of tips and tricks from Dani, including what actually is a posset!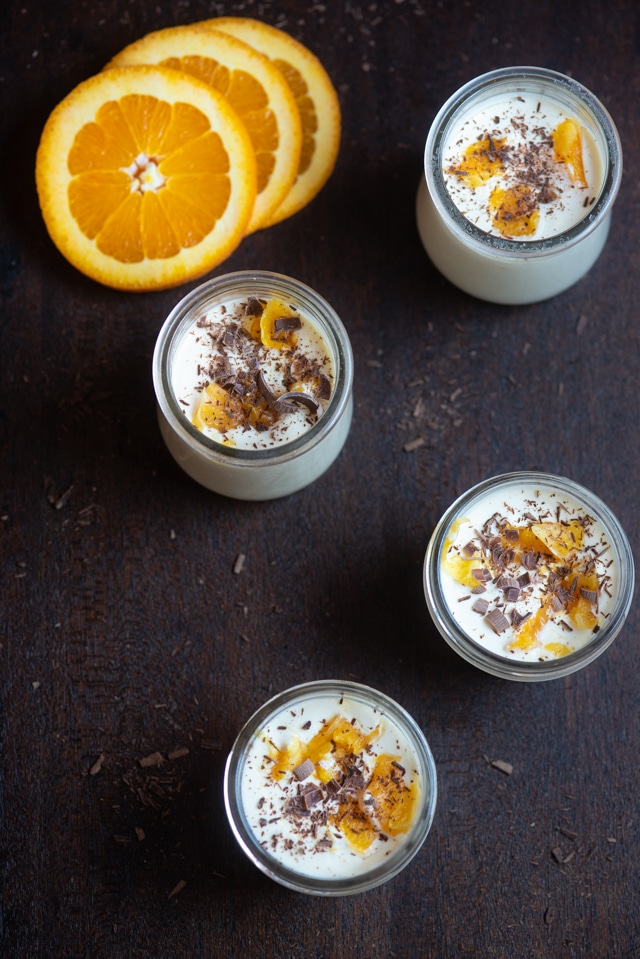 Lemon Blueberry Tarts in Mason Jar Lids
Now, I'm not 100% sure if the lids are ok to bake (we already talked about not baking the jars!), but Sam does advise you on how to arrange the lids to protect your desserts from the rubber seal. These cuties are Lemon Blueberry Tarts in Mason Jar Lids from Sugar Spun Run.
Try using a mini tart pan like these if you'd rather use something that is designed for oven-baking.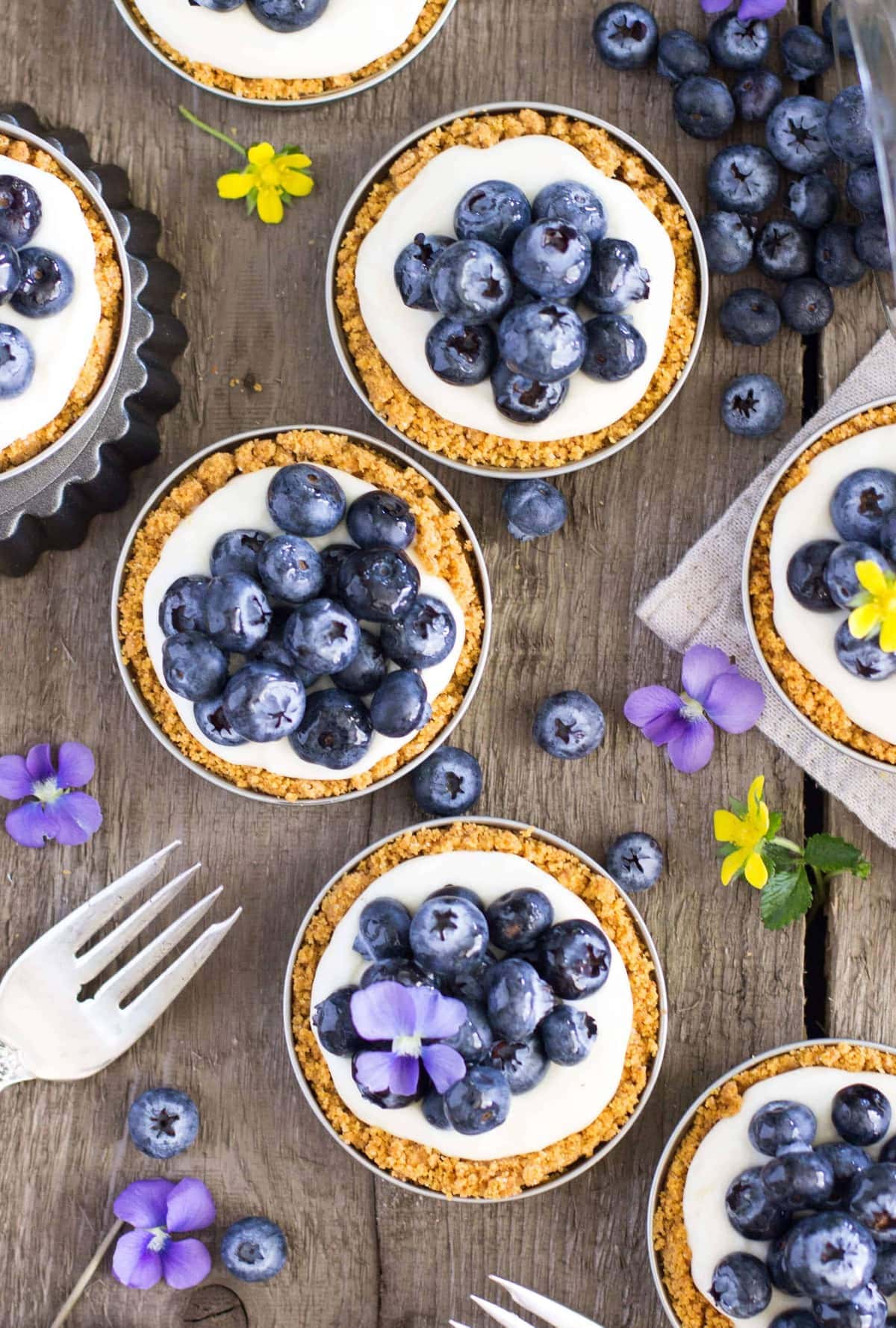 French Silk Pie Mason Jar Desserts
These French Silk Pie Mason Jar Desserts are made using my no-bake chocolate filling (no bake, no eggs) and a crust from crumbled chocolate sandwich cookies. Indulgent and yummy!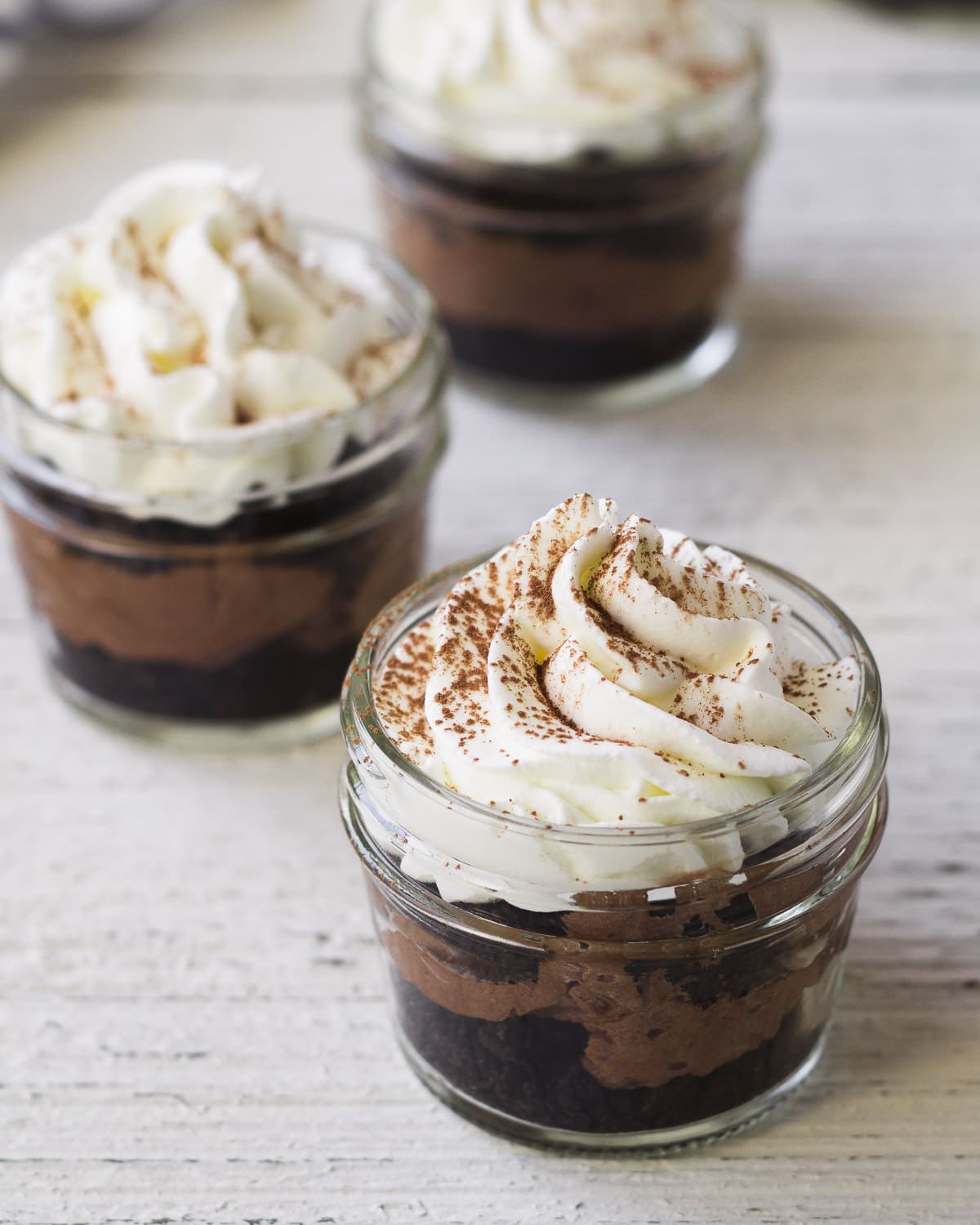 Key Lime Cheesecakes
I love the adorable presentation of these No Bake Key Lime Cheesecakes in a Jar from Life, Love and Sugar. Have fun garnishing your jars or even adding some baker's twine or similar decoration like Lindsay did.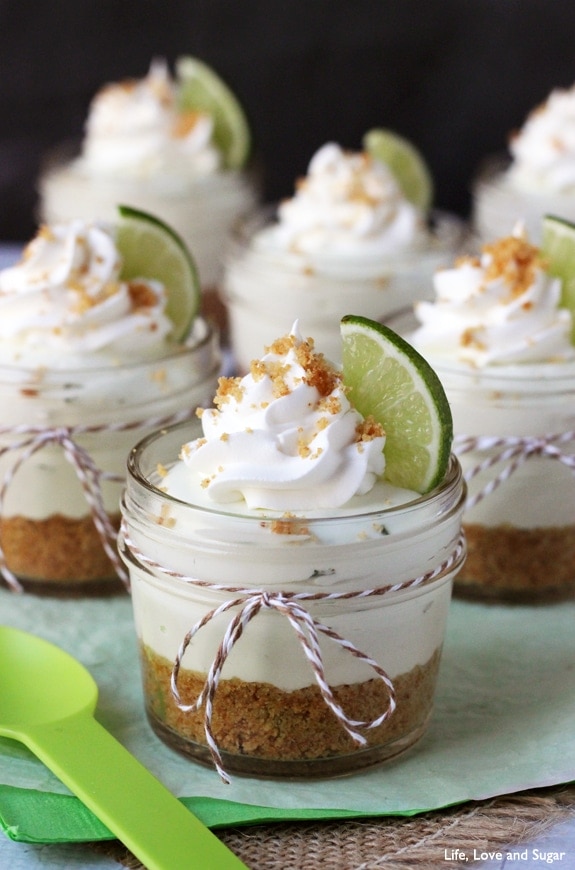 Vanilla Panna Cotta in Jars
This recipe for pretty Vanilla Panna Cotta with Blueberry Lemon Sauce from The Adventure Bite is perfect for mason jars. Pack one of these in your lunchbox for a midday pick-me-up.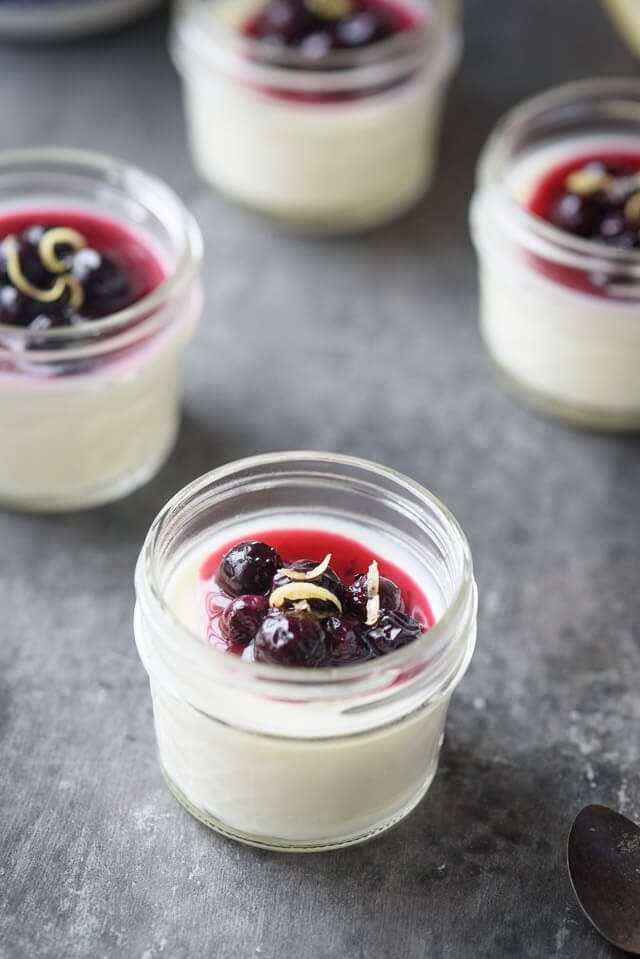 Chocolate Mousse Parfaits in Mason Jars
Chocolate Mousse Parfaits from The Curious Plate are extra-fancy with a homemade chocolate mousse and the added garnish of chocolate-covered pretzels.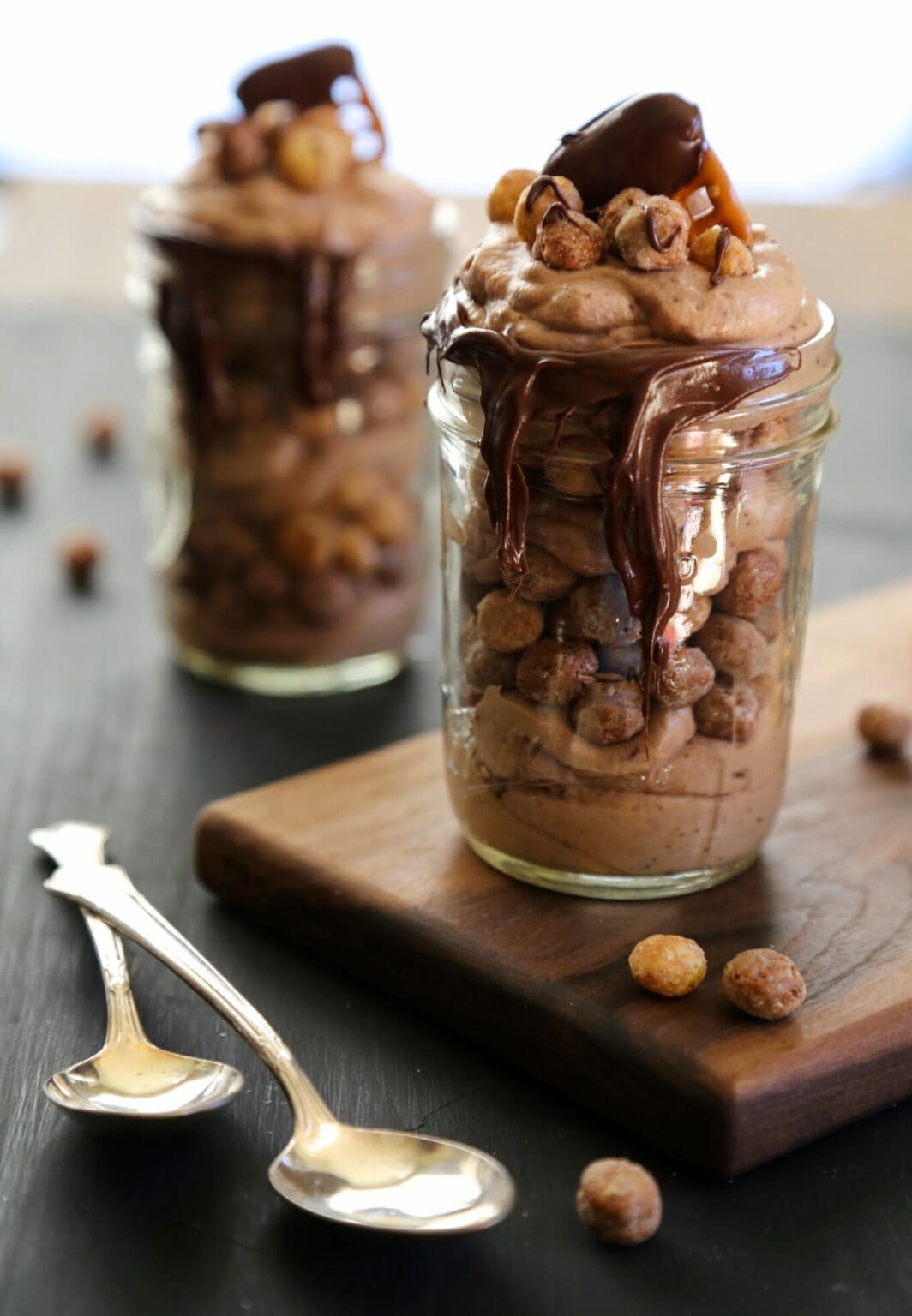 Banana Split Trifles
Banana Split Trifles in Jars from Julie's Eats and Treats include vanilla cake, homemade pudding, and the essential banana split toppings. I love this idea–and they are perfectly portable for summer parties or picnics.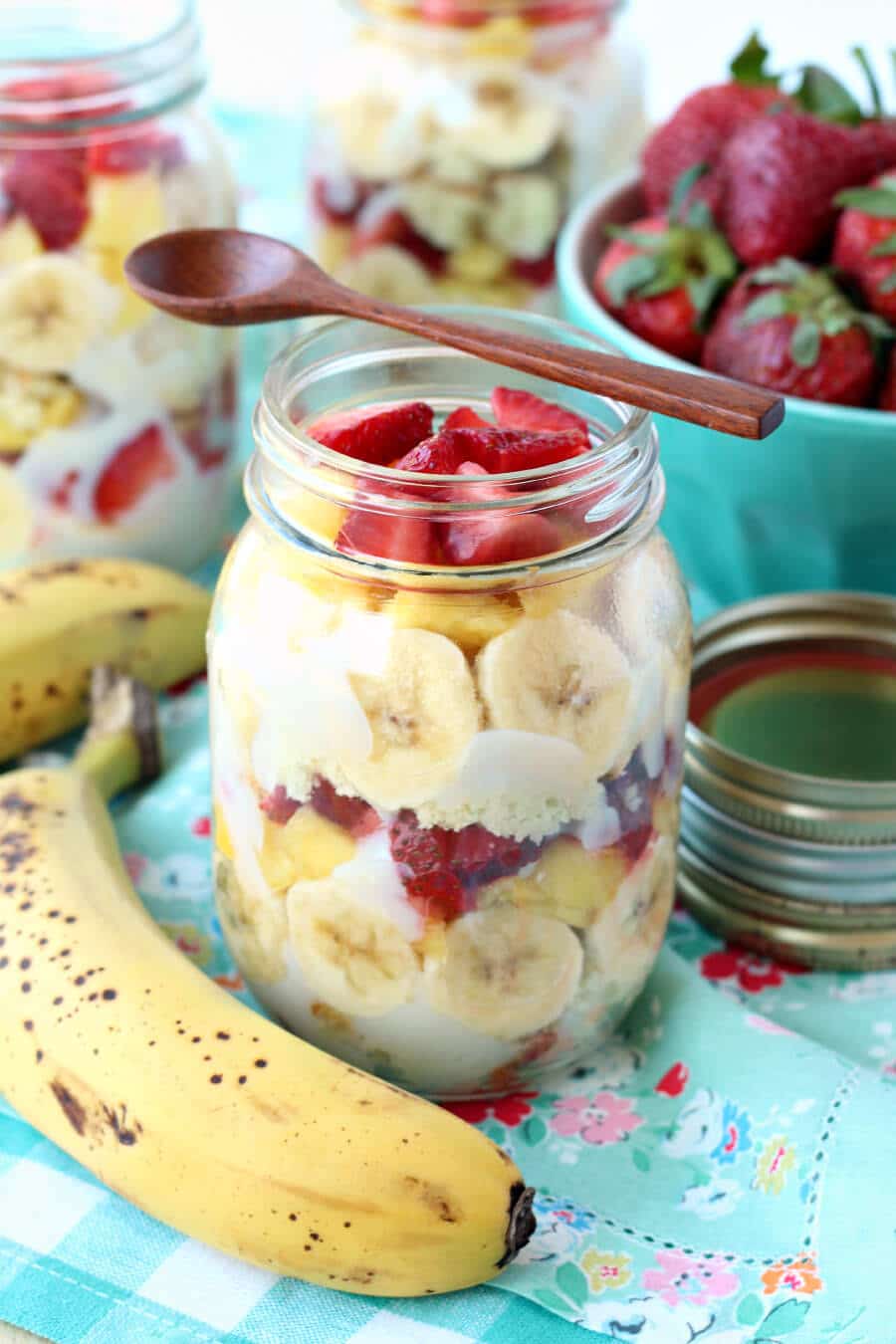 Salted Caramel Pumpkin Parfaits
These Salted Caramel Pumpkin Parfaits from Love Grows Wild feature a homemade salted caramel sauce, but keep things simple by using a pudding mix and store-bought gingersnaps.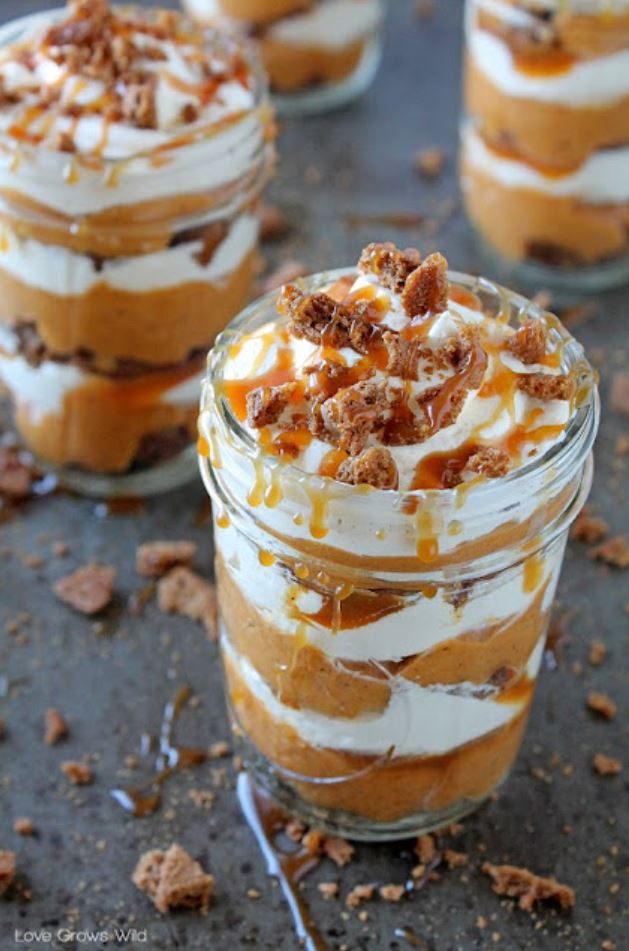 Chocolate Spoon Fudge
I had never heard of spoon fudge before encountering this amazing recipe and I think we all need to try this asap. For all your chocolate cravings, I bring you Chocolate Spoon Fudge in a Jar from Cooking with Curls. Gift this spoon-ready fudge to your chocolate-loving friend for a sweet treat they won't forget!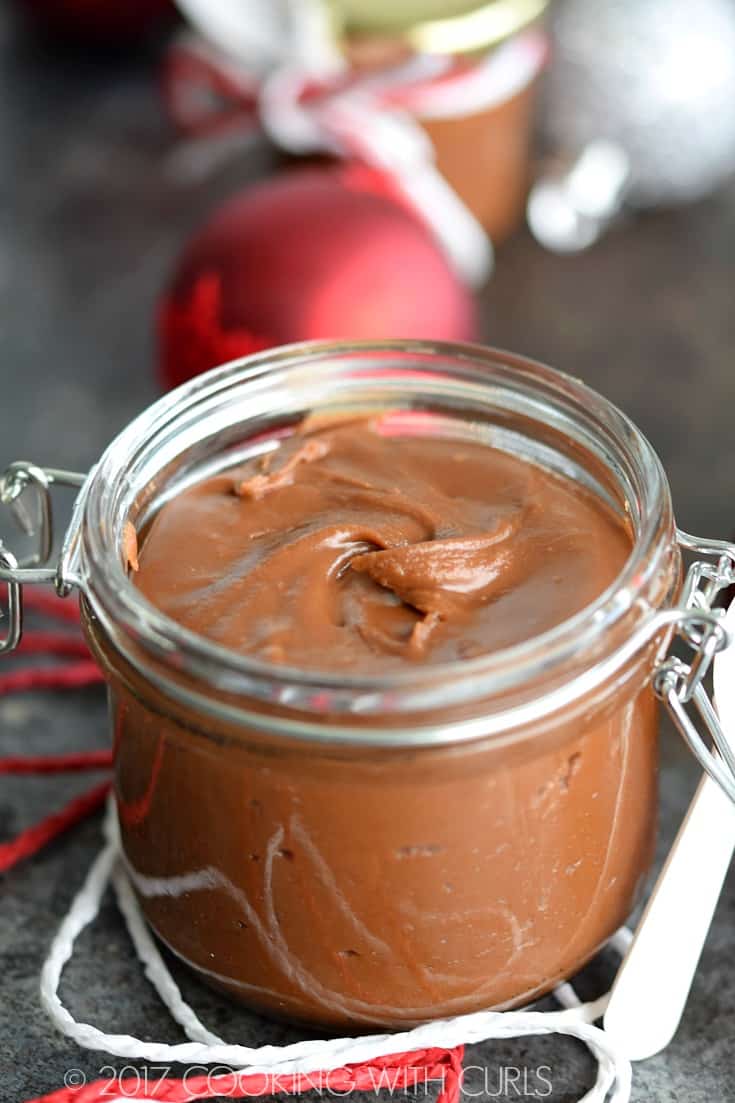 Strawberry Shortcake in Jars
Serving Strawberry Shortcake in a jar is the perfect way to make this popular dessert a little more special. Great for summer parties, give Cooking with Libby's Strawberry Shortcake in Jar a try.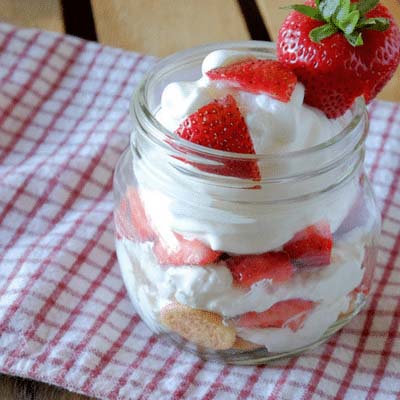 No Bake S'mores in a Jar
No Bake S'Mores in a Jar from Home Cooking Memories feature a layer of marshmallow cream and chocolate for spectacular summertime (or anytime) treat. Just a reminder that I advise against putting mason jars in the oven and/or broiling (as per the manufacturer).
White Chocolate Peppermint Oreo Jars
If you are searching for some holiday mason jar recipes, try White Chocolate Peppermint Oreo Cheesecake Jars from Love Bake Good Cakes. Just five ingredients for this easy recipe!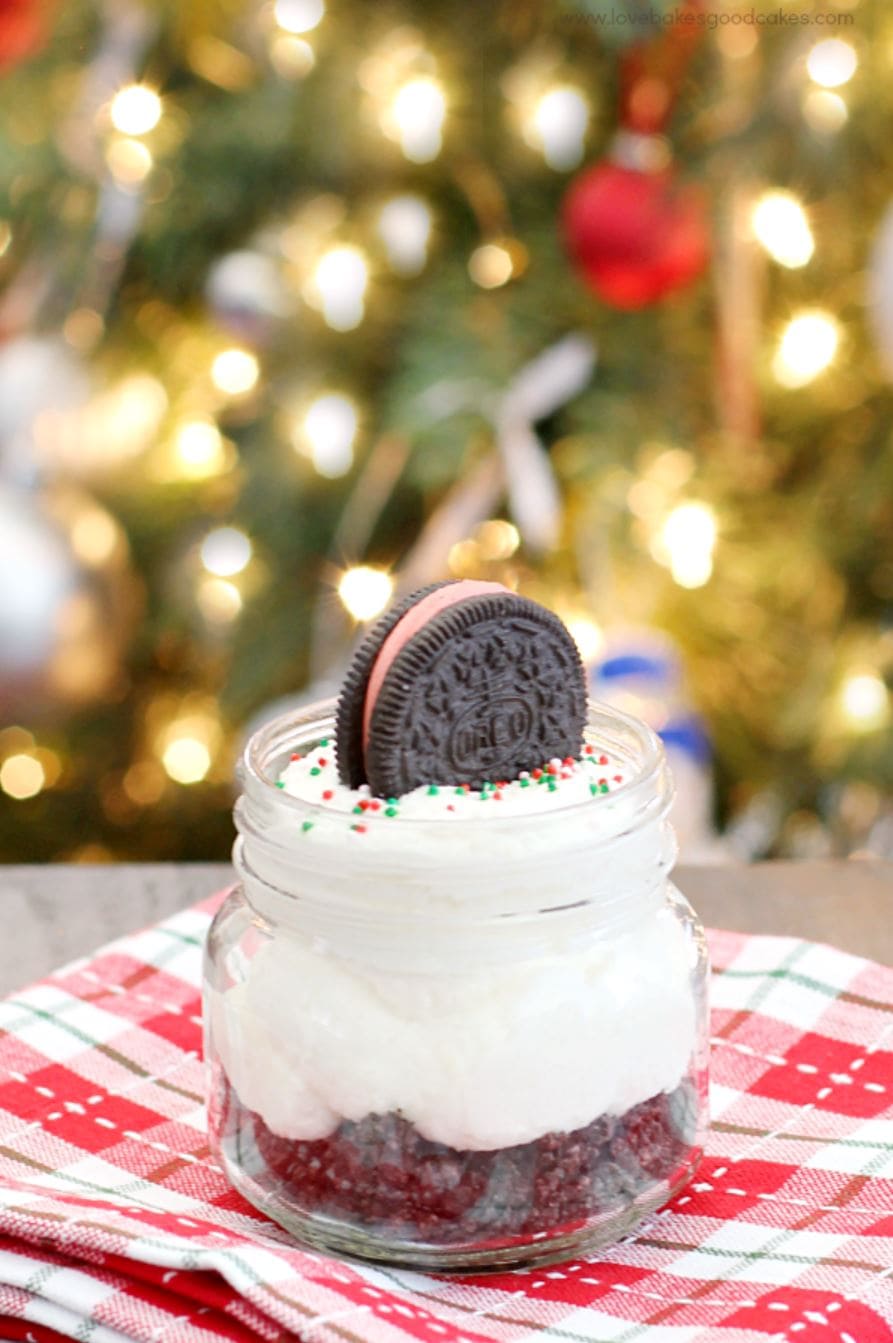 Marshmallow Fluff
Maybe this isn't an expressly "mason jar" recipe, but when I saw the photo of this Marshmallow Fluff from Love Bakes Good Cakes, I had to include it. Homemade marshmallow fluff makes a great gift (or a treat to yourself) and of course, a mason jar is the perfect packaging. Note that it does require refrigeration.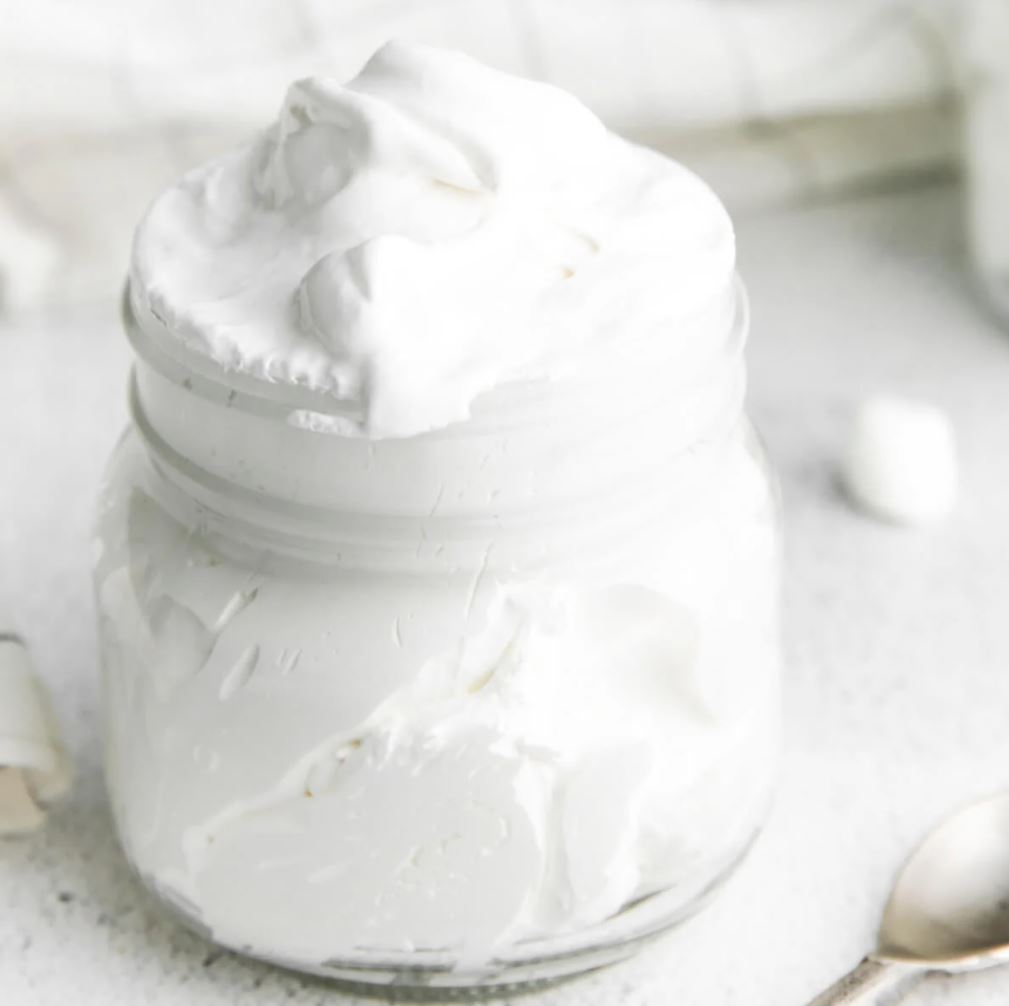 Keto Mason Jar Ice Cream
Make mason jar ice cream, but keto! This recipe for Keto Mason jar Ice Cream from Jennifer Banz includes a chocolate and a strawberry variety.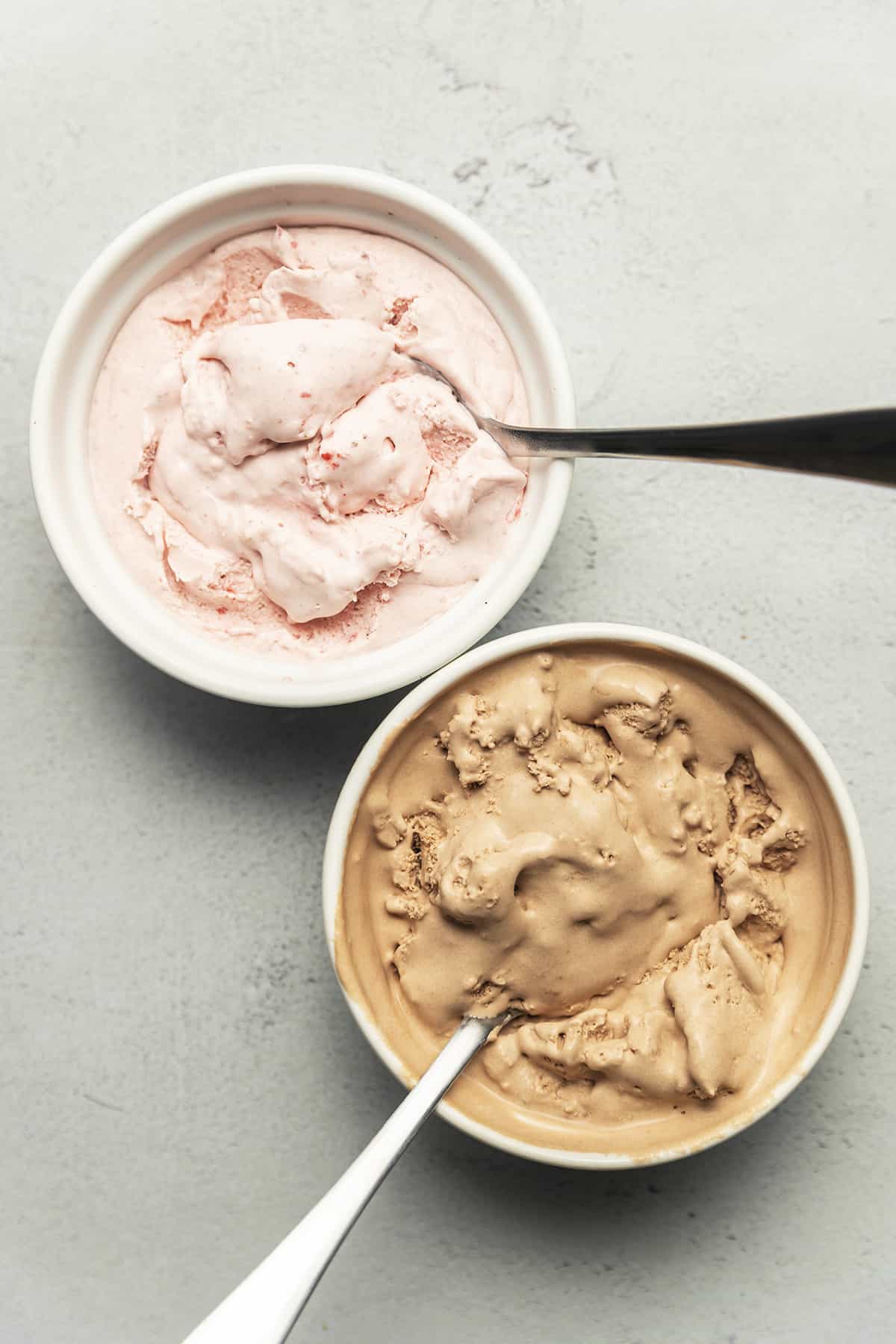 Oreo S'mores Trifle in a Jar
This Oreo S'mores Trifle from Crazy for Crust provides a twist on a classic s'mores dessert. Chocolate pudding and crushed Oreos within this layered dessert make for an indulgent summer treat.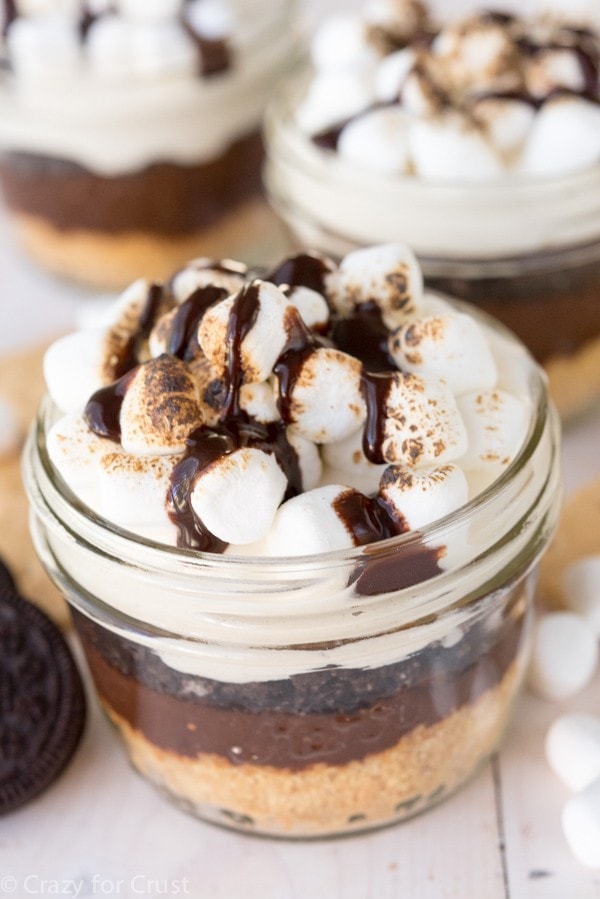 Pistachio Dessert Mason Jar Minis
Pistachio dessert was one of my favorite childhood desserts so these Pistachio Dessert Mason Jar Minis are a riff on my family's recipe. These are no-bake and super easy. Baby Yoda optional, but isn't he cute?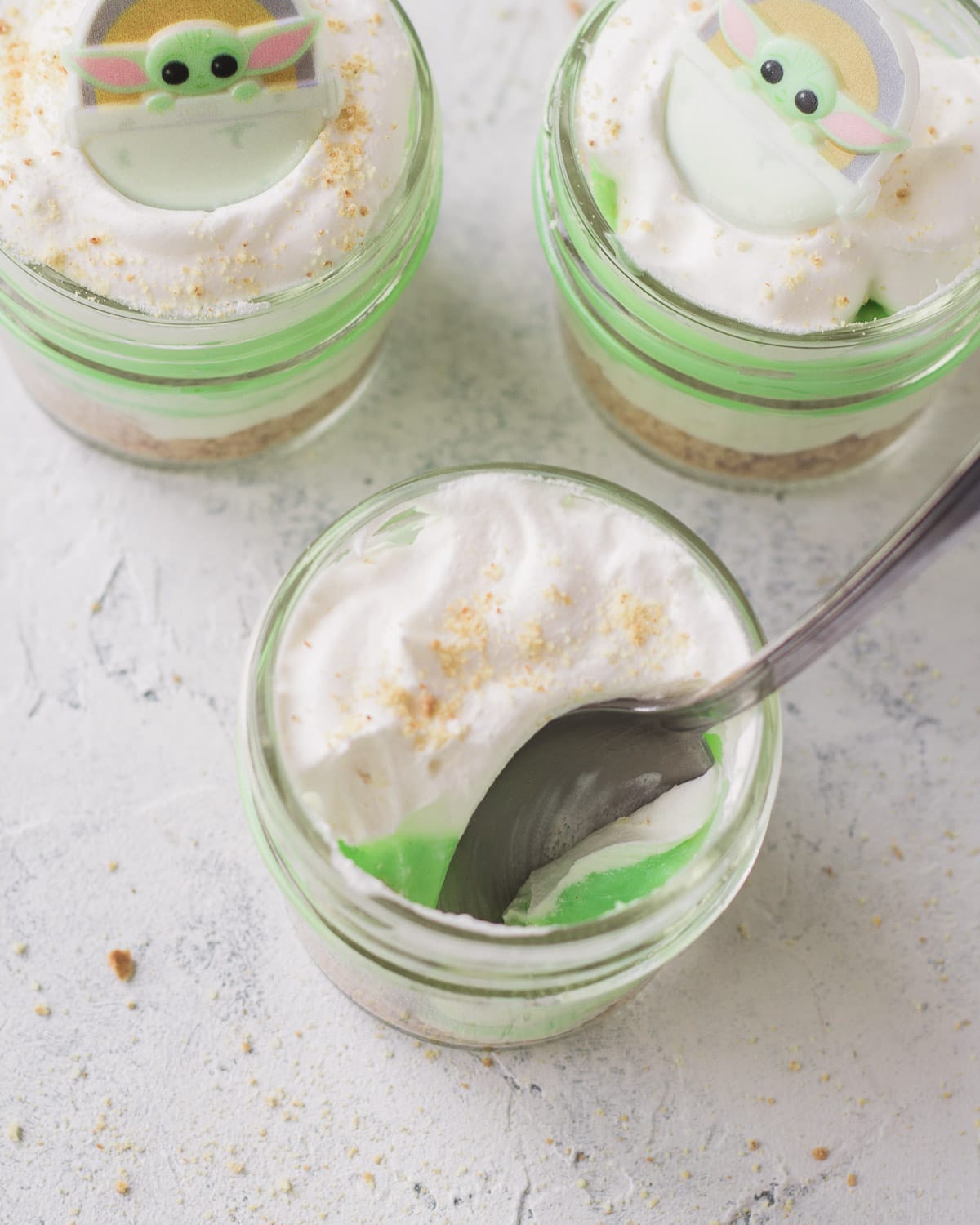 Raspberry Chocolate Chip Brownie Brittle Parfaits
These easy no-bake desserts start off with crushed brownie brittle for a unique and flavorful crust. Try Raspberry Chocolate Chip Brownie Brittle Parfaits from BruCrew Life.
Apple Cheesecake Jars
Brown sugar cheesecake, apple pie filling, AND cinnamon maple whipped cream? Yes yes yes. These desserts are not short on flavor! Try Apple Cheesecake in a Jar from Beyond Frosting for the ultimate autumn treat.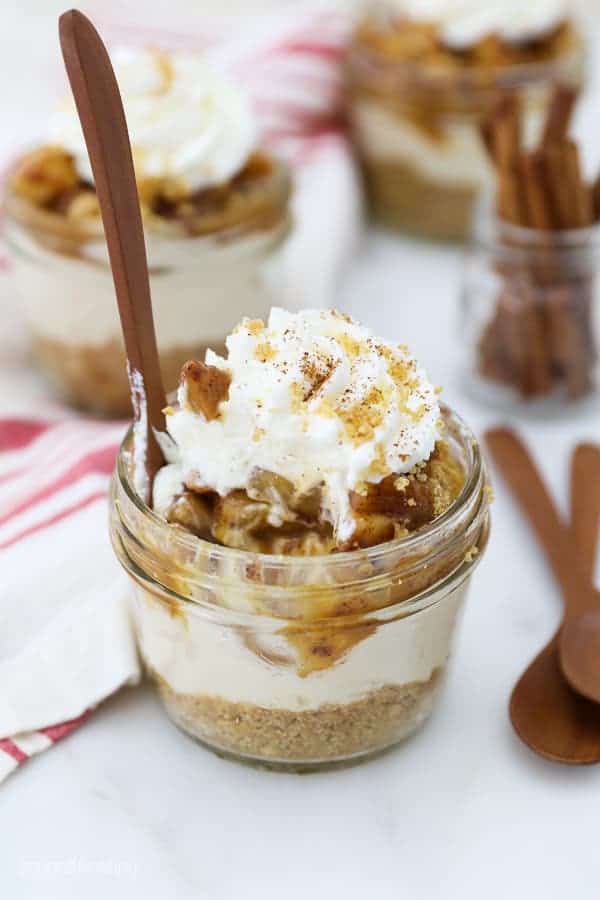 No Bake S'mores Trifles
These No Bake S'mores Trifles from Julie's Eats and Treats are filled with decadent layers of Milk Chocolate Ganache, Marshmallow Cream and Chocolate Cream. Sign me up! Please note that this recipe has you broil the jars to toast the marshmallow. As noted above, mason jars shouldn't be baked, so I'd advise skipping that step!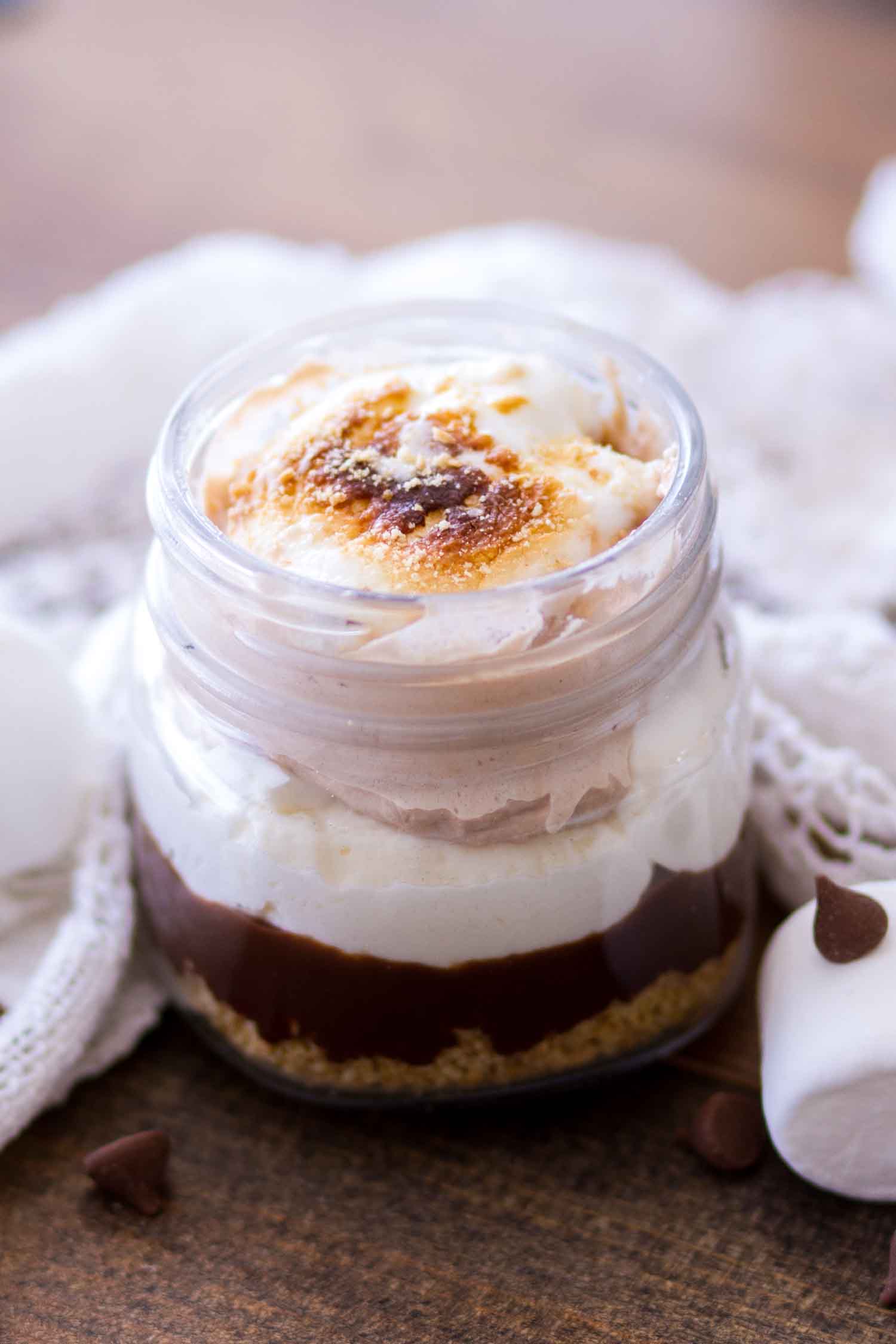 More Amazing Mason Jar Treats to Try:
I'm a stickler for having permission before using other blogger's photos, so these are more recipes that I think you'll love, but that I wasn't able to obtain permission to share the photos in advance of publishing. Enjoy these tasty treats!
Happy making! ~Ellen