our favorite oatmeal chocolate chip cookies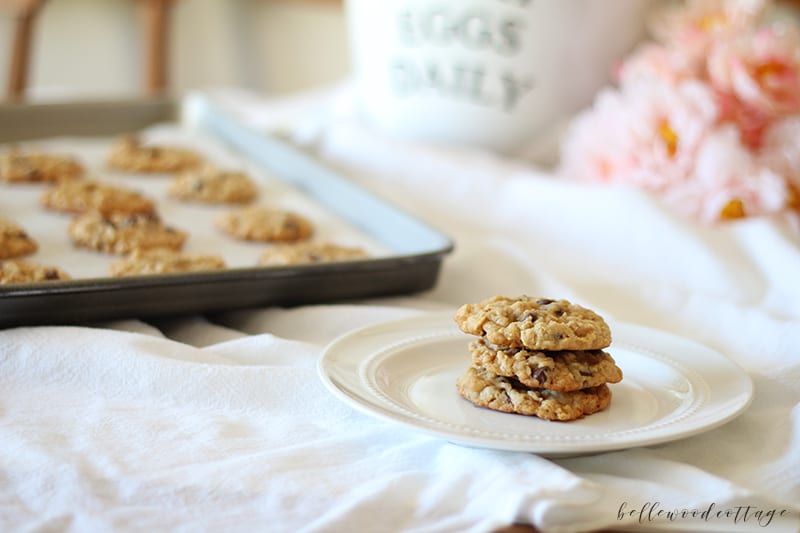 Cookie-baking is such a quintessential mark of homemaking. It's a relatively easy task and the results are well worth the expended effort in my opinion. Plus, I don't think there's a better smell in the world than a kitchen filling with the aroma of slowly melting chocolate surrounded by sugary and buttery goodness. Except maaaybe baking bread. Or frying bacon. So yeah…basically cooking your own food smells amaze.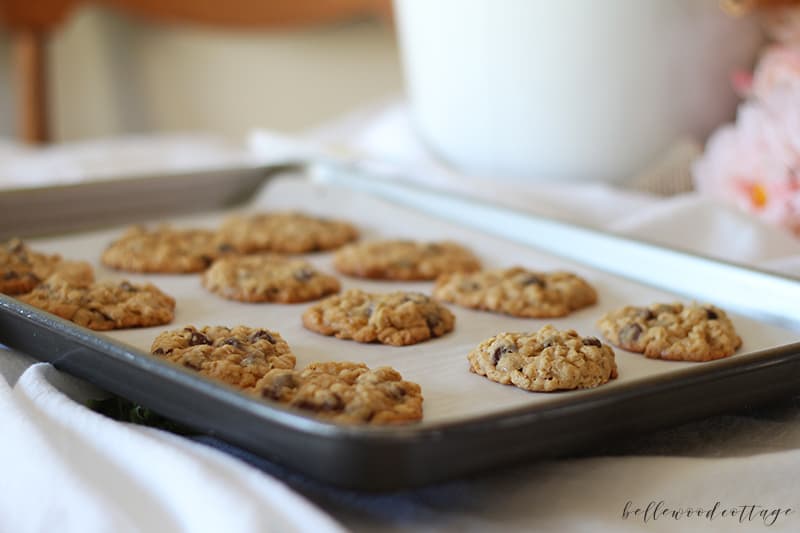 I am pretty picky with my recipes (gotta try to avoid those dreaded Pinterest fails, ha!), and once I find tried-and-true favorites I tend to stick with them. I love this recipe to bring to summer potlucks and cookouts. These cookies are chewy, sweet, and always receive rave reviews. A plate of cookies is also the perfect treat to bring along for a picnic outdoors, a day on the lake, or grilling with friends. You'll find that this recipe is quick and easy to bake, and it doubles well if you are feeding a crowd. And I'm just sayin', but these are pretty darn delicious alongside a bowl of vanilla ice cream.
Oatmeal Chocolate Chip Cookies
adapted from the American Test Kitchen Oatmeal Raisin Cookie recipe
Makes 24 medium-sized cookies
Ingredients
1 cup old-fashioned rolled oats
3/4 cup all-purpose flour
1/2 tsp salt
1/2 tsp baking powder
4 tablespoons unsalted butter, melted and cooled
1 egg
2 teaspoons vanilla extract
1 cup brown sugar
3/4 cup semi-sweet chocolate chips
1 – Adjust oven racks evenly and preheat oven to 350 degrees F. Combine the dry ingredients (oatmeal, flour, salt, baking powder) together in a medium bowl. Whisk together thoroughly.
2 – Combine the melted butter and sugar together in a large bowl and stir together well. Incorporate the egg and vanilla extract.
3 – Pour the dry ingredients into the butter, sugar, egg, and vanilla mixture. Add in the chocolate chips and stir everything together until the ingredients are just combined. Avoid over-mixing.
4 – Using a tablespoon measure (or a cookie scoop if you have one) scoop 24 rounded tablespoons of dough and place 2″ apart on a baking sheet. You should be able to fit 12 cookies to a sheet.
5 – Place sheets in the oven and bake for 10-12 minutes, rotating the baking sheets (and alternating from top to bottom, bottom to top) halfway through baking. The cookies are done when they are juuust beginning to brown on the edges. You want them to be slightly under-baked as that will give you a nice chewy cookie. Yum.
Save
Save
Save
Save
Save