Crumbl Milk Chocolate Chip Cookie for One
Ever wanted to make just ONE cookie? This recipe for a Crumbl Milk Chocolate Chip Cookie for One is just right. It's a large cookie inspired by the popular Crumbl Cookies bakeries. The cookie is chewy, soft, and full of giant milk chocolate chips. So quick to stir one up and pop it in the oven for a sweet treat when the craving hits!
Please note that this post contains affiliate links which allow me to earn a small commission when a purchase is made at no additional cost to you. Read more here.
What is Crumbl you ask? I have a full review of Crumbl Cookies, but the quick summary is that it's a bakery sweeping the USA (over 300 stores). They sell giant cookies and have a rotating flavor menu that keeps fans guessing each week. Flavors can be classic (like milk chocolate chip) or over the the top like Cookies and Cream Milkshake, New York Cheesecake, and Mint Chip Ice Cream.
Even though there's upwards of 200 Crumbl Cookie flavors, the Milk Chocolate Chip Cookie is on the menu every week and it's of course, quite popular.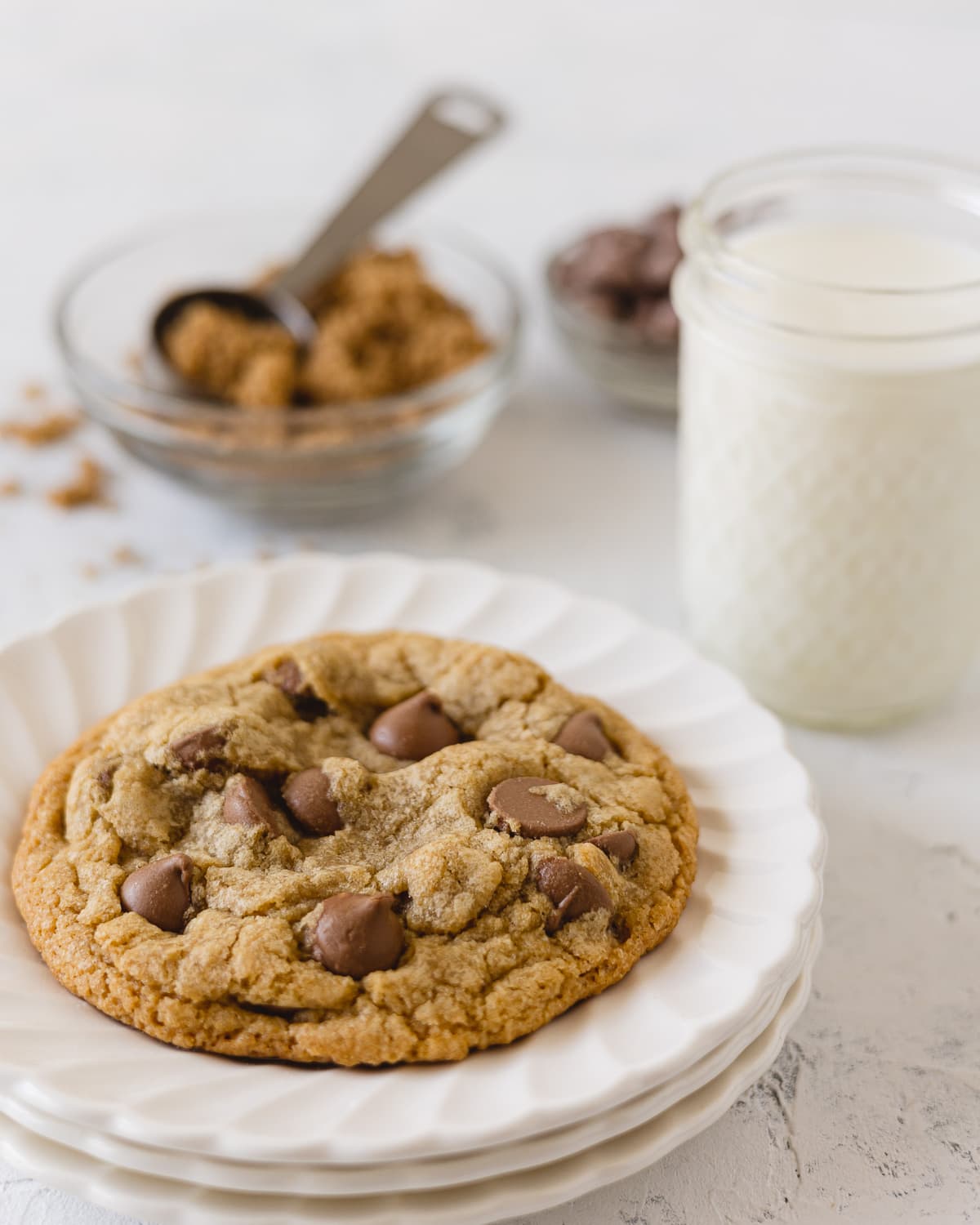 How Close Is This Copycat?
When I tried Crumbl's Milk Chocolate Chip Cookie I actually felt like it was overwhelmingly sweet. I didn't discern a whole lot of other flavors besides sweet.
So with my cookie, I wanted a treat that baked up so you could taste the butter, the vanilla, the chocolate. My cookie is still sweet, but more balanced and flavorful.
After MANY renditions working on getting this cookie just right, it's similar to Crumbl's in the following ways: it's large (4″), chewy, soft, and filled with giant milk chocolate chips. The center is extra ooey-gooey (you will underbake the cookie slightly to achieve this) just like Crumbl's and it's so easy to make.
My cookie weighs 4 ounces (this will vary depending on how many chocolate chips you add) and is 4″ in diameter. Crumbl's weighs about 5.5 ounces and is 4.25″ in diameter.
Why Single Serve?
I love that this Crumbl Copycat recipe allows you to bake just one cookie. Many of us can't eat a full batch of cookies before they go stale, so making just one cookie (which is large enough to split with a friend if you want) is a problem-solver–and it's a lot of fun too.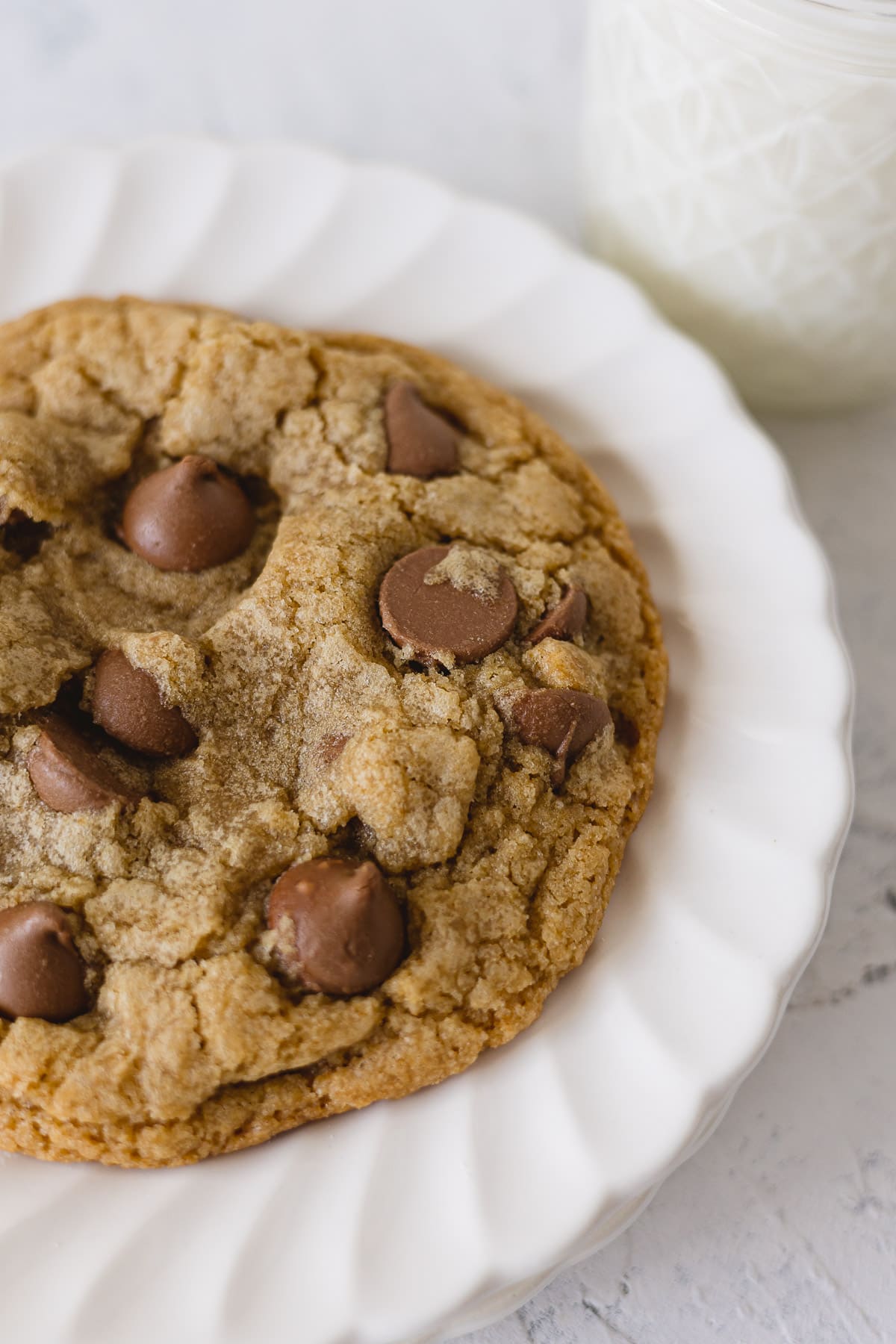 Feel free to divide the recipe into two small cookies (bake a few minutes less) if preferred.
More Crumbl Recipes: I also have recipes for a full-batch of Crumbl Chilled Sugar Cookies, Cinnamon Cookies ft. Cinnamon Toast Crunch, and Blueberry Muffin Cookies.
Ingredients You'll Need
Before you start making this Single Serve Milk Chocolate Chip Cookie, you'll need to gather your ingredients:
Butter – unsalted butter, soft (room temp). I'll have you measure out 1 tablespoon and 1 teaspoon of butter, so soften about 2 tablespoons (follow the cutting lines on the wrapper of the stick of butter) and then measure from that. Pop the rest back in the fridge when done. This small amount of butter will soften quickly–I usually start making my cookie after 15-30 minutes.
Dark Brown Sugar – you can use light brown sugar if that's what you have on hand, but I tested both and I loved the richer flavor that the dark brown sugar provided.
Granulated Sugar – you'll use a bit of granulated sugar too.
Egg – For this recipe you will whisk up one egg and then measure out 1 teaspoon of whisked egg. See tips below on what to do with the rest of the egg.
Vanilla Extract – after testing this recipe several times using just 1/8 of a teaspoon of vanilla extract, I brought it up to 1/4 teaspoon and loved the change. It's just the right amount for a flavorful chocolate chip cookie of this size.
All-purpose flour – you'll notice I've included weights for my dry ingredients in the recipe. I strongly suggest weighing at least the flour if you can! I'll give you some tips for avoiding dry cookies, but the best thing to do is get the flour measurement spot on.
Baking powder – don't substitute baking soda here.
Salt – just a tiny pinch of regular table salt.
Chocolate Chips – this cookie is made with giant milk chocolate chips–just like Crumbl's. I use Guittard's Milk Chocolate Chips. You can also substitute regular-size chocolate chips.
How to Make this Crumbl Milk Chocolate Chip Cookie
Remember, this recipe is for just ONE cookie! More baking tips below!
Prep: Preheat oven to 350°F and line a baking sheet with parchment paper.
Cream: Use a fork and a small bowl to cream the softened butter, brown sugar, and granulated sugar.
Finish the dough: Add egg and vanilla and mix in. Add the flour, baking powder, and salt and mix until just combined, using the fork or your fingers.
Chocolate Chips: Add chocolate chips, reserving a few to place on top of the unbaked cookie dough.
Shape and Bake: Roll the cookie dough into a ball, slightly flatten, and add reserved chocolate chips if desired. Bake cookie about 14-17 minutes until desired done-ness. The center should be set, but still quite gooey.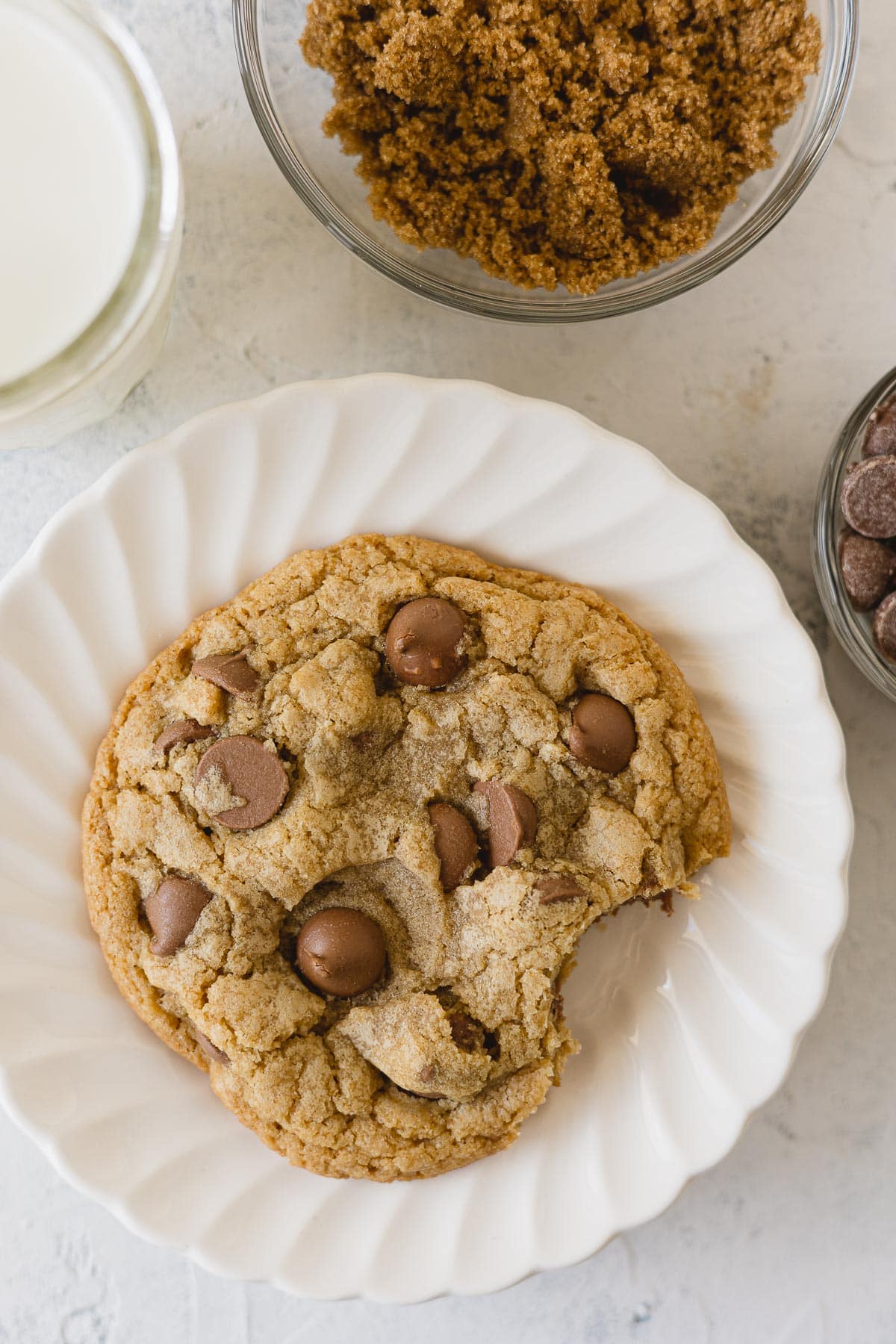 Tips for Single Serve Cookies
Let's talk about the egg
This recipe uses just a portion of a whisked egg, which means you will have almost a whole leftover egg.
What to do with the leftover egg? Don't let it go to waste! Use up the rest of the egg to make scrambled eggs or an omelet, in another baking recipe, or you can even freeze it for more cookies later!
Baking supplies
While you do need an oven to bake this giant Crumbl Milk Chocolate Chip Cookie, the rest of the equipment required is minimal. No stand mixer, no handheld mixer.
Just grab a little bowl and a fork to mix everything up. You can even use your fingers! I find that a kitchen scale is invaluable for quick and accurate measurements, as well as a set of measuring spoons.
Kitchen Scale & Measuring Spoons: For this recipe I often will just weigh out my flour and butter and use measuring spoons for everything else. It's up to you! I use this set of measuring spoons because they are designed to fit easily into spice containers which is useful.
For baking, use a small sheet pan lined with a bit of parchment paper.
Weighing ingredients
I love weighing ingredients for baking as it is so fast compared to measuring. Plus, it's far more accurate.
I always weigh in a separate dish and then add the ingredient to the mix. This way, if I bump my scale as I'm weighing I'm not stuck wondering how much of an ingredient I already added to the mix.
Troubleshooting
Since we are only making one cookie, we have less room for error than with a larger batch. This means that incorrectly measured ingredients can affect the finished cookie more severely than might normally be the case.
Cookie Too Dry? Flour is very easy to over-measure, so this is most likely the culprit. Try weighing your ingredients next time you bake the cookie. It also helps to learn the consistency of different doughs. This particular dough should be easy to mix all the flour into and slightly tacky or sticky to the touch as you form it into a ball. It shouldn't be crazy sticky or super dry/clay-like.
If the dry cookie is also accompanied by very brown edges, this is likely a case of over-baking. Your oven temp may be off or you may have just over-baked the cookie. Don't be afraid to pull the cookie when the center is still quite soft. The first time you bake the cookie you might wish to check on it even before the recipe's suggested cook time guidelines in case your oven runs hot.
Can a cookie be too-under-baked? Follow the timing guidelines in the recipe and wait until the edges of the cookie are turning golden brown and you should be good to go. Underbaking is a key technique in baking a chewy gooey cookie!
Cookie Spread Too Much: This is either too much butter or not enough flour. So again, potentially an incorrectly measured ingredient. This problem (though it can be annoying) usually means you'll still get a chewy and delicious cookie, but it's just not as thick.
If you loved this recipe, leave a 5-star rating! I would so appreciate it!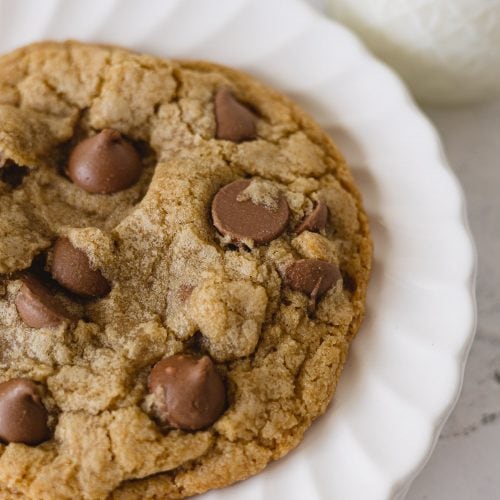 Crumbl Milk Chocolate Chip Cookie for One
Here's how to make a Crumbl-Inspired Milk Chocolate Chip Cookie for One. This recipe is for a single large cookie inspired by the popular Crumbl Cookies bakeries. It's chewy, soft, and full of giant milk chocolate chips. Quick to make and delicious to eat!
Ingredients
1

tablespoon

+

1 teaspoon unsalted butter

softened (about

19

g)

2

tablespoons

dark brown sugar

(

24

g)

2

tsp

granulated sugar

(

8

g)

1

teaspoon

whisked egg

(see notes)

¼

teaspoon

vanilla extract

¼

cup

all-purpose flour

(

30

g)

⅛

teaspoon

baking powder

pinch

of salt

18-20

large milk chocolate chips (I use Guittard)

OR,

1.5-2

tablespoons regular size chocolate chips (see notes)
Instructions
Preheat oven to 350°F and line a baking sheet with parchment paper.

Use a fork and a small bowl and mash together the softened butter, brown sugar, and granulated sugar until totally combined. Once combined, cream with the fork another 30-60 seconds.

Add the teaspoon of whisked egg and the vanilla extract into the dough. Use the fork to incorporate completely, but do not overmix.

Add the flour (see notes), baking powder, and salt and mix until just combined. Feel free to use your fingers.

Now, add in the chocolate chips. If using the large chocolate chips, add in about 15 or so and save the rest to stud the shaped cookie. That way you'll see the chips even after baking.

You can do this with regular-size chocolate chips too.

Use your hands to shape the dough into a ball. Grab all the dough and don't leave any behind in the bowl! Flatten the cookie dough ball so it's about a 3/4" high disk. Poke additional chocolate chips into the cookie as desired.

Bake cookie about 14-17 minutes until desired done-ness. The center should be set, but still quite gooey. The edges will be golden brown.

Allow the cookie to cool at least 10 minutes before digging in. I like to wait about 30 minutes for the cookie to firm up. It'll still be warm and wonderfully chewy. It also stays chewy for a few days (store in an air-tight container) so it makes a great gift if you are surprising a friend and want to bake it in advance.
Notes
Flour: Like I noted, weighing the the ingredients is the best path to success. However, if you don't have a scale, try this: Add in almost all the flour, but reserve a teaspoon or so. If the dough is still quite sticky and hard to handle after mixing in most of the flour, go ahead and add the last of it in with the chocolate chips. Mix to just combine. On the other hand, if the dough has come together and it is not sticky (very slightly tacky is about what we're aiming for here), feel free to skip adding that last bit of flour. The cookie may spread more, but I vastly prefer that to an over-floured cookie! Chocolate chips: As I noted in the blog post, I used Guittard Milk Chocolate Chips here. These are the same size as the jumbo size chips that Crumbl uses. If you'd like to use these, I suggest 18-20 chocolate chips. Mix most of them into the cookie dough and then stud the final cookie with extras in spots where it's lacking chips. Regular chocolate chips work fine too–about 1.5-2 tablespoons depending on your preference. Storing the Cookie: The baked cookie can be stored for a few days at room temperature (in an air-tight container) and will still maintain the delicious soft chewiness. It can also be frozen if needed (I use a sturdy freezer bag or freezer container) for up to 60 days.