8 Favorite Peanut Butter Cookies
If you love peanut butter cookies as much as I do, you'll love this roundup of favorite peanut butter cookies! Featuring popular recipes like Peanut Butter Bar, Peanut Blossoms (with a twist!), Reese's Cookies, Butterfinger Cookies, and more. Bookmark this roundup for holiday cookie exchanges or any time of the year!
Please note that this post contains affiliate links which allow me to earn a small commission when a purchase is made at no additional cost to you. Read more here.
Peanut Butter Cookies are a longtime favorite of many families. They are soft, chewy, and of course, packed with peanut butter flavor. Classic pb cookies decorated with a cross-hatch design formed by a fork might be one of the most commonly baked varieties, but there are so many ways to enjoy peanut butter cookies!
For instance, top them with candy kisses for a holiday classic, spread with fudge-y frosting for a twist on peanut butter bars, bake them with chunks of candy inside, or frost with homemade buttercream. The possibilities abound!
What Are the Most Popular Types of Peanut Butter Cookies?
Classic peanut butter cookies with a cross-hatch design formed by forks are probably the most popular style of peanut butter cookies. Peanut Butter Blossom Cookies are another perennial favorite. In this recipe the soft peanut butter dough is rolled in sugar before baking and then dotted with Hershey's Kiss candies after the cookies come out of the oven.
My variation on Peanut Butter Blossoms is actually a Crumbl Cookies copycat recipe and features fudge frosting in place of the candy kiss!
Another hugely popular pb cookie recipe is 3-ingredient peanut butter cookies. Just peanut butter, brown sugar, and eggs, these amazing cookies are naturally gluten-free too.
What Type of Peanut Butter You Should Use for Cookies
Always consult your recipe to see if there are any guidelines about the type of peanut butter to use–whether advice on a specific brand or style of chunkiness.
It's important to note that you almost always need to use conventional peanut butter for peanut butter cookie recipes. This is peanut butter that is hydrogenated or partially hydrogenated and there is no separation of the peanut oil from the solids in the container. It can be stored at room temp and usually contains additional oils, sugars, and sometimes preservatives.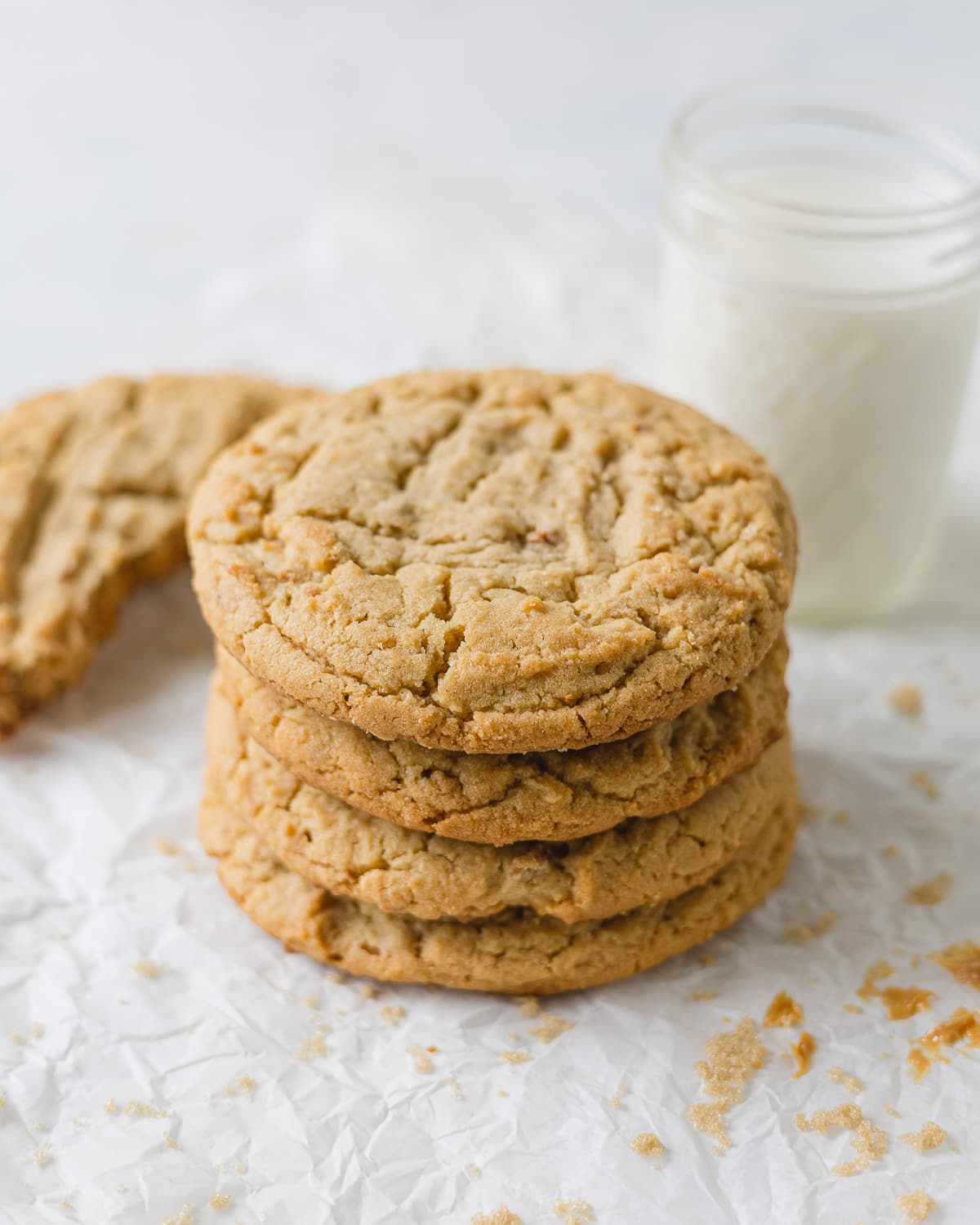 My favorite peanut butter to use is Skippy. I find that the flavor is great and it's easy to find at the grocery store. Here's a little tip too. If you love having chunks of peanuts in your cookies, grab a jar of Extra Chunky Skippy. It's packed with peanuts and makes a fun swap for smooth pb.
On the other hand, "natural" and organic peanut butters are much closer to nature, but they don't lend themselves well to peanut butter baking recipes. If you must use organic peanut butter, try to locate a recipe designed to use it rather than attempting to substitute it in for conventional peanut butter.
The Best Way to Measure Peanut Butter
Unfortunately before we can bake our cookies, we need to measure the peanut butter. I think the BEST way (as in, easiest, quickest, and most accurate) is by weighing it. I place a small dish on my kitchen scale and carefully spoon in peanut butter until I have enough for my recipe (I use a knife to swipe it off the spoon). Then, plop into your mixing bowl when ready to add it.
Now, if your recipe does not give a weight or if you don't have a scale, I suggest grabbing an Adjustable Measuring Cup. They are easy to clean and extremely effective. You just move the inner portion around until it's set to the measurement you need, fill the cup, and push the ingredient into your mixing bowl.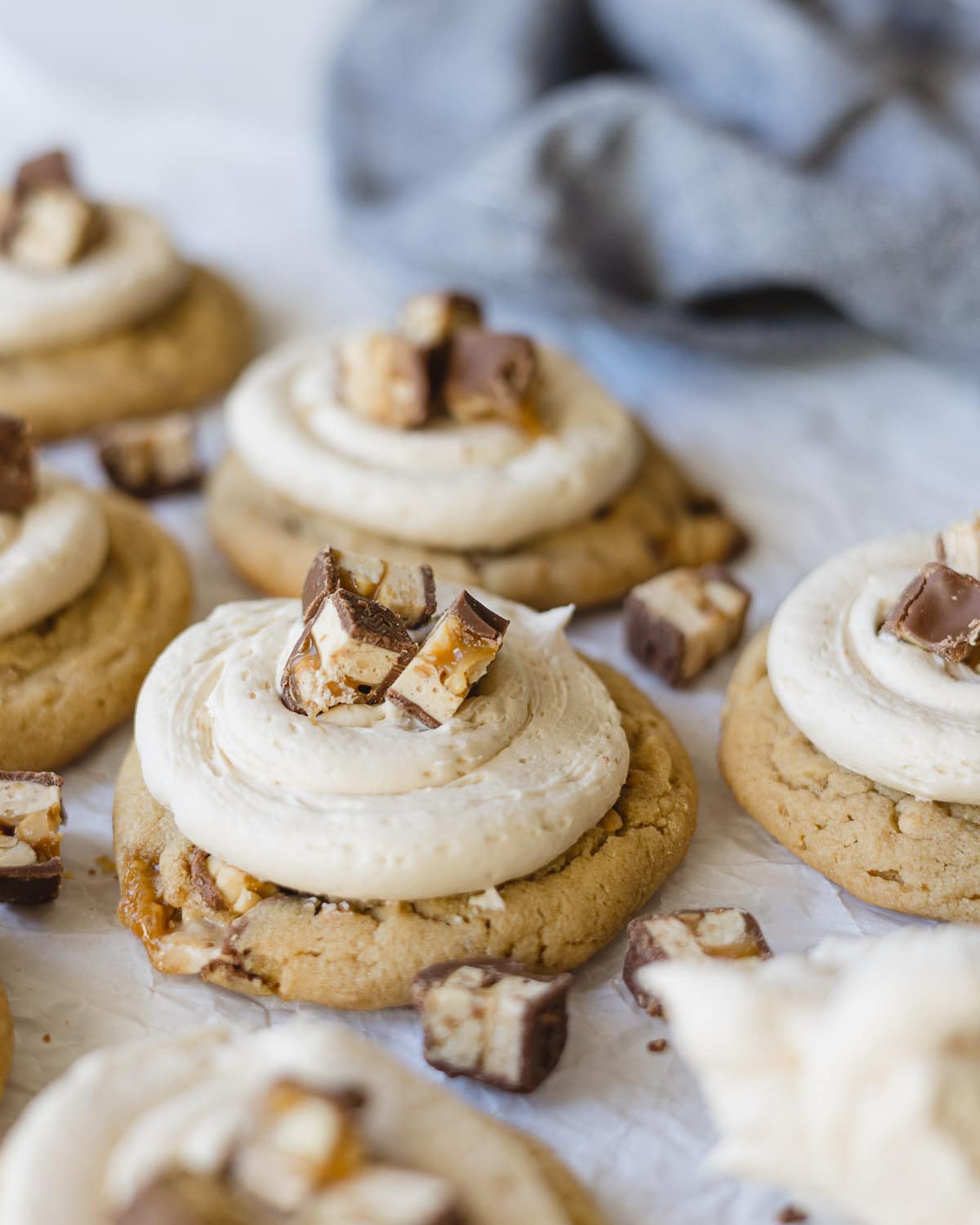 Why Are Peanut Butter Cookies Always Dry?
Ugh, dry peanut butter cookies are no good. Okay, so there's a few reasons why your homemade peanut butter cookies could be coming out a little dry.
First, you must start with a good recipe. My classic peanut butter cookie recipe can be made as standard-size pb cookies (about 2 tablespoons) or giant cookies and they are excellent cookies. Soft, chewy, and they keep really well. Use mine or choose another top rated recipe.
Second, measure the flour correctly. Even a perfect recipe can't account for variations in flour measuring techniques. The BEST way to measure the flour is by weight.
If you don't have a kitchen scale, try this: gently aerate your flour with a spoon or whisk and then spoon into a dry measuring cup. Level with a butter knife and add it to the bowl.
Finally, the cookies may have been baked too long. Good recipes ought to include some tips of what to look for when the cookies are ready. Overbaking is to be avoided! Note that oven temperatures may vary so getting an oven thermometer might be of help too.
How Long Do They Last?
I like to keep my peanut butter cookies in an air-tight storage container at room temperature (unless frosted) for up to 4-5 days. After that I feel that they begin to dry out. However, a little trick is to add a small piece of bread (about 1/4-1/2 of a slice) to the container to keep cookies chewy.
If you'd rather freeze the cookies, cool them completely, stack them between sheets of wax paper and freeze in an air tight container for 1-2 months. I do this often during the holidays when I have a huge surplus of cookies.
Essential Equipment for Baking Cookies
Starting off with the right equipment makes baking a lot more fun! Here are some of the essential supplies that I love:
Favorite Peanut Butter Cookie Recipes
You'll love this list of great Peanut Butter Cookie Recipes from favorites like Peanut Butter Blossoms (with a twist!), Frosted Snickers Cookies, Peanut Butter Bar Cookies, and lots more. Fresh ideas for your cookie exchanges and lunchbox staples.