20+ Homemade Ice Cream Toppings
Ice cream sundaes are one of the great treats of summertime (or really, anytime!). Learn how to make your own homemade ice cream toppings such as hot fudge sauce, caramel sauce, whipped cream, and more with this roundup of easy recipes!
Please note that this post contains affiliate links which allow me to earn a small commission when a purchase is made at no additional cost to you. Read more here.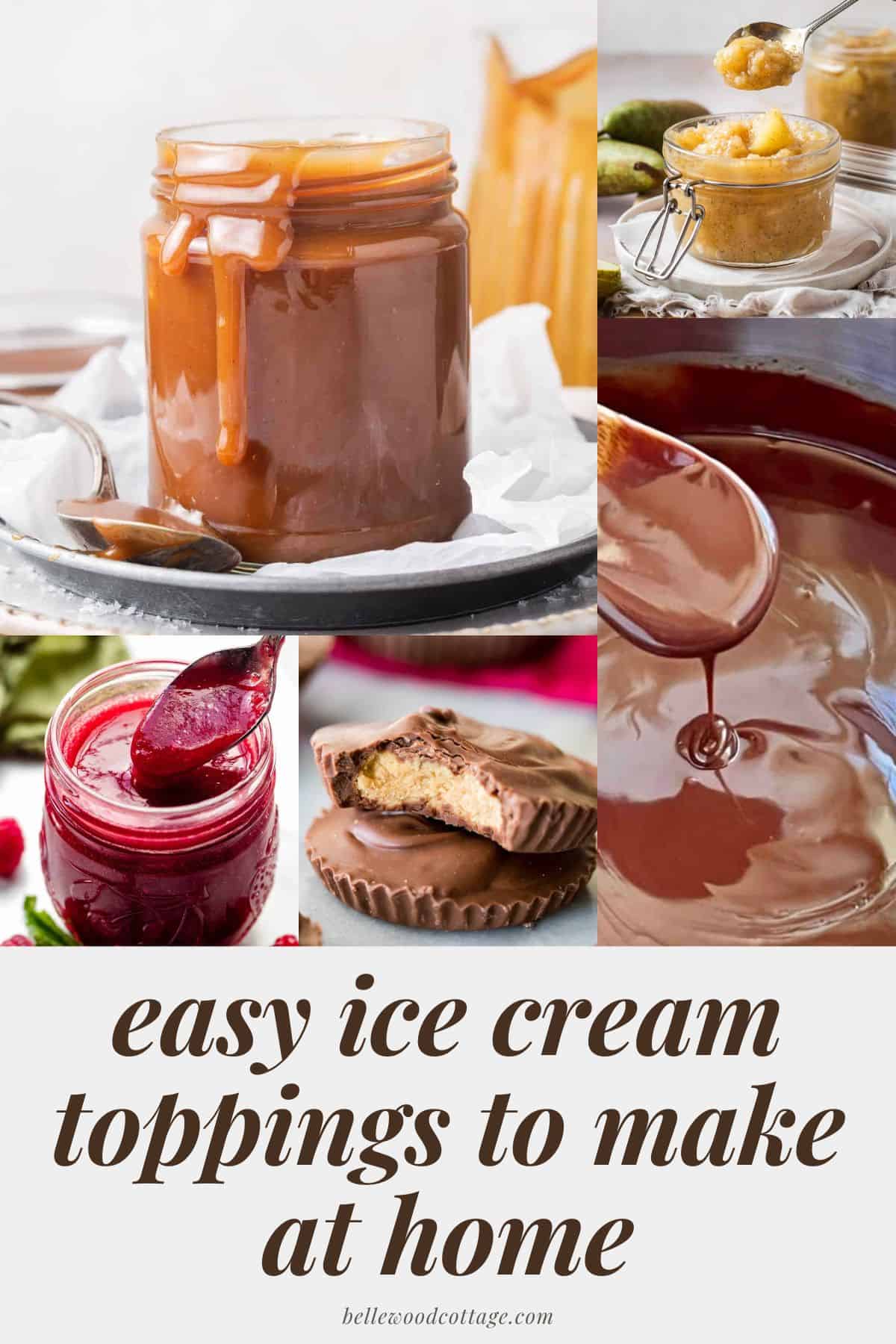 Ice cream is a popular (and irresistible!) dessert option. It's easy to serve, comes in a seemingly infinite variety of flavors, and makes the perfect base for delicious toppings like fudge sauce or whipped cream.
Americans love their ice cream. Whether blended into a shake or malt, served up in a cone, or scooped into a ice cream sundae, it's one of the most popular summertime desserts. Just writing this up has me wishing for a bowl right now.
So, why not make some of your own homemade ice cream toppings and host an ice cream social party? Or, just enjoy the recipes with your own family! It's easy to make homemade sauces and toppings and so much fun to do.
Why Bother with Homemade Toppings?
It's easy enough to purchase a bottle of hot fudge sauce or a can of whipped cream, so why bother with homemade? There are lots of great reasons to make your own ice cream toppings!
You have total control over the ingredients. Did you know most "chocolate syrups" contain minimal chocolate and are mostly high-fructose corn syrup? A homemade version on the other hand (depending on the recipe) contains real chocolate, heavy cream, and actual sugar (not HFCS).
You can make sauces and toppings that are adapted for specific diets or allergy restrictions.
The flavor is better! Have you ever tried a homemade hot fudge sauce? Totally irresistible. You might just forego the ice cream and eat the sauce it's so good.
It's fun! Making ice cream sauces and syrups at home is really quite easy and it's a great way to get kids in the kitchen too. Pick a few recipes to try and host an ice cream sundae party with the finished products!
How to Host an Ice Cream Social
Kids love this (adults too!) and it doesn't have to be fancy. Bring out plenty of bowls, sundae cups, or even disposable ice cream dishes, and assemble your toppings with one or two choices of ice cream.
I like to have at least one sauce available (fudge, strawberry, or caramel) and fudge usually wins the day. Whipped cream is another essential. If you are making homemade and still want the fun of spraying it out of a can, try a whipped cream dispenser. We love using ours!
Adding crushed cookies (like Oreos or crunchy chocolate cookies) is a great addition. Colorful candies like M&Ms are popular, and nearly any crushed candy bar works too. If you want to stick with more wholesome choices, there are varieties of popular cookies and candies being produced without food dye and questionable additives. Seek these out at a well-stocked grocery or a health food store.
More Easy Ice Cream Topping Ideas
There are endless possibilities for topping ice cream. You could also use leftover desserts such as brownies or cookies, cake or cheesecake to top ice cream sundaes. Have fun and get creative with your combinations!
Brownies: Partially freeze leftover brownies and chop into small squares.
Cookie dough: use edible cookie recipes for safety.
Cheesecake: leftover cheesecake makes an insanely good ice cream pairing.
Cookies: peanut butter, chocolate chip, sugar cookies, you name it!
Holiday treats: save holiday treats like homemade candies in the freezer and use them for topping sundaes.
Best Homemade Ice Cream Toppings to Make
Ice cream is delicious all on its own, but it's even better when topped with extra treats too! Learn how to make your own homemade ice cream toppings such as hot fudge sauce, caramel sauce, whipped cream, and more with this roundup of easy recipes! Next time you are craving an ice cream sundae, revisit this list for lots of tasty topping ideas.
More Delicious Dessert Recipes