Crumbl Peanut Butter Blossom Cookies
Crumbl Peanut Butter Blossom Cookies are a fun twist on the original, with a fudgy chocolate frosting swirl instead of the classic candy in the middle. These cookies are SO good and whether you've tried Crumbl or not, you'll love this easy copycat recipe for their Peanut Butter Blossom Cookies!
Please note that this post contains affiliate links which allow me to earn a small commission when a purchase is made at no additional cost to you. Read more here.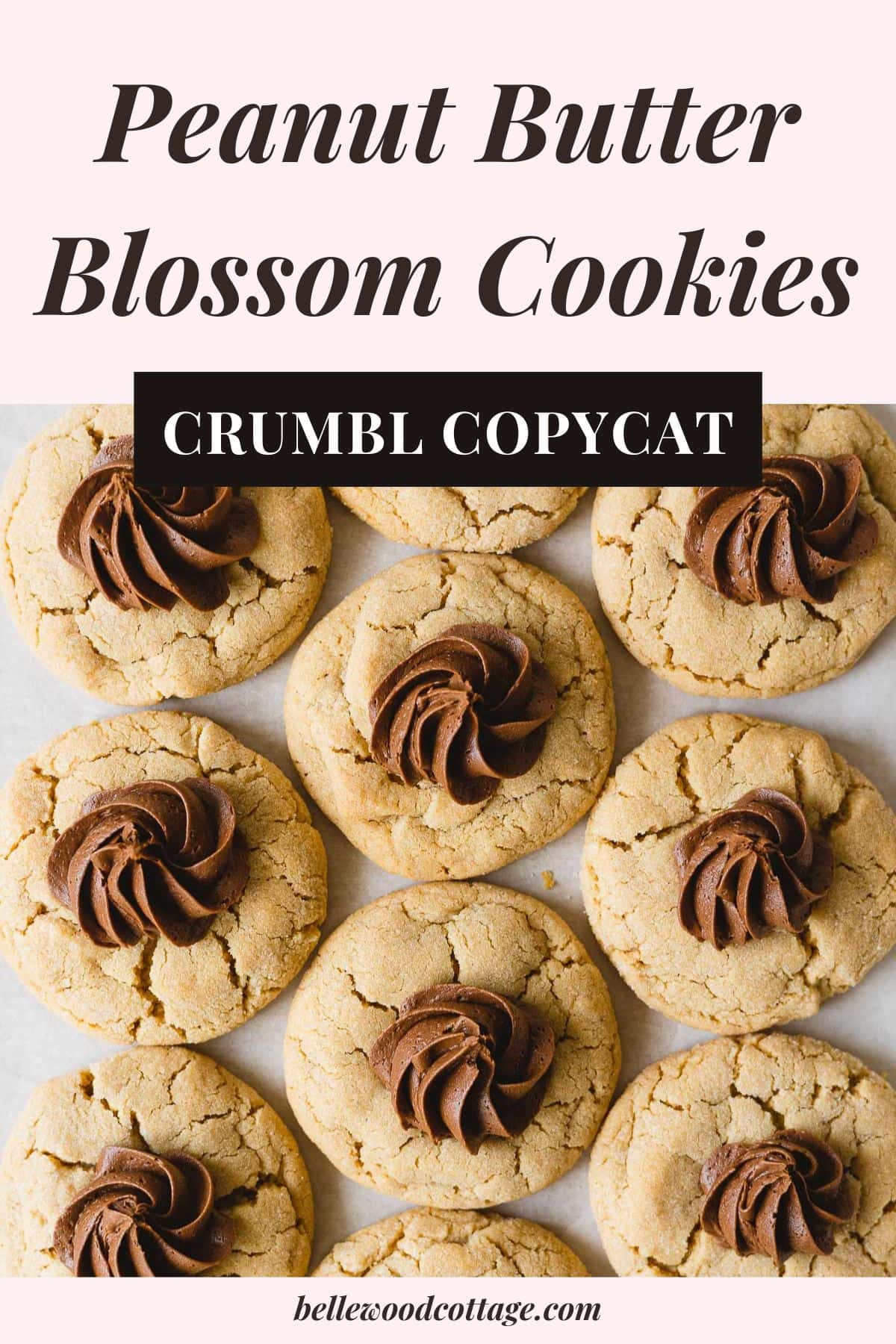 The weekly flavor menus at Crumbl lately have featured so many of my favorites–it's actually been a challenge to get all the recipes up on the blog! This one though I knew would be quick, easy, and totally yum.
This recipe pairs a soft and crackly peanut butter cookie with a swirl of homemade fudge buttercream for an irresistible chocolate & peanut butter treat. Swirl the frosting on using a large star piping tip, or you can opt to swoosh some on with a butter knife for a treat that's more easily packable (for lunchboxes etc.).
Can't get enough cookies? Don't forget to check out my growing list of Crumbl Copycat Recipes.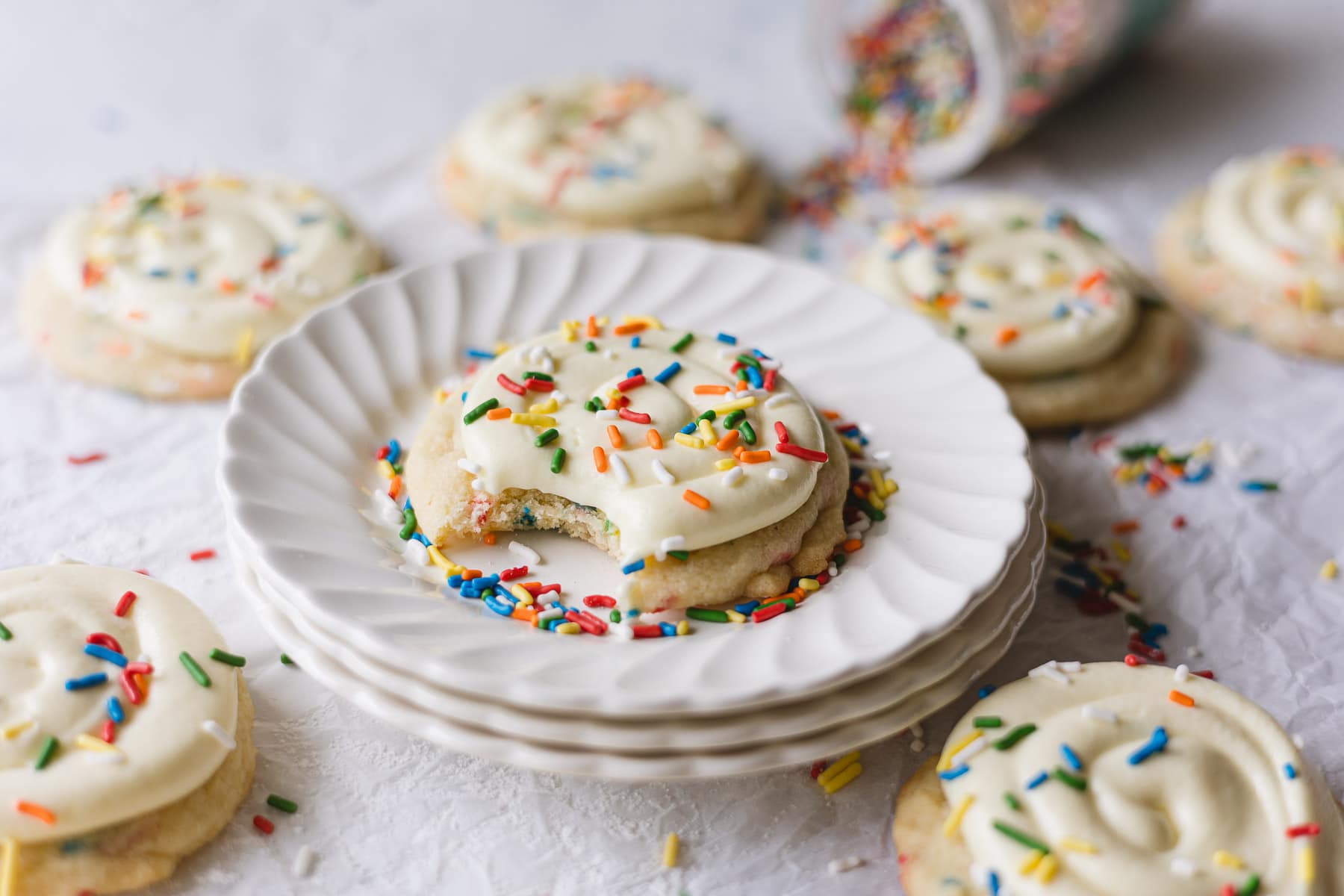 Do They Taste Like Crumbl's?
One of things that can bother me about Crumbl Cookies is that sometimes they are overly sweet and a little lacking in flavor. This recipe brings you tons of peanut butter and chocolate flavor for a cookie that's just like Crumbl's–but maybe even better!
What are Crumbl Cookies you ask? Check out my full review of Crumbl! And, if you want to know alllll the Crumbl flavors, I've got you covered with a complete list of the 200+ cookie flavors.
Three Reasons You'll Love Crumbl Peanut Butter Blossom Cookies
The peanut butter base cookie is my FAV. It crackles so perfectly and is super soft and full of peanut butter flavor. Plus, no chilling required!
Customize the frosting to your preferences whether you pipe it on for the classic Peanut Butter Blossom look, or just swoosh with a butter knife for a quicker method.
The chocolate buttercream is quick to make and just uses standard baking cocoa. No special orders or trips to the grocery store required!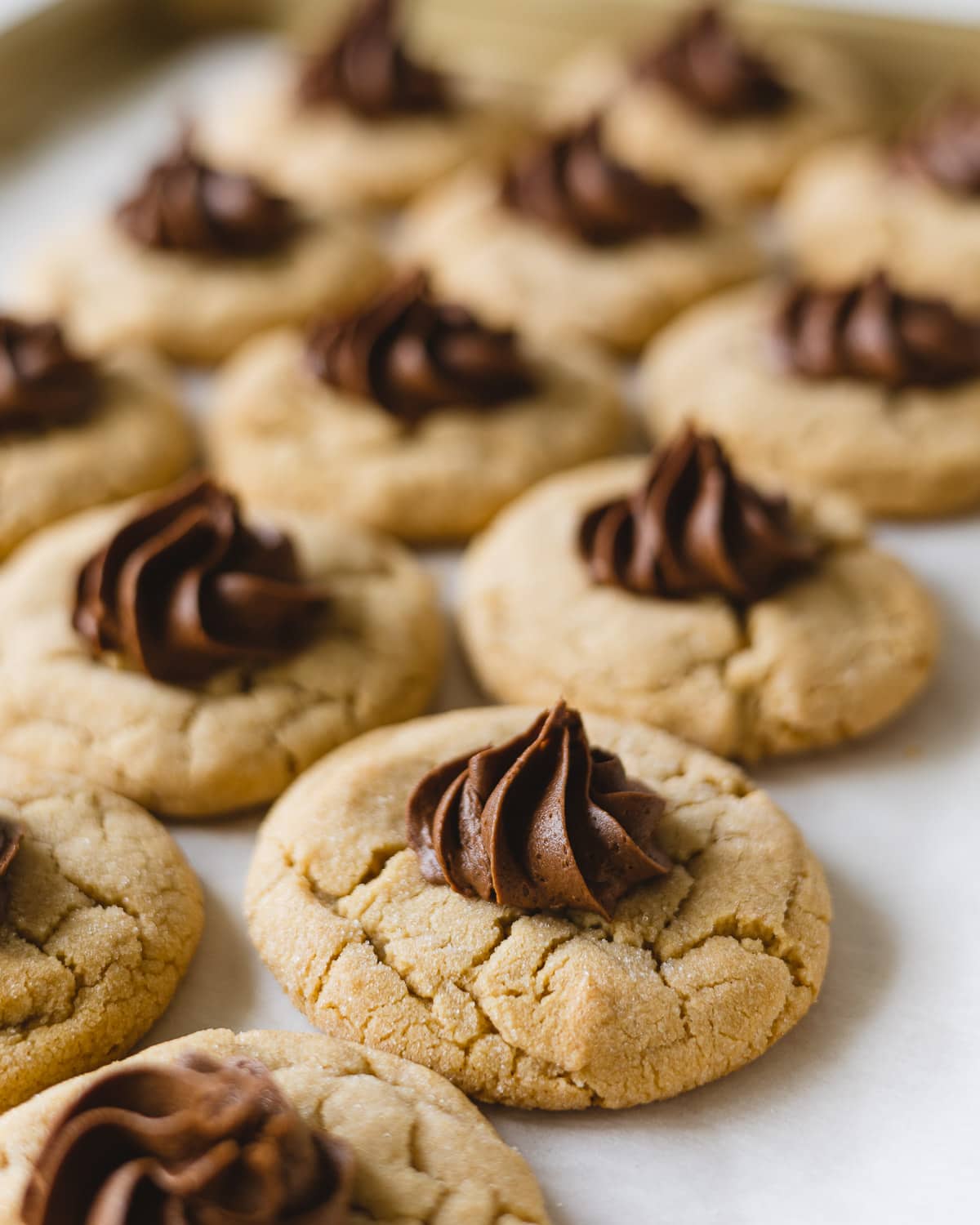 Ingredients You Will Need
The photo below from my Classic Peanut Butter Cookies recipe gives you an idea of the ingredients you'll need for these cookies. One change is that I use smooth peanut butter for this recipe (versus the chunky peanut butter shown below). You will also need cocoa powder and powdered sugar for the chocolate fudge frosting.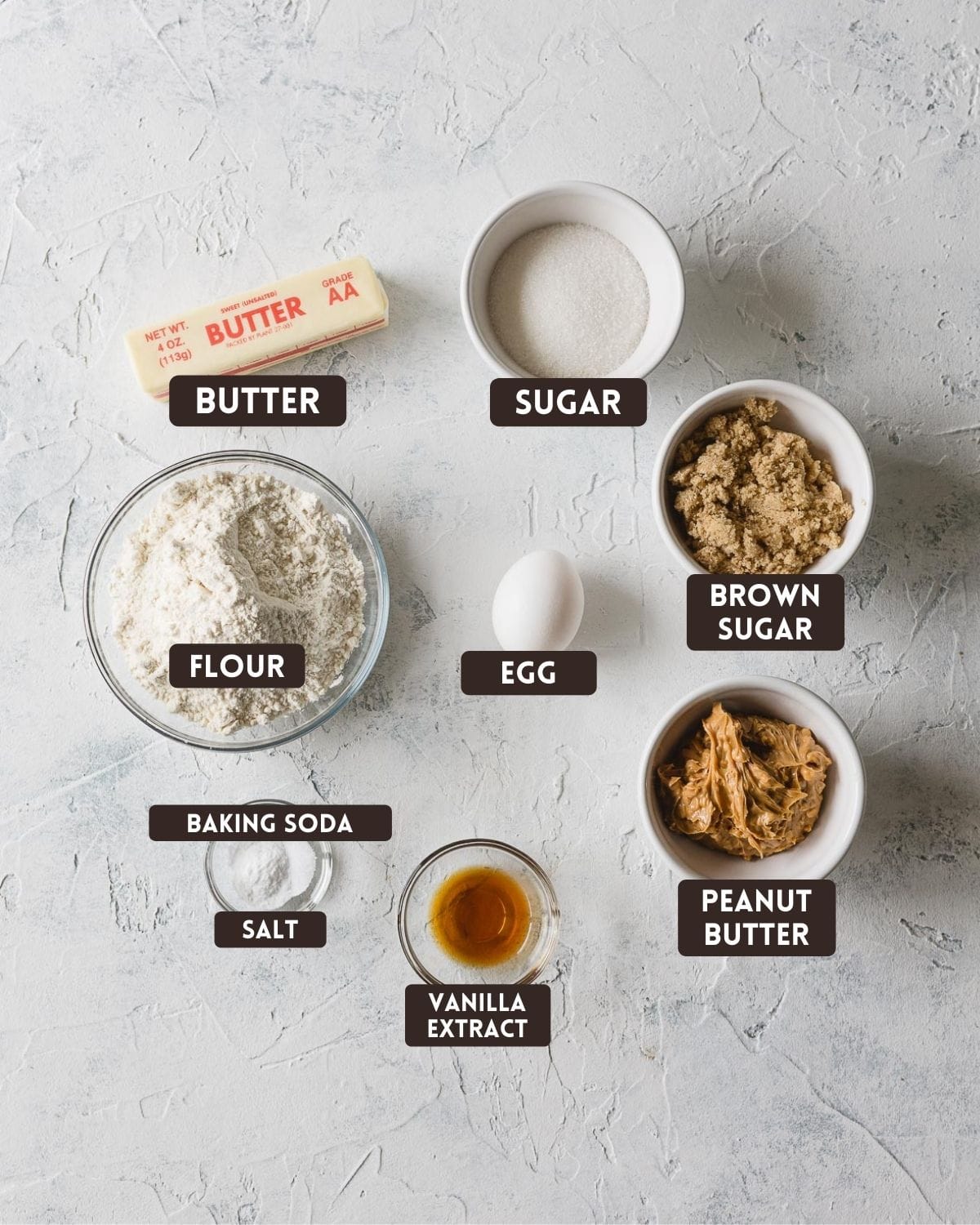 Unsalted Butter -use unsalted butter so your cookies do not end up too salty. Allow the butter to come to room temperature (about 2 hours or so is usually enough time) before baking so it's easy to cream together with the sugar.
Sugar – used within the cookie dough and for rolling the cookies before baking.
Brown sugar – I use light brown sugar for extra flavor + chewiness.
Peanut Butter – stick with conventional peanut butter (I like Skippy) for this recipe. "Organic" or "natural" varieties perform very differently when baking.
Vanilla Extract – super important for final flavor!
All-Purpose Flour – I use all-purpose unbleached flour for my cookie recipes. Measuring it accurately is very important for the final taste and texture of the cookies. Weighing the flour is preferred or you can spoon it into a measuring cup and level it off with a butter knife. I aerate the flour by mixing it briefly with a whisk before even spooning it into a cup to make sure it's not overly packed.
Baking Soda – soda, not powder!
Salt – just regular table salt.
Cocoa powder – standard baking cocoa ("natural cocoa powder"), nothing fancy. I like Hershey's.
Powdered sugar – also known as "confectioners' sugar", this is used for the chocolate buttercream.
How to Make the Cookies and Frosting
Here's a quick overview of the process of making Crumbl's Peanut Butter Blossom Cookies. One of my favorite things is that the dough doesn't require any chilling. Make and bake!
Cream: Use a hand mixer on low speed to cream together the butter and sugars until light and fluffy. Beat in the peanut butter and vanilla extract. Beat in the egg.
Fold in dry ingredients: add the flour, baking powder, and salt to the dough and fold it all in using a spatula.
Scoop: I use a 3-tablespoon scoop for these cookies. Roll them in sugar and gently flatten the very top of the scoops to get a smooth finish to frost.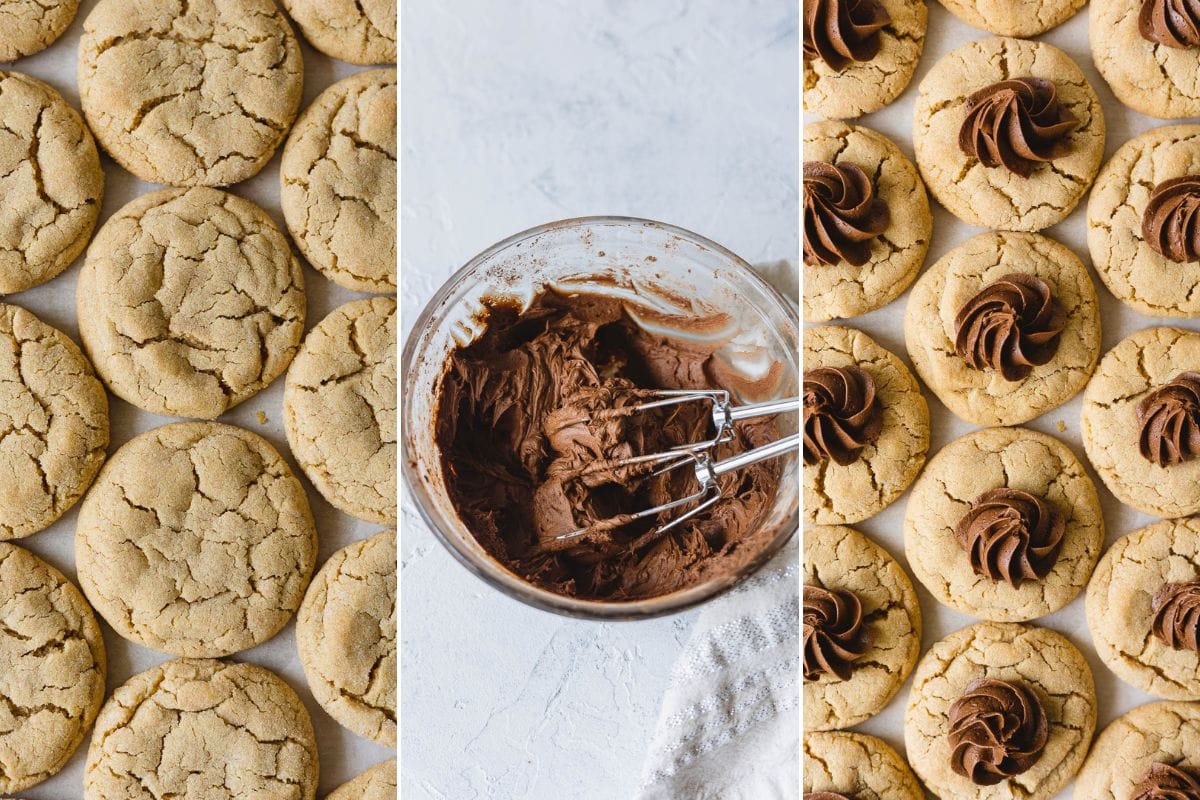 Bake: Bake until the cookies are beginning to turn golden brown on the edges and crackled on top. Overbaking can dry out cookies.
Make the frosting: Use a hand mixer to beat the softened butter and add confectioners' sugar and then the cocoa powder until totally incorporated. Thin it down with a little milk and some vanilla extract for flavor.
Frost: Frost each cooled cookie with a large swirl of frosting and serve immediately or store chilled in the fridge.
Can I Make the Cookies Larger?
These cookies are about 3″ which is my preferred route for my Crumbl Copycat recipes. The larger 4-4.25″ Crumbl cookies can be a bit overwhelming to eat in one sitting.
However, if you wish to make these larger like the Crumbl original, go for a 1/3 cup scoop and bake the cookies a bit longer–about 14-16 minutes. Don't forget to add a larger swirl of frosting to the top of each cookie since you'll only have eight cookies to frost!
More Tips and Tricks
Looking for a variation? Try my Peanut Butter Bar Cookies, which are very similar but feature a different style of chocolate frosting and a peanut butter oat cookie.
Cookies too dry? Over-measuring the flour is usually the culprit. Pick up a kitchen scale and you will LOVE it. Perfect cookies every time and you can skip washing measuring cups each time you bake.
Cookies too crisp? Don't overbake your cookies! Once they are crackling on top with just a bit of golden brown on the edges it's time to pull them from the oven. You can also use an oven thermometer to check if your oven is running hot or cold.
How to Store Frosted Peanut Butter Cookies
Store frosted cookies in the fridge for up to 5 days. Use an air-tight container. Unfrosted cookies can be stored at room temp or in the fridge, whereas the frosting should be stored in the fridge. Cookies are best eaten at room temp so the frosting is soft!
How to Freeze the Cookies
For long-term storage, cookies can be frozen (frosted or unfrosted) for 1-2 months in freezer-safe packaging.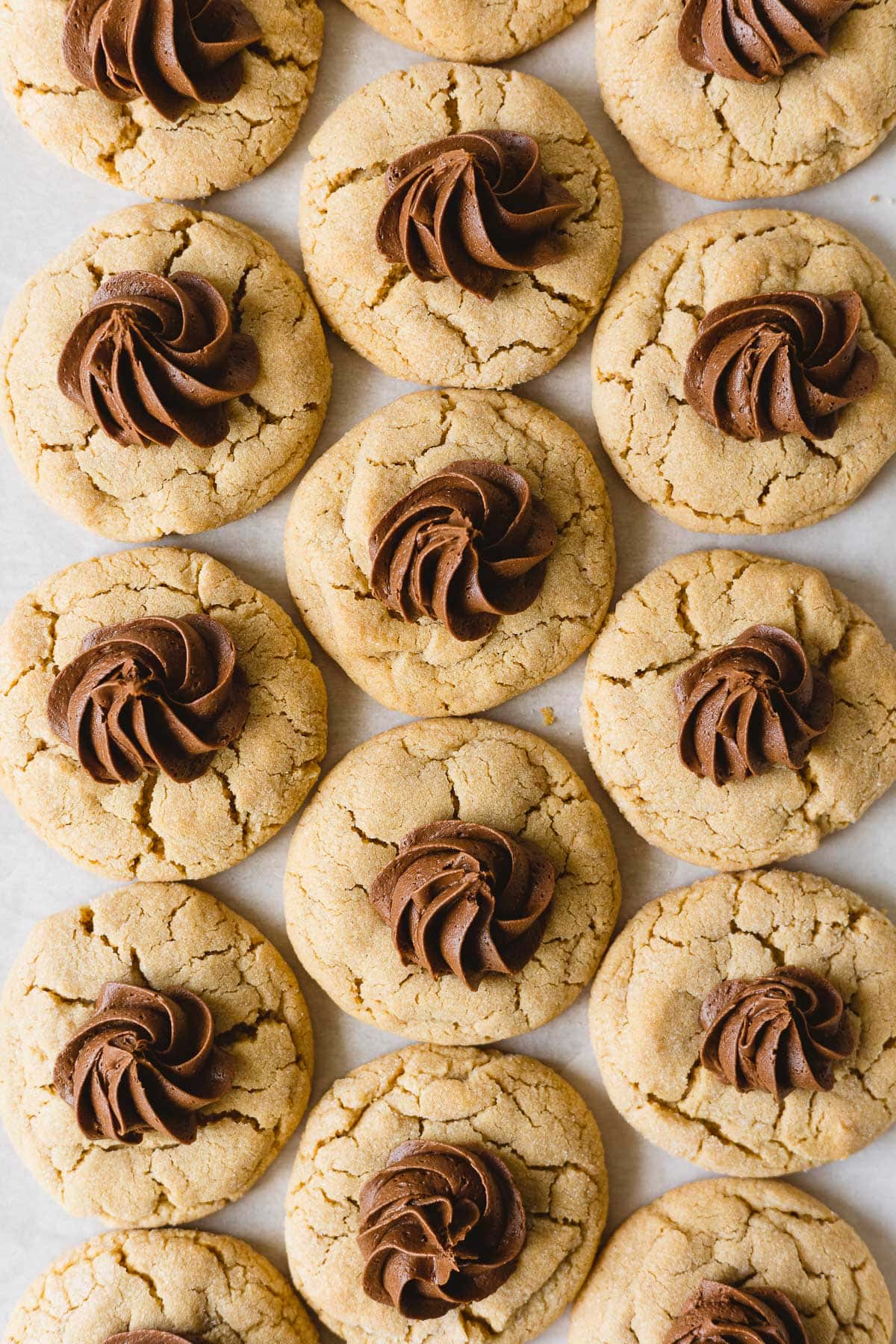 If you loved this recipe, leave a 5-star rating! I would so appreciate it!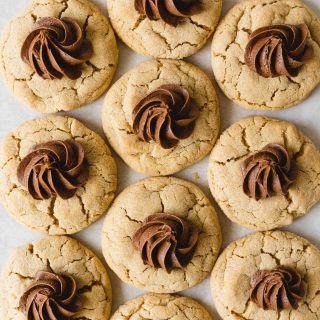 Crumbl Peanut Blossom Cookies
This copycat recipe for Crumbl's Peanut Blossom Cookies is a twist on the classic, but with a fudgy chocolate buttercream instead of the candy kiss in the center. You'll love this easy recipe that combines two favorite flavors–chocolate and peanut butter!
Ingredients
Peanut Butter Cookies
8

tablespoons

unsalted butter

4 ounces, soft at room temperature

½

cup

packed light brown sugar

3.5 ounces

⅓

cup

granulated sugar

2.5 ounces

½

cup

smooth peanut butter

4.5 ounces

1

teaspoon

vanilla extract

1

large egg

room temp

1 ¼

cup

all-purpose flour

6.25 ounces

¾

teaspoon

baking soda

⅛

teaspoon

salt

¼

cup

granulated sugar

(place in a small bowl for rolling cookies in)
Chocolate Fudge Buttercream
¼

cup

unsalted butter

2 ounces, or 4 tablespoons, soft at room temperature

1 ¼

cup

powdered sugar

5 ounces

¼

cup

cocoa powder

½

teaspoon

vanilla extract

2

tablespoons

whole milk

(more if needed)
Instructions
Preheat oven to 350°F and line two baking sheets with parchment paper.

In a large bowl, use a hand mixer with beaters to cream together softened butter and the sugars. Beat until totally combined and smooth, about 2 minutes.

Add peanut butter and vanilla extract and beat until combined. Add egg and beat until just combined.

Sprinkle the flour, baking soda, and salt over the mixture and use a spatula to fold everything together until combined and no streaks of flour remain. The dough will be soft and a bit sticky.

Use a 3 tablespoon cookie to scoop out cookies one at a time (about 15-16 cookies total). Roll each cookie scoop in a small bowl of granulated sugar to coat. Place the rounded scoops onto a cookie sheet about 2" apart and lightly flatten the tops with your fingers.

Bake cookies one sheet at a time until the cookies are lightly crackled on top and the edges are turning golden, about 10-12 minutes. Don't overbake.

Cookies will be puffy and then flatten as they cool. Cool on the cookie sheets for about 10 minutes and then transfer to a cooling rack to cool completely.
Chocolate Buttercream
Mix the butter with a hand mixer and beaters until soft (use a large bowl). Slowly add the powdered sugar, mixing each addition until combined. Add the cocoa powder and mix. This might get a bit messy, so feel free to start adding a bit of the milk to make it a little easier to mix up.

Add the vanilla extract and add the milk slowly (1 tablespoon at a time) and beat until soft and fluffy, adding additional milk if needed.

Use a large star tip (like Wilton's 1M) and a piping bag to pipe a large swirl of frosting in the center of each cooled cookie. Alternatively, you can spread a thin layer of frosting on each cookie with a small spatula or butter knife.
Notes
How to Store the Cookies
After frosting, I opt to store these in the fridge. Allow to come to room temperature before eating. 
You can also freeze the cookies (frosted or unfrosted) for up to 1-2 months.
Nutrition
Calories:
276
kcal
Carbohydrates:
36
g
Protein:
4
g
Fat:
14
g
Saturated Fat:
7
g
Polyunsaturated Fat:
2
g
Monounsaturated Fat:
5
g
Trans Fat:
0.4
g
Cholesterol:
35
mg
Sodium:
191
mg
Potassium:
102
mg
Fiber:
1
g
Sugar:
26
g
Vitamin A:
300
IU
Calcium:
21
mg
Iron:
1
mg