Brown Butter Cornbread Cookies Recipe (Crumbl Copycat!)
These chewy brown butter cornbread cookies are topped with a honey butter drizzle and a swirl of homemade honey buttercream. The recipe is inspired by Crumbl Cookies, but if you love cornbread, you'll love these!
Please note that this post contains affiliate links which allow me to earn a small commission when a purchase is made at no additional cost to you. Read more here.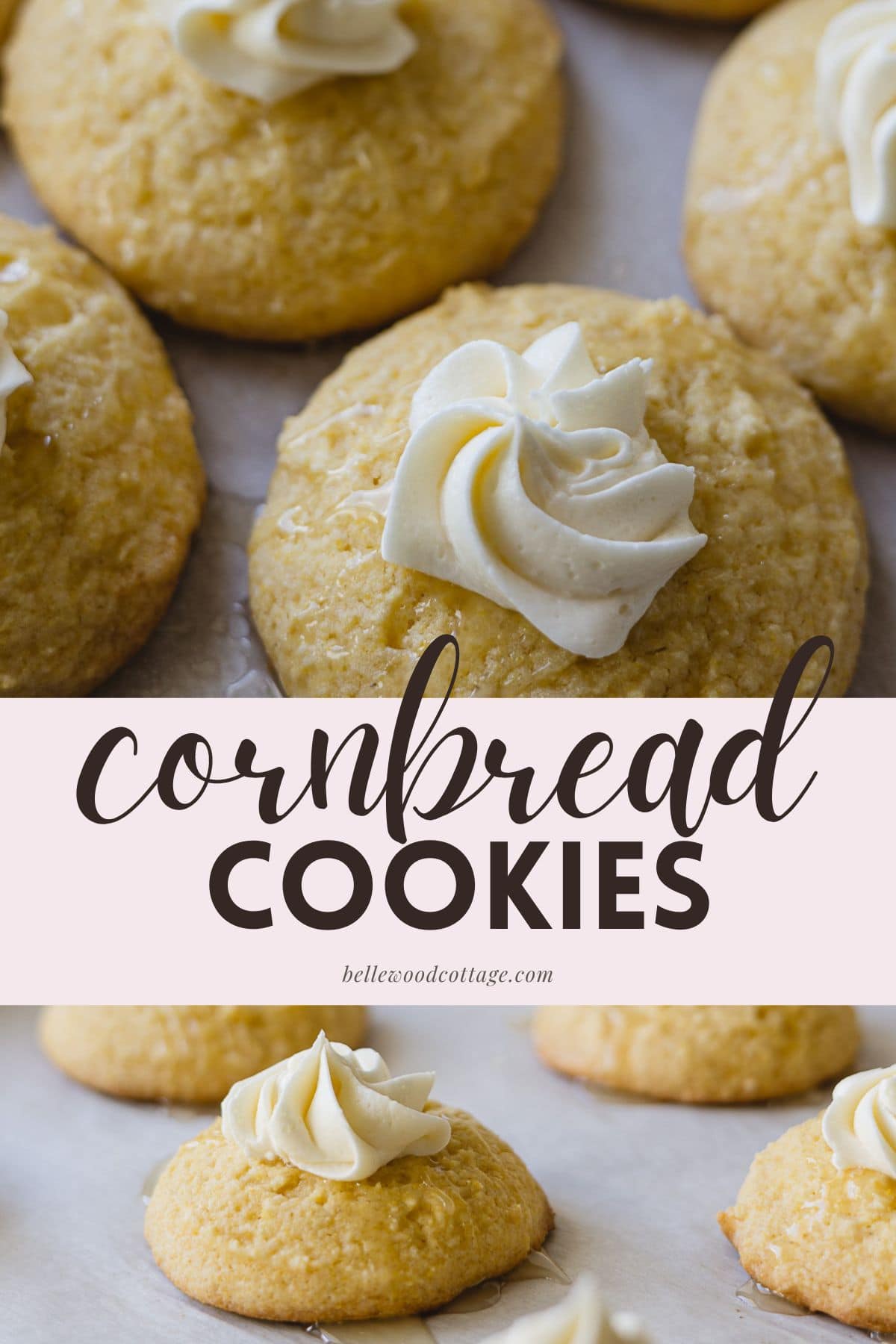 Crumbl's Cornbread Cookie seems to be a fan favorite and I wanted to replicate the cookie for preparing easily at home too.
One of the struggles with a cornbread cookie is that the cornmeal can create a tough and chewy cookie. There just isn't enough liquid (or bake time) in a cookie recipe to soften the cornmeal as happens in a classic cornbread recipe.
So, for this recipe I opted to grind the cornmeal to an even finer texture before baking with it. I use a clean coffee grinder, but a food processor will work too. This little extra step keeps these cookies soft and cornbread-like.
The cookies have three elements: The base cookie, a honey butter drizzle, and honey buttercream. It might seem like a lot of elements, but they come together quickly. Plus, the dough doesn't require chilling!
Can't get enough cookies? Don't forget to check out my growing list of Crumbl Copycat Recipes.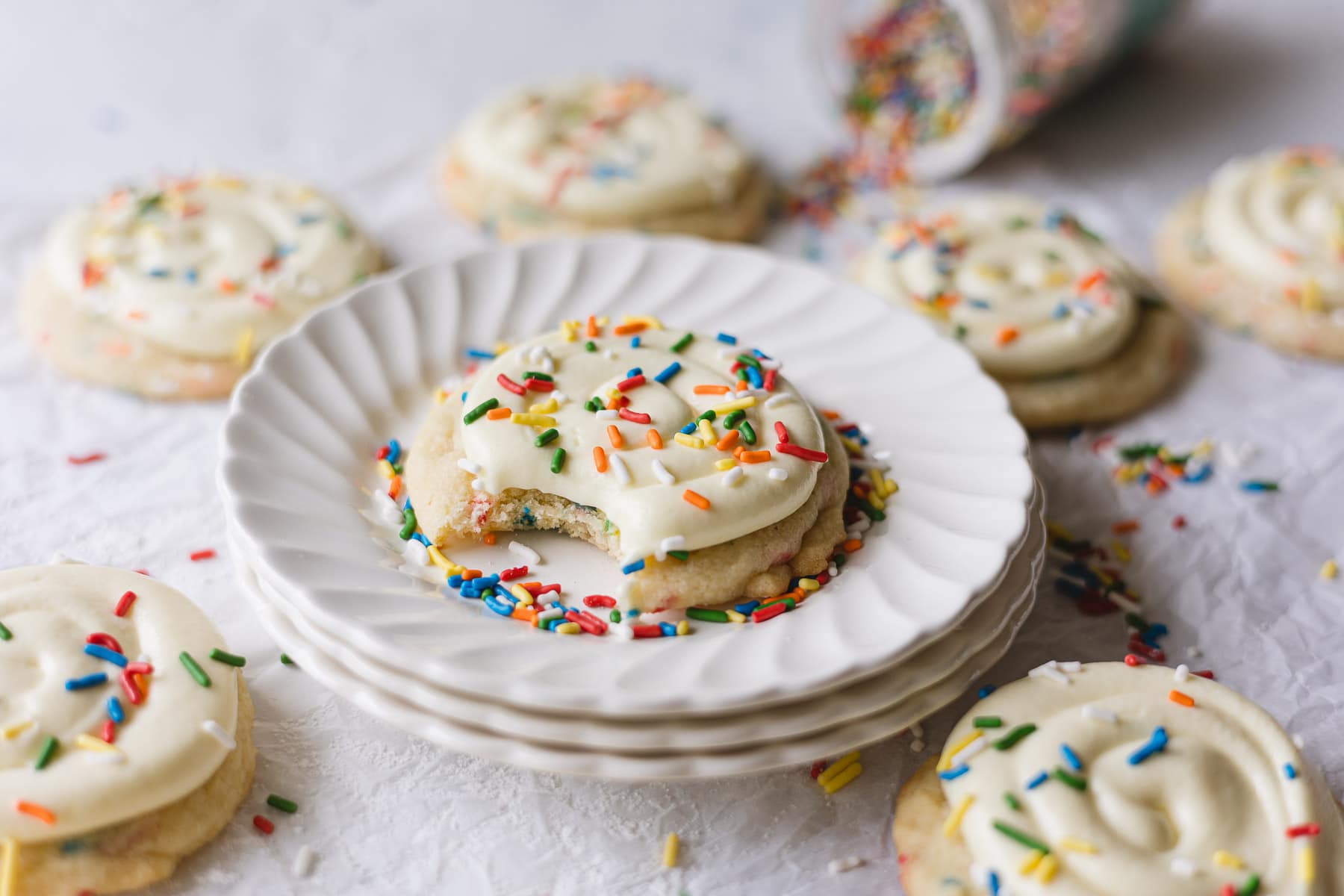 Do These Cookies Taste Like Crumbl's?
This recipe is inspired by Crumbl's Cornbread (particularly the honey drizzle & buttercream), but are a bit heavier on the cornbread flavor and texture! I also make them smaller (about 3″) so they are more of a "normal" cookie size.
Cornbread cookies are an unusual recipe and they really do taste like cornbread. They are a dense, chewy cookie that is best served warm. I consider the honey drizzle and buttercream essential!
What are Crumbl Cookies you ask? Check out my full review of Crumbl! And, if you want to know alllll the Crumbl flavors, I've got you covered with a complete list of the 200+ cookie flavors.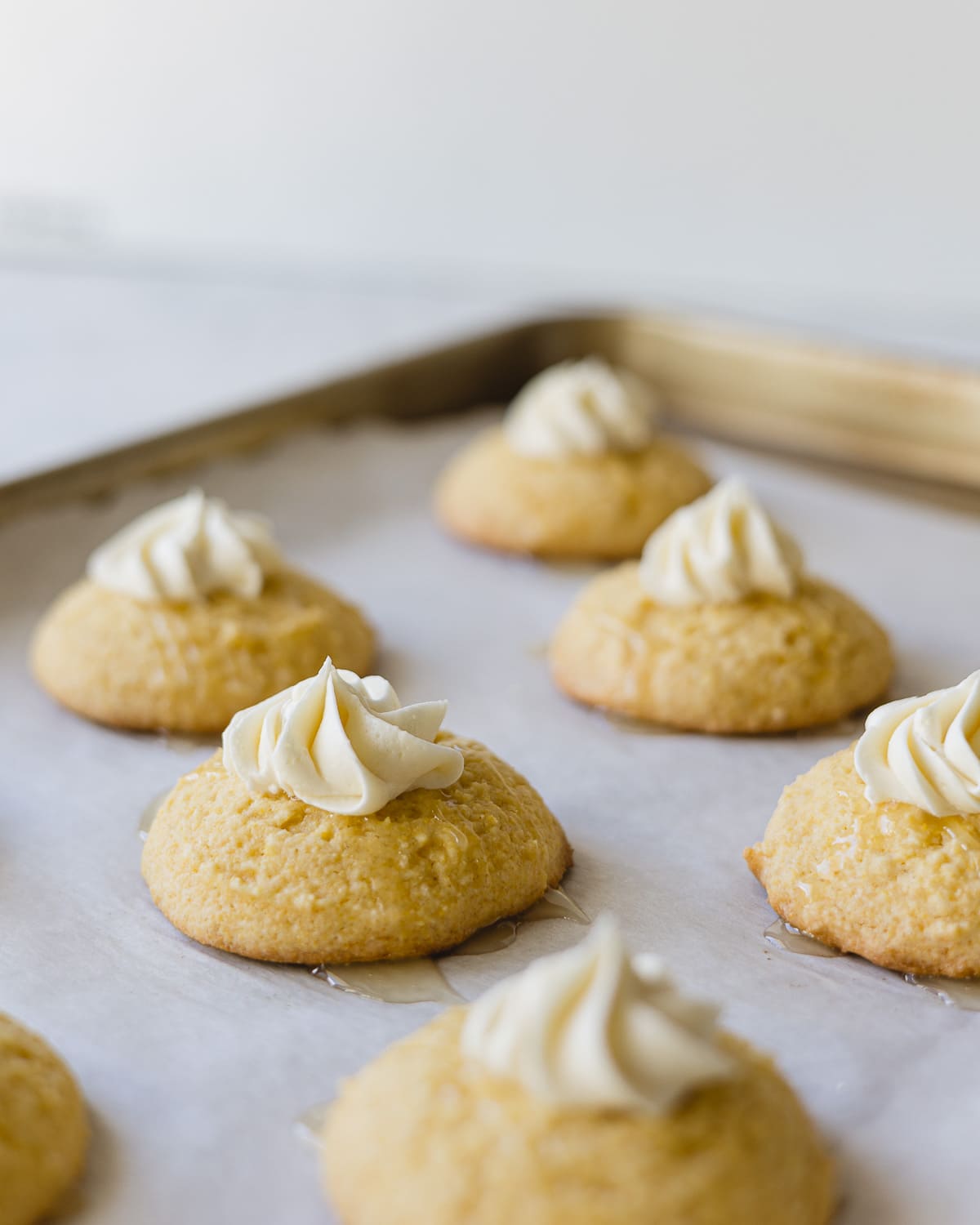 Ingredients You Will Need
Before getting started, you'll want to make sure you have some basic baking ingredients on hand along with cornmeal and honey. Here's the complete list:
Unsalted Butter – I always use unsalted butter when baking. I recently updated this recipe to feature brown butter (which is SUPER yummy and gets the cornbread flavor across far better). Because of this, you don't need to worry about softening the butter in advance.
Light Brown Sugar – We'll use light brown sugar in this recipe. Weigh it, or be sure to pack it when measured.
Egg – at room temperature. I just grab an egg from the fridge first thing and by the time I'm ready to add it, it's basically room temp.
Vanilla extract – a bit of vanilla extract adds flavor to the cookies.
Whole milk – just a bit is needed to add back water content to the browned butter.
All-Purpose Flour – I use all-purpose unbleached flour for my cookie recipes. Measuring it accurately is very important for the final taste and texture of the cookies. Weighing the flour is preferred, but you can also spoon it into a measuring cup and level it off with a butter knife if you don't have a kitchen scale. I like to gently aerate the flour by mixing it briefly with a whisk before even spooning it into a cup to make sure it's not overly packed.
Cornmeal – I used Quaker Cornmeal and we are going to use a coffee grinder (or a food processor) to grind it down further so we can skip gritty cookies.
Baking soda & salt – for rise and flavor.
Confectioners' Sugar – Also known as powdered sugar, the confectioners' sugar in these cookies is used in the honey buttercream frosting.
Honey – I use pure clover honey, U.S. Grade A.
How to Make Cornbread Cookies
This section provides an overview of the recipe–find complete instructions on the printable card below!
Prepare cornmeal: First, we'll grind the cornmeal to a fine texture using a coffee grinder or food processor.
Brown butter: Then we'll brown the butter (instructions in the recipe card), pour it into a heat-proof bowl, and mix in a little milk.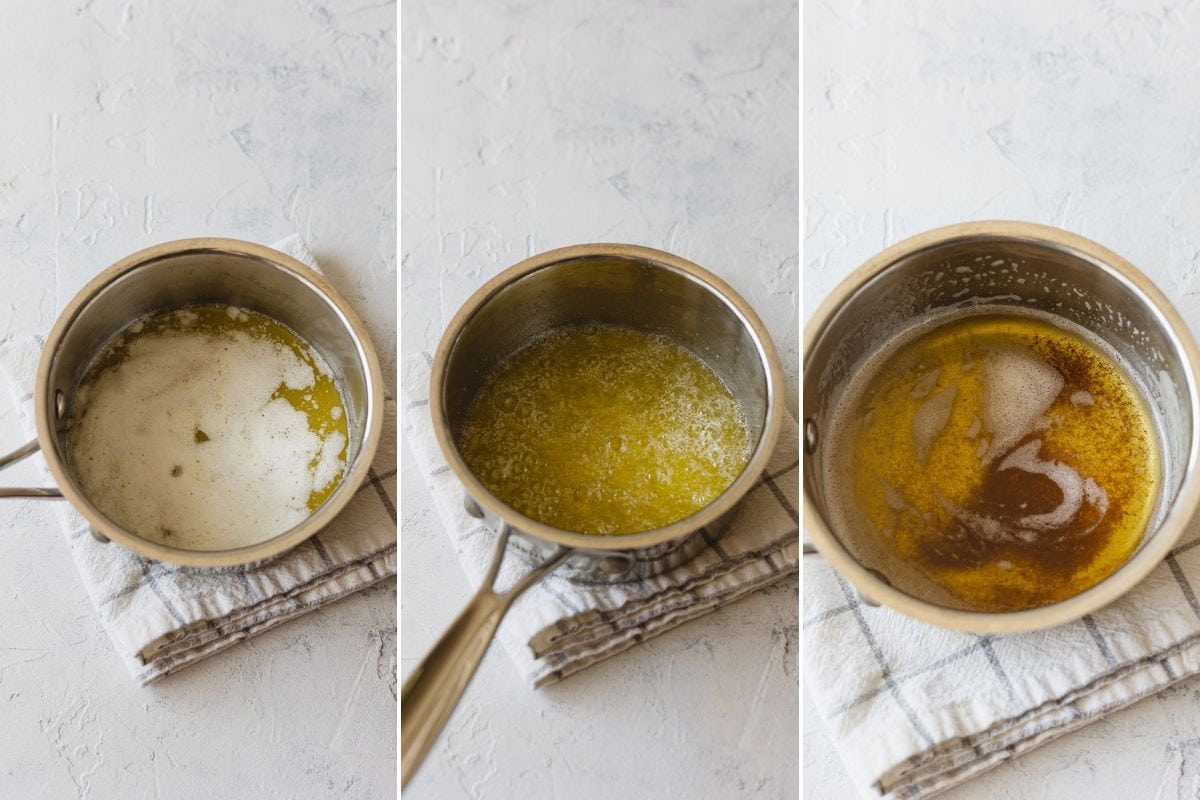 Make the Dough: Stir in the brown sugar, then the egg and vanilla. Finally, add the flour, cornmeal, baking soda, and salt. Mix until combined.
Chill: If you skip the chilling process and bake these cookies right away, the texture will suffer–they'll be dense with no pretty crackles on top. Opt to chill the dough for at least 30 minutes or up to 60 minutes for the best cookies.
Scoop: Use a 3-tablespoon scoop to scoop out about 10 cookies. Bake until the edges of the cookies are just beginning to turn golden. Don't overbake. Allow to cool a bit and then drizzle with the honey butter and a swirl of buttercream.
Honey Butter: This is easy–just melt together 1 tablespoon of honey and 1/2 tablespoon of butter in a small bowl in the microwave and stir to combine. Drizzle onto still-warm cookies with a spoon.
Honey Buttercream: Cream together softened butter and confectioners' sugar and beat in the honey and vanilla extract until smooth. Pipe, scoop, or swirl some buttercream onto each cookie. Enjoy!
How Large Are the Cookies?
Crumbl Cookies are usually way too big for me, so I like to make the cookies in my copycat recipes around 3″ instead of the larger 4″-4.5″. This recipe will only make 10-11 cookies so it's more of a "half-batch" recipe. You can double the recipe if you want to make larger cookies (or a larger amount).
More Tips and Tricks
Cookies too dry? Over-measuring the flour is often the culprit. Pick up a kitchen scale and you will LOVE it. Perfect cookies every time and you can skip washing measuring cups each time you bake.
Another possibility with dry cookies is that they were overbaked. We just want a slight tinge of golden brown on the edges of these cookies before pulling them from the oven. An oven thermometer is also handy to check if your oven is running hot or cold.
How to Store the Cookies
These cookies are best eaten warm. Store unfrosted cookies (drizzled is also fine) at room temperature in an airtight container for up to two days. I like to slightly warm a cookie in the microwave (maybe 15 seconds) and then add a scoop or swirl of the buttercream (doesn't need to be fancy!).
Or, you can store the frosted cookies in the fridge. Allow cookies to come to room temperature (15-20 minutes) or pop one in the microwave for 10-15 seconds before eating for the best texture.
How to Freeze the Cookies
For long-term storage, cookies can also be frozen (frosted or unfrosted) for 1-2 months in freezer-safe packaging.
If you loved this recipe, leave a 5-star rating! I would so appreciate it!
Brown Butter Cornbread Cookies
A Crumbl-Inspired recipe for Cornbread Cookies with Honey Buttercream! This recipe makes a small batch of 3" cookies–you'll get about 10-11 cookies. Serve them warm with a drizzle of honey butter and a swirl of sweet honey buttercream.
Ingredients
Cornbread Cookies
6

tablespoons

unsalted butter

3 ounces

⅔

cup

light brown sugar, packed

4.7 ounces

1

large egg

room temp

¾

teaspoon

vanilla extract

1 ½

tablespoon

whole milk

1 ¼

cup

all-purpose flour

6.25 ounces

⅓

cup

cornmeal

about 2.3 ounces

¾

teaspoon

baking soda

1/4

teaspoon

salt
Honey Butter Glaze
1

tablespoon

honey

½

tablespoon

unsalted butter
Honey Buttercream
4

tablespoons

unsalted butter

½

cup

confectioners' sugar

2 ounces

1 ½

tablespoons

honey

⅛

teaspoon

vanilla extract
Instructions
Finely grind the cornmeal in a food processor or a very clean coffee grinder set to a fine setting (see notes). If using a coffee grinder, it may take two batches. Be sure you have measured the cornmeal before grinding (or just weigh it).

Preheat oven to 350°F. Prepare one large baking sheet by lining with a sheet of parchment paper.

Brown butter: Melt the butter slowly on medium-low heat in a light-colored saucepan or skillet. Once melted, turn the heat up a bit and watch the butter closely while stirring frequently with a wooden spoon. Watch for the milk solids beginning to toast (small brown flecks within the butter), then swirl the spoon around the pan a few times more and remove it promptly from the heat.

Transfer the butter into a heatproof bowl immediately. Stir in the whole milk to slightly cool the butter.

Add the brown sugar and stir with a wooden spoon until combined. Add in the egg and vanilla extract and stir until just combined.

Add the flour, cornmeal, baking soda, and salt to the dough. Mix until combined. Chill dough for 30-60 minutes before baking.

Use a 3-tablespoon scoop to scoop 10-11 cookies. Arrange on baking sheet and lightly flatten the tops of the scoops with your fingers.

Bake for 8-10 minutes until the tops of the cookies are crackled and the edges of the cookies are golden. Don't overbake.

Allow cookies to cool for about 30 minutes and then drizzle with the honey butter (recipe follows) and a swirl of buttercream. You can pipe a star swirl like I did for the photos or use a tiny cookie scoop to scoop a bit on. Or, just swirl a little on with a knife!
Honey Butter Glaze
Melt together 1 tablespoon of honey and 1/2 tablespoon of butter in a small bowl in the microwave and stir to combine.

Drizzle onto still-warm cookies with small spoon.
Honey Buttercream
In a medium bowl, beat the softened butter with a hand mixer on low speed for about 1 minute to loosen it up. Add in the confectioners' sugar in three or four additions, beating it in between additions. Beat in the honey and vanilla extract until smooth.

Pipe, scoop or swirl some buttercream onto each cookie (you can also opt to frost each cookie directly before eating if you prefer to store the cookies unfrosted). Note that if the cookies are still quite warm the buttercream will melt, but that's actually pretty delicious too!

Cookies are best served warm immediately after frosting, or gently reheated in the microwave.

Store leftover frosting and frosted cookies in the fridge.
Notes
Storing the Cookies: You may s

tore unfrosted cookies at room temp in an airtight container and store the buttercream in the fridge. Warm cookies slightly in the microwave before eating and add a scoop of the buttercream.
Alternatively, store frosted cookies in the fridge and allow to come to room temp (or gently microwave) before enjoying!
How to Use a Coffee Grinder to Grind Cornmeal: I often use my coffee grinder to grind other foods like oats or cornmeal. First, I clean it well using the brush that came with the grinder. Then, I grind a few tablespoons of the product I will be grinding and toss (or save for another use where I don't mind a bit of coffee flavor!). That mini-batch will usually pick up any last bits of coffee. Then you are ready to grind for the recipe.
Nutrition
Calories:
236
kcal
Carbohydrates:
28
g
Protein:
3
g
Fat:
13
g
Saturated Fat:
8
g
Polyunsaturated Fat:
1
g
Monounsaturated Fat:
3
g
Trans Fat:
0.5
g
Cholesterol:
48
mg
Sodium:
317
mg
Potassium:
46
mg
Fiber:
1
g
Sugar:
12
g
Vitamin A:
411
IU
Vitamin C:
0.04
mg
Calcium:
29
mg
Iron:
1
mg