Crumbl Cookies Review – Worth the Hype?
Crumbl Cookies are everywhere! These extra-large cookies filled and topped with gourmet flavors are crazy popular right now and I decided it was time to write up my own Crumbl Cookies Review! Are the cookies worth the hype?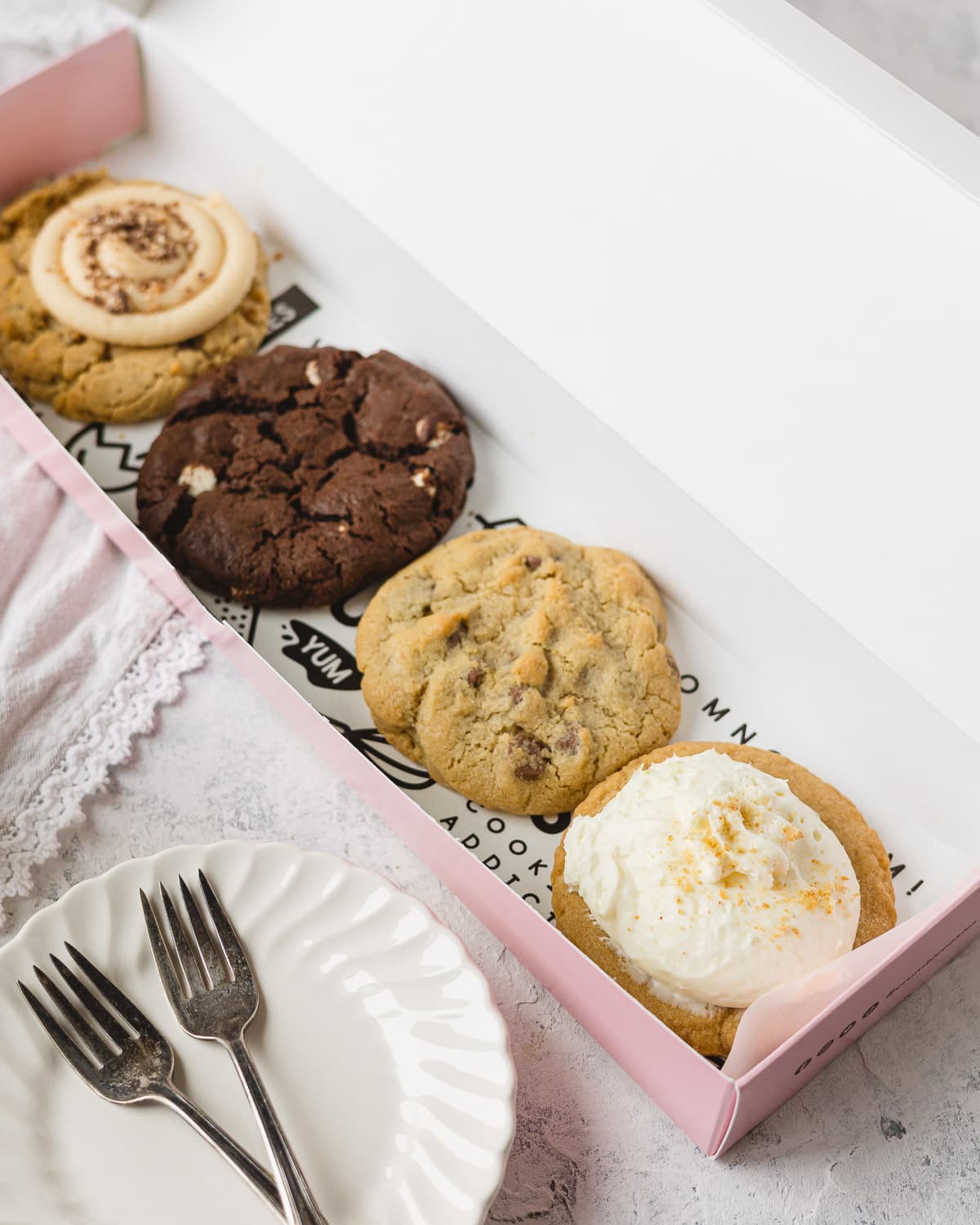 New! Also check out my review of Crumbl's S'mores Cookie!
Have you heard of Crumbl Cookies yet? What started as a small cookie bakery in Logan, Utah has expanded across the nation with the goal of connecting people over what Crumbl calls "the world's best box of cookies".
Crumbl locations are popping up everywhere (in fact, there's over 300 stores operating throughout the USA and more opening each week). If you haven't tried these cookies, check out the store locator and see if there is a store near you.
Since I've hopped on the Crumbl bandwagon and even started making some of my own copycat recipes, I figured it was high time to do a formal review of these uber-popular cookies.
Looking for copycat recipes? Check out my Crumbl Cookie Recipes including a Crumbl Sugar Cookie Recipe, Single Serve Peanut Butter Cookie, and Cinnamon Cookies ft. Cinnamon Toast Crunch!
Are Crumbl Cookies Worth It?
First off, do these cookies live up to the hype? They look tempting enough, but they do cost about $4 per cookie. Is it worth the cash?
Let's start with the basics.
Each cookie is a custom flavor, about 4.25-4.5″ in diameter, and weighs in at around 5.5 ounces.
These extra-large gourmet cookies come in unique flavors you won't find anywhere else. Flavors like Cinnamon Toast, Cotton Candy, Frozen Hot Chocolate, Blueberry Muffin, Caramel Popcorn, and even Sour Patch Kids.
New Flavors Each Week
One of the "hype" elements of the cookies is that the bakery only releases four or five flavors each week. So, you never know what will be available next–or if your favorite flavor will come around again.
That means when you see a completely irresistible flavor you gotta snag it, because it'll be gone after stores close on Saturday.
Save it for later! Did you know you can freeze Crumbl Cookies? Most flavors will freeze and I have step-by-step instructions for how to freeze Crumbl Cookies right here for you!
Crumbl Cookies does repeat flavors, so if there's something you missed, there's hope! But you never know when a favorite will be back. This is part of the reason that copycat recipes are so popular right now. When you find a favorite cookie, it's fun to be able to make it at home whenever the craving strikes.
In addition to the new flavors offered each week, the Crumbl menu always includes their Milk Chocolate Chip Cookie (their frosted & chilled Pink Sugar Cookie also used to be a weekly offering, but has moved to the flavor rotation as of April 2022).
What are all the Crumbl flavors? Check out the complete list of Crumbl flavors right here.
The Cookies We Reviewed
My husband and I picked up a box of four cookies for this review and we sat around, took some time, and were meticulously picky about our critique. Cookies are serious business after all. We also sampled the next day (and the next day) leftovers to see how the cookies fared after being stored.
Overall Review of Crumbl Cookies
Each cookie gets a detailed review below, but here's a quick tl;dr for you!
What I love: The gourmet size (I mean, talk about show-stopping cookies), unique flavors, and the fun of getting new flavors each week. Also, how cute are the pink boxes?
What I don't love: Some of the cookies tasted more like SUGAR than anything else. I love dessert, but I like it to be balanced–not just pure sweetness.
Milk Chocolate Chip Reviewed
Mm, chocolate chip. This is one of the cookies that Crumbl offers every week. It's a classic and obviously quite popular. The Crumbl Cookie version of a chocolate chip cookie diverges from popular semi-sweet chips and uses milk chocolate chips–giant ones!
Note that the chips are rumored to be Guittard Chocolate Chips, but regardless of what Crumbl uses, the large Guittard chips are fantastic choice if you are looking to replicate the cookies.
What makes this cookie unique is the large size, the giant milk chocolate chips, and the ooey-gooey center. I felt that unfortunately, while the cookie was yummy, the overwhelming flavor was simply "sweet". Though I liked the gooey center the cookie was a bit too much on the sweetness scale, especially with the milk chocolate chips in place of semi-sweet chips. 3/5 stars.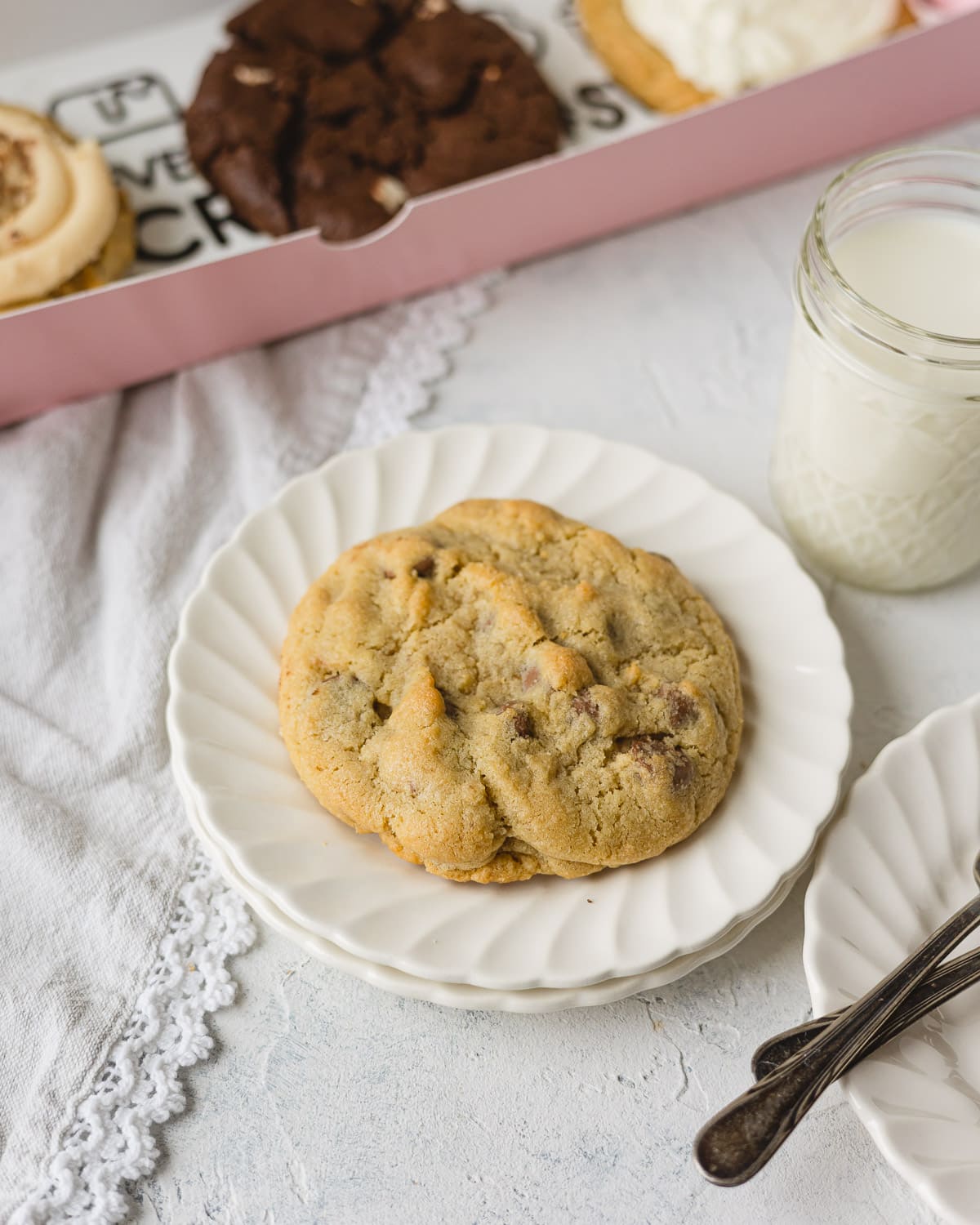 Triple Chocolate Cookie Reviewed
The Triple Chocolate Cookie was delicious! It's basically a brownie in cookie form filled up with chocolate chips. Soft, chewy, chocolatey. 5/5 stars.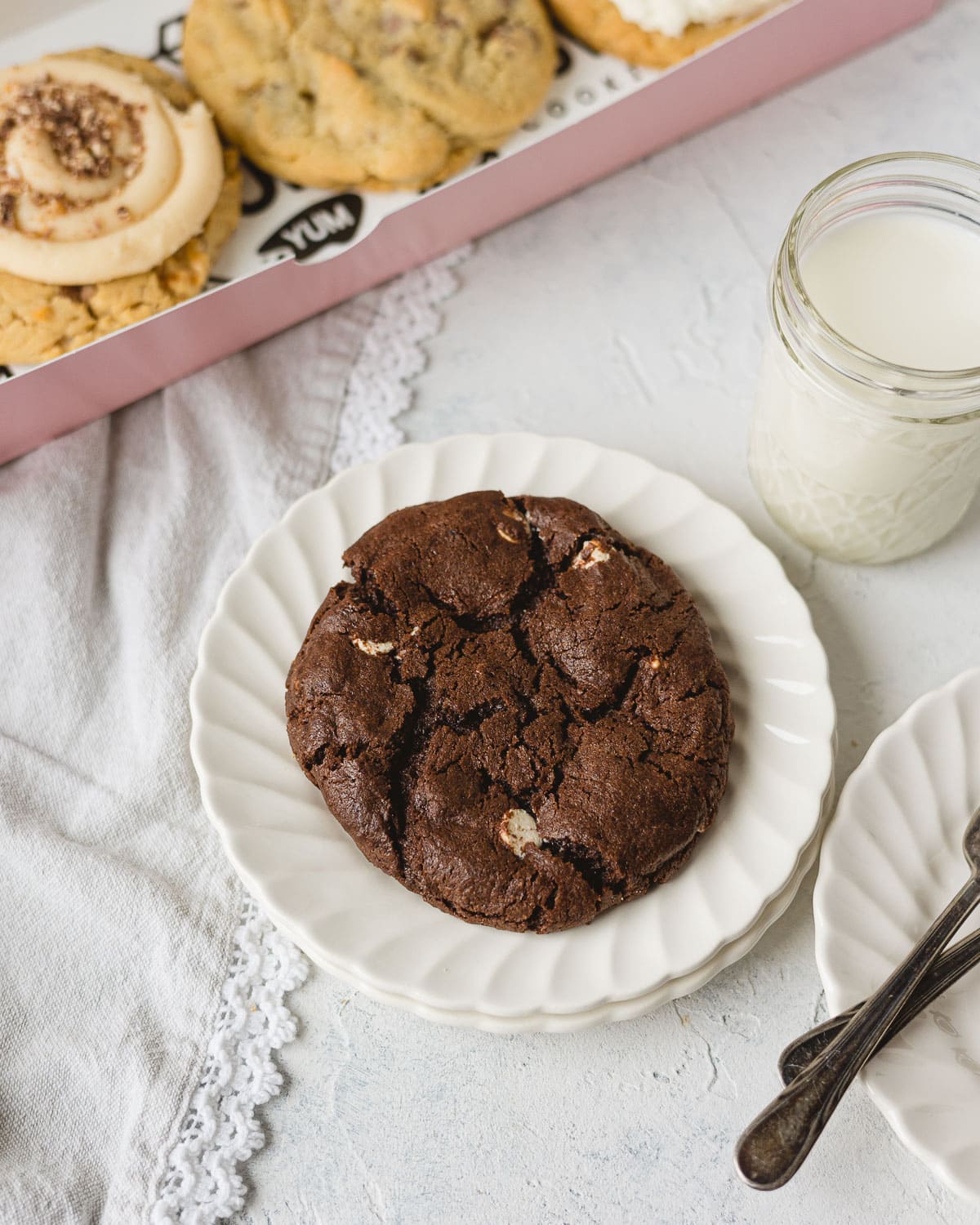 Key Lime Pie Crumbl Cookie Review
The Key Lime Pie filling on this one was great, but the cookie itself wasn't really that interesting. The flavor was lost with the stronger key lime flavors and the texture was a bit too soft and cakey.
While you can save your Crumbl Cookies for the next day (refrigerate anything with perishable toppings), this particular cookie is best eaten the same day. Our sample cookie hung out in the fridge for a few days and it was still good, but the cookie continued to grow softer from the moisture of the filling.
The presentation of this cookie was a bit lacking compared to the Instagram shots from Crumbl or other cookie fans. It just kind of looked like a scoop of filling plopped on a cookie. 3/5 stars.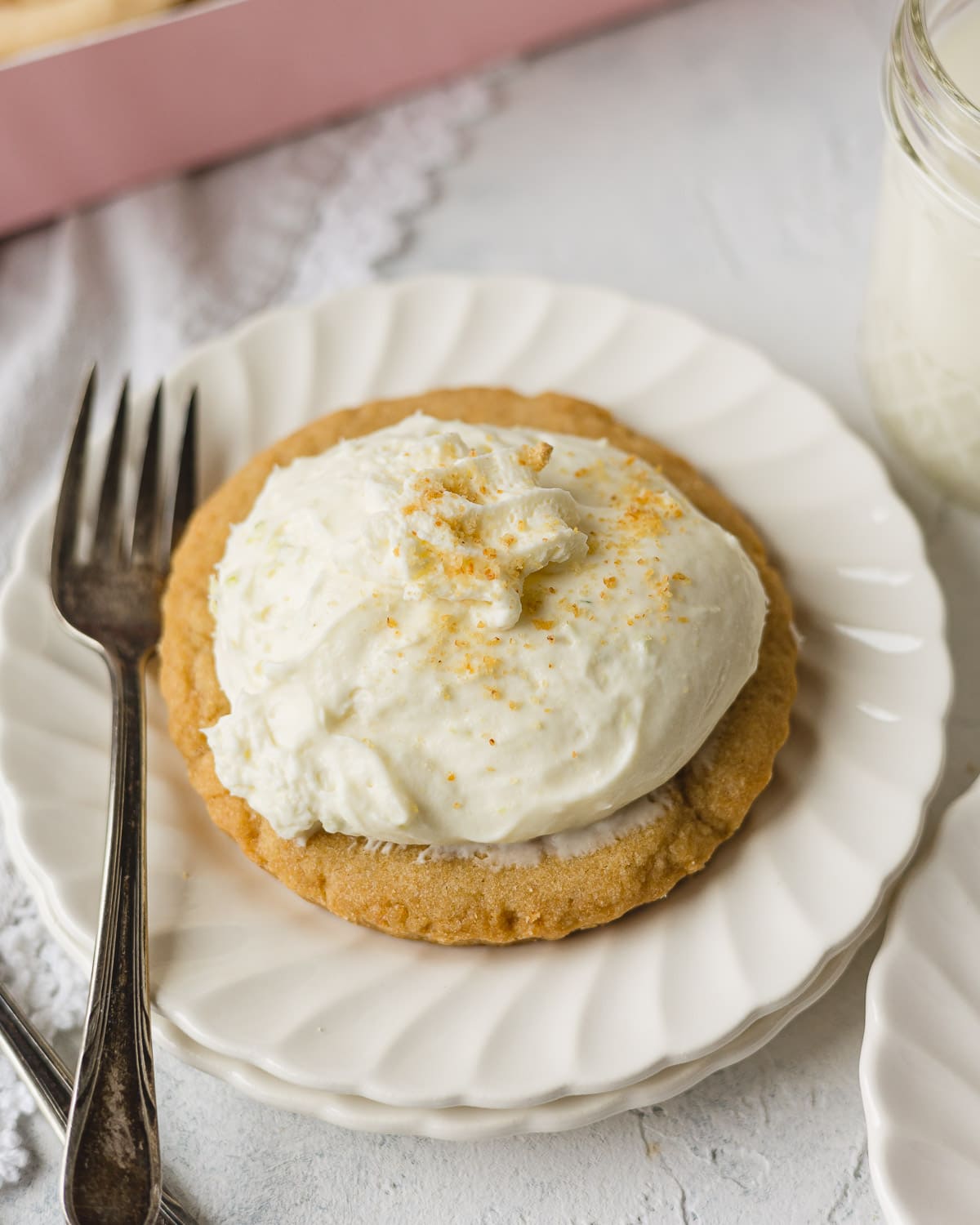 Snickers Peanut Butter Cookie Review
I love a good peanut butter cookie so this one was a hit for me! Again though, the sugar content was high. I would've been more than happy with just the cookie filled up with chunks of Snickers. The frosting added a lot of sweetness, but not much actual flavor. Such a cute cookie though too! 4/5 stars.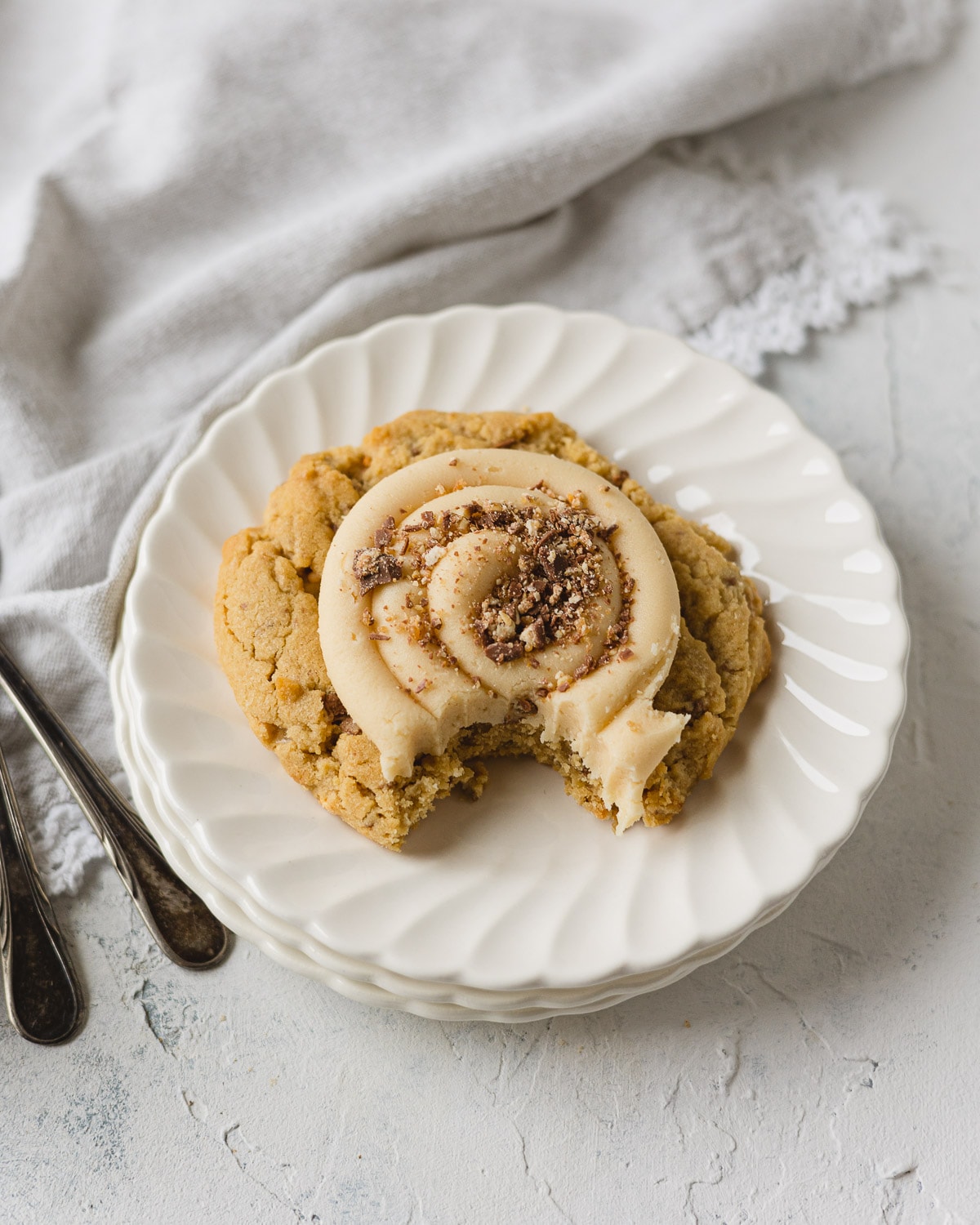 If you haven't tried Crumbl Cookies, definitely do give them a try! I suggest picking up a Milk Chocolate Chip and adding in a few of the week's specials. Their chocolate base cookies seem to be particularly good. Just be warned that if any flavor sounds super-sweet, it probably is!
What About Shipped Cookies?
I recently shipped myself a selection of Crumbl Cookies and I wrote up complete instructions for how to ship Crumbl Cookies as well as my thoughts on the cookies.
I provide a lot more details on that post, but here I'll say that the cookies were a bit of a letdown. Some of the flavors were dry or doughy (not in a good way) and it just wasn't the same as the freshly baked cookies.
I tried Funfetti, Classic Peanut Butter, Blueberry Muffin, Cookies & Cream and a few others.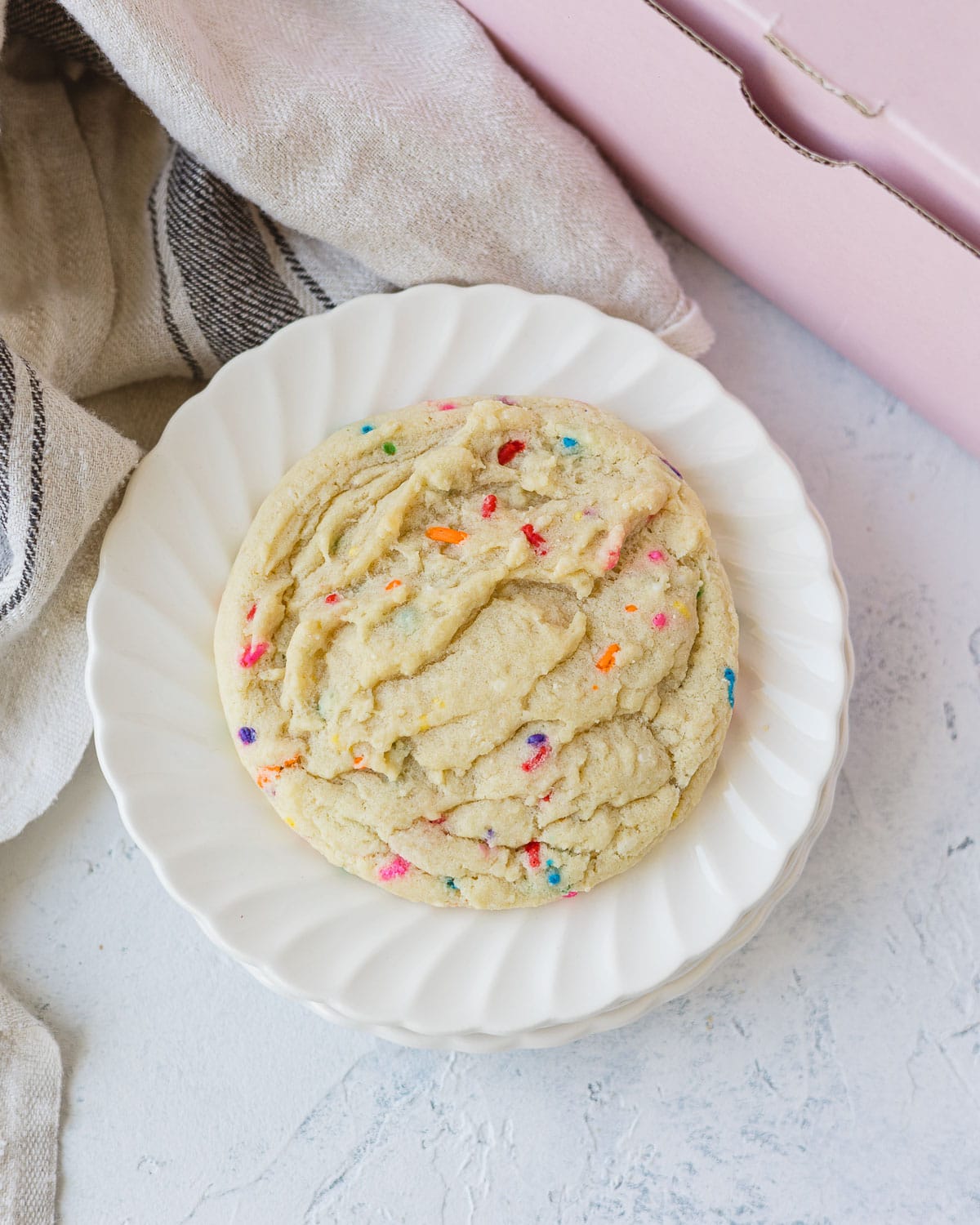 What are all the flavors of Crumbl Cookies?
There are over 100 flavors of Crumbl Cookies! In fact, it's over 200 now. That's a lot of cookies to sample. The flavors are creative and irresistible.
They are always releasing new ones too, so it's a lot to keep up with. I have a huge checklist of Crumbl flavors with every flavor (including a printable list if you want).
Flavors include cookies like: Birthday Cake, Buckeye Brownie, Snickerdoodle Cupcake, Key Lime Pie, Buttermilk Pancake, Mint Chip Ice Cream, Strawberry Pop Tart, Raspberry Lemonade, Peach Cobbler, S'mores, Fruit Pizza, German Chocolate Cake, and SO many more. How could anyone resist?
Crumbl Questions–Answered!
Have burning Crumbl questions? I've got answers!
How much is a 4-pack of Crumbl cookies?
Though it varies from region to region, in my area a 4-pack of Crumbl cookies costs $13.18 while a solo cookie is $3.98. Extra-hungry? Pick up a 6-pack of Crumbl Cookies for $19.58 or a 12-pack party box for $34.08.
They even sell a convenient lil' cookie cutter that'll cut each cookie into four perfect pieces. You know, portion control and all.
What Crumbl Cookies Are Always Available?
Crumbl's original Milk Chocolate Chip is available every week. The Chilled Pink Sugar Cookie used to be a weekly offering as well, but was retired to the rotating menu in April 2022.
When Do They Announce New Flavors?
Follow Crumbl on social media check out the new flavors asap every week. They'll announce them Sunday night and they are ready to grab right away on Monday. All Crumbl Cookies stores are closed on Sundays, so don't forget to grab your treats before the flavors switch over each week.
What If I Don't Have a Store Nearby?
Check Crumbl's store locator to find a store nearby (they are opening lots of new locations, so you might be surprised to find one closer than you expect!). But, you can also get cookies shipped straight to you! How great is that? To explore more shipping and catering options, download their app and see what's available from your local store.
Does Crumbl Offer Gluten-Free Options?
Though there are not gluten-free cookies offered at Crumbl (they are an open flour kitchen so cross-contamination is possible), they do occasionally have gluten-free-friendly flavors. The best way to keep track of this is to follow along on social media to see the new flavors released each week. Do remember that even these cookies won't be appropriate for anyone who cannot ingest any trace amounts of flour or gluten (due to the open flour kitchen).
How long do the cookies last?
Couldn't finish your cookie? Any cookie with perishable topping (like the Key Lime Pie cookie for instance) needs to be stored in the fridge. The topping of the cookie might start to make the actual cookie a bit soft/soggy, but it's still good–just not quite the same as fresh.

Other flavors can be stored in an air-tight container for a couple of days. I think the cookies are best the first and second day, but I will never turn down a leftover cookie! You can also freeze your cookies (most flavors) via my instructions.
What Do You Think About Crumbl Cookies?
Have you tried Crumbl Cookies yet? I'd love to hear what you think! Share your favorite flavor with me in the comments!
More Crumbl Goodness