What Is Cool Whip + How to Store It
If you plan on scooping up Cool Whip to top your holiday pies this year, you'll want the answers to these pressing questions about Cool Whip (also known as frozen whipped topping). Learn what is Cool Whip, how to store it, how long it can sit out, if you can re-freeze it, and more!
Please note that this post contains affiliate links which allow me to earn a small commission when a purchase is made at no additional cost to you. Read more here.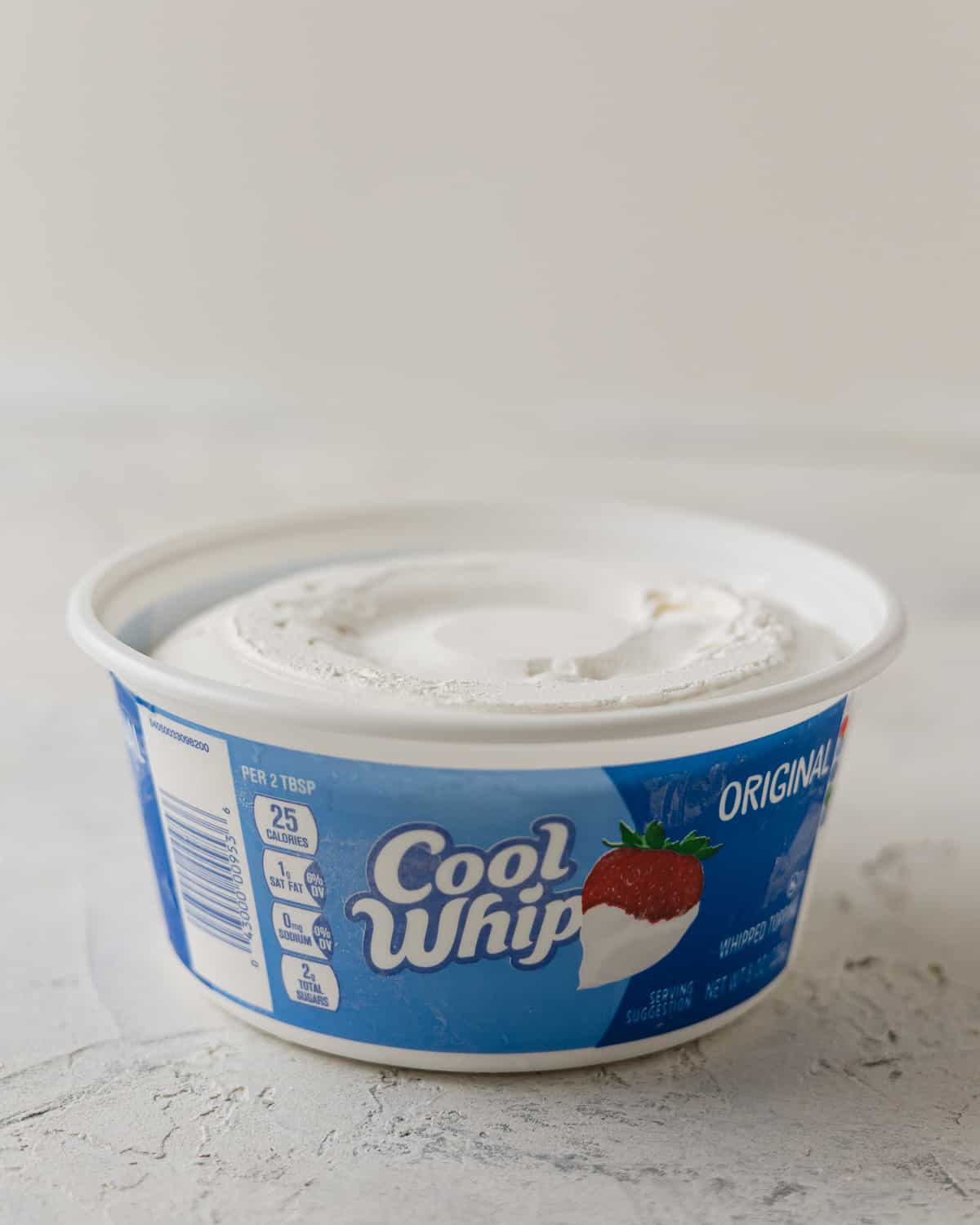 It just wouldn't be Thanksgiving dessert without fluffy whipped cream or whipped topping served along that buffet of pies. Cool Whip is a popular choice because it's readily available, ready-to-eat (just thaw first!), and tastes great on top of pies and desserts.
Use the following table of contents to get the answers to your questions quickly!
First, let's establish what we're talking about when we say "Cool Whip".
What is Cool Whip?
Cool Whip is frozen whipped topping that is similar to homemade whipped cream. It's an imitation product with a distinct flavor and texture. It's fluffy, light, and scoop-able. Placing the perfect dollop on a slice of pie is highly rewarding.
While highly processed (we'll chat about the ingredients list in a moment), some folks do prefer the flavor of Cool Whip to traditional whipped cream. In fact, the debates about which is better can become just as heated as other taboo subjects around Thanksgiving dinner tables. So watch out!
Where Can I Buy It?
Cool Whip is sold frozen so you'll want to head to the freezer cases in your grocery store. You should find it near the frozen pies. There are usually several variations, whether it's low-sugar, a generic brand, or a super-size container, so check the label to be sure you are purchasing what you expect.
Are generic versions of Cool Whip just as good? If you are trying to save money on your Thanksgiving groceries (or any time of year), consider going with a generic brand. They are usually just as tasty as the original. Or, compromise and opt to serve Cool Whip for topping your pies and use generics for any recipes that include whipped topping in the ingredients list.
What Are the Ingredients in Frozen Whipped Topping?
While generic variations of frozen whipped topping may differ slightly, the ingredients panel in Cool Whip (regular version) read as follows:
Water, Corn Syrup, High Fructose Corn Syrup, Hydrogenated Vegetable Oil (Coconut And Palm Kernel Oils), Skim Milk, Contains Less Than 2% Of Light Cream, Sodium Caseinate (From Milk), Natural And Artificial Flavor, Xanthan And Guar Gums, Modified Food Starch, Polysorbate 60, Sorbitan Monostearate, Sodium Polyphosphate, Beta Carotene (Color).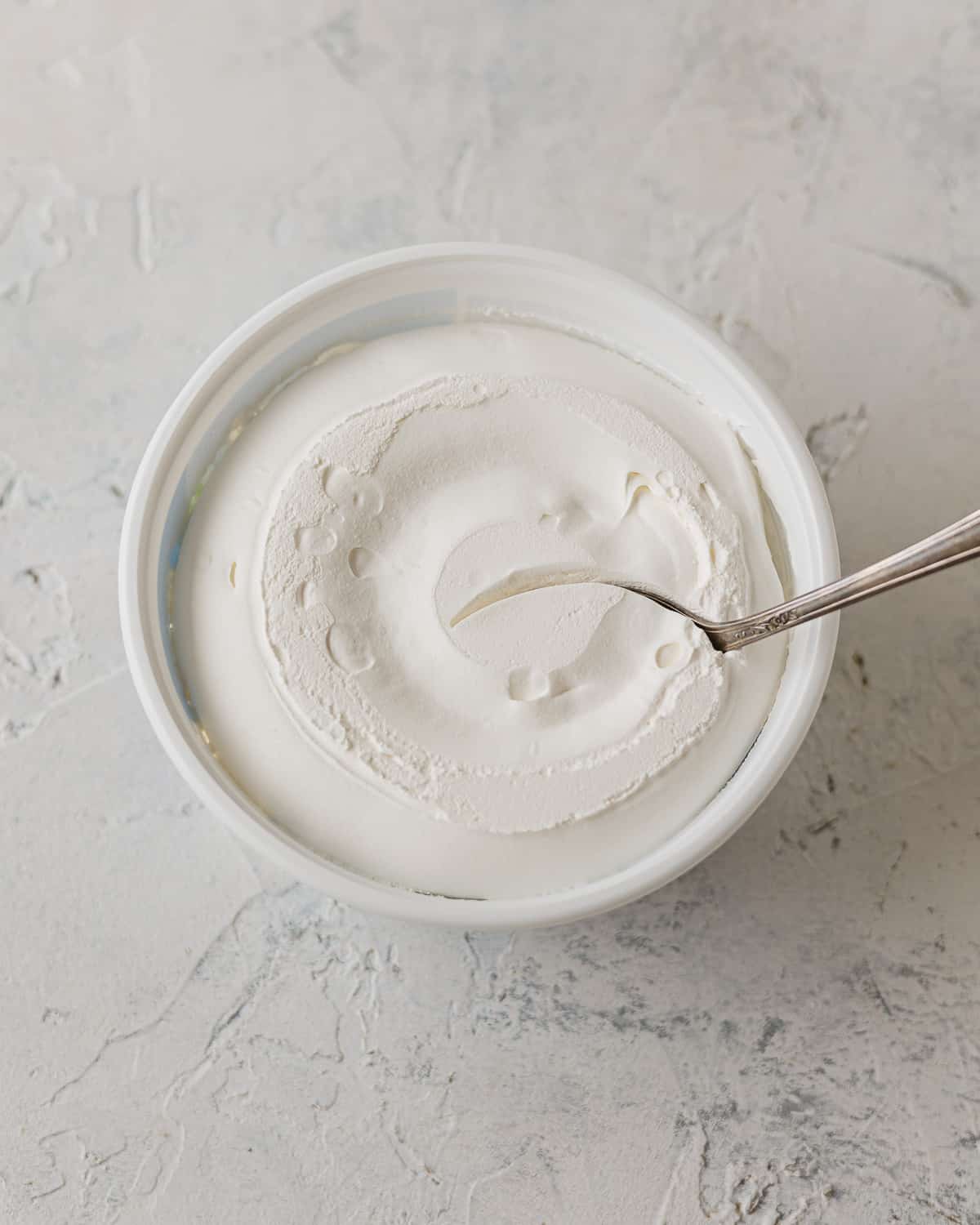 What's the Difference Between Whipped Cream and Cool Whip?
Homemade whipped cream only requires heavy cream to make. On the other hand, Cool Whip includes a scope of ingredients that create a faux whipped cream. It is purchased frozen and can be thawed (in the fridge) and lasts for a couple of weeks.
Homemade whipped cream is made from beating heavy cream with an electric mixer until soft to stiff peaks form. Most cooks generally add a little sugar and a bit of vanilla extract too. If you'd like to prepare your own whipped cream, my Homemade Whipped Cream recipe will walk you through the process.
Hint: You can also make homemade whipped cream with a mason jar or even just a whisk and bowl!
Homemade whipped cream is best eaten immediately (or the same day as preparing). It will keep several days in the fridge, but slight texture changes and the possibility of weeping (water separating out from the whipped cream) make it best served soon after preparing.
In contrast to homemade whipped cream's very short ingredients list, Cool Whip is a store-bought processed whipped cream substitute with a long list of ingredients (see details earlier in the post). It conveniently comes frozen and ready to thaw.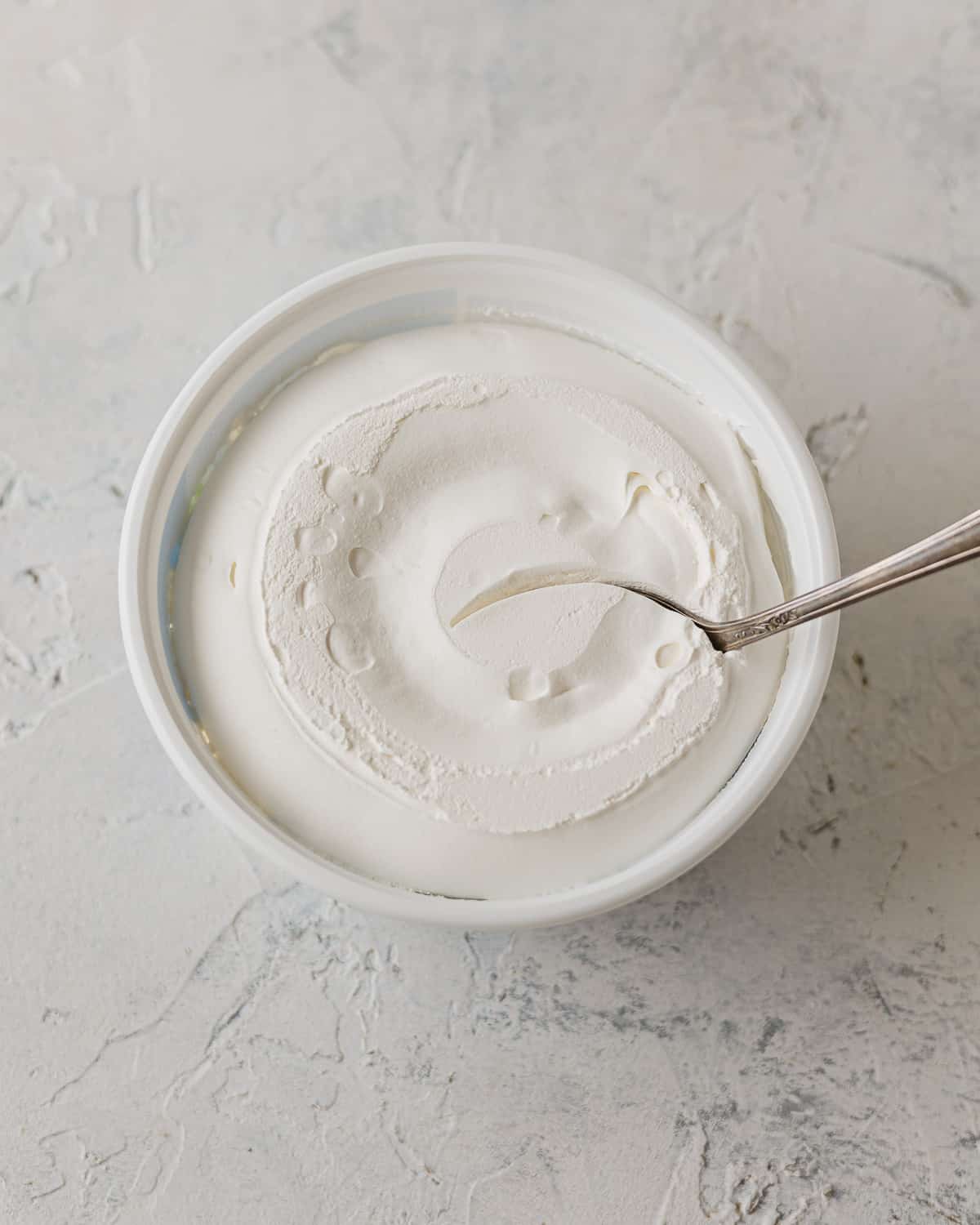 Cool Whip stays fresh and maintains its texture in the fridge for up to two weeks.
Cool Whip is a popular topping for pies (thaw first before serving) and it is used in many "quick and easy" dessert recipes too. It's a great shortcut ingredient for many purposes. Is it healthy? Perhaps not. But is that really our goal when crafting desserts anyway?
Is Cool Whip Dairy-Free or Vegan?
It's important to note that Cool Whip does contain milk and dairy. It is not dairy-free or vegan. Depending on your grocery store though, you may be able to find some vegan substitutes from other brands.
Vegan alternatives to Cool Whip: Check your grocery store for SO Delicious Frozen Dairy Free Original CocoWhip which is a certified vegan option (also gluten-free). Tru Whip is another vegan option.
Is Cool Whip Gluten Free?
Per the ingredients list, yes Cool Whip is gluten-free. Always double check labels before serving and watch out for cross-contamination risks if you are serving Cool Whip at a party or holiday gathering.
How Much Does a Container Hold?
The standard size containers of Cool Whip are 8 ounces (though larger containers are available too) and contains about 3 cups of whipped topping. This is supposedly 25 servings (2 tablespoons each). However, if you are planning for a holiday party it's best to assume every guest will take a healthier dollop (or two).
For your holiday grocery shopping list, I'd plan for an 8 ounce container of Cool Whip to serve 8-12 as a topping for pie.
How to Store Cool Whip
How you store Cool Whip is important. Store it in the freezer until you plan to use it. It takes 4 hours to thaw in the fridge, so plan ahead. If it is not thawed (and stored) in the fridge it will turn into a soupy unappetizing mess.
Keep your Cool Whip in the fridge until serving and if you plan to linger over dessert, pop the containers back in the fridge after everyone has had their fill. This will keep the whipped topping fresh and usable.
Can Cool Whip Be Frozen?
Yes. When you purchase Cool Whip it will be completely frozen and ready to thaw. Keep it frozen until you plan to use it. Note that it takes 4 hours to thaw an 8 ounce container (it must be thawed in the fridge) so plan ahead for topping those Thanksgiving Day pies.
How Do You Thaw Cool Whip?
Cool Whip must be thawed in the fridge. Do not open the container, simply place the whole thing in the refrigerator. It will take 4 hours to thaw an 8 ounce container, so plan ahead. Whatever you do, don't be tempted to try to thaw Cool Whip more quickly by placing it out at room temperature or (heaven forbid) in the microwave.
I tried to thaw some Cool Whip on the counter once while I was in a hurry testing a recipe and it was soupy mess that couldn't be used at all. Bummer!
Another tip? Avoid stirring. I know it's tempting to stir the container once it starts thawing, but avoid the temptation. The more Cool Whip is stirred the more it loses its fluffy stable texture. We don't want soup!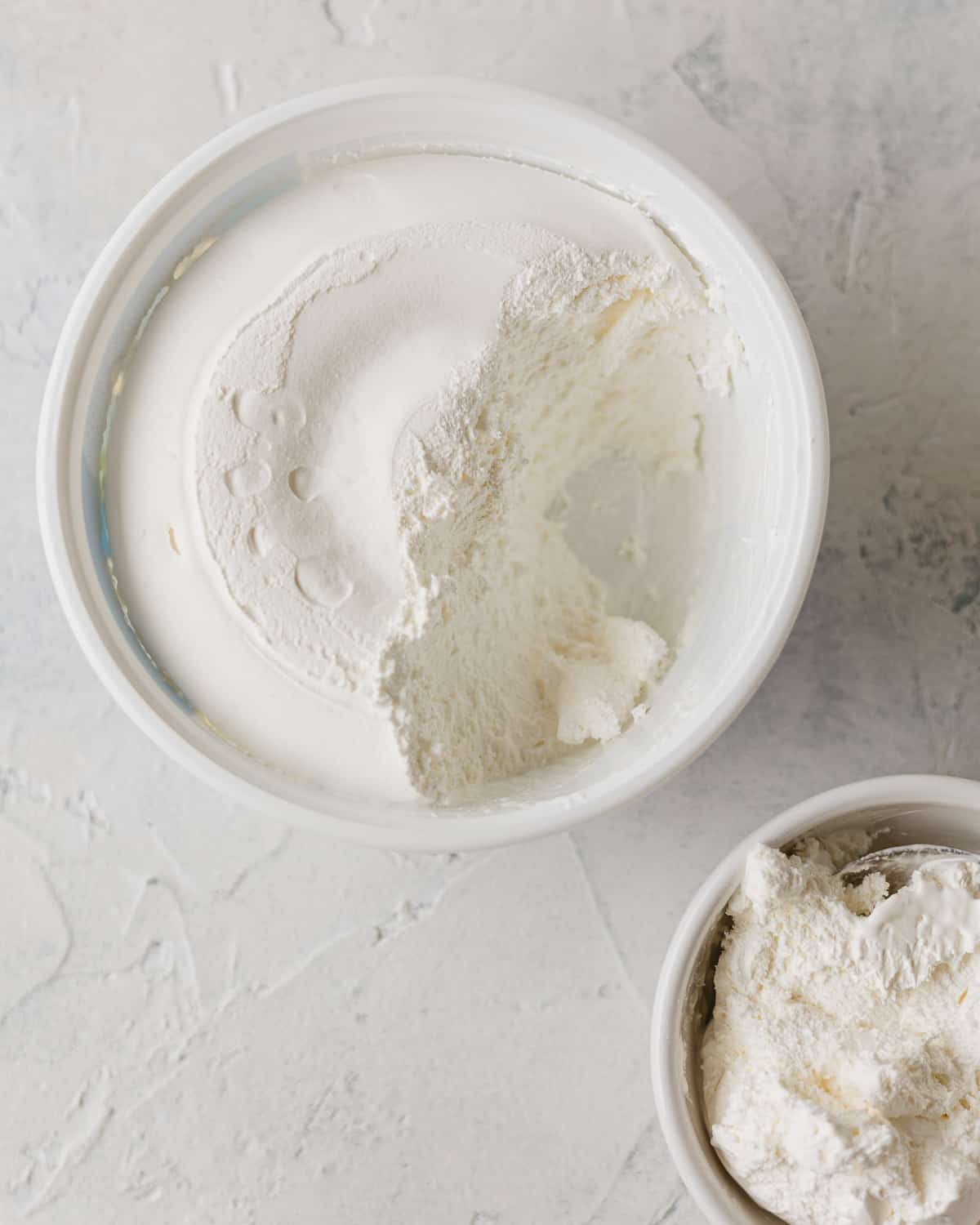 Can You Microwave It?
I know, turning to the microwave when you are in a hurry seems reasonable. However, do not microwave Cool Whip or other frozen whipped toppings. The microwave will ruin the whipped topping, which is why each container of Cool Whip advises against trying it. Also note that the container the product is sold is NOT microwave-safe.
How Long Can Cool Whip Sit Out?
Safe food guidelines recommend that any perishable food should only sit out at room temperature for a maximum of 2 hours. Here's the quote from USDA:
Never leave food out of refrigeration over 2 hours. If the temperature is above 90 °F, food should not be left out more than 1 hour.

USDA Food Safety Guidelines, accessed 11/11/2022
This rule goes for Cool Whip too. If your containers sat out for 2 hours at your party or event, they must be tossed. It you plan on lingering a long time over dessert, the safest choice is to make sure everyone gets a scoop of topping and then pop the Cool Whip back in the fridge. It's easy enough to take it back out for another round.
How Long Does Cool Whip Last in the Fridge?
Cool Whip can last for 2 weeks after thawing (stored in the fridge of course). This is quite handy since it's easy enough to pop the frozen containers in the fridge the night before Thanksgiving (or whenever you plan to use them) and they will be thawed in plenty of time to use for the holiday.
Can You Re-Freeze Whipped Topping?
Yes, you can! The container itself suggests that you may refreeze Cool Whip to save it for later on.
My caveats to this would be as follows:
Don't bother trying to refreeze Cool Whip that has been thawed incorrectly and has turned to soup. The texture has already been ruined so it won't go back to the desired consistency.
If the container has sat out past 2 hours (the safe food guidelines for room temperature food time limits), it should be tossed. Don't re-freeze in this case.
Should I Serve Both Cool Whip and Homemade Whipped Cream for Thanksgiving Dinner?
If you are hosting a large gathering for Thanksgiving, provide both Cool Whip and homemade whipped cream. Homemade whipped cream can be prepped (and refrigerated) earlier in the day and all Cool Whip requires is remembering thaw it in advance.
For smaller gatherings, you might just ask everyone what their preference is (or provide one option yourself and ask another guest to bring the alternate).
Guests can be particular about which treat is their favorite so I find it's nice to offer both! If you are hosting a gathering that requires a gluten-free option then either Cool Whip or homemade whipped cream will do the job.
For gatherings that require offering a vegan option, check out the vegan whipped topping options suggested earlier in the post for options you can serve instead of Cool Whip.
More Recipes and Tips