Easy Weeknight Egg Bake Recipe
When life gets busy, sometimes the last thing we want to think about is dinner. It can be overwhelming to come home from a long day and wonder what in the world to cook. One of the ways I combat this weeknight challenge is to think ahead. I plan meals and try to incorporate large recipes that will suffice for leftovers on days where life gets crazy and I have limited time to cook. This egg bake is one of my go-to recipes.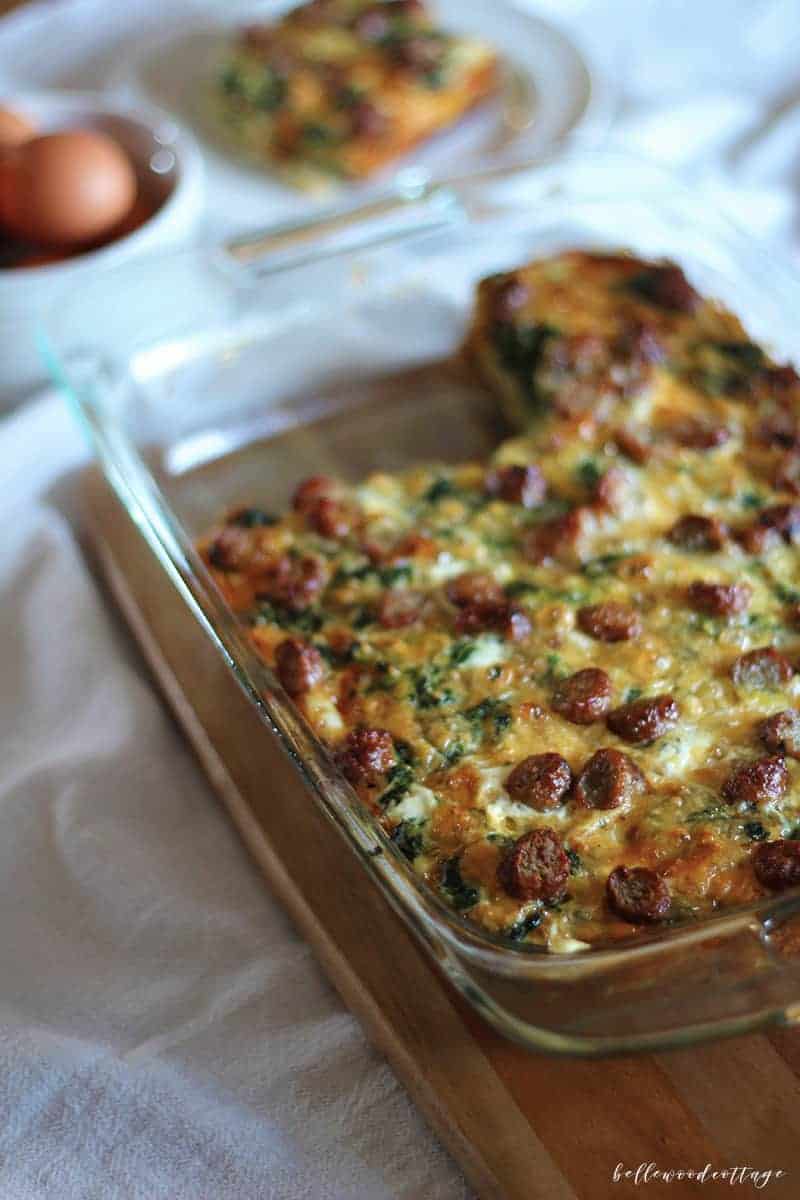 The combination of perfectly gooey cheese, savory breakfast sausage, and hearty hashbrowns makes this egg bake a winning comfort food. It's a snap to put together and the large size means that it can be recruited as a quick leftover supper the next evening. Perfect for nights when you don't have time to spend in the kitchen. And since it's just as delicious re-heated, it's just the thing to pack for a hot lunch at work (my favorite!).
Just start off with a layer of hashbrowns…
Add in your veggies…
Sprinkle the top with cheese and sausage…
Pour the eggs on top of everything and then place the egg bake in the oven…
Give it around 40 minutes and you are about to say hello to this beauty:
Another great thing about this egg bake? You can easily substitute ingredients to use up veggies or meat you have on hand, which means no post-work emergency grocery store runs. Some ideas? Maybe try using mushrooms and asparagus in place of the peppers and spinach. Switch up the meat by using chopped ham or leftover bacon. No hashbrowns? Sub in tater tots or chopped leftover baked potatoes. Lots of options here, and again, it's so easy!
Quick and Easy Weeknight Egg Bake
Recipe from Ellen @ Bellewood Cottage
Ingredients
10 links brown-and-serve breakfast sausage
6-7 hashbrown patties (to fit your pan)
2 bell peppers (I generally use a yellow and an orange)
10 oz frozen spinach, thawed and drained
4 oz shredded mild cheddar cheese (about 1 heaping cup)
3/4 cup whole milk
12 eggs
1 teaspoon salt
1/4 teaspoon pepper
Makes
A 9×13″ baking dish. I find this is about six to eight servings.
Instructions
Preheat your oven to 375 degrees Fahrenheit. Brown the sausage over medium low heat in a non-stick pan. When the sausages are finished cooking, let them cool a few minutes and then chop them into 1/2″ pieces. Meanwhile, grease a 9×13″ baking dish (I use a glass Pyrex). In the dish, lay out 6-7 hashbrown patties (I usually use 6.5 because that fits my pan perfectly). Sprinkle the hashbrowns with the chopped peppers and spinach. Evenly sprinkle the shredded cheese onto the veggies. Finish by adding the chopped sausage on top. Tip: if you don't want the sausage to get too crispy, just layer them underneath the cheese instead.
Next, prep your egg mixture. Combine 12 eggs with the milk, salt, and pepper. Whisk until the ingredients are thoroughly incorporated. Pour the egg mixture on top of the other ingredients in the baking dish. Bake for 40 minutes or until the eggs are set. I like to test for done-ness the same way that I would a quiche. Simply insert a butter knife vertically into the center of the pan (check a few spots) and if it comes out clean, it's done!
Enjoy! I'd love to hear if you try this recipe, let me know if you do in the comments below!
More Recipes From Bellewood Cottage
Our Favorite Oatmeal Chocolate Chip Cookies