How to Sew Burp Cloths for Baby

So this post is a little different than what I usually write about, but I wanted to share these burp cloths since I've been making a lot of them lately and they are a really fun gift for the babies (and mamas!) in your life.
I started sewing these cloths a few years ago, and was surprised by the rave reviews they received. I mean, it's just a simple rectangle of fabric, right? And yet, a simple rectangle takes on new value when it's the only thing shielding you from gobs of baby spit up. A few moms shared with me that these burp cloths became their go-to because they were thicker and larger than store-bought versions they had purchased. When we're thinking about the job that a burp cloth is enlisted to do, I'd say thicker and larger are pretty solid selling points.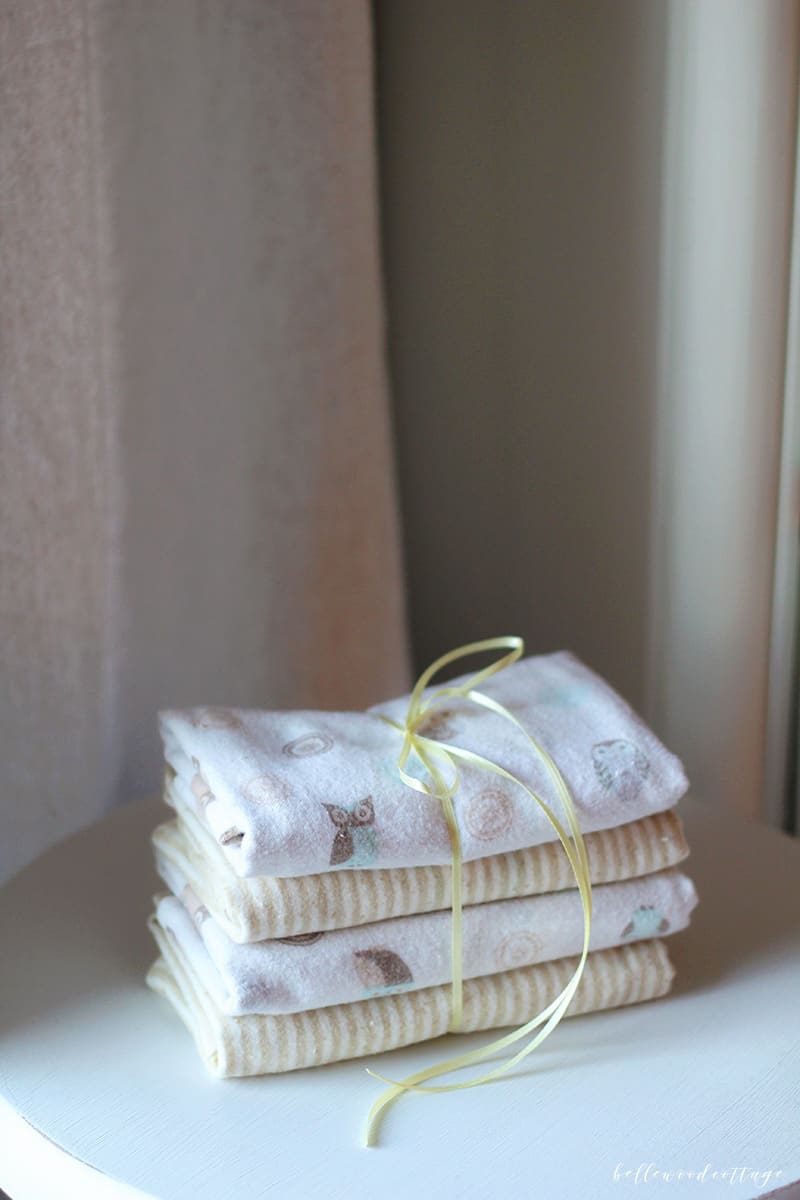 So now that I have been back in the burp cloth business I thought it would be a good time to share this easy tutorial. They really are so simple to make and it's fun to make a few sets for a quick and practical gift.
Now, I'm going to be real here. You probably don't need a tutorial for this. It's pretty darn easy. Rectangles, and all. But, I do have a few tips throughout this post (including my measurements for those nice big cloths) that you will find helpful, especially if you are just getting started.
Choosing your fabric
My preference for burp cloth fabric is to use a high-quality flannel for both sides. You will notice a difference in quality between the flannel you can buy in large craft stores vs. the flannel that you can purchase in a specialty fabric shop (say, a quilt shop). I recommend buying the highest quality you can afford. Burp cloths will go through the wash a LOT, and the sturdier the better. Again, with the thickness factor!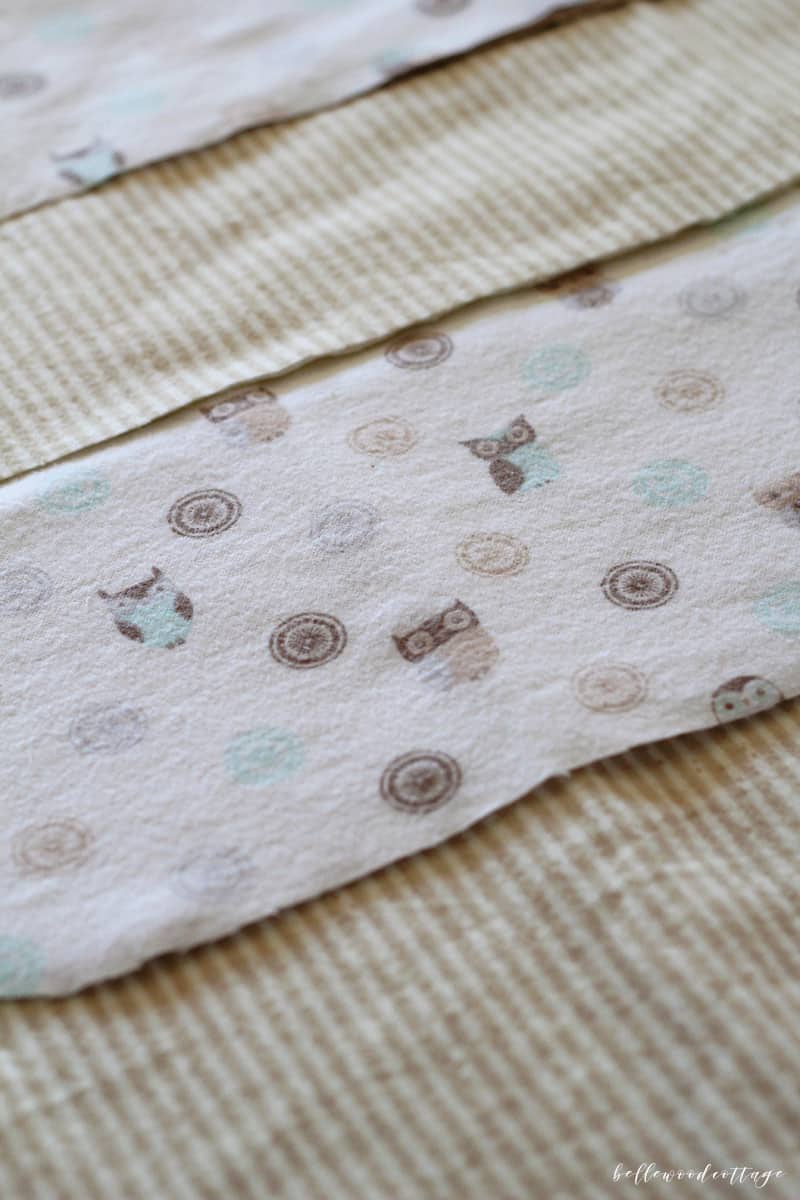 Other options for fabric? Try backing your burp cloth with minky for a different look. Just make sure it's machine washable. Or, get creative with using flannel on the back, and a cotton print on the front.
Want an even thicker cloth? Make a thicker burp cloth by using a machine washable batting, something like this, in between the layers of flannel.
Now that you've got your fabric, go wash and dry it! Pre-shrinking the fabric is a must.
Making a template
I recommend deciding on the size of your burp cloth, drafting a rectangle out of a large piece of paper, and then making a reusable template out of sturdy fabric. I like to use spare fabric or something similar to this (Pellon 830 interfacing). This template will come in handy if you are mass producing these cloths for gifts. Much, much better than a flimsy tissue paper template. Be sure to write your seam allowance and measurements (both cutting measurements and finished) on the pattern for a quick reference. (Side note: ignore the major wrinkles happening here!)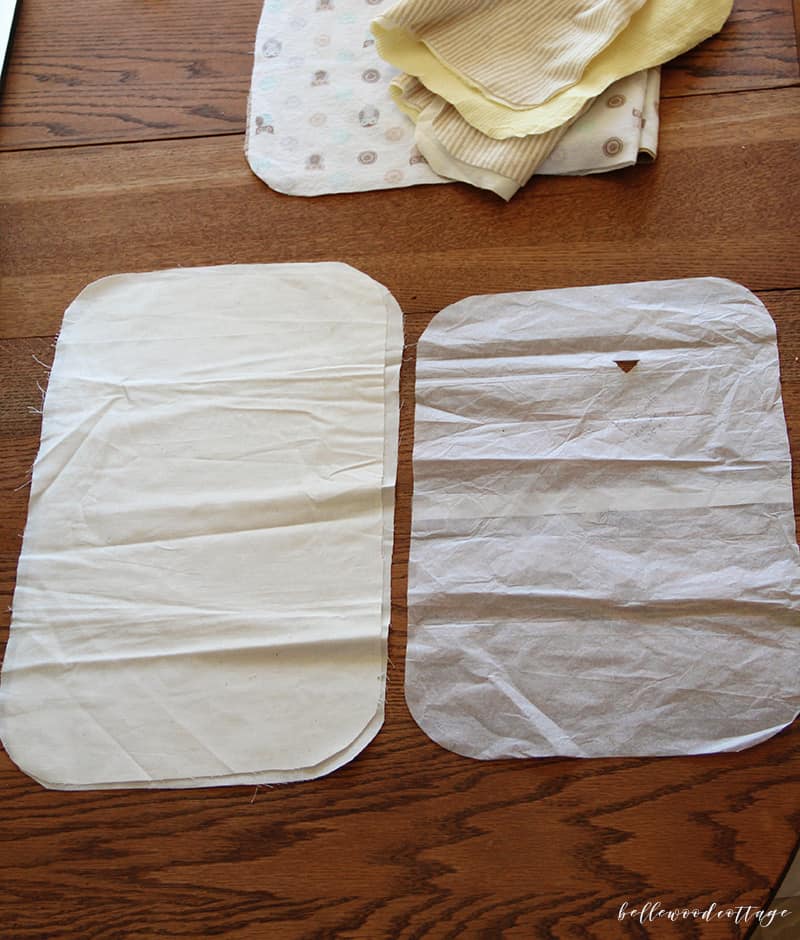 What size to make your template?
My goal is usually to get six cloths from a one-yard piece of 45″ fabric (see below for a tip on maximizing pieces that have shrunk more than expected). At the same time, I also want them to be as large as possible. One of the perks of making your own cloths is that they don't have to be teeny-tiny like some of the store-bought versions!
My go-to template measurements are: 11″ wide and somewhere between 17-18.5″ long. After deciding on your rectangle size, just grab a cup or bowl from the kitchen and use it to round out the corners of your template. Some burp cloths also are made with a rounded side (to fit against the neck when they are worn on a shoulder), but I prefer to keep it simple with a basic rectangle.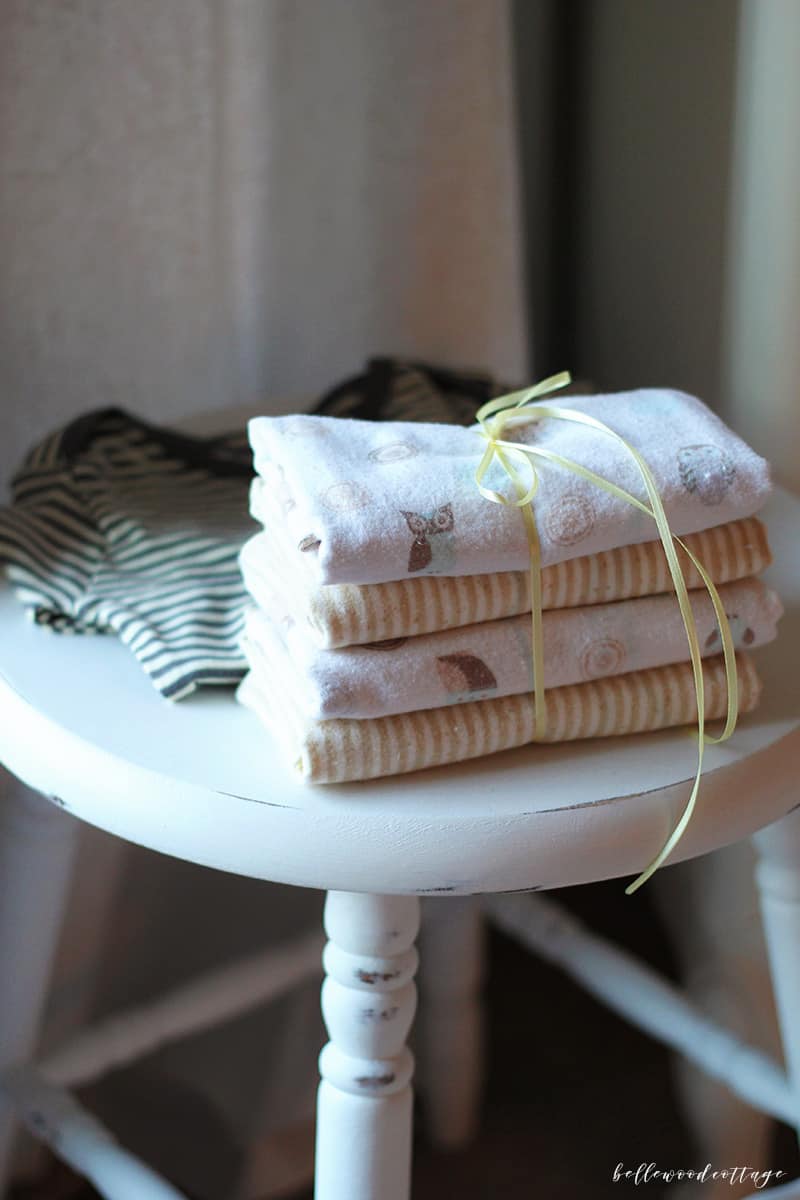 Cutting the fabric
Now that your fabric is washed and your template made, you are ready to cut out your burp cloths. As I mentioned above, I can usually get six burp cloths to a one-yard piece of 45″ fabric. Here's a little tip though. If you can't quite fit six cloths onto a piece of fabric (say it shrunk more than usual etc.), go back to your template and make a copy out of tissue paper. Now, take your copy, cut it down the center (either vertically or horizontally, depending on where you ran out of fabric). Next, overlap those pieces an inch or so (make sure that this adjustment will give you enough room to work with on the fabric) and tape. This new template is now smaller and can be used on the smaller piece of fabric. Easy peasy. Tip: You can also make a copy from interfacing or fabric and sew the pieces back together instead of taping them.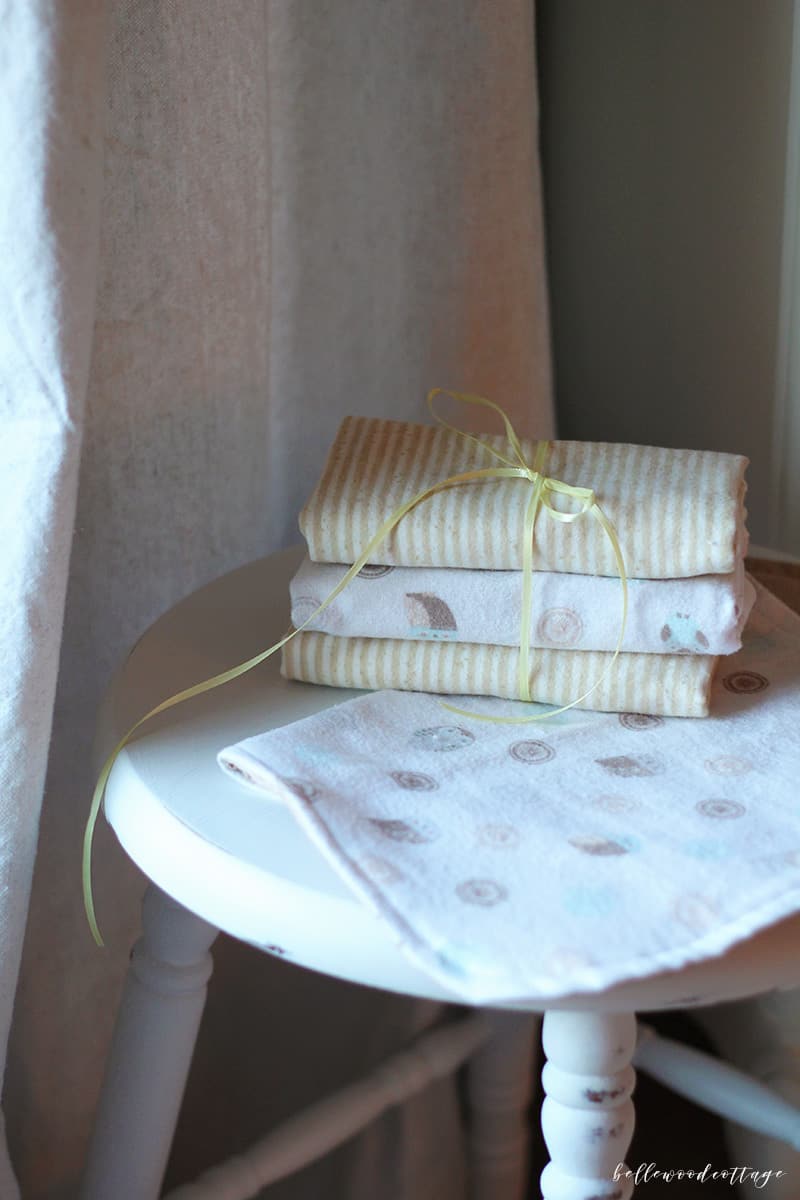 Sewing the burp cloths
Now it's time to sew! Pin two coordinating fabrics right sides together and sew around the exterior with a 3/8″ seam allowance. Leave a 4″ opening to turn the cloth.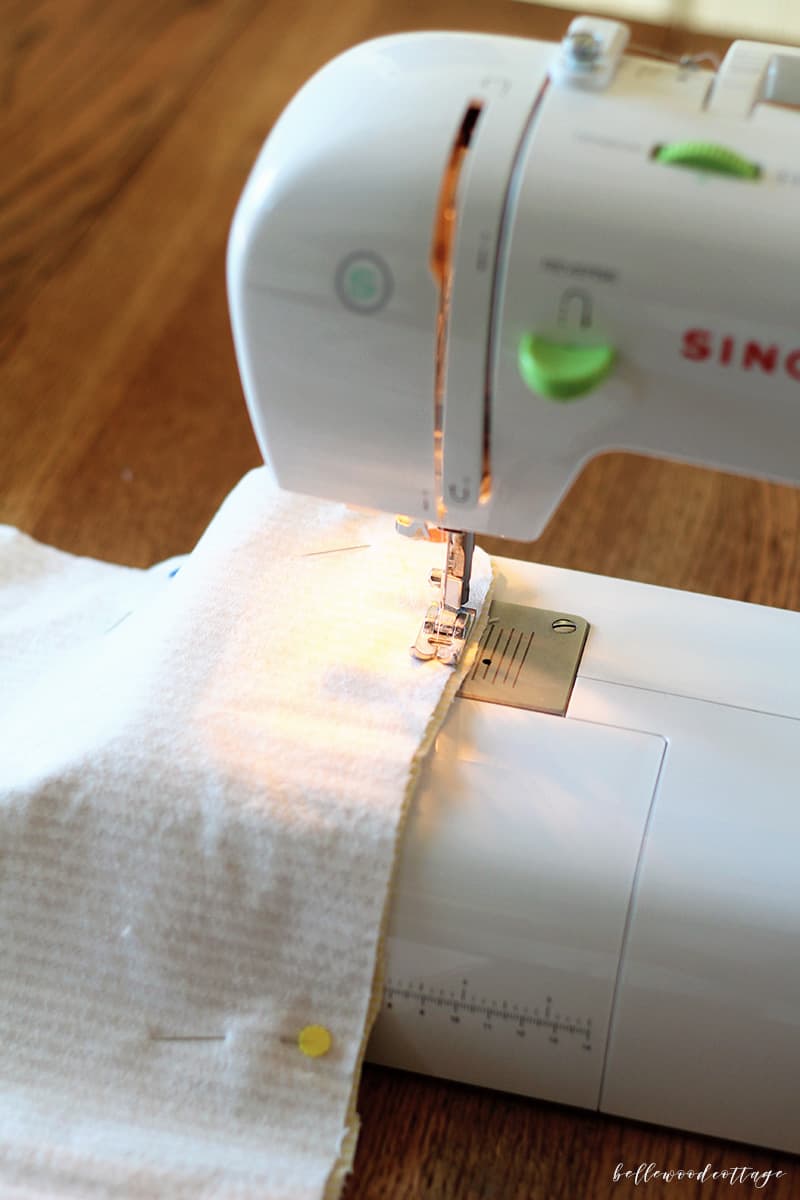 Before turning, clip the corners up to the seam allowance to allow the corners to be neat and tidy. Don't cut through the seam allowance.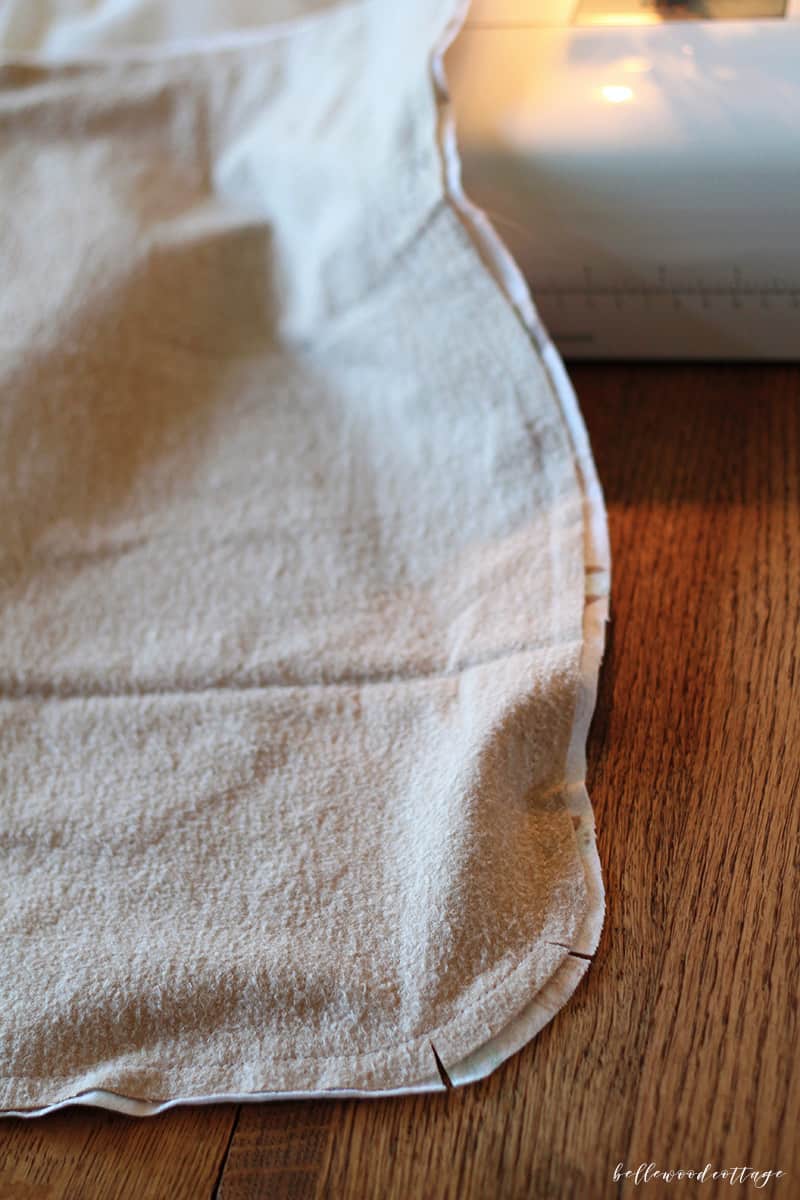 Turn the cloth right side out and iron if you do that sort of thing. If you're like me, just gently tug on the seam allowances and pin them. Turn the edges of the 4″ opening under and pin.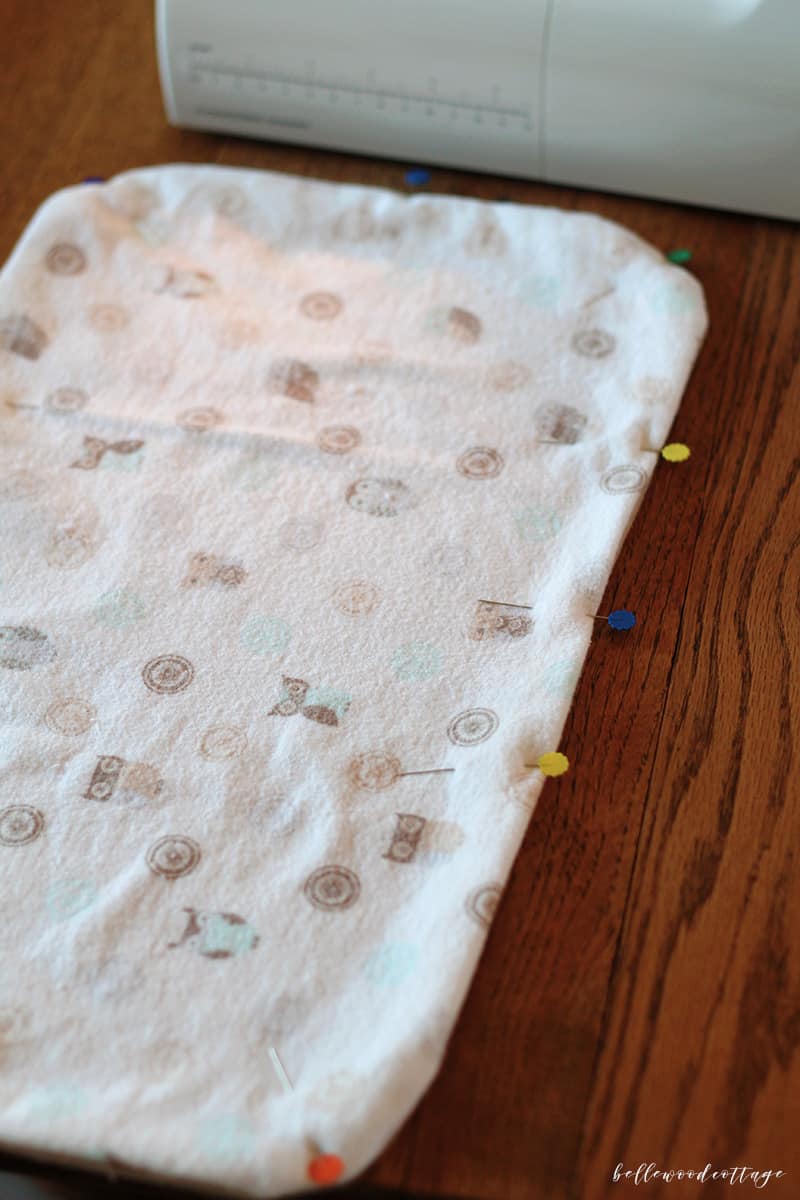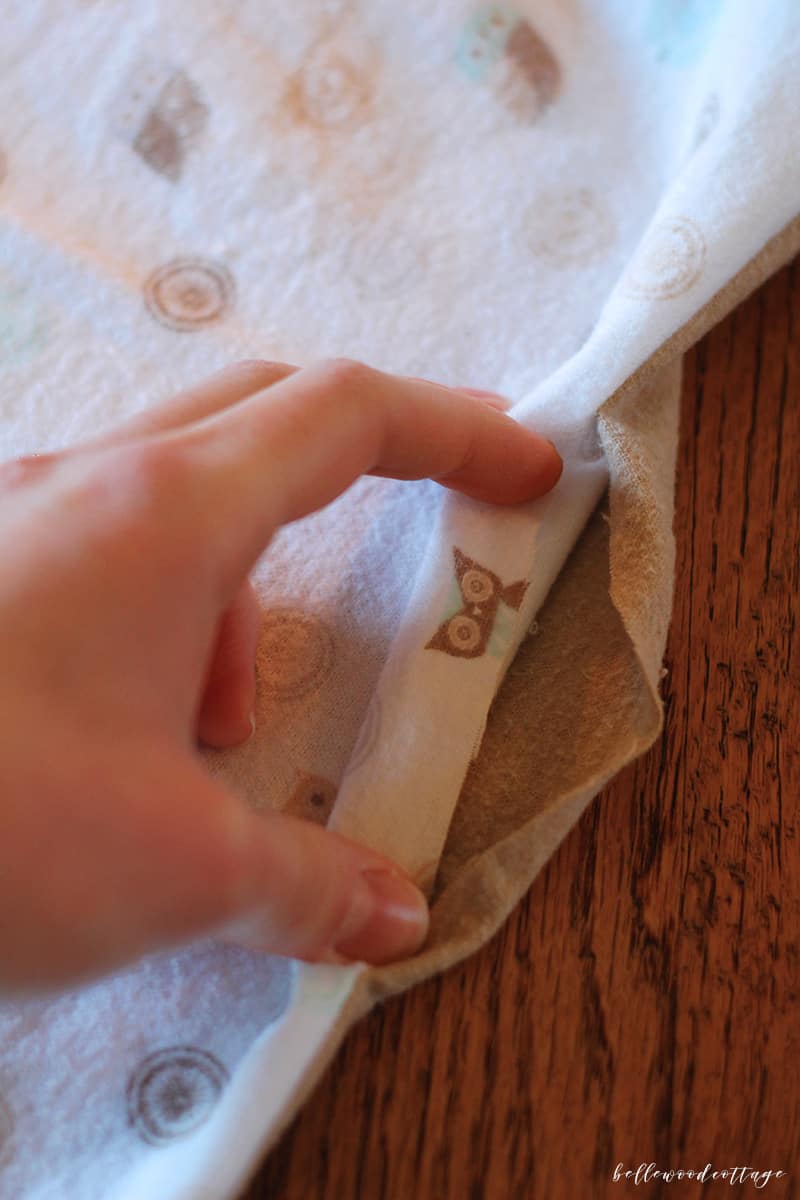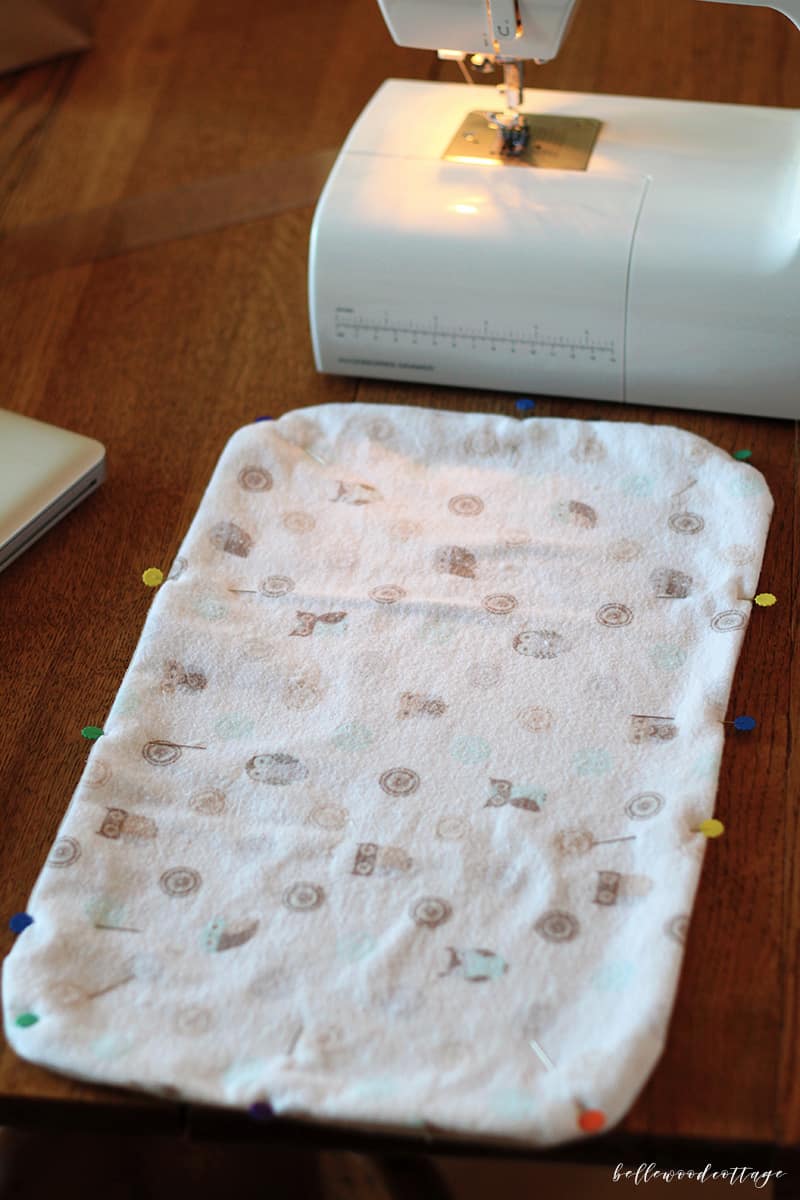 Sew around the cloths a 1/4″ from the outside to finish.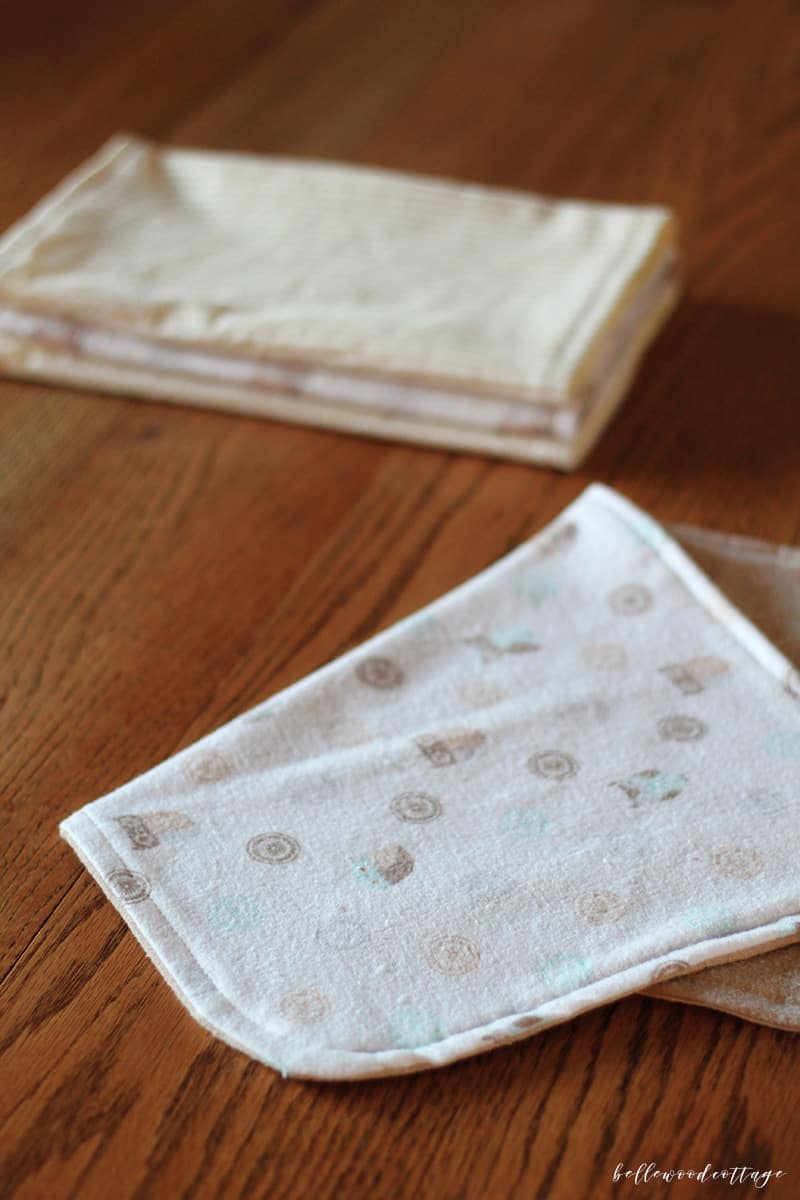 Again, you can now iron the cloth…or you can just simply trim your threads and you are set!
Packaging the burp cloths for gifts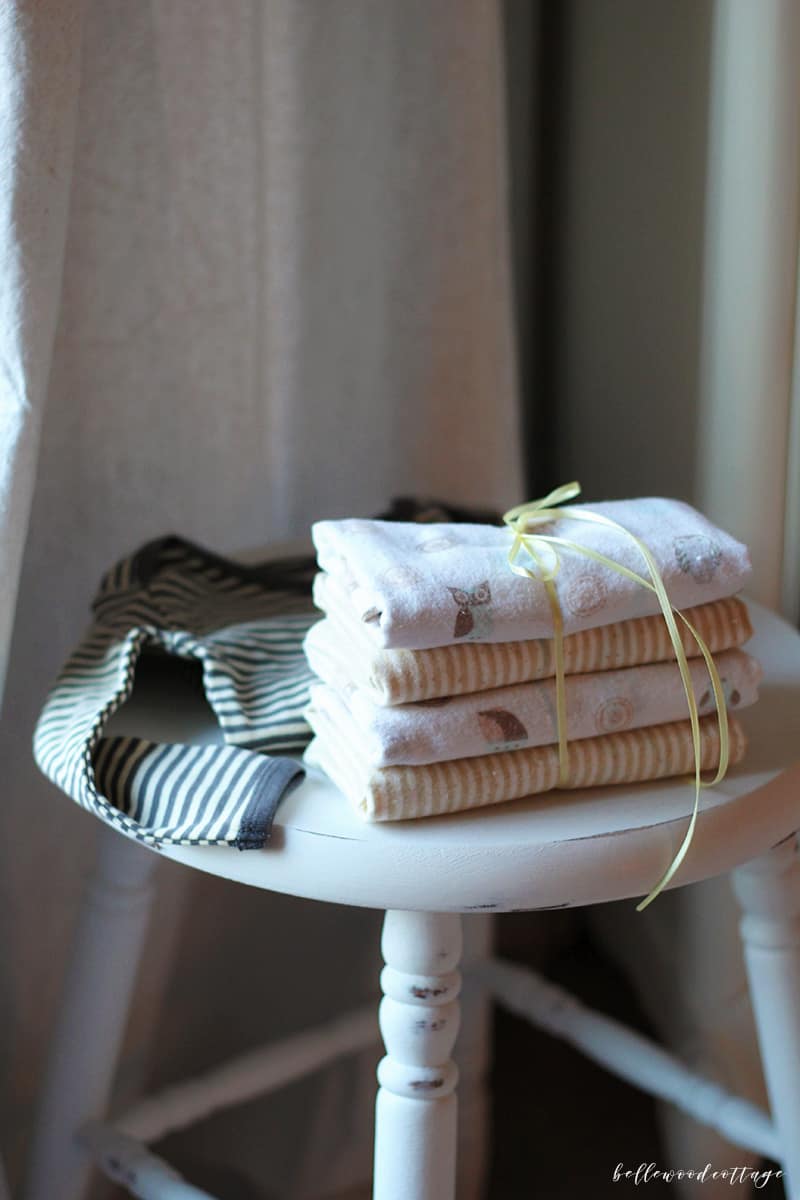 If you are making these burp cloths for a gift, I suggest making four or five at a time. They create a cute little stack and it's easy to find fabrics that will coordinate well. For packaging, I like to fold them in thirds and then thirds again. This hides all the seams and gives a professional look. Tie with a ribbon, and there you have it.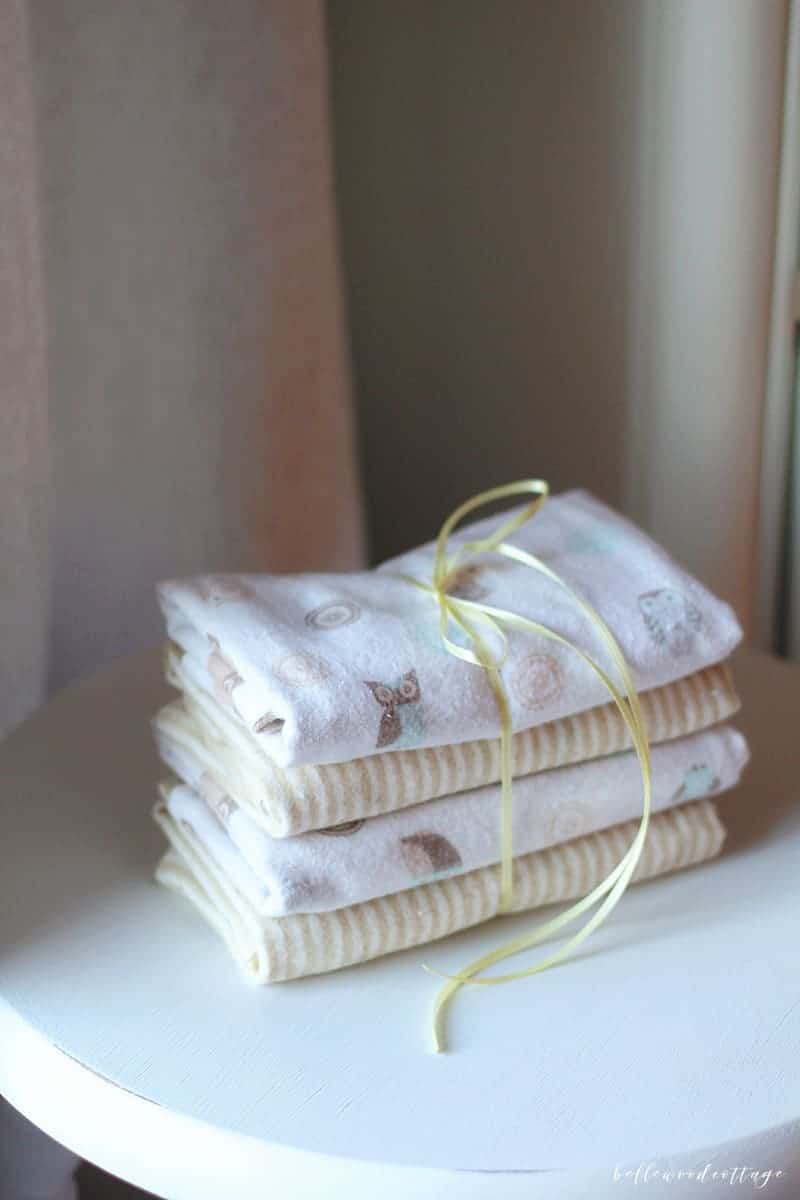 If you sew often for babies, I'd love to hear your thoughts! What are your favorite fabrics to use and what are your most-requested projects? Let me know in the comments!
Save