The Best Chicken Enchilada Soup Recipe
Sometimes I have one of those nights where I just really, really, really don't want to make dinner. The problem is, usually that feeling does not correspond with not wanting to eat dinner. So essentially, I want to eat a healthy plateful of hot food and just not have to work for it. Those are the nights I turn to this chicken enchilada soup.
The best chicken enchilada soup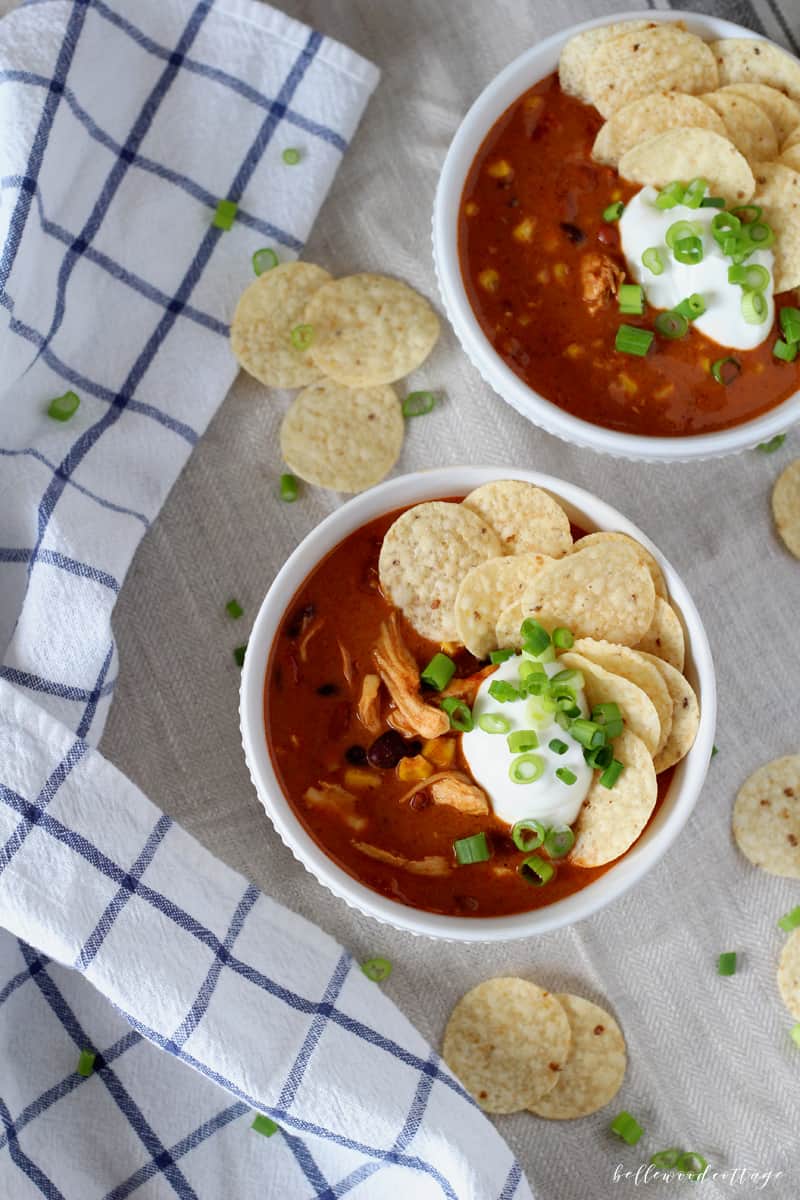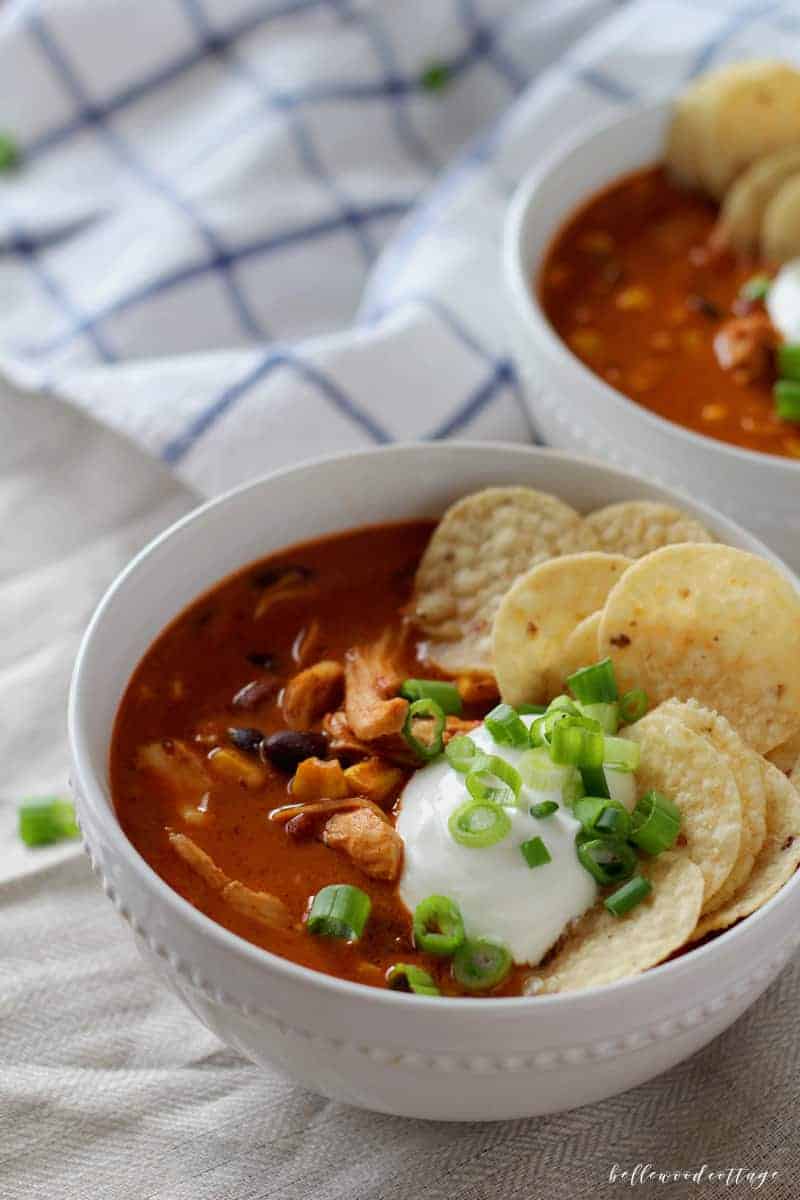 I adapted this recipe from this crockpot chili recipe from One Country. The recipe is a originally a slow cooker recipe, and rightly so. It is absolutely perfect for prepping ahead of time. However, if you forgot dinner was a thing until about 5 PM, I've got ya covered. My adaption includes details for both a slow cooker and stovetop version. PLUS, keep reading for my ultimate trick to make this soup even easier.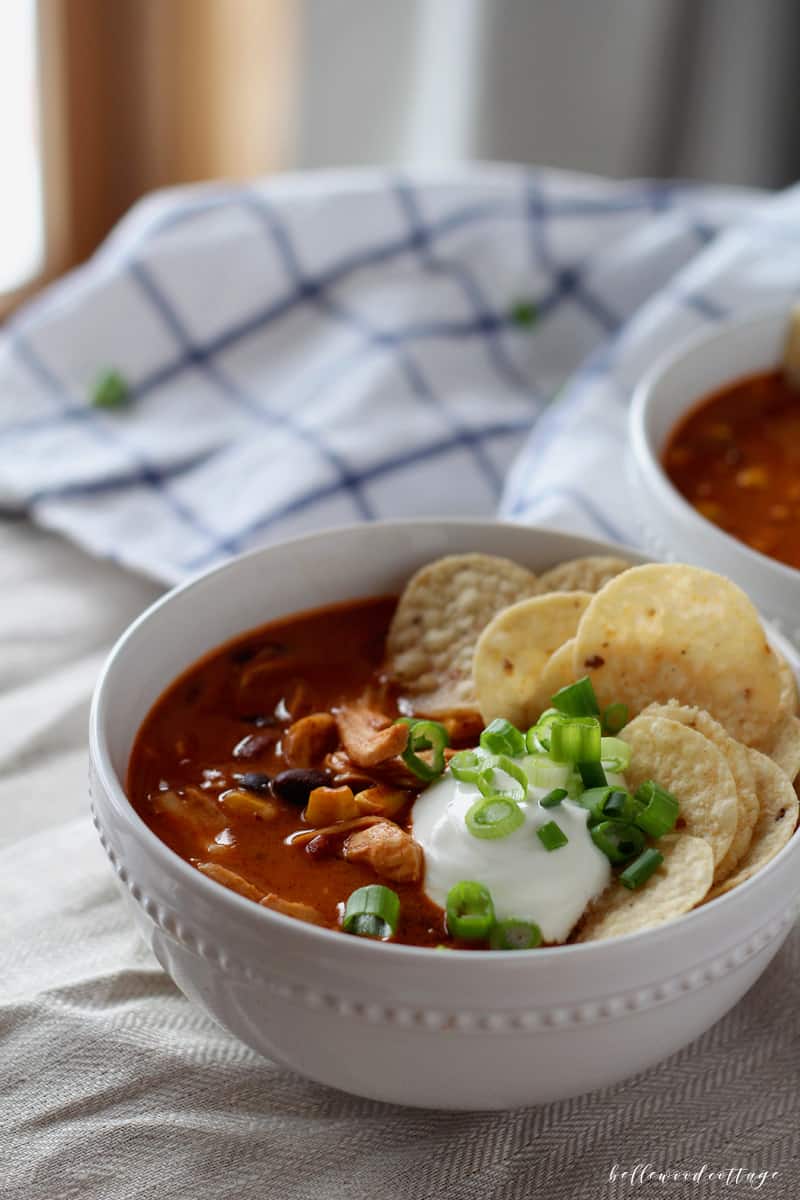 My top tip for making chicken enchilada soup even easier
Nearly 100% of the time I make this soup, I use this trick to make it even quicker and easier. I just grab a pack of pre-cooked shredded chicken from our freezer and throw it in. Bam. No raw chicken to clean up, long cooking times, or remembering to pick up fresh chicken on my way home from work. I keep my freezer stocked with these chicken packets by simply planning ahead a bit. I buy 1-2 pounds of boneless skinless chicken breasts and toss them in my slow cooker for about four hours on low. Once they have reached 165°F I pull them out, let them cool for a few minutes, and shred them.
Shredding slow cooked chicken is basically the easiest thing ever, it just falls right apart. Plus, the chicken stays tender even if it gets a little overcooked. Then I divvy the chicken up into portions (1-2 chicken breasts per package) and freeze in freezer bags (make sure to label and date!). The chicken is then ready to go for anything! It's great in this soup, enchiladas/tacos, chicken wild rice soup, pot pie, pasta dishes, and on and on. So, while frozen chicken isn't exactly a pantry item, it's something you can totally have on hand at all times. And that just leaves the canned goods and the cream cheese. I make a point of keeping these basics well-stocked in my pantry so that I can have this soup (or similar meals) ready to go in a snap. Meal planning made easy I tell ya!
How to make it less spicy
Alright, so the original recipe calls for a can of diced tomatoes with green chilies, but that is just too much spice for me. I prefer to use a can of plain diced tomatoes. The original recipe also calls for a whole brick (8 oz) of cream cheese, which will also help cut down on the spice if you prefer that. I like using half a brick (4 oz) so that the soup is a little more lean for weeknight cooking. The choice is yours, it's delicious regardless!
Enjoy!
Save
Save
The Best Chicken Enchilada Soup Recipe
This chicken enchilada soup is everything comfort food should be. It's easy to make (like, do you own a can-opener easy), quick enough for weeknights, and full of rich flavor and spice. It's YUM. Go make it todaaaay.
Ingredients
1

10 oz can

red enchilada sauce

1

15 oz can

diced tomatoes

1

15 oz can

chili beans

1

14.5 oz can

black beans

drained and rinsed

1

15 oz can

sweet corn

drained

2

cups

chicken stock

1

tbsp

chili powder

1

tsp

cumin

1

tsp

salt

3/4

tsp

paprika

2

cups

cooked shredded chicken

(about 8 oz; I like boneless skinless chicken breasts)

4

oz

cream cheese

very soft (see instructions)

pepper

to taste
Instructions
Stovetop Version:
Add all ingredients except the chicken and cream cheese into a large stockpot and bring to a simmer over medium heat (about 8-10 minutes). Simmer for about 10 more minutes to meld flavors.

While the soup simmers, prepare the cream cheese: To prevent the cream cheese from leaving lumps in the soup, be certain it is very soft/melty before starting and then follow the method I outline here. If you don't care about lumps, feel free to add the very soft cream cheese directly into the soup. First, if your cream cheese is not super soft, microwave in a large bowl for thirty second intervals or until it is soft/melty and stir-able. Whisk the cream cheese until no lumps remain. In a large bowl, add 1/2 of the simmered soup mixture to the cream cheese and whisk well. (If using a full 8 oz brick of cream cheese, repeat this step once more). Now, return the cream cheese and soup mixture to the stockpot and stir well.

Stir in the shredded chicken and let the cooked shredded chicken warm through on medium low heat for about 5 minutes. Serve with chopped green onions, tortilla chips and sour cream.
Slow cooker version
Combine all ingredients except the cream cheese and shredded chicken in a large slow cooker. Cook on low for about 4-6 hours (timing is really flexible since all you are really doing at this point is heating the soup) and then add the very soft cream cheese (following the method above for no lumps!) and the cooked shredded chicken. Allow to cook for another twenty to thirty minutes until the chicken is warmed through.
Notes
Adapted from this recipe from One Country.