Crumbl Funfetti Cookies Recipe
These Crumbl Copycat Funfetti Cookies are packed with flavor and colorful sprinkles. This is an easy cookie recipe that uses basic ingredients. Customize it to make extra-large Crumbl-size cookies or Crumbl's smaller "catering" size cookies. You'll love these tasty copycat treats!
Please note that this post contains affiliate links which allow me to earn a small commission when a purchase is made at no additional cost to you. Read more here.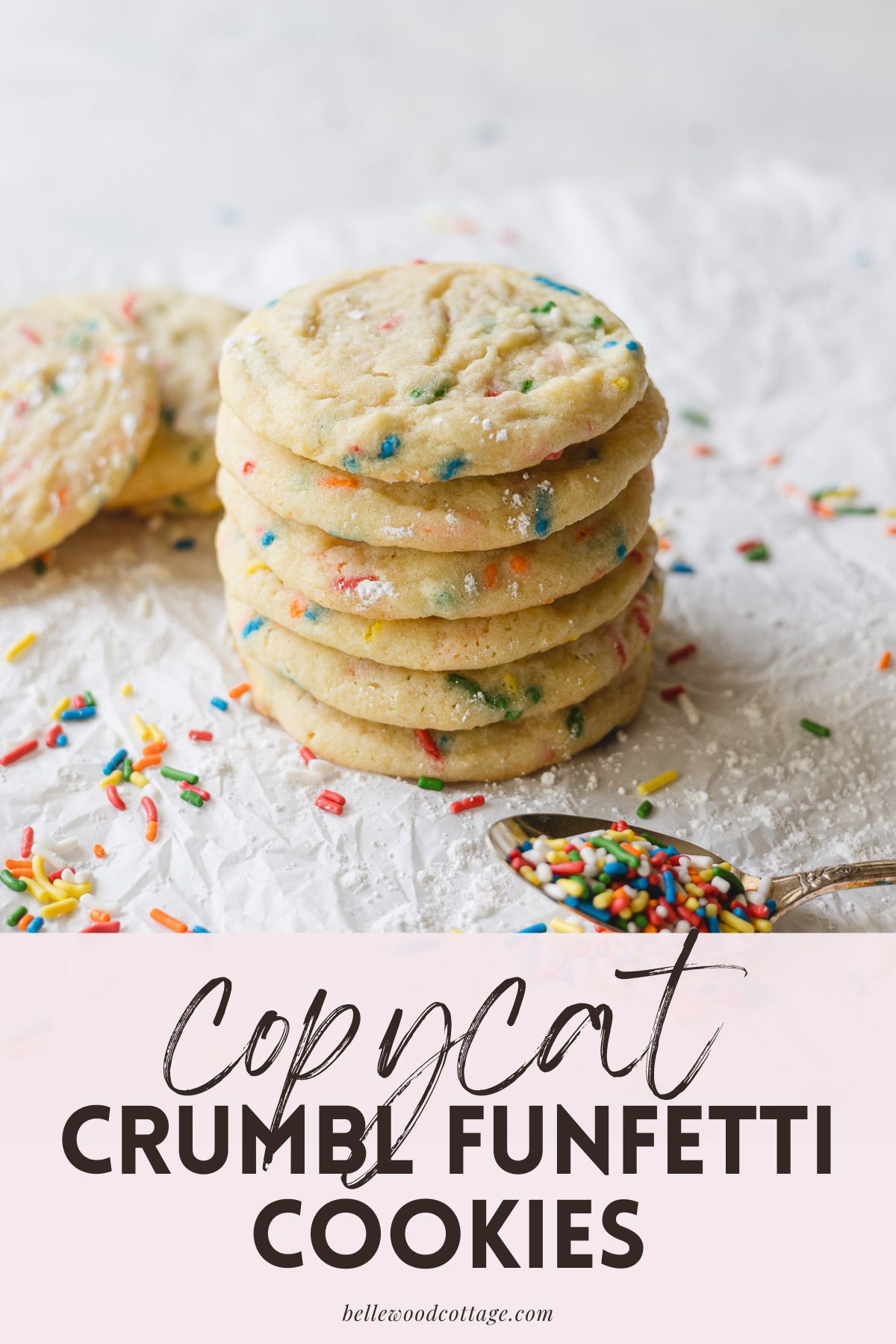 If you are a fan of Crumbl Cookies, then you know all about their rotating flavor menu. It's always exciting to welcome new flavors, but the downside is that sometimes fans wait a long time for favorite flavors to make a return. Learning how to bake copycat recipes is one of the best ways to fulfill the craving. Plus, you can freeze extras for later!
What are Crumbl Cookies you ask? Check out my full review of Crumbl! Want to know all the flavors? I've got you covered with a complete list of Crumbl's 200+ cookie flavors.
Crumbl copycat recipes are easy to make and inexpensive too! In fact, you probably have most of the ingredients you'll need already at home.
This particular recipe for Funfetti Cookies calls for a couple additional special ingredients you'll want to have on hand. First, some pretty rainbow sprinkles (see my tips on how to choose the right kind!) and then, just a dash of cake batter extract. This fun ingredient is crazy-effective at making cookies taste just like cake.
Don't have cake batter extract? No worries. Just substitute in more vanilla extract instead. Trust me though, you'll want to add a bottle to your pantry. You'll be thinking of all kinds of recipes to try it in once you taste it! Find it on Amazon or potentially at your local grocery (stores with larger baking sections are your best bet).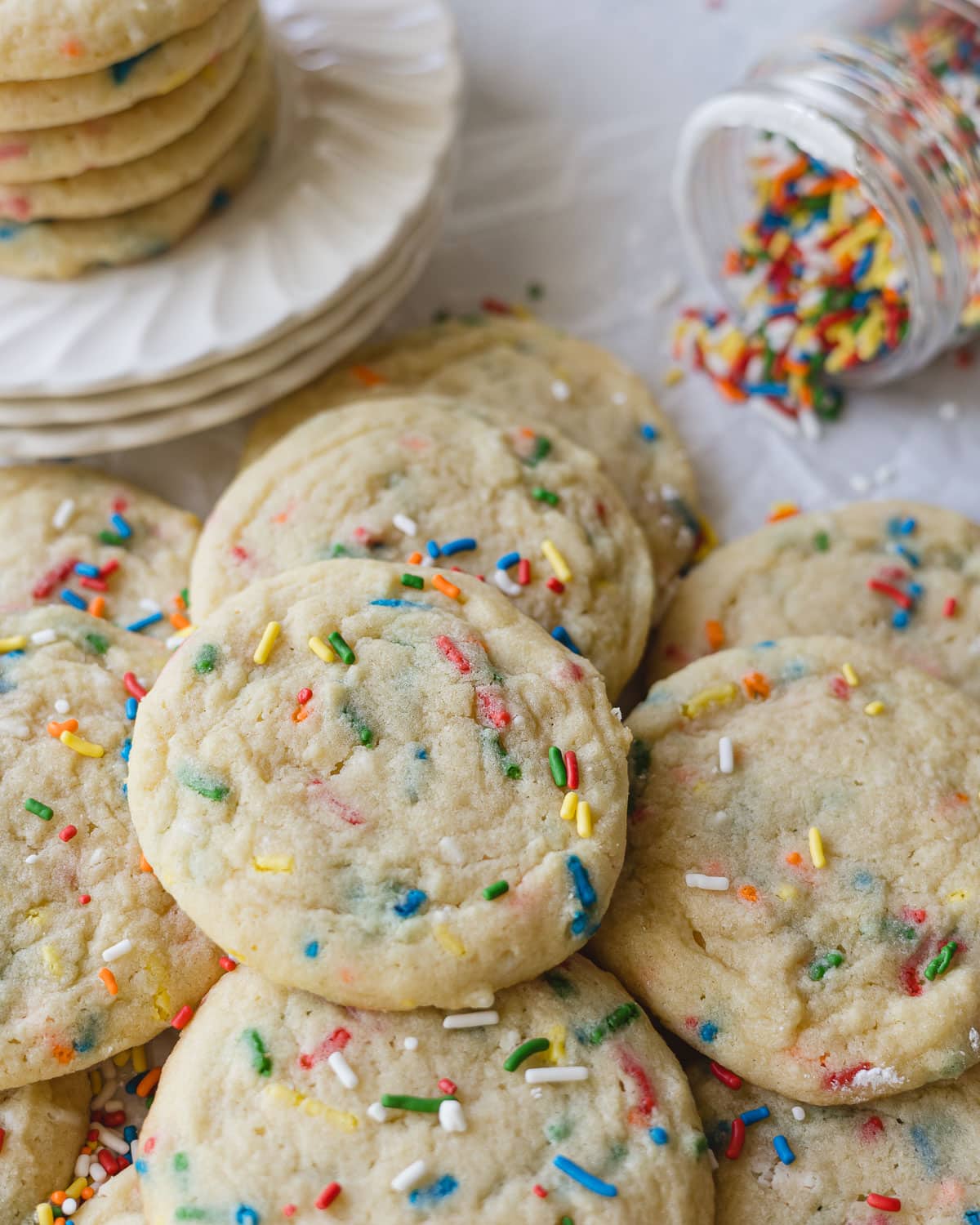 Do These Cookies Taste Like Crumbl's?
This is a recipe I would say is for sure "better than Crumbl". Crumbl describes their funfetti cookie as a "a warm sugar cookie with rainbow sprinkles", but my first experience with the Crumbl Funfetti Cookie was a shipped cookie and it was…not very good. It was gummy, kind of flavorless, and overall a disappointment.
These cookies on the other hand are warm, soft, and packed with sprinkles AND cake batter flavor. I would guess that the bakery-fresh version of this cookie from Crumbl is a lot better than the shipped version, but I strongly suggest giving this recipe a try regardless!
Crumbl's cookie (left) versus my copycat cookies (right):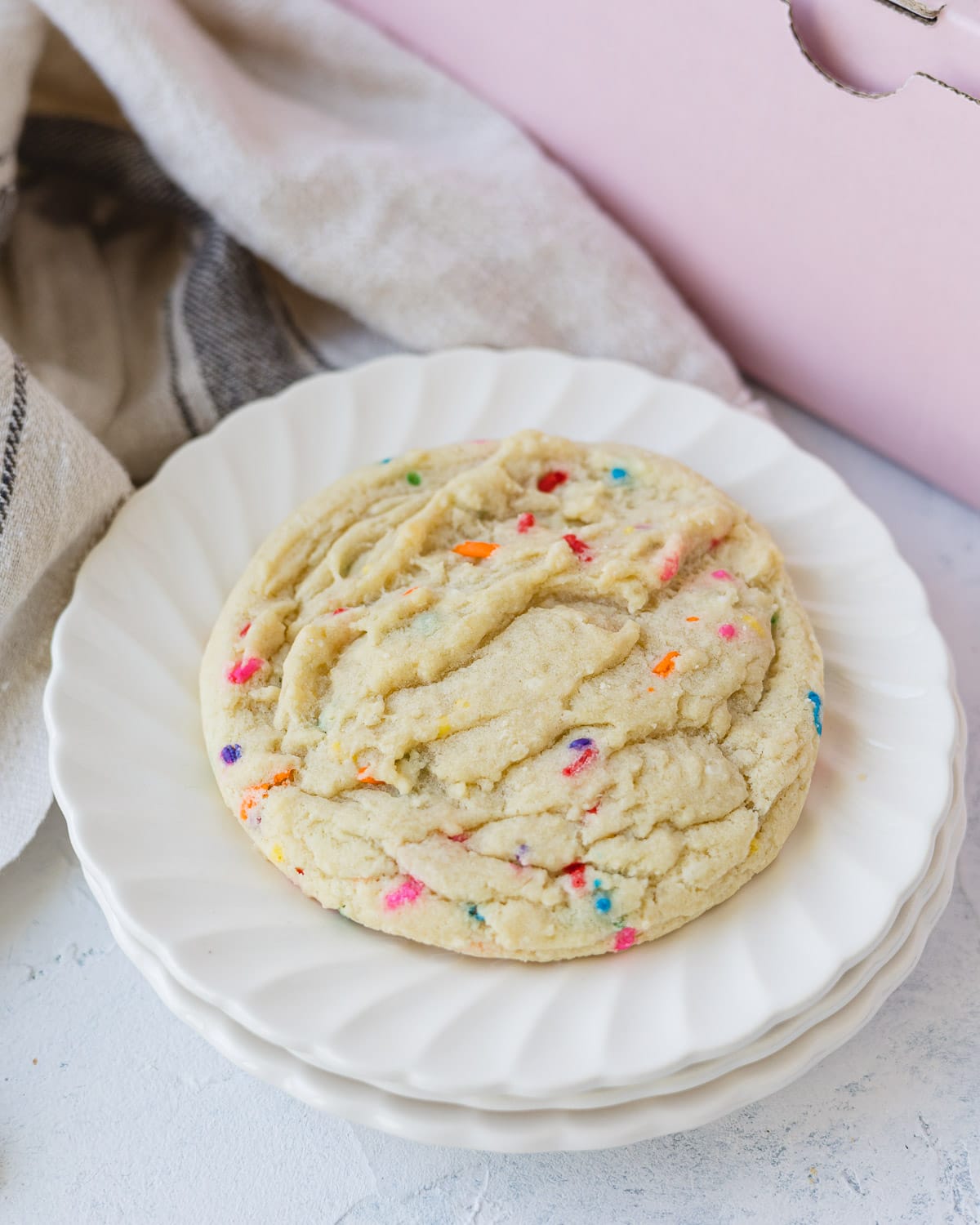 Love these copycat cookies? I've got a growing list of Crumbl Copycat Recipes I can't wait for you to try!
What Kind of Sprinkles to Use?
Choosing the right sprinkles is important for these funfetti cookies. Skip the nonpareils (the small round orbs) which are adorable, but bleed like crazy. Instead, opt for traditional sprinkles (the long thin cylinder kind as seen below):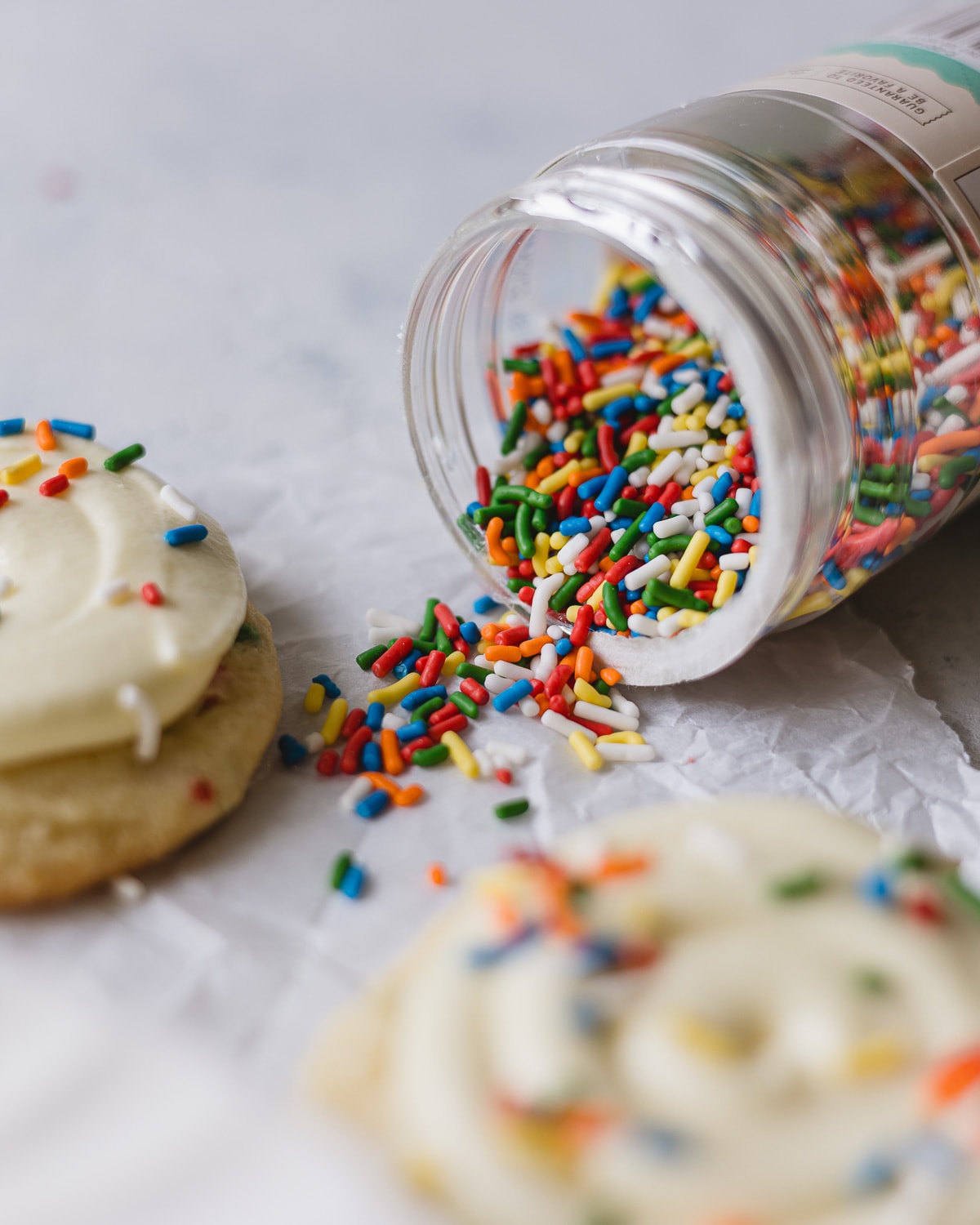 You might also be able to use the confetti type sprinkles, but I'll report back after I test because I'm not 100% sure.
Finding just the right color blend of rainbow sprinkles can be a challenge. I snagged these at Target and later realized they didn't include any purple or pink. I wanted pink! Check your grocery store and craft stores like Michaels or Hobby Lobby (head to the cake decorating/baking area) to see what they have.
Tip: Amazon can be a helpful place to buy random baking ingredients or tools, but the sprinkles available there are often sold in gigantic containers (without options for returning). I'd stick with shopping local and only try Amazon if you need LOTS of sprinkles.
How to Make the Cookies Larger
These cookies are about 3.5″ in diameter after baking. I used a 3 tablespoon scoop. Use a 1/ 3 cup scoop (like in my Vanilla Sugar Cookies) if you'd like larger Crumbl-size cookies.
Larger cookies will need a few extra minutes in the oven. Keep an eye on them and pull them from the oven as soon as the edges start to turn golden brown. We want to aim for a slightly underbaked cookie to keep that soft texture!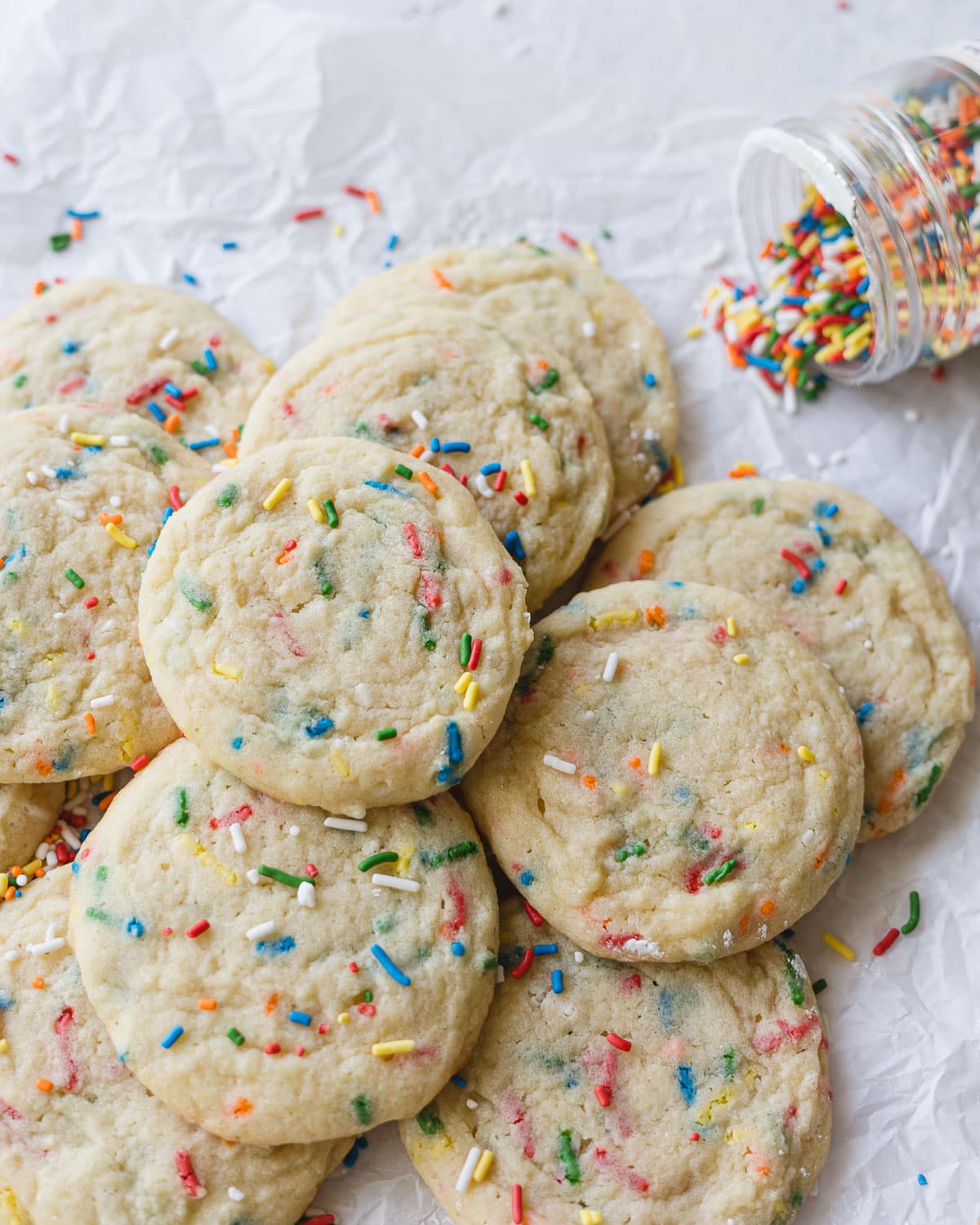 Ingredients You Will Need
Let's grab the ingredients we'll need: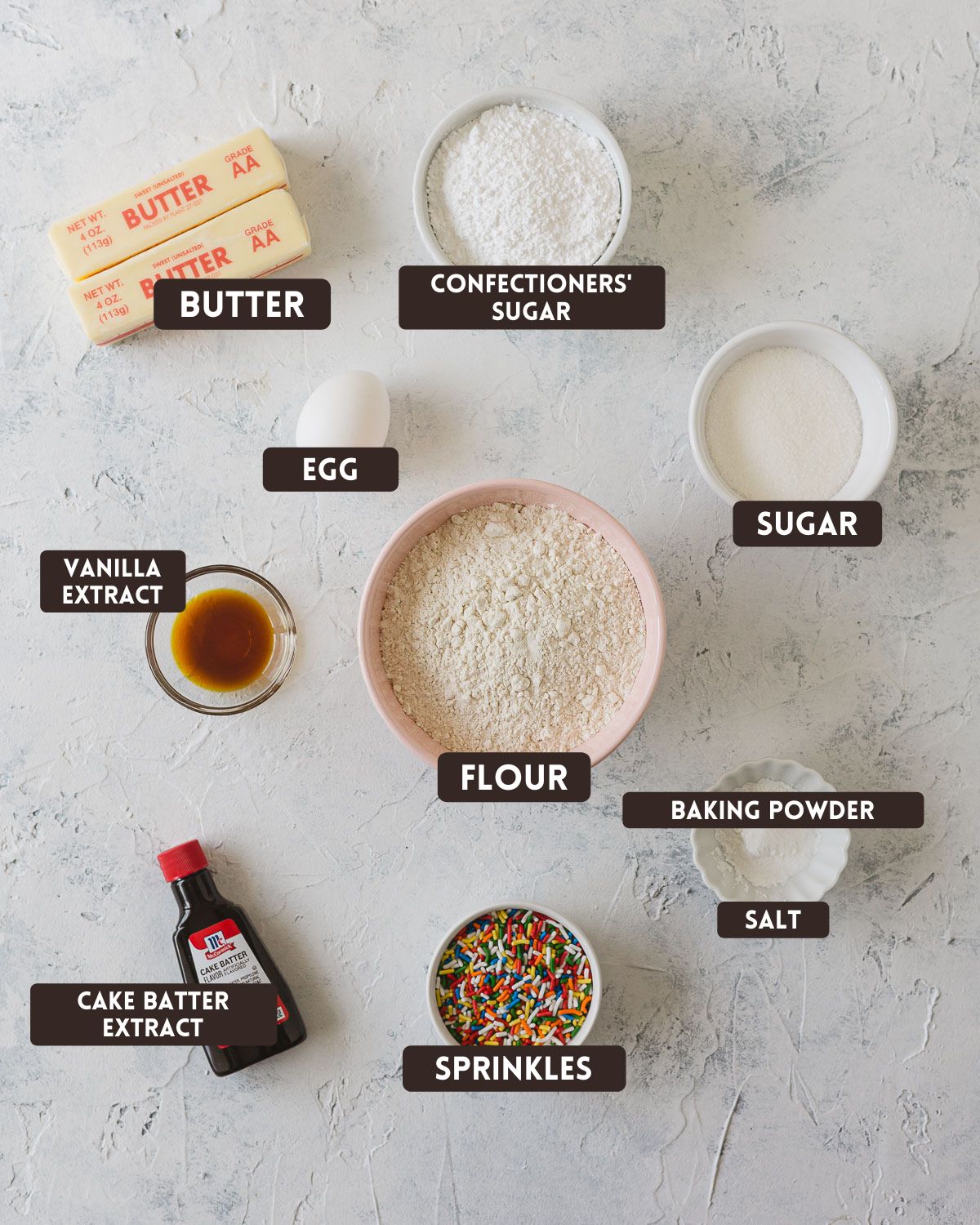 Unsalted Butter – I always use unsalted butter when baking. Salted butter may cause your cookies to end up too salty. Be sure to soften the butter in advance of baking (about two to three hours at room temperature will do it) so it's easy to cream together with the sugar.
Confectioners' Sugar – Also known as "powdered sugar" this type of sugar keeps the cookies soft and tender. If you don't have a kitchen scale, measure it like flour by spooning it gently into a measuring cup and then leveling off the excess with a butter knife.
Granulated Sugar – Regular ol' sugar!
Egg – I use one large egg for this recipe. Remove the egg from the fridge first thing before you start assembling your other ingredients and creaming the butter and the sugar. I find that 15-20 minutes out of the fridge is enough to take the chill off so the egg will incorporate well into the creamed mixture.
Vanilla Extract – I use a lot of vanilla extract so I like to buy the giant one from Costco.
Cake Batter Extract – This is such a fun ingredient! If you don't have any, you can use more vanilla extract in place of it, but I highly recommend picking some up. You can purchase it on Amazon and your grocery store may carry it too. It really does make baked goods taste like cake! Yum.
All-Purpose Flour – I use all-purpose unbleached flour for my cookie recipes. Measuring it accurately is very important for the final taste and texture of the cookies. Weighing the flour is preferred, but you can also spoon it into a measuring cup and level it off with a butter knife if you don't have a kitchen scale. I like to gently aerate the flour by mixing it briefly with a whisk before even spooning it into a cup to make sure it's not overly packed.
Sprinkles! – Stick with rainbow sprinkles in the long/thin shape. Skip nonpareils (the tiny round sprinkles) which will bleed. I use a 1/3 of a cup of sprinkles, so even if you have sprinkles on hand already you may need a fresh container to get enough for these cookies.
How to Bake Funfetti Cookies
Cream: Use a hand mixer on low speed to cream together the butter and sugars until light and fluffy. Beat in the egg, vanilla extract, and cake batter extract.
Mix in dry ingredients: add the flour, baking powder, and salt to the dough and beat gently until combined. Use a spatula to fold in any remaining dry ingredients. Fold in sprinkles.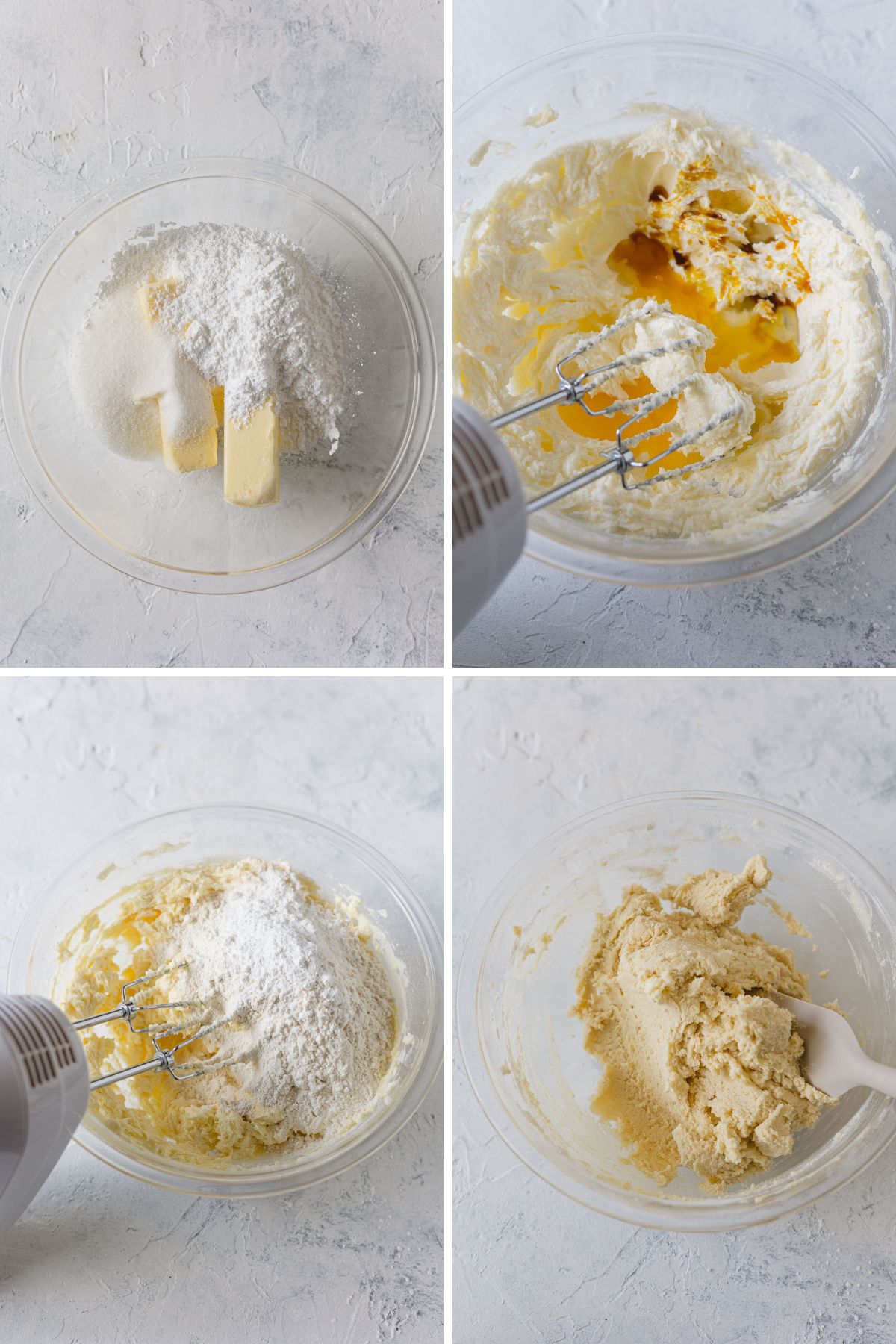 Chill: A quick session in the fridge (only 30 minutes) firms up the dough to prevent it from spreading too much.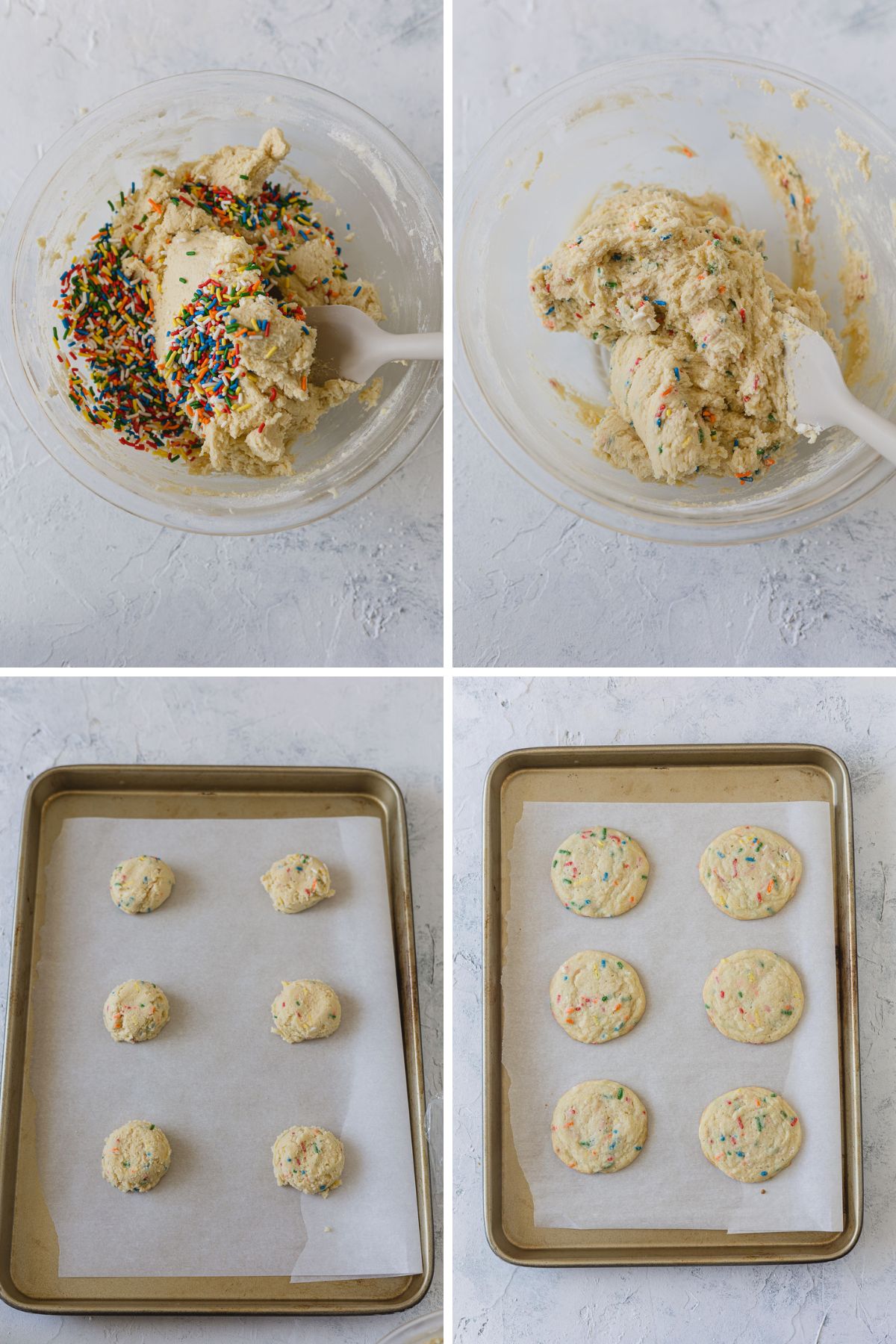 Scoop: I used a 3-tablespoon scoop, but you can use a hefty 1/3 cup scoop/disher to get big Crumbl sized cookies. After scooping, I gently flatten the tops of the cookies to get a smooth surface in case I want to later frost and turn them into Birthday Cake Cookies!
Bake: Slightly underbaking is the key to these soft and tender cookies. Every oven is different so keep an eye on things and pull the cookies when they begin to turn golden brown on the edges. Overbaking dries out cookies.
How to Freeze Cookie Dough for Later
After portioning out the cookies, "flash freeze" the dough by arranging the cookies on a parchment-lined cookie sheet and allowing to freeze until solid (or at least hard on the outside). Then you can add all the cookie dough scoops into a gallon size freezer safe storage bag (don't forget to date and label) and save for 1-2 months.
To keep things simple, I usually take out the bag of frozen cookie dough and allow to thaw in the fridge overnight before baking. Then, I just bake as normal, adding a minute or two if required.
Storing the Cookies
Funfetti cookies can be stored at room temperature in an air-tight container for 3-4 days. Cookies can become stale after being stored too long, so freeze them if necessary.
How to Freeze Cookies for Later
Store these cookies in an air-tight and freezer safe container for up to 1-2 months in the freezer to make them last longer. Thaw cookies you plan to eat at room temperature and don't refreeze.
More Crumbl Cookies Recipes
If you loved this recipe, leave a 5-star rating! I would so appreciate it!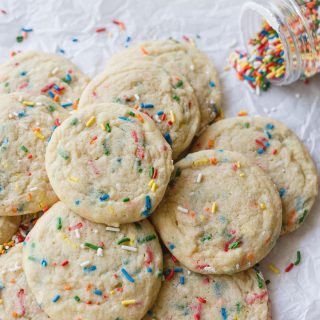 Crumbl Funfetti Cookies
These Crumbl Copycat Funfetti Cookies might just be better than Crumbl! They are soft with great flavor and plenty of bright sprinkles. Easy to make with basic ingredients and your favorite colorful sprinkle mix (check my tips to avoid the sprinkles bleeding in the cookie dough!).
Ingredients
16

tablespoons

unsalted butter

softened to room temp (8 ounces)

1

cup

confectioners' sugar

4 ounces

1/2

cup

granulated sugar

3.5 ounces

1

large egg room temp

1

teaspoon

vanilla extract

½

teaspoon

cake batter extract

(optional; use another 1/2 teaspoon of vanilla if you don't have it)

2

cups

all-purpose flour

10 ounces

2

teaspoons

baking powder

1/4

teaspoon

salt

⅓

cup

rainbow sprinkles

*see notes*
Instructions
Preheat oven to 350°F. Prepare two large baking sheets by lining each tray with a sheet of parchment paper.

In a large bowl, use a hand mixer on low speed to cream together the butter and sugars until smooth. Beat 2-3 minutes until the mixture is lighter in color and fluffy. Add in the egg, vanilla extract, and cake batter extract and beat until just combined.

Add the flour, baking powder, and salt to the dough and beat everything together on low. Don't overmix here. Use a spatula to fold in any last streaks of flour.

Pour in sprinkles and gently fold in with a spatula. Careful not to overmix as even "non-bleeding" sprinkles can start to transfer dye to the dough if overworked.

Chill dough in the fridge for 30 minutes. I find this brief rest to be quite helpful for getting the right texture in the final cookies. I have skipped it, but the cookies do spread more.

Divide dough into 19-20 cookies using a 3 tablespoon cookie scoop. Place the balls of cookie dough 2-3" apart on a baking sheet. Optional: for slightly flatter cookies, gently press down the rounded tops with your fingers before baking.

Bake cookies one tray at a time for about 10-12 minutes until starting to turn golden brown on the edges. The centers will still be soft. Don't overbake.
Notes
Sprinkles to Use: Use up to 1/2 cup of sprinkles if desired. Skip using nonpareils (the little round orb type sprinkles) which will bleed in the dough. Stick with the style of sprinkles shown or try confetti quins which are supposed to be another good option (though I have to test them myself–I'll report back!). 
How Large Are the Cookies? I made these cookies a bit smaller than some of my other Crumbl recipes. The finished cookies are about 3.5″ in diameter and the recipe yield is about 20 cookies.
To make them larger, use a 1/3 cup scoop or measuring cup (you should get 9-10 cookies) and bake for around 14-16 minutes. Don't overbake, just pull the cookies when the edges turn lightly golden brown.
Storing the Cookies: Store at room temp for 3-4 days in an air-tight container. Also may be frozen for up to 1-2 months in freezer safe containers or bags.
Nutrition
Calories:
184
kcal
Carbohydrates:
23
g
Protein:
2
g
Fat:
10
g
Saturated Fat:
6
g
Polyunsaturated Fat:
1
g
Monounsaturated Fat:
2
g
Trans Fat:
1
g
Cholesterol:
32
mg
Sodium:
147
mg
Potassium:
20
mg
Fiber:
1
g
Sugar:
13
g
Vitamin A:
292
IU
Calcium:
29
mg
Iron:
1
mg