How to Ship Crumbl Cookies to Your House
Learn exactly how to get Crumbl Cookies shipped straight to your house! Plus, learn which flavors are available and the most important question…are they as good as the freshly baked cookies sold in-store? Answers to all your questions about shipping Crumbl Cookies here!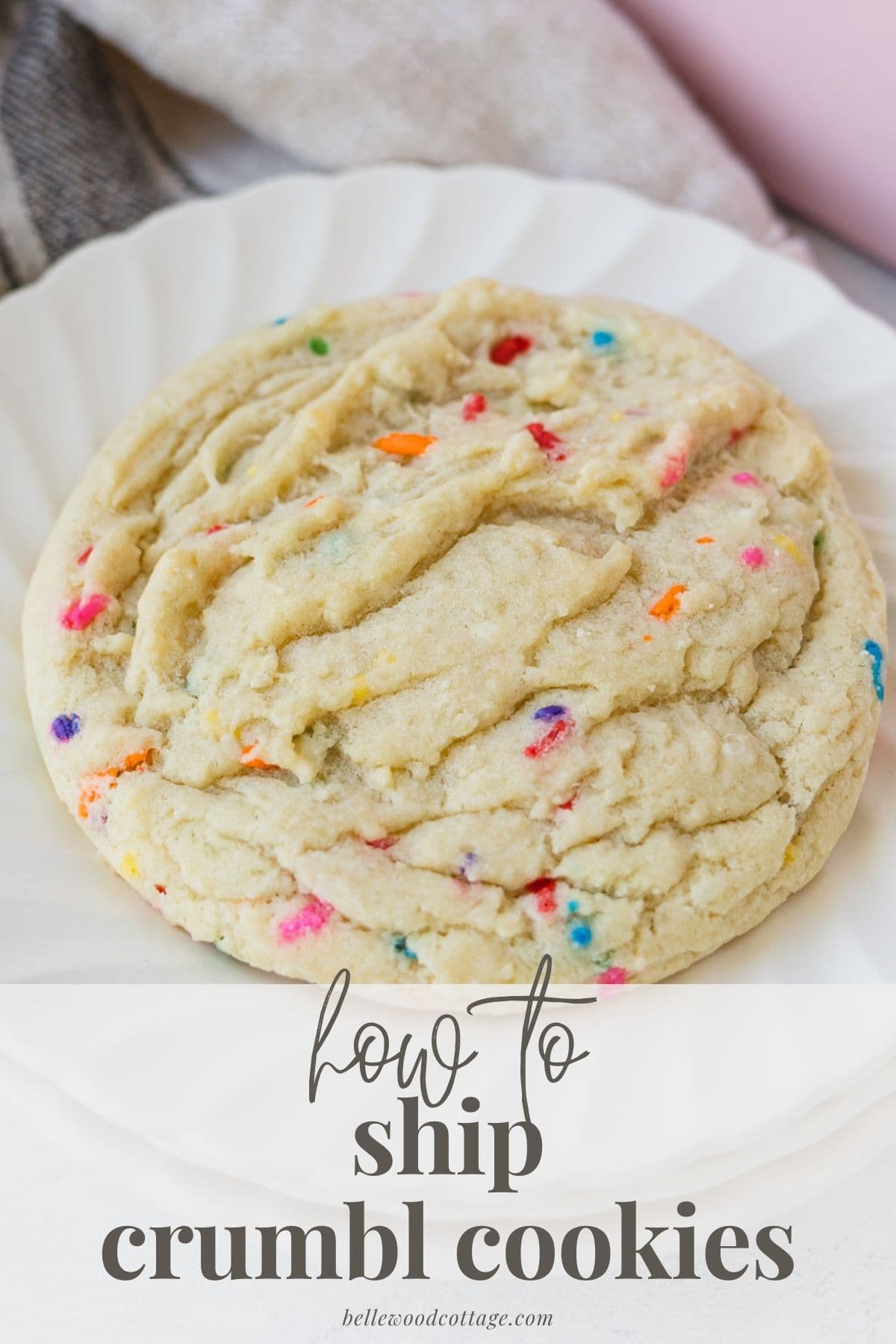 If you've tried Crumbl Cookies (read my full review if not!), but live too far from a store for regular indulging, you might have been curious about Crumbl's shipping options. They do indeed ship their cookies and it's a great option for anyone who can't get out to a store regularly.
The cookies can be shipped straight to your house anywhere in the United States (no P.O. boxes though).
What Flavors Are Available for Shipping?
Everyone loves the weekly rotating menu at Crumbl featuring five fresh flavors each week. The shipping menu is a monthly menu instead and features eight flavors of non-refrigerated cookies. None of the fancier frosted or pie-style cookies (that require refrigeration) are included in the shipping menus.
Milk Chocolate Chip is always included, alongside flavors like Blueberry Muffin, Sea Salt Toffee, Chocolate Potato Chip, and Brownie Batter.
Since you can select from a 4, 6, or 12 count box, you can order all the flavors or just try a few. Of course, you can also order a whole box of your favorite flavor and freeze them for later!
Curious to know all the flavors available? Here's a list of all 200+ Crumbl Cookies flavors. Yum!
Are Shipped Cookies as Good as Fresh Cookies from the Store?
I hate to say it, but unfortunately, I didn't find my order of shipped cookies to be quite as good as the cookies fresh from the local Crumbl Cookies.
I found that the shipped cookies were all lacking in flavor. They were soft (but not necessarily chewy) and some tasted rather doughy/gooey. It was a bit disappointing and my suggestion would definitely be to buy fresh cookies from your local store if possible.
Though the Crumbl website suggests reheating the shipped cookies per included instructions, I didn't see any instructions within the packaging. I did try heating a few of the cookies gently in the microwave. Heating the cookies improved the flavor a bit, so I'd recommend trying that if you've purchased a shipped order.
The cookies shipped from Utah and they arrived quickly (I ordered on Monday and received them Wednesday) each packaged individually. I purchased a Blueberry Muffin, Classic Peanut Butter, Funfetti, Cookies & Cream, Iced Oatmeal, and Brownie Batter cookie.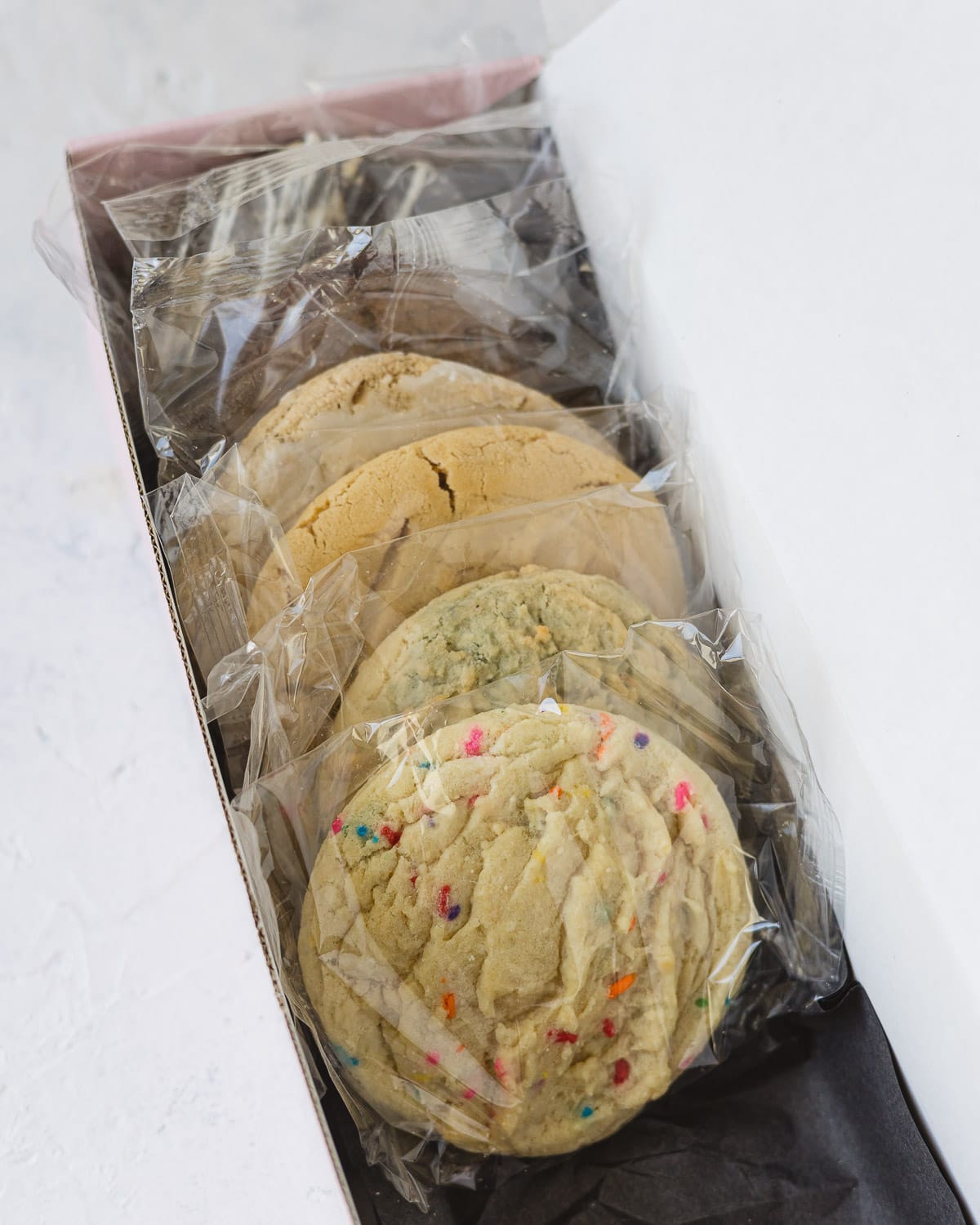 What did we like best?
My family liked the Brownie Batter and Classic Peanut Butter Cookie best. Even though I didn't order the Milk Chocolate Chip cookie I think that would also be a safe bet for ordering.
Make your own Crumbl Cookies! I know it can be a bummer when you don't have a Crumbl nearby. If you are willing to do a little baking, you can make your own giant Crumbl style cookies at home! Here's my Crumbl Copycat Recipes to try.
I think the cookies were all the same recipes as the local stores use, but some appeared MUCH different than the promotional materials. Take the Blueberry Muffin Cookie for instance, though it did taste fine, you can hardly see any visible streusel on top:
Others, like the Funfetti Cookie looked great, but this cookie in particular tasted glue-y and lackluster: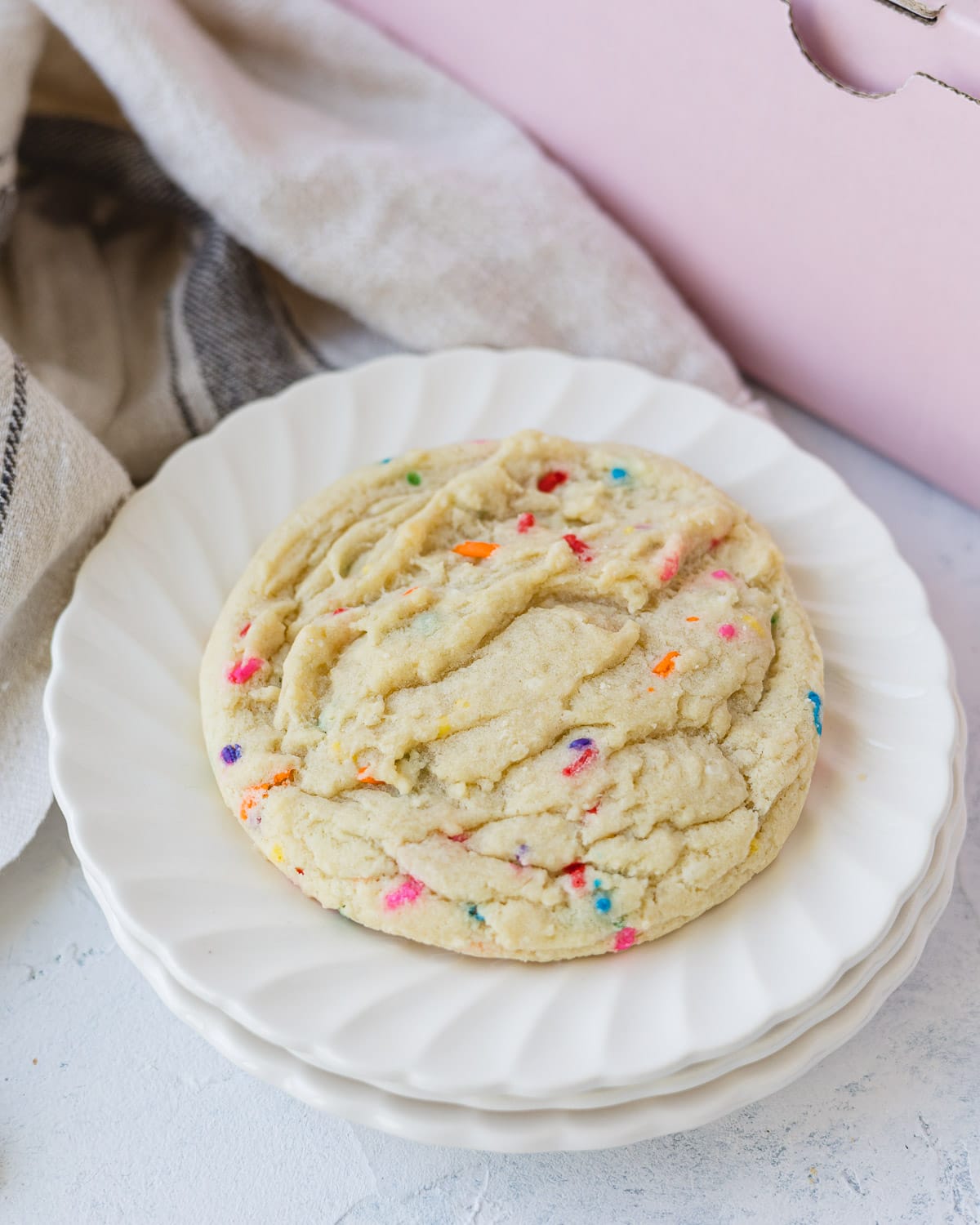 Another downside of the shipped cookies is that you are limited to the shipping menu (these change monthly) and some of the most compelling Crumbl flavors (like the Cookies & Cream Milkshake or the newer New York Cheesecake) aren't available because they require refrigeration to ship.
Overall, if you need a cookie fix (or want to give the gift of Crumbl), shipping the cookies definitely works. Just be aware that the flavors and overall impression of the cookies won't be as good as a local store can offer. Remember, the stores are baking up their cookies fresh and that counts for a lot where cookies are concerned!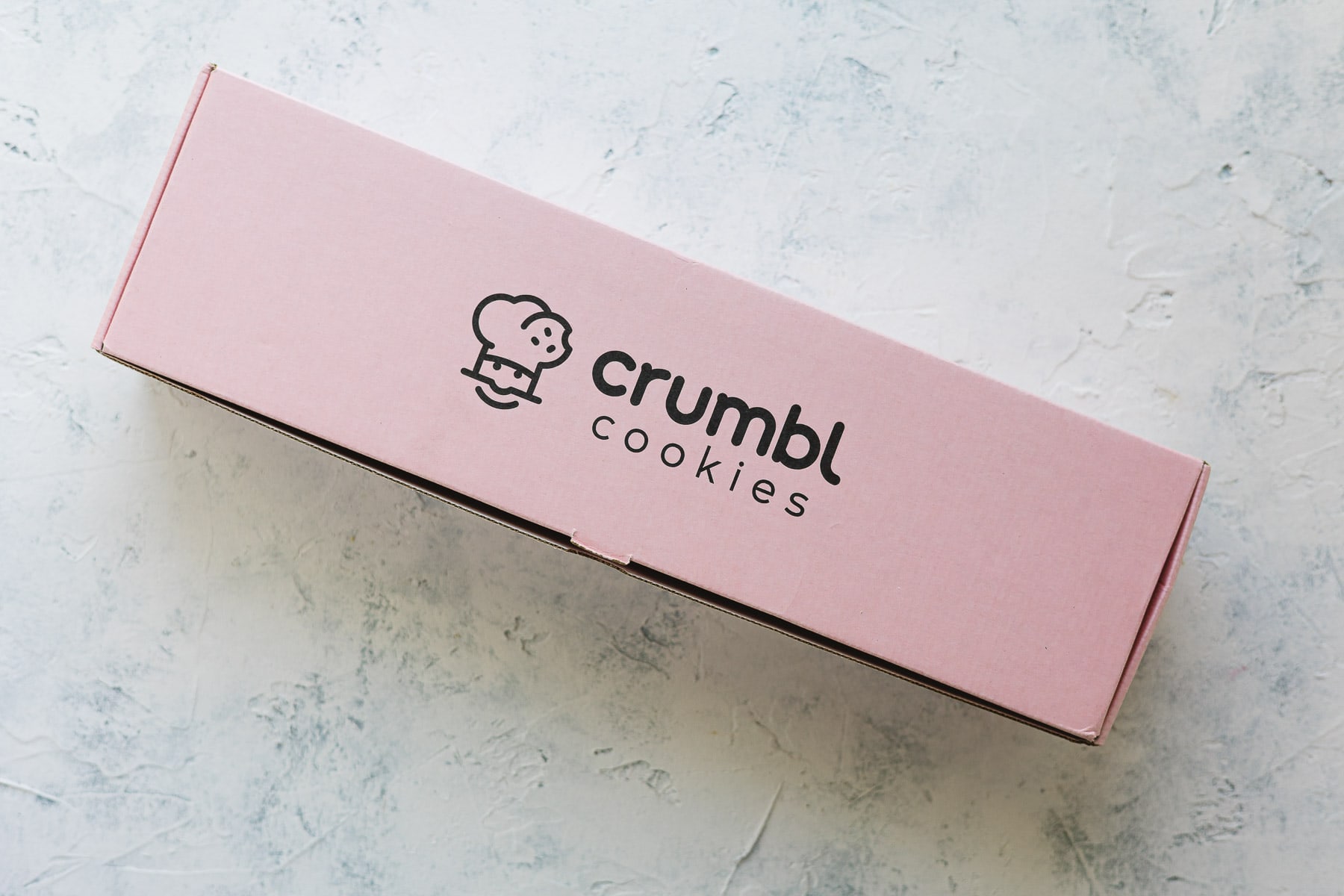 Crumbl's Shipping Menu for April 2022
Milk Chocolate Chip
Dark Dream
Blueberry Muffin
Brownie Batter
Cookies & Cream
Iced Oatmeal
Funfetti
Classic Peanut Butter
If do you want to give it a try, here's everything you need to know about shipping Crumbl Cookies:
How to Ship Crumbl Cookies With the App
Download the "Crumbl Cookies" app to your phone and open it. Click "Get Started".
You'll be prompted to enter your first and last name and phone number. Enter the code you receive via text.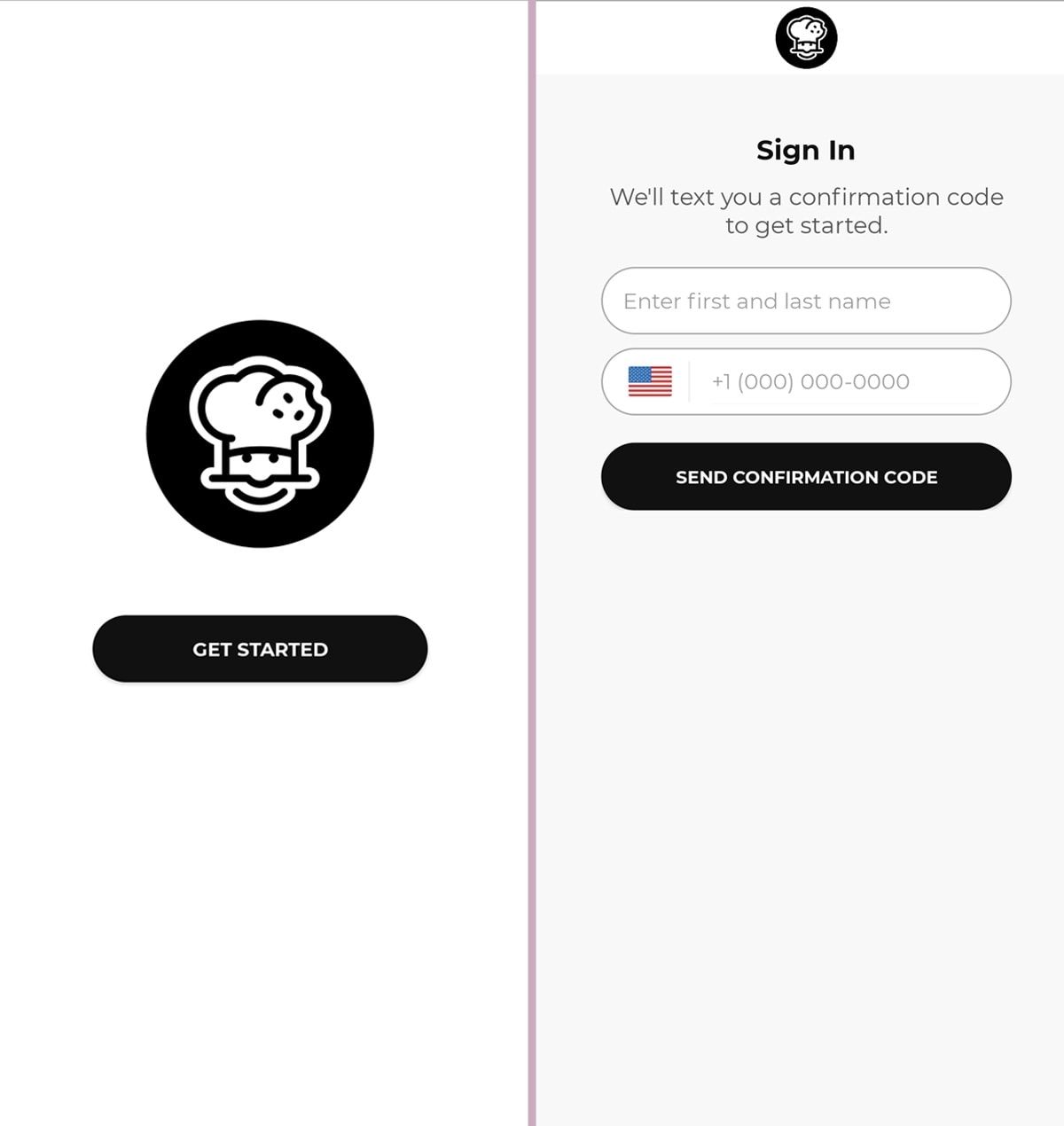 Now you'll be able to see the weekly menu, order, send a gift, check loyalty points and more (like send a giftcard, check nutrition information, and check orders).
Click, "Order" on the bottom menu to get a shipping order started.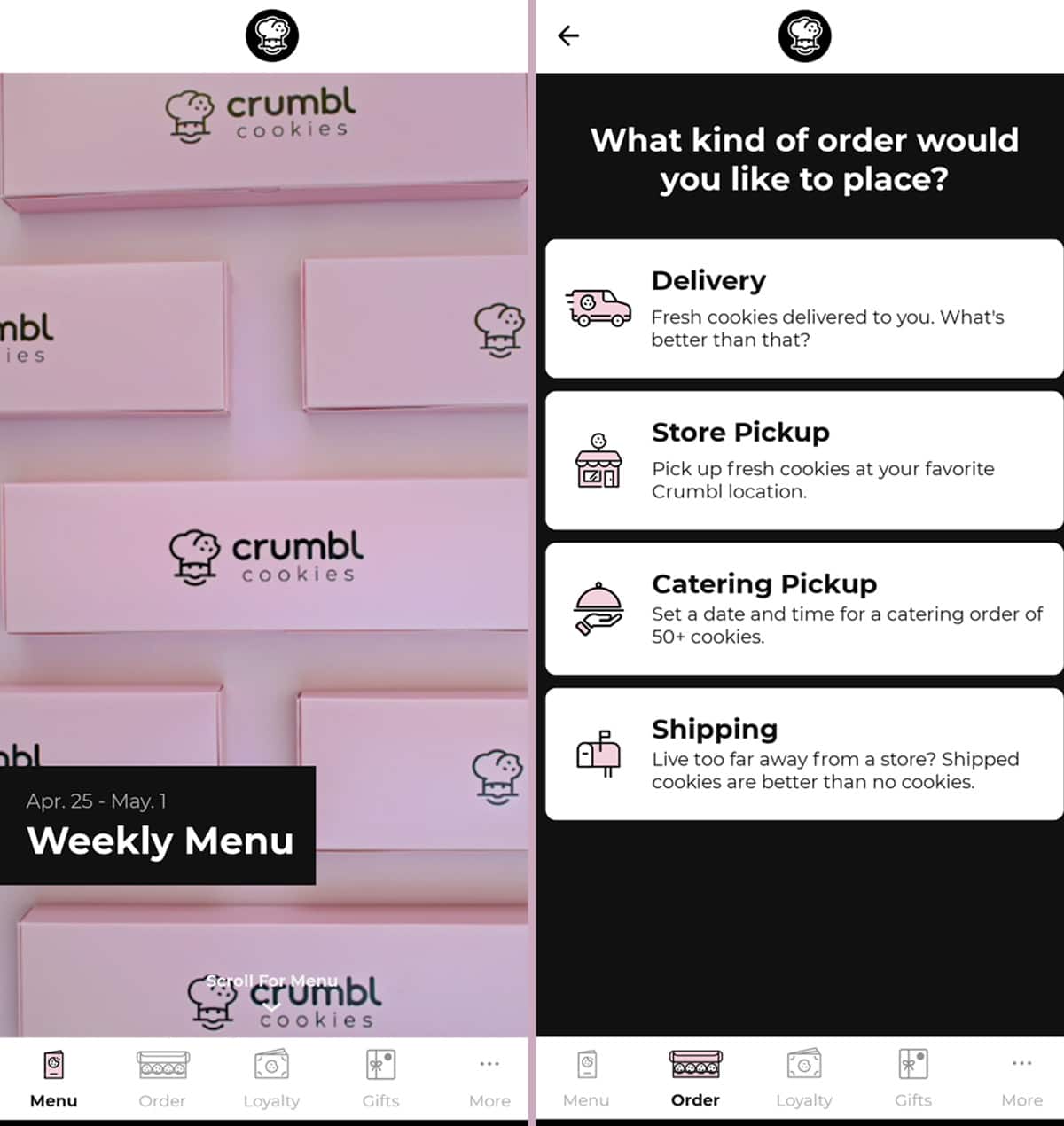 Select, "Shipping" and enter your address or select a saved address. Add in your name and (optional) additional delivery instructions as prompted.
Select from a 4-pack, 6-pack, or 12-pack box.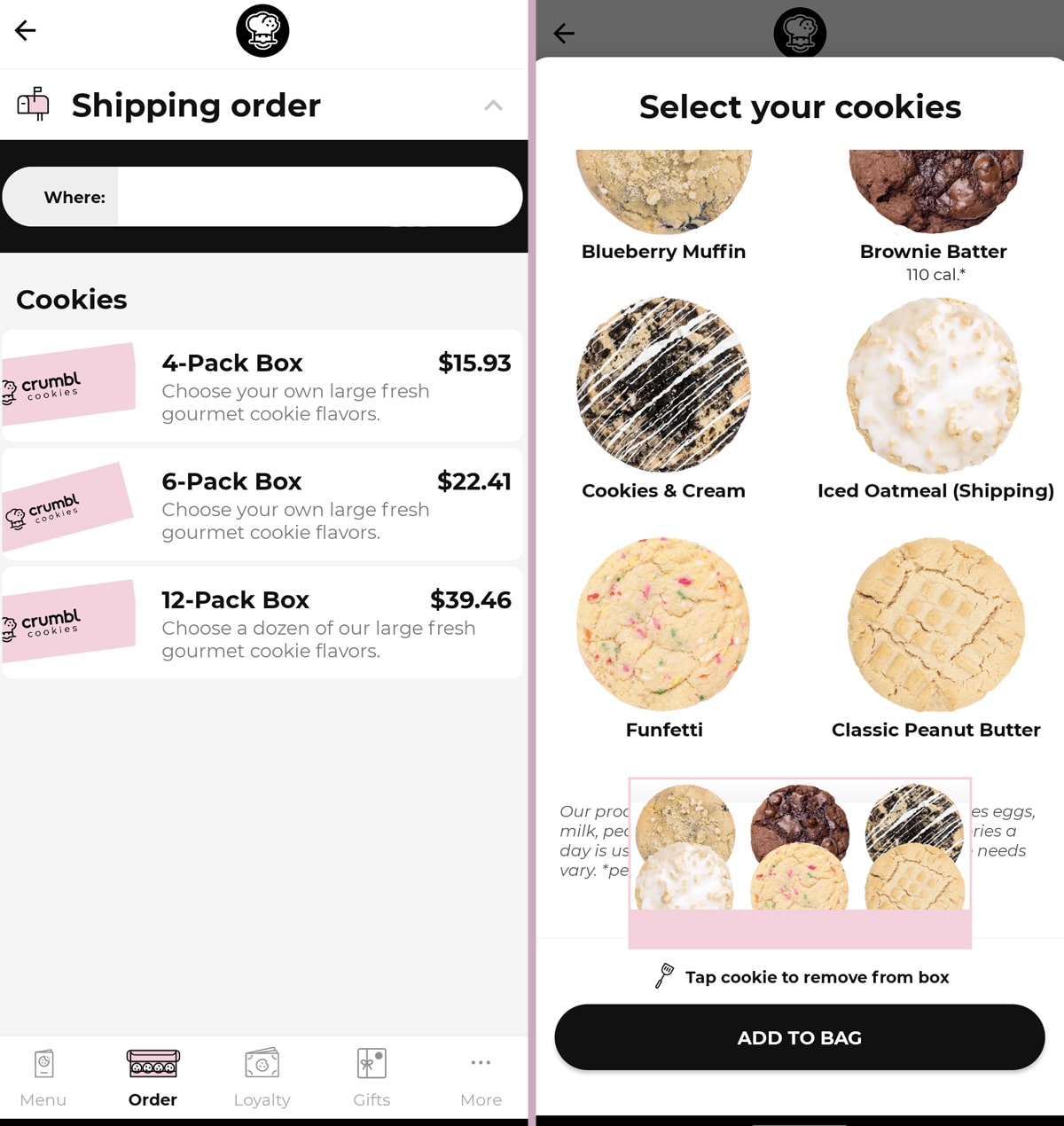 Select cookies when prompted. You can select any variety of cookies from the shipping menu for that month. So you can order all the same cookie or any combo you wish. Since the shipping menu generally has eight flavors, you'll have to order the 12-pack if you want each flavor.
Add gift wrap and a message if desired.
Click, "View Bag", review your order, and then "continue" to checkout. You'll be prompted to add a note if desired.
If you have any questions or concerns after ordering, you have the option to call the shipping store and/or cancel the order.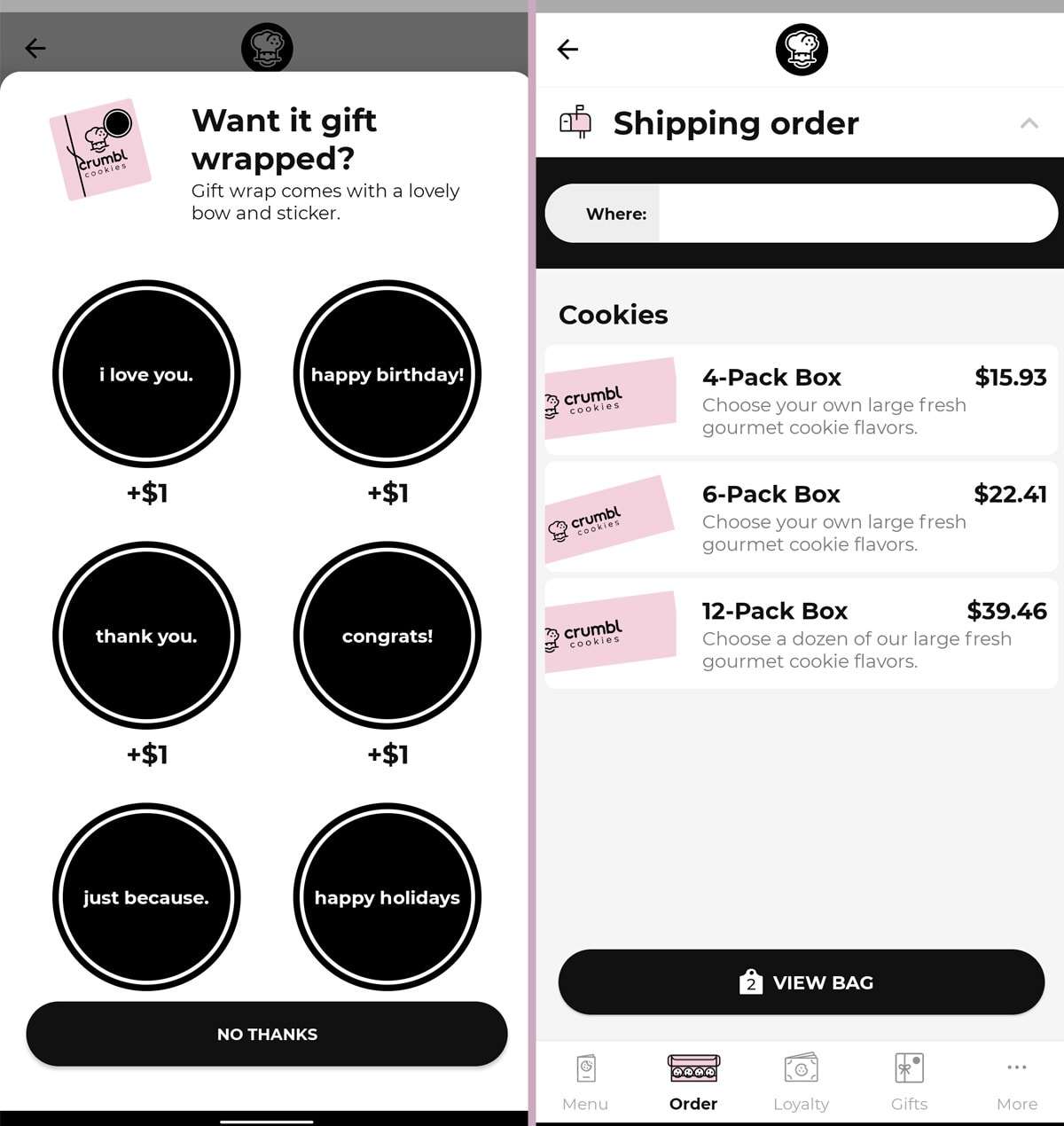 How Much Does Shipping Cost?
It cost me $9.99 to ship a 6-pack of cookies. You also might pay a little sales tax. This is another reason why buying in-store is a great idea. Save the shipping expense and buy more cookies instead!
When Will the Cookies Arrive?
I found that my cookies arrived more quickly than estimated. I ordered on a Monday morning and the cookies were supposed to come by the end of the day on Thursday. They ended up coming even faster, on Wednesday afternoon.
The cookies were packed in a sturdy box that was within in a plastic shipping bag. Each cookie came wrapped individually. See my notes at the top of the post for what I think about the shipped cookies versus fresh.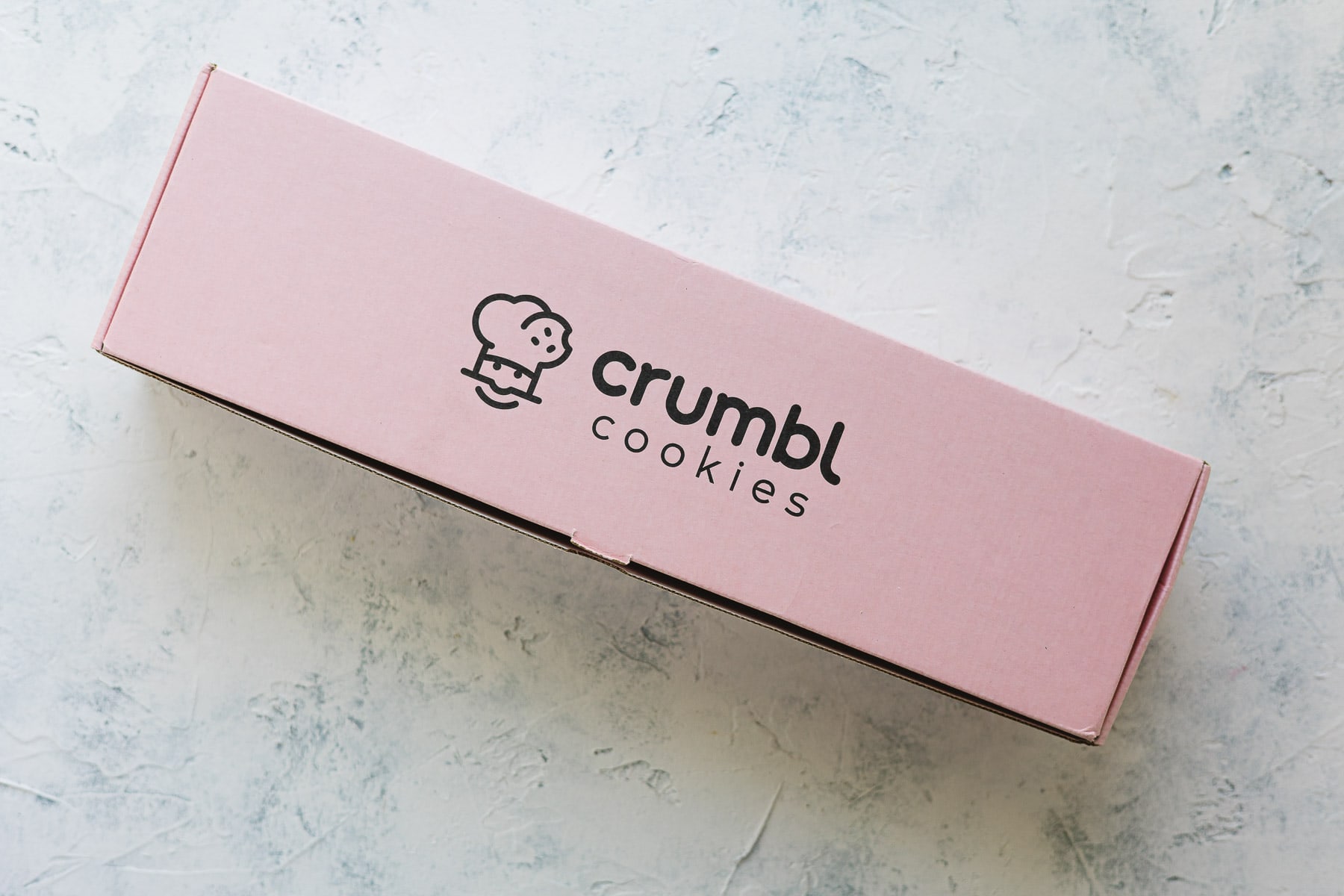 What about ordering from the website? If you are ordering from the Crumbl Cookies website and not from your phone, here's how to do it:
How to Ship Cookies From the Crumbl Website
On the Crumbl Cookies homepage, click, "Order Now".
Then, select, "shipping".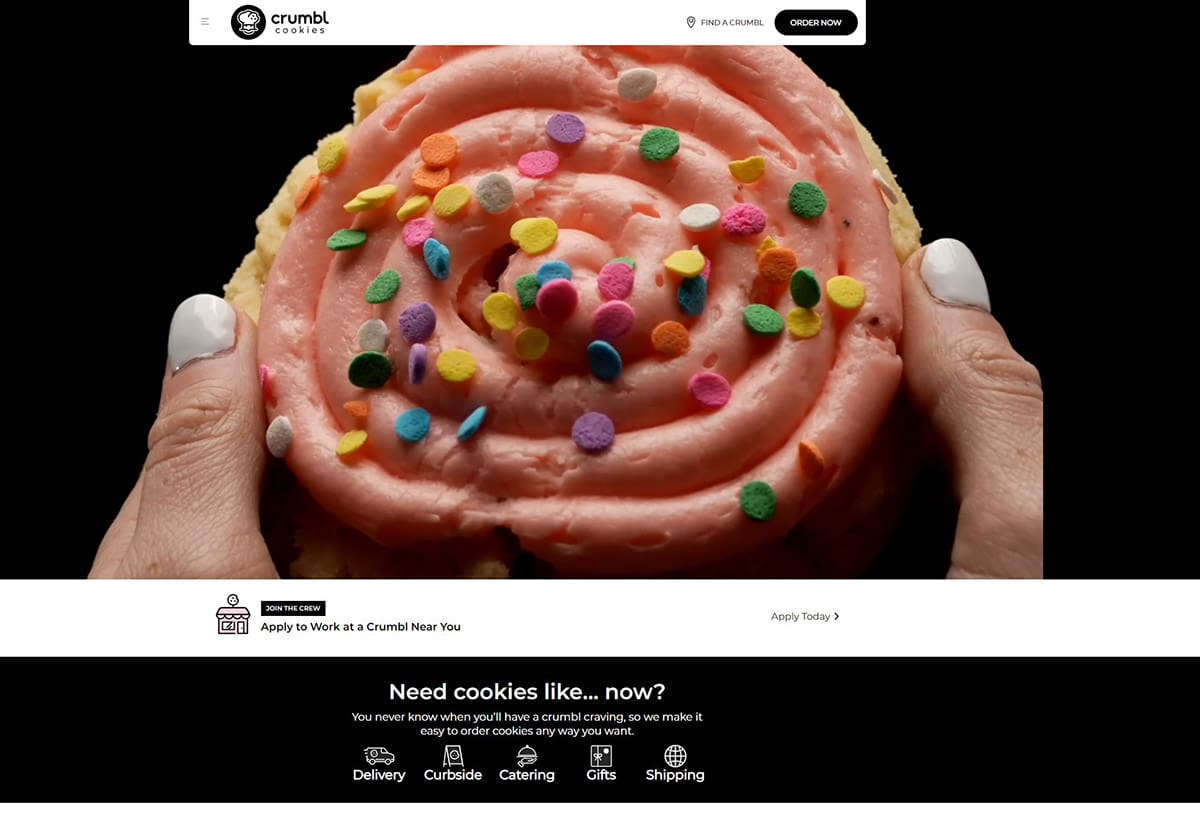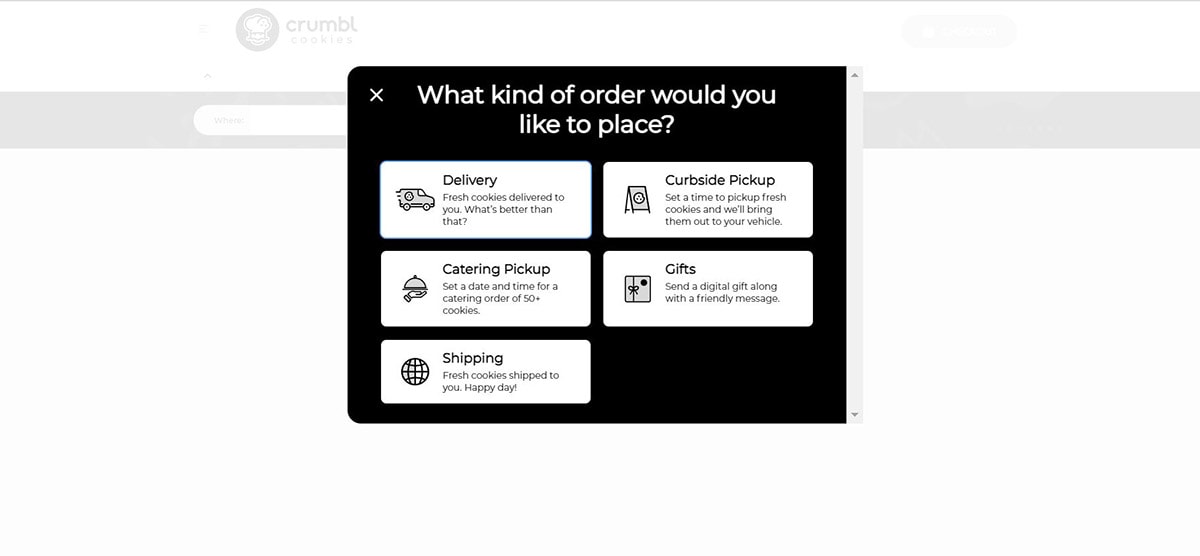 If you've never bought Crumbl Cookies before, click "sign up" and enter your first and last name and a mobile phone number. Click "sign in" and enter your phone number. You'll receive a confirmation text (secure login) from Crumbl.
Enter the confirmation code that was texted to your phone. Now you'll be prompted to enter your address.
Select which box size you would like.
When shipping Crumbl Cookies you have the option to choose between three box sizes: 4-pack, 6-pack, and 12-pack. Though the prices will vary depending on your region, I'm in Minnesota and here's what my prices are:
4-pack: $15.93
6-pack: $22.41
12-pack: $39.46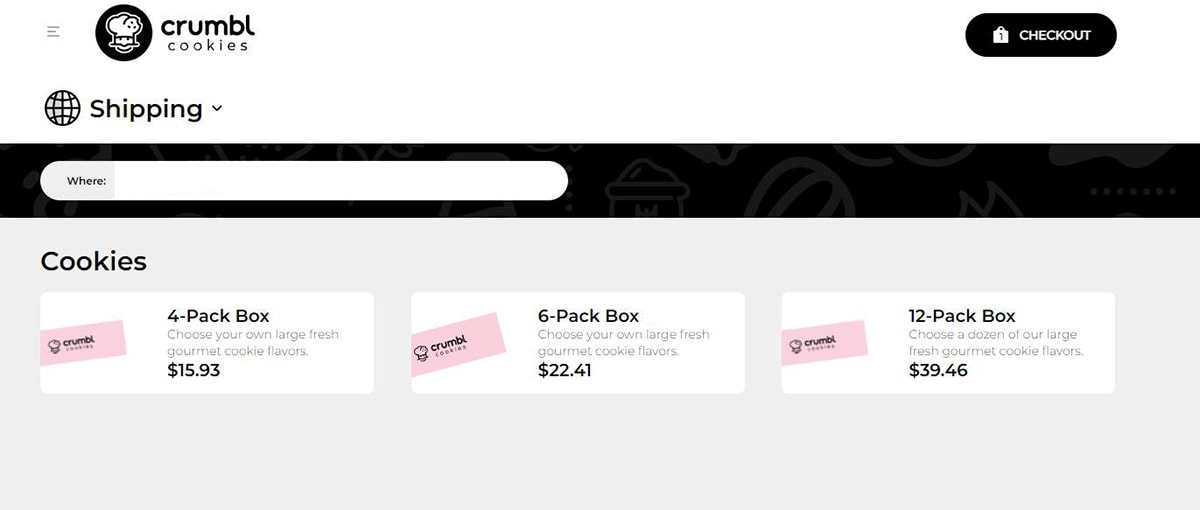 Select cookies. You can add and remove cookies as you fill your box. You can buy all the same flavor or mix and match.
Next, there's an option to add gift wrapping. Click "checkout" and follow payment prompts.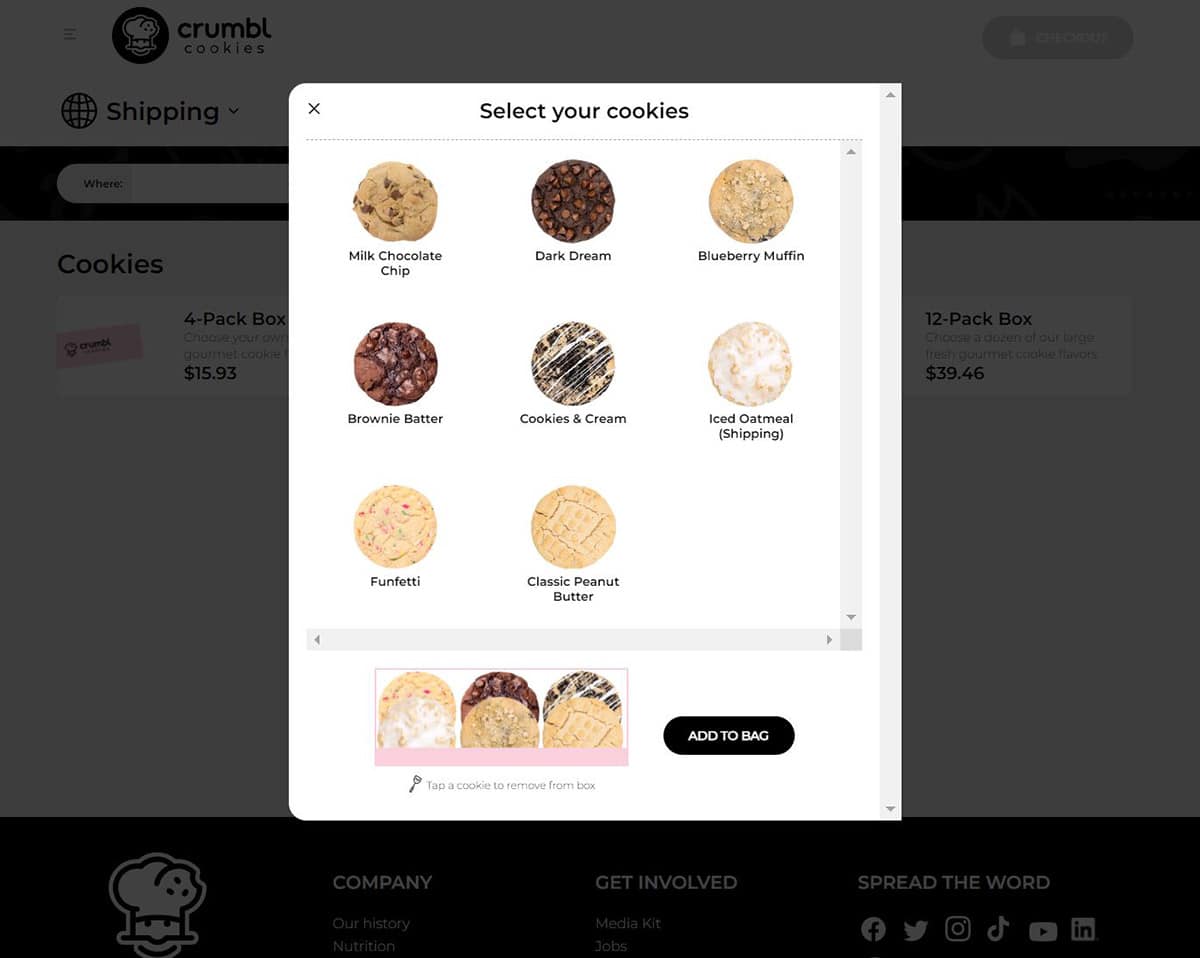 Your cookies should arrive in a secure shipping box in just a few days.
Enjoy your cookies!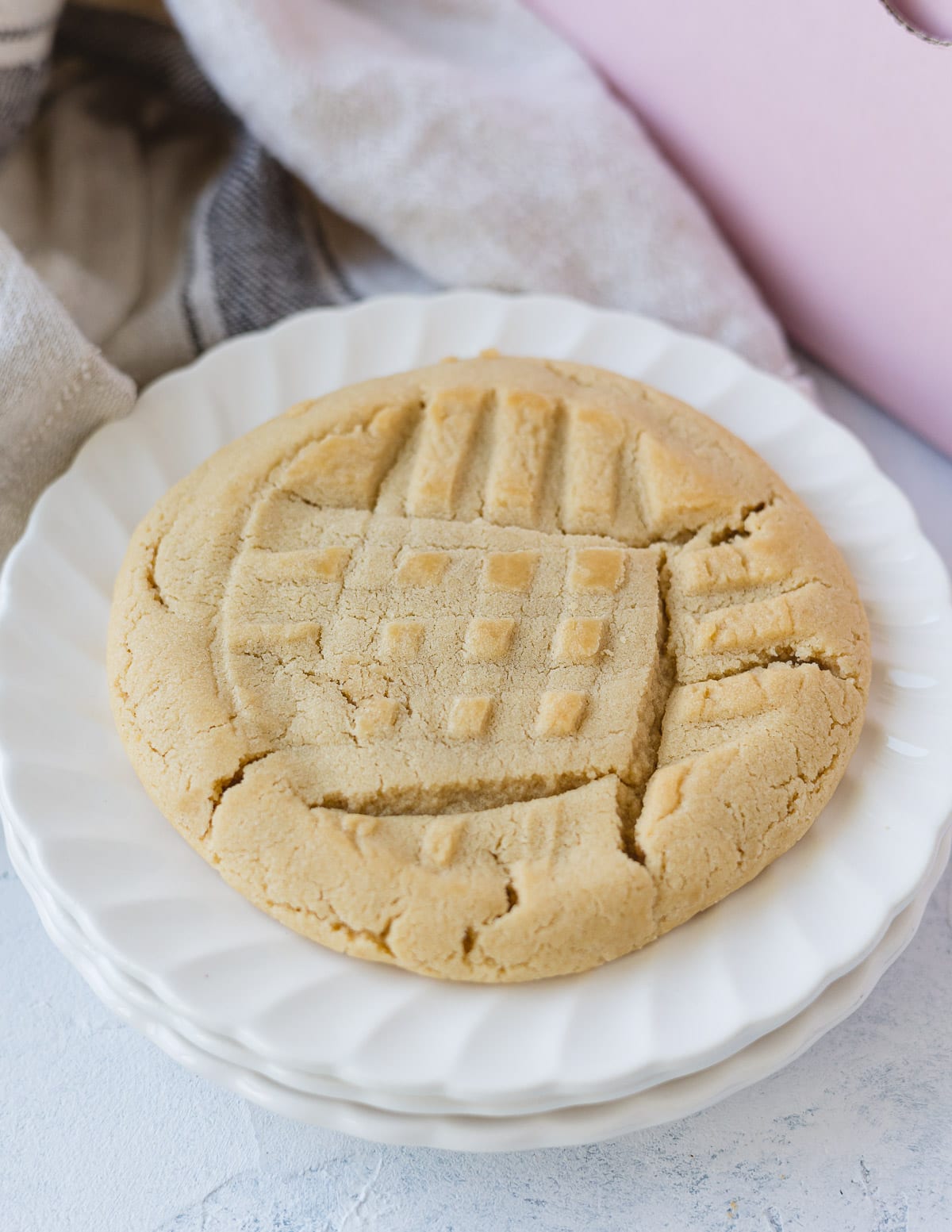 Past Shipping Menus
March 2022: Milk Chocolate Chip, Triple Chocolate Chip, Snickerdoodle, Cereal Milk ft. Fruity PEBBLES™, Midnight Mint, Sea Salt Toffee, Cookie Butter White Chip, Peanut Butter Cookies & Cream.
February 2022 Crumbl Cookies Shipping Menu: Milk Chocolate Chip, Funfetti (Valentine), Chocolate Peanut Butter Chip, Sugar Ft. Mothers® Valentines X's AND O's, Macadamia Nut, Molten Lava, Chocolate Potato Chip, Red Velvet White Chip.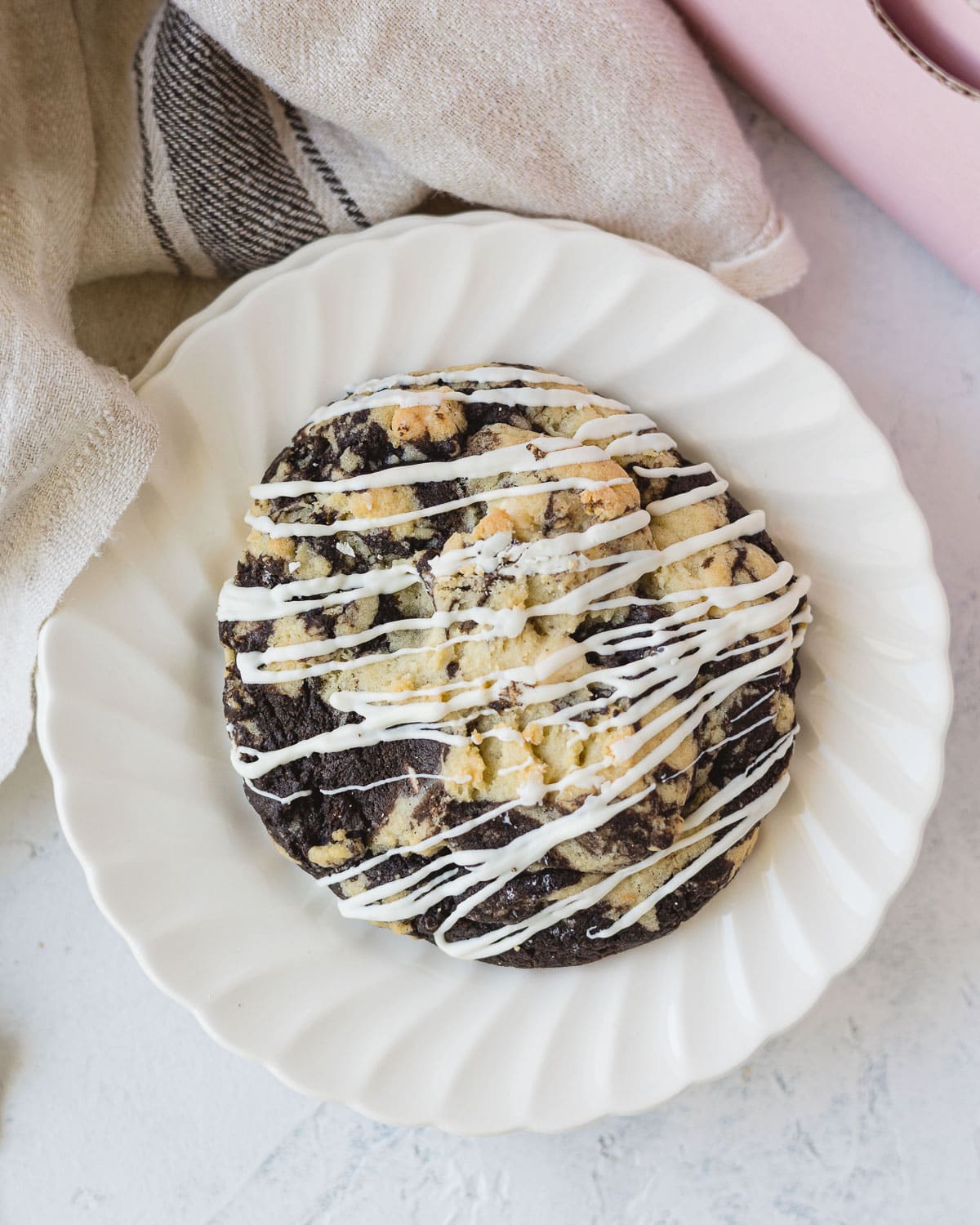 More Crumbl Ideas