How to Read Aloud Every Day With Your Kids
Learn how to read aloud every day with your kids (and babies!) with my 10+ tips about finding time, selecting enjoyable books, and staying consistent.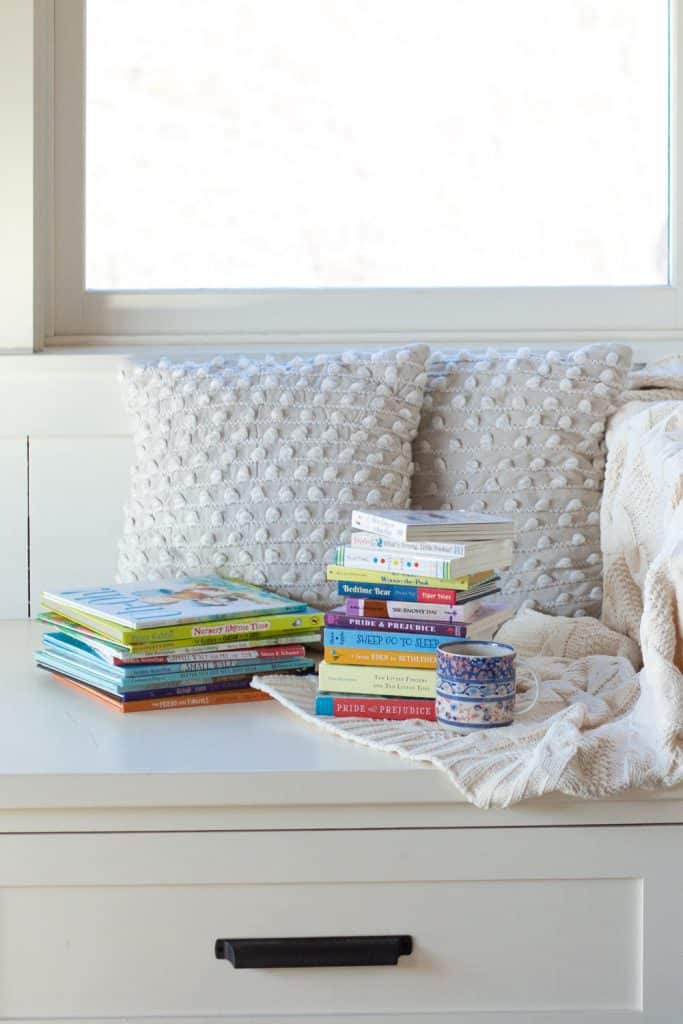 Reading aloud with your baby or kids is sweet way to relax together at the end of a long day (or even at the beginning of one) and create memories together.
The benefits of reading aloud (especially for little ones!) are many and it's an activity you can jump into anytime without planning or (hallelujah) cleaning up afterwards.
How to Read Aloud Every Day with Your Kids (and Babies!)
We love reading every day with our toddler. It breaks up the day, helps us teach new words, and is a fantastic pre-bedtime activity. Here are some quick tips for how to read aloud with your kids (and babies!) every day.
Stock Your Home with Good Books
Want to read aloud every day? Fill your home with books that you and your children love. You'll find that toddlers will deliver you their favorites without prompting and older kids will even make requests when the right books are at hand.
How to pick the right books? Here at Bellewood Cottage, I focus mainly on reviewing picture books (follow on Instagram for all my latest reviews) and sharing booklists, but I also love Read-Aloud Revival and Redeemed Reader for reviews and booklists. Your librarian can be a big help too.
Select Age-Appropriate Books and Update as Needed
If you are still stocking short board books and you have a growing preschooler, it's time to move up. Stay ahead of where your child is at in their listening/reading journey and purchase new books (or make a trip to library) when you notice the old favorites might be losing favor.
For instance, you'll discover that while most picture books are rated for ages 4-8, there will be some that are too long/dry for the youngest listeners and some that are too short/simple for the older ones. You'll intuitively choose titles that fit what your kids enjoy when you read aloud together consistently.
And don't forget to let your kids choose books and make suggestions too! They know what they like.
Keep Reading to Your New (and Experienced) Readers
As your little ones began their own reading journeys, keep reading aloud!
Picture books (most of which are written so as to be read by an adult to a child) are filled with rich vocabulary and sentence structures. These books will continue to train your child's ear and positively impact their reading journey when read aloud.
Even experienced readers can purely enjoy literature when it's read aloud to them and they can set aside the pressures of reading it themselves. So keep reading aloud to all ages!
I especially love picture book biographies as kids start to feel they might be "too old" for some of their old picture book favorites. Biographies are fascinating (even for adult readers!) and are an easy way to keep reading aloud and learning together. Many are geared towards an older age range anyway so they fit really well with the 8+ crowd.
Want to Read Aloud Every Day? Store Your Books Accessibly
I actually love to have books all over our home. A shelf in my toddler's bedroom. A spot in our master bedroom. A basket or two of books on the coffee table in the living room. And inevitably a few in our diaper bag too.
Storing books visibly and attractively is a great way to remind yourself to read aloud every day. It also allows kids to help themselves to reading material anytime.
A quick tip for library books: Have a designated shelf or storage area where library books go when they are brought home. Kids (and you!) will always know where to find these fun new reads and they will be in one spot when it's time to return them.
Set a Reminder on Your Phone
Once you find a time where reading aloud fits well in your day, set a reminder on your phone. You might not need the reminder for long, but it helps get started. If you feel really really busy, don't wait for the right moment to read aloud. Just pick a time, set that reminder, and read.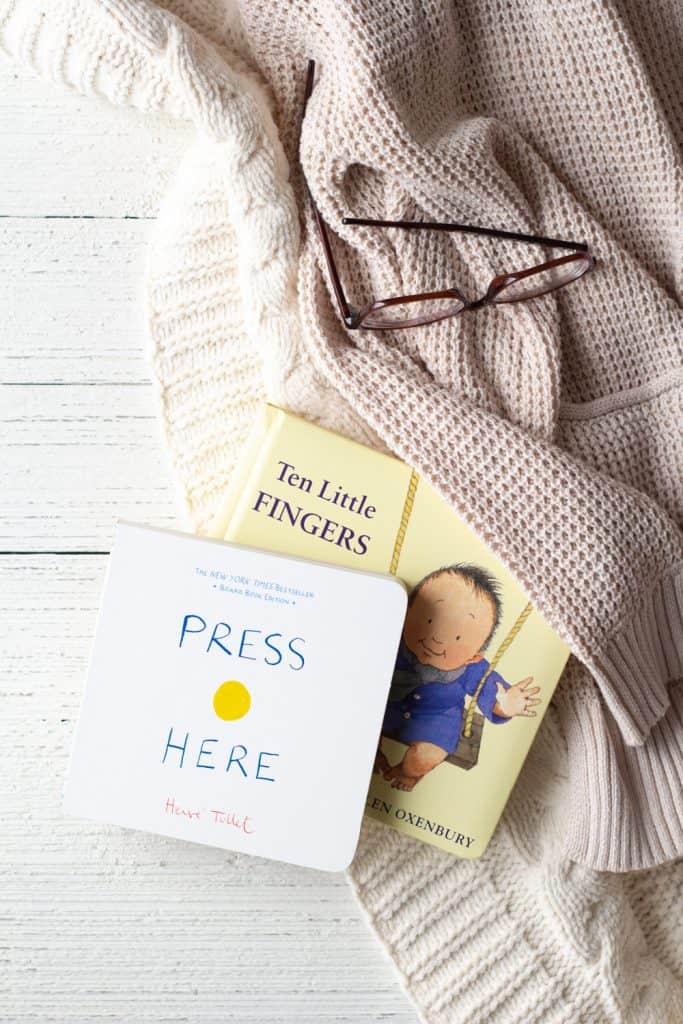 Make it a Habit
Even better than a phone reminder is simply making reading aloud a habit. When we can put decisions on auto-pilot, we save valuable time and energy in the decision-making process. Kids also love predictability, so there's great benefit in making reading aloud habitual.
Maybe it's a daily post-breakfast book. Or an after-school snack with some picture books. Pre-bedtime books are easy to fit in too. So, with reading aloud, find that sweet spot where fits into your day.
Allow books to fall into the rhythms of your daily life.
Wherever it fits, make reading aloud a habit you don't have to think twice about. I can guarantee you will be reading more than you ever expected!
Encourage Grandparents and/or Babysitters to Read Aloud with Your Kids Too
Make sure that the grandparents/babysitters of your kiddos know where to find your books and encourage them to read together. It's really special for kids to grow up with those memories of reading aloud–and caretakers will appreciate having an easy and fun activity to keep busy!
Use Holidays to Inspire Your Read-Aloud Books
Whether it's National Doughnut day, or the Fourth of July, use holidays to inspire your reading time. You can find lots of booklists around popular holidays to get ideas. Keep a running list of your favorites (or better yet, add them to your home library) and read them year after year.
Find Booklists on Goodreads
With all these suggestions about reading aloud every day, you might still be saying…but I don't know WHAT to read!
This is where I suggest keeping an ongoing list of books that look exciting!
Tracking books on Goodreads is a fun way to stay motivated on your read-aloud journey as you watch book after book add up all year long. But another great way to use Goodreads is to look through the many booklists available there. When you find books you love, just add them to your "want to read" list.
Follow Bookstagrammers
Leverage social media to stay inspired to read aloud.
Follow like-minded moms, dads, teachers, or librarians who review baby/kids books. Keep a Pinterest board, save Instagram posts, or just take screenshots and use your growing idea list to inspire you when it's time to hit the library or go book shopping.
Make Frequent Library Trips
I've already said it several times now, but don't forget the library! The best inspiration for reading is to surround yourself with books. And really, there is no better place for that then the library. With knowledgeable librarians around every corner, brand new releases displayed prominently, and classics galore, you will almost always find plenty of new books to read.
Ask a librarian for help getting started, or just turn your kiddos loose and see what they find. Books that a child selects themselves will be infinitely more interesting to them than just about anything else. Plenty of read-aloud time is in your future!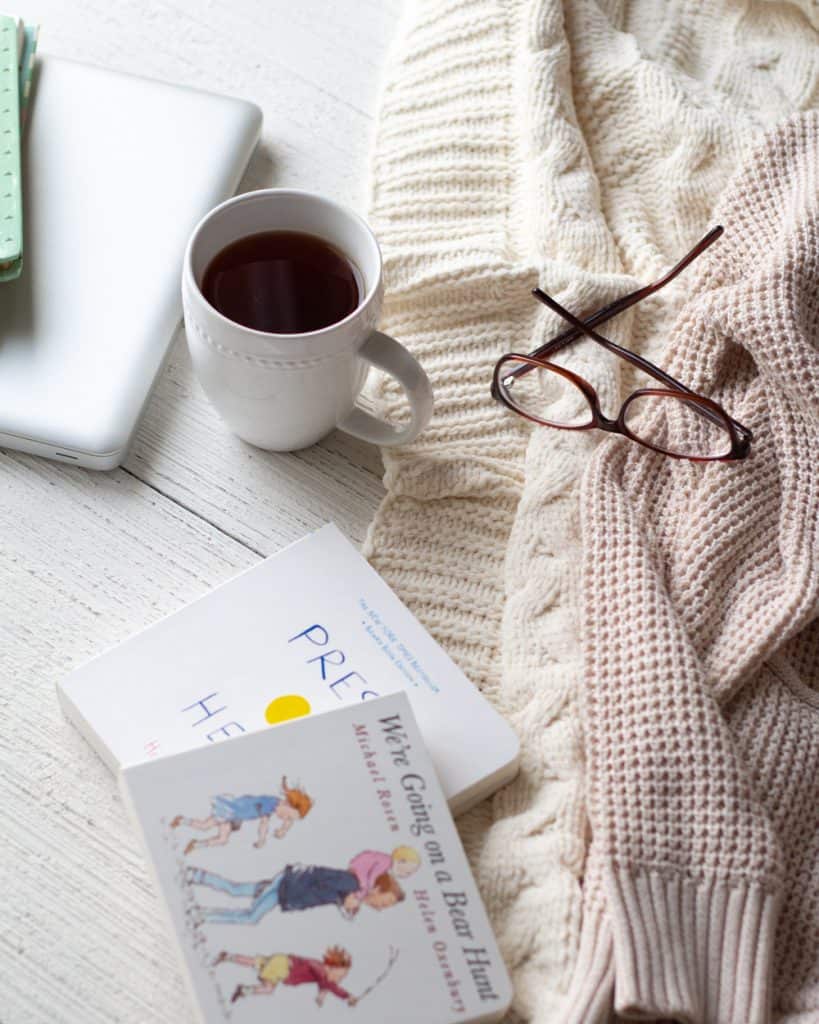 Hint: I love requesting books I'm interested in from our library before we have a trip planned. That way I know we have a stack of successes waiting for us there and we won't come away empty-handed no matter what we find (or don't find) on the shelves that day.
Find a Local Bookstore
Local bookstores are great resources for many of the same reasons. Though they aren't as common as they used to be, if you have one nearby, invest some time checking it out. You will discover all the latest releases and you can support a small business too.
Don't Be afraid to Re-read Favorites
Finally, don't be afraid to re-read your kids' favorite books!
If you're wondering how to read aloud every day with your kids, repeating books is a great choice. Especially with babies and toddlers, you will often get droves of requests for the same books. Embrace it!
Repetition is a fantastic learning device for littles. You'll recognize additions to their vocabulary as they learn new words (and even quote favorite lines) from re-reading these books over and over.
You don't need bookshelves overflowing with books in order to read every day–just keep repeating the books your kids love.
Do You Read Aloud Every Day?
I'd love to hear how reading aloud works in your home! Do you read every day, every week, etc? Do you have any suggestions for other parents who are looking for ways to make it happen? Share in the comments!
More Inspiration for Reading Aloud from Bellewood Cottage