How to Host a Stress Free Baby Shower
If you've ever hosted a shower for a friend, then you know it's always a good time. But, you also know that it can be a big task! Over the last couple of years I have ended up hosting or co-hosting several baby showers for friends and family, and while I'm no pro, I've definitely learned several tricks to make life easier! So I wanted to share my top 15 tips on how to host a stress free baby shower!
First off, most of us end up hosting a shower in our homes, so my tips are geared towards that scenario. These tips will also help you regardless of the size of shower you are throwing. Remember, the main thing is to focus on the purpose of the shower—blessing the mom-to-be with friendship and encouragement (and also practical gifts!) to start her out right on her motherhood journey.
Please note: This post contains affiliate links which allow me to earn a small commission when a purchase is made (at no additional cost to you). Read more here.
How to Host a Stress Free Baby Shower
1 – Get yoself a co-host.
No matter how well you plan, there will be plenty of loose ends to tie up the morning/afternoon of the shower. If you want to host a stress free baby shower, plan to have a right-hand gal to help you with decorating, set-up, and clean up.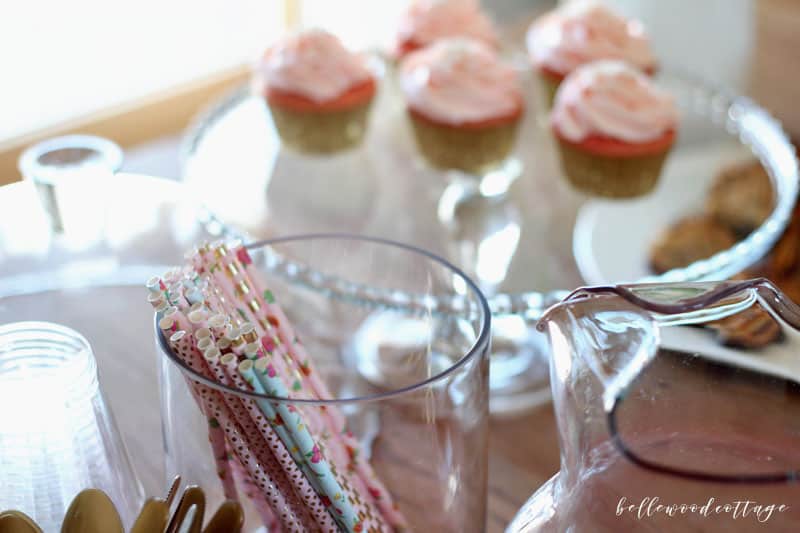 2 – Set a budget.
Once you've decided to throw a shower it's tempting to go crazy in the party aisle. Instead, set a budget and stick to it. It's not hard to stick to it if you try tactics like borrowing decorations, enlisting a friend or two to bring side dishes, and taking advantage of sales and coupons.
3 – Plan a great menu.
Everyone loves to eat, and if you have a mixed group where not everyone knows each other well, it's great to have a big spread to keep everyone busy while they make small talk. In an upcoming post, I'm going to share a menu formula I have started to use that is super-helpful for planning!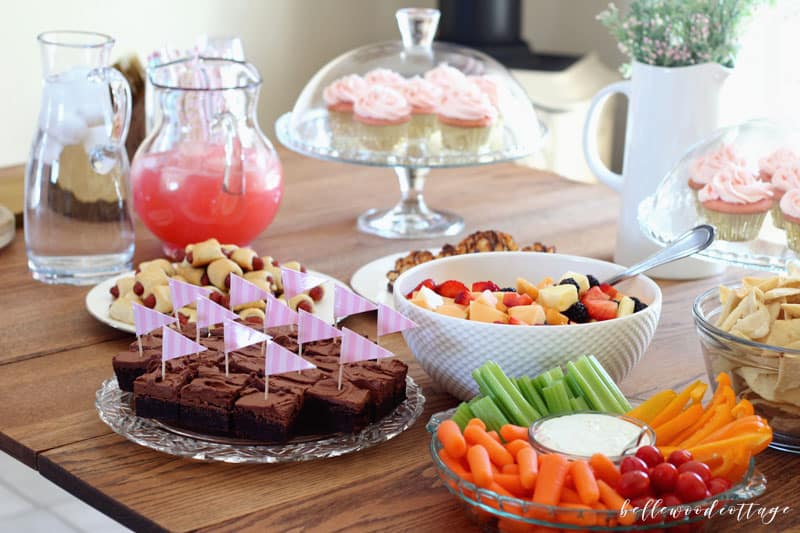 4 – Cut corners.
Yep, that's right. Buy that cake from the local bakery, use the pre-made veggie dip, whatever you gotta do my friend. I like to prepare at least a few homemade dishes, but do whatever helps you host a stress free baby shower!
5 – Prep food ahead of time.
Maybe this is obvious, but you will have SUCH an easier time the day of the shower if you have prepped food ahead of time (again with the cutting corners thing). If you have chosen to serve homemade dishes, prep as much as you can ahead of time. Oh, and bonus points for choosing foods that don't need to be served hot!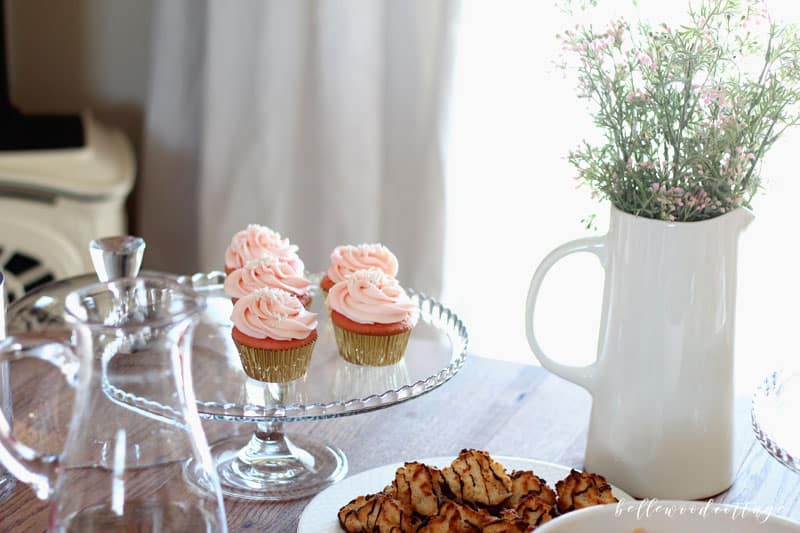 6 – Plan ahead.
Once you know you are hosting a shower, choose a decorating scheme and plan your menu, so you can be shopping ahead of time. It's awesome to arrive at the week of the shower and realize you've already bought most of your shopping list.
7 – Choose a decorating scheme for the party that complements your home decor.
Say for instance you have a lot of gold in your home. Choose gold accents for your decorations. The decor already in your home will complement the party decor and make a simple decor plan look more lavish just because it matches your home. Then of course you can add more color details (blue, pink, etc) to give a nod to the baby's gender.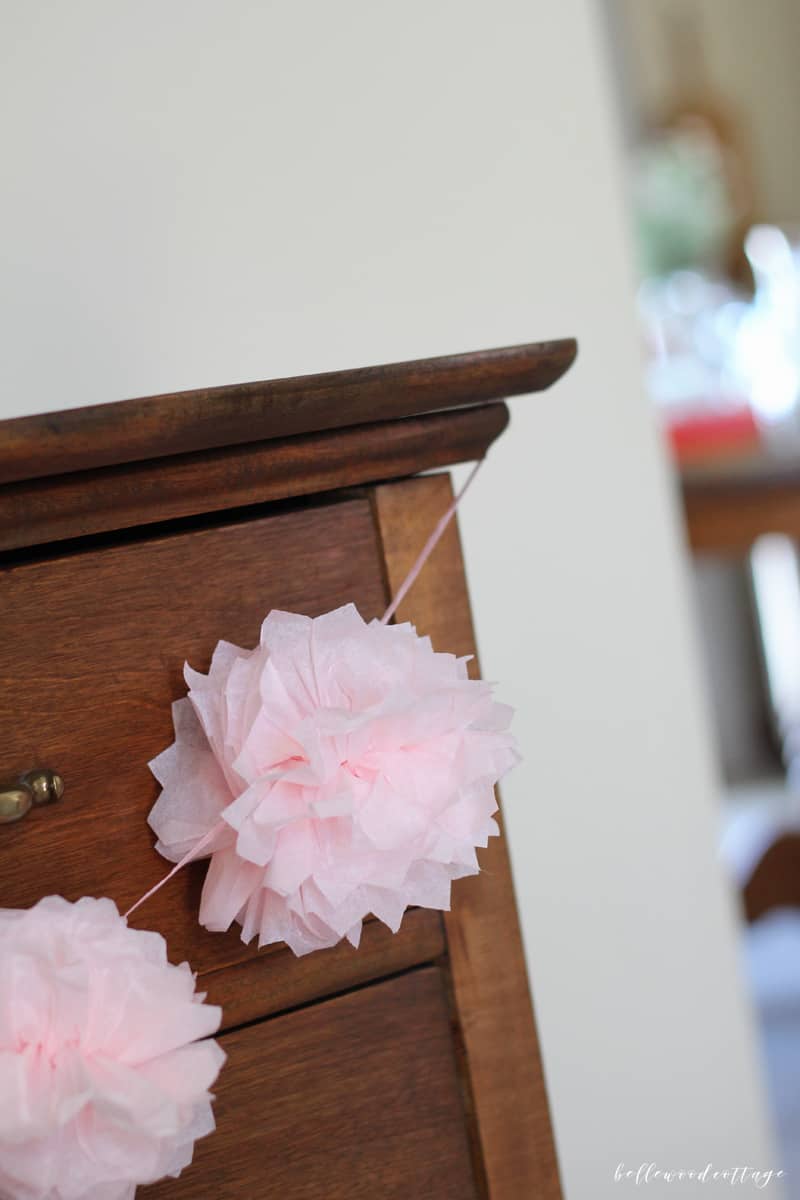 8 – Don't buy, borrow.
When I got married I found four gorgeous cake stands on clearance to use for our dessert table. They come in handy a lot these days! Even with that though, I often find myself in need of more serving dishes when it's time to host a party. Instead of buying new stuff, ask a few friends if they will loan you some of their serving dishes. Most people are more than happy to do this, especially if you can return the favor in the future.

9 – Use a baby board book for the guest book.
I love doing this, as it's a fun way to give the mom-to-be a special gift with memories that she will actually use on a day-to-day basis. Some of my favorites are the Sheep in a Jeep books, Sandra Boynton books, If You Give a Mouse a Cookie (or any of the others in this series…perfect for a themed shower!). So easy!

10 – Plan something special to bless the mom-to-be.
Maybe it's a time of prayer over her or perhaps a book of advice from veteran moms, but planning something meaningful like this will be a sweet memory for the mom-to-be.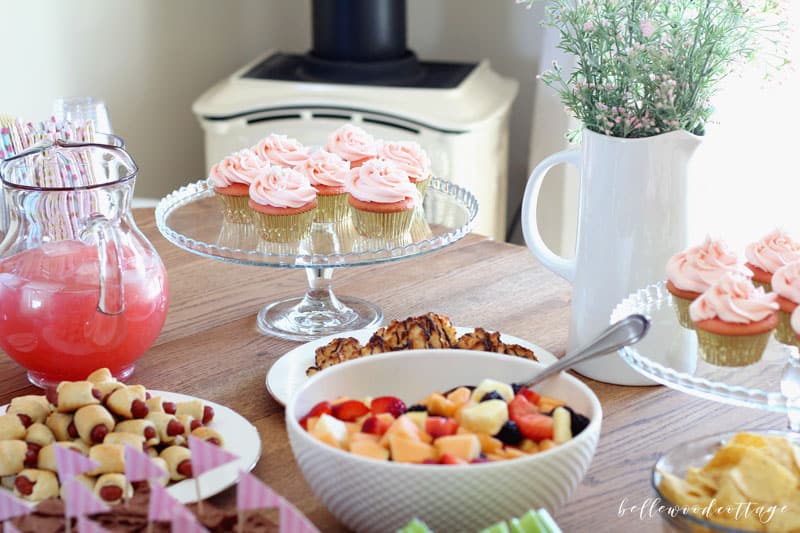 11 – Start cleaning your home far in advance of the date of the party.
There's nothing like inviting people you don't know over to your home to make you want to deep clean like crazy. So, start early. If you're anything like me, you might just realize that the dust problem was a lot more formidable than once thought. I see you spiderwebs. I see you.
12 – Employ the laundry basket trick.
Basically this trick boils down to putting all the various junk that accumulates in our homes and tossing it into a laundry basket for a last-minute quick cleaning solution. Shove that bad boy in a closet and you are set. It's not the most honest trick, but oh does it work! Just try and address the laundry basket at some point following the party…or not.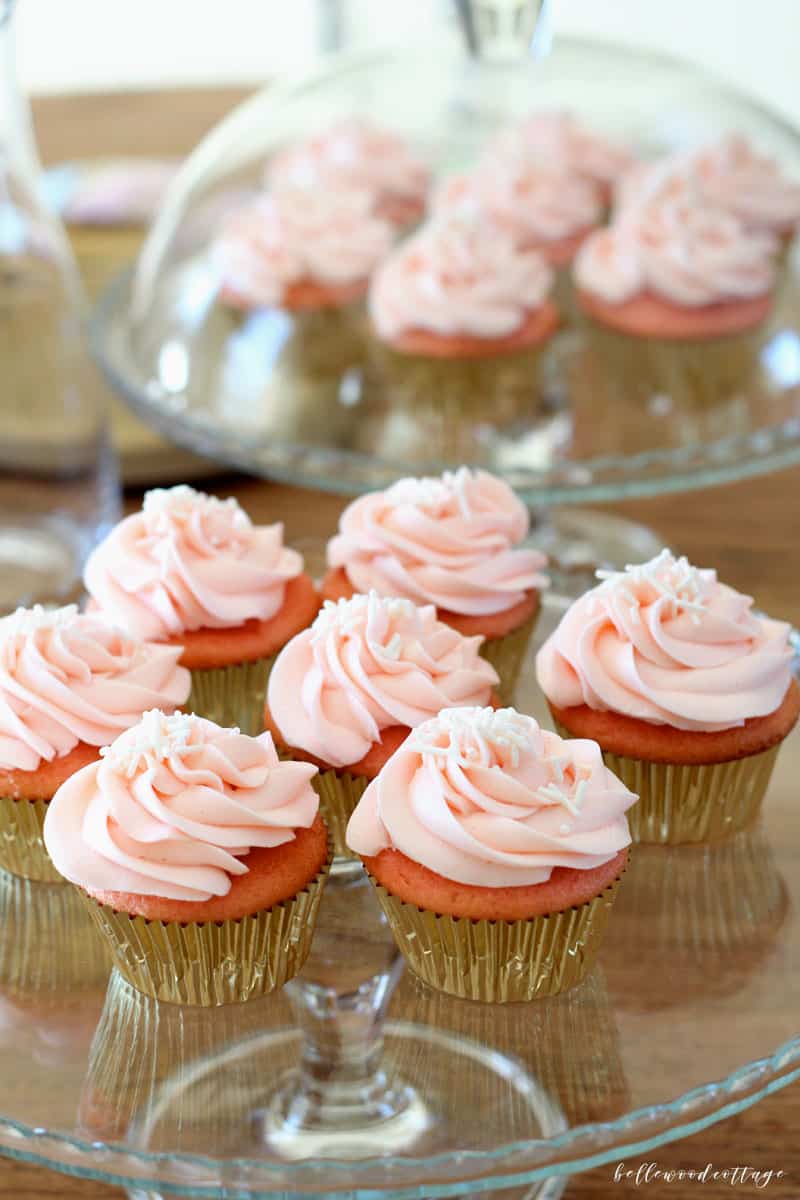 13 – Don't go overboard.
Dial back your plan for the "Pinterest-perfect" shower and focus on what really matters. The food. Ok, ok, kidding. What really matters of course is blessing the mom-to-be with a special morning (or afternoon) to celebrate the impending arrival of her new baby. She might not remember the decor you used or the fancy treats you prepared, but she will remember how her friends came around her to celebrate this exciting new season in her life!
14 – Plan to take the day after the shower off.
Showers are often held on Saturdays, so it's easy to spend Sunday cleaning up, buying groceries that don't have a color scheme, and emptying out the aforementioned laundry basket. However, if you're having your party on Sunday and can't take the next day off of work, try to keep your evening schedule free so that you have a few hours to tackle any remaining clean up.
15 – Enjoy yourself.
If you want to host a stress free baby shower, don't get so overwhelmed by the preparations that you forget to have fun! It's always an honor to be able to host a shower for someone dear to you, so don't forget to enjoy yourself and have fun in the midst of all the preparations!
If you have any other tips for how to host a stress free baby shower, I'd love to hear them. Share with me in the comments!