30+ No Bake Strawberry Desserts
No bake desserts are low-stress and easy to prepare. If you love strawberries, you'll definitely love this list of 30+ No Bake Strawberry Desserts! The list includes favorites such as no bake strawberry cheesecake, strawberry popsicles, strawberry pies, layered desserts, vegan desserts and more.
Please note that this post contains affiliate links which allow me to earn a small commission when a purchase is made at no additional cost to you. Read more here.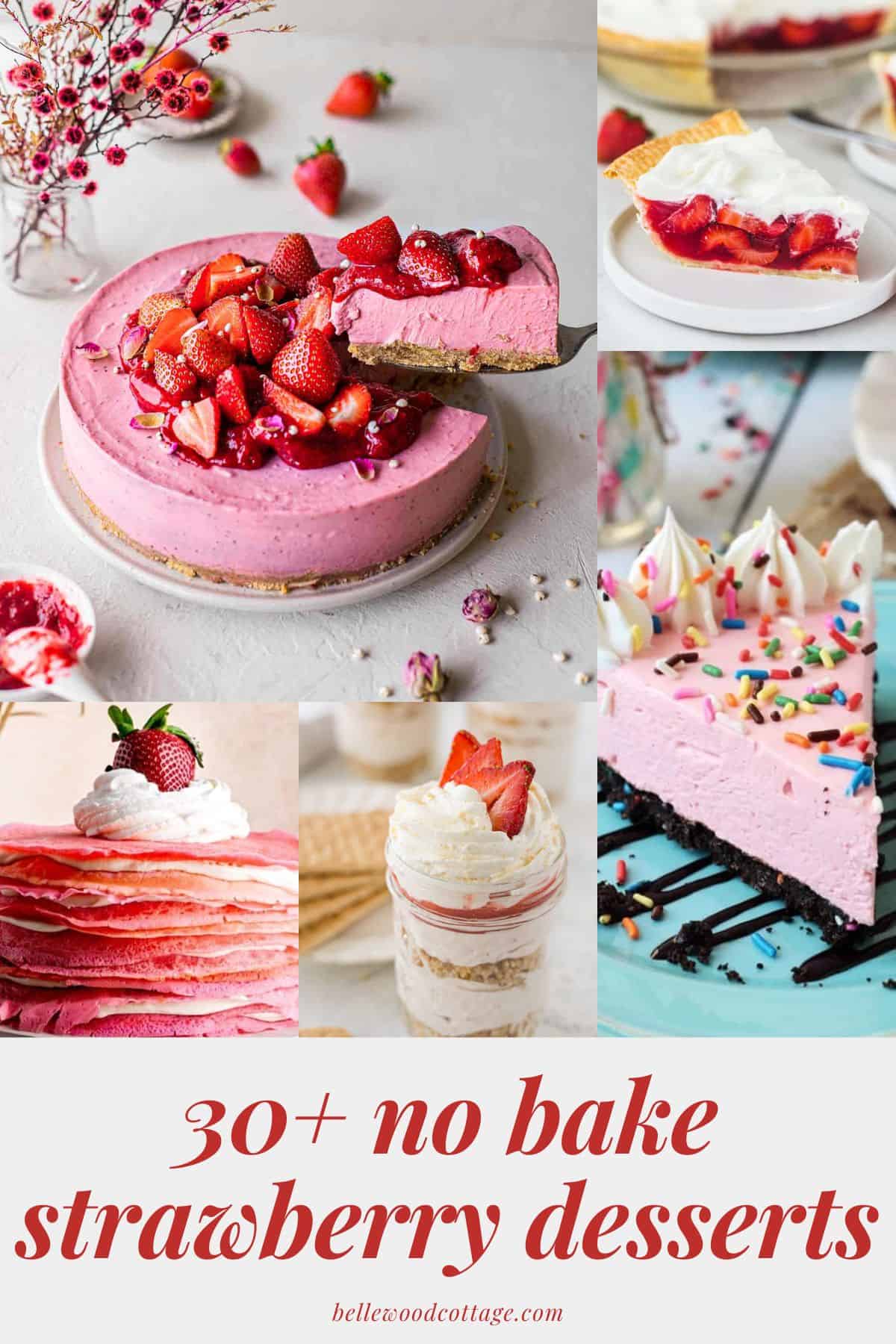 Perfectly ripe strawberries are one of the charms of summer. While peak strawberry season might vary a bit where you live, it's worth taking advantage of the fresh berries when you can get them! Of course, you can also use frozen berries in many recipes too and capture that strawberry flavor any day of the year.
No Bake Strawberry Desserts
No bake strawberry desserts are one of my favorite ways to use delicious berries. This list includes recipes for icebox cakes, ice creams, pies, cheesecakes, vegan desserts, sorbet, strawberry whipped cream, strawberry desserts in jars and plenty more. You will certainly find the perfect strawberry dessert among these options!
You Can Use Frozen Berries Too!
Of course, if you don't have access to fresh strawberries, there are other options. Frozen berries often work as a substitute in most recipes (and are generally frozen while at delicious peak quality). Just double check your recipe to be sure you can substitute frozen berries before you begin.
Freeze-dried strawberries are also a great way to add strawberry flavor to dessert. They are usually found in the grocery store alongside the dried fruit. When crushed they can create an amazing strawberry flavor in a multitude of desserts.
Strawberry desserts are a hit at cookouts and barbeques and no bake recipes make preparing these treats even easier. If you are heading to a cookout, choose a dessert like Strawberry Cheesecake Jars for easy single serving treats or opt for a classic treat like Strawberry Pie topped with fresh whipped cream.
I hope you enjoy this list of tasty no bake strawberry desserts!
30+ Delicious No Bake Strawberry Desserts
With everything from no bake cheesecake to popsicles to fresh strawberry pie, you'll love the 30+ recipes in this roundup of Delicious No Bake Strawberry Desserts! These recipes are perfect for summertime treats. If you need a dessert to bring to a cookout or barbeque, try one of these easy no bake desserts!
More Easy Dessert Recipes