25+ Creative Ways To Use Mason Jars
There are SO many ways to use mason jars! Here's a list of dozens of ideas for creative ways to use mason jars in daily life. From meal prep to soap dispensers, vases to organizers, you'll love these easy ideas.
Please note that this post contains affiliate links which allow me to earn a small commission when a purchase is made at no additional cost to you. Read more here.
Mason jars are incredibly versatile. If you are looking for ways to use the jars beyond canning, you've come to the right place. This list of over 25 mason jar uses includes plenty of creative ideas for using the jars throughout your home.
I use the jars in my kitchen as drinking glasses, dessert vessels, storage, and more. Around the house? They become clever gift containers, flower vases, and home décor.
You can purchase mason jars in many different sizes and styles so you're sure to find exactly what you need.

Food and Drink Uses
Of course, mason jars are canning jars, so using them for canning and preserving is a fantastic idea. But, you don't have to know how to can to get great use out of the jars in your kitchen.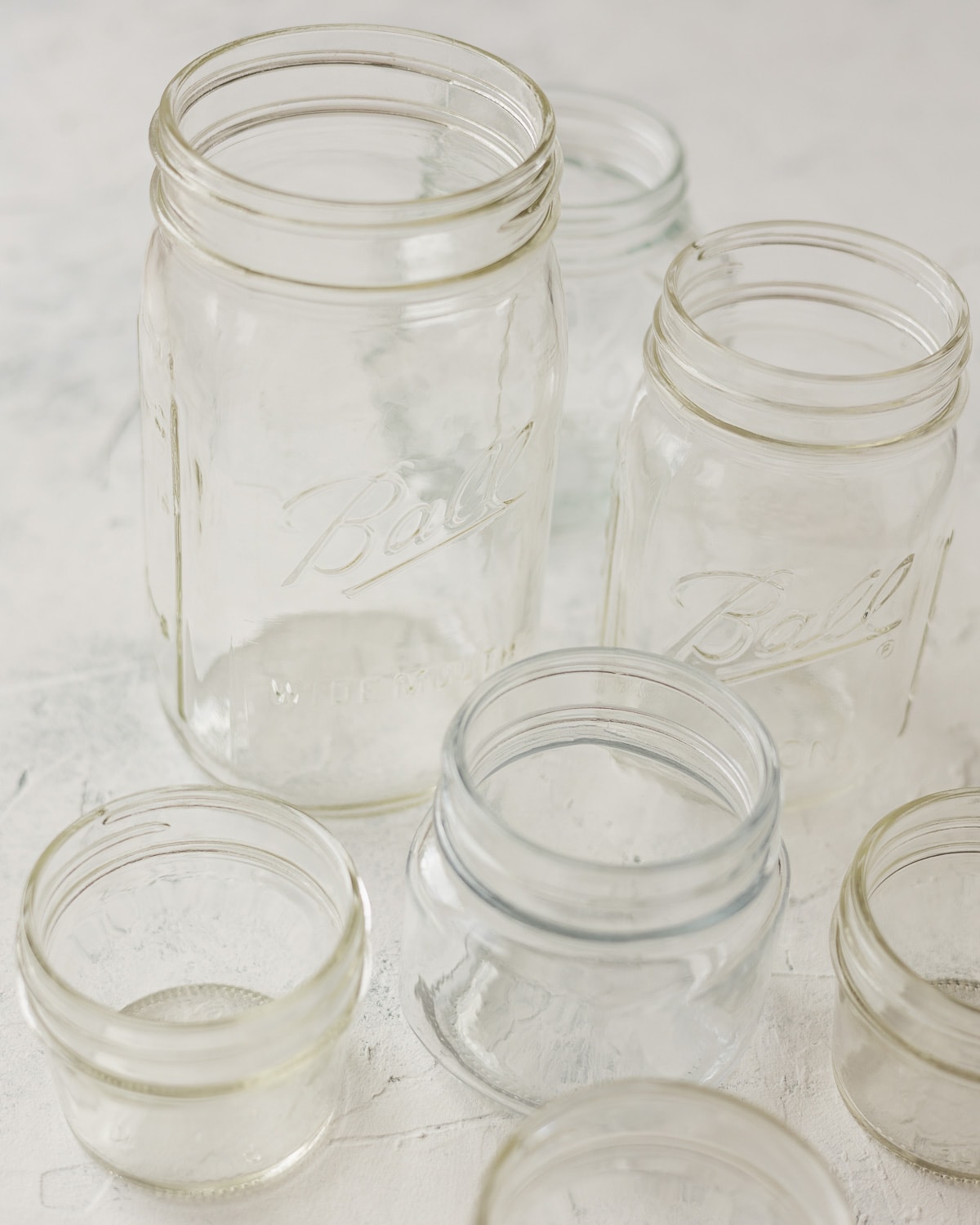 Packing Lunches and Snacks
If you've been on Pinterest long enough you probably stumbled on a photo of mason jar salads. Yep, that's right, you can layer up lettuce and toppings in a jar and bring it to work for a simple lunch–all contained to a mason jar.
What about snacks? I use the 4-ounce jelly jars a ton for snacks. The small size makes these jars easy to pack into my diaper bag or a lunch box.
Meal Prep
You can certainly go beyond salads with your mason jars. Collect a box of the 16-ounce wide-mouth jars (the straight sides make them extra-easy to clean) and meal prep your favorite dishes. It's easy to layer rice, chicken, sauce etc. for instance. Or, try a walking taco type of meal–all contained in a jar. Lots of possibilities.
Tip: Sometimes the metal lids begin to rust (especially if you toss them in the dishwasher) so you might consider purchasing plastic lids to replace the originals.
Leftovers
Mason jars are great for storing leftovers! I love that they are so multi-purpose. A jar can be a drinking glass one week and filled with leftovers the next. No more storing dozens of different containers and lids.
Drinking Glasses
I love a mason jar drinking glass. The 8-ounce or 16-ounce jars are perfect for sipping (and easily washable in the dishwasher).
Try this Single Serving Lemonade Recipe next time you'd like just one glass of fresh homemade lemonade!
Water Bottles and Smoothie Cups
Want to take your drinking glass on the go? There are all kinds of lids available to customize your jar into a straw water bottle, flip-top protein shake type bottle, and more. Shop Amazon to find lots of unique ways to turn your jar into a water bottle!

Churn Butter
Did you know you can churn butter in a mason jar? Shake up heavy cream in a glass jar for a quick win. Or, you can purchase this cool butter churn-in-a-jar from Kilner.

Make Vanilla Extract
Grab a mason jar and use it to make homemade vanilla extract with fragrant vanilla beans.
Freezing Food
Freezing soups, stews, and other homemade foods in mason jars is a handy way to stock your freezer. The most important thing is to leave enough headspace at the top of each jar so that there is room for the liquid to expand without jars cracking or exploding. Real Food Whole Life encourages at least 2″ of headspace when freezing. Use only the straight-side jars for freezing.
Smoothie Jars
Since straight-side mason jars can go in the freezer (such as the 16-ounce wide mouth jars), they are amazing for smoothie prep. Grab several jars and prep your smoothies all at once. Add berries, greens, and other mix-ins. You can opt to add liquid at the time of blending if preferred. Otherwise, be sure to leave headspace at the top of the jars (see above notes) to allow for the expansion of liquid as it freezes.
This use is a favorite of mine since I can get out all the ingredients just once and prep enough smoothies for a week or more.
Desserts
Single serving mason jar desserts are adorable and practical too! No cutting messy cheesecakes or other desserts. Instead, everything is ready to go.
Mini desserts are also perfect for packing with lunches throughout the week. Whip up a batch of fun desserts and tuck a tiny jar (topped with the lid of course) into everyone's lunchbox for a sweet pick-me-up.
Try No Bake Oreo Jars, French Silk Pie Jars, or Strawberry Cheesecake Jars! Or, browse through this list of 35+ Mason Jar Desserts.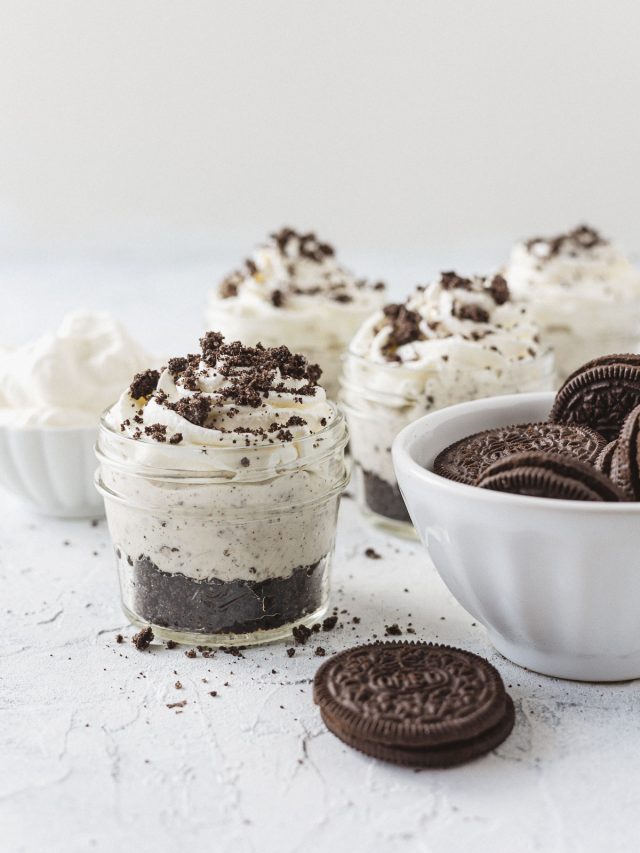 Cold Brew Coffee
Making cold brew at home is easy and a mason jar is the perfect vessel to give it a try!
Homemade Cookie Mixes
Packing up homemade cookie mixes for holiday gifts? Use mason jars for perfectly-sized vessels (that are affordable too!). Check out these Mason Jar Christmas Cookies from Chelsea's Messy Apron.
Homemade Soup Mixes
The holidays are often overwhelmed with sweets and treats, so if you want to create a homemade food gift that is a little more wholesome, try a homemade soup mix!
Pantry Storage
Use a selection of jars to store oats, flour, pasta, and so much more. This can be a beautiful way to decorate your countertop or just to keep your pantry space organized. Mason jars come in so many sizes (and styles too) that you are sure to find exactly what you need.
Spice Mixes
Store homemade spice mixes such as pumpkin pie spice in mason jars. Cute gift idea too!
Refrigerator Pickles
I love pickles so whipping up a quick batch of refrigerator pickles happens fairly frequently around our home. You can do this so easily in a mason jar. Try Smitten Kitchen's recipe to start.
DIY and Home Décor Uses
Oh there are so many ways to use mason jars around your home. Check out my list of Mason Jar Crafts for more crafts and tutorials and my list of Mason Jar Gifts for easy gifting ideas.
Paint Them Up!
The quickest way to create mason jar décor? Paint up some jars! There are many ways you can customize the jars with chalk style paint, spray paint, and decorative painting. See my tutorial for tips and tricks on how to paint mason jars.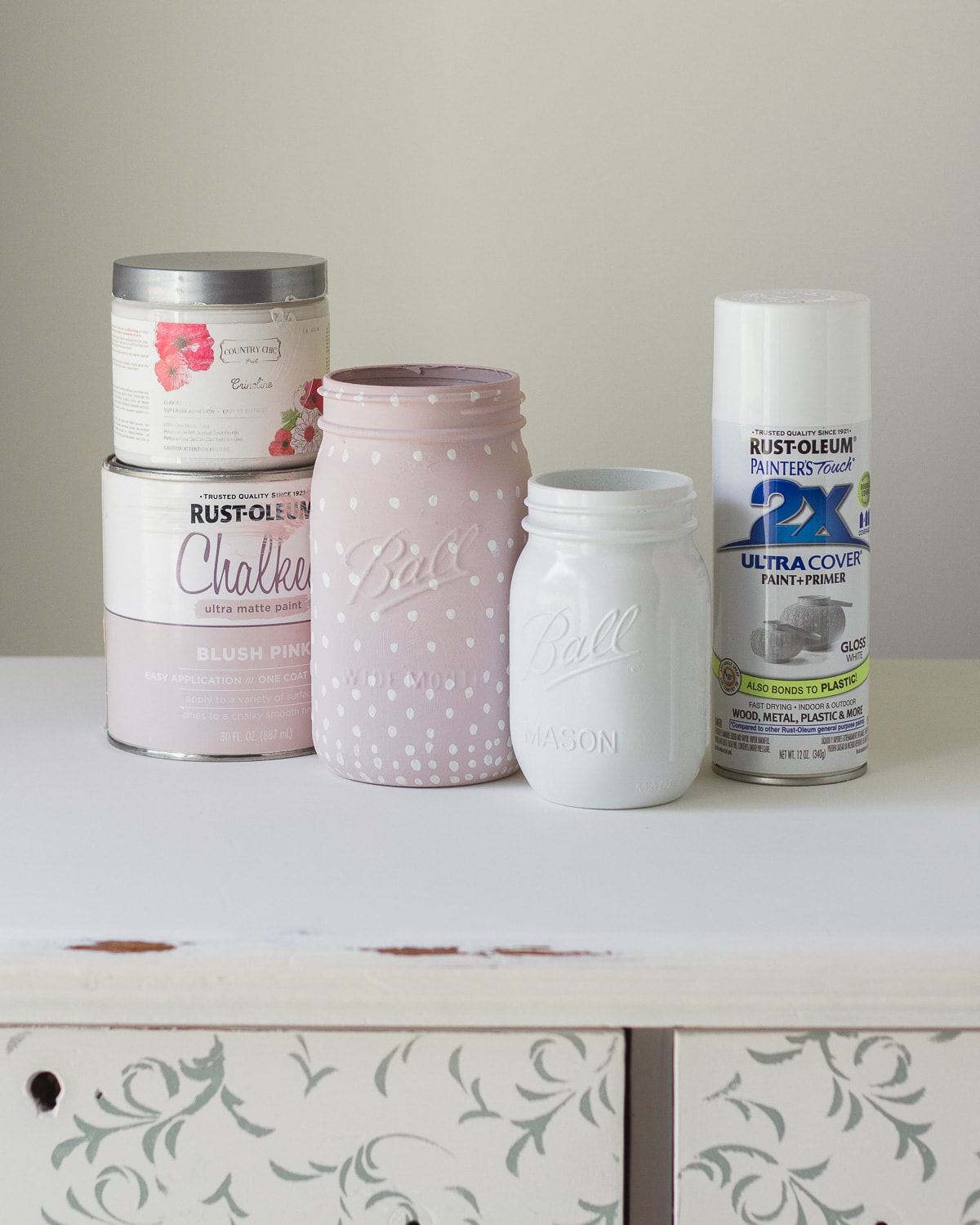 Soap Dispensers
Another big trend on the internet is using jars as soap dispensers! You can find soap pumps (even foaming options) on Amazon to quickly transform your jars.

Bathroom Storage Jars
Customize mason jar lids yourself or purchase them online to create a set of coordinated mason jar bathroom storage jars.

Flower Vase (fresh or faux!)
Whether you wish to display fresh or faux flowers, mason jars provide the perfect solution.
Try a floral vase (no fancy painting required!) or a polka-dot vase for two simple ideas.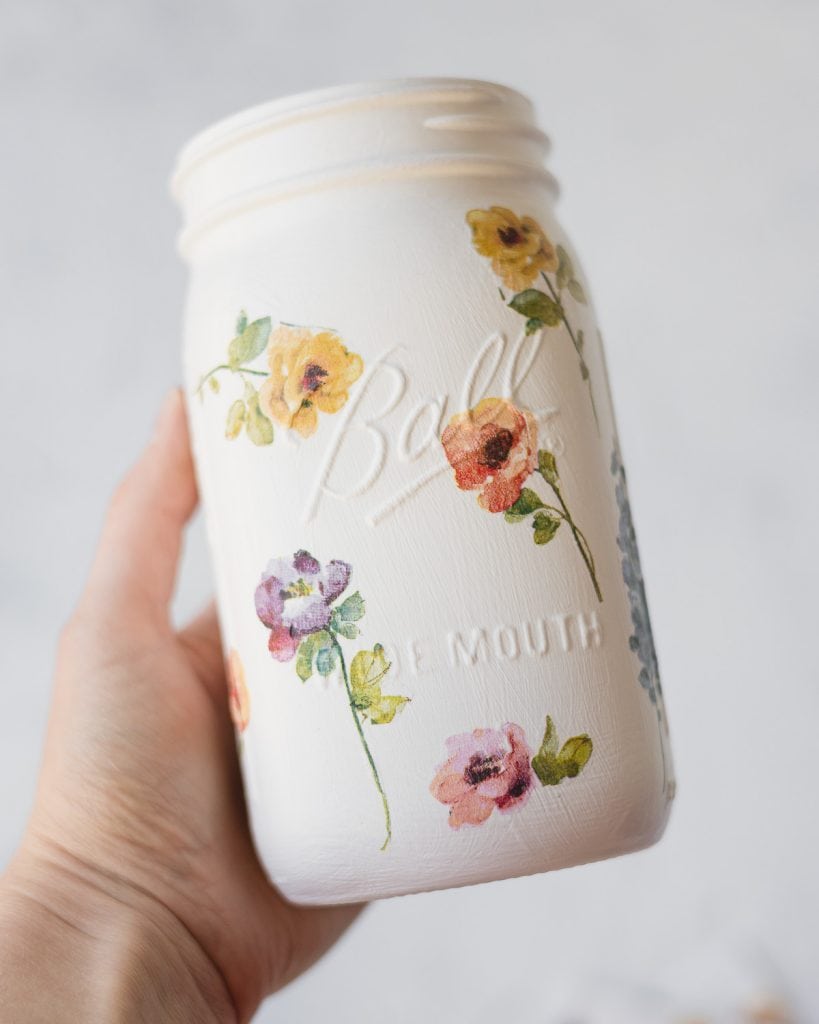 Utensil Organizer
Grab a 32-ounce wide-mouth jar and use it for storing utensils in the kitchen.
Packaging Gifts
Use any size of mason jar for packaging gifts. You can create themed ideas such as a jar featuring bath and body products for a Mother's Day gift, a jar filled with yarn for the knitter, or a jar filled with washi tapes or craft supplies for the crafter in your life.
Storing and Organizing
Since mason jars come in sizes from 4-ounce all the way up to 64-ounce, you'll be able to find the perfect jar for your storage and organizational needs. The air-tight jars work well for storing odds and ends anywhere in your home. I love them for storing craft supplies such as washi tape.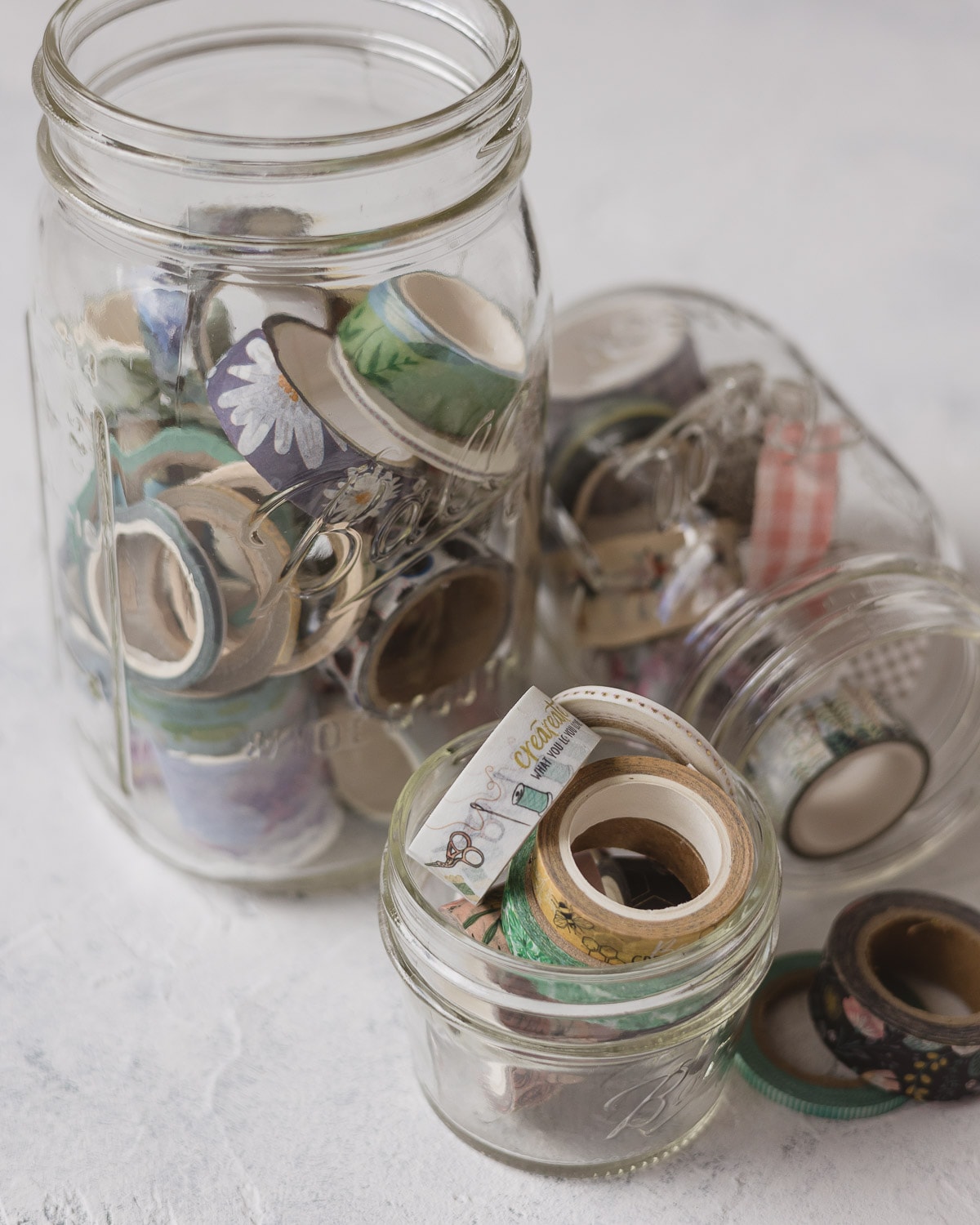 Pen Organizer
Kids love decorating jars and a painted or decorated jar makes an ideal desktop organizer for pens or markers.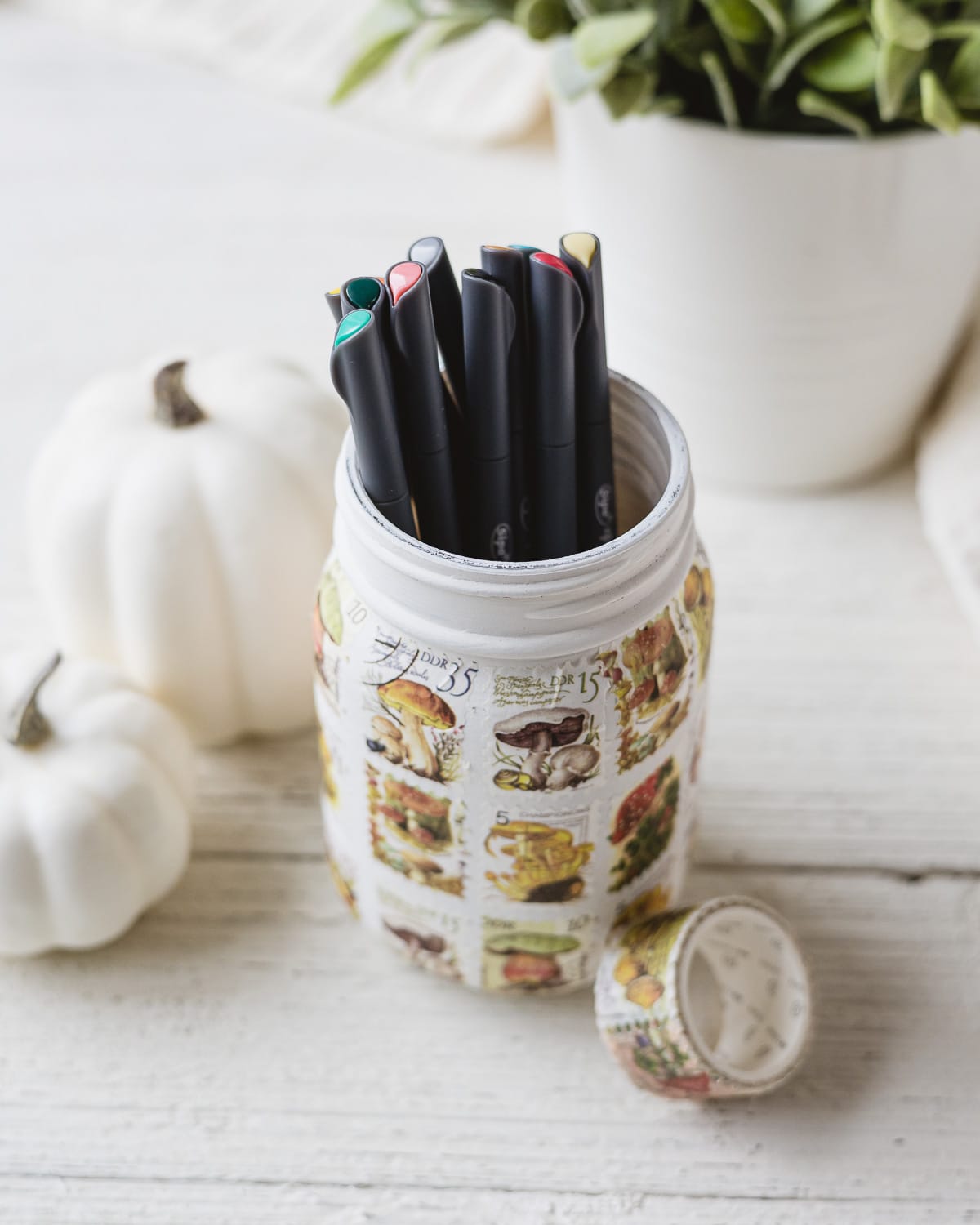 Succulent Planters
Tiny succulents are cute gifts and mason jars are a great way to plant them up–check out this tutorial from Lolly Jane for all the details you need.
Christmas Décor
Whether you opt to make a mason jar Christmas scene or just fill a few jars with some festive faux florals, mason jars are lovely for holiday décor!
What are your favorite ways to use mason jars?
Mason Jar Crafts & Recipes