Strawberry Cheesecake in a Jar (No Bake!)
Try making No Bake Strawberry Cheesecake in a Jar for an easy dessert recipe that is perfect for parties (or any time you need an indulgent treat). Each of these individual mason jar desserts features a no bake graham cracker crust, light pink cheesecake filling sweetened with white chocolate and strawberries, strawberry sauce, and homemade whipped cream. No oven, no water bath, no problem!
Please note that this post contains affiliate links which allow me to earn a small commission when a purchase is made at no additional cost to you. Read more here.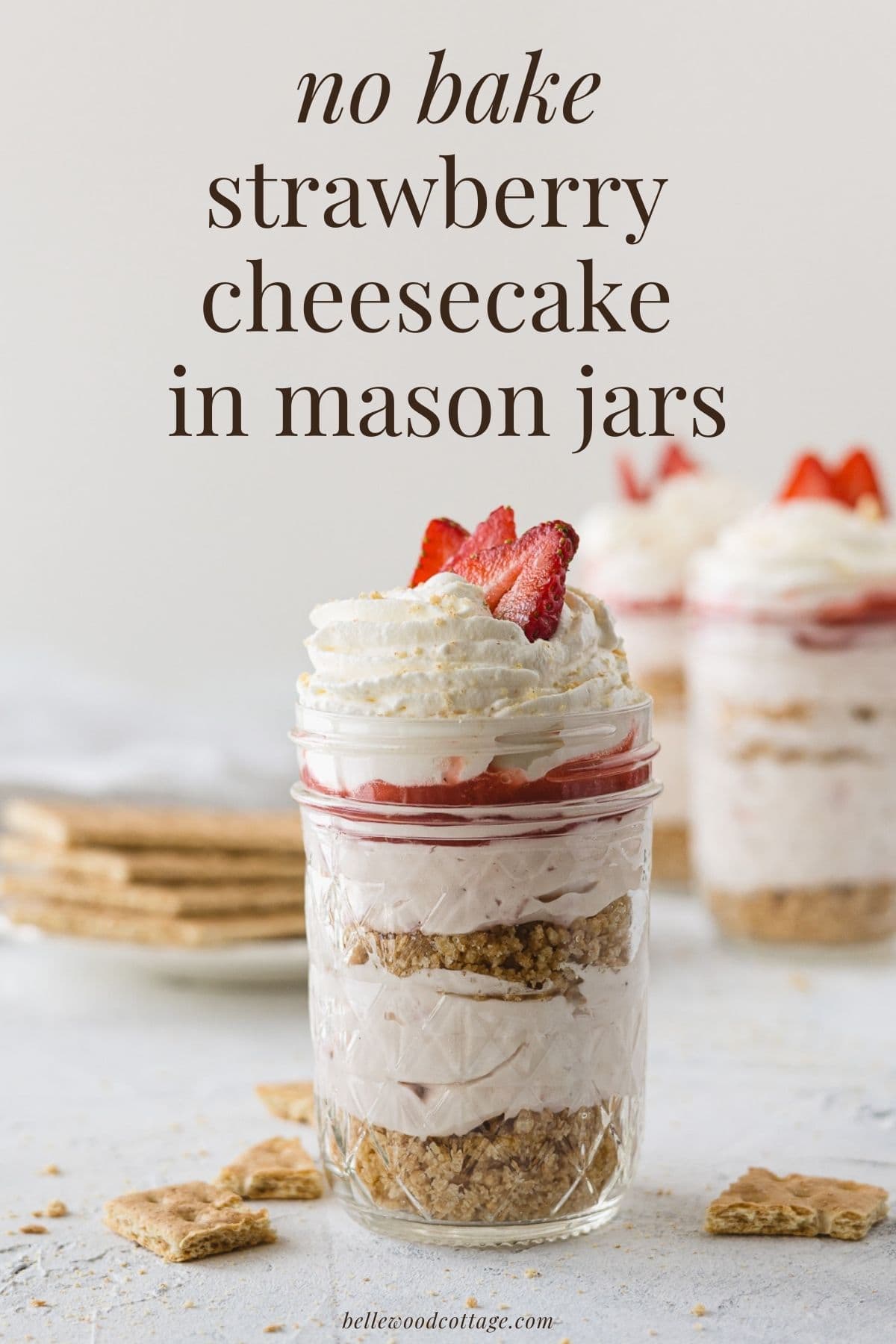 These little no bake strawberry cheesecakes are the latest in my lineup of mason jar desserts. I've seen plenty of strawberry cheesecake recipes with a classic cheesecake and strawberry sauce, but I wanted the cheesecake itself to be strawberry-flavored (and pink!).
I also wanted a dessert that would taste good all year around. So I knew if I used fresh berries, I'd have to doctor them up a bit. I ended up coming up with a layered dessert that includes a no bake graham cracker crust, pink strawberry cheesecake filling, a homemade strawberry sauce, and a generous swirl of fresh whipped cream on top.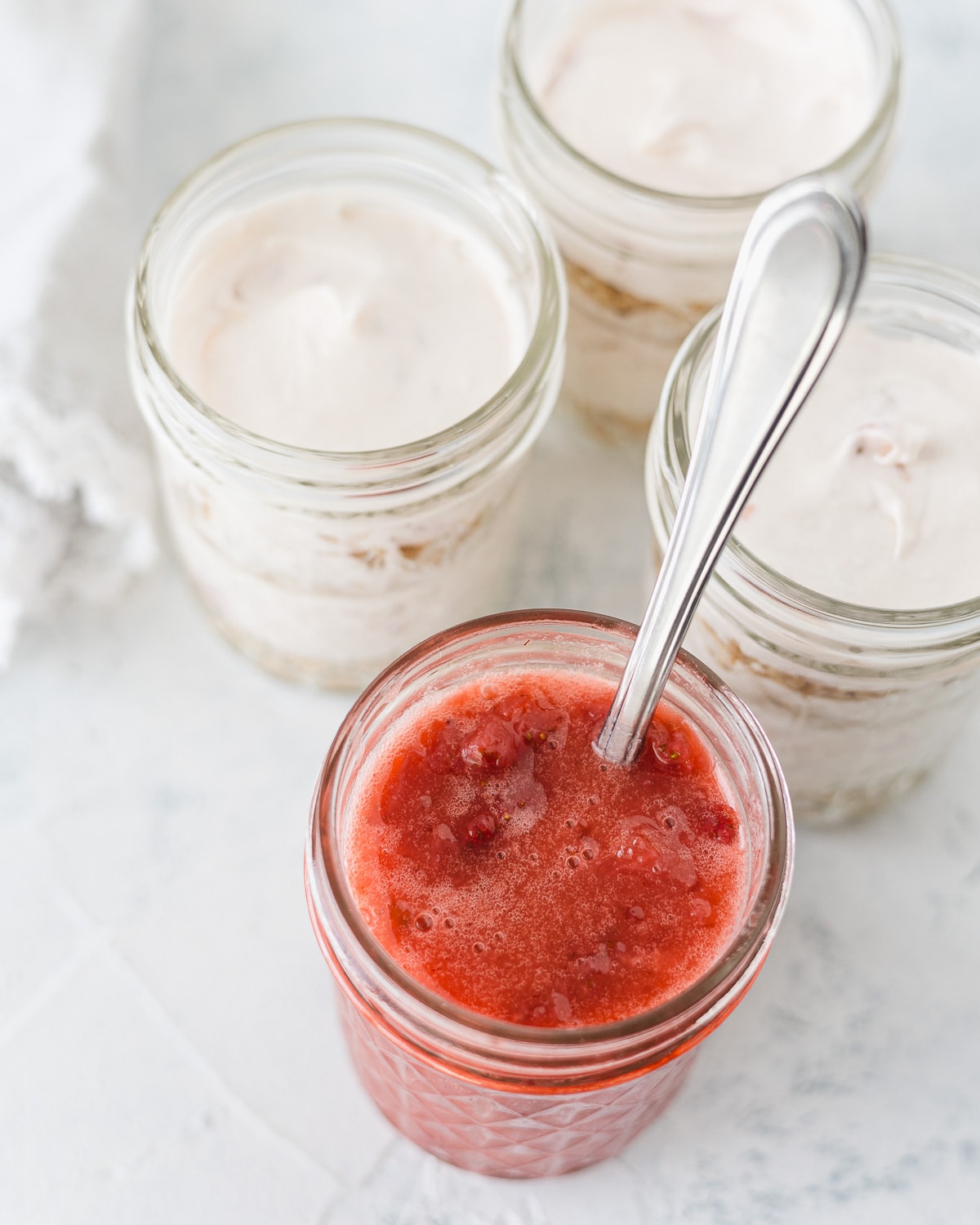 These are definitely indulgent, but the flavors are also light and refreshing. These are excellent for parties or whenever you are required to bring a dessert to an event. They travel well and the pre-portioned servings means no fussing around with cutting a cheesecake when it's time for dessert.
I consider these a "make-ahead" dessert since the filling has the best texture after it's chilled in the jars for several hours. However, it's totally delicious freshly layered into the jars too. So, if you are in a hurry, feel free to whip these up and serve them immediately–they will still be excellent.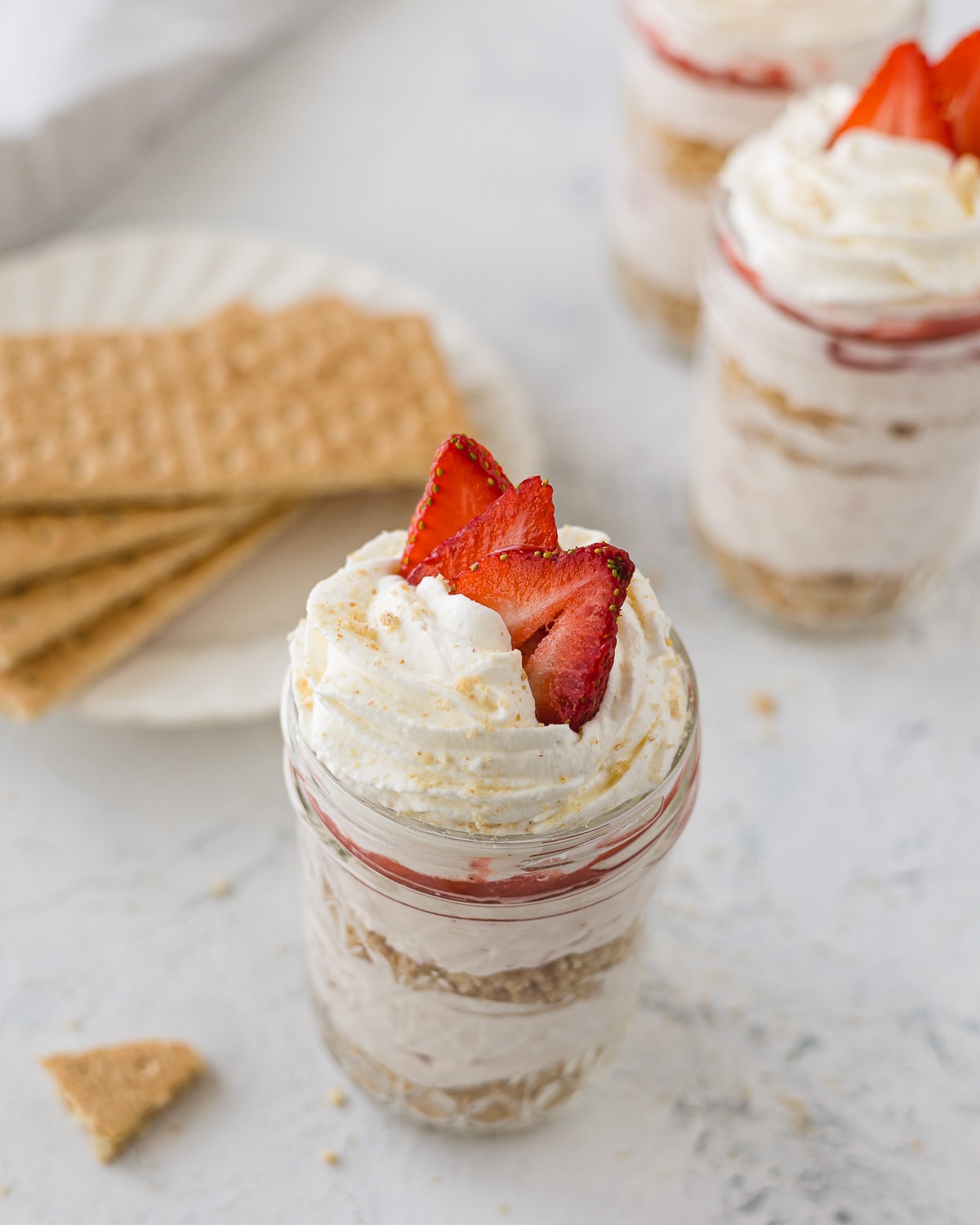 5 Reasons to Love These Mini No Bake Strawberry Cheesecakes
Preparing this no bake dessert in mason jars means they are easy to serve. Skip cutting a cheesecake!
I used 8-ounce jars for indulgent servings of the layered strawberry cheesecake, but you can customize the recipe to your ideal portion size using 4-ounce or 6-ounce jars too.
Make dessert ahead of time. I love a make-ahead dessert and these jars absolutely fit the bill. They can hang out in the fridge for a day or two until you are ready to serve them with a dollop of whipped cream.
Water baths are annoying. And it seems that every recipe alternately claims that you MUST use one, or otherwise that they don't matter at all! Skip the water bath and the drama and go for a no bake cheesecake.
Easy to travel with. Just top the jars with their lids and then add the whipped cream after you arrive at your destination.
Love mason jar desserts? Check out my roundup of over 35+ mason jar desserts. My cookies-and-cream Oreo Cheesecake Jars are another easy no bake recipe to try. Or, if you are looking for a seasonal favorite, try the No Bake Pumpkin Cheesecake Jars.
Recipe Inspiration
While working out this recipe, I referenced Plated Cravings No Bake Strawberry Cheesecake which helped me figure out how to use white chocolate instead of gelatin for a no bake cheesecake that tastes even better. Thanks Julia for your wonderful recipe!
The Mason Jars I Use
I typically use these these 4 oz mason jars for my mason jar desserts, but this recipe had so much going on that I wanted to try a larger jar. I chose six 8-ounce mason jars for this recipe. If these servings feel too large, you can spread the dessert across more jars (or use smaller ones).
For instance, you could still use 8-ounce jars, but just divide the filling up among more jars (I would suggest eight jars). Add a little more whipped cream to the top if needed. You could also use 6-ounce jars or 4-ounce jars.
Note that if you want to use the 4-ounce jars, you'll probably want about 12 jars. I haven't tested all of these variations, but I think the math checks out. My rule of thumb is to add a little extra whipped cream if the filling looks too short in the jars!
Can I Use the Recipe for a Pie?
This cheesecake filling recipe works best used in individual desserts. It's a softer filling, so it'd be a bit of a challenge to cut it if it was used in a pie plate. If you really wanted to give it a go though, I would freeze it (maybe an hour or so?) before cutting.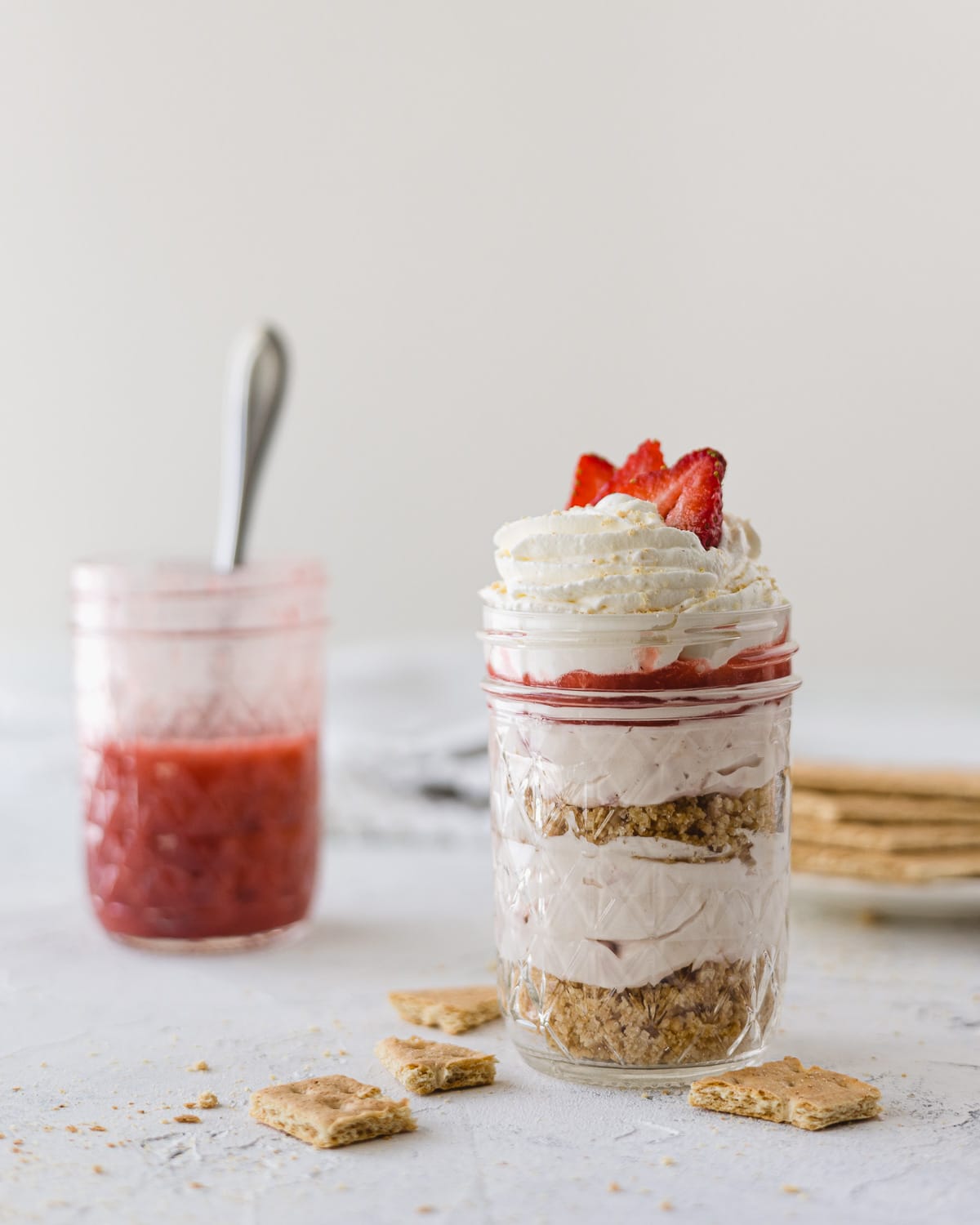 Strawberry Cheesecake in a Jar – Ingredients
Here are some quick notes about some of the key ingredients used in these no bake strawberry mason jar cheesecakes.
Strawberries: Use fresh strawberries for this recipe. It's best when they are in season, but the added sugar in the strawberry sauce will help improve the flavor of off-season berries. I have not tested the recipe with frozen berries.
Sugar: Granulated sugar is used throughout this recipe.
Unsalted butter, melted: Unsalted butter is best for baking (or, "not-baking" in this case!) so you can control the salt. I melt butter in the microwave using 10-15 second intervals.
White Chocolate: I used a Ghirardelli White Chocolate Baking bar. Use a high-quality white chocolate for this recipe, not white chocolate chips. I have not tested the recipe with white chocolate chips.
Cream Cheese: I always use full-fat cream cheese. I also suggest a high-quality name brand cream cheese, not generic. With a no bake recipe like this, the flavor of each ingredient will really stand out.
Thawed Frozen Whipped Topping: Yes, that's right, "Cool Whip". Thaw it in the fridge ahead of time and don't be tempted to thaw on the counter–it'll turn into soup!
Whipped Cream or Frozen Whipped Topping: Make homemade whipped cream to top these mason jar desserts, OR simply use thawed frozen whipped topping (Cool Whip).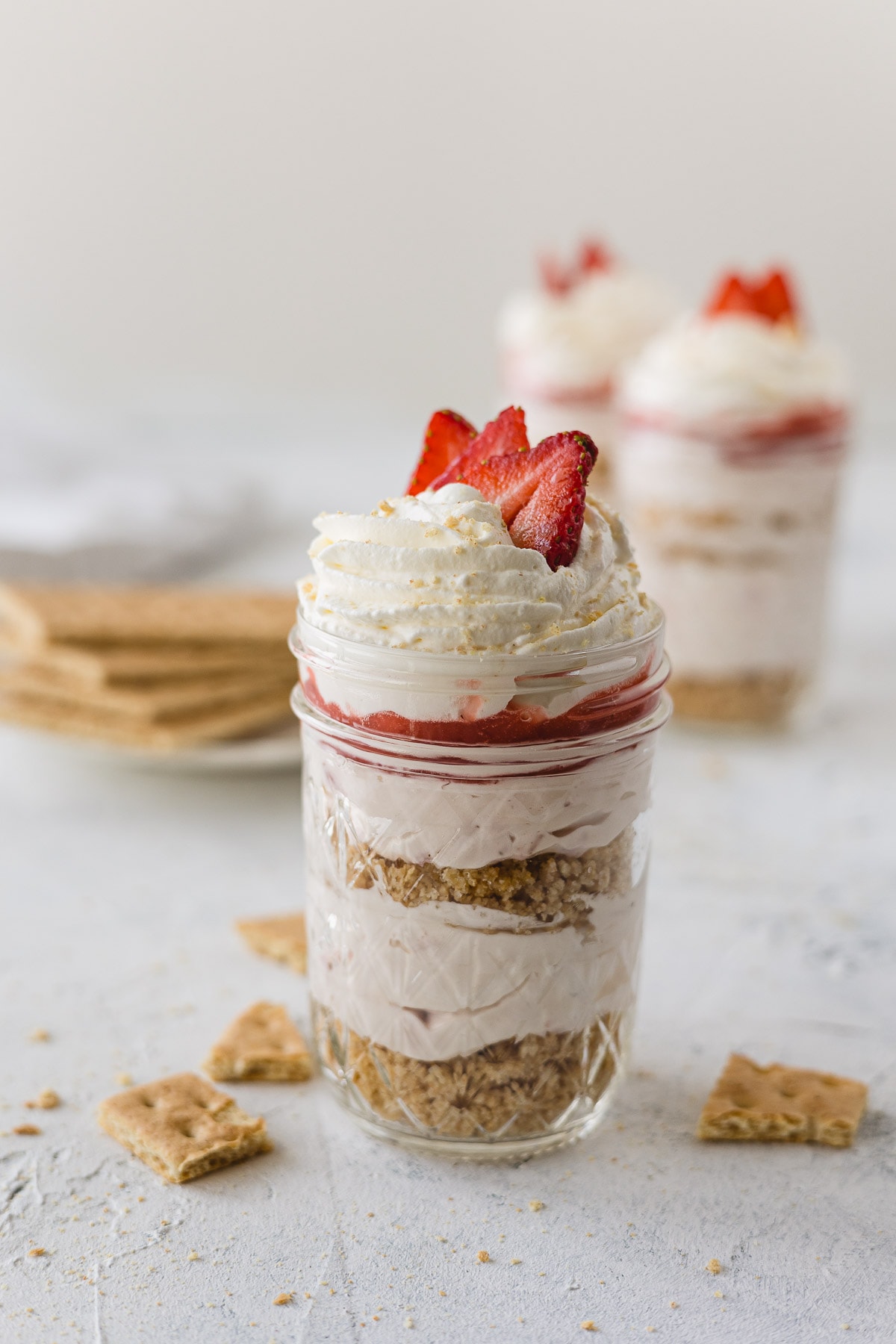 How to Make Strawberry Mason Jar Cheesecakes
The recipe starts with a simple graham cracker crust, made with crushed graham crackers, melted butter, and sugar. I avoid packing down the crust layer when I fill the jars since it can make them hard to eat. It ends up being almost a fluffy crumble rather than a typical cheesecake crust you'd use a fork to cut through.
I've made a simple strawberry sauce to top these cheesecakes. It uses fresh chopped strawberries, sugar, and a bit of lemon juice. The sauce is thickened with cornstarch and a portion of it is mixed into the cheesecake filling for a light strawberry flavor and pretty pink color.
This no bake cheesecake uses white chocolate in the cheesecake mixture to firm up the texture and add depth of flavor. The cheesecake mixture also includes a portion of the strawberry sauce and then it's time to fold in Cool Whip to lighten the filling even more and increase the sweetness. If you'd prefer, you could use 2/3 cup of homemade whipped cream here instead of the Cool Whip.
Once the crust and cheesecake layers are in the jars they are chilled for several hours to set the filling. You can actually eat the strawberry cheesecake right away if you wish, but the texture will be much more soft.
After chilling, top the mason jars with strawberry sauce and a healthy dose of homemade whipped cream for a scrumptious no bake treat.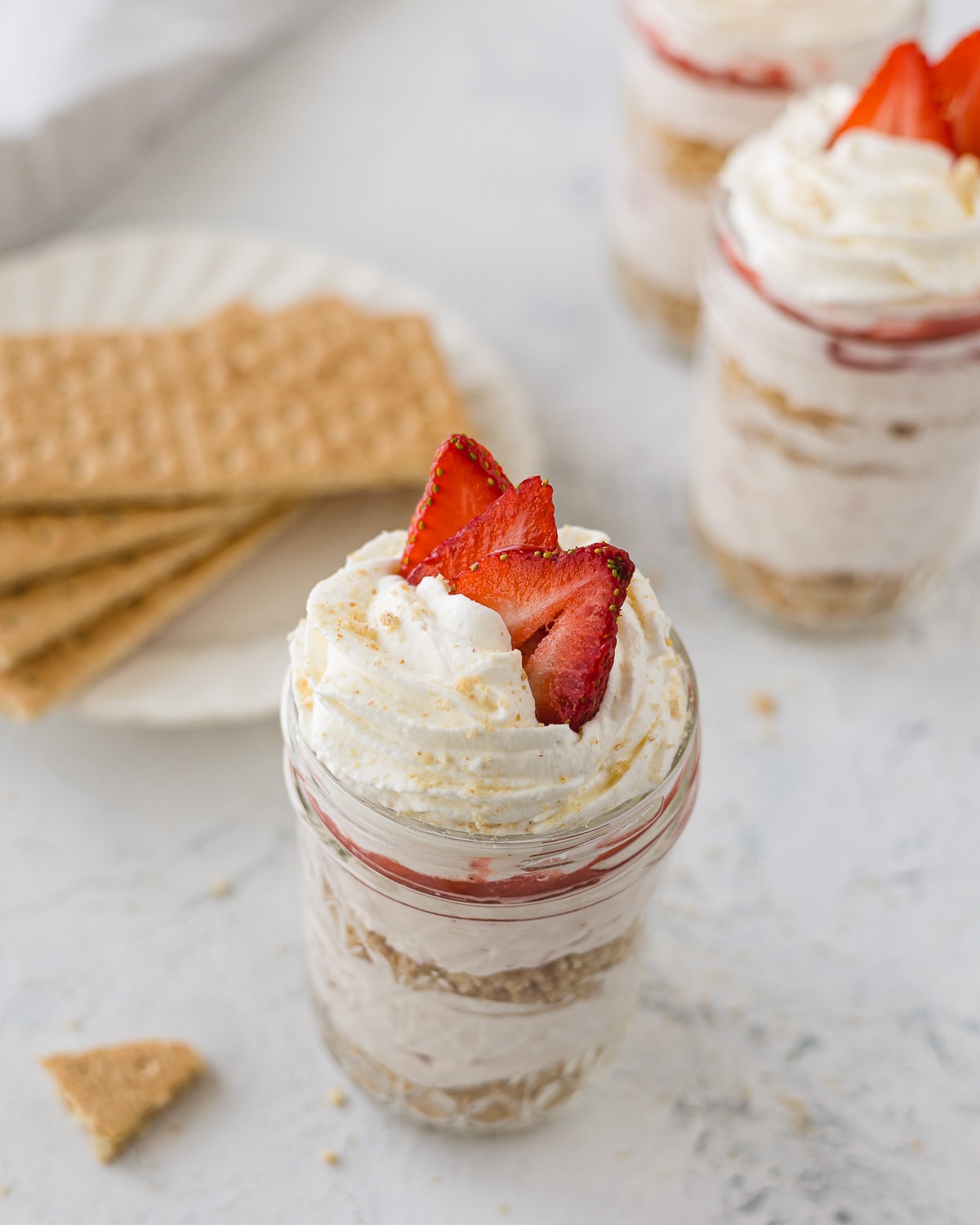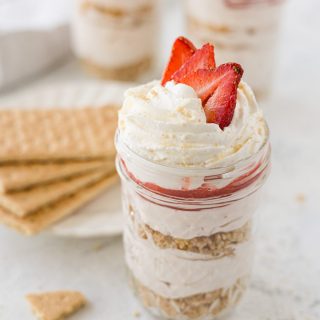 No Bake Strawberry Cheesecake in a Jar
No Bake Strawberry Cheesecake in a Jar is an easy dessert recipe that is perfect for parties. Each of these individual mason jar desserts features a no bake graham cracker crust, light pink cheesecake filling sweetened with white chocolate and strawberries, strawberry sauce, and homemade whipped cream.
Note that the recipe suggests chilling the layered jars of cheesecake & crust for about 6-12 hours to firm up the filling. You can eat the jars right away, but the filling will be much softer.
Ingredients
Strawberry Sauce Layer
1

lb

strawberries

chopped into small ½" pieces (reserve 2-4 whole berries to slice for a garnish)

1/3

cup

sugar

2

tablespoons

cornstarch

2

tablespoons

water

1

teaspoon

fresh lemon juice
Crust Layer
1

cup

graham cracker crumbs

(about 6 sheets)

3

tablespoons

sugar

4

tablespoons

unsalted butter

melted
Strawberry Cheesecake Layer
2

ounces

white chocolate

12

ounces

cream cheese

1/3

cup

sugar

1/2

teaspoon

vanilla extract

pinch of salt

1/2

cup

strawberry sauce

(reserved from sauce layer)

2/3

cup

frozen whipped topping

thawed in fridge (Cool Whip)
Whipped Cream
1

cup

heavy whipping cream

2

tbsp

sugar

1/4

tsp

vanilla extract

sliced fresh strawberries

to garnish, optional
Instructions
Strawberry Sauce
Add the strawberries and 1/3 cup of sugar to a medium saucepan and cook over medium-low heat for 8-10 minutes until berries are cooked down and quite soupy. Stir periodically. Simmering is fine, but if the mixture starts to boil, you can adjust the heat down. Remove from heat.

Meanwhile, in a small bowl, use a fork to make a slurry from 2 tablespoons of cornstarch and 2 tablespoons of lukewarm water. Stir this mixture into the strawberries. Allow to thicken for 2-3 minutes, stirring a few times.

Stir lemon juice into strawberry sauce. Measure out ½ cup of sauce (including the berries) to use in the filling. You want the sauce to be cool when you use it for the filling, so you can spread it on a small plate to cool it faster if needed. Reserve remaining sauce for layering in the jars and store in fridge.
Graham Cracker Crust
Mix the graham cracker crumbs, sugar, and melted butter together thoroughly in a medium bowl and set aside.
Strawberry Cheesecake Filling
Melt 2 ounces of high-quality white chocolate in the microwave at 20 second intervals, stirring in between. Once fully melted, set aside to cool.

Soften the cream cheese in a medium microwave-safe bowl by microwaving in 10-15 second intervals. Stir in-between intervals. When the cream cheese is very soft (but not hot), use a hand mixer (med-low speed) to beat it smooth, about 1-2 minutes.

Add 1/3 cup sugar, 1/2 teaspoon vanilla extract, and a pinch of salt and beat on med-low until sugar is fully incorporated/dissolved, about 1-2 minutes.

Add the cooled melted white chocolate and beat until combined, about 30-60 seconds. Add 1/2 cup of the reserved (cooled) strawberry sauce and beat until just combined, about 30-60 seconds.

Use a spatula to gently fold in 2/3 cup of Cool Whip until fully combined.
To Layer
Divide crust mixture in half (I just eyeball it) and divide one half the mixture among six 8-ounce mason jars (or similar ramekins etc.).

Divide the cheesecake mixture in half (again, I just eyeball it–so much easier than trying to measure and scrape filling into jars) and layer one-half of the mixture evenly among the six jars with a spoon. You can smooth the layers with a small teaspoon if you like, or just keep going.

Divide the remaining crust mixture across the jars and repeat with the cheesecake filling.

At this point, I suggest chilling the jars for 6-12 hours to set the filling. If you are in a hurry, you can eat the jars right away, the filling will just be much softer.
Fresh Whipped Cream
Prepare the whipped cream before serving (I usually find it's fine to prepare it a few hours in advance as needed). You may also use Cool Whip instead if preferred.

With a hand mixer, wire whisk attachment, and bowl (or use a stand mixer), combine 1 cup of heavy cream, 2 tablespoons sugar, and 1/4 tsp of vanilla extract. Beat until the cream starts to form soft peaks and then beat a bit more until the whipped cream is just beginning to form stiff peaks.
To Serve
Remove chilled cheesecakes from the fridge and spoon strawberry sauce onto the top of each cheesecake.

Pipe or spoon whipped cream over each dessert. Add a sprinkle of crushed graham crackers and/or sliced strawberries if desired.
Notes
To Make Ahead: Layer the crust and cheesecake filling into jars as noted in the recipe and store in the fridge (up to a day or two). When ready to serve, add the strawberry sauce and fresh whipped cream.
Storing Leftovers: I've stored completed desserts (with whipped cream and all) covered with plastic wrap in the fridge for a few days after preparing, but since the whipped cream will get flattened, I usually only serve these to family or close friends. Otherwise, opt for adding the whipped cream right before serving.
The finished jars will keep a few days in the fridge.
Notes on Thawing Cool Whip: To thaw the Cool Whip for this recipe, place the unopened container in the fridge for about 3-4 hours (standard 8-ounce container) in advance of making the cheesecake filling. If you forget, don't be tempted to thaw it on the counter—it'll get very soupy. Instead, pop the whole container in the fridge and start making the recipe.
By the time you are ready to add a scoop to the cheesecake filling, it'll be starting to get soft and you can measure out the softened whip from the top/sides of the container and pop the rest back in the fridge to continue thawing correctly.
More Mason Jar Desserts