Delicious Heart Shaped Cookies to Bake
Bake up some festive treats for Valentine's Day with this roundup of 25 Heart Shaped Cookies! The recipes on the list include everything from heart shaped chocolate chip cookies to beautiful pink heart macarons. Heart shaped cookies make a sweet gift at Valentine's Day or any time you want to bake a special pick-me-up treat.
Please note that this post contains affiliate links which allow me to earn a small commission when a purchase is made at no additional cost to you. Read more here.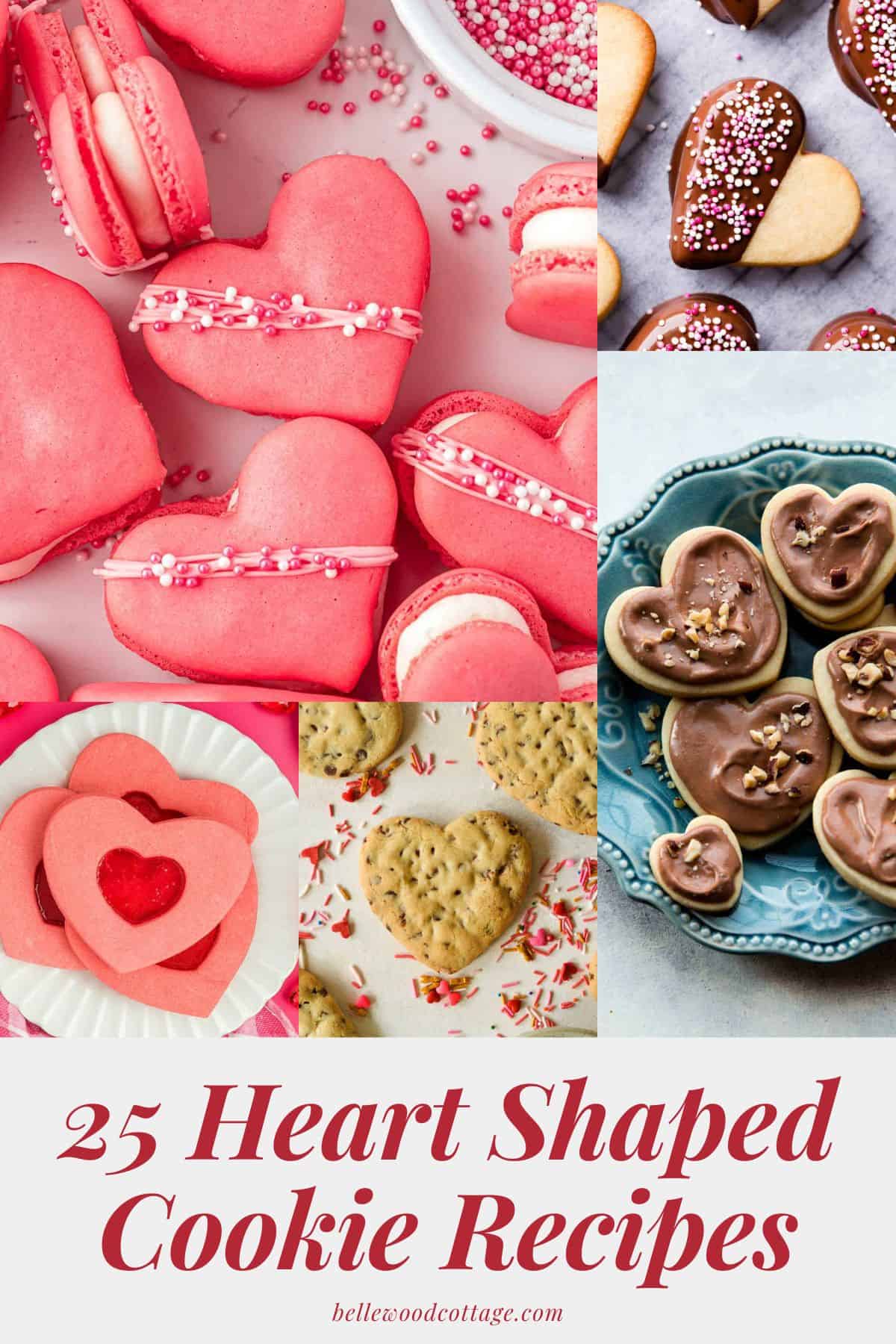 Valentine's Day is a popular holiday to turn on the oven and bake up some fancy treats. I love baking cookies because they are quick and easy, make lovely gifts, and (usually) aren't overly indulgent.
The sky is the limit when it comes to Valentine's Day Cookies–in fact, if you are looking for great recipes, don't miss my roundup of Festive Valentine's Day Cookies.
For this list in particular though, I wanted to stick with heart shaped cookies. I've found recipes for a variety of options, like heart shaped chocolate chip cookies, whoopie pies, sugar cookies, chocolate cookies, macarons, and more.
Whether you are celebrating Valentine's, Galentine's, or just want to make a heart shaped treat to lift up someone's day, this list of sweet recipes has you covered.
What Are Some Great Cookie Recipes You Can Make For Valentine's Day?
Heart shaped Cookies: This list is filled with 25 recipe options from sandwich cookies to shortbread cookies. A cookie in the shape of a heart makes a great gift idea–whether for a pick-me-up or Valentine's Day.
Red Velvet Cookies: Red velvet cookies bake up to be a beautiful saturated red. They make a festive Valentine's treat. The red velvet flavor is created with cocoa powder and food coloring.
Thumbprint Cookies: This popular cookie style can be customized with strawberry or raspberry jam for a themed holiday treat.
Chocolate Chip Cookies with a Twist: Everyone loves a chocolate chip cookie! Follow the recipes below to make a heart shaped version.
Macarons: These delicate French cookies come in a variety of flavors and are a sophisticated option for Valentine's Day. Plus, it's easy to make them a beautiful pink color!
No matter what kind of cookies you choose, they are sure to be a sweet and tasty treat for your loved one on Valentine's Day!
Heart Shaped Cookie Recipes to Bake
You'll love this roundup of 25 heart shaped cookie recipes! These recipes are perfect for Valentine's Day or any time you need a sweet recipe to encourage a friend (or yourself!). Recipes include everything from chocolate chip cookies (heart shaped of course!), pink macarons, and even red velvet whoopie pies. Mmm!
More Great Cookie Recipes to Try