The Ultimate Chalk Painter's Gift Guide
This Ultimate Chalk Painter's Gift Guide is filled with the best chalk painting gift ideas for furniture painters, crafters, and home décor enthusiasts. Whether your recipient loves painting furniture, tackling smaller projects, or is completely new to chalk style paint, this list provides fun and practical suggestions they will love!
Please note that this post contains affiliate links which allow me to earn a small commission when a purchase is made at no additional cost to you. Read more here.
Within my list of chalk paint gift ideas I've included the best tools, chalk style paint brands, specialty items, brushes, books, and more–all for chalk painters! If your recipient isn't yet a chalk painter, but you think they might like to be…this list is for you too!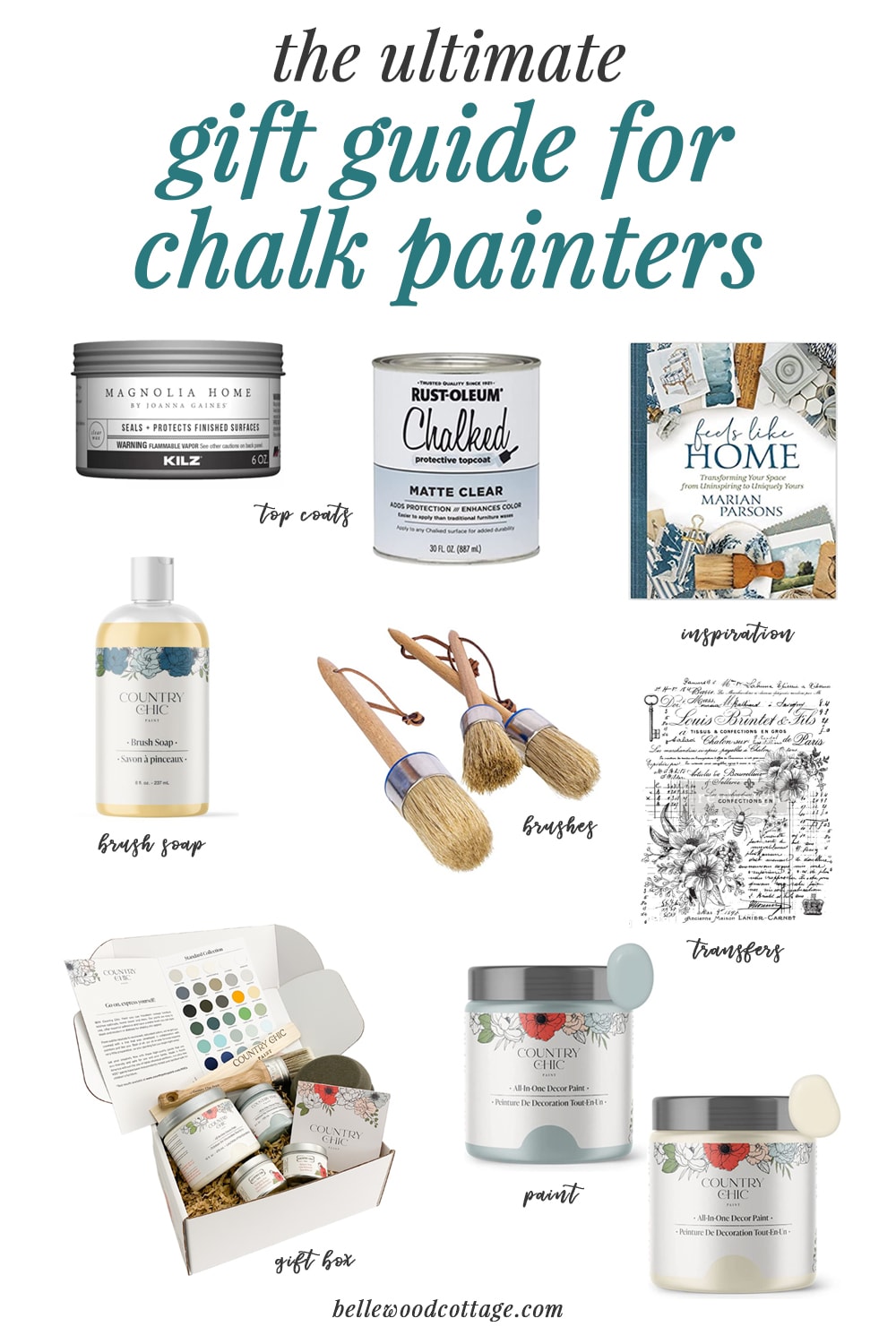 Who is This Gift Guide For?
I call this the Ultimate Chalk Painter's Gift Guide because I have included a large variety of products that span from brand-new painters to advanced furniture painters. This gift guide also includes plenty of products that will work for a furniture painter who doesn't necessarily use chalk style paints.
Pin this list for your favorite crafter or home décor enthusiast too. These products make ideal gifts for the holidays, like Christmas, and are perfect any other time of year too–birthdays, anniversaries, Mother's Day, and the like.
I've included helpful notations with each item to help you decide on the perfect gift for your chalk painter.
Remember! Shop early to ensure products arrive in time to gift.
The Ultimate Chalk Painter's Gift Guide
With everything from tools to chalk paint suggestions, books to brushes, this list has plenty of gift ideas for the chalk painter or furniture painter in your life. Let's get started!
Chalk Paint Kits for Beginners
One of the best ways to get started with chalk painting is to purchase a kit. These kits include most everything you need and are an affordable way to give chalk painting a try.
Here are a few of my favorite kits:
Country Chic Paint Starter Kits
Country Chic Paint is one of my favorite chalk style paints because the company is focused on environmentally-friendly paint and production techniques. The paint is extremely low VOC making it easy to paint with (hardly any smell at all) and it works great on furniture.
I find the lighter colors can be a little sheer so you might need an extra coat for those lightest colors.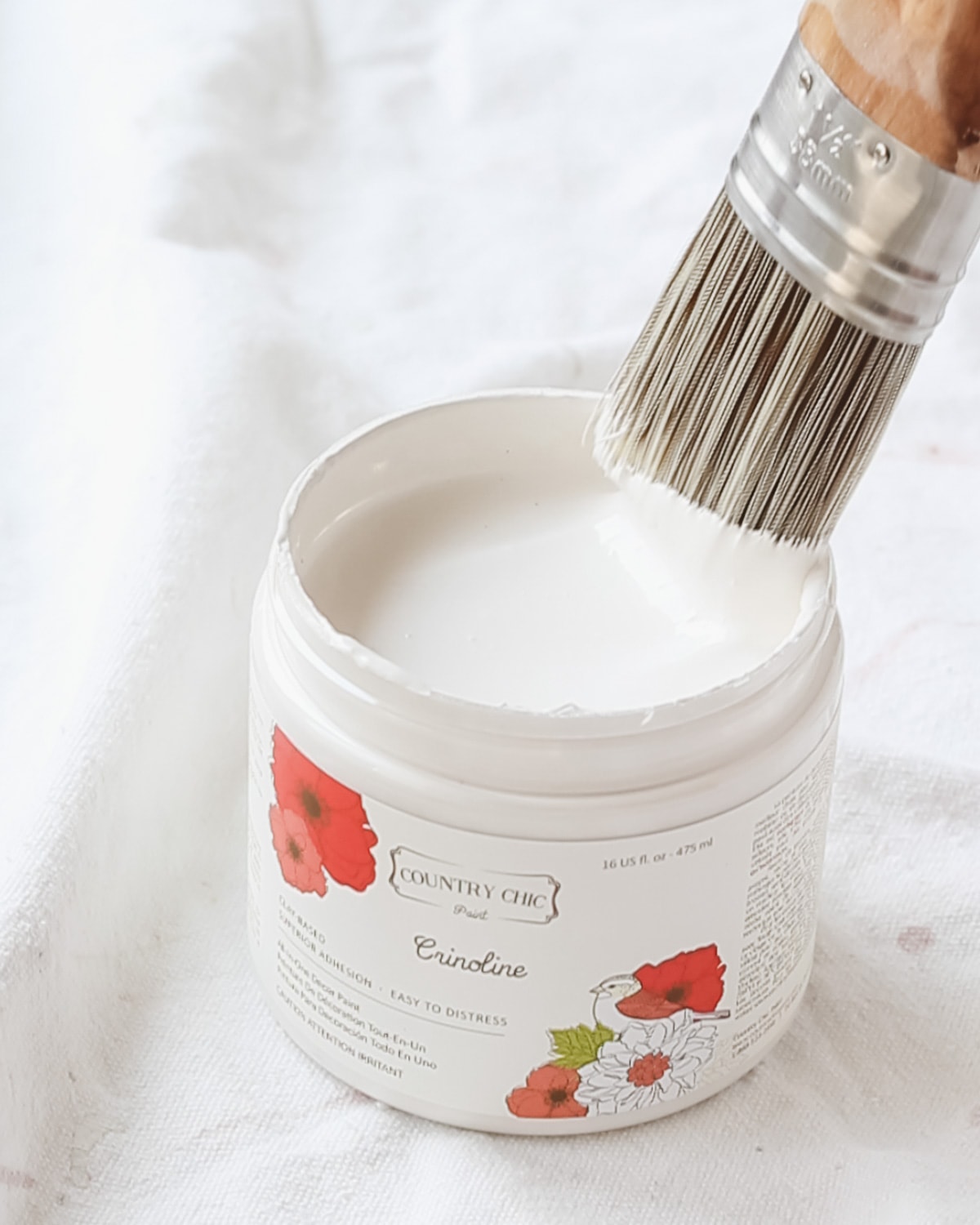 There is a Medium Starter Kit and a Large Starter Kit available. They each include paints, waxes, and a color card. My suggestion is to go with the Large Starter Kit since it includes a 16 oz container of paint (plenty for a piece of furniture) and a brush too.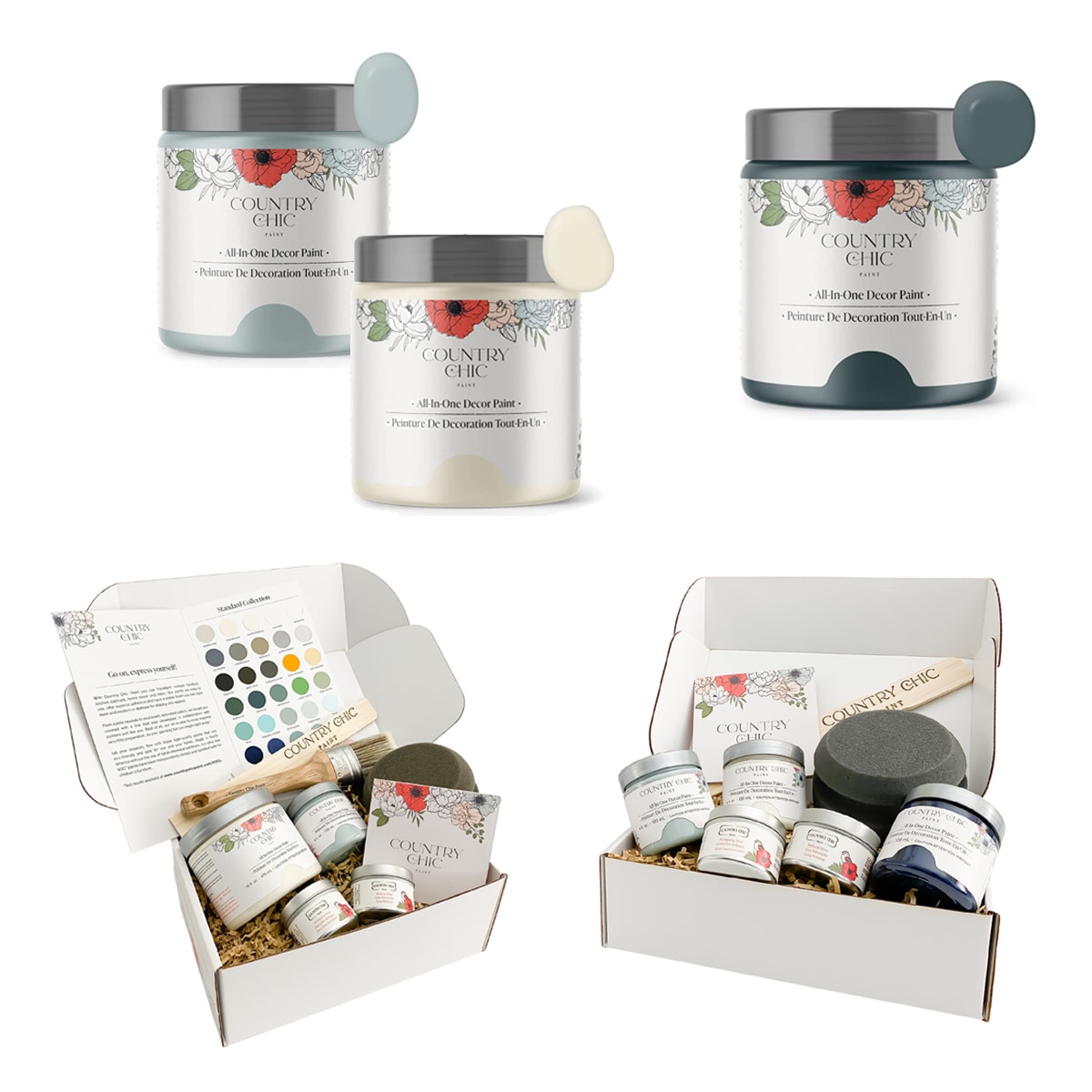 I also like that each box comes with a thoughtful, coordinated selection of colors–makes gift-giving so much easier! You can also buy additional Country Chic Paint Brushes and Specialty Finishes if you want to add on to a gift box or even create your own.
Make Your Own Kit – Amazon
To make your own chalk painting kits, grab a can of chalk paint and a great brush to start. Include something fun like cool knobs, antiquing wax, or an instructional book (see my suggestions at the end of the post!), and tuck everything into a lined basket from the craft store.
Here's what I would grab if you are shopping Amazon: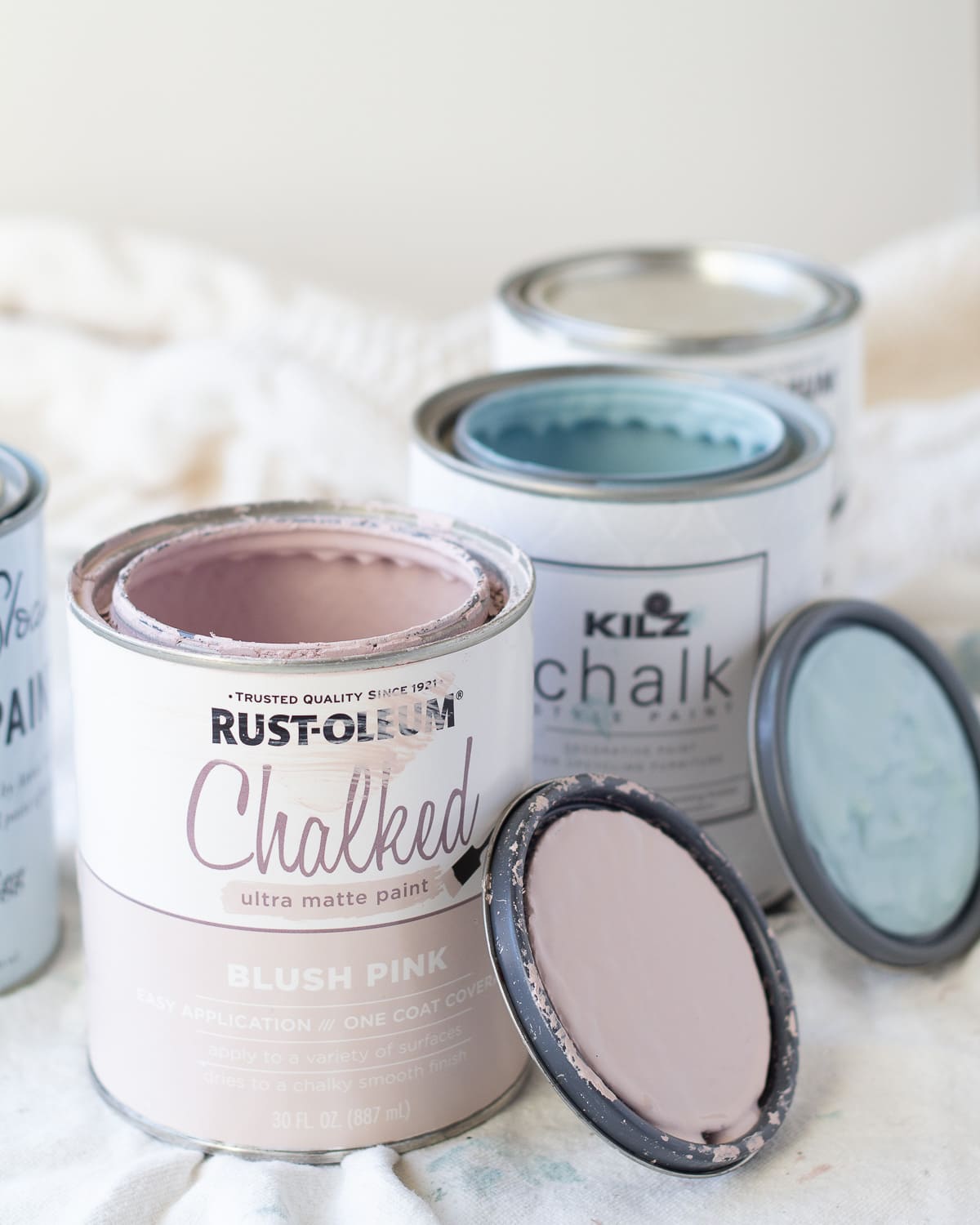 Make Your Own Kit – Home Depot
If it's more convenient for you to purchase from Home Depot, here's a few of my favorite products there:
Tuck everything into a basket and you are set. Now, let's chat through some more ideas!
Chalk Paint
Magnolia Chalk Paint
Magnolia Chalk Style Paint is a newer chalk paint and since it's created by Joanna Gaines, well it's simply a must-try. You can snag it online at Magnolia, but my preference is to just pick up my cans online at Target since they offer free shipping over $35.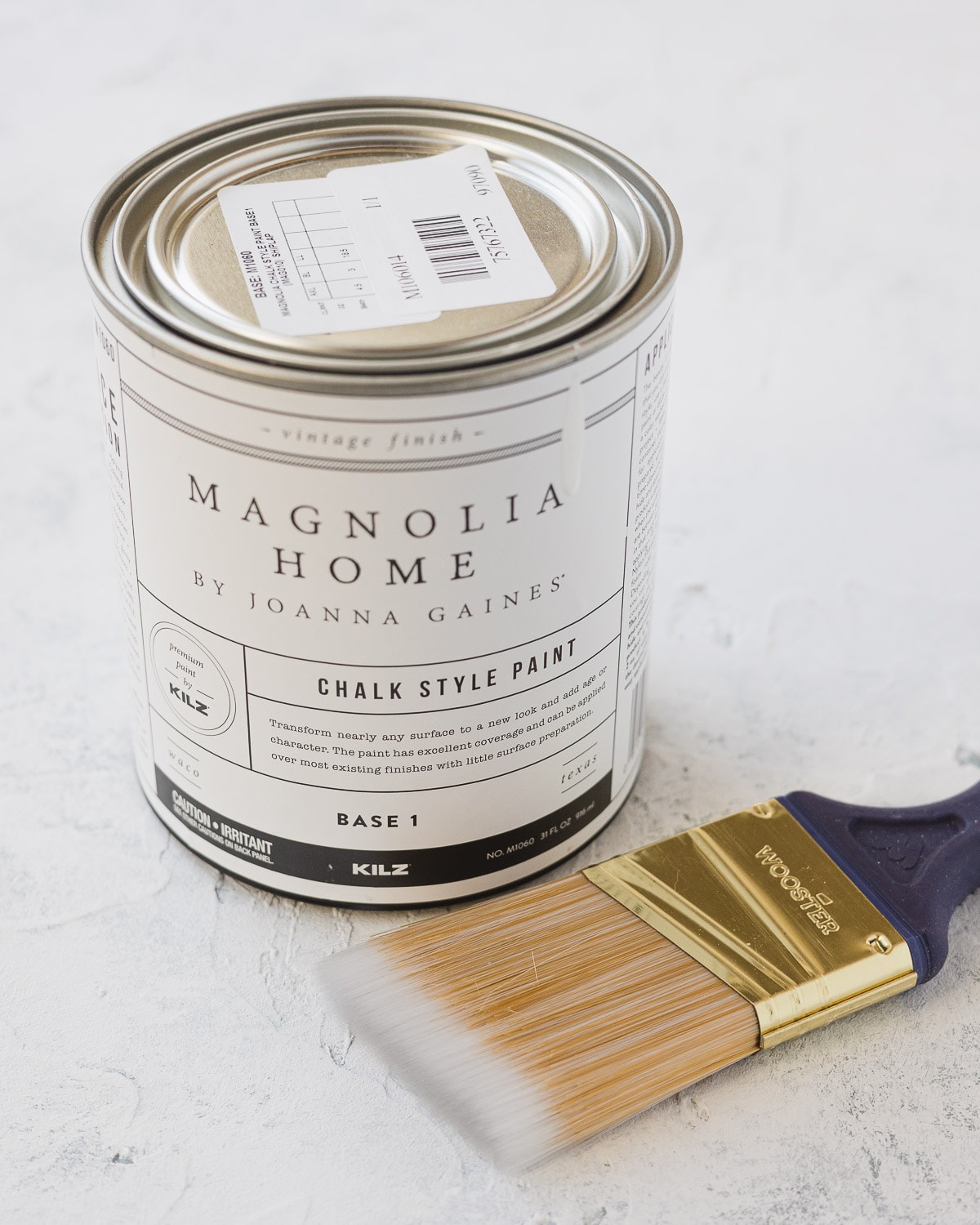 If you don't have any other Target needs, add a brush or wax to meet the free shipping minimum.

Country Chic Chalk Paint
Country Chic Paint is a chalk style paint that I recently used to repaint this dresser. They have gorgeous colors and eco-friendly paint. Purchase via Amazon or directly from their website for the full selection of products.

Clear Coats
Additional cans of clear coats are always appreciated since chalk painted furniture requires a top coat for the best durability. Wax is popular, but I actually really love using brush-on top coats (aerosols are a quick option too).
Brush-On Top Coats: Rust-Oleum Matte Clear, General Finishes Flat-Out Flat Top Coat (note: can yellow bright white paints or other light colors), Minwax Polycrylic Matte, Annie Sloan Lacquer
Spray Top Coats: KILZ Chalk Style Clear Coat, Rust-Oleum Matte Clear Spray
Wax Top Coats: Annie Sloan Clear Wax (also White, Dark, and Black Wax), Behr Wax, Magnolia Home Wax

Tools
Gyroscopic Screwdriver with Adjustable Handle
If your gift recipient is constantly removing hardware and installing new hardware into furniture that he or she has painted, this screwdriver is handy and easy to use. It's much easier to use with small hardware than a large drill is–yet faster than a hand-held screwdriver.

It works this way: Press the trigger and turn your hand clockwise to drive clockwise, counter clockwise for driving counter clockwise. The amount you turn your hand after pressing the trigger determines the speed of the drilling. It comes in handy for all kinds of things around the house too.
Work Gloves
If your gift recipient chalk paints lots of older furniture, you'll want a pair or two of work gloves for protecting your hands as you move pieces around, clean them, or examine for repairs.

Quart Paint Pourer
If you don't have one of these on hand, you can still pour chalk paint neatly, but this little paint pouring tool made just for quart-size cans sure is handy. This makes a great stocking stuffer or addition to a can of chalk paint.

Brush Soap
Chalk paints can be cleaned up with water, but a little brush soap makes it even easier to scrub away leftover paint and keep your brushes looking great for years.
Sanding Blocks
Whether you are filling hardware holes to replace hardware, tackling damage on a piece of furniture, or just scuffing the surface for better adhesion, these sanding blocks are ideal.
I like to purchase a pack with a variety of grits.

New Brushes
My favorite brush to use for chalk painting furniture is the Wooster ShortCut Brush. I love the short flexible handle and the inexpensive price. Buy one of these with a can of paint and you have a lovely gift (Country Chic Paint brushes are high-quality too).

Wax Brush
When applying wax to a finished chalk painted item, you need a circular brush like the ones shown below. Previously the only option was the Annie Sloan Wax Brush (which is amazing but very expensive).
These newer knock-off options aren't quite as good, but they meet the need and are handy to have on hand. This Wax Brush Set has basically all the brushes one could ever need.

Specialty Items for Furniture Painting and Updating
When I was writing this chalk painter's gift guide, I knew I wanted to include some specialty items that allow chalk painters to dive in and truly customize their furniture pieces. These are fun to shop for and you could choose one or two and add a can of paint for a show-stopping gift.
Beautiful Set of Knobs
Knobs are a little more specific, so it might feel hard to choose what to buy. Many furniture painters actually have a stash of knobs that they have on hand just awaiting the perfect project, so really no harm in adding to it!
If you find hardware or knobs that you think your recipient will love, don't hesitate…the right piece of furniture will come along! I like to shop for knobs on Etsy, but Amazon has lots of choices too, and Anthropologie is a good choice for luxury hardware.

Prima Stencil
These detailed stencils from Prima stencils create beautiful furniture (check out their Instagram feed) and are just the thing for re-inspiring a veteran (or beginner) chalk painter.

Prima Transfers
If you aren't familiar with Prima Transfers, this dresser provides a great example of what they can do. Another product that will inspire creativity and perfect for those moments when you aren't sure what to buy.

Antiquing Wax
Antiquing wax is another product that allows for complete customization and creativity with any furniture piece. Behr Wax is available conveniently at Home Depot and is found in (Clear, White, Dark) Purchase clear for durability and white or dark for adding depth and interest to a piece.

Gift Card Ideas
Sometimes you just have to go the gift card route! A gift card might seem impersonal, but I bet your chalk painter will love a chance to plan a shopping trip for fresh chalk painting supplies. Here's a few of my favorites:
If your gift recipient paints a lot of furniture, chances are that they might be in need of some random Home Depot supplies (perhaps spray paint for refreshing hardware, new knobs, brushes, wood filler etc. etc.).
You can find so many amazing chalk painting products on Etsy, but your recipient might want to do the hunting and selecting themselves. In this case, pick up a gift card!
For books, paints, and just about all the chalk painting supplies, Amazon is the choice for a general gift card.
Books for Furniture Painters & Chalk Painters
Finally, I have a few book suggestions that make excellent resources or inspiration for chalk painters and home décor enthusiasts.

Color Recipes for Painted Furniture and More: 40 step-by-step projects to transform your home by Annie Sloan
Excellent resource for beginning chalk painters and advanced too. While not every project suits every home décor style, the techniques and training shared are invaluable. Annie Sloan is the creator of THE original Chalk Paint and she knows what she is talking about!

The $50 Home Makeover: 75 Easy Projects to Transform Your Current Space into Your Dream Place–for $50 or Less! Shaunna West
Great for beginners, you'll find lots of ideas for home transformation in addition to creative furniture projects using chalk paints and milk paint. A fun resource to have on hand!

Feels Like Home: Transforming Your Space from Uninspiring to Uniquely Yours by Marian Parsons
Other than a few mentions of chalk painted projects and a section on varieties of paint, the book doesn't have a lot to do with chalk paint.
But, what it does cover are practical ideas and inspiration for creating your dream home on a budget–which, isn't that what a lot of chalk painters are seeking after? Filled with tons of photos and plenty of ideas, this is an inspirational new favorite of mine.
Wrapping It Up
I hope this chalk painter's gift guides provided plenty of gift ideas for your favorite chalk painter. I had fun gathering all my favorites together and I just might have to head off to purchase a few of these favorites for myself too!