The Best Chalk Paint Brushes for Furniture Painting
If you want to get started with furniture painting, you'll need good-quality furniture paint and an excellent paint brush (or several!). Learn the best chalk paint brushes to get started. Plus, what you will need for waxing furniture and how to care for your new brushes.
Please note that this post contains affiliate links which allow me to earn a small commission when a purchase is made at no additional cost to you. Read more here.
These days, a lot of furniture painters are using chalk style paints. Though there are more traditional refinishing techniques that involve sanding and priming, I'll be talking about chalk painting here. I love it for the accessibility and ease of use–not to mention the beautiful final results!
What is Chalk Paint?
While "Chalk Paint®" is actually a registered trademark of Annie Sloan and her original Chalk Paint®, many paints now exist that are similar in effect. These matte furniture paints are often called "chalk style", "chalky" or similar terms. They are easy to use (they generally allow a painter to skip sanding and priming), matte-finish, easy to distress, and require a top coat for durability.
Check out my article on What Is So Great About Chalk Paint if you would like to learn more!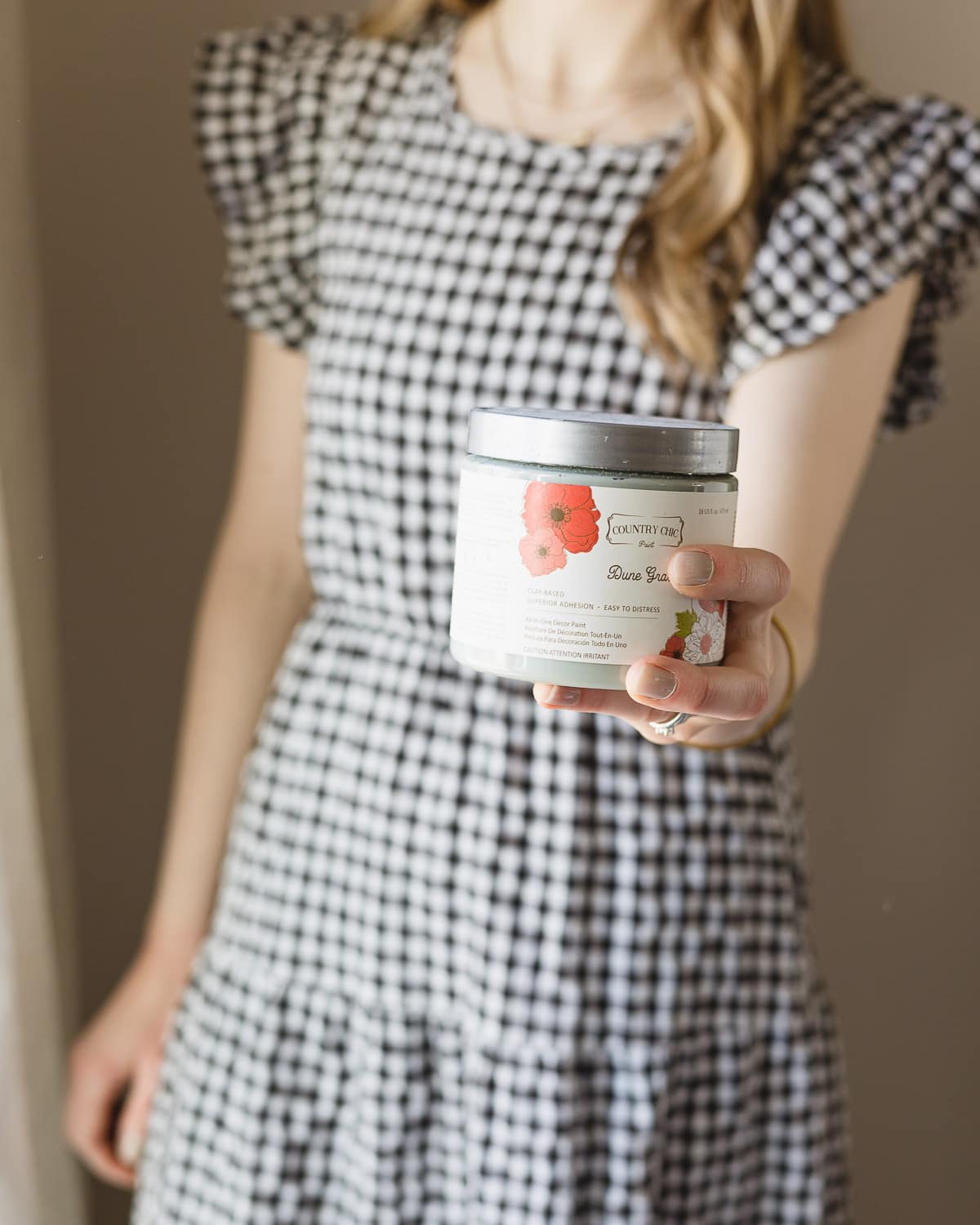 Of course, before we start painting anything, we'll need a brush! I have collected a handful of different varieties over the years and they all have pros and cons. I personally steered clear of the super-expensive brushes (as tempting as they are), so I'm excited to offer some budget-friendly resources for you.
What Makes a Good Paintbrush for Painting Furniture?
If you are chalk painting furniture, there's a few things to look for as you collect brushes:
a comfortable handle and size (prevents fatigue while painting)
quality brand
no shedding bristles
variety of widths for smaller/larger pieces of furniture
While you can use natural or synthetic bristle brushes, I generally find myself using synthetic brushes. These brushes are easy to come by and are less expensive. Some prefer natural bristle brushes for chalk painting, but let's not get ahead of ourselves. We'll chat through all the options, starting with my top pick, a very simple and inexpensive brush.
Quick, Just Tell Me What to Buy!
Check out my quick picks below if you are in a hurry and just want to buy your brushes.
There's lots of detailed information below, but if you just want my top suggestions, here they are:
Limited budget: Buy the Wooster Shortcut Brush and (optional) a Country Chic Paint brush.
Unlimited budget: Still buy the Wooster Brush (it's great), but also try Annie Sloan's (very nice) brushes and/or Country Chic Paint Brushes.
Plan on waxing furniture? You'll want an Annie Sloan wax brush. You could also try the less-expensive Best Dang Brush (suitable for wax or paint) from Dixie Belle Paint.
Small spaces: a 1″ angle sash brush is a nice inexpensive addition for detailed work.
Best Chalk Paint Brushes for Furniture Painting
When you begin a new hobby, it's advisable to start small. It might become a passion and your collection of tools and supplies will grow quickly. On the other hand, you might decide the new hobby is not for you. It's easier to change your mind when you haven't invested hundreds of dollars prematurely.
That said, that's why I love the following paint brush–it's only about $6!
Wooster Shortcut Brush
Quick Summary: The inexpensive (about $6) Wooster Shortcut Brush is great for trim work, furniture painting, and more. The flexible handle and overall quality make it my favorite brush for chalk painting!
The Wooster Shortcut Brush is my go-to for all sorts of projects around my home. Painting furniture, trim, cutting in when painting rooms, etc. It's a great all-purpose brush and it's my personal favorite for chalk painting.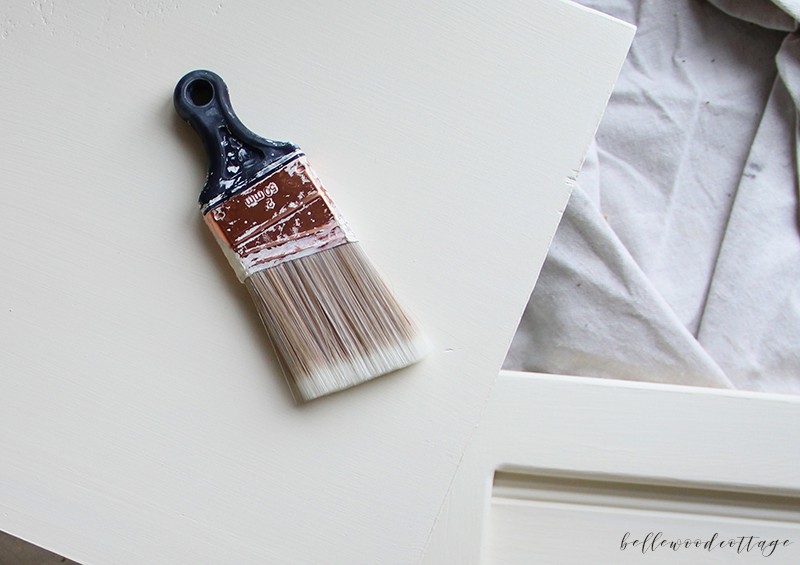 Great Budget-Friendly Brush
While there are moderately-priced brushes available (in addition to top-of-the-line fancy & expensive ones!), this one really takes the cake. It's about $6 so it's incredibly budget-friendly. Pick up two so you have an extra for using for top coats.
Short and Flexible Handle
When one piece might require two or three coats of paint, it's important to avoid hand fatigue. That's why I love the short and flexible handle of the Wooster Brush. Whether I'm using the brush for small projects or a larger dresser, the flexibility of this handle keeps my hand from getting tired and sore.
I find I can paint 3-4x as long with this brush compared to brushes with wooden handles. The short flexible handle and bristles make it comfortable to paint with and great for reaching into tight corners.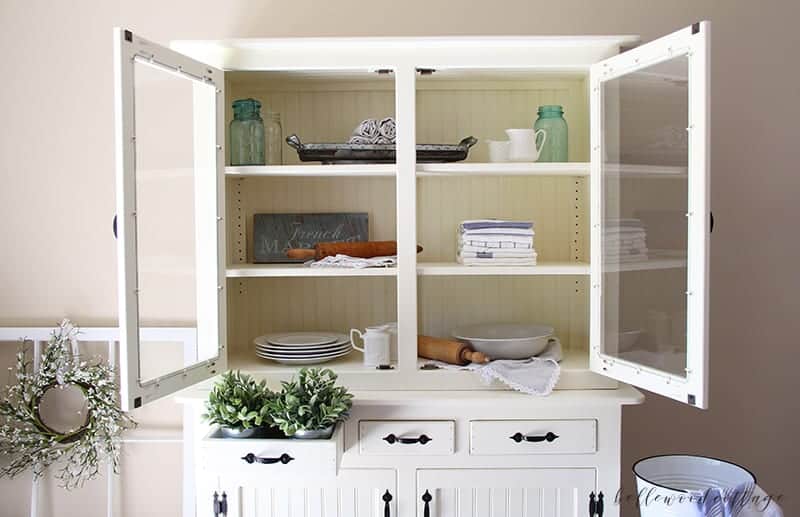 Angle is great for precision work
I've used this brush all over my home to paint trim and it's wonderful for that. It's easy to accomplish a clean edge with the angle of the brush which can be helpful for different types of projects.
Other stuff I love
Another great thing about the brush is that it doesn't shed bristles. Avoid finding bristles in your painting project with a good-quality brush.
The brush is also readily available. You can snag one off Amazon or from the Home Depot. No special ordering or trying to locate a retailer that carries boutique brands of brushes & paint.
Speaking of boutique brands, let's talk about Annie Sloan brushes next!
Annie Sloan Brushes
Quick Summary: Annie Sloan Paint Brushes are high-quality pure bristle brushes that are great for chalk painting furniture, holding paint, and achieving artistic finishes. The higher price ($40 for a medium brush) means they are an ideal investment after you fall in love with chalk painting.
Now I'm going to give you sticker shock by talking about the most expensive option on my list. I'll be frank and say, I don't own any Annie Sloan brushes. Every time I go to buy them (because I know they really will be as wonderful as everyone says) I talk myself out of it because my $6 Wooster brush just works so well! That being said, here's a little bit more about the brushes.
If you watch Annie Sloan paint furniture with her Chalk Paint you'll notice her technique is a little different than what you might typically do when painting. She tends to swirl the paint on and build the paint onto a piece layer by layer (a style that works really well with finishes like ombre or similar).
This is different than what we might gravitate towards doing when painting furniture, which is brushing the paint back and forth onto a piece.
Annie Sloan's bristle Chalk Paint® Brushes (and wax brushes) are pure bristle brushes and these do provide some great benefits. The shape of the brushes lends itself well to "swirling" motions which help blend paint/paint colors and can assist in creating interesting artistic finishes.
They are also pricey. The medium-size brush is $40 and the large wax brush is $60. Not necessarily a casual investment if you are just looking to get started with chalk painting. If you use a lot of "copycat" chalk style paint (like Rust-Oleum, Behr, Magnolia, etc.) you might also discover that the ability to swirl and blend paint is lacking anyway with these brands.
One of the things I'm most curious to try is if Annie's brushes truly hold more paint than other types of brushes. That might convince me to add a few to my collection as the ability to spread paint easily without re-loading a brush frequently makes furniture painting a lot more enjoyable.
The brush also has a domed shape at the end which can be a real help in painting detailed/grooved areas of old furniture. If you are really interested in the Annie Sloan brush, but have a smaller budget, I think you'll appreciate this next option:
Country Chic Paint Brushes
Quick Summary: Country Chic Paint Brushes are a great halfway point between standard paint brushes and fancier brushes (like Annie Sloan's) designed specifically for chalk painting. The brush is synthetic, has a wooden handle (not as comfortable as the Wooster Shortcut), and a very slightly domed top–great for painting in detailed areas/grooves.
Full disclosure that I have previously received free products from Country Chic Paint (including the pictured brush). All opinions are my own and I'm including this brush in the list because I think it's an excellent option!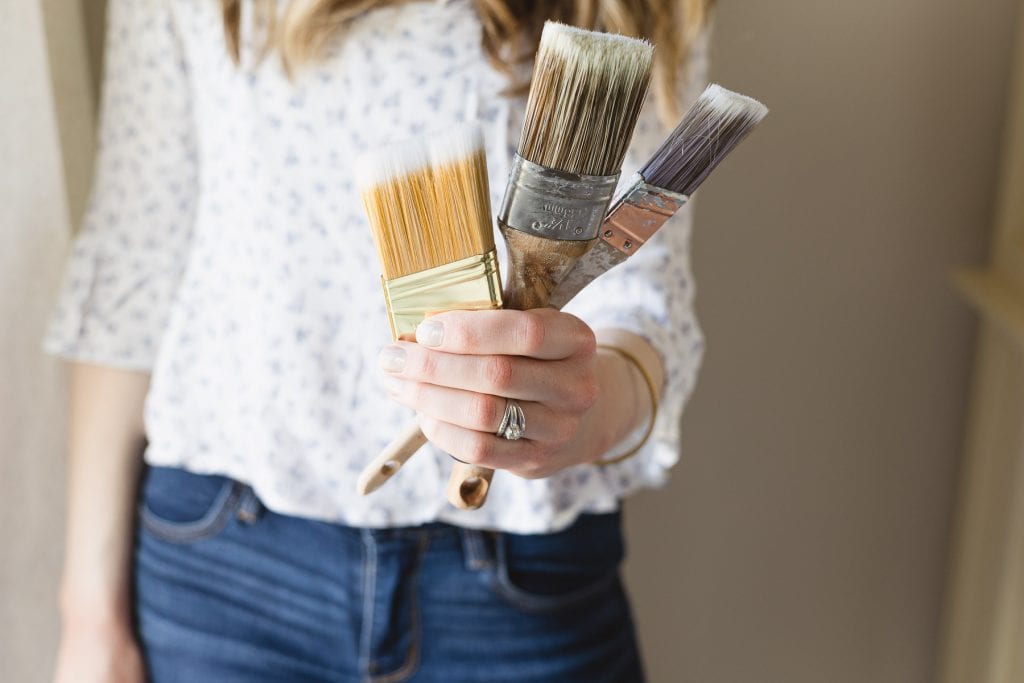 I had the opportunity to try out Country Chic Paint with a recent dresser flip and I really enjoyed their paint brush. Their paints (available on Amazon) are great too. Easy to work with, trendy colors, and environmentally friendly.
The brush bristles have a very slightly domed shape (similar to the Annie Sloan brush, but very subtle) which is helpful for the grooves of old trimwork present on vintage furniture (which is what many of us like to paint!)
The brush has a long handle like traditional sash brushes (see the notes on sash brushes below), but I found the larger rounded shape was more comfortable for long stretches of painting.
I have the 38mm (1.5″) brush which is just right for furniture painting (dressers, chairs, hutches, etc.). The brush is about $20.
Country Chic Paint claims that the brush will cause "little to no brushstrokes" which I wouldn't necessarily agree with. It's important to use a good-quality brush to eliminate severe brushstrokes, but when you are painting with chalk paint and a brush, brush strokes can be lessened, but they are kind of just inevitable.
Sash Brushes
Quick Summary: While basic angle sash brushes are excellent, I would still start with the Wooster Shortcut Brush (it's so comfortable to use). Add a set of angle sash brushes, a Country Chic Brush or Annie Sloan Brushes as budget allows.
Angle sash brushes were what I started with when I first started painting furniture. They are great-quality brushes and I like having a set on hand for the variety of sizes. If you only want to buy one, choose a thin-width brush (like 1″ or so) to add to your Wooster Shortcut so you have a smaller brush for really tight corners.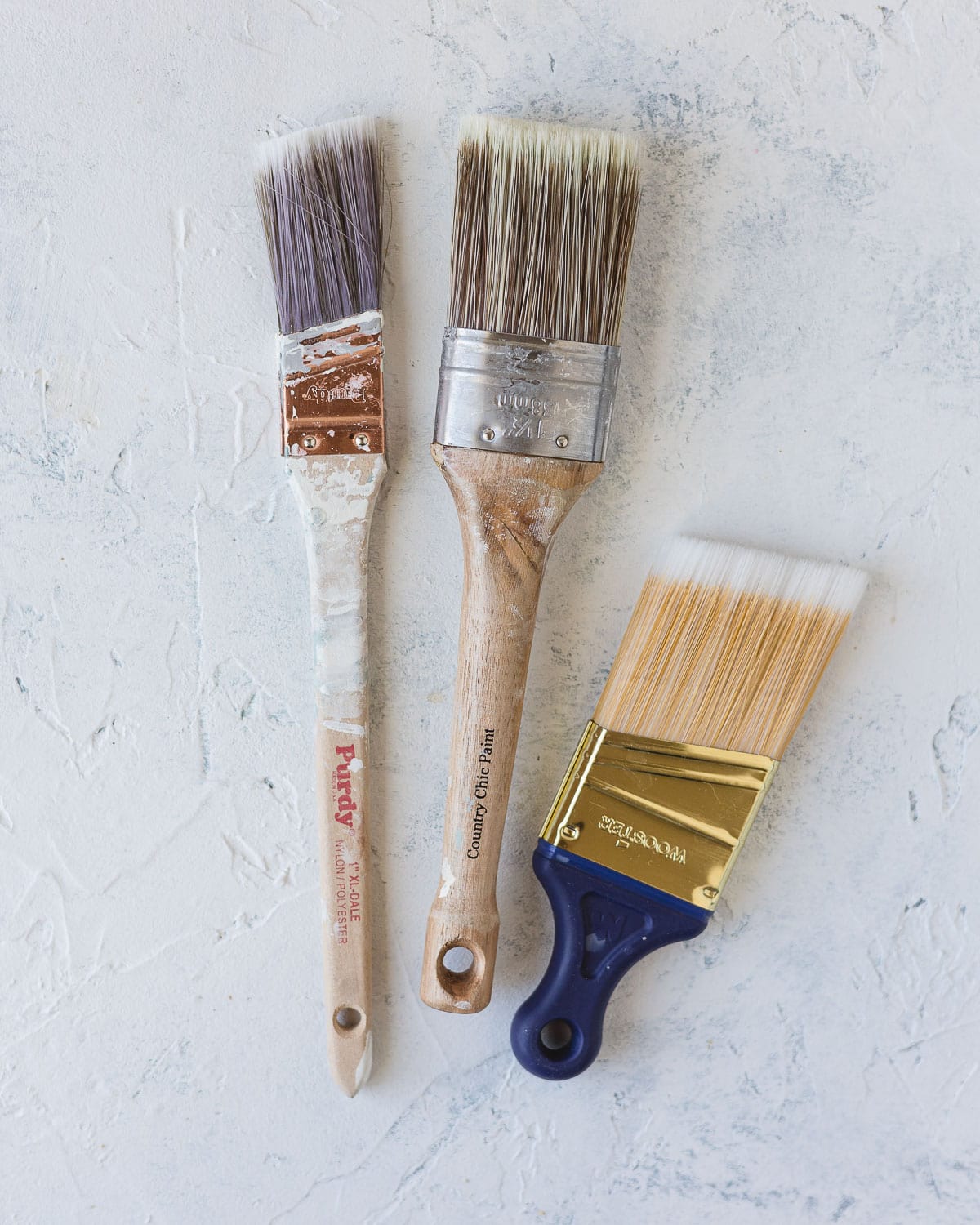 While these are excellent brushes (and readily available at the Home Depot), I would probably still steer you towards purchasing the Wooster Shortcut brush to start and than adding to your collection with perhaps a brush from Country Chic Paint or even Annie Sloan if your budget allows.
I find that the size and shape of these brushes (particularly the flat wooden handle) are great for trim-work around the house, but they can fatigue the hand when used at length for painting furniture.
I do like adding in a 1″ sash brush for detail work and a 3-pack of these brushes is affordable and quick to grab at Home Depot.
What About Brushes from Amazon?
Quick Summary: While I haven't tried any of the many "off-brand" Amazon Brushes (and thus did not place them at the top of this list) they may be worth considering if you are willing to experiment. There are affordable options, but be sure to check reviews and product photos as shedding seems to be big complaint and some of the brushes look like they are practically miniatures!

As I mentioned in the summary above, I haven't yet tried the offerings on Amazon (besides of course the Wooster brush or Country Chic Paint brushes which are both available to purchase there).
At first glance there appears to be a wealth of options on Amazon (though many do appear to be the same brushes but different sellers) and the reviews seem glowing. I found as I dug deeper though that the quality of these "knock-off" brushes seemed suspect.
The primary complaint I noticed is that the brushes shed bristles. I also noticed that some of the brushes (even those with stellar reviews) looked incredibly small. Like mini brushes you might find in a craft kit or something.
I am hesitant myself, but if you are up for some experimenting, give these options a try!
This set of six boar bristle brushes gives you a variety of shapes and sizes to try. It's affordable and you get a lot for the price.
This two-brush set has glowing reviews, but after reviewing the various customer-submitted photos, I'm skeptical. The brushes look far too tiny to be a good fit for furniture painting!
All that to say, I would say steer clear of these brushes unless you are willing to experiment and possibly re-buy a better quality brush if they don't work out.
Brushes on Etsy
Don't forget to check Etsy! Though I couldn't talk about all the brushes available there (there are SO many), you might find some winners on Etsy–and you can support small businesses too. I would definitely suggest checking Etsy over the knock-off options available on Amazon. Check out Brushes for Chalk Painting on Etsy.
Reasons to Own Multiple Brushes
If you have the budget, there's no reason to stop at one or two brushes! One of the best parts of chalk painting is the experimentation. Each piece of furniture you paint presents its own unique challenges and the tools you use might change depending on the situation.
Another great reason to own multiple brushes is to have the ability to work on multiple pieces at once. I like to stash my brushes in ziptop bags in the fridge in between coats (prop the brushes so the handle is still on top and the paint doesn't flow into the ferrule and ruin your brush). Then I just work on multiple pieces using fresh brushes from my collection and stashing them in the fridge while pieces dry.
Tip: Make your stash count by trying different brands and styles of paint brushes and then adding duplicates of your favorites as you have need of them.
Minimizing Brushstrokes
While chalk style paints are incredibly popular, one of the characteristics they leave behind is brushstrokes…and not everyone loves brushstrokes. While some brushes might claim to leave hardly any brushstrokes, that is unlikely.
Short of using a paint sprayer on your piece, you will likely have some brushstrokes no matter the paint or brush you choose. However, using a high-quality brush will help minimize some of the distinctive texture.
On the other hand, using a poor brush is a sure-fire way to get a bad finish with rough unattractive brush strokes (and probably a few shed bristles too). So yes, it is best to choose quality.
You can also water down your paint slightly, especially if it is on the thick side. Another quick tip is to avoid re-brushing parts of the furniture that have started to dry. Work from a wet edge and don't go back to an area you've already painted until it's fully dry and ready for another coat.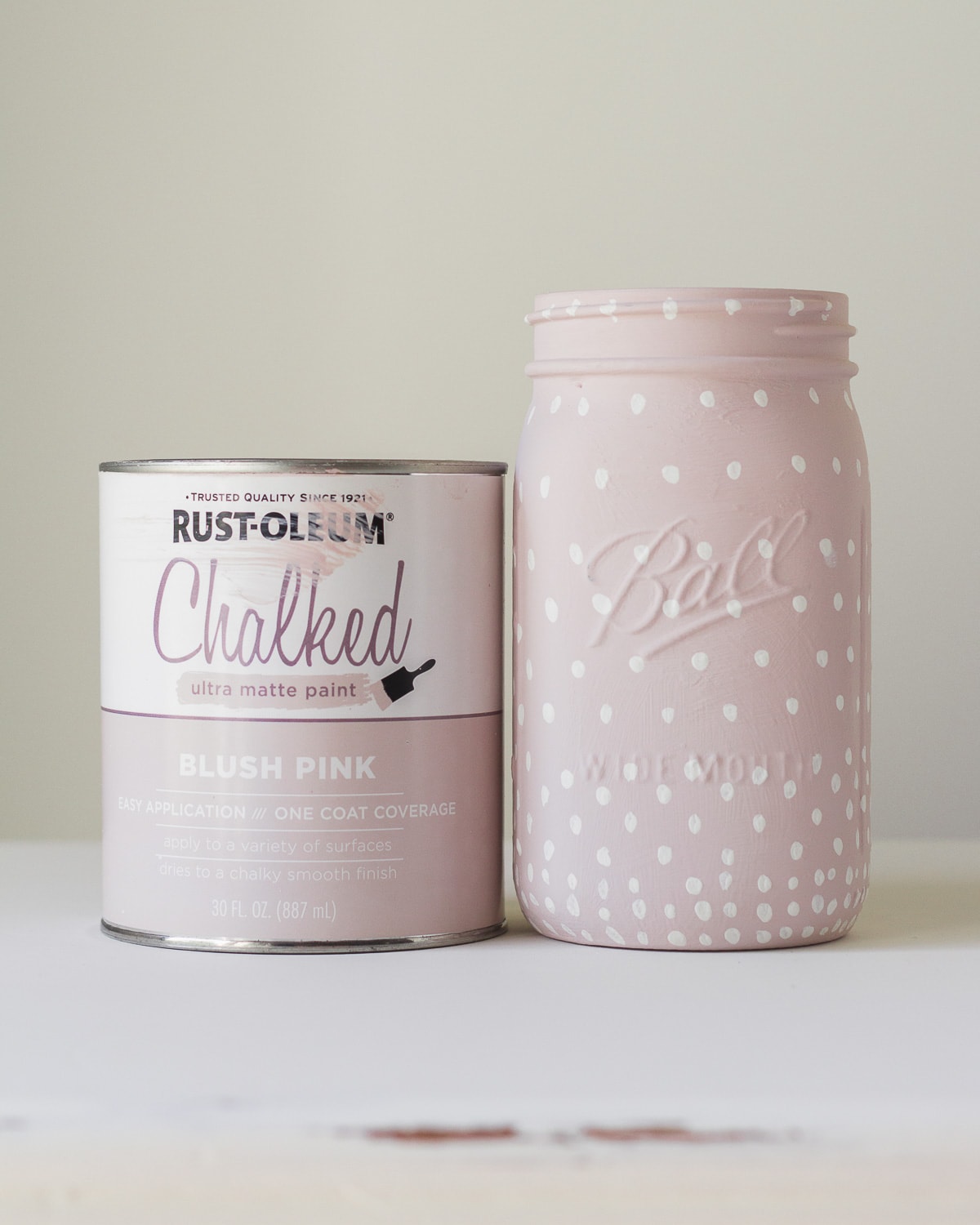 Wax Brushes to Use for Painting Furniture
If you opt to use wax for the top coat on your furniture pieces, it's worth noting that a special brush will be required. I've tried applying wax using the old t-shirt method and with a circular brush and the brush is MUCH easier and faster.
I personally prefer a polycrylic topcoat (it is a more durable finish than wax), but if you'd like to try wax, pick up a circular brush. Annie Sloan's wax brush is great quality, but it's also about $60. I have a mini one from a random chalk painting set I was given years ago and I keep it around for times when I want to apply wax (which isn't too often).
Here's a few good options for you (note that I haven't tested these myself, but they are from high-quality brands I would trust):
Three Wax Brushes to Choose from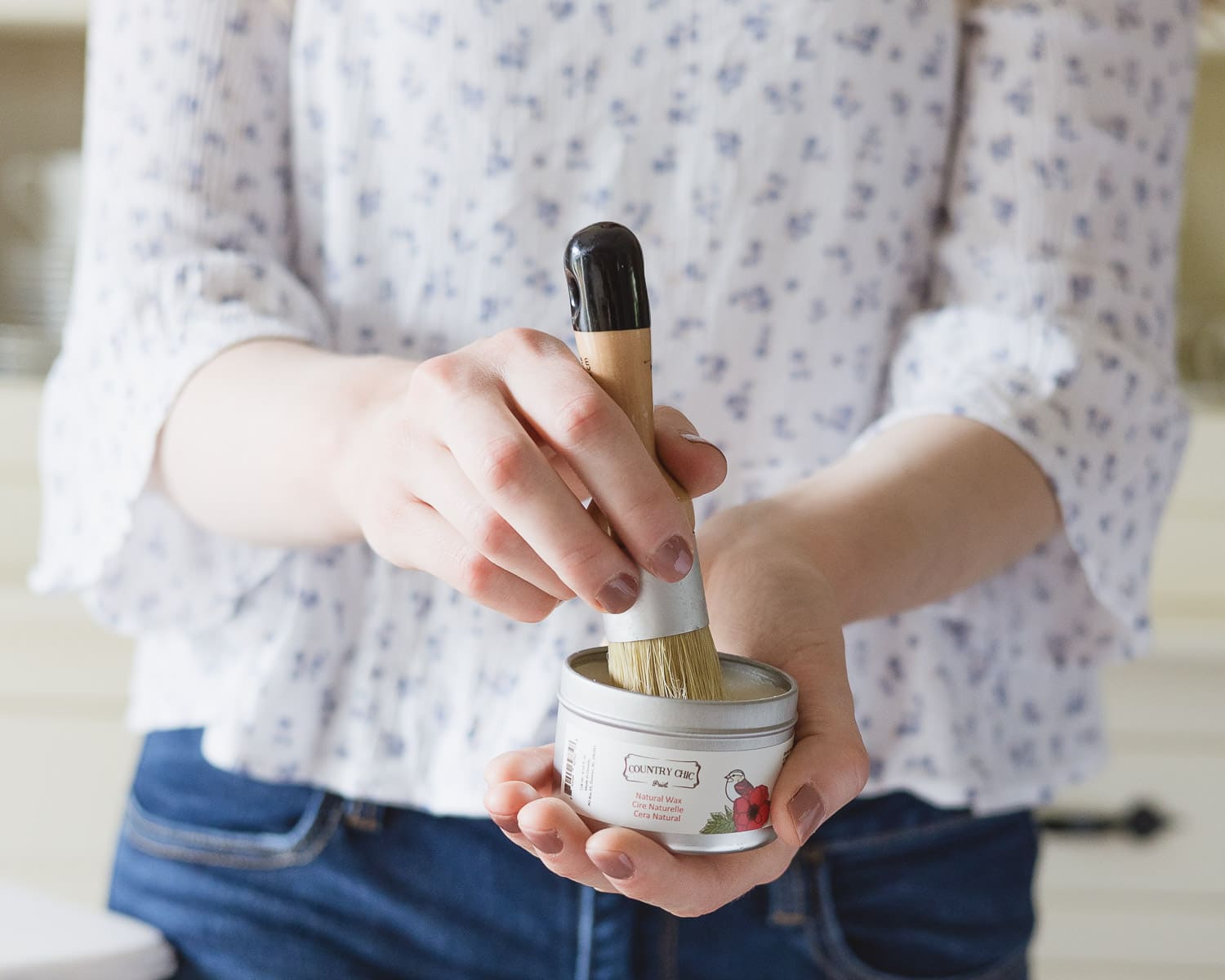 How to Care for Your Paint Brushes
Before you start to wash your brush, make sure you've used all the paint within the brush. I usually have scraps nearby my project and I just paint the brush on them until it runs dry (newspaper or similar can also work).
Check your paint can for cleanup instructions and follow them.
Consider picking up a brush comb. This helpful tool assists in brushing the paint out of the paintbrush. Makes cleanup faster and more effective.
Use warm water: most chalk style paints will wash out of brushes easily with just some warm water.
If you used wax with your brush, Annie Sloan suggests using warm water and a grease cutting soap to wash the brush. This tip can help wash out chalk style paints that are a little more stubborn too.
Store the brushes with the bristles pointing downwards as they dry (hanging them is easiest). This will help your brush last longer–and dry faster!
If you have a favorite brush for chalk painting (or other tips) I'd love to hear! Drop a comment below!
More Chalk Painting Tips & Tricks
Save
Save