Budget-Friendly Farmhouse Decor on Amazon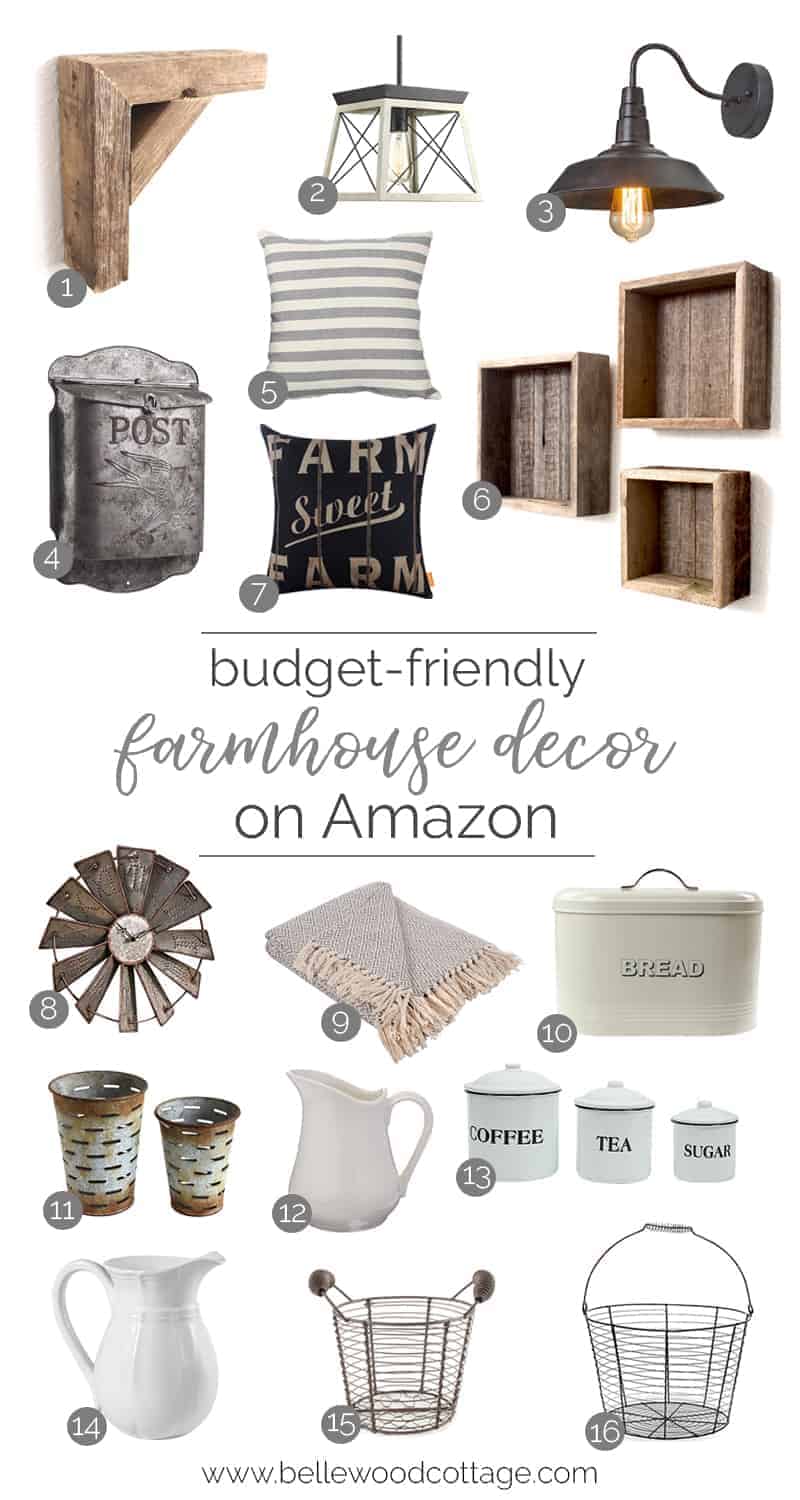 Good morning everyone! Over the weekend we had a nice big snowstorm (ok, ok, it was two inches) so we had a pretty chill afternoon yesterday spending time with family and baking cookies. When I had a little free time I ended up shopping online to see if I could find some farmhouse decor on Amazon. I have been looking for some affordable accent pieces to replace all my Christmas decor that I put away (so sad!).
Please note that this post contains affiliate links which allow me to earn a small commission when a purchase is made. Read more here.
Amazon has such a large selection of products that it can honestly get a little overwhelming to browse, so I decided I would go ahead and share some of my faves here with all of you! Now, I will add that I am pretty picky and I didn't add anything to this list that I wouldn't consider purchasing myself. That means everything has good reviews (minus the olive buckets which are not reviewed yet, sorry!), is farmhouse style, and mostly budget-friendly (a few of the items are a bit higher in price).
A few suggestions if you are browsing through Amazon. Pay attention to the ratings and read the reviews. Since we can't see the items first-hand, those reviews are so helpful! No one wants to have to mail things back. That is just no fun at all.
Also, read the descriptions to catch anything that can't be seen in the photos. I always check the sizes and measurements listed as well. I find that baskets, buckets, pitchers, etc. are oftentimes smaller than one might expect, so it's a good idea to double-check before purchasing.
So without further ado, here is the list! And if you want some more of my ideas and thoughts on these pieces, keep scrolling past the list for some more decor chatter!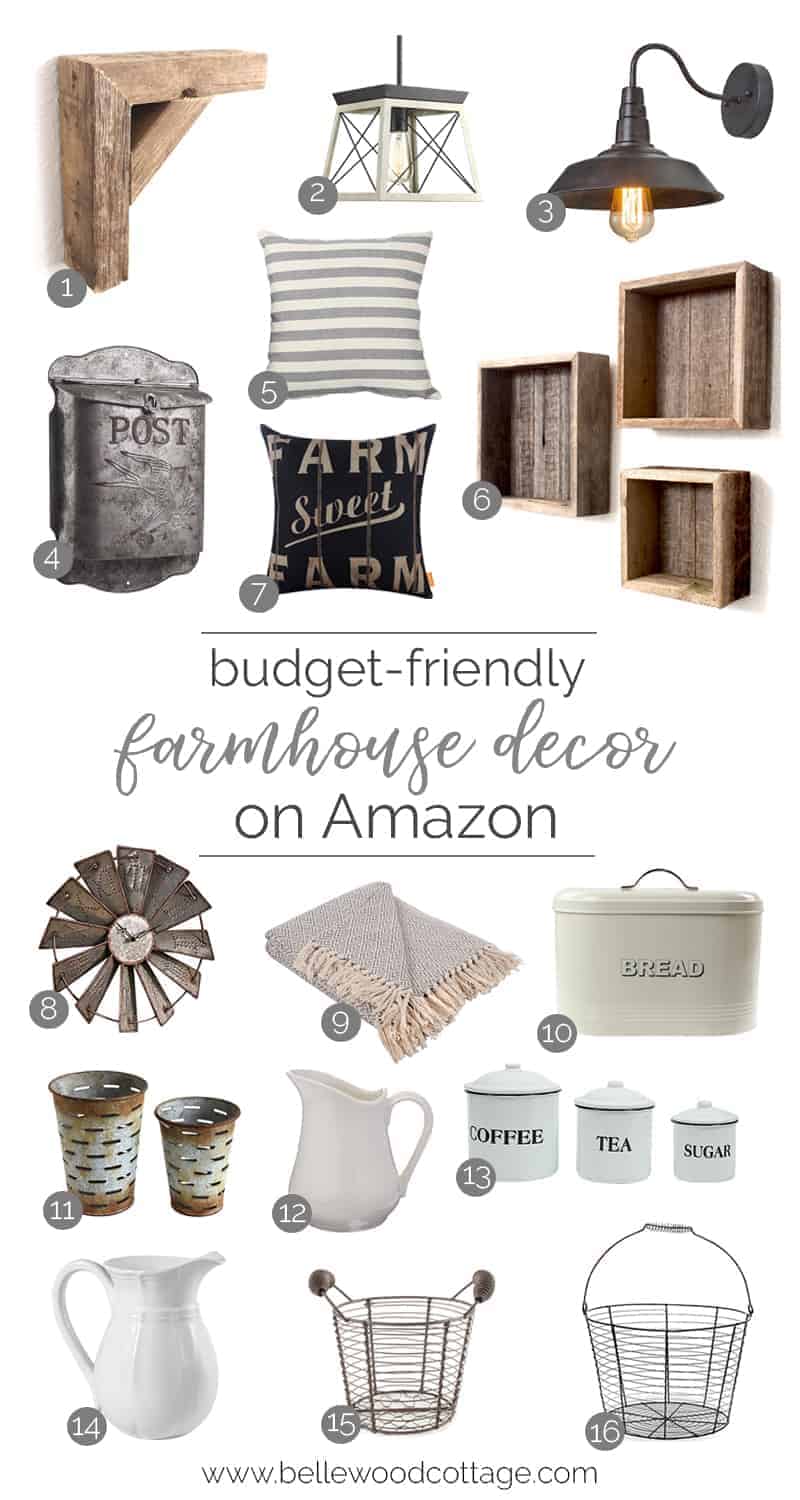 Budget-Friendly Farmhouse Decor on Amazon
(see above photo for product photos)
1 – Set of 2 Farmhouse Corbels // 2 – Progress Lighting – Pendant // 3 – Gooseneck Farmhouse Sconces // 4 – Rustic Galvanized Mailbox // 5 – Striped Pillowcase Cover // 6 – Farmhouse Box Shelves // 7 – Farm Sweet Farm Pillow // 8 – Metal Windmill Wall Clock // 9 – Cotton Diamond Blanket Throw // 10 – Bread Box in Cream // 11 – Metal Olive Bucket Set (similar)// 12 – White Pitcher 34 oz // 13 – Kitchen Canister Set // 14 – Mikasa White Pitcher 47 oz // 15 – Mini Mesh Basket // 16 – Brushed Wire Basket with Handle
Annnnd, even MORE farmhouse goodies on Amazon:

Some of my favorite Farmhouse Decor on Amazon
Ok, so for those of you that want a little more detail (or just love to chat about farmhouse decor!) here are a few of my absolute favorites.
First, this amazing mailbox. I'm not even going to hide it, I kind of covet this thing. It's a problem I know. I'm working on it, but it is SO gorgeous. Now, full disclosure, it's a lil bit pricey at $60 (though when I wrote this post, it was down to $50). This would be great indoors or out, and is a real statement piece. Fill it with mail, flowers, or just leave it as is. So cute.
This pillow cover is just about $4 at the time of this post! Sometimes you can't even buy fabric for that price. My only qualm is that I think it's only printed on the front. I thought it would be cute covered with drop cloth cases, like these that I made (below), but I just need to decide if that would look weird or not.
I actually found this basket last year at a craft/antique market. One guess on where the vendor got it, haha.
It's definitely a small basket, but I found mine to be well-made and versatile. I used it to create some musical-themed Christmas decor last year.
Also, can we talk about this blanket/throw that is only $16.99 (at the time of this post)? Yes, please. I will most likely purchase this throw to add a little dimension to our all-white bedding. It needs a little pop of color! So yes, a gray throw should do the trick. Ha!
Let me know what your favorite farmhouse decor on Amazon is! I am always keeping my eye open for amazing deals.
Thanks for stopping by today!
More Budget-Friendly Finds from Bellewood Cottage
More from Bellewood Cottage
How To Bleach Drop Cloths Successfully
DIY Drop Cloth Pillows with Antique Lace
DIY Muslin Swaddle Blankets
Gender Neutral Nursery Reveal
How to Make Drop Cloth Curtains…Everything You Ever Wanted to Know
Save