Budget-Friendly Farmhouse Kitchen Decor
Happy Monday friends!
I have so many ideas for our home right now and I'm finding it hard to stay focused and really knock out the to-do list. We are still working on our master bedroom, our basement (basically re-finishing the whole thing), my craft room, aaaand I would love to start on our kitchen too. Sometimes it really is all just too much to tackle at once! So I pressed pause and decided to focus on choosing a few accessories to give our kitchen/dining area a "finished" feel until I'm ready to tackle some of the larger projects.
Please note that this post contains affiliate links which allow me to earn a small commission when a purchase is made. Read more here.
Favorite Farmhouse Kitchen Decor
(scroll to the end of the post for all the shopping links!)
I'm loving this gorgeous industrial wall rack from World Market. Pretty and practical. My first thought was to add this to our kitchen, but now I'm thinking it would be even better in our entryway (ya know, actually give my purse a place to live!).
You can't go wrong with basic farmhouse style towels, like these striped ones from Amazon.
I don't usually like to store stuff on my counter, but these canisters are so cute! Now they just need to make a toaster this cute…
And I'm in the market for a new drying rack, but I'm not sure if I would like a wooden one. Anyone out there have one? What do you think of it? I just feel like it wouldn't wear very well, being constantly wet?
I think plastic is by far the most practical, but let's be honest, not as cute.
If you are in the market for some budget-friendly farmhouse kitchen decor, check out my full round up below!
Farmhouse Kitchen Decor – Links
1 – White Ceramic Flour Canister // 2- Industrial Wall Rack // 3 – Oval Wire Basket // 4 – Gold Measuring Spoon Set // 5 – Kitchen Towels (gray stripe) // 6 – Wood 8″ Cutting Board // 7 – Mason Cash Stoneware Batter Bowl // 8 – Typhoon – Set of Three Canisters // 9 – Chicken Wire Storage Baskets // 10 – Stoneware Pitcher – Gray Stripe // 11 – Edin Wood 2-Tiered Stand // 12 – Stoneware Quiche Dish // 13 – Red Villa Stripe Kitchen Tea Towel // 14 – Typhoon Cake Storage Tin // 15 – Scoop Wire Storage Basket // 16 – Bamboo Dish Rack
Thanks for stopping by!
<3 Ellen
More Farmhouse Finds from Bellewood Cottage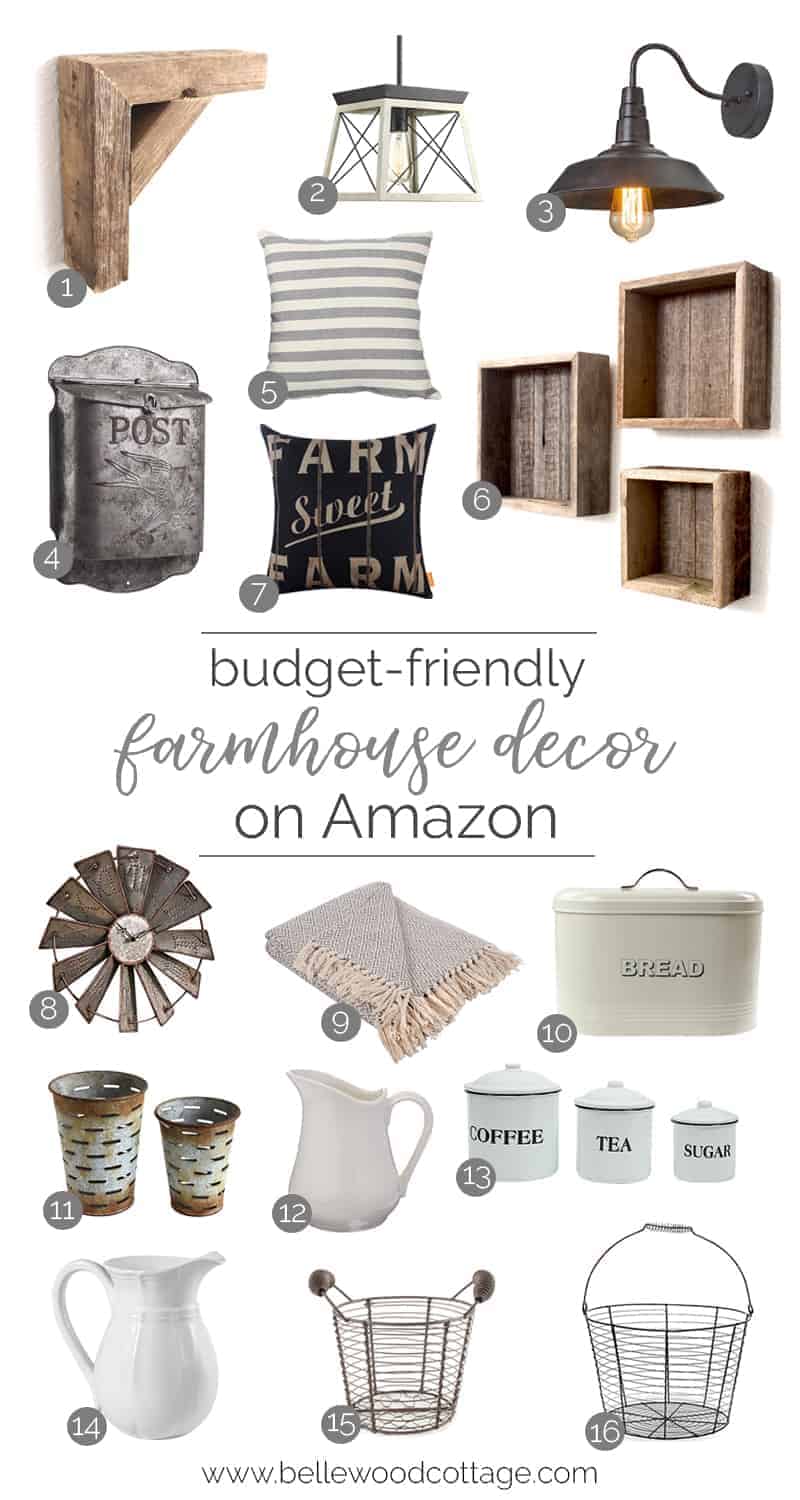 Save
Save
Save
Save