The Best Wordpress Themes for Craft and DIY Bloggers
Starting a craft or DIY blog? Maybe a general lifestyle blog? Wordpress is the way to go! I'm sharing some tips for how to choose your Wordpress theme with a list of the best Wordpress themes for craft, DIY, and lifestyle bloggers.
Please note that this post contains affiliate links which allow me to earn a small commission when a purchase is made at no additional cost to you. Read more here.
Starting a blog or website? Yay! It's so much fun to see your dreams come to life. I promise that with the right WordPress theme, you'll be blogging in no time! The tips in this post will help you get your craft, DIY, or lifestyle blog started with ease.
In a Hurry? Here's My Top Theme Recommendation
Sometimes it takes awhile to read through a blog post and get to the point. I totally get it. If you just want to get started, here's my top choice for a WordPress theme for a craft, DIY, or lifestyle blogger.
After you've chosen your domain and hosting, head on over to Restored 316 and choose one of their Kadence child themes. Kadence is the "parent" that will set up your site structure (it's free!) and the Restored 316 theme is what will beautify it. This "child theme" will give you the layout, colors, and fonts you are dreaming of!
If you are nervous about getting things set up, don't be! The team over at Restored 316 has complete tutorials walking you through each step of setting up your new blog. If you need help, the customer support is wonderful.
I'm going to dive deeper into all the details of WHY I love this setup, but if you are in a hurry, here's a quick review.
Kadence Theme + Restored 316 Child Theme = The Perfect Blogging Solution
The free Kadence theme (there's also a pro version with even more options) gives you an incredible starting point for customization (colors, fonts, layouts and more). But, sometimes all that customization is overwhelming! That's where Restored 316 comes in.
The Restored 316 child themes provide you a gorgeous website design to riff off of. After buying the Restored 316 theme, your site will be beautiful right out of the gate. And the Kadence theme underneath will give you a fast site (SO important) and endless options for customizing.
I WISH that this option had been around when I first started blogging!
You'll notice a few different options on the Restored 316 website and I am pointing you towards the themes designed for Kadence. This allows you to start with a beautiful completed website that you can tweak as needed, thanks to Kadence.
You'll notice that Kadence is rather plain right out of the box. You also might miss pre-made templates for a custom recipe/how-to card, sales pages, about page, and Instagram page (handy for linking to in your IG bio).
With the Restored 316 child themes, you'll get all of these pages right at the start. Plus your site will have harmonious colors, fonts, and a professional layout. Huge time-saver. For an example, browse through the Sage Theme to see the various homepages and layouts you can use on your own site.
What Does a Restored 316 Theme Cost?
Though the cost of Kadence child themes from Restored 316 varies a bit, you will receive huge value for a one-time cost. In a world where everything is moving towards subscription-based products, it's great to be able to buy once and avoid recurring costs.
Before buying, read through the child theme details and make sure it comes with everything you may want (custom recipe card, Instagram page, etc. etc.). Shop the beautiful WordPress themes here.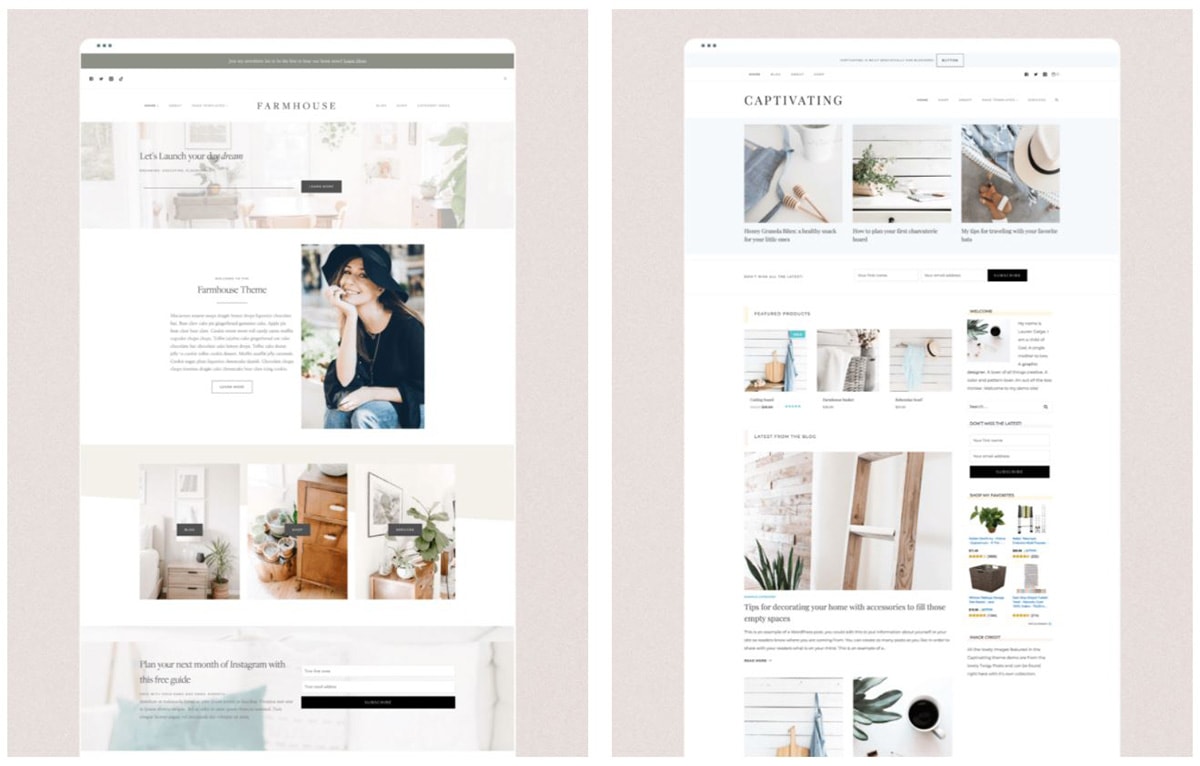 Alright, so that's my short synopsis. Now, I'll share some more thoughts for how to choose a WordPress theme as a craft blogger. Plus, some more of my favorite WordPress theme solutions.
What's a WordPress theme?
If you are new to blogging, you're going to need a few things to get your site up and running. After choosing a site name (domain) and a host (I use and suggest Siteground), the next step is creating the website your readers will see.
WordPress is the best way to manage all of your content and present it to the world. With WordPress, you will select a "theme" that will create the layout, style, typography, ability to respond to different devices (mobile, tablets), and more.
Why Your Choice of WordPress Theme Is Important
You choice of theme is incredibly important. It effects every bit of the user experience, from navigation menus to colors, buttons to fonts, post titles to category pages, etc. Just about everything!
Themes also impact site speed. This is why I steer clear of page builders (like Elementor) that may be user-friendly, but weigh a site down. Site speed is important to Google and it's certainly important to your readers.
Can You Customize a Wordpress Theme?
Now, you may have looked at some demo themes and wondered, "Well, I like this theme…but I want to change a couple of things…can I?"
It depends! One of my biggest frustrations with my original Wordpress theme was how challenging it was to change things. WordPress themes might be endlessly customizable, but it often requires diving into code, installing a plugin (which can impact your site speed!), or googling your question until you've spent the whole day on one minor change. Ugh!
The ability to change your theme and customize it as a blogger is essential. Since most of us don't have the resources for a custom site, you'll want to choose a theme that you can easily customize as your blog evolves.
I ended up changing my own website from a Genesis Child Theme to the Kadence theme for that very reason. Kadence was MUCH faster and it allows me to easily change the header, colors, typography, and so much more.
All this quickly, easily, and without knowing code. Add a stylish child theme on top of the free Kadence theme and you can have a beautiful website with minimal fuss.
So, does this mean Kadence is the right WordPress theme for your craft, diy, or lifestyle blog? It could be! Let's chat through the essentials to look for in your WordPress theme:
What Do I Need in a WordPress Theme as a Craft or DIY Blogger?
A Functional MOBILE Design
As a blogger in competitive niches, your theme MUST be mobile responsive. Honestly, it should work even better on mobile than desktop. Most web traffic is coming from mobile devices these days. As a blogger, having a fast, responsive, well-organized mobile site is critical to gaining an audience and perhaps even earning money from your blog.
Also recognize that a lot of your traffic is going to come from an outside source (Google, Pinterest, Facebook) right into a blog post. Those visitors will never see your slick desktop homepage with all the fancy add-ons (that may be slowing down your site anyway).
When you are choosing a WordPress Theme, ONLY consider themes that are mobile-optimized.
Once you've determined your favorite theme is mobile-optimized, open your phone (not desktop!) and browse the demo sites. Pay attention to where the menus are located, how the navigation works, and if it's easy to read through a blog post. Make sure you love the mobile version–not just the desktop one.
Great Support
It's easy to find beautiful WordPress themes, but choose a theme that will be well-supported as the web changes. I've heard horror stories of themes breaking with the developers nowhere to be found. Spend your time and money on a reputable theme/company.
Each theme I've shared here is from a company that has a solid industry reputation (and I have personally used Kadence and Restored 316). I definitely suggest taking the time to read reviews and learn about your developer/company of choice before getting started.
Fast Site Speed
Starting a craft, DIY, or lifestyle blog to build an income? Site speed is crucial for you.
I avoid page builders (like Beaver Builder and Elementor) because while they make building pages easy, they weigh down your site. With the latest developments in Gutenberg, homepage editing, and additional Gutenberg blocks (like Kadence Blocks) you can function very well without them. And your site will thank you!
Check your theme before buying to see what the developers say about speed. You want to see themes that are optimized for Core Web Vitals. This is the way Google judges the usability of your site and it's a big ranking factor.
The theme should score 100 (or close) with Google Pagespeed Insights out of the box. Note: this score will naturally lower when the theme is being used with a fully functioning blog.
Content Organization
As a blogger with several different niches on my site, I needed a theme that could feature these on the front page. I wanted to be able to point readers to "chalk paint", "furniture flips", and "booklists for kids" just as easily as a food blogger could point readers to "crockpot recipes", "20 minute meals", and "chicken recipes".
As a craft, DIY, or lifestyle blogger you should choose a theme that features great organization and the option to display the best of your blog right on the front page.
This is why I love using Kadence, because I can design my homepage just like any other page on my website. It's block-based so I can add blocks for email signups, categories, featured blog posts–anything really!
Focus on Content
The most important thing as a blogger is to write and create! If you are spending all your time fussing with your website then you are wasting time that could be used to propel your blog to success with phenomenal content.
So, choose a theme that you love out of the box. I promise you'll find a few things to change, but at least the list will be short. Set it up, use it, and stop editing it every three days.
That's why I love the combo of Kadence + a Restored 316 child theme. This combo gives you a a beautiful and complete website to start with that you can easily adjust as needed–and then get right back to creating.
The Best Wordpress Themes for Craft and DIY Bloggers
Whether you want to start a knitting blog or a crochet blog, whether you love sewing garments or embroidering tea towels, carving wood or building furniture, traveling, or talking about your life as a parent, I believe these are some of the best WordPress themes for your new website!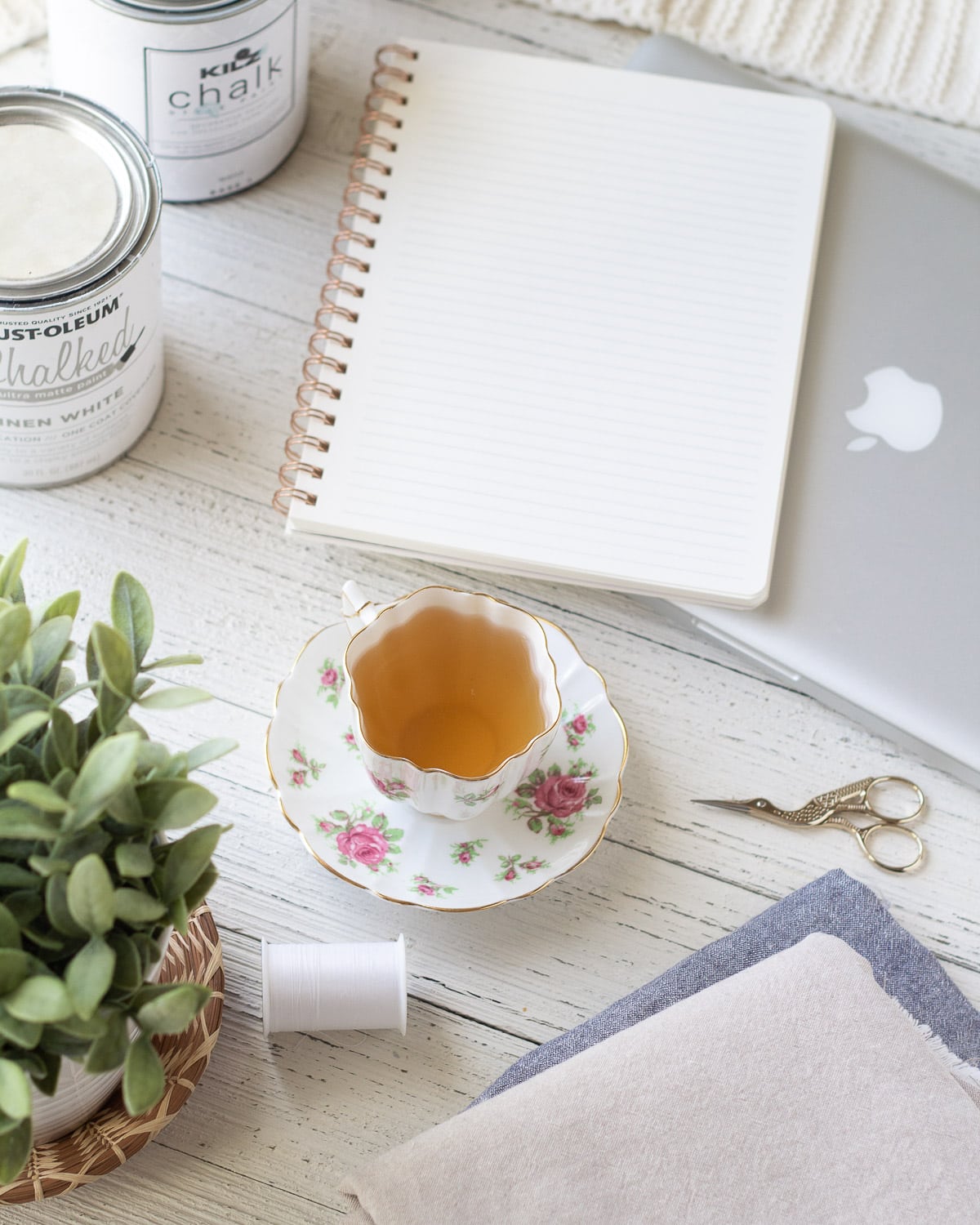 Kadence Theme for Craft, DIY, and Lifestyle Bloggers
Important note! I am using Kadence (premium version) on my website and am so happy with it. Site speed has improved greatly, I love customizing the theme, and the support has been helpful too.
What's so great about the Kadence Theme?
Hello, customization! If you've previously attempted making a website and come away frustrated (or are just nervous about getting started), I love Kadence for the ability to customize basically anything.
You can change up your header (like menu placement, social icons, site logo) on desktop and mobile right in the native Wordpress site customizer. No need to pay a developer or wade through miles of Google search results to figure out code.
Kadence is also free! The free theme gives you incredible flexibility. Here's some of my favorite features:
100% speed grade
Meets WCAG 2.0 standards
Drag and drop header builder
Customize fonts, colors, social icons, and more
Control your website layout
Global color palette, typography, button settings
Responsive controls
Breadcrumbs
Kadence also has a premium plugin if you want even more features. I use it on my site, but I suggest sticking with the free theme while you get your blog started. The plugin has lot of extra features that are nice, but not essential.
Now, the thing about Kadence is that unless you fell in love with one of their starter sites (and for bloggers, there isn't much there), you will have to do some building and creating yourself.
Getting to choose colors, fonts, and layouts is wonderful. But, it can also be hugely overwhelming. Especially if you aren't already familiar with designing a website start to finish.
That's why I suggest keeping it super simple. Here's how.
Kadence + Restored 316
Head over to Restored 316 and choose your favorite Kadence child theme. Remember to check out the demo site on mobile. Some of my favorite Kadence child themes offer four different homepage options (like Refined, Sage, and Farmhouse). If you are a blogger short on time, these options are an absolute gift!
Now, you will basically use Kadence as a "Parent Theme" (so essentially it's just hanging out in the background getting things set up for the fancy theme to come!) and then purchase a "child theme" from Restored 316.
Another note: I switched to Kadence before Restored 316 began releasing their beautiful child themes so even though my original theme was a Genesis Restored 316 child theme, I've yet to choose a new Kadence theme.
My site will give you a good idea of what your blog can look like with just some basic editing of the Kadence theme, but you (like me!) will probably want to add on a child theme for some style!
A Restored 316 child theme is what will give your website incredible style. The themes come with color palettes and typography set up and ready to go. But, you can also edit them and tweak things with with mere clicks because of Kadence.
There are beautiful out-of-the-box homepage options, sales pages, about pages, even Instagram pages (no need to use an additional service to link out to your IG). This is such a big timesaver I can't even begin to tell you.
So, are you looking for an affordable, beautiful, customizable, and easy-to-learn WordPress theme? I'd absolutely recommend grabbing the free Kadence theme + choosing a gorgeous child theme to beautify your site.
Whether you are blogging crafts, DIY, or lifestyle content, your site will look lovely and run well with this pairing. Shop Kadence Themes by Restored 316 here.
Genesis + Restored 316
Now, when I first started blogging, I used a Restored 316 theme like I talked about in my review of Restored 316 Themes, but I was using a Genesis child theme. Genesis themes vary a lot in how much you can actually customize.
Restored 316 has tutorials for many things bloggers might want to switch, but it can be challenging to figure out other changes if you don't know code.
If you fall in love with a Genesis theme (I highly suggest sticking with reputable developers like Restored 316 or StudioPress) and don't want to change anything about it, then go for it. If you anticipate changing things a lot, I'd say to stick with Kadence + Restored 316.
Note: It also helps to choose a Genesis theme that is blocks-based, instead of widget based. You'll be able to tell this in the theme description. Blocks give you a lot more flexibility, especially on your homepage.
Feast Design Co.
If you read food blogs, you've likely read a blog that is running a theme from Feast Design Co. These themes (Foodie Pro is a very popular long-standing theme!) are built on the Genesis framework. Each theme is beautiful and would be an excellent choice for a craft, DIY, or lifestyle blogger.
Now, the confusing bit is that the designer has updated the themes quite extensively, but to take advantage of those updates you need to purchase an ongoing subscription to the Feast Plugin.
Now, this is pretty normal to have subscription-based products in the website world, but if you are just starting as a blogger, you might want a solution that doesn't require so much commitment.
Even though Kadence has a membership/subscription option, you can run with the free theme + a Restored 316 theme (one-time purchase) as long as you like. This gives you the ability to get your craft blog earning money before investing in a subscription.
You can still purchase the original Feast themes without the plugin subscription, but I personally wanted just about everything that comes with the plugin (and it's about $200 a year) so I decided to give Kadence a try instead.
Note that though the website designs from Feast are geared toward food bloggers, they are still great for craft, DIY, and lifestyle bloggers. Us crafty bloggers tend to have the same needs as far as organizing (lots of categories and sub-categories) and layout that a food blogger has so the themes would work well in this niche.
If you are using Foodie Pro or another Feast theme, I'd love to hear what you think!
Trellis by Mediavine
Now, the latest and greatest theme option these days is perhaps is Trellis by Mediavine. This a WordPress framework (with child themes available to beautify your website) that is built for speed.
The problem with this solution is that it's currently only available to Mediavine publishers. These are bloggers who receive upwards of 50,000 sessions a month on their site (and have met additional requirements). Even then, there is still a waitlist as Trellis is slowly rolled out.
Additional downsides include a lack of child themes to choose from. If you are interested in keeping a fast site and are (or close to becoming) a Mediavine Publisher, it's a solution to check out. Otherwise, for the majority of us, the Restored 316 Themes for Kadence will be a great fit.
Share Your Thoughts
What are your thoughts and questions after reading this post? Are you starting your first blog or website? I'm excited for you and I'd love to help out if you have any questions. Just drop me a line in the comments.
I hope that this walk-through was helpful and I'm wishing you the best as you start your blogging journey!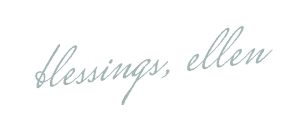 More About Blogging from Bellewood Cottage