Cottage Bedroom Inspiration

So this isn't exactly breaking news, but I'm allllllmost finished painting our bedroom all-white. Squeezing in time to paint between all the other tasks that need to be accomplished in a day isn't always easy. I definitely admire those bloggers that are able to change up a room's paint color in just a weekend. Teach me your ways…
At any rate, I've made progress and basically just have the baseboards left (and a second coat on the window). Friends, it is looking gooooood. If you are on the fence about changing a room to white and aren't sure if you'd like it, I encourage you to give it a try! The bright clean look is so refreshing and inspiring. See ya later red oak trim and dingy paint!
Of course, now that I'm nearing the end of the painting phase, I am beginning to reconsider the decor and design I want to bring in. Do I want a traditional farmhouse feel, or more of a romantic French country vibe? Perhaps a casual cottage look? Maybe a beachy or coastal vibe?
It's a clean slate and I'm struggling to choose just exactly what I want to do next! So as I was pinning and browsing online I realized I really need to compile all these ideas and share them on the blog. Hopefully the act of getting organized will help me make a decision and help you as well if you are also wanting to instill a new decor style into a bedroom.
This first post, we'll focus on some cottage bedroom inspiration. This look is characterized by lots of white, statement woodwork (planking, board & batten), carefully selected florals (or small prints) in accent colors, and a casual cozy air.
A good litmus test?
I just ask, would Anne of Green Gables live there? If the answer is yes, you are probably on the right track.
Cottage bedroom inspiration:
The planked walls, chippy furniture, and simple bedding all come together so well in this space. The pink accents are a little too feminine for our master bedroom, but I like how the room mixes a variety of whites together. You see this with the creamy (maybe yellow?) dresser paired with the ecru nightstand and the bright white shiplap. A great example of how to mix whites in your own space!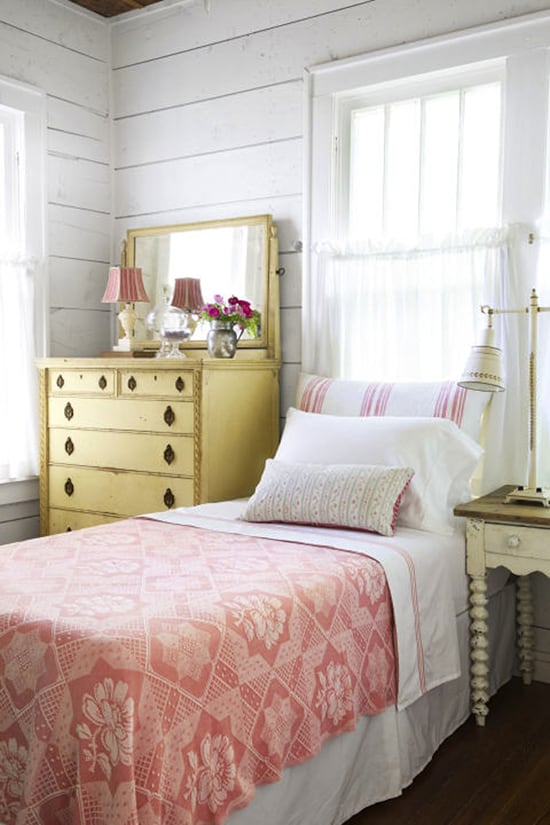 This is definitely a far more colorful cottage, but I love it! If you are wanting to add interest to a planked wall, consider using a color as shown here instead of the typical white. The variety of colors and patterns shown here will require a little more legwork to coordinate, so careful planning is a must. I love the yellow accents, which are a great touch for any cheerful cottage room.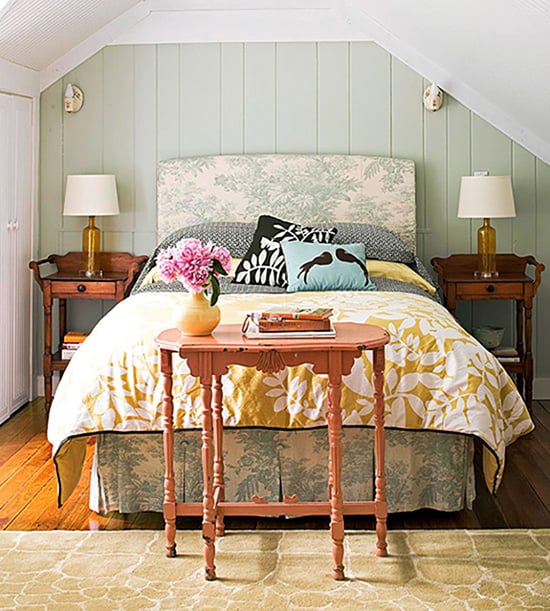 I couldn't write this post without including this sweet room from the talented Marian. The room is predominately white, but blends in blues in a really lovely way. The layered bedding is a way you could incorporate vintage textiles into the design. And the antique chippy door? It doesn't get much better than that. Also note the bolster pillow which provides a nice pop of color.
Yep, I think Anne Shirley would definitely be right at home here. The antique bed frame is so unique and I love the overall green theme happening here. Again, lovely vintage door hanging out here too!
(Sadly I can't seem to find the original source for this photo, so this link directing you back to my Pinterest link.)
More inspiration:
If you want more inspiration you can check out my cottage board on Pinterest or my bedroom board.
As I perused cottage inspiration, I realized there are a few keys to getting a cottage look. If you incorporate the ideas below into your design, you should see a definite cottage air happening right away. Of course, I still have to decide if this is the route I'll go with our master, or if I'll choose a slightly different aesthetic.
How to get the cottage look:
1 – Use lots of white paint!
2 – After white, choose another main accent color (such as blue, pink, or green), and keep the decor simple.
3 – Try installing planked walls (or bead board or board and batten)
4 – Use a Jenny Lind or iron bed frame
5 – Update your window trim to a nice wide farmhouse style trim
6 – Layer textiles (especially quilts and vintage pieces with lace or crochet trim). Emphasis on cozy here!
7 – Hit up your local antique shop and find some chippy furniture to add character and charm
8 – Accessorize with antiques
Now of course, building a room with antiques and vintage pieces can take quite a bit of time as the right pieces need to be searched out. I compiled a list below of ready-to-buy pieces that can supplement your cottage bedroom and create a lovely space. I personally am loving the gorgeous iron bed and the cute little nightstand.
How do you feel about a cottage style room? Let me know your thoughts in the comments below!
(please note that some of these links are affiliate links which allow me to earn a small commission, see here for more info):
Cottage bedroom inspiration pieces:

2 – White table lamp
3 – Threshold porcelain pitcher
4 – Round mirror
7 – Rose pillow sham
8 – Lace pillowcases
9 – I Love Us sign
10 – Caledonia metal bed
---
More farmhouse finds:
Budget-Friendly Farmhouse Pitchers
Budget-Friendly Farmhouse Finds under $30
Save
Save
Save
Save
Save