25+ Easy Fall Crafts to Make
You'll love this list of over 25 easy fall crafts to make! Get creative ideas for fall crafts including DIYs for your home like how to dry hydrangeas, make sock pumpkins, craft mason jar floral arrangements and so much more!
Please note that this post contains affiliate links which allow me to earn a small commission when a purchase is made at no additional cost to you. Read more here.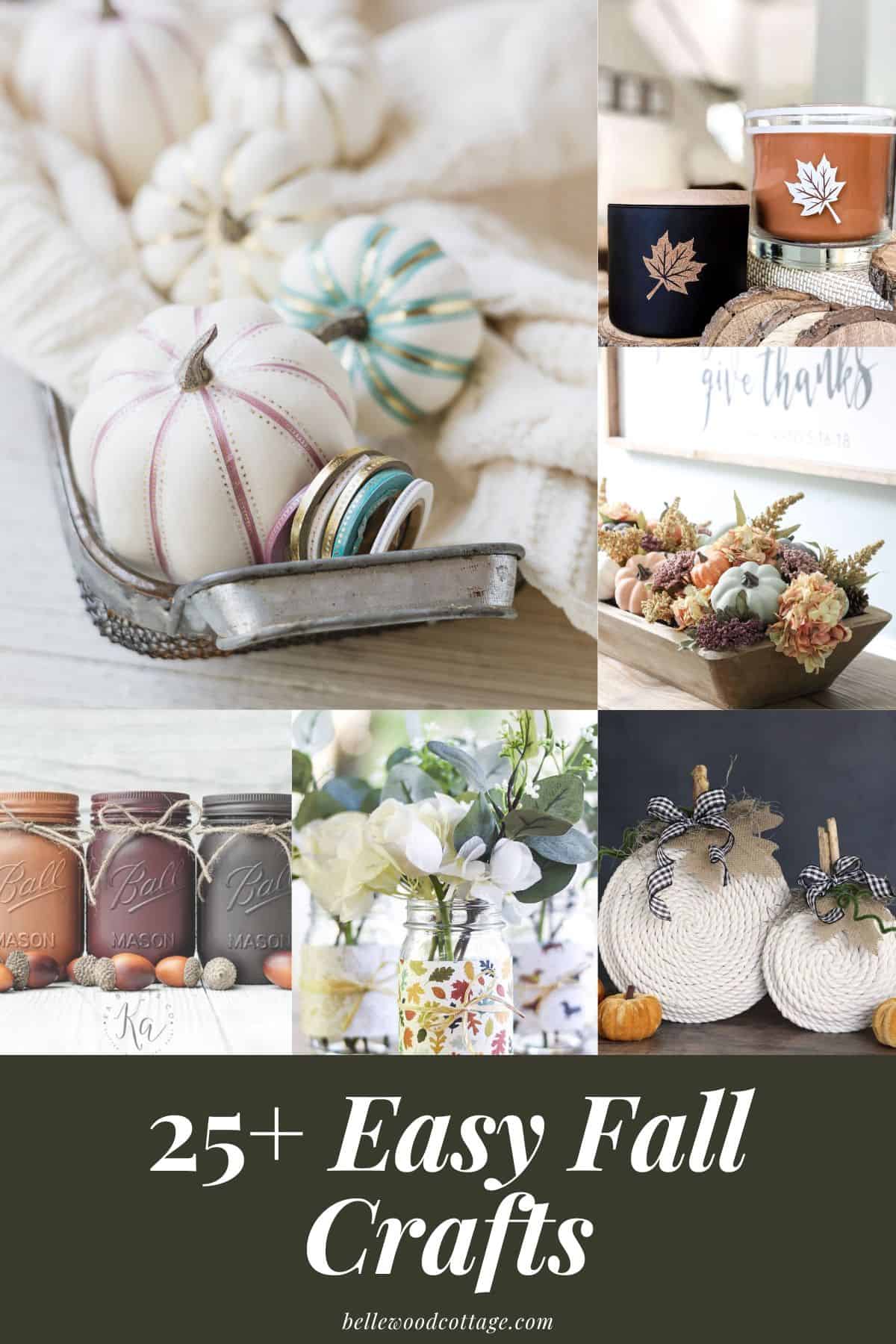 Bellewood Cottage is all about relaxing crafts and easy desserts. This fall, I wanted to create a post completely dedicated to some of my favorite easy fall crafts–and I know you will love them too!
There's something for everyone here, whether you need to decorate your home for Thanksgiving, are looking for a fun project to do with friends (or kids!), or just need a relaxing craft for an afternoon off during this busy season.
With the return of school, social events, and upcoming holidays it's no surprise that fall can feel crazy-busy. These tutorials have you covered though. Each project is easy-peasy and most take just an afternoon or less.
What's On the List?
There's a huge variety with everything from sock pumpkins to yarn pumpkins, dried hydrangeas to a DIY cornhusk wreath, even washi tape pumpkins and Cricut tea towels.
Don't miss my roundup of DIY Pumpkin Crafts and DIY Fall Wreaths for even more fun crafting!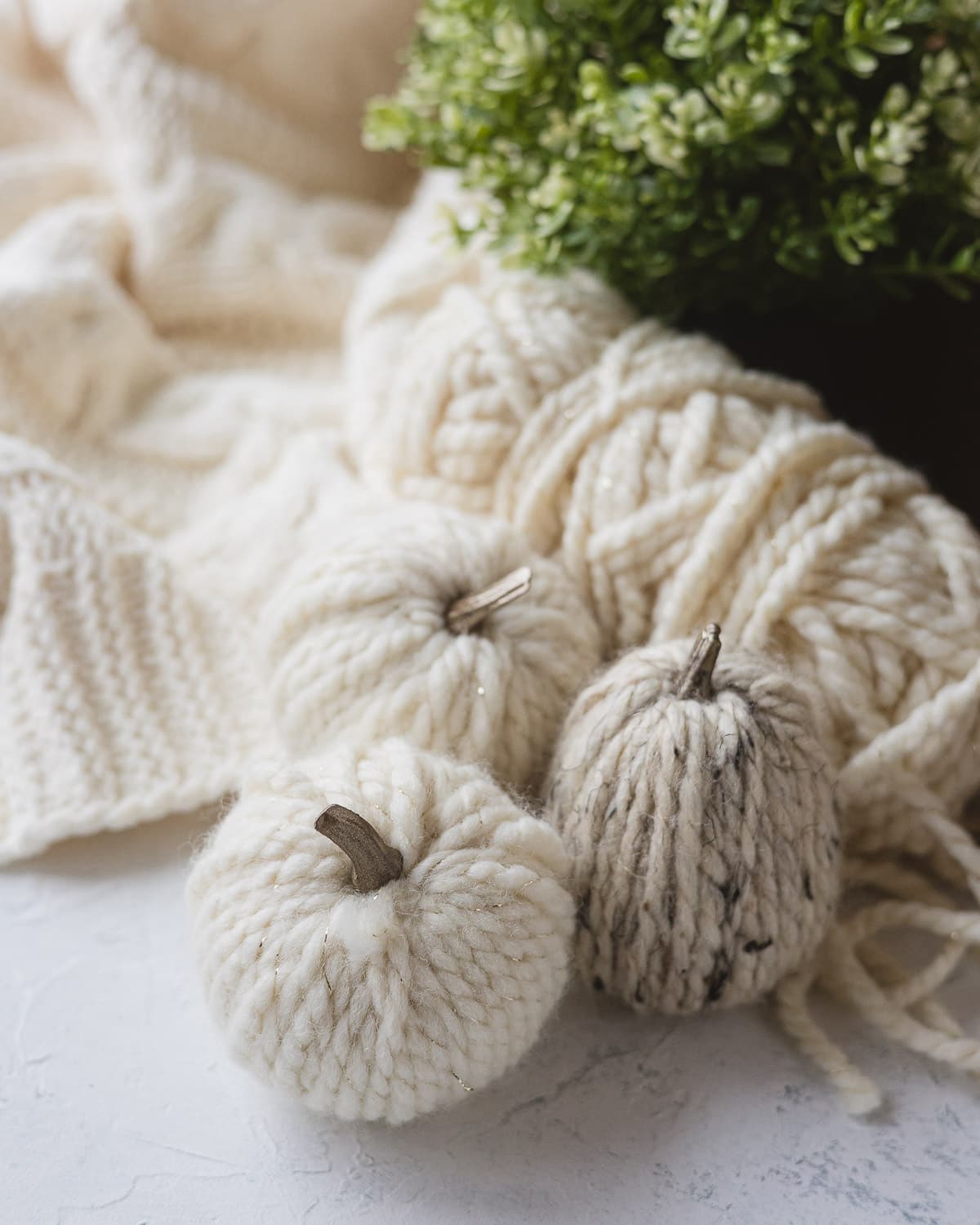 My favorite fall crafting supplies
Just getting started with fall crafting? Here's a few of my fav crafting supplies I use again and again:
Mason jars
Paint them, fill them with florals, use them for displaying flatware at parties, or even use mini jars for desserts. The possibilities are endless, so if you have a stash of jars, now is the time to bring them out!
A Cricut Cutting Machine
Last year I snagged a Cricut Maker on deep sale over black Friday and it's been fun learning how to use it. It's an investment of course, but a lot of fun for crafting throughout the year. Use tutorials like the Cricut tea towels and vinyl maple leaf candles to get started with some fall projects. You can easily make garlands, placecards, decorative signs and lots more.
Faux florals
Faux florals and wreath frames are great fall crafting staples. Watch for the big sales at your local craft store and stock up for easy holiday decorating.
Hot glue and craft paints
Have some hot glue and craft paints handy too. Lots of the projects on this list use these simple crafting tools. I usually opt to restock when my craft store has a good sale.
Other stuff
Keep things budget friendly by strolling through your yard and picking up dried twigs, leaves, and even the last of the summer flowers to dry and display. I also like to have miscellaneous supplies like ribbons, twine, and washi tape on hand too.
Easy Fall Crafts to Make
You'll love this inspiring list of over 25 easy fall crafts to make! These are truly EASY crafts--projects that you can do in a free afternoon! Everything from how to dry hydrangeas, homemade pumpkin décor, painted mason jars, sock pumpkins, and much more. Lots of great projects that would be kid-friendly too, so you can get the whole family involved in crafting fall memories together.