furniture makeover: using paint to update furniture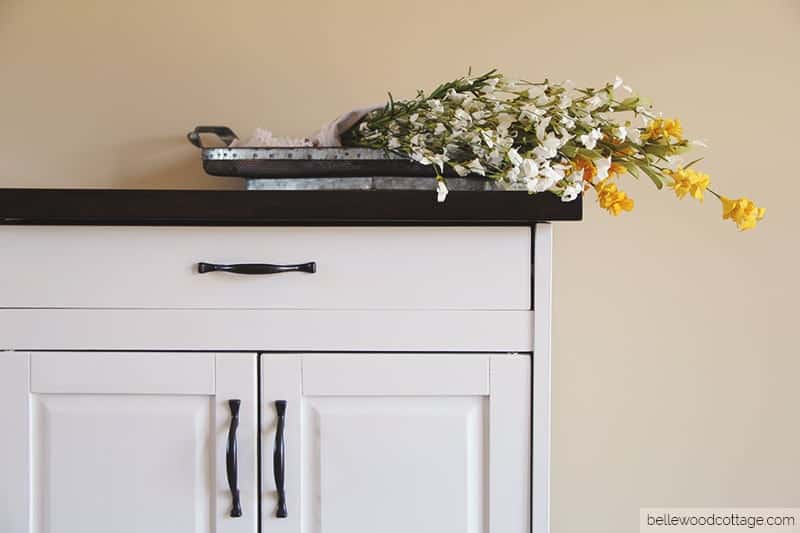 Hello and happy Monday! Today I'm sharing a chalk paint makeover that turned out to be one of my favorite furniture painting projects to date. I'm excited to share this little before-and-after, because I think it really showcases how much change you can accomplish with just paint and a little time on your hands. I started updating this piece one afternoon after I'd decided we needed a lot more whites and creams in our home to give it that fresh farmhouse look. We have a lot of oak wood in our house and the walls are painted a medium-light beige (I really want to change the color, but haven't got up the nerve yet!), so adding some pops of white whenever I can is definitely on my decor checklist.
So, here's the before:

And the after:

We got this little kitchen cart for free when my brother and sister-in-law moved, so we were super excited to add some extra storage to our kitchen with it and I knew it would be cute if I ever wanted to update it and use it in my craft room or something like that. Also, I never say no to free furniture! Just ask my basement.
Here's how I did it:
I gave the cart a quick cleaning and took my power sander to the counter top piece to sand away some water damage and expose the bare wood for staining later on. I took the drawer out and the doors off to get the best-looking finish with the paint (I also had all the hardware removed at this point).
Now it was time to jump in and start painting. I used this paint, a nice bright white. I've mentioned this before on the blog, but Rust-Oleum makes a pretty affordable line of chalk-style paint if you are wanting to just give it a try with minimal investment (no affiliate or sponsor links here by the way, I just like their paint!).
After painting two coats of white, I used the matte sealer to finish (it's brushed on, so it's easier and faster than wax!).
I would say though, that the biggest change to this piece came with updating the hardware and re-staining the top. At first glance, you may think I replaced the hardware, but I actually made a change that was even quicker and easier (especially if you don't own a drill and can't fuss with trying to make new holes for different hardware). I just went over to home depot and grabbed a can of metallic spray paint. I removed the hardware and towel rack and brought it all outside for two spray coats (let dry in between) and that was it! Tip: make sure your hardware is fully coated with the paint and not resting on an edge that will be visible in the finished piece.
After re-installing the hardware, I just had the counter top piece left to finish. At this point, I opted to grab a stain+poly for the top and save a few bucks. I saved almost $10 by doing it this way, since I didn't have to buy each component separately. I also liked that the product I chose was water-based, because it made clean-up a snap. It still totally smells (ventilation, people!), but it's a different and slightly-less aggressive smell than the oil-based products.
However, I do recommend that if you see yourself using the products in the future that you purchase each one separately. You will also have more control over the stain if you are not using a blended product. You can see in the photo below that the stain+poly got a little thick on the edges, but it was hard to wipe it away without damaging the finish I'd just brushed on. Just an aspect of the two-in-one that made it a liiittle tricky to use.
If you would like to try this look on a piece of furniture you may have at home, I've rounded up the links to the supplies I used right here for you!
Thanks for stopping by and leave me a note in the comments if you have a favorite furniture makeover to share!