Drop Cloth Curtains – Reviewed | Part 2 |
Today we're talking about how to make those fresh-outta-the-package drop cloths into gorgeous curtains. Plus, my experience bleaching drop cloths!
UPDATED 4/30/2020
I plan to write up a full update for this post, but until then, check out my very thorough and extensive post on bleaching drop cloths. If you are looking to make snowy white curtains, you will need the 100% cotton drop cloths that I suggest in that post. HOWEVER, with 100% cotton comes inevitable shrinkage through the washing/bleaching/drying process. If you don't mind having off-white curtains, the large cotton/polyester drop cloths (that won't bleach really at all) can be helpful as they will not shrink like the cotton ones do, and thus make for some lovely large curtains. 
Read My Post on How to Bleach Drop Cloths Successfully
Find part 1 of this review, here.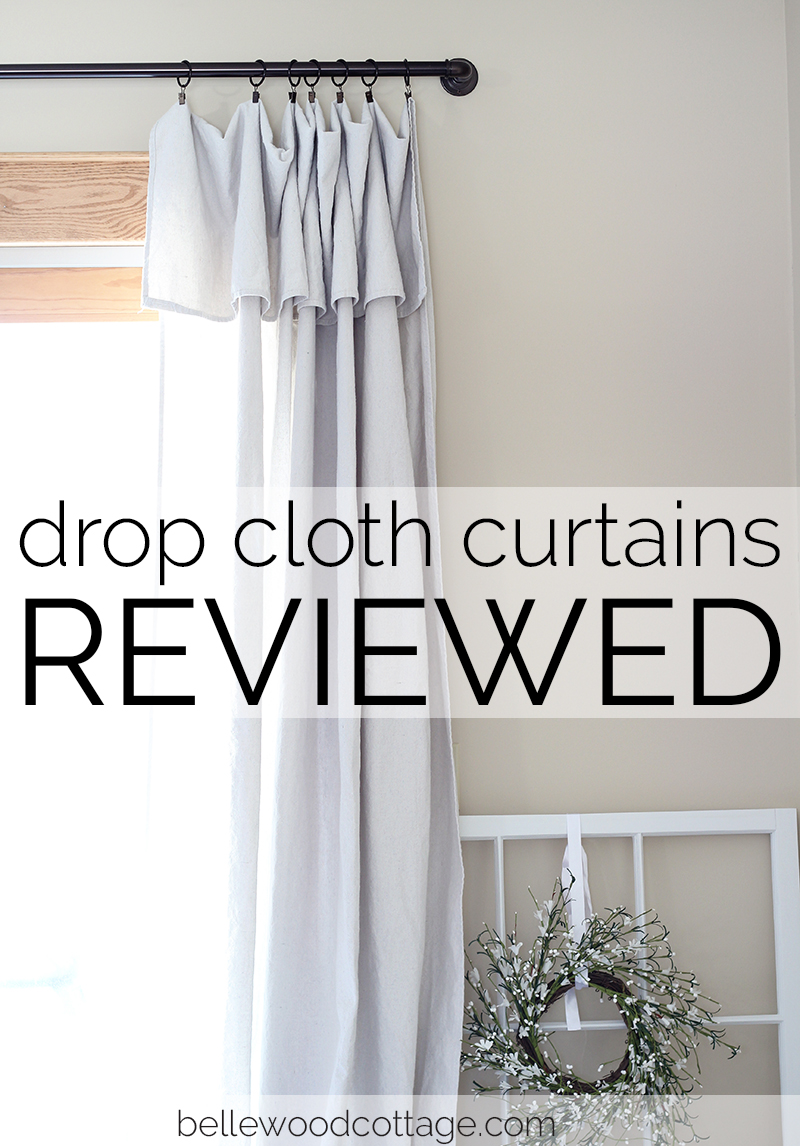 First off, a couple of tips for your drop cloth DIY:
I suggest purchasing 6'x9′ drop cloths (I bought these). This size generally does not have a seam (check reviews before buying, especially online!), which is nice to avoid.
Wash & dry the drop cloths to pre-shrink them. Especially if you plan to paint the fabric or sew on ribbon etc.
I measured out the fold-over ruffle and pinned it in place before hanging. You can just eye-ball the measuring step, but I did like having the pins in place while I was hanging these!
Ironing is totally optional. I didn't! And, if you end up bleaching your fabric, the curtains will soften up quite a bit, making the drape even better (so even less need to iron!).
So now, to bleach or not to bleach?
These are the resources I consulted before bleaching:
The latter link shows a really stark difference between the before and after, but I got more mild results. This is important to be aware if you are really looking for a bright white. I think the results that Miss Mustard Seed showed are most accurate to what I experienced.
Heads up: The curtains in the pics you see here are NOT bleached. I bleached drop cloths for some other projects I have going, which is where the comparison photos came from. Just wanted to make that clear as you look through the photos!
Another note, the lighter fabric will make the odd threads of different colors running throughout (I have plenty of black threads and even some orange ones in mine) even more apparent. Totally not a big deal, but again, these are rustic!
I soaked my bleached example here in two loads (letting it soak for 12-18 hours each time) with about 32 fluid ounces of bleach per load. After two times through the process of soaking, washing, and drying, these are the results:
The biggest change I noticed was not the color, but the change in the fabric makeup. These are a TON softer after bleaching for that long, and they were way easier to run through my sewing machine (for a different project!). All things considered, my before and after certainly isn't showstopping.
I do love the creamy look of the bleached version however, and I think if you wanted to use this fabric for slip covers the change in texture would be an asset. I definitely encourage you to experiment with this if you want to lighten up your drop cloths. Just know that results may vary!
We are so happy with the way these curtains turned out, and they add a lot of farmhouse-charm to our home while we're waiting to make some bigger changes. Let me know if you give these a try in your home and what you think!
Save