Country Chic Paint Review
Country Chic Paint is a chalk style paint that is excellent for furniture painting, crafts, and DIY projects. Country Chic Paint's ultra-low-VOC paint goes beyond current industry standards and provides a safe and low-odor paint for all your projects. It's easy to use, readily available, comes in gorgeous colors, and updates furniture without the hassle.
Disclosure: Please note that this post contains affiliate links which allow me to earn a small commission when a purchase is made at no additional cost to you. Read more here. Two of the paint colors referenced in this review (Crinoline and Dune Grass) were gifted to me from Country Chic Paint. All opinions are my own.
Country Chic Paint is an easy-to-use paint designed for furniture painting and more. It's considered a "chalk style paint". This means it doesn't necessarily require sanding or priming before use, has a matte finish, distresses easily, and can be finished with a variety of top coat options.
The paint is available in lots of trendy colors, is ultra-low VOC and meets strict European Toy Safety Standards that deem it safe for baby/child furniture.
New to chalk painting? Grab my free chalk painting guide packed with 10 chalk painting tips to get you started!
Are All Chalk Style Paints the Same?
If you've ever wondered if all chalk style paints are the same, I'm here to answer that question. While there might be some distinguishing characteristics (like "no prep" claims, a matte finish, and the need for a top coat), there are most certainly differences between paints.
For starters, unlike when you choose a color for your walls, you can't necessarily choose an exact color of chalk paint. Whatever each brand sells is what you can choose from. This means you might gravitate towards one brand over another simply because of color preferences.
Additionally, not all paints are manufactured the same, priced the same, or readily available. So discovering the chalk style paint brand that meets your needs (which can change from project to project) is important.
What Makes Country Chic Paint Special?
There are several characteristics of Country Chic All-In-One Paint that make it stand out in a crowd. It's an ultra-low VOC paint (love that!) available in 55 trendy colors. It's easy to use and gives a beautiful finished product.
Let's chat through the details!
Country Chic Paint is Ultra Low VOC
Country Chic All-In-One Paint is particularly impressive from an environmental and health standpoint. We know that certain paints can be quite toxic, and if you do a lot of furniture painting, it pays to be cautious about the paints you are using.
Country Chic Paint (AND the color pigments used) has been rigorously tested and found to be ultra-low VOC. This means that you are far more safe using these paints than many others available.
Country Chic Paint also has submitted their paint to testing for the European Toy Safety Standards (BS EN 71-3). These strict standards restrict the release of toxic chemicals. The paint was tested and complies with these standards, rating it safe for use on toys and furniture.
Annie Sloan Chalk Paint (the holder of the "Chalk Paint" trademark) is also an ultra-low VOC brand. It also meets the European regulations (BS EN 71-3:2013) for children's toys/furniture.
Country Chic Paint also participates in recycling programs to promote the safe disposal of leftover paints.
Another great note from the Country Chic website is that their paint DOES NOT contain any of the following chemicals: "phthalates, formaldehyde, heavy metals, turpentine, terpenes, benzene, vinyl chloride, crystalline silica, acrolein, orthodichlorobenzene, isophorone, butanone, methylene chloride and alkylphenol ethoxylates."
Low Odor Paint
Another nice thing is that because of its improved ingredients list, Country Chic Paint is low-odor. Now, it still smells like paint to me, but a FAR lighter smell. I crack open a window when I paint (like Country Chic suggests) for air flow, but the paint is still easily used indoors.
A Small Business Supporting Small Businesses
Country Chic Paint is a small Canadian family-owned company. They source and manufacture in the USA and Canada (via family-owned companies). Country Chic Paint also gives back to their community by donating a portion of their profits each year to two charities committed to alleviating hunger in communities.
I love supporting businesses like this!
So, what about the actual painting process? It's time for all the details of my Country Chic Paint review. Let's chat through it all!
A Complete Review of Country Chic Paint
I recently painted an old dresser with Crinoline and stenciled a floral pattern over it using Dune Grass. I'm so happy with the way it came out. The colors are soft and perfect in my farmhouse style home. My overall experience with the paint was absolutely positive. Here's a few of the notes I compiled:
Thickness
While some chalk style paints are quite thick, I found that Country Chic All-In-One Paint is a moderate consistency that applied easily. You can always thin chalk paints down with water if the paint still feels too thick.
Application & Coats Required
While the consistency of the paint is great for application, I found that both the colors I tested (Crinoline, a soft white, and Dune Grass, gray-blue-green) were light enough that the first coat was quite sheer.
You will definitely need at least two coats of paint and possibly three if you are using a lighter color.
On my dresser that I painted with Country Chic Paint (shown above), I ended up painting a coat of primer on the piece and then applying two coats of the All-In-One Paint over that. That gave me a nice solid base to start with and also alleviated a little bleed-through I'd experienced from the dresser's original stain.
Tip: Don't miss all the incredibly helpful painting tutorials that Country Chic Paint provides on their website!
Final Look
Because the paint is thinner than other chalk paints (like Rust-Oleum Chalked or Annie Sloan Chalk Paint) I felt that the appearance of brushstrokes was more subtle.
The paint is branded as an "All-In-One" paint, meaning you don't necessarily need a primer or top coat. I like using a primer to avoid bleed-through, and it's also helpful when using a very light color.
As for top coats, I find that unfinished chalk paint is too chalkboard-feeling for my tastes so I always opt for a top coat. It provides more protection for the finished piece too.
I found that the feel and texture of Country Chic Paint without a top coat was smoother and silkier than other paints I've tried. This paint is a good fit if you prefer to skip the top coat step (though I still suggest it for durability).
Top Coats Used
I used Country Chic Paint Clear Wax to finish my dresser project. I also like using Rust-Oleum Matte Clear and Minwax Matte Polycrylic for my furniture pieces. I'll update this review after I test those products on the paint as well.
The wax was easy to apply, had just the lightest smell (some waxes are very strong-smelling which I don't like!), and gave a nice finish. Waxes aren't my favorite way to seal painted furniture, but I would use this one again.
How Does Country Chic All-In-One Paint Compare to Other Chalk Paints?
If you are looking for a low-VOC paint free of many commonly used chemicals, definitely try Country Chic Paint.
While a bit more expensive than some of the other chalk style paints on the market (like Rust-Oleum or KILZ), I think the added bonuses of supporting a small business, using an ultra-low VOC paint, and getting access to the gorgeous color palette (and specialty finishes too!) makes Country Chic Paint a great choice for the furniture painter or crafter.
If you haven't yet tried it, definitely go for it!
If you aren't sure how much paint you'll need, check out their guide on how much paint to buy for the furniture you are painting–super helpful and I've found it to be accurate. When in doubt, buy a larger size and use the leftovers for color mixing or small chalk painting projects.
What is the Paint Best For?
Like other chalk style paints, I love Country Chic Paint for furniture painting (used or new furniture), small décor projects, and crafting.
Furniture ideas include: sideboards, dressers, hutches, end tables, chairs, coffee tables, headboards, and plenty more.
I avoid chalk style paints in high traffic and high-moisture areas (kitchens/bathrooms). While it seems every paint manufacturer claims their paint is fantastic for cabinets (and it may be), I think it's safest to stick to ultra-durable paints specially designed for cabinet painting (Benjamin Moore Advance being an example).
How Much Does Country Chic Paint Cost?
Country Chic Paint is available in 4 oz, 16 oz, and 32 oz containers. The paint costs about $35.00 per quart (at the time of writing). That's just about the same as Annie Sloan Chalk Paint (the trademark holder of the term "Chalk Paint") and Magnolia Chalk Paint.
It's a little pricier than other brands like KILZ, Behr, or Rust-Oleum (which are about $17-20 per quart).
Tip: Save money on shipping! Purchase over $75 USD (or $79 CAD) on Country Chic Paint's website and get free shipping.
Where Can I Buy the Paint?
It's available via Amazon and directly through Country Chic Paint. The paint prices are slightly lower when purchasing through Country Chic Paint and you also have access to the complete color and product selection. If you plan to buy enough paint to get free shipping ($75 USD or $79 CAD) I suggest buying directly from Country Chic Paint.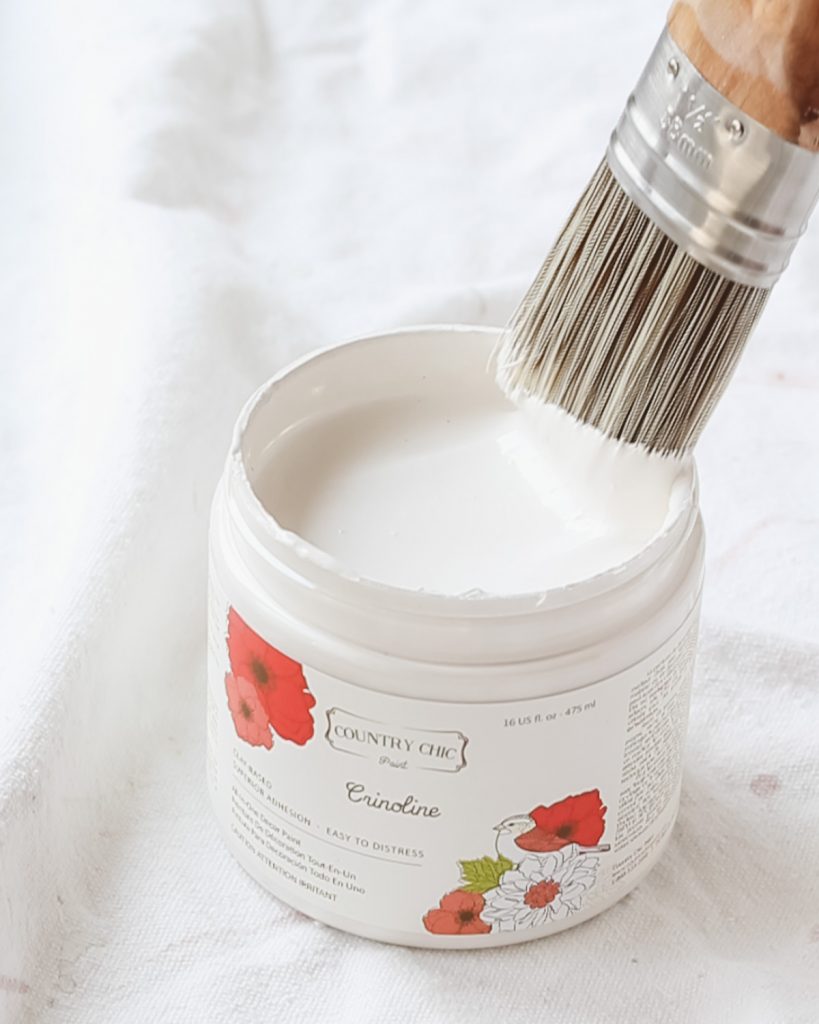 Their site also features starter kits (available in a medium and a large size) which make a great gift idea (for yourself or a friend!), lot of helpful tutorials, and even specials from time to time where you can save money on the paints.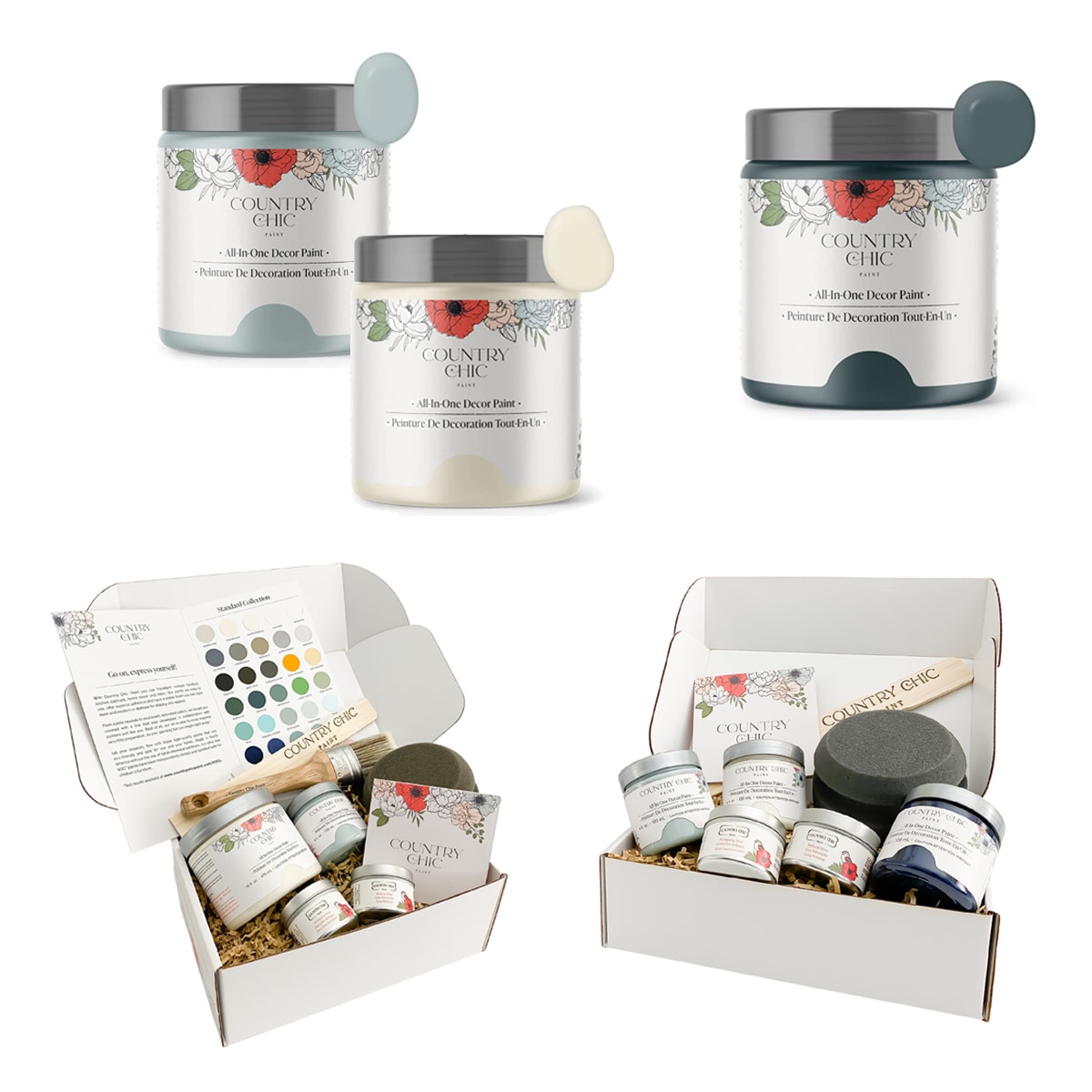 If you like custom finishes, check out their specialty finishes which include furniture glazes, metallic creams, and more.
Tip: Use the store locator to find a shop that carries Country Chic Paint near you!
What Paint Colors Are Available?
Country Chic Paint has a very large range of colors, 55 colors at the time of writing!
I love the colors I picked: Crinoline and Dune Grass. A few of my other favorites are, Wanderess, Lazy Linen, and Ooh La La.

Summary & Notes
I was so happy with my Country Chic Paint experience. I look forward to continuing to use the paint. It's great to have an ultra-low VOC paint that I can use even when I'm stuck indoors.
If you are just getting started, dive into all the various tutorials that Country Chic Paint provides too. There are so many ways to layer and finish the paint to create a variety of looks. Endless possibilities. I hope you enjoyed this Country Chic Paint review. If you decide to give the paint a try, I'd love to hear what you think!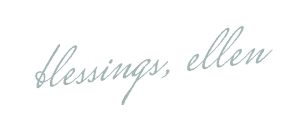 More Chalk Painting Ideas
The Ultimate Chalk Painter's Gift Guide
Free Guide: 10 Essential Chalk Painting Tips
Chalk Paint Versus Regular Paint