Drop Cloth Curtains – Reviewed | Part 1 |
When we first bought our home, one of the immediate changes I made was to take down all the gross old curtains and oh did that feel great! However, after a few months of going back and forth buying and returning new curtain panels at Target, TJmaxx, and a few other stores (so fun! not), I realized that replacing the window treatments wasn't going to be as easy as I thought. Enter, drop cloths.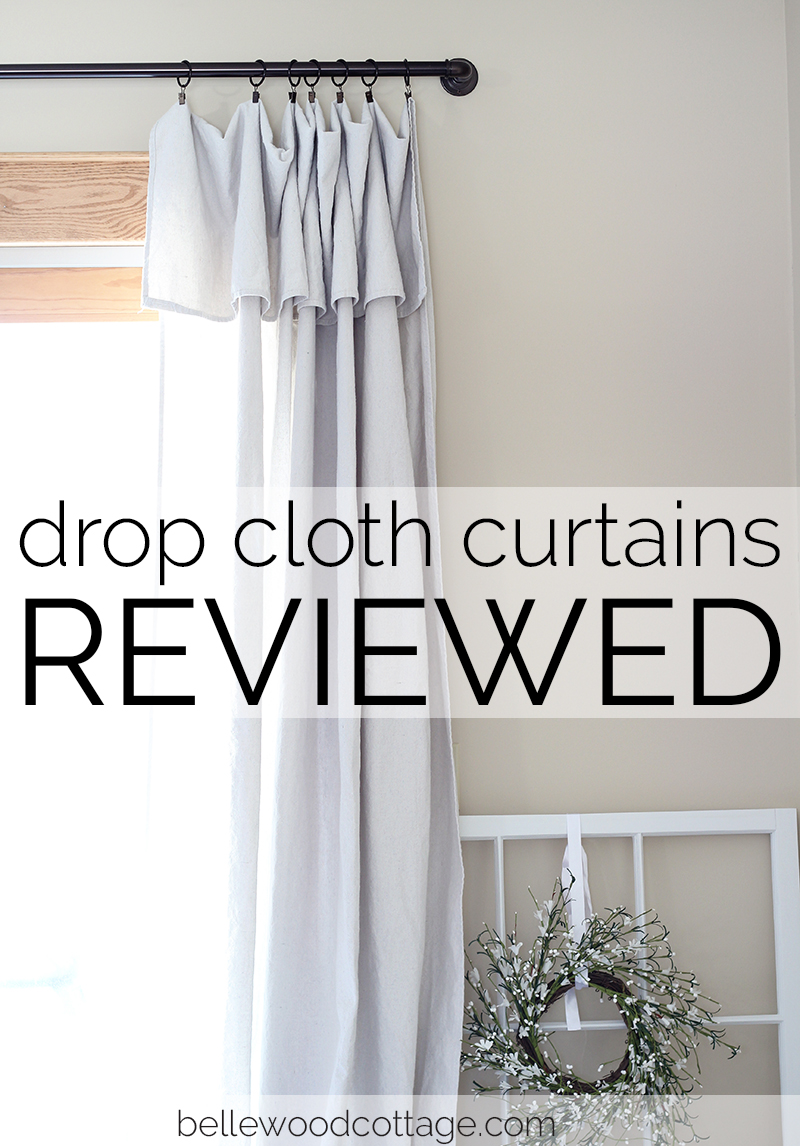 I was totally frustrated by paying $25-40 (or more!) for sets of curtains that were too short, too skinny, or too sheer to do the job, so when I discovered how amazing these canvas drop cloths (like these) looked as curtains, I wasted no time trying them out in our home.
Curious? After living with these for a few months, I'd thought I'd post a little review in case anyone else is in the same boat I was and wants an effective solution to curtain woes:
If you're thinking of trying drop cloth curtains, you definitely want to check out these links for inspiration as well: Little Vintage Nest's review here (where I first saw this idea), as well as Liz Marie Galvan's curtains here.
So here we go! Drop cloth curtains are:
Inexpensive | These 6'x9′ drop cloths are about $11-14, so they are a budget-friendly option and you get a high-quality sturdy fabric that isn't see-through. I always have liked sheer curtains, but one of the main reasons I kept returning the sets I bought at home stores was because the "sheer" fabric ended up simply looking cheap. Total bummer.
Coverage | Most curtain panels are 84″ ( and sometimes 96″) long, but these are an even longer 108″.  This means you can actually take advantage of the advice to hang your curtains high and wide (making your window appear larger) without getting the capri curtain look. Ha! Also, with the generous width, you will also avoid the budget-buster of needing to purchase four panels per window.
Farmhouse Aesthetic | My house is very much "in progress" as far as decor goes and with a tight budget, I am always looking for ways to showcase my rustic farmhouse style at a minimal cost. I really think these curtains are a great way to do that. Simple and affordable with lots of farmhouse flair. Not one person who has visited our home since I hung these has guessed that they are drop cloths!
No sew | You could totally glam these up with lace, trims, or ribbon (I've even seen painted versions, here, and here), but sewing is definitely optional. If you aren't into the fold-over ruffle look, you can totally hem these up, but again it's all completely optional.
So, it's all sounding pretty great right? Well, as I was putting my curtains up, I realized a few reasons why someone might NOT like this option, so I wanted to jot those down for you too.
Wrinkles | You can iron the curtains, but the fabric is still fairly textured and you will also be ironing for awhile! Mine also have plenty of random threads of different colors running throughout, and some definite fabric imperfections. If you are a perfectionist, the fabric might drive you crazy with the variety of nubs, bumps, and even thread colors running throughout.
Limited colors | Since these are polyester/cotton they probably won't take dye (polyester doesn't), though again, painting is an option. I also tried bleaching mine for a lighter color, which didn't work overly well. Watch for more on that in part 2 of this review. So if you really need a bright white curtain, these might not be your solution.
Overall though, I wholeheartedly recommend this little diy. Especially if you love a rustic/farmhouse look in your home, drop cloth curtains are the perfect budget-friendly solution.
Check back next week for the last post in this 2-part review series. I'll be sharing my experience bleaching my drop cloths and giving some quick tips for how to get your brand-new drop cloths out of their packaging and into your home.
Save