Farm Animal Board Books for Babies
The benefits of reading aloud to babies are numerous, but what to read?! Try grabbing a stack of these fantastic farm animal board books for babies and have fun reading with your little one!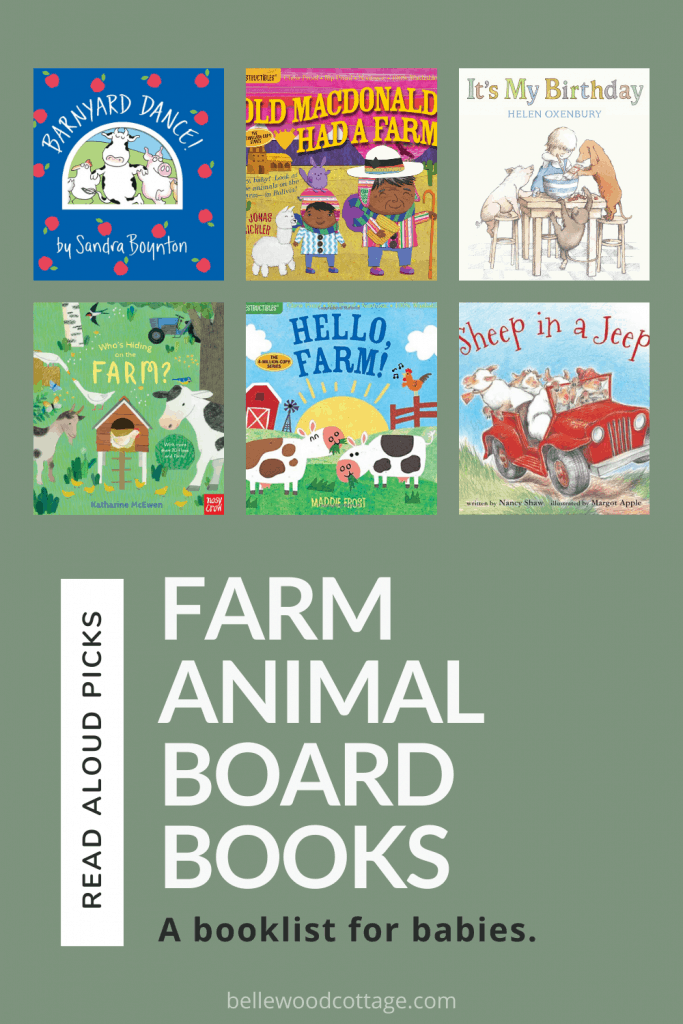 Please note that this post contains affiliate links which allow me to earn a small commission when a purchase is made at no additional cost to you. Read more here.
This booklist is comprised of board books–perfect for babies–as well as several books from the "Indestructibles" series. If you aren't familiar with these, well, add a few to your collection asap!
These flexible paper-like books are rip-proof, chew-proof, AND washable. Babies can look through them all they want with no worries about gnawing off cardboard. These books are noted by the word "Indestructibles" in the title.
FARM ANIMAL BOARD BOOKS FOR BABIES
Indestructibles: Old MacDonald Had a Farm by Amy Pixton, illustrated by Jonas Sickler | A multicultural spin on the classic rhyme, this is a fun (and durable!) wordless book.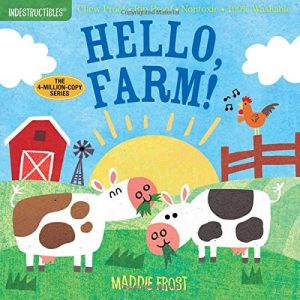 Indestructibles: Hello Farm by Amy Pixton, illustrated by Maddie Frost | Greet the day with the animals at the farm. Not all the Indestructibles books have words, but this one does have simple greetings on each page (i.e. "Hello, chickens.").
It's My Birthday by Helen Oxenbury | This padded board book features the sweet illustrations of Helen Oxenbury. A child is on a mission to make a birthday cake. With the help of some farm animals (and a few more exotic species!), it's destined to be a success!
Indestructibles: Wiggle! March! by Kaaren Pixton | Wordless, with generally just one animal per page (roughly 10 animals represented depending on how you count). Great for baby to chew on, to make up a story with, or to learn animals together.
Moo, Baa, La La La by Sandra Boynton | With singing pigs that cry "la la la" versus the more expected "oink", Boynton provides her usual whimsical spin on baby literature. Babies and kids alike love this one! Be prepared to memorize it.
Barnyard Dance by Sandra Boynton | Full of animal sounds and dancing steps, this is an upbeat rhyming read. Toddlers especially will love to participate as the book is read aloud.
Big Red Barn by Margaret Wise Brown | A classic I remember so well from childhood, reading about a day with the animals on the farm makes for a peaceful pre-bedtime read.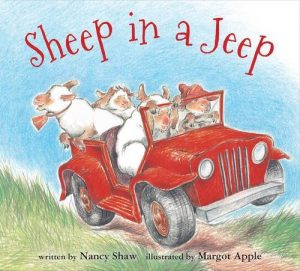 Sheep in a Jeep by Nancy Shaw | No animal sounds here, but the short sentences and amusing plot will have your little one in giggles.
Sheep Go to Sleep by Nancy Shaw | If you love Sheep in a Jeep, grab this sheep classic too. Read along as the sheepdog gently lulls each sheep to sleep (parents may find this incredibly relate-able!).
Who is Coming to Our House by Joseph Slate | Animals in a barn are preparing for an unknown guest who turns out to be very special indeed. A sweet perspective of the Nativity story.
The Little Blue Truck by Alice Schertle, illustrated by Jill McElmurry | A popular choice (with a host of sequels) that I was reluctant to pick up, BECAUSE of its immense popularity. However, after we received a copy, I was hooked. With a compelling story-line (all in rhyme), onomatopoeia, and plenty of animal sounds, it's a great choice. Now, just get ready to read it 345 times.
FARM ANIMAL BOARD BOOKS FOR BABIES: BOOKS WITH FLAPS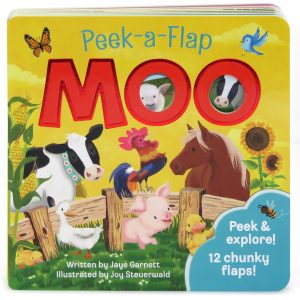 Moo: Peek-a-Flap Children's Board Book by Jaye Garnett, illustrated by Joy Steuerwald | The text is simple, but what really shines in this board book is the creatively designed (and sturdy) flaps.
Little Red Barn by Ginger Swift, illustrated by David Pavon | "The animals love their little red barn…" and you will too with the interactive flaps and the short & sweet text. A favorite at our house.
Who's Hiding on the Farm? by Nosy Crow and illustrated by Katharine McEwen | A simple text focused on farm animal facts (things like "Baby chickens are called chicks.") With more than 20 flaps, there is plenty of interaction. The flaps are thick card, but not the ultra-thick board style of Little Red Barn for example.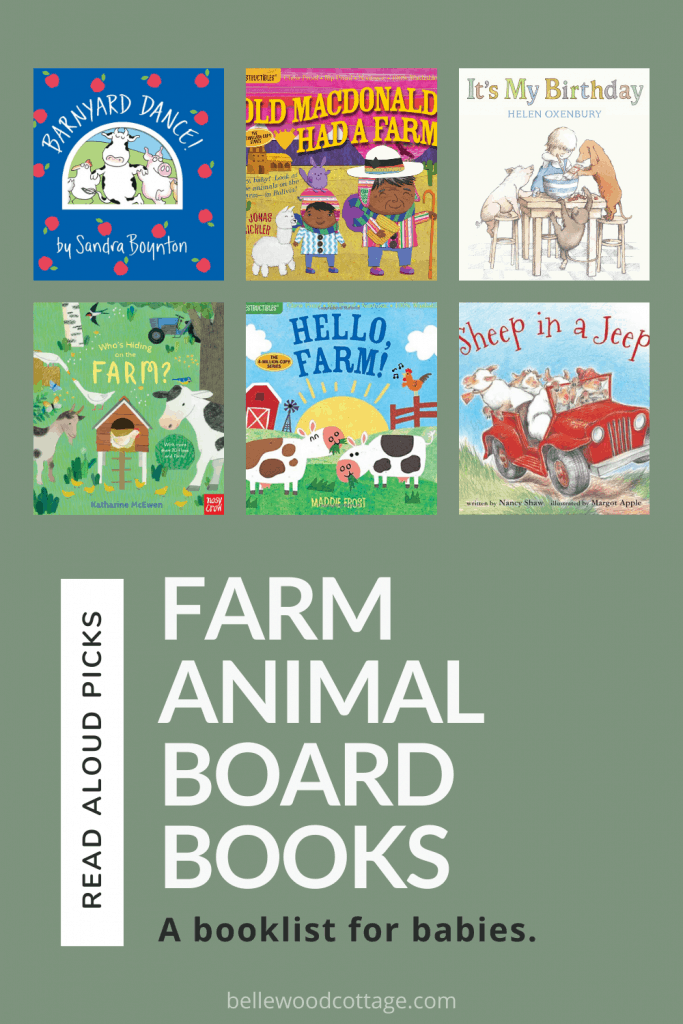 That's a wrap for now! If I missed YOUR favorite farm book for babies, share with me in the comments!
MORE BOOKLISTS