The Best Baby Food Pouches for Babies and Toddlers
Wondering what the best baby food pouches for babies and toddlers are? I love brands that are veggie-filled and packed with new flavors for little ones to try. Keep reading for my favorites!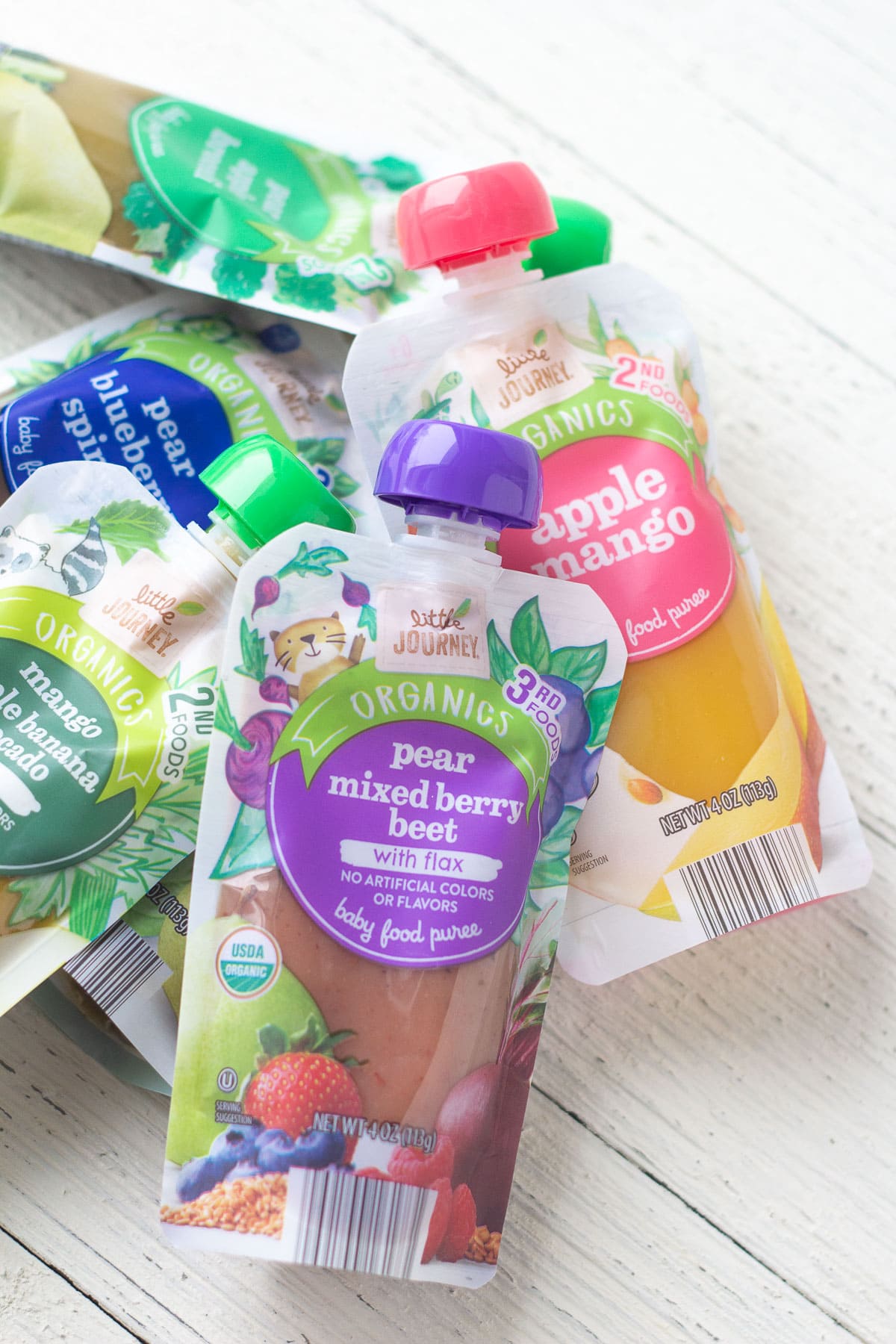 Please note that this post contains affiliate links which allow me to earn a small commission when a purchase is made at no additional cost to you. Read more here.
I decided to write this post because I wanted to share one of my favorite baby food finds after starting solid foods and purees. I remember glancing down the aisles of my grocery store and being a bit shocked at how pricey baby food was! No matter, I planned on making most of it myself anyways. Right?
Well fast forward to real life and it turns out that convenience products have a place in the life of every mama. Not to mention when you are out on the go and need a non-messy snack, stat. A baby food pouch is suddenly looking like a pretty good option.
Disclaimer: I'm just a normal mama doing my best and wanted to share our favorite baby food pouches as a helpful tip for other parents. If you have any questions/concerns about the following items, please ask your pediatrician: organic versus not, ingredients, serving pouches and development, etc.
I personally loved making purees, but I also know that it can be a big project. Chopping, steaming, pureeing, freezing, cleanup, it's a lot. Supplementing with purchased baby foods and baby food pouches is a great way to stay sane, as well as incorporate foods you might not have had time to prepare in a given week.
Pouches definitely have some downsides (packaged food, not great for the environment, can sometimes replace valuable exposure to fresh fruits/veggies), but like anything, they can be helpful in moderation. Ask your pediatrician about pouches if you have any concerns.
A note on puree combinations: Please check out these great resources on starting solids with your baby and how to begin feeding combination purees to your little one. Note that pouches generally list the age/stage a baby/child should be before consuming as well.
How to Choose Baby Food Pouches
There are so many great options available for baby food pouches. At any grocery store you can find a huge range of products with different pros and cons. I even recently discovered this brand which is a pricey, but absolutely veggie-packed organic pouch option.
Though I'm going to talk about some specific brands I like, here's some easy questions I ask before choosing a new variety of baby food pouches:
Is this baby food pouch age-appropriate for my baby or toddler (check the package)?
What is the overall quality of the pouch ingredients? Are they organic, are there added ingredients, BPA-free packaging, etc.?
What are the food ingredients? Is this baby food pouch mostly applesauce, or does it offer a broader range of flavors?
Will this pouch help my child grow accustomed to new flavors?
Is this product a reasonable price?
Also, a bonus tip! Don't buy too many of a new variety of pouch until you (and baby!) decide if you like it. They can be a pricey grocery item, so it's best to sample small at first.
Can I Just Make My Own Baby Food Pouches?
Yes! This is a fantastic option for a few reasons. 1. You are in total control of the ingredients, 2. The pouches can be super-super fresh, 3. No environmental impact from tossing pouch packaging.
You can purchase reusable pouches from places like Amazon. These reusable baby food pouches are very similar to the store-bought style.
What Are the Best Baby Food Pouches?
If you aren't quite up for making your own pouches yet, it's time to share my favorite store-bought variety. While everyone will have a different opinion of what makes a baby food pouch, "the best", I definitely have a favorite. I'll share a couple of others I purchase as well, but my best baby food pouch pick goes to the Little Journey Baby Food Pouches (note that only some of the flavors are listed online) found at Aldi:
Little Journey Baby Food Pouches from Aldi
These are my top pick for baby food pouches for a few great reasons.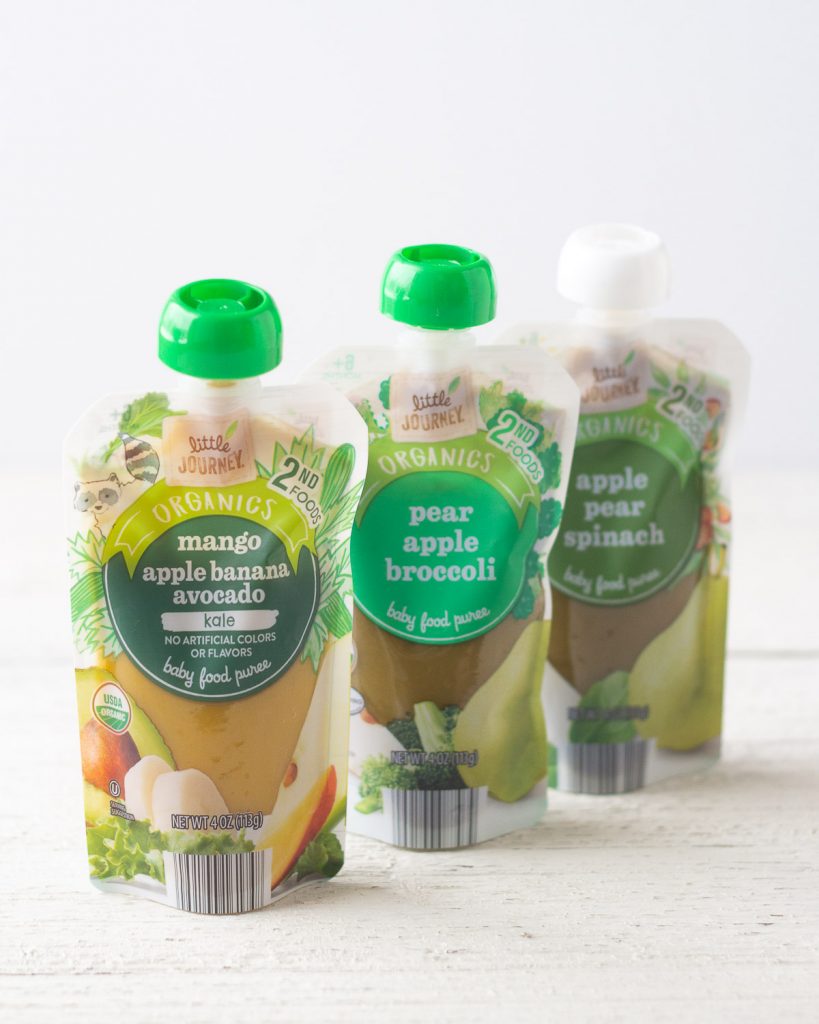 They are organic. Knowing that these are organic gives me some peace of mind, especially when feeding a younger baby or choosing purees that are made of fruits or veggies that typically are found on the "dirty dozen" list. Note: The pouches do contain: "Organic Lemon Concentrate" and "ascorbic acid (to maintain color)"
Little Journey Baby Food Pouches are budget friendly. You get a full 4oz of puree for (at my Aldi) $0.79. YES please. None of that 3-point-something-ounce nonsense.
Introduce a variety of fruits and veggies. The Aldi pouches have a wide range of fruit and veggie combinations and if you choose carefully you can select flavors without any applesauce. I've noticed that many pouch varieties (especially those marketed to toddlers) are applesauce-based, and personally I like to grab a wider range of flavors.
Provide a chance to serve unique fruits and veggies. One of the great things about pouches is that they can be a chance to serve fruits or veggies you might not normally cook (looking at you, beets). When I pick up these pouches I always grab the most obscure flavors combos I can so that the pouches truly are adding something to my little's one diet rather than just adding applesauce.
Pouches are purchased individually. Grab your favs or keep baby guessing with one of each! They also usually have fun new flavors around Thanksgiving time too!
A few examples of Little Journey Baby Food Pouch Flavors:
Apple Broccoli Pear
Pear Blueberry Spinach
Apple Blueberry Banana
Mango Apple Banana Avocado Kale
Pear Mixed Berry Beet with Flax
Pear Apple Broccoli
Apple Mango
If you are looking for other options, I also like Earth Organics Baby Food Pouches:
Earth Organics Baby Food Pouches
These are more expensive per pouch than the Little Journey varieties, but they are great quality. There are some organic pouches available that are very high quality and also crazy-expensive (suddenly I have time to make that puree after all…). The Earth's Best Organics are about $1.40 and they come in a wide range of flavors, including a lot of veggie-centric ones.
Some examples of Earth Organics Stage 2 Purees (6+ months) Include:
Wholesome Breakfast Blueberry Banana
Sweet Potato Garbanzo Barley
Sweet Potato and Beets
Pasta with Tomato and White Bean
Spinach, Lentil, and Brown Rice
Another option for baby food pouches is found at Costco:
Kirkland Signature Fruit & Vegetable Pouches
The pros of the these pouches are that they are 1. organic, and 2. come in a nice big box (no grabbing pouches one-by-one and who knows how many people have picked them up first). However, they are small (3.17oz) and mostly applesauce. Not great, but can be a nice option for toddlers especially when you need a quick + non-messy option.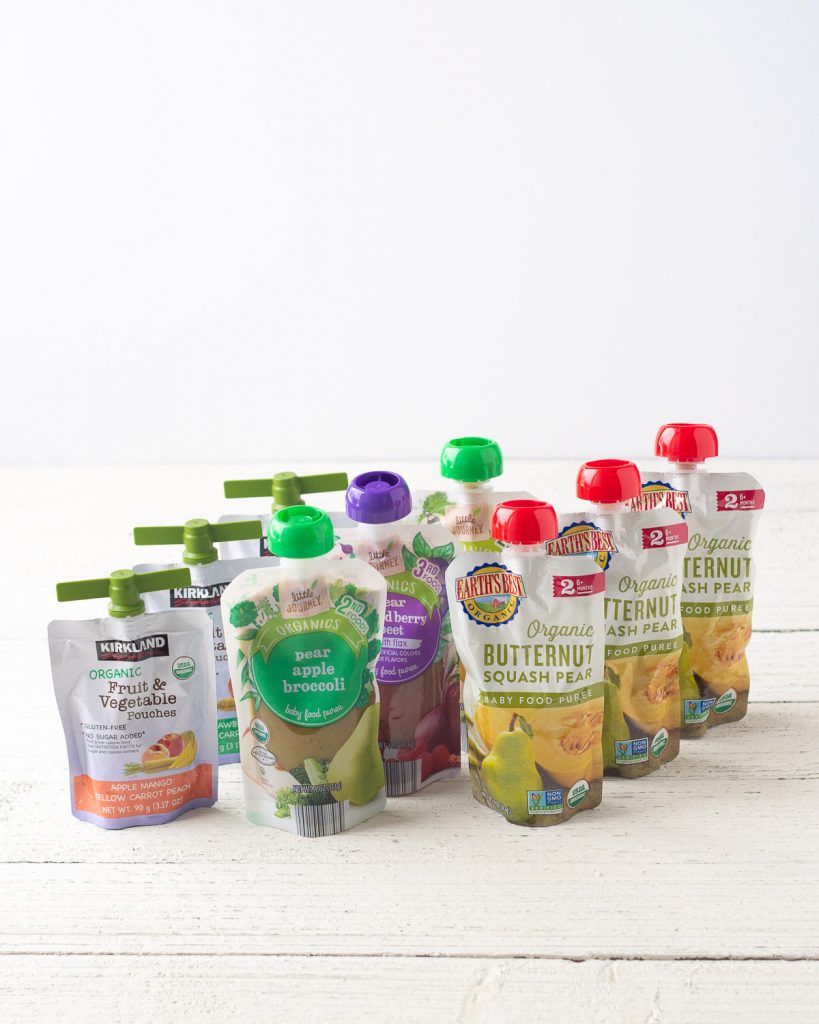 For little babies, I like to stick with veggie-heavy pouches as it seems like the fun of a pouch + the sweetness of all that yummy applesauce can make it a challenge to get baby loving other foods just as much! The Kirkland Signature Fruit & Vegetable Pouches come in a box with two flavors: Apple Strawberry Yellow Carrot and Apple Mango Yellow Carrot Peach.
Overall, if you like using food pouches occasionally with your baby or toddler, I definitely suggest checking out Aldi's Little Journey Food Pouches. The affordability, variety of puree mixtures, and convenience is a huge help to any busy parent!
Feeding babies and toddlers is fun, but certainly comes alongside challenges too. I'd love to hear your thoughts on baby food pouches and what you love to feed your littles. I'm always up for new ideas!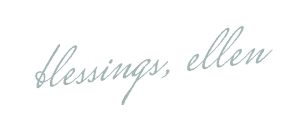 More from Bellewood Cottage